Visits in this Issue:

August West / Roar
AP Vin
Carlisle
Kosta Browne / Shane
Switchback Ridge
Copain Wine
Benovia
We set out on our annual wine trip for 2008. Probably would be easy to call it RRV/Sonoma County in nature but we make it a point every year to start the trip in the SLHs with Mark Pisoni and Gary Franscioni so we'll just call it the annual get away.

Chris Fitch, Rob Winn and I flew up to San Jose to start Day 1. In year's past, we have usually met Gary at his place on the Rosella's property, and then Mark some time later, either at the Pisoni place or Mark's underground, beneath the rows of green vegetables—the cellar with the priceless gray dust! However, given that Mark was busy this year (and having just seen Gary Pisoni down here a few weeks ago with the OC gang), we gave Mark a hall pass and started the trip at the new August West/Roar/Sandler facility off 101, just south of downtown San Francisco. An old styled one story strip of buildings, something you might see in a Dirty Harry movie near the wharf. Ed met us, joined up a short time later by Gary F.
Wednesday - April 2, 2008
August West / Roar
Selected Tasting Notes :
2007 August West Rosella's Pinot Clone 113 from neutral wood: Licorice, citrus, smoked cherry and a little game.

2007 August West Rosella's Pinot Clone 667 from one year old SM barrel: centered core of nice weight, blue fruit, cherry. Delicious.

Next, we tried the Roar pinots. These wines have been fine for me in the past but I have not always found them to my liking, save the Rosella's.

2007 Roar Rosella's Pinot Clone 777 from neutral wood: Dense and dark, big depth and loam.
2007 August West Rosella's Syrah Bien Nacido clone (also known as Estrella): Sea air, dark plum, roasted meat.
Then, the same clone but from a different barrel with the addition of 50% whole cluster, shows game, chalk, some grapier tones, raspberry and blackberry.
2007 Roar Garys' Syrah Bien Nacido clone 50% destemmed: black olive, dark fruit and color, dark chocolate.

2007 Roar Garys' Bien Nacido clone 100% destemmed: roasted coffee, ink, grapey and black cherry.
Once we left the AW/Roar place, we all packed it in and went to lunch. Ed brought a 2002 and 2005 August West Rosella's.
2002 August West Pinot Noir Rosella's Vineyard - USA, California, Central Coast, Santa Lucia Highlands (4/20/2008)Tasted over lunch with Ed Kurtzman, generously offered from his own cellar. Have not tasted an AW with this much age and it even showed the older style label. Starting to brown a bit on the edges. Smooth, some pine, clean. Some vanilla tinged strawberry and cranberry.
2005 August West Pinot Noir Rosella's Vineyard - USA, California, Central Coast, Santa Lucia Highlands (4/20/2008)I can just drink piles of this wine. Tremendous every time I have it. Tasted next to the 2002 AW Rosella's in fact but have to say I prefer the 2005. Translucent light red color, smooth with spicy pine, strawberry, blueberry, citrus. Elegant and complete.
Given the scope of the barrel tasting we did not only with Ed, as well as Mike Officer, Wells, Michael, etc, I will likely limit most of my barrel notes below. Barrels are tricky, in that they give a look into what is coming, and at the same time, contribute a 'parts equals whole' perspective; thus, making a determination on what say the August West Graham will taste like is not accurate, perhaps even not fair to all concerned.

My enthusiasm for August West (the pinots) and Roar (the syrahs) is not secret for those who know me. So, I had great anticipation for the barrels and what was to come. Of the two AW vineyards, I preferred the Rosella's a bit more.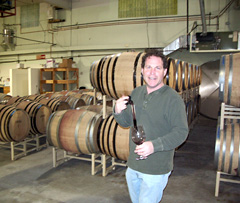 Ed Kurtzman
I fell a bit behind Ed's speed of pace here and so next stop was the syrah barrels, of great interest to me given my love for Roar. We covered some discussion about clonal material and whole cluster addition and thus I offer these. Keeping in mind that there still exists a collaboration of effort between Adam (Novy/Siduri) and Ed, with the latter handling the day to day and starting in 2008, Ed will handle everything as Adam exits the equation. The syrahs for Roar in 2007 look like they will once again be great, like 2005.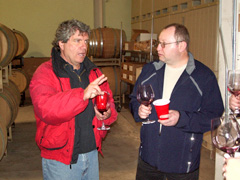 Gary Franscioni, Greg Piatigorski
My best of the two Roar syrahs, though, was the Garys'. In fact, the Bien Nacido clone for me showed more intensity and class then from Rosella's. The Garys' samples were tremendous.
We also tasted through the 2006 Roar syrahs but for some reason, I did not TN the wines. Recognizing the wines were not decanted and I was unable to stash the partial bottles into the car after lunch so not sure what the air may have done to them but the 2006s do seem lighter in push than the 2005s, which for me just rip. Will retaste the 2006s again once they are released so will reserve judgment for now but I am comfortable saying that my initial impression again was lighter bodied than 2005.
AP Vin
Selected Tasting Notes :
2007 AP Vin Keefer—Red core of fruit with red apple, raspberry, vanilla and a spicy long finish with some light cola.

2007 AP Vin Kanzler—Spicy boy, here. There was some argument within the group about alcohol level in the wine, with me dissenting as it being noticeable. New oak is present with mocha and a round spicy finish.

2007 AP Vin Rosella's—Pine, straw and blue berry fruit, forward in profile but very nice.

2007 AP Vin Garys'—Strawberry jam, cinnamon and spicy zing on the finish. Biggest of the wines and rich in Cali flare.

2007 AP Vin Turner—Fragrant, elegant with blue fruit and more in the vein of an August West Rosella's.

2007 AP Vin Clos Pepe—Home run shot, here. Big WOW! Still tannic, the most of all in fact, but bitchen balance at this stage. Great acidity that supports, the oak in check with blueberry, red fruit. Doesn't even ring for me as a barrel sample. Andrew says this wine is without anything added or taken away. Pure and will be on my buy list for 2008.
Next stop was to see Andrew V at his new place on Treat in SFO. Good size digs for Andrew and his stuff is all one high on the floor so for now, he's OK on space. We tasted through all the 2007s, of which Andrew presented to us as theoretical final blends.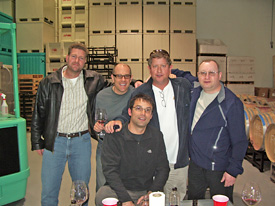 (l to r) Chris, Frank, Andrew, Rob, Greg
Carlisle
Selected Tasting Notes :
2007 Carlisle Gold Mine Zin DC Valley—Nice acidity, showing some tense structure.

2007 Carlisle Rossi Zin DC Valley—Interesting contrast between ripe fruit and structure, with neither in full authority. I called this barrel one of a wrestling match for the final feel.

2007 Montafi Zin RRV—Big structure, dense and inky, lots of juicy black raspberry, black cherry and kiwi. Shaping up to be killer yet again.

After a few other zins, we headed for syrah, of course! We did about 6 barrels of various AVA based things and what I like about Mike's syrahs is the huge color and great weight that is also showing good balance. Here are the 3 that stood out for me.

2007 Carlisle Jemrose Clone 174 Bennett Valley—pepper, flowers and tannin, including 25% whole cluster.

2007 Carlisle Rosella's Syrah (blend of Clone 877 and Bien Nacido)—Black pepper, big dark color, grapefruit and some ending tannin.

2007 Carlisle Parson's Vineyard Syrah RRV—deeply colored, big tannin, game and dark fruits. Delicious.
The next day, we make our annual pilgrimage to see The Officer, also known as Mike Officer.
Year after year, I love the visit here, as I get a taste of some zin, a good dose of syrah and then a peek at petite. This is always a barrel visit and one that is often a great look at what's coming. To see Mike year after year make wines at his price levels that contain the balance and intensity is both remarkable and good fortune for those of us buying the wines.

Kosta Browne
Selected Tasting Notes :
2007 Keefer RRV (Press Wine) from neutral oak—holy cow. Neutral? Press? Great round palate, zippy red raspberry, big red apple. My notes say 'smashing'.

2007 Keefer Clone 23 from neutral barrel—Darker red tones, big mid palate and plump. Red apple. No intrusive wood just pure Keefer and finishing with some tannin, too.

2007 Garys' SLH from new Remond Trancais barrel—my notes say "WOW". Ripe, opulent, big push of strawberry, black plum. Sexy stuff all the way

2007 Garys' SLH from new Mercurey SR barrel—Now, the wine stretches out across the palate more than the Remond. Watermelon, strawberry, and leaner but great balance.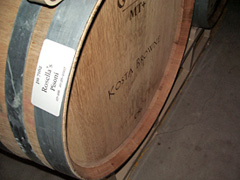 After leaving Carlisle, it was off to see Michael Browne @ KB to see the new place. The buildings sits just outside downtown Sebastopol off of 116. Let's just say this—KB has lots of space now and room to work. The barrel room is huge, also helping to hold Shane's wines (that of Shane Finley who acts as the KB assistant winemaker) and also Jim Mack's Jemrose stuff that is also being led by Michael.
One thing about Michael, he's driven and he makes what he wants to drink. He also lives in a painting where there is significant variation and experimentation across different coopers, clonal material, cluster inclusion, etc, all creating a broad amount of permutation that must create a blending challenge of goliath proportion. Yet, you can see in his passion and energy that this drives him--he digs it. During our run through the barrels, I had to raise my hand and say uncle. While I TN'd nearly every barrel we tried (close to 25), we didn't even get ½ way through the 2007 vineyards. With that said, I limit my notes below to barrels I found to offer the most compelling feel. And looking forward to the 2007 KB Rosella's, some of the raw material and as we roll the bar around the KB barrel room, Rob goes into a trance.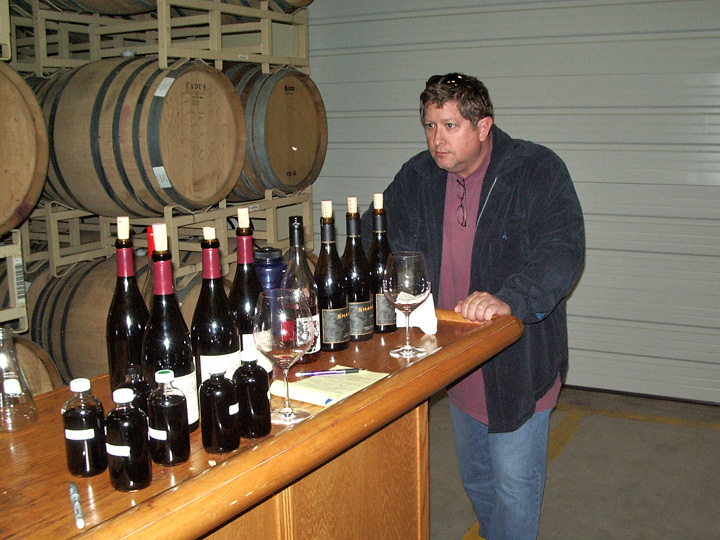 We gave Michael a rest and let Shane now grab some barrels of his and cleaned the glasses and away we go. With Shane driven by making some seriously dark stuff, with tons of cluster, our mouths went for a ride. While we did several, including some stuff from Alder Springs and Jemrose that showed color, density and structure, the 2007 Valenti Ranch was the one to feature here.

Shane
Selected Tasting Notes :
2007 Shane Valenti Ranch Anderson Valley 100% whole cluster—Marrow, blood, tannin and a ferrous element. Martini olive, some pepper and extreme density, a wall of tannin. Man, what a dark beast of a sample.
2006 Shane Syrah Valenti Ranch - Anderson Valley.
Tasted again from fresh bottle with Shane. 65% whole cluster and 65% new oak, taken from fruit in the cool north end of the Anderson Valley. With just 3 ozs in the glass, the wine is nearly opaque. Some pepper, hint of game/smoke, pure nose. Dense, bittersweet chocolate tar and creosote.
2006 Shane Syrah Jemrose Vineyard - Bennett Valley.
Tasted over 48 hour period. First impression was with Shane showing the wine to us from new bottle on Thursday afternoon. Wine is 50% whole cluster with 50% new oak. A blend of Clones 174 and Estrella. Ink, leather, dark chocolate, tannin, fresh with medium weight. Then, the bottle sat with just the cork in it until Saturday AM, when we retasted it again at the hotel. Dense and dark fruit, smooth palate with some tannic edges. Nose shows pepper, with big mid palate of dark plum and some chalk. Clearly, the wine picked up weight and intensity with the prolonged rest. Delicious and as good as it was last year from barrel, now more complete. Life ahead of it.
2006 Shane Syrah The Unknown - Sonoma County.
Tasted with Shane from fresh bottle. A blend of 5 syrah clones. Good balance, more elegant as compared to the Jemrose bottling. Blue and black fruits, intense but even in tone, feel. Has huge depth but will likely show better and need less cellaring in my opinion.
Had the pleasure to taste these with Shane on our recent trip to the RRV. Really tremendous syrahs, especially for first year out of the gate. While I liked all three, the Jemrose is just killer. And in fact, as Shane continues to cut his teeth, expect to see whole cluster contents stay high and the wines become even more complex as he gets more fruit sources and pushes his efforts to make them even better. I'm sold.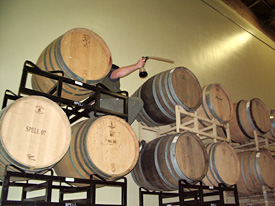 Shane's wines remind me of a mix between Mike's wines (CARLISLE) and Wells' wines (COPAIN). There is a nice marriage between fruit/color, along with density and structure. It's too soon yet to perhaps offer this comparison with conviction, as Shane has one vintage out but I did taste the 2007s from barrel, as well, and they are indeed as I contrasted above. Surely, he is off to a very nice start and I will keep buying. As a post script, I did try an Alder Springs he is making for 2007 from barrel and it was black as night, with a pile of structure and color. And, as we roll the bar around the KB barrel room, Rob goes into a trance.
Switchback Ridge

Selected Tasting Notes :
2005 Switchback Ridge Cabernet Sauvignon Peterson Family Vineyard - Napa Valley. Intense in color and much darker than the 2005 SR Merlot. Hint of heat on the nose, with flavors of currant, black cherry and dense thick fruit. Finished with a dollop of chocolate and some tannin.
2005 Switchback Ridge Merlot Peterson Family Vineyard - Napa Valley. There is a green thing on the nose, what I might say would be 'underripe' but knowing who the winemaker is here, not likely. Thus, would call it kind of herbal, almost cabernet/bdx like. The wine is polished with cedar and some chocolate and supple tannin. Dark cherry and smoke, too. If tasted blind, I would have leaned toawards this being a cabernet with some merlot mixed in due to the tobacco leaf and sleek feel but overall, very nice with a smooth finish and lots of cool complexity.
2005 Switchback Ridge Petite Sirah Peterson Family Vineyard - Napa Valley. Listed alcohol is 16.4%. Boy, as with past vintages, like the 2004, a gigantic wine. Big and silky and yet dense with a wall of tannin that coats the tongue. Chalk, chocolate. Amazing richness and a smooth palate entry, followed by a gripping finish. This wine is a study in contrast--at one moment, sexy and polished with a wall of dark chocolate weight, measured against a huge strucuture, a wall of life ahead. A tremendous petite and made in totally neutral oak barrels, which is why I continue to buy and enjoy the SR petites. Purity and strength. Amazing.
As I taste some of the finished bottles from our just completed RRV trip, we were fortunate enough to steal some of Kelly Peterson's time and visit with her in St Helena, tasting through all three of the 2005 releases. All I can say is the 2005 SR petite is stunning. A perfect example of why this varietal thrills me the way it does.
Copain Wine
Copain Pinots From Barrel :
Baker Ranch AV--Blackberry, spice, lime-like acidity, spicy finish. 13.2% alc
Monument Tree AV--Leathery and dry in tone. Cherry, pomegranate and tea flavors. Harvested @ 22.8 brix. Dig that.
Wentzell AV--Raspberry, mineral and apple. From a new Ermitage barrel with 50% whole cluster.
Wentzell AV--Similar to last barrel but this one shows fatter sides to the palate, more lemon lime, cherry and red apple. Just bigger, potentially the new Remond Trancais barrel helps.
Kiser "En Haut"--From the upper portion of the vineyard so less clay and tougher soil. Blue and red fruit, raspberry with bit of truffle, mineral and grit.
Kiser "En Bas"--From the lower portion of the vineyard so primarily clay soils which clearly to me changes the wine. Bigger, fatter, more dominating in tone.
Copain Syrahs From Barrel :
2007 Brosseau Chalone--100% w/cluster with blue and earthy boysenberry and an iron and ferrous quality. I do not tend to like this vineyard but Rob very much did.
2007 Baker Ranch AV--like with the pinot, a new source. Picked @ 23.4 Brix and 100% w/cluster with an alcohol likely to be 13.4%. Pepper, cherry, game and fennel. Very nice.
2007 Alder Springs MC--a barrel of Clone 174 with 100% w/cluster. Black cherry, robust, inky with molten licorice.
2007 Hawks Butte YH--50% whole cluster. This was one helluva barrel and affirms again that HB is classy stuff. Flowery, fresh black cherry, gamy/meat, great intensity. There are several barrels of this plot with varying w/cluster so some nice blending is ahead here.
2007 Harrison-Clarke SBC--13.8% alcohol with 50% w/cluster. Dark, dense, chocolate and black and blue fruits. Chalky. Note have a big star.
2007 James Berry PR--Well, the James Berry 2007 is indeed big but in context, an alcohol of 14% so how big is that? Deep core, blueberry, licorice and blue fruited acidity. My notes say 'notable density and depth', finishing with some loam and peat notes. A tremendous barrel.
2007 Garys' SLH--100% whole cluster and as with past vintages, done in all neutral oak. Green olive, blackberry and tar. An infant that is just born.
2007 Thompson SBC--The biggest of all the syrah in alcohol @ 14.5% and of course, the most southern of the wines. Sexy, blueberry and fleshy. Reminds me a lot of the James Berry fruit above but more black and intense. A tremendous sample.
Finished Wines :
2006 Copain Pinot Noir "En Bas" Kiser - Anderson Valley.
Listed alcohol is 13.6%. Spicy with watermelon, strawberry, bigger kiwi than that of the En Haut bottling but also more intensity and structure, too. Nice to taste this and the En Haut side by side, considering this wine comes from a different section of the property and also a different soil type. It shows.
2006 Copain Pinot Noir "En Haut" Kiser - Anderson Valley.
Listed alcohol of 13.3%. Real nice expression. Juicy and fleshy with kiwi, strawberry and some fruit bowl features. Also, a nice spicy finish with some cinnamon.
2006 Copain Pinot Noir Monument Tree - Anderson Valley.
A new wine for Wells and Copain--added to the database here. Cherry, blackberry (which has a riper tone than I would have expected given the 12.8% alcohol) and lemony acidity. The finish is a bit leathery with some wet stone at this stage so the wine needs further time to settle but was bottled recently so that's to be expected, as well.
2006 Copain Pinot Noir Wentzel Vineyard - Anderson Valley.
Brand new wine for Wells and Copain. Listed alcohol is 13.2%. Lifted nose of rose petal and raspberry. Fleshy with watermelon, raspberry and strawberry, along with some nice red apple. A mineral component finshes the wine with medium weight. After an overnight decant, shows slate, cranberry and juicy raspberry. Pretty nice.
2006 Copain Roussanne James Berry Vineyard - Paso Robles.
Waxy and honeyed feel, with a lemon custard element. Tasting the wine a day later, a bit more diesely in tone, followed by some slate.
2006 Copain Syrah Brosseau Vineyard - Chalone.
100 percent whole cluster, and as such, the menthol on the nose is prominent. Sweet cherry, smoke and some game. It was kind of like a smoked sausage feel given all the aromatics and flavors so I would see this wine pairing well with that kind of food. One final note I scribbled to the side of my pad was "brushy" to convey a sense of underbrush or sage. I don't like the Brosseau as much as the other southern based selections Wells makes but my pal, Rob, who was tasting this wine with me liked it a lot.
2006 Copain Syrah Garys' Vineyard - Santa Lucia Highlands.
As with all the recent Garys' bottlings, both 100% whole cluster and neutral oak. 14.6% alcohol. Nose shows a stemmy quality with menthol and flowers. Huge finish of structure and blue fruit. Needs time.
2006 Copain Syrah James Berry Vineyard - Paso Robles.
50% whole cluster, 33% new oak and 14.9% alcohol, perhaps the biggest wine alcohol-wise of the 2006s, save the Thompson (I believe). My notes have a big star next to the wine, as well. Structure and plush fruit. Pure blue and black fruit. Shows some early silkiness and purity, which then is replaced by a cloak of stems and mocha wood that covers on the back end through the finish. Looks to be a killer interpretation of James Berry by Wells again.
2006 Copain Syrah Spirit Rock Alder Springs Vineyard - Anderson Valley. Brand new syrah for Wells, added to the database. 75% whole cluster with alcohol of 14.7%. Still fairly astringent at this young stage, no surprise. Lots of red cherry and blueberry, along with some mocha and vanilla. Big structure here so needs to soften. Of note, retasted the wine about 6 hours after it had been open and it had stretched out nicely, with much more balance, a darker intensity and impression and purity. Please, decant this wine or don't raise a stink if you try and pop and pour, only to taste it and find it wrapped up. Let it breathe!
Continuing some further download from our recent RRV trip, I'd like to share some thoughts and TNs on Copain. First off, I have been visiting Wells for the past 3-4 years and he is consistently generous with his time, his candor and the great wines that I continue to support and enjoy.
During our visit, we met Wells at the new winery on Eastside Road, just south of Healdsburg. For some lay of the land, Wells' new place sits across the plain from Bucher, Allen and Rochioli, which you can see quite well from the driveway of the Copain winery. The winery that Wells built sits on several acres of pinot, interestingly enough he is selling to Kosta Browne, which we were able to taste from barrel when we visited Michael @ KB the day before. I'll save comment on that when I get my notes up for our time @ the KB.
The new Copain place is beautiful--not just for the views of the RRV land, but the new winery. Plenty of space, lots of hospitality room and just more maneuvering ability for the Copain operation. Best of all, Wells has a separate barrel room for just his stuff, cool and just 2-high throughout. Unfortunately, my photos of the winery and the visit are not going to be retrievable but my TNs are!
We tasted through a wide array of 2007 Copain barrels, which I note below, followed by the 2006s. All are all taken from our tastings with finished bottles, some of which are yet to be released later this year or early next.
As for the 2007 barrels, it is clear that Wells is committed to a shift in his pinots. All the wines are sourced solely from Anderson Valley ("AV") fruit, showing low alcohols (which Wells indicates is an intentional shift). There is also healthy amounts of whole cluster inclusion. So, for those of you wanting to shift to a more traditional style, I would suggest you pay attention to the 2007 Copain pinots. Here are the barrels of pinot, followed by syrah.
Of note about the syrahs, as one travels through the barrels and moves north to south in terms of the AVAs, the wines tone and forward cores increase. I tend to prefer the southern wines Wells does (JB, Thompson, Harrison-Clarke).
The finished 2006s were written last week from both tasting them with Wells, as well as over dinner the next night in some cases.
Benovia
Benovia Pinots From Barrel :
2006 Benovia Chardonnay La Pommeraie Vineyard - Russian River Valley. Tasted at the winery from finished bottle. Pineapple, slate and good acidity. Tasted the 2007 from barrel, however, and while the 2006 is good, the 2007 will be even better IMO.
and then some 2007 barrels....
2007 Chardonnay La Pommeraie--driven with lime, minerals, anise, wet stone and pineapple.
2007 Chardonnay RRV--tremendous stuff here. Terrific intensity, spicy minerality and great balance, even as a barrel sample. A wine I will buy 3-4 bottles of and watch it develop. If you make it by Benovia, taste it.
2007 Cohn (I missed the barrel type)--Spicy and smoky with black cherry, raspberry and faint cola.
2007 Dutton Manzana--clone 777, rich and broad but lacks some edges. A blend component. In contrast, we also tasted another barrel of Dutton Manzana, this time clone 828 which threw a bunch more of everything...cola, blueberry and sexy fruit.
We then headed for some barrels of fruit from a Sonoma Coast source called Peterson Vineyard. We hit about 4-5 barrels from this property and I really liked this fruit a whole lot. Here is a contrast of clone 115, showing the impact of oak.
2007 Peterson--clone 115 taken from a neutral 4-year old barrel. Pepper, dark fruit, candied red apple, jammy with some loam. Delicious.
2007 Peterson--clone 115 again but this time from a new Rousseau barrel. Lifts the smoky element and more of the loam. Also adds a leafy component. Similar flavors but the accentuation of the complexity is there.
Finished Wines :
2006 Benovia Reserve (name TBD, releasing later this year)--This resounds for me in the new world style. Fragrant and powerful nose of blue flowers, some heat and brown spice. Palate of candied red apple, raspberry jam, mineral with a hint of mocha. Almost liqueur like at times and big boned. This will not be for the burg lover and will please the new world pinot drinker, but note, the wine is huge.
2006 Benovia Pinot Noir Savoy Vineyard - Anderson Valley.
Tasted from finished bottle with Mike Sullivan @ Benovia. Caveat--wine is not released yet and this is an early look as I had to add the wine to the database. Nose is minty and leafy, with the fruit showing a blue feel and plush center. There is a bit of pine and the wine is still tannic. Of note, there is 40% whole cluster used.
2006 Benovia Pinot Noir Sonoma Coast - Sonoma Coast.
Short note as I got distracted. Juicy, dark fruit with flavors of deep red and blue.
2006 Benovia Pinot Noir Cohn Vineyard - Russian River Valley.
Tasted this wine on RRV wine trip during a stopover @ Benovia. The wine is not yet released but is bottled and labeled, to be offered in the next mailer this fall. I tasted the wine from bottle but reserved judgment for 24 hours until I could get home and sit with it, which I did, a full 24 hours later. Nose of light spice/pepper and red fruits. Red apple, smooth mid palate, bit of earth and truffle, followed by a raspberry jammy note and a loamy finish. What is interesting about this bottle is the kind of autmum leaf, earthy component, measured against the fruit.
For the second year, we have made Benovia a stop on our annual RRV trip, and coincidentally due to scheduling this year, it also was the final stop, with us dropping by on Saturday AM and doing it up before heading down back to the airport for our evening flight from OAK.
I have been a supporter of Mike Sullivan since his days at Hartford, having discovering the Hartford Zins during my early times as a new Parker subscriber. The WA helped me hook me into Mike's wines, and also a visit to Hartford way back when before Mike ultimately left. Then, there is the connection to the Cohn vineyard, having found that link through the earlier KB vineyard designate, which I also enjoyed. Combining Mike's arrival to the startup of Benovia, along with the Cohn fruit and Mike's commitment to pinot from points along and west of the 101, it was easy to follow him.
We had a great visit there last year and I left with an appreciation of Mike's style and expression for what he was doing with pinot and chard (and also one Zin). This year, we headed by and met up with Mike, as well as Bob Mosby, the winery's GM. By appointment only, it's quiet and off the path, situated in the middle reach portion of the appelation, nearby Inman and Koplen (correct me if I am wrong, plz).
Lots of things going here. First there is some new planting coming. This photo below shows the property directly behind the crushpad that Benovia has just purchased, that will be planted in the near term. A former prune orchard, the land will give Mike some additional clonal material and fruit to increase production.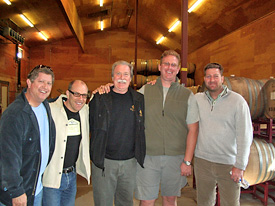 (l to r) Rob, Frank, Bob Mosby, Mike Sullivan, Chris
Once back inside, we tasted a number of barrels, clones and fruit sources, as well as some finished bottles with Mike. I took some notes while Chris and Rob tried to keep up ! First, a couple of whites.
Once done with the whites, well, off to the pinots. We probably tasted through about 15-20 barrels. And then, we tasted some finished bottles. One bottle is the yet to be labeled or named 'Reserve' bottling. I quipped to Bob we ought to call it the Shiner Cuvee. I tasted this wine both at Benovia, and then corked it and brought it home in my suitcase to finish it the next afternoon. Thus, the TN is a mix of both experiences.
Of the finished bottles, I liked the Savoy and Cohn best. I'd like to revisit the 2006 SC again, which I will do later this year from my own inventory, or perhaps for some of you, the wine should be here for Falltacular if Mike brings it.
And to end the trip, on Day 4, there's nothing like doing some 9AM TNs on wines that we have been collecting and enjoying throughout the trip. Chris does it big-style (right).
I do want to thank Joe Judge and Jim Mack for joining us for a great meal in Sebastopol. We don't have a shots from that dinner and I was too fried to take notes but we did go through a bunch of nice bottles and got to spend some time talking Bennett Valley, where both Jim and Joe are neighbors and growers. You guys keep growing bitchen syrah!