Visits in this Issue:

Tolosa Winery
Baileyana & Tangent Wineries
Loring Wine Company
Alma Rosa Winery & Vineyards
Foxen Winery & Vineyard
Kenneth Volk Vineyards
Stolpman Vineyards & Winery
Presidio
Trio (DiBruno /Curran /Badge)
Ampelos Cellars
Ken Brown Wines
Tablas Creek Vineyard
Calcareous Vineyard
Four Vines Winery
Linne Calodo
Dover Canyon Winery
Halter Ranch Vineyard
Edward Sellers Vnyds & Wines
Booker Vineyard
Penman Springs Vineyard & "The Wines Formerly Known as Redline"

In-depth winery visits are always a fun and educational experience, but I also enjoy simple visits to winery tasting rooms. Dropping in without too many particular plans allows me to make as many or as few stops along the way as I feel like making, and also gives me a better idea of what wineries are pouring for typical visitors.
Aside from a few pre-arranged winery visits on this trip, I did a little planning ahead and picked some possibilities that sounded like they'd be interesting places to visit, while others were spur-of-the-moment stops along the way. Traveling to the Central Coast after Thanksgiving is becoming a yearly tradition for me, and as I had a couple of obligations through the first weekend of December, I hit the road the following Monday.
Monday - December 3, 2007
Tolosa Winery
Tasting Notes:

'06 Sauvignon Blanc: made in all stainless steel, grapefruit/citrus and mildly grassy aromas and clean citrus flavors

'06 Chardonnay, "No Oak": cool temperature fermentation in stainless steel, about 40% went through malolactic, subdued citrus aromas, some mild leesy notes add interest, a touch of minerality in the finish

'06 Chardonnay: about 90% fermented in oak, 30% new, about 2/3 went through malolactic, richer than the "No Oak", but still displaying citrus aromas with some tropical fruit and vanilla/oak notes.

'05 Pinot Noir, Central Coast: 20% new oak, medium-light color, very pretty floral and red fruit aromas, cherry, tea leaf and spice flavors, great value at $18

'05 Pinot Noir: aged for 11 months in oak, 30% new, darker than "Central Coast", more raspberry and tea leaf with vanilla overtones

'05 Pinot Noir, "1772": top Pinot, barrel selection with about 50% new oak, medium red color, similar to regular bottling but more intense aromas and flavors, and adding a nice hint of orange peel

'04 Merlot: medium-dark color, light cherry and slightly smoky oak aromas, medium-bodied and mild tannins

'04 Syrah: 20% new oak, dark color, black fruit aromas with white pepper and herb overtones, nice mouthfeel, not overly tannic, another QPR winner at $16.

'04 Heritage Blend: a co-fermented blend of 68% Syrah and 32% Grenache, dark fruits, herbs, touches of smoke and spice, firm tannins

'05 Late Harvest Sauvignon Blanc: from botrytised grapes, 14% RS, fig and tart orange aromas, pleasant but not exceptional
I'd gotten a late start driving south from Oakland, so I had time for only a couple of stops before continuing to Lompoc, where I was staying for a couple of nights. I'd never visited Tolosa and I decided to make that my first stop. The tasting room was in a recently-built facility set in the midst of vineyards in the heart of Edna Valley. All the wines are made from estate Edna Valley fruit. Most of the fruit from their 700+ acre Edna Ranch vineyard is sold to other wineries, while Tolosa is able to take their choice of fruit. Planted mostly to Chardonnay and Pinot Noir, small blocks of other varieties are grown there as well.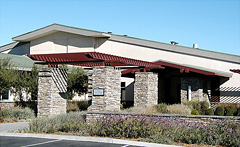 Tolosa's first wines were produced in 1998, and their current production is around 20,000 cases per year. The tasting room itself has a sleek modern feel to it – lots of metal and glass, not the rustic woodsy look so popular with many wineries. Traci was handling the pouring duties behind the long glass tasting bar when I visited, and I was able to sample ten wines she had open that day. Overall, Tolosa has a very nice lineup of wines, with a couple of particular standouts in the sub-$20 category. I was particularly impressed with the lively acidity present in nearly all the wines, reflecting the cool climate of the vineyard site.
Baileyana & Tangent Wineries
Tasting Notes:

'06 Tangent Viognier, Paragon Vineyard: nice floral, lemon, and stone fruit aromas, very pleasant

'06 Tangent Pinot Gris, Paragon Vineyard: pear / apple aromas, good acidity, somewhat clipped finish

'04 Baileyana Gewürztraminar, Central Coast: seemed tired and over-the-hill, not showing much

'01 Baileyana Syrah: 95% Paso Robles, 5% Firepeak Vineyard, subdued plummy fruit with some black pepper notes

'04 Baileyana Grand Firepeak Cuvée Syrah, Firepeak Vineyard: unfortunately oxidized (perhaps the bottle had been open a few days?), though some dark fruit and meat aromas poked through

'03 Baileyana "Trenza", California: 49% Syrah, 34% Merlot, 13% Cabernet Sauvignon, 4% Petite Sirah, fruit sources range from Napa Valley to Santa Barbara County. Dark fruit aromas with hints of cedar and smoke, moderate tannins
With time for one more stop in Edna Valley, I headed to the tasting room shared by Baileyana Winery and their sister winery, Tangent. Their tasting room is in the historic Independence Schoolhouse, a familiar site along Orcutt Road in Edna Valley and formerly the tasting room for Seven Peaks.
Owned by the Niven family, who founded Paragon Vineyard in the valley in 1973, Baileyana focuses mainly on Chardonnay, Pinot Noir, and Syrah. The newer Tangent label produces exclusively white wines other than Chardonnay, and bottles all their wines in screwcap. The Tangent wines are made entirely in stainless steel and without malolactic fermentation. In recent years, Baileyana has developed its own estate vineyard, Firepeak, named for the chain of extinct volcanoes starting from coastal Morro Rock and extending into Edna Valley.
Burgundian native Christian Roguenant has been Baileyana's winemaker since 1999, and now makes the Tangent wines as well (he also makes wine for several other labels, including Alma Rosa). Their recently-constructed winery is large enough to accommodate the target production of 25,000 cases, as well as to allow several other wineries to do custom crush there. I'd heard good things about Baileyana's recent wines, and the Tangent concept intrigued me, but this visit was ultimately somewhat disappointing. I got the impression that they were trying to clear out some older wines from the tasting room, and they weren't pouring any Pinot at all. I'd like to return and taste a better representation of their current wines one of these days.
Continuing south to Lompoc, I decided to drive along scenic Santa Rosa Road, where the late afternoon light helped create a dramatic view across the Santa Ynez River to Sea Smoke Vineyard on the steep hillside beyond. As I knew I would be in the Santa Barbara wine country on a Monday evening, I couldn't resist setting up a dinner at the Hitching Post in Buellton for their Monday burger night. I was joined by John & Cindy Tomasso, Dave & Becky Corey with their young sons Fletcher & Nolan, Peter Cargasacchi, and Brian Loring. Dinner at the Hitching Post never disappoints, and with delicious burgers, lots of good wine on the table, and great company, this was a fun and memorable evening.
Tuesday - December 4, 2007
Loring Wine Company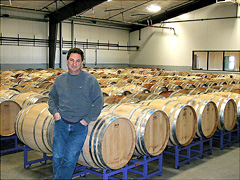 At dinner the previous night, Brian Loring had invited me to visit him at the brand new facility his winery shares with Pali Wine Company, and the next morning I took him up on his offer. The building, not far from his previous location on the north side of Lompoc, was still undergoing finishing touches, but Brian was able to move into the space during the 2007 crush. Brian's portion of the building is over 20,000 square feet, allowing him a true luxury for a winery – being able to arrange all his barrels in a single layer on the floor. Of course, that was the case when he moved into his previous building too, so we'll see how long this lasts…… Although the building is on the utilitarian side in terms of design, it does include some cool features such as ozone stations at several locations throughout the interior, plus a useful feature his previous facility lacked…...floor drains! Since Brian's '07 wines are in an awkward phase that every Pinot seems to go through a few months after crush, we decided it would be best to hold off on barrel tasting. So after a quick tour of the new building, I was on my way again.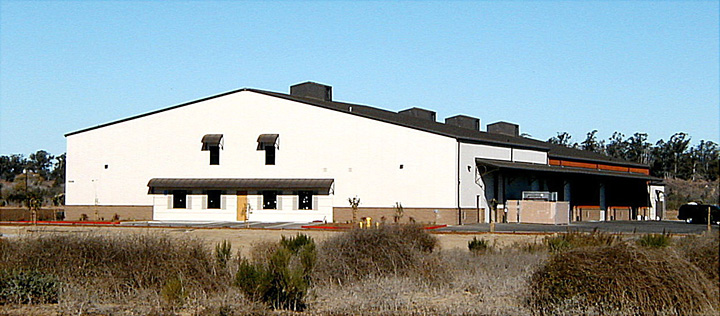 The new Loring Wine Company building
Alma Rosa Winery & Vineyards
I'd hoped to stop at Foley Winery along Highway 246 not far from Lompoc, but found the tasting room was closed for the day due to updating their computer system. So I continued on through Buellton and headed back along Santa Rosa Road to the tasting room for Alma Rosa. I'd tasted their wines earlier in the year, but I wanted to stop by, since they had moved in July from their temporary "Camp Alma Rosa" tasting room in Buellton back to what had been the old Sanford tasting room.
Tasting Notes:

'06 Pinot Gris, Santa Barbara County: from a vineyard near Los Alamos, lightly floral and stone fruit aromas, zingy acidity

'06 Pinot Blanc, Sta. Rita Hills: made in stainless steel with no malolactic, pear and apple aromas with hints of spice and good balance between richness and acidity. Very tasty!

'05 Chardonnay, El Jabali Vineyard, Sta. Rita Hills: tropical fruit & citrus, medium-bodied, bright acidity

'05 Pinot Noir Vin Gris, El Jabali Vineyard, Sta. Rita Hills: light salmon color, pleasant strawberry and spice aromas, very refreshing

'05 Pinot Noir, Sta. Rita Hills: all from La Encantada Vineyard, mostly 777, Pommard 4, and 115 clones, about 18% new oak. Exceptionally pretty aromas of rose petals, red fruits, and spice, with lively acidity. This wine might age nicely but it's so nice right now that there's little reason to wait. In the 7-8 months since I last tasted this wine it's really come together beautifully and it was one of the highlights of my Central Coast trip.

'05 Pinot Noir, La Encantada Vineyard, Sta. Rita Hills: from 667 and Swan clones, aged in about 40% new oak, darker fruit and more earthy than the SRH Pinot, more in need of age to show its best
Mel Lewis was behind the tasting counter, and we were joined for awhile by winery owner Richard Sanford, who was meeting with a couple of people about installing solar panels at the facility. It's always a pleasure to talk with Richard, and his dedication to sustainable, organic farming, green building methods, and other environmentally-conscious goals shows through in everything he says and does. Alma Rosa's two vineyards along Santa Rosa Road, 7-acre Rancho El Jabalí (adjacent to the tasting room) and 100-acre La Encantada Vineyard are both certified organic. Most of the two vineyards are planted to Pinot Noir, with smaller plantings of Chardonnay, Pinot Blanc, and Pinot Gris. Alma Rosa's wine is made by Christian Roguenant in Edna Valley. The wines are all beautifully crafted, and it was great to be back in that familiar and funky old wood structure tasting the wines of Richard Sanford there again.
Foxen Winery & Vineyard

Tasting Notes:

'05 Chenin Blanc, Wickenden Vineyard: straw & apple/pear aromas, good balance of mouthfeel and acidity

'06 Chardonnay, Tinaquaic Vineyard: apple and tropical fruit aromas and flavors, rich yet clean and refreshing

'06 Pinot Noir, Santa Maria Valley: fruit sourced from 80% Bien Nacido and 20% Riverbench vineyards, bright red fruits, tea leaf, spice, with hints of mushroom and earth

'06 Cuvee Jean Marie, Williamson-Doré Vineyard: 60% Grenache, 20% Syrah, 20% Mourvedre, dark fruits & spice, medium tannins, long finish

'04 Merlot, Vogelzang Vineyard: ripe cherry / vanilla aromas, rich mouthfeel with some spicy oak in the finish

'05 Sangiovese Volpino: 72% Sangiovese, 28% Merlot, earthy cherry, medium-bodied with moderate tannins, very pleasant

I'd wanted to visit the Kenneth Volk Vineyards tasting room, in the facility that used to house Byron Winery at the mouth of Tepusquet Canyon. I called the tasting room to find out if the dirt road that crosses the usually-dry Sisquoc River was open that day (it's often washed out and closed during the winter, resulting in a time-consuming detour to cross the river). After learning that it was open, I headed north on scenic Foxen Canyon Road. Seeing that there were no cars parked outside often-crowded Foxen Winery, I decided to pop in for a quick visit. I had visited there earlier in the year, and was happy to see that they were pouring new vintages of their wines this time.
Kenneth Volk Vineyards
Tasting Notes:

'06 Pinot Grigio, Sierra Madre Vineyard, Santa Maria Valley: made in stainless steel, citrus aromas with a bit of spice and juicy acidity

'05 Chardonnay, "Jaybird", Santa Maria Valley: another unoaked Chard – "naked as a Jaybird" – moderate tropical fruit aromas with bright acidity

'05 Chardonnay, Estate: from 25-30 year old vines, much richer than "Jaybird" with prominent vanilla/spice notes

'06 Malvasia Bianca, San Bernabe Vineyard, Monterey County: very floral, "sweet" aromas but actually dry, stone fruit and spice in the flavors, good acidity, very nice.

'05 Pinot Noir, Santa Maria Cuvee, Santa Barbara County: blend from Bien Nacido, Garey, Nielson, Sierra Madre, and Solomon Hills vineyards, red fruits and rhubarb with touch of earth, smooth mouthfeel and mild tannins

'03 Merlot, Paso Robles: smoky black cherry aromas, medium-bodied with moderate tannins

'05 Merlot, Rancho Sisquoc Vineyard: bigger wine than Paso Merlot, sweet ripe cherry and vanilla aromas and flavors

'04 Tempranillo, John Smith Vineyard, San Benito County: slightly floral and herbal notes with tangy red fruits, firm tannins

'05 Negrette, Caleri Vineyard, San Benito County: very dark color, intense brambly fruit with some peppery notes, not overly tannic

A familiar name in a new venture – Kenneth Volk was the founder and long-time owner/winemaker at Wild Horse Winery in Templeton. He sold Wild Horse in 2003, and the following year he purchased the old Byron Winery from the Robert Mondavi Corporation. Having worked with Santa Maria Valley fruit in the past – his first commercial wine release at Wild Horse was a 1983 Pinot from the area – it was an easy transition for him to make.

The first wines from the new Kenneth Volk Vineyards label were released in 2006. Although the focus of the new winery is on vineyard-designated wines from Santa Barbara County, there are also a number of wines from Paso Robles fruit (mostly Cabernet and Merlot) and a handful from Monterey and San Benito Counties. And as he did at Wild Horse, Volk continues to make some wines from grape varieties that don't get a lot of attention in California – Malvasia Bianca, Tempranillo, and Negrette among them. Steve Hunter was pouring wines at the small tasting room counter the day I visited. The winery has about 20 bottlings in current release, and I had a chance to taste most of the varieties they produce.
The day was warm and sunny – getting into the upper 70s, it was surprisingly warm for December. After driving back down Foxen Canyon Road, I enjoyed one of my favorite lunch places, Los Olivos Grocery, just off Highway 154 on the east side of town. Their specialty sandwiches are yummy, and when they're grilling tri-tip for sandwiches on their outdoor barbeque – well, that's hard to beat!
Stolpman Vineyards and Winery

Tasting Notes:

'05 "Poetry in White": 85% Sauvignon Blanc, 10% Roussanne, 5% Viognier, aromatics are dominated by the Sauvignon Blanc, easy-to-drink style of white

'04 "Poetry in Red": Syrah/Sangiovese blend, blackberry/plum with herbal and mocha notes, moderate tannins

'04 Sangiovese: cherry/strawberry and spice aromas, medium-bodied with nice acidity

'03 Nebbiolo: medium color, black cherry and herbs, powerful tannins, needs plenty of time

'05 Estate Syrah: with about 5% Grenache, bright plummy fruit, medium-rich mouthfeel and good acidity

'05 Hilltops Syrah: 90% new oak, racked onto Roussanne lees after about 12 months for aromatics and texture, darker fruit than estate, spicier, more full-bodied and tannic, structured for aging – excellent!
Solvang, a few miles south of Los Olivos, has a tacky tourist-trap side to it, but in recent years it has also become home to a number of wine bars and tasting rooms. One of the best of these is the tasting room for Stolpman.
Their eponymous vineyard in Ballard Canyon (in the Santa Ynez Valley AVA) provides fruit to a number of other wineries in addition to their own. Syrah, Sangiovese, Nebbiolo, Sauvignon Blanc, Roussanne, Grenache, Cinsault, and Merlot are among the varieties grown there. The 220-acre estate was first planted in 1992, and is farmed by renowned vineyard manager Jeff Newton and his Coastal Vineyard Care Associates.
Stolpman winemaker Sashi Moorman, who formerly worked with Adam Tolmach at Ojai Vineyards, makes the wine at their facility in the Lompoc industrial park known as the "Wine Ghetto". Stolpman's wines seem to walk the line between power and finesse better than most wineries that try to take that route, and they're always a pleasure to taste.
Presidio

Tasting Notes:

'06 Chardonnay, Estate: barrel fermented, 100% malolactic, apple/spice aromas & flavors with oak overtones

'06 Viognier, Estate: neutral oak, shy aromatics, citrus & floral notes, hint of minerality in finish

'06 Syrah Rose, Estate: whole-cluster pressed from earlier-harvested cluster "wings", very light color, red berry aromas, quite pleasant

'06 Gewurztraminer, Viento Vineyard, Monterey County: made in stainless steel, intense lychee aromas, seems slightly sweet, smooth finish

'06 Pinot Noir, Estate: from 115, 667, 777 clones, medium-light color, cherry/spice aromas, along with some darker fruit and earth in flavors, medium-bodied, very good acidity, very nice

'04 Sangiovese, Hallauer Vineyard, Santa Ynez Valley: black cherry aromas, spicy oak overtones with bright acidity

'03 "Interlude", Napa Valley: 85% Cabernet Sauvignon, 15% Cabernet Franc, muted dark fruit and smoky oak aromas, a bit hard and closed on the palate

'04 Syrah, Hallauer Vineyard, Santa Ynez Valley: plum aromas & flavors with overtones of earth and meat and a touch of mocha

'04 Syrah, Estate: black pepper, meat, darker fruit than SYV Syrah, full tannins, promising but needs time

'04 Port, Amador County: 52% Touriga Nacional, 22% Tinta Cão, 26% Tinta Roriz, sweet, jammy plum and dark fruit, smooth mouthfeel
I was impressed with a couple of Presidio's wines when I'd tasted them at a wine event in 2006, so I was curious about trying out a larger selection of their lineup. Their tasting room, a short walk from Stolpman's, is conveniently right across the street from Mortensen's Bakery, my favorite place in Solvang for cookies and pastries.

Presidio founder and winemaker Doug Braun began his winery in 1991 using all purchased fruit but was not satisfied with the results, so he established his own estate vineyard. Planted around 2000, Presidio's biodynamically-farmed vineyard just west of the Sta. Rita Hills AVA near Lompoc utilizes dense vine spacing and a trellising system that keeps the fruit zone of the vines close to the ground to take better advantage of refracted heat in the cool climate. About 30 acres of the property are planted with Chardonnay, Viognier, Pinot Noir, and Syrah. The winemaking facility is a neighbor of Stolpman's in the Lompoc Wine Ghetto. For the most part, Presidio's estate wines were the most interesting of the lineup at the tasting room, and it will be interesting to see how their wines evolve over the next few years.
Trio (DiBruno / Curran / Badge)

Tasting Notes:

'06 Curran Gewurztraminer, Santa Barbara County: from White Hills and Sanford & Benedict vineyard fruit, made in stainless steel with no malolactic, totally dry, moderate floral and spice aromas, very refreshing

'05 DiBruno Pinot Grigio, Sanford & Benedict Vineyard: made in stainless steel with no malolactic, light color, pear and spice aroma, moderately-rich mouthfeel

'06 DiBruno Pinot Grigio, Sanford & Benedict Vineyard: similar to '05 but more intense aromas, not quite as viscous with a bit more acidity and a touch of minerality in the finish

'06 Curran Grenache Blanc, Santa Ynez Valley: from Camp 4 Vineyard, fermented cool in stainless steel, no malolactic, ripe apple and spice aroma, smooth mouthfeel balanced with crisp acidity

'04 DiBruno Sangiovese, Stolpman Vineyard: medium color, cherry/vanilla aromas with earth and spice notes, good acidity and moderate tannins

'05 Badge Pinot Noir, Sta. Rita Hills: from 60% La Encantada & 40% Gaia Vineyard (the old Ashley's Vineyard, dark fruit with lots of spice, medium-bodied with great mouthfeel and finish, excellent. I thought at first it might have some whole cluster fermentation because of the very spicy character, but I was assured that Bruno and whole cluster don't mix!

'04 Curran Syrah, Black Oak Vineyard: aged 18 months in 75% new oak, blackberry and pepper aromas with spicy oak overtones, not especially tannic
Shortly before leaving on my trip, I'd heard that Kris Curran and Bruno D'Alfonso had opened a new tasting room for their wines in Solvang. The tasting room is called Trio, for the three labels poured there – DiBruno, Curran, and Badge.
Bruno was the long-time winemaker for Sanford but left the winery shortly after Richard Sanford did. He has consulted with several other wineries in addition to making his own DiBruno and Badge labels. DiBruno's focus is on Italian grape varieties while Badge makes Sta. Rita Hills Pinot Noir. Kris recently became the winemaker for Foley Estates Winery and Lincourt Vineyards after a number of years as winemaker for Pinot specialist Sea Smoke, and her Curran label has also generated considerable interest over the past few years. In particular, Curran's Grenache Blanc has opened the eyes of a lot of people as to the possibilities of that grape variety. I can attest that it's a perfect match with the delicious spicy food at Thai Cuisine in Lompoc!
When I arrived at Trio late in the afternoon, Kris, Bruno, and their tasting room staff were having a photo session done. Kris told me that they would be finished in about a half-hour so I strolled around town for awhile and returned just as the photo crew was packing up their gear. Of course, Kris & Bruno's four beautiful German Shepherds were lounging in the tasting room as well. After the regular tasting, Kris & Bruno invited me to stick around to taste some of their wines matched with some flavored chocolate they were considering for their tasting room – there were some hits and misses with the matches, but it was a memorable experience. I thought all the wines were noteworthy, and this new tasting room is not to be missed.
Wednesday - December 5, 2007
Ampelos Cellars
Tasting Notes:

'05 "Syrache", Santa Barbara County: 27% Grenache, 73% Syrah from several vineyard sources (Alisos, Byron and Bien Nacido), about 35% new oak, aromas capture both brighter Grenache fruit and darker Syrah character, with a touch of pepper. Smooth mouthfeel, not tannic, should be good for early drinking

'05 Grenache "Delta", Byron Vineyard, Santa Maria Valley: about 35% new oak, medium-dark color, sweet cherry & strawberry aromas with hints of darker fruit, moderate tannins

'05 Syrah "Gamma", Ampelos Vineyard, Sta. Rita Hills: second Syrah harvest from estate vineyard, combination of 99 and Estrella clones, fruit was destemmed, about 35% new oak, medium-dark color, black cherry and darker fruit aromas with touch of black pepper and mocha, nice acidity, not too tannic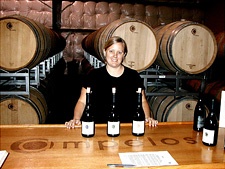 The next morning I made the short drive to the winery shared by Ampelos Cellars and Ken Brown Wines, on the northwest edge of Lompoc. I've visited Ampelos several times in the past couple of years, but since I'd made an appointment to taste with Ken Brown that morning I thought I'd contact Ampelos and check out their latest wines too.
Peter and Rebecca Work are the people behind Ampelos, and their wines continue to impress. The Work's daughter-in-law Lindsay, who's an integral part of the Ampelos team, met me at the winery to taste their three most recent releases.
Ken Brown Wines
Tasting Notes:

'05 Chardonnay, Nielson Vineyard: using Wente clone, from the oldest vineyard in Santa Barbara County, planted in 1964, with which Ken has worked for well over 20 years, this was barrel-fermented with 100% malolactic fermentation, in about 12% new oak. Apple and spice aromas with a hint of tropical fruit in the flavors, rich mouthfeel with very good acidity

'05 Pinot Noir, Sta. Rita Hills: a blend from 58% Mt. Eden clone from Sanford & Benedict and 42% Pommard clone from Clos Pepe, the grapes were 100% destemmed, and the wine was aged for 15 months in about 30% new oak. Medium color, black cherry & darker fruit with some earthy character

'05 Pinot Noir, Cargasacchi Vineyard: entirely 115 clone, 100% destemmed, aged 17 months in about 45% new oak. Medium-dark color, darker fruit character than SRH blend along with earth & mushroom, full-bodied with moderate tannins and mineral notes on the long finish. Very tasty!

'03 Syrah, Bien Nacido Vineyard: all Estrella clone, about 40% new oak, very dark color, black pepper, savory smoked meat, blackberry aromas, rich and tannic but with very good balancing acidity, excellent cool-climate Syrah
It wasn't too difficult to get to my next winery visit…..I simply walked up the flight of stairs to Ken Brown's office, where he had some of his current releases out for tasting. After having visited the winery a couple of times during busy open house events, it was nice to be able to spend more time tasting and talking with Ken about his wines.
One of Santa Barbara County's wine pioneers (one of several famed winemakers to have worked at Zaca Mesa Winery, and founder of Byron Winery in the early '80s) Ken launched his own label in 2003 following the sale of Byron Winery. Ken's wife Deborah handles the business side of the winery.
Ken Brown Wines currently has a yearly production of about 2,500 cases, and Ken plans to keep production around this level so he can have personal "hands-on" control over the entire winemaking process. His long working relationship with many of the most highly-regarded vineyards in Santa Barbara County – Cargasacchi, Clos Pepe, Rio Vista and Sanford & Benedict among them – has allowed him to find and use the specific vineyard blocks that will lead to the wines he wants to make. Ken uses "native" yeast for fermenting his Chardonnay while his Pinots and Syrahs are inoculated with specific yeast strains. Single vineyard Pinots spend about 17-18 months in barrel while the blended Pinots are typically in barrel for about 12 months. On Syrah, Ken uses saignée to help concentrate the fruit flavors, and délestage (rack & return) to reduce seed tannins. This was a very impressive quartet of wines – the Chardonnay was right up with the best I tasted on this trip, and the Cargasacchi Pinot and Bien Nacido Syrah were exceptional as well.
Before leaving Santa Barbara County, I stopped for lunch at Panino in Los Olivos, just around the corner from the town's charming main street. I'd heard how good their sandwiches were but I'd never tried them before – mainly because of the throng of people usually crowding the place. I managed to get there at an uncrowded time, and it was well worth the stop – terrific sandwich, and a nice place to relax and watch people strolling up and down the street.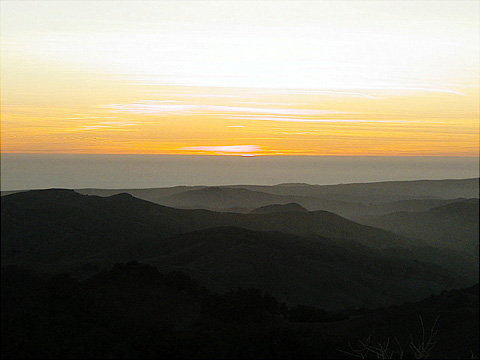 I spent the rest of the day doing some sightseeing as I made my way from Lompoc up to Paso Robles, capped off by watching a gorgeous sunset from the summit of Highway 46 between Cambria and Paso, maybe the most spectacular viewpoint in the area. Went to the bar at Villa Creek restaurant for a light dinner – even when the restaurant itself isn't that busy, the bar is always hopping and it's the place in Paso to spot winemakers. I bumped into a couple of them at the bar that evening, Roger Nicolas of RN Estate Vineyard and Amy Butler of Edward Sellers Vineyard & Wines. I'd heard of Edward Sellers but had not tasted their wines, and talking briefly with Amy convinced me that I needed to stop by their tasting room the next day.
Thursday - December 6, 2007
Tablas Creek Vineyard
Tasting Notes:

'06 Côtes de Tablas Blanc: 59% Viognier, 32% Marsanne, 6% Grenache Blanc, 3% Roussanne, expressive floral / stone fruit aromas, moderately rich mouthfeel with mineral notes on the long finish. More Marsanne in this blend than in previous years

'06 Esprit de Beaucastel Blanc: 65% Roussanne, 30% Grenache Blanc, 5% Picpoul Blanc, apple and citrus aromas, complex flavors include notes of honey and flowers, rich and intense, long finish

'06 Rosé: 60% Mourvèdre, 28% Grenache, 12% Counoise, strawberry / raspberry with some spicy notes

'05 Côtes de Tablas Rouge: 43% Grenache, 24% Mourvèdre, 18% Syrah, 15% Counoise, darker fruit aromas, plum, earth, bright acidity with moderate tannins

'05 Mourvèdre: 90% Mourvèdre, 10% Syrah, deep plum aromas, dark berry flavors with savory meat and spice notes, good tannic structure

'04 Esprit de Beaucastel Rouge: 50% Mourvèdre, 27% Syrah, 17% Grenache, 6% Counoise, blackberry and meaty aromas, medium-bodied with a touch of minerality on the finish

'05 Esprit de Beaucastel Rouge: 44% Mourvèdre, 26% Grenache, 25% Syrah, 5% Counoise, similar character to
'04 but noticeably more intense aroma and flavor, maybe a bit more spice and brighter fruit character than '04

'05 Vin de Paille: 34% Roussanne, 29% Grenache Blanc, 24% Viognier, 13% Marsanne, 262 g/L residual sugar, stone fruit, floral, and almond aromas, not heavy, acidity keeps the flavors lively

'04 Vin de Paille "Quintessence": 100% Roussanne, 153 g/L residual sugar, made from one barrel and given extra barrel aging, very rich, intense apricot, honey, and spice, long finish, outstanding dessert wine.
In contrast to the warm weather in Santa Barbara County, the morning was chilly as I drove west from Paso Robles along curving Adelaida Road and soon reached Tablas Creek Vineyard.
Co-owned by the Perrin family (of Château de Beaucastel fame) and Robert Haas (founder of Vineyard Brands importers), the heart of Tablas Creek is its 120-acre organically-farmed vineyard. On sloping hillsides of calcareous clay soil, the vines are planted more densely – from 1,600 to 1,800 vines per acre – than at most California vineyards. With its Beaucastel heritage, of course Tablas Creek specializes in Rhône-style wines, and five white plus four red Rhône grape varieties are grown in their vineyard. They also grow small amounts of Vermentino and Tannat. Some of the vines are head-pruned, in the style of Châteauneuf du Pape, rather than trellised.
All of Tablas Creek's wines are made with estate-grown fruit. They currently produce about 18,000 cases per year, and their ultimate target is around 20-25,000. Whites are fermented with native yeasts, mostly in stainless steel with some in neutral oak, while reds are fermented with native yeasts in stainless steel tanks, then aged in 1,200-gallon oak foudres. The Vin de Paille dessert wines are made in the traditional way – the grapes are dried on straw mats, then fermented and aged in new oak barrels. Tablas Creek is a "must" stop for me whenever I'm in the Paso area, and their elegant wines are as distinctive as any I've tasted along the Central Coast.
Calcareous Vineyard

Tasting Notes:

'04 Chardonnay, York Mountain: barrel-fermented, 100% malolactic, a big, rich wine that's well-made but seems more about the smoky oak/vanilla from the barrels than the hints of citrus-like fruit

'05 Roussanne, Paso Robles: barrel-fermented in neutral and one-year old oak, malolactic, medium-light color, bright stone fruit with a bit of orange peel in the aromas, much less oak influence than with the Chardonnay

'05 Viognier, Paso Robles: no malolactic on this wine, fermented and aged in neutral oak, clean, subtle floral and citrus aromas, nice acidity and some mineral notes on the finish

'05 Pinot Noir, York Mountain: mostly from Carver Vineyard, destemmed, native yeast, medium-light color, very pretty aromas of dried cherry and rose petal, some earth and spice overtones, bright acidity – very nice!

'05 Tres Violet, Paso Robles: 40% Mourvèdre, 30% Grenache, 30% Syrah, destemmed, inoculated yeasts, blended prior to bottling, medium color, sweet vanilla, earthy, subdued dark cherry and plum fruit, not very tannic

'04 Twisted Sisters, Paso Robles: 51% Cabernet Franc, 19% Merlot, 16% Petite Verdot, 14% Cabernet Sauvignon, destemmed, inoculated yeasts, blended prior to bottling, medium-dark color, sweet vanilla, plum and darker berry fruit, earthy, lightly herbal, touch of mint and spice

'04 Cabernet Sauvignon, York Mountain: a little Petite Verdot is blended into this, dark fruits, slightly herbal, some vanilla oak, lively acidity with some minerality on the finish, moderate tannins

'02 Zinfandel, Paso Robles: bright, brambly berry fruit with some pepper and spice notes, moderate tannin, very nice

'03 Zinfandel, Paso Robles: from Westside vineyard that Calcareous leases and farms, about 15% Syrah blended in, raspberry and darker fruit, bigger and a bit oakier than '02, more tannic

'05 Syrah, Paso Robles: from Kiler Canyon Vineyard, medium-dark color, sweet plummy fruit with spice notes, showing some smoky oak, not too tannic.
I'd never visited Calcareous, but the name was intriguing enough that I had to give it a try. Located at an elevation of over 1,500 feet along beautiful Peachy Canyon Road in the hills west of Paso Robles, Calcareous is a large estate, with over 400 acres of land extending across a variety of soil and climate types, though much of the soil is……you guessed it – calcareous.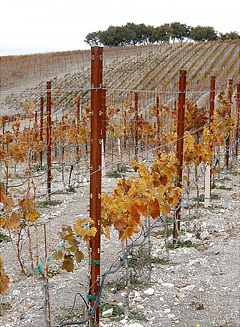 The winery was established in 2000, and most fruit at this point is purchased from other vineyards on the Westside of Paso. A good deal of fruit comes from the tiny York Mountain AVA, in the hills just west of the Paso Robles AVA – Calcareous manages the Carver Vineyard there. Interestingly, the winery gets both Pinot Noir and Cabernet Sauvignon from Carver Vineyard, a testament to the different climate conditions in various parts of that property. The winery currently produces about 7,500 cases per year. Some of the wines were a bit more oaky than I prefer, but they're well-made, and surprisingly for this area, the star was a Pinot Noir.
Four Vines Winery

Tasting Notes:

'06 "Naked" Chardonnay, Santa Barbara County: one of the growing number of unoaked and non-malolactic Chardonnays being produced in recent years, this is sourced from the Los Alamos area of Santa Barbara County. Light color, apple and straw aromas, crisp acidity with hints of citrus in the flavors, very pleasant

'05 "Old Vine Cuvée" Zinfandel, California: from a variety of sources, medium-light color, bright wild berry fruit, touch of black pepper and sweet vanilla oak, medium-bodied with smooth mouthfeel and moderate tannins

'05 "Maverick" Zinfandel, Amador County: from several Shenendoah Valley old-vine sources including Deaver and Original Grandpère vineyards, small amount of Syrah blended in, bigger, more concentrated, darker fruit aromas and flavors with some sweet vanilla oak, more tannic than the Old Vine Cuvée – very hedonistic Zin!

'05 "The Biker" Zinfandel, Paso Robles – from Dusi and Preston vineyards on Paso's Westside, small amount of Mourvèdre blended in, darker color, a bit more tart fruit than the "Maverick", hint of dark chocolate, fairly tannic

'05 Syrah, Paso Robles: from Kiler Canyon and Lock vineyards, black pepper and blackberry aromas, bit brighter fruit and spice flavors with sweet oak overtones, smooth mouthfeel, not very tannic
Four Vines has been getting some good press lately and I wanted to stop by their tasting room. The small space is easy to miss, tucked around the corner from Cider Creek Bakery on West Hwy 46.
Begun in 1996, Four Vines is a partnership headed by winemaker Christian Tietje, and is known mainly as a Zinfandel specialist. They source their Zin fruit from a number of regions – Sonoma, Napa, Mendocino, Lodi, Amador, and of course Paso Robles. They also make several other wines including Chardonnay, Syrah, Barbera, and a number of blends, both traditional and unusual – they call those their "Freakshow" wines. Their '04 Petite Sirah, "The Heretic", made the 2007 Wine Spectator Top 100. The "Naked" Chardonnay and Old Vine Zinfandel Cuvée make up most of the 45,000 case annual production, while most of Four Vines' other wines are made in much smaller quantities.
The wines remind me of Linne Calodo with their full-throttle winemaking, unusual Zin-Rhône blends, and fun wine names (others include "Anarchy" and "Loco"). I stepped up to the tasting bar to try some of their wines, keeping in mind the motto featured on the bottle of their "Peasant" Rhône-style blend: "Temperance, like Chastity, is its own punishment".
Linne Calodo

Tasting Notes - from barrel:

'06 Sticks and Stones: Grenache-based blend (about 60%), intense raspberry, some coffee/chocolate notes from newer barrel, fairly tannic

'06 Rising Tides: combination of brighter and darker fruits, very spicy (probably from new Hungarian barrel), medium-bodied

'06 Nemesis: super dark color, dark fruits, very big and rich

'06 Cherry Red: bright cherry and wild berry fruit with hints of black pepper

'06 Leona's: a bit darker fruit than the Cherry Red, some spice notes

'06 Outsider: bright raspberry, spice, smooth mouthfeel, outstanding

'06 Mourvèdre: meat, game, leather/earth, classic Mourvèdre character, quite tannic
Linne Calodo is practically right next door to Four Vines, so I figured I might as well pop in for a quick visit. I always like to stop at Linne Calodo to taste their most recent wines, and as often as not, I run into owner/winemaker Matt Trevisan there. Sure enough, Matt was just about finished with topping up barrels when I arrived, and it didn't take much arm-twisting for him to convince me to do some barrel tasting with him of some of his 2006 wines – so much for my "quick visit"!
The '06 reds have been blended but are not yet the final blends, as Matt will do some adjustments to them prior to bottling. Overall, I thought the '06s were a bit bigger with more tannic structure than Matt's '05 wines. Of the wines we tasted, the "Outsider" Zin/Syrah//Mourvèdre blend seemed the most developed and tasty at this point, but these are all still youngsters – they haven't even come out of their barrels yet!
Dover Canyon Winery
Tasting Notes:

'06 Viognier, Paso Robles: barrel-fermented in neutral oak, very pretty stone fruit aromas, slightly sweet citrus and peach flavors, smooth and clean finish

'05 Roussanne, Starr Ranch, Paso Robles: barrel-fermented in neutral oak, melon and stone fruit aromas with intriguing notes of earth and lees, rich mouthfeel

'05 "Che Vita da Cane", Paso Robles: 75% Sangiovese, 20% Cabernet Sauvignon, 5% Syrah, "it's a dog's life", sourced from Nona Vineyard near San Miguel, dark fruits, earthy, meaty, with moderate tannins

'03 Cabernet Sauvignon, Hansen Vineyard, Paso Robles: blackberry and coffee aromas, medium-bodied, tannic

'05 Cabernet Sauvignon, Jimmy's Vineyard, Paso Robles: black cherry, plum, mocha, richer mouthfeel, young and tannic

'05 "Alto Pomar", Paso Robles: 60% Syrah, 22% Grenache, 18% Mourvèdre, bright plum with savory roasted meat and spice notes, nice acidity

'06 "Cujo" Zinfandel, Paso Robles: bright cherry, raspberry, black pepper notes, big wine, medium tannins
Just a mile or so up Vineyard Drive from Linne Calodo is Dover Canyon. The sky was darkening with clouds as I reached the top of Dover Canyon's steep driveway, where a small barn-like building houses their tasting room. Partners Dan Panico and Mary Baker run the winery, which was launched in 1997.
Dan, who had previously been the winemaker at Eberle, handles the wine production, while Mary, with a background in wine hospitality and business management, takes care of winery administration (and also writes for the Appellation America website in her spare time).
Winemaking stresses vineyard character, with use of mainly neutral oak and sometimes native yeast. Their own small vineyard features rocky, calcareous soil, where they grow some Syrah and head-trained, dry-farmed Zinfandel. Sustainable farming is important to Dover Canyon, and in addition to fruit from their own vineyard, they choose to purchase fruit only from other vineyards with similar farming practices. Unusual among vineyards, Dover Canyon's is also a certified national wildlife habitat. With a total production of only about 2,500-3,000 cases per year, most of the wines are very limited and tend to sell out quickly.
Dan (another one, not Panico) was pouring at the tasting bar. While I was tasting, both Dan Panico and Mary popped in for a few minutes before running off to attend to other things. While it had been a few years since I'd last stopped at Dover Canyon, this visit convinced me that I need to stop and taste there more often.
Halter Ranch Vineyard

Tasting Notes:

'06 Ranch White: 47% Viognier, 35% Sauvignon Blanc, 14% Roussanne, 10% Marsanne, half aged on stainless steel and half in neutral oak, mild floral and citrus aromas, good acidity

'06 Viognier: with 10% Roussanne blended in, fermented in stainless steel, aged in neutral oak, bright peach, apricot, and spice, rich mouthfeel

'05 Ranch Red: blended from 7 varieties, led by Zinfandel and Syrah, aged in neutral oak, red berry aromas with intriguing hints of cinnamon and other spices, smooth finish with mild tannins

'04 Ranch Cab: 75% Cabernet Sauvignon, 10% Petite Verdot, 9% Cabernet Franc, 6% Syrah, 30% new oak, bigger wine than Ranch Red, plum, currants, smoky, full-bodied and fairly tannic

'04 Cabernet Sauvignon: 80% Cabernet Sauvignon, 9% Cabernet Franc, 8% Malbec, 3% Merlot, 40% new oak, currants and darker fruit, pepper, smoother than Ranch Cab, moderate tannins

'04 Syrah: 76% Syrah, 14% Mourvèdre, 8% Grenache, 2% Petite Verdot, 40% new oak, dark fruit aromas with notes of spice, coffee and vanilla, medium tannins
I'd driven by Halter Ranch earlier in the day – it's almost right next to Tablas Creek – but had gotten there before opening time, so I returned late in the afternoon, just as a rainstorm began to roll in. The Halter Ranch tasting room is in a pretty setting next to the 120-year old Victorian-style farmhouse of the original ranch. The vineyard was begun in 1996 and has now expanded to 250 acres, planted to 17 Bordeaux and Rhône grape varieties, along with Zinfandel. 900 acres of the original ranch, including the vineyard land, were purchased in 2000 by Swiss-born Hansjörg Wyss.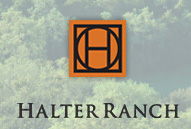 The first grapes from the vineyard were all sold to other wineries, while Halter Ranch began producing their own wines beginning in 2004. Currently making only about 5,000 cases per year, most of the estate fruit still goes elsewhere. The tasting room was completed in 2005. The hillside vineyards reach as high as 1,800 feet in elevation. Soil types in the vineyard include calcareous clay and clay loam with shale and sandstone deposits, not unlike the greatly varied soils seen throughout the Westside of Paso Robles. Halter Ranch is working toward having their vineyard certified as organic. Lovely Solane was at tasting bar, and she took me through all of the winery's current releases. They struck me as well-made wines with very good acidity across the board.
Edward Sellers Vineyards & Wines
Tasting Notes:

'05 Roussanne, Paso Robles: from Denner and Halter Ranch vineyards, zingy citrus with some mineral notes on finish

'06 Blanc du Rhône, Paso Robles: 46% Marsanne, 27% Viognier, 15% Roussanne, 12% Grenache Blanc, all Westside fruit except Viognier from Fralich Vineyard, more full-bodied than Roussanne, apple, melon, and spice aromas and flavors

'06 Viognier, Paso Robles: from Fralich Vineyard, lightly floral aromas with citrus overtones, medium-bodied with some interesting lees character

'06 Grenache Rosé, Paso Robles: 96% Grenache, 3% Syrah, 1% Marsanne, cranberry and cherry flavors, bright acidity

'04 Cognito, Paso Robles: 41% Mourvèdre, 22% Grenache, 22% Zinfandel, 15% Syrah, bright cherry, wild berry, spice, earth notes, smooth mouthfeel, not very tannic

'04 Grenache, Paso Robles: 85% Grenache, 10% Mourvèdre, 5% Syrah, ripe cherry and plum, a touch of spice, mild tannins

'05 Vertigo, Paso Robles: 70% Grenache, 17% Mourvèdre, 13% Syrah, similar to Grenache but with more earthy Mourvèdre character and bigger tannins

'05 Le Thief, Paso Robles: 59% Syrah, 23% Grenache, 13% Mourvèdre, 5% Cinsault, dark fruit character, with sweet vanilla and smoky oak overtones

'05 Syrah Sélectionée, Paso Robles: dark fruits, plum, and spice, rich mouthfeel and medium tannins
The daylight was fading fast as I left Halter Ranch for the drive back to Paso Robles, and by now the rain was picking up as well. Rolling into town and finding a parking space close to Edward Sellers' downtown tasting room, I dodged the raindrops and hurried inside. Winery owner Ed Sellers, with a background in real estate and health care, purchased a 28-acre property just south of Highway 46 a few miles west of town, in the Templeton Gap area, in 2004. The land is still being developed, with 10 acres of vines now planted. Plans are in the works for a winery and tasting room on the property, and possibly a bed-and-breakfast inn to follow.
Up-and-coming winemaker Amy Butler has guided the wine production from the start. Until the estate vines mature and the winery is completed, wines are made at the Denner facility entirely from purchased fruit, mostly sourced from Paso's Westside. The winery's first vintage was 2004, and they currently produce about 5,000 cases per year, with a goal of reaching about 10,000 cases. With the advantage of being open later than most wineries, the downtown tasting room, opened in early 2007, was busy even as the time neared 6pm. Kendall at the tasting counter poured the wines – a very impressive lineup, and definitely a new winery to watch.
I'd planned to have dinner with Augie Hug and his wife Raquel, but as often seems to be the case, Augie's "real" job interfered at the last minute and he was delayed by a day in getting back to Paso. But Raquel was able to join me for dinner, and her recommendation of Chico's Café, a new seafood restaurant on the south side of the Paso Robles city park, was spot-on. A small, informal place, the food was terrific – yet another restaurant find in Paso!
Friday - December 8, 2007
Booker Vineyard

Tasting Notes:
From bottle:
'06 Booker White: 65% Roussanne, 35% Viognier, made in stainless steel and neutral oak, half destemmed and pressed after 3 days, half whole-cluster pressed, going for more minerality and less upfront fruit, stone fruit aromas with hints of orangepeel, rich mouthfeel and clean finish

'05 "Remnant": Syrah, Cabernet Sauvignon, Cabernet Franc and Petit Verdot, 100% new oak (mostly tight-grain Taransaud), very dark color, currant and dark fruits with vanilla and spice notes, tannic

'05 "Vertigo": 90% Syrah, 10% Grenache, named for the steep vineyard slope, bright sweet blackberry fruit with mocha notes, medium-full mouthfeel and moderate tannins

'05 "Fracture": 100% Syrah, named for the fractured vineyard rocks, huge black wine with loads of depth and structure, upfront ripe plum and darker fruit with overtones of smoked meat and vanilla, and firm tannins
From barrel:
'06 "Ripper": 90% Grenache, 10% Syrah, from new Taransaud puncheon, sweet bright cherry fruit, big upfront fruit, tannic

'06 "Remnant": about 95% Syrah and 5% Cabernet Sauvignon, from François Frères barrel, much more Syrah character than '05

'06 "Vertigo": from Boutes puncheon, big ripe blackberry fruit, bright acidity

'06 "Fracture": from Ermitage barrel, huge sweet dark fruits and spice, fairly tannic
I had arranged a visit with Eric Jensen of Booker Vineyard, and I was happy to see that the previous night's rainstorm had ended by the time I drove out to the vineyard and winery a few miles west of Paso Robles.
The vineyard is north of Highway 46, and just south of L'Aventure's estate vineyard. Booker Vineyard, owned by Eric & Lisa Jensen, takes its name from Claude and Dick Booker, longtime Paso Robles residents who had once owned and farmed the land, and who became noted local philanthropists.
The vineyard rolls across rocky hillsides, with 42 acres currently planted. Only about six years old, Booker Vineyard already produces Cabernet Sauvignon, Cabernet Franc, Petite Verdot, Malbec, Tempranillo, Syrah, Grenache, Mourvèdre, Roussanne, and Viognier. Eric only takes a small amount of the fruit for his own winery – most is sold to other wineries, including Saxum, Linne Calodo, Villa Creek, Pax, and L'Aventure among others. Considering the size of the vineyard, it's amazing that Eric farms it alone for most tasks. He's committed to sustainable farming, though the vineyard is not certified as organic. He's experimenting with different cover crops for planting between the rows of vines.
I hopped into Eric's pickup truck so he could give me a closer look at his vineyard. Driving up some of the steep slopes, rocks of calcareous shale and siliceous shale that form the basis of the thin soils are scattered throughout. The soft rock fractures easily – a fact that was demonstrated clearly after I brought home a vineyard rock and accidentally dropped it about 4 inches onto the cargo mat in the back of my car, and the rock shattered into a dozen small pieces. The low vigor of the soils was evident in looking at the vines – many looked stunningly small and thin for 5-6 year-old vines. Most of the vineyard is planted on a dense 7'x3' row spacing.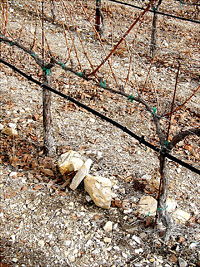 Eric had made wine with Justin Smith of Saxum and Stephan Asseo of L'Aventure for a number of years before stepping out on his own. The 2005 release is Booker's first, with a white and four reds. About 1,200 cases were made, and Eric wants to keep production small to suit his hands-on winemaking style. In addition to his own wines, he does some custom crush winemaking in his facility. All reds are destemmed but Eric said that he might experiment with some whole cluster fermentation in Syrah and Mourvèdre in the future. He prefers to let his fruit express itself in the wines, and tries to keep the winemaking in the background – no acidulation, no filtering, minimal use of sulfur. Favorite coopers include Ermitage, François Frères, and Taransaud, and future plans are to introduce more puncheons for aging the reds. Wines are blended early in the year following harvest. Plans are to keep most reds in barrel for 2-3 years and in bottle for 1 year prior to release, with the exception of the "Ripper" (Grenache), which will have 14-16 months in barrel and 6 months in bottle. Eric is considering doing an early and a later bottling of some wines, to see what the effects of this will be.
After spending some time with Eric, he seemed to be in perpetual motion – a useful characteristic to have when farming a 42-acre vineyard on your own – and his passion was clear when he talked about his vineyard and wines. His wines are bold expressions of his vineyard, and they will certainly appeal to fans of similar-style wines such as Saxum, Villa Creek, and L'Aventure. His Booker wines are off to a great start, and I expect we'll see more notable wines from him in the future.
Penman Springs Vineyard & "The Wines Formerly Known as Redline"

Tasting Notes - from barrel:
Penman Springs:
'07 Dry Muscat: floral aromas, orange blossom, rich mouthfeel

'07 Syrah Rosé: crushed, soaked overnight and then pressed, medium-light color, wild berry, spicy, refreshing

'06 Reserve Cabernet Sauvignon: ripe dark berry aromas, spicy rich mouthfeel, not too tannic, will be in barrel until spring '09

'05 Reserve Cabernet Sauvignon: dark color, dark fruits with vanilla and spice notes, smooth and elegant

'06 Petite Sirah: very dark, a bit reduced, deep blueberry aroma, dense, big chewy tannins
"The Wines Formerly Known as Redline":
'05 Eaglepoint Ranch Vineyard Syrah: dark color, bright blackberry aroma, touch of vanilla oak

'05 Cedar Lane Vineyard Syrah: lots of white pepper aroma, dark fruit flavors, mineral note in finish

'05 Penman Vineyard Syrah: blackberry, earth, hint of herbs, smooth finish
Before leaving Paso Robles and heading back home, I stopped briefly to visit Larry Roberts at Paso Robles Wine Services, a few miles northeast of town. Larry is the winemaker at Penman Springs Winery, and also makes his own wine. He had launched his own Redline label a couple of years ago with three very good '04 Syrahs, but future releases will most likely come out under a different (and as-yet undecided) label. Established in 1996, Penman Springs produces Chardonnay, Muscat Blanc (both dry and late harvest), Cabernet Sauvignon, Merlot, Syrah, Petite Sirah, and a Bordeaux-style red blend. Their vineyards, on the east side of Paso Robles, date back to 1981. Larry took a short break from topping up barrels to taste through a few barrels with me.
After saying goodbye to Larry, I hit the road and drove back up Highway 101 to the Bay Area, wrapping up another relaxing trip to the Central Coast. In addition to hitting some favorite wineries, I revisited a couple that I hadn't stopped at for several years and made my first visits to a number of others. As always, I found the winemakers and tasting room staffs alike to be exceptionally friendly in this part of California wine country, and several places that were fairly new to me beg for some in-depth visits in the future. Thanks to everyone that I visited for being so generous with their time and their wine. With the number of new wineries I see popping up all over the Central Coast each year, I always wonder how they'll be able to carve out their own niches in the wine market – but tasting the distinctive and high-quality wines coming from many of them, I say keep 'em coming!