Visits in this Issue:

Martinelli Winery
Woodenhead Vintners
Hartford Family
Scherrer Winery
Kokomo Winery
Mauritson Family/Rockpile Winery
Dry Creek Vineyards
Bella Vineyards
Papapietro Perry Winery
Matrix
Gary Farrel Vineyards & Winery
Lagier Meredith Vineyard
Twomey Cellars


In late December, I spent a few days in the Sonoma and Napa area. My friend Danny Tanaka and his wife Jane Naito had rented a time-share condo in Windsor, just north of Santa Rosa, for a few days up to and including New Year's, and invited a few friends to join them. Sounded like a perfect base for doing some wine-tasting! During that time, we were joined off and on by a number of friends (including a couple of Grape-Nutz veterans) – Eric Lundblad, Anders Bengtsson, Sasha Verhage, Dean Toki, Steve Higashi & Laura Takeuchi, Alan Garretson, and Tom & Nancy Case with their young daughter Janine.
Danny & Jane spent the Friday before New Year's in Napa Valley but I wasn't able to get there until late afternoon, so I missed their winery visits that day – Envy, Vincent Arroyo, Cakebread, Alpha Omega, and Venge – I'll have to get to those places another time. We did enjoy a nice dinner at Go Fish in St. Helena before making a rainy evening drive to Windsor. Saturday morning was cold and overcast but the rain had tapered off to a drizzle – not too bad. I'd only made two winery appointments for the next few days, to allow us to take it easy and do only as much as we felt like. We had one appointment near Sebastopol on Saturday afternoon, so we decided to stay in the Russian River Valley area that day.
Saturday - December 29, 2007
Martinelli Winery
Tasting Notes:
'05 "Tessa Lee" Sauvignon Blanc, Martinelli Vineyard, Russian River Valley: fermented with wild yeast in small stainless steel barrels and then aged in neutral oak, this had slightly grassy citrus aromas, with lively acidity.

'05 Chardonnay, Martinelli Road, Russian River Valley: 85% new oak, apple & pear aromas with sweet vanilla oak, rich and creamy texture

'05 Chardonnay, Zio Tony Ranch, Russian River Valley: 75% new oak, ripe pear and fig aromas, with butterscotch and spice overtones, mouthfilling richness

'05 "Bella Vigna" Pinot Noir, Russian River Valley: 75% new oak, a blend from all the Martinelli's Russian River vineyards, this had a medium-light color, with very spicy cherry and plum aromas, medium-bodied

'04 "Terra Felice" Syrah, Russian River Valley: 75% new oak, smoky plum / blackberry, with overtones of herbs and savory meat, rich mouthfeel and moderate tannins, very nice

'06 Muscat Alexandria, Jackass Hill, Russian River Valley: from the famed century-old Jackass Hill Vineyard planted by Giuseppe and Luisa Martinelli, this had intense floral Muscat aromas along with honey and spice, sweet but not overly so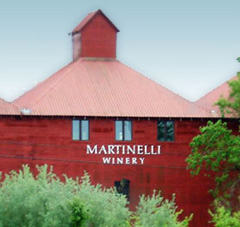 Our first stop was Martinelli, just south of Windsor and a few miles west of Highway 101. Arriving about 20 minutes after opening time, we were glad to step inside out of the cold. The large red century-old hop barn building, which now houses Martinelli's tasting room and gift shop, is a familiar sight along River Road. Walking past the gift area, with its particularly nice selection of locally-made gourmet foods and various gift items, we came to the long wood tasting bar. We found we were the only visitors there and the tasting room staff made us feel right at home.
The Martinelli family has been farming in Sonoma County for nearly 150 years, and their vineyards are planted in a number of spots throughout cool Russian River Valley. All of the wines are made from estate vineyards farmed by Lee Martinelli, Sr., and his sons Lee Jr., and George. The Martinellis' famed Jackass Hill Vineyard, over 100 years old, is the steepest non-terraced vineyard in Sonoma County – the slope is said to be as much as 60 degrees! Helen Turley has headed up the winemaking team since 1993. Notable winemaking techniques include fermentation with native yeasts and fairly heavy use of new oak in the Chardonnays and reds. Martinelli's wines are highly sought-after for their big, bold style.
Woodenhead Vintners

Tasting Notes:
'05 Pinot Noir, Russian River Valley: blend from three vineyards, medium-light color, sweet cherry / strawberry with smoke and spice notes, medium-bodied with lively acidity

'05 Pinot Noir, Buena Tierra Vineyard, Russian River Valley: from 28-year old vines across from Rochioli Vineyard, slightly darker color and sweeter cherry / plum fruit, smooth mouthfeel and long finish

'05 Pinot Noir, Humboldt County: less fruit-forward than the Russian River bottlings, spice, earth, tart cherry / cranberry fruit with good structure, an intriguing and distinctive Pinot

'05 "Redwood Red", Mendocino County: field blend from a 70-year old vineyard, 70% Abouriou (a grape from southwestern France known in California as "Early Burgundy"), 12% Zinfandel, 8% Carignane, 2% Barbera, and……well that only adds up to 92% so the last 8% is a mystery! Pepper, tangy wild berry and cherry with hints of pine needle and earth, medium tannins

'04 Zinfandel, Martinelli Road Vineyard, Old Vine, Russian River Valley: from 100-year old vines, bright raspberry and darker fruit aromas with touches of white pepper and earth, juicy acidity, some mineral notes on the long finish, very nice!

'04 Zinfandel, Braccialini, Alexander Valley: bigger & riper, cherry liqueur aroma, some spice, nicely balanced despite higher alcohol, fairly big tannins, nice Zin for fans of the big style
A couple of miles farther west along River Road is the tasting room for Woodenhead Winery. Stepping out of the persistent cold drizzle and into the warm and inviting room, we were greeted by Rebecca at the tasting counter. A long row of windows along one side of the room framed views of the mist-shrouded forest while a crackling fire was most welcome in the nearby fireplace. Rebecca noted that this tasting room, just opened during the summer of 2007, sure beat what they had before…..which was no tasting room!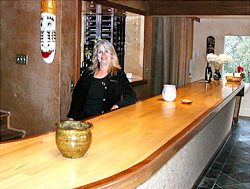 Woodenhead is the creation of Nikolai Stez. Bay Area native Stez worked with Burt Williams as assistant winemaker at Williams Selyem for 17 years before starting his own winery after Williams Selyem was sold in the late '90s. The Woodenhead name was bestowed on Stez years ago because of his stubborn nature. While Stez takes care of the winemaking, his domestic partner, Zina Bower, handles the business side of things. They mostly produce small bottlings of Pinot Noir and Zinfandel, using "hands-on" winemaking techniques.
Tasting one of Woodenhead's Wiley Vineyard Pinot Noirs a few years ago really turned me on to the winery, and re-awakened my interest in Pinot from Anderson Valley as well. Woodenhead sources fruit from a number of vineyards throughout Sonoma, Mendocino, and Humboldt Counties. Wait a minute……intoxicating substances from Humboldt County?? Pinot Noir is not usually the first thing that comes to mind, but Woodenhead sources some fine Pinot fruit from Fruitland Ridge near the town of Redway. Woodenhead describes their winemaking as "Burgundian done California style", and that seems a good a description.
Hartford Family Winery
Tasting Notes:
'05 Four Hearts Chardonnay, Russian River Valley: clean apple and pear aromas, moderately-rich mouthfeel with vanilla and spice notes

'05 Stone Côtes Chardonnay, Sonoma Coast: sourced from a block of the Durell Vineyard at the foot of Sonoma Mountain, the 60% new oak shows itself in bolder flavors with mouth-coating richness and a distinct butterscotch component

'05 Land's Edge Pinot Noir, Sonoma Coast: from two vineyards along the "true" Sonoma Coast, bright cherry, plum, and tea leaf aromas, with a touch of smoke and coffee, very impressive

'05 Jennifer's Pinot Noir, Russian River Valley: ripe raspberry and darker berry aromas with smoky overtones, a noticeably bigger and riper style than the Land's Edge

'05 Zinfandel, Russian River Valley: a blend of old-vine fruit, jammy boysenberry aromas, fairly big and ripe style and rather tannic

'05 Highwire Vineyard Zinfandel, Russian River Valley: a more spicy, peppery style than the first Zin, intense wild berry / blackberry aromas and good acidity along with notable tannins
The light rain continued as we drove further down River Road and then turned onto Martinelli Road, passing the impossibly steep Jackass Hill Vineyard – you really do have to see it to believe it – before arriving at Hartford Family Winery near the small town of Forestville. Don Hartford & Jennifer Jackson-Hartford (her father is Kendall-Jackson founder Jess Jackson) started the winery in 1993, and their first wines were released in 1996. Hartford gained acclaim for their wines almost from the start, and they continue to receive high scores from wine publications.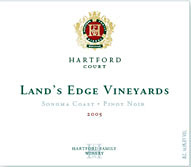 Hartford specializes in cool-climate Chardonnay and Pinot Noir from Green Valley and the Sonoma Coast as well as old-vine Russian River Valley Zinfandel. They produce an Anderson Valley and a Carneros Pinot as well. Most wines are small-production single-vineyard bottlings. They make no less than eight different Pinots, along with three Chards and six Zins. The current winemaker, Jeff Mangahas, has been with Hartford since 2006. Stylistically, the wines seem to straddle the line between power and elegance, using a good deal of new oak that is usually well-integrated and adds plenty of richness to the wines.
The rain had stopped by the time we finished our tasting at Hartford, and we headed south along Highway 116, named the "Gravenstein Highway" after the many apple orchards in the area (which are slowly disappearing as they are replaced by vineyards and other development). We had lunch at Underwood Bar and Bistro in the tiny village of Graton, just north of Sebastopol. Great food and atmosphere, nice wine list, a favorite stop in the area.
Scherrer Winery

Tasting Notes:
'02 Chardonnay, Helfer Vineyard, Russian River Valley: The Helfer Vineyard is located across Vine Hill Road from Kistler Vineyard. Fred picked this older bottle to show us what a few years of age can do with his Chards. This had amazingly youthful fruit for an '02, with citrus, spice, a seamless wine with a distinct mineral note on the long finish – excellent.

'06 Dry Rosé, Sonoma County: made by saignée from both Pinot and Zinfandel, it was on the skins from 4-6 days before bleeding off, then put in neutral barrels with no malolactic. Light pink / salmon in color, very spicy aromas, light strawberry and citrus aromas, bright acidity, very distinctive and one of the best '06 Rosés I've tried.

'05 Pinot Noir, Sonoma County: this is the "entry-level" Pinot, and is labeled Sonoma County to distinguish itself from the Russian River Valley bottling, even though this is all from Russian River fruit. Medium ruby color, very pretty rose petal and cherry aromas, hints of tea leaf, earth, and spice. A lighter-style Pinot with nice acidity and good upside for aging.

'04 Pinot Noir, Russian River Valley: medium-dark color, a bit sweeter and darker fruit aromas than the Sonoma County bottling. Silky mouthfeel, bright acidity, with just a touch of tannin, long finish.

'03 Zinfandel, Old and Mature Vines, Alexander Valley: medium-dark color, intense brambly, spicy Zin fruit, not jammy, long tangy finish with mild tannins

'05 Zinfandel, Old and Mature Vines, Alexander Valley: slightly darker color than '03, more black pepper in aromas than '03, complex raspberry, earth, and spice in flavors, with just a touch of oak showing at this point. A knockout Zin now, given a few years this could be even better.

'05 Syrah, Bliss Vineyard, Russian River Valley: last bottling from this vineyard as it was recently sold to Lynmar Winery – Fred is now working with some other cool-climate Syrah vineyards including Timbervine. Dark color, intense aromas and flavors of olive, blackberry, and pepper, lively acidity, and not too tannic

'04 Cabernet Sauvignon, Sonoma County: as with the Sonoma County Pinot, the fruit for this wine is actually all from Scherrer Vineyard but is designated Sonoma County to distinguish it from other bottlings. There is no new oak in this bottling. Medium-dark color, currant / plum aromas with a touch of earth and spice – tough to beat for a $25 Cab.

'02 Cabernet Sauvignon, Scherrer Vineyard, Alexander Valley: dark color, darks fruits, cedar, tobacco, touch of oak (would not have guessed this was aged in over 65% new barrels), great structure for aging, long finish with moderate tannins.
I'd never visited Scherrer, so as we drove along the back roads of Green Valley trying to find the winery, we carefully consulted the map that Judi Scherrer had emailed me. Just a couple of miles from Graton, the winery is located on an inconspicuous unpaved lane. We spotted a faded "Scherrer" sign alongside a large, nondescript metal shed, and turned onto the driveway and around to the building entrance. Winery owner / winemaker Fred Scherrer greeted us as we stepped inside. The winery has been at its current location, in a former apple-packing shed, for ten years. Fred was able to expand from his original portion of the building to now occupy the entire facility – maybe not as much room as might be ideal for him, but enough to work with. Fortunately, he has no plans to expand much upon his current yearly production of around 4,000-5,000 cases, in order to maintain his hands-on approach to winemaking.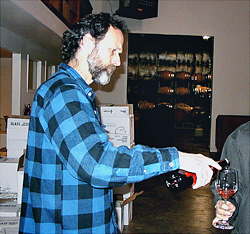 Fred does most things around the winery himself, though he gets help during crush and for bottling. His wife Judi takes care of the business end of things. Fred is in the third generation of his family in the grape/wine business. His father, Ed Scherrer, owns a vineyard in Alexander Valley – Zinfandel vines were planted there in 1912 by Fred's grandfather. The winery currently produces Chardonnay, Rosé, Pinot Noir, Zinfandel, Syrah, and Cabernet Sauvignon. Russian River Valley Pinot Noir and Old & Mature Zinfandel are highest production wines at about 800-1,000 cases each.
Fred joked about becoming interested in wine (and alcohol in general) while in high school, and after dabbling in some home winemaking, he headed to the enology program at UC Davis. Following school at Davis, he worked at Fieldstone and Greenwood Ridge wineries, then worked from 1988-98 at Dehlinger Winery, where he became the winemaker. While Fred was there, Tom Dehlinger encouraged him to make his own wine. The first vintage of Scherrer wines was in 1991, and the label has grown slowly but surely ever since. Speaking of labels, the Scherrer wine labels recently underwent a major re-design after 16 years of the same basic look. Cogito Creative Works worked with Fred to come up with a new label design that creates a stronger brand image and better represents the high quality of the wines……and on top of that, the labels are now less expensive to print!
The winemaking is simple and straightforward. Reds are 100% destemmed (not crushed), while whites are all whole-cluster pressed (not destemmed or crushed before pressing). Reds are fermented mostly in open-top stainless steel tanks and punched down by hand several times a day. Fred often lets fermentations begin with native yeast, but he then inoculates with commercial yeast strains for both Chardonnay and his reds. He also inoculates for most malolactic fermentations, but prefers to let Pinot go through a slower malolactic with no inoculation. Most reds go through an extended maceration – this can be up to 35-40 days for Zinfandel.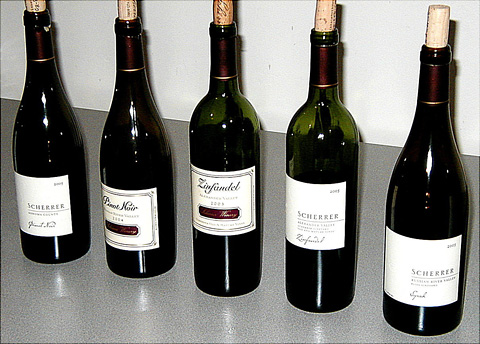 Once in barrel, Fred employs some batonnage (lees-stirring) for both Chardonnay and Pinot. Some larger, 300 liter hogshead barrels are used for whites in addition to the more usual size. Use of new oak ranges from 0% (no new oak for Rosé and little or none for Syrah) to as high as 80% (for Cabernet). Pinots usually see roughly 40% new oak, but this figure varies depending on the wine. Wines receive minimal racking once in barrel, and reds are usually blended late in the summer following crush. Chardonnay, Pinot, and Zin all spend about 14-17 months in barrel, with up to nearly three years of barrel age for some Cabernets. Fred admitted that having more than one vintage in barrel much of the time takes its toll both in terms of winery space and cash flow, but it allows him to barrel-age his wines the way he feels will have them showing their best.
I think my friends were happy to see another group of people come into the winery to taste with Fred……."all right, no more questions from Ken – now we can finally taste some wine"! Fred pulled out one bottle after another, carefully selecting a couple of older wines as well as current releases, and ultimately bringing out nine wines for us to taste. All were very well-balanced, elegant wines – none were notably oaky, none showed too much tannin or alcohol and all had very good acidity to balance the fruit. All the wines were distinctive and had excellent structure for aging.
Our visit was very enjoyable. Fred struck me as a low-key guy, as understated as his wines, and I think he prefers to let his wines speak for him. In fact, the wines seemed a perfect reflection of Fred himself – classic "substance over style" in both cases. Over the course of our visit, Fred seemed a bit guarded at first, but eventually he opened up and revealed a wonderfully dry sense of humor. I think that's another one of his traits that's reflected in his wines – patience will reveal much more than is evident right off the bat. His attention to every detail of winemaking was clear as he discussed how he'd worked out the precise setup of his destemmer and press, even his punchdown tools. It's no surprise that Fred's wines display their careful and thoughtful crafting, as well as the obvious love he has for what he's doing.

Kokomo Winery
Tasting Notes:
'06 Chardonnay, Peter's Vineyard, Sonoma Coast: from a Sebastopol-area vineyard, this wine was fermented in stainless steel, then 30% was transferred to new French barrels partway through primary fermentation, and no malolactic. Bright citrus and green apple aromas with moderately rich mouthfeel

'06 Pinot Noir, Windsor Oaks Vineyard, Russian River Valley: medium-light color, subdued cherry and spice aromas,

'06 Malbec, Windsor Oaks Vineyard, Chalk Hill: the Windsor Oaks Vineyard straddles the Russian River and Chalk Hill AVAs, and this was from the Chalk Hill section. Dark fruits, herbs, tobacco, sweet oak, moderately tannic

'05 Syrah, Dry Creek Valley: from dry-farmed vines, medium-dark color, somewhat muted black fruit aromas, nice finish but not much in the mid-palate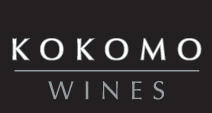 We drove back to Santa Rosa and spent a little time around the Railroad Square area before dinner. Spotting a winery sign, we walked into the tiny space that serves as the tasting room for Kokomo Winery. The winery was started in 2004 by Erik Miller, a native of Kokomo, Indiana, who had served as assistant winemaker at Amphora Winery in Dry Creek Valley. The tasting room manager (another Indiana native, only in California for four months) was very enthusiastic but was not yet all that knowledgeable about the wines.
In addition to the wines we tasted, Kokomo also makes Sauvignon Blanc, Zinfandel, Petite Sirah, Cabernet, and a Bordeaux-style blend – it was tough to say whether there is a specific focus yet to what they're doing. The wines were not great but not bad, and showed some promise for a winery still getting off the ground.
We had dinner at Syrah in Santa Rosa – I'd heard about this restaurant from a number of people but this was my first time there. Considering some of the rave reviews I'd heard, I was a little disappointed. The food was very good, but didn't "wow" me. And oddly, for a restaurant called "Syrah", there were only a couple of menu items that would have paired well with a big red wine (although the menu changes regularly). But the dinner was certainly good enough that I'd like to go back again.
Sunday - December 30, 2007
Mauritson Family Winery / Rockpile Winery

Tasting Notes:
'06 Mauritson Sauvignon Blanc, Dry Creek Valley: fermented in stainless steel, light color, aromas of grapefruit and straw, with refreshing acidity

'06 Mauritson Chardonnay, Alexander Valley: barrel-fermented in mostly neutral oak, mild apple and citrus with notes of vanilla, moderately-rich mouthfeel

'04 Mauritson Cabernet Sauvignon, Sonoma County: 93% Cabernet Sauvignon, 7% Malbec, from vineyards in Dry Creek Valley, Alexander Valley, and Rockpile, medium-dark color, current and blackberry aromas, light touch of sweet oak, rich and not too tannic

'05 Rockpile "Buck Pasture" Red Wine: 34% Cabernet Sauvignon, 34% Cabernet Franc, 24% Malbec, 8% Petite Verdot, aged 20 months in mostly French oak, medium-dark, less fruit-forward than the Cabernet, more earth and herb aromas, along with black cherry and darker fruits, a touch of mocha and big, chewy tannins

'05 Rockpile Zinfandel, Cemetery Vineyard: named not for a real cemetery but for some headstone-like rock outcroppings, this is one of the family's highest and steepest Rockpile vineyards. Medium color, ripe cherry and raspberry with some black pepper notes, strong dusty tannins and lingering finish, very nice
Our first stop the next day was at Mauritson – first visit there for me. The winery / tasting room is in a pretty setting near the junction of Dry Creek and Lytton Springs Roads. The family has been farming in Dry Creek Valley since the 1860s and first planted grapevines in 1884. Mauritson has a second label called Rockpile that focuses on fruit sourced from the relatively new Rockpile AVA, on the rocky slopes just north of Dry Creek Valley.
Clay & Carrie Mauritson established the winery in the mid-'90s, and their first wine was released in 1998. Shortly after that initial release, they planted 34 acres of their family's property in the Rockpile AVA. Above the fog line at elevations up to 1,500 feet, these vineyards are all dry-farmed. Overall, the family manages over 300 acres of vineyards in Dry Creek Valley, Rockpile, and Alexander Valley.
With their wine sourced from so many vineyards, it's no surprise that the wine is made in small lots (as many as 68 separate lots per vintage) before final blending takes place. In addition to the wines we tasted, Mauritson and Rockpile produce five other Zinfandels, plus a Malbec, Petite Sirah, Syrah, and Port. Known mainly for their Zinfandels, all the wines were tasty and the lone Zin we tried was a standout.

Dry Creek Vineyard
Tasting Notes:
'06 Dry Chenin Blanc, Clarksburg: fermented cool in stainless steel tanks, this had concentrated red apple and stone fruit aromas, smooth mouthfeel, very refreshing

'05 Estate Fumé Blanc, DCV3 Vineyard, Dry Creek Valley: also fermented in stainless steel, complex grapefruit and melon aromas with herbal overtones, touch of spice, and a bit of minerality on the finish

'05 Old Vine Zinfandel, Dry Creek Valley: from vines averaging over 80 years old, and including 10% Petite Sirah, brambly boysenberry and blackberry aromas with a touch of black pepper, medium-bodied with firm tannins and a long finish, not over-ripe or jammy, a fine Dry Creek Zin

'05 35th Anniversary Cuvée, Dry Creek Valley: 80% Zin and 20% Petite Sirah, blackberry / dark fruits with an earthy note, smoother tannins than the Old Vine Zin, nice finish

'03 Meritage, Dry Creek Valley: 52% Merlot, 41% Cabernet Sauvignon, 3% Malbec, 2% Cabernet Franc, 2% Peitit Verdot, aged in both French and American oak, subdued plum and dark fruit aromas, with some earth, tobacco, and herb components, a bit of vanilla, and moderate tannins

'04 "The Mariner", Dry Creek Valley: 46% Cabernet Sauvignon, 40% Merlot, 6% Malbec, 5% Cabernet Franc, 3% Petit Verdot, all French oak, more intense dark fruit aroma than the Meritage, lightly herbal with spice, mocha, and mineral notes, smoother, rounder feel than Meritage.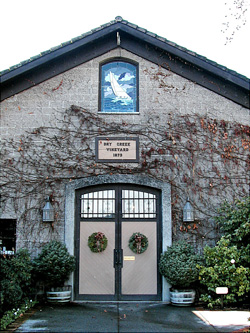 One of the earliest wineries built in the area after Prohibition, Dry Creek Vineyard was founded by David Stare in 1972, and they helped pave the way for creating the Dry Creek Valley AVA in the early '80s. They were one of the first to designate their Zin as "Old Vine", and although that term sometimes means little on wine labels, Dry Creek's version comes from vines ranging in age from 50 to over 100 years. Fruit from over 200 acres of estate vineyards forms the majority of Dry Creek's production. Head winemaker Bill Knuttel arrived in 2003 – he had previously made wine at Chalk Hill and Saintsbury. Along with the winery owners, he helped update production methods, moving toward more French and less American oak, among other things.
Perhaps it's because they're no longer the hot new winery in town or because they make a lot of wine these days (around 100,000 cases per year), but Dry Creek does not tend to generate much excitement from wine enthusiasts. But tasting through their lineup showed that they make solid wines, and their Fumé Blanc and Old Vine Zin in particular define the Dry Creek Valley style as well as any wines out there.
Bella Vineyards
Winding our way up bucolic West Dry Creek Road, we eventually reached the north end of Dry Creek Valley, and headed up the driveway to Bella Vineyards. A relative newcomer to Dry Creek Valley, Bella was started in the late '90s by Scott and Lynn Adams, who fell in love with the wine country after their wedding there. Consulting winemaker Michael Dashe heads up the winemaking team at Bella. Much of their fruit is sourced from three estate vineyards, two in Dry Creek Valley and one in nearby Alexander Valley. Wines are aged in both French and American oak.
Tasting Notes:
'05 Zinfandel, Big River Ranch, Alexander Valley: with 20% Petite Sirah blended in, mostly from 100-year old vines. Boysenberry, spice, fairly big and full-bodied, very rich and smooth

'05 Syrah, Sonoma County: sourced from two Dry Creek Valley vineyards, medium-dark color, very smoky aromas with moderate dark fruit

'05 Syrah, Big River Ranch, Alexander Valley: darker color, more concentrated dark fruit than the Sonoma County bottling, lots of rich, sweet oak with an herbal note, smooth finish

'06 Estate Late Picked Zinfandel, Dry Creek Valley: about 1.5% residual sugar along with 16%+ alcohol, big, ripe berry aromas with a big bittersweet chocolate component and fairly big tannins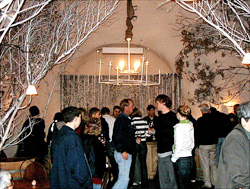 Bella's winery and adjacent wine cave are on a hillside with a beautiful view across the valley. It's been a few years since I'd visited here, and I discovered that part of Bella's wine cave now serves as their tasting room. The caves, completed in 2003, contain over 5,000 square feet of barrel storage space in addition to the tasting room and dining & entertainment spaces. Judging from the number of people tasting inside the cave, I'd say this has become a popular destination. We squeezed our way into a spot at the crowded tasting bar to sample the four wines being poured. As Bella is mainly known for its Zinfandels, I was disappointed that they were only pouring one that day (other than a sweet Zin that finished the tasting). But it came as no surprise to learn afterwards that they were already sold out of their other '05 Zins, considering the small production of these popular wines.
We drove back south into the heart of Dry Creek Valley to one of my favorite wine country lunch stops, the historic Dry Creek General Store, dating from 1881. The deli inside the old wooden building serves up delicious sandwiches, and the tables outside are a great place to relax and enjoy the procession of cars, bikes, and motorcycles along Dry Creek Road.
Papapietro Perry Winery
Tasting Notes:
'06 Pinot Noir, Russian River Valley: 30% new oak, a blend from six vineyards, this had a light color, with cherry and cranberry aromas, touch of earth, a bit of clove and other spices, and good acidity.

'06 Pinot Noir, Charles Vineyard, Anderson Valley: 50% new oak, a bit darker color than the first Pinot, this was less fruit-forward, with earthy black cherry and plum aromas, great acidity and a silky mouthfeel, with an undercurrent of sweet oak

'05 Zinfandel, Elsbree Vineyard, Russian River Valley: from a relatively young vineyard near Windsor, medium color, smoky wild berry with a touch of pepper, smooth and not very tannic

'05 Zinfandel, Pauline's Vineyard, Dry Creek Valley: medium color, spicier fruit than the Elsbree Zin, sweet cherry and plum aromas, medium-bodied with mild tannins
We decided to head a mile or so up Dry Creek Road to the tasting room for Papapietro Perry Winery. The winery was started by Ben Papapietro and Bruce Perry, who met when both worked for the company that publishes the San Francisco Chronicle newspaper. In the 1970s, Papapietro helped another co-worker and friend, Burt Williams, make Pinot Noir in his Sonoma County garage.
After Williams co-founded the renowned Williams Selyem Winery a few years later, Papapietro went back to home winemaking. Perry joined him in the '80s, and after years of making their own wine and developing contacts with a number of fine growers, they launched their label and began making wine commercially in 1998. Bruce's wife Renae handles marketing and sales.
The winery makes about nine different Pinot bottlings and three Zinfandels each year, all from purchased fruit. They don't expect to grow beyond their current 8,000 case annual production. Production of the wines uses small-scale, labor-intensive methods during fermentation – one-ton bins with punchdowns by hand. François Frères barrels are favored for all the wines. Papapietro Perry began to garner acclaim for their wines within a year or two of their launch, and that trend has continued. Their primary focus is Pinot Noir, though it was clear after tasting some of their current releases that their elegant Zinfandels should not be overlooked.
Matrix
Driving back south into Russian River Valley, we'd hoped to stop at either Arista or Belvedere along Westside Road but Arista was closed for the holidays and Belvedere was closed for some renovation work. So we decided to pull in at what was a new winery to us, Matrix. Occupying the facility that used to be Rabbit Ridge, we found that Matrix is the sister winery of Mazzoco in Dry Creek Valley. I thought the wines (Chardonnay, Zinfandel, Cabernet, and a Bordeaux-style blend) were OK but unremarkable. The tasting room and grounds were lovely, though, and I enjoyed their entertaining winery cat!
Gary Farrell Vineyards & Winery

Tasting Notes:
'06 Sauvignon Blanc, Redwood Ranch, Sonoma County: made mostly in stainless steel, light color, bright grapefruit / citrus aromas, clean, crisp finish

'05 "Russian River Selection" Pinot Noir, Russian River Valley: sourced from a number of Russian River vineyards, bright cherry fruit, tea leaf, spice, medium-bodied, good acidity, a touch of oak on the finish

'05 Pinot Noir, Bien Nacido Vineyard, Santa Barbara County: mostly Pommard 4 clone, 44% new oak, very pretty floral, black cherry, tea leaf, earth, lots of spice, great complexity, silky mouthfeel and long finish, excellent!

'05 Pinot Noir, Starr Ridge Vineyard, Russian River Valley: Pommard 4, 114, 115, & 777 clones, medium color, plum, earth, smoke, a bit bigger with more sweet vanilla oak than the other Pinots

'05 Zinfandel, Collins Vineyard, Russian River Valley: this is 96% Collins Vineyard (mostly 80-90 year-old vines) along with a little Bradford Mountain Zin and tiny amounts of Pinot Noir and Merlot. Medium color, tangy wild berry with a touch of black pepper, great acidity – refreshing alternative to some bigger, heavier Zins.
Continuing down Westside Road, we managed to arrive at Gary Farrell shortly before closing time. Situated at the top of a long curving driveway, the beautiful wood and stone building that houses the winery and tasting room was completed in 2000. The spacious tasting room features a long L-shaped tasting bar, vaulted wood ceiling, and large windows opening to a view of the densely-forested hillsides beyond. Gary Farrell started his own winery in 1982 by trading winemaking services for grapes with Joe Rochioli, after working with pioneering Russian River Pinot wineries such as Dehlinger, Robert Stemmler, and Davis Bynum.
The winery has worked with many prime Pinot sources in Russian River Valley, including Rochioli and Allen Vineyards, as well as Starr Ridge Vineyard (which is owned by Gary & Debbie Farrell). They've also worked with Pinot from Santa Maria Valley's famed Bien Nacido Vineyard for over 20 years. And after a hiatus of over a decade, the winery has recently been able to once again source Zinfandel from Collins Vineyard, also the source for Limerick Lane's well-known Zin (Farrell made some of the early Limerick Lane wines). Farrell sold the winery in 2004 but stayed on as winemaker until early 2007, when he left to start a new wine venture. Susan Reed, who was Farrell's assistant winemaker for four years, is the new head winemaker.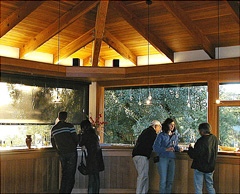 Gary Farrell Winery is mainly known for Pinot Noir, which takes up about 50% of the 20,000 case total annual production. All wines are fermented in temperature-controlled stainless steel tanks. Whites are whole-cluster pressed, and reds destemmed, and they go into 4 to 7-ton open top stainless steel tanks for a cold soak prior to fermentation. Sauvignon Blanc is fermented cool in stainless steel, then about 20% is transferred to new oak barrels partway through fermentation for added richness, and eventually blended back to stainless steel to avoid too much oak character in the finished wine. Reds are punched down, then pressed into a tank for settling before going into barrel. Pinots go into François Frères, Rousseau and Seguin Moreau barrels, ranging from new to two-year old. Pinots are racked once during barrel aging, which take from 10 to 18 months depending on the wine. The wines we tasted were distinctive and extremely well-crafted, and it was a great place to finish our winery visits for the day.
We drove to Santa Rosa, where we'd hoped to stop at Bottle Barn, the terrific wine shop on the north side of town. Unfortunately we arrived a few minutes after closing time, and with some time to kill before our dinner reservation, we decided to stop at the nearby Redwood Empire Ice Arena, built by "Peanuts" creator Charles Schulz, and the adjacent Snoopy's Gallery & Gift Shop. With a kids' hockey game going on in the arena, and loads of "Peanuts"-related stuff to look at in the gift shop, we had plenty to fill our time until dinner. We finally had to leave, though, and we made our way to dinner at Zazu, on Guerneville Road a few miles west of Santa Rosa. I had a perfectly-cooked flat-iron steak, which was served with tasty blue cheese ravioli. Outstanding food and friendly service in a cozy, low-key atmosphere – highly recommended!
Monday - December 31, 2007
Lagier Meredith Vineyard
Tasting Notes:
'05 Syrah: lots of upfront bright fruit in the aromas, with blackberry predominating, and hints of pepper, earth, and spice. Great rich mouthfeel, young and fairly tannic, with a long finish. As usual with Lagier Meredith Syrahs, this has the structure to age for years.

'04 Syrah: wonderfully deep and complex aromas of blackberry and boysenberry with more black pepper, spice, and herb overtones than the '05 – the extra year of age plus the bottle aeration no doubt helped bring out all these elements. Showing a bit smoother tannins than the '05 with a very long finish.
Getting an early start to make the drive across the Mayacamas Mountains to visit Carole Meredith and Steve Lagier at their vineyard, we saw lots of frost along the roadside near the summit of Trinity Grade, but fortunately no ice on the road itself. Partway down the road on the Napa side of the mountains, we turned south for a few miles and soon made it to the group of mailboxes at the base of the private road that leads up to Lagier Meredith Vineyard. There we parked some of our cars and squeezed into two of them for the drive up to the vineyard, high on the ridgeline in the Mount Veeder AVA. The long, steep, and narrow road is shared with a number of homes on the hillside. The road was paved in 2002 – my first visit to the vineyard was shortly before that, and it was quite an adventure! Even now, it's not a drive for the faint of heart. Steve and Carole tell hair-raising tales of Steve's trips slipping and sliding down the old rutted dirt road with a truckload of grapes, with Carole following behind, watching the grape bins shift from side to side in the truck bed as Steve rounded some of the sharp bends. Amazingly the bins would always re-align themselves by the time the truck reached the bottom of the road!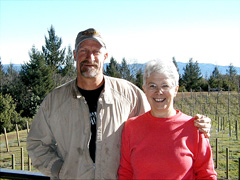 Carole and Steve are two of the nicest, friendliest people I've met in a business that's known for nice people. Steve was a winemaker at Robert Mondavi Winery for a 14 years before leaving in 1999 to devote himself to Lagier Meredith. Carole retired as professor at the Viticulture and Enology Department at UC Davis in 2003. She's well-known for her work in grapevine DNA typing, particularly for solving the mystery of the true identity of Zinfandel – a Croatian grape variety called Crljenak Kastelanski – and for identifying the parent varieties of Chardonnay, Cabernet Sauvignon, and Syrah.
The east-facing vineyard has a gorgeous view toward Napa Valley, and each year the Lagier Meredith label features a different photo of this scenery. On a clear day such as the one on which we visited, ywe could also see over the hills to San Pablo Bay in the distance to the southwest. Carole and Steve took some time in deciding what grape variety to plant in their vineyard land, which had already been cleared by the previous owner. They figured that their site was too cool for Cabernet and too warm for Pinot…..but just right for Syrah. And an early visit from no less an authority than Jean-Louis Chave confirmed their choice – he told them that Syrah would grow very well at their ridgetop location because "Syrah loves a view".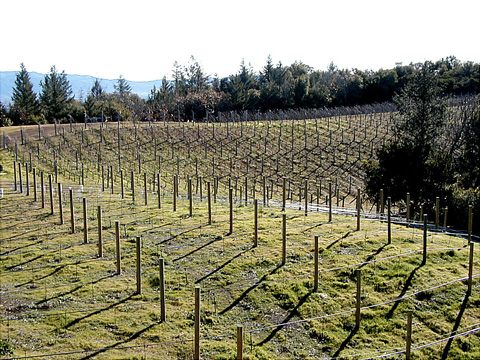 The vineyard currently has about 4.5 acres planted – all Syrah except the most recent planting last year when about 3/10 of an acre of Mondeuse went in. Steve and Carole purchased the land in 1986 and began planting Syrah there in 1994 – initially with Durell clone and later with various ENTAV clones including 174, 383, 525, and 877. While some vines have been afflicted with the still-mysterious "Syrah Decline" and will be replaced at some point, most are very healthy. They point out that the affliction affects only the French clones and not the Durell.
Steve does virtually all of the vineyard work himself. I asked him when he would begin pruning the vines, and he told me that he always begins shortly after the beginning of the year and that with decent weather conditions, he finishes sometime in February. At an elevation of 1,300 feet, the ridgetop vineyard is significantly cooler during the growing season than Napa Valley itself. The soil is mostly fractured sandstone and shale, allowing for excellent drainage.
Steve and Carole recently completed a new house, just up the hill from their old drafty house that was on the property when they bought it. They have permits to build a winery where the old house is now located, but construction will have to wait until they can afford it. Until then, they continue to make their wine at the Monticello Vineyards facility near Yountville. They allow the vineyard character of their fruit show clearly in their wine since they use no new oak in their winemaking – they buy three-year old barrels and estimate the average age of their barrels is nearly seven years. Lagier Meredith produces only one wine each year, their estate Syrah. Their first commercial vintage was 1998 (less than 100 cases), and with less than five acres of vines to work with, they still produce less than 1,000 cases per year.
As we stood on the deck of their house overlooking the vineyard, Carole brought out wonderful olives from their own trees, and tasty almonds from Steve's family farm in the Central Valley. A couple of their friendly and amusing cats wandered about, walking along the deck railings. Carole showed us several books on olives that she's consulting to try to learn just what type of olives they have, although she still has not nailed down their identity. Sounds like some olive DNA testing may be in order! Carole and Steve opened a bottle of their new '05 release (which has already received outstanding reviews), and brought out a bottle of the '04 that had been opened the previous day. These two wines demonstrated once again that Lagier Meredith's Syrah is one of the most consistent and outstanding Syrahs in California.
After saying goodbye to Carole and Steve, we piled into our cars and carefully made our way back down the hill, stopping briefly at the bottom of the road to choose a lunch destination. We decided on Taylor's Refresher, the classic burger stand along Highway 29 in St. Helena that's served tasty food since 1949. Now co-owned by winemaker Joel Gott, Taylor's Refresher won a prestigious James Beard Foundation "America's Classics" restaurant award in 2006. I had the blue cheese burger and sweet potato fries – yum!
Twomey Cellars

Tasting Notes:
'05 Pinot Noir, Russian River Valley: from a mix of Dijon, Pommard, and Martini clones, medium-light color, bright red fruits with touches of spice and tea leaf, and a bit of sweet, toasty oak on the long, smooth finish – a very fine Pinot from a winemaker known for Cab and Merlot!

'00 Merlot, Napa Valley: 95% Merlot, 5% Cabernet Franc, color showing a little bricking around the edges, herbs, coffee, smoke are prominent in the aromas, followed by black cherry & plum, medium-full mouthfeel

'03 Merlot, Napa Valley: 96% Merlot, 4% Cabernet Franc, medium ruby color, much more fruit-forward than '00, ripe plum with hints of flowers, herbs, and mocha, fine mouth-coating tannins and a long finish

'04 Merlot, Napa Valley: 94% Merlot, 6% Cabernet Franc, slightly darker color, tart black cherry and darker fruits, bittersweet chocolate, the youthful tannins are a bit rougher than in the '03
We headed north through St. Helena and drove though the northern part of Napa Valley, finally arriving at Twomey Cellars just outside of Calistoga. Twomey (pronounced "too-me") is owned by the Duncan family. Ray Twomey Duncan, who co-founded Silver Oak Cellars with Justin Meyer in the early '70s, began the Twomey label in 1999, with a goal of making world-class Merlot. In addition to Merlot from their Soda Canyon Ranch in southeastern Napa Valley, they also make Sauvignon Blanc from their estate vineyard near Calistoga and Pinot Noir from their West Pin Vineyard in Russian River Valley.
Winemaker Daniel Baron (also the winemaker at Silver Oak) uses some techniques he learned while working in Pomerol and St. Emilion in Bordeaux but rarely seen in California. Chief among these is the "soutirage traditional" method of racking, which allows a gentle gravity-flow of wine from barrel to barrel. This technique is slow and labor-intensive and requires special barrels. The Merlot is racked every three months using this method, the aim of which is to preserve the wine's aromatics while helping to create a smoother mouthfeel. For the Pinot, some whole clusters are added to the open-top fermenters before the beginning of the cold soak, then the must is punched down four times a day and finally pressed using a small basket press. All of Twomey's wines are aged in French oak (unlike the American oak barrels used Silver Oak), with up to 80% new barrels for the Merlot.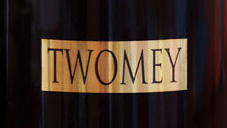 I was impressed at how seamless all of Twomey's wines were. In particular, while the oak was clearly present, it was very well-integrated into the overall aromatics and flavors and never detracted from the central core of fruit flavors. That's always a tough outcome to achieve, and Twomey's wines do it very well.
It was mid-afternoon by the time we left Twomey, and we found that other wineries were already closed for the New Year's holiday, so we headed back to Windsor. We'd decided to stay in for New Year's Eve, so a quick trip to the supermarket was in order on our way to the condo. Appetizers included deep-fried olives, and bruschetta with Italian tapenade, while dinner featured porcini mushroom risotto, steak, and roasted veggies. And of course we had no shortage of good wines to ring in the New Year!
Although I had stopped at most of the wineries on this trip in previous years, in many cases it had been quite a while since my last visits so it was almost like going to some of them for the first time. And although I'd tasted their wines before, other wineries such as Scherrer, Mauritson, Papapietro Perry, and Twomey were new visits for me. Big or small, well-established or relative newcomers, there are still a lot of wineries waiting to be discovered – and re-discovered – in Sonoma and Napa. And I enjoyed a lot of good places to eat, both familiar and new to me, throughout the wine country. It was a pleasure being with my traveling companions, and as always, thanks to everyone that we visited for being so generous with their time and their wine!