Visits in this Issue

Eaglepoint Ranch Vineyard
Graziano Winery
Ferrington Vineyard
Savoy Vineyard, Pt.1
Goldeneye Winery
Lazy Creek Winery
Caludia Springs Winery
Londer Vineyard
Drew Wines
Navarro Winery
Breggo Winery
Savoy Vineyard, Pt.2
I've been enjoying wines from Mendocino County a great deal in recent years, and I wanted to visit the area and learn more about the vineyards and wineries there. I'd visited both the Ukiah and Anderson Valley wine regions before but never spent much time there, so this was a good opportunity to explore those areas in greater depth. I was able to assemble a small group of Grape-Nutz veterans to join me on this late-February trip: Eric Lundblad, Al Osterheld, and Paul Homchick. Of the three, only Eric had visited the Mendocino wine country before.
We scheduled visits to two distinctly different parts of Mendocino County – the warm inland area near Ukiah Valley, where Zinfandel, Italian, Rhône, and Bordeaux varieties thrive, and the cool Anderson Valley, where Chardonnay, Pinot Noir, and Gewürztraminer rule the vineyards.
Eric and I carpooled, and we drove up Highway 101 from the Bay Area early Friday morning, through Santa Rosa (where the morning rush-hour traffic was surprisingly light), and met Al just off the freeway exit in Ukiah. Paul called shortly after we started out, and as he had some work commitments that morning, he decided to meet us after our first appointment. Al followed Eric and me along the narrow curving road heading into the hills just southeast of Ukiah until we arrived at our first destination of the day.
Eaglepoint Ranch Vineyard
We pulled up alongside the barn next to vineyard manager Casey Hartlip's home overlooking the vineyard. Casey's dogs, Peewee and Lulu, were the first to greet us as we got out of our cars, and Casey soon followed. A Mendocino County native, Casey is a self-described "redneck" along with being one of the most passionate and dedicated grape-growers you're likely to meet.
First planted in the mid-'70s, Eaglepoint Ranch Vineyard was started by John Scharffenberger and his family – you've probably seen the Scharffenberger name in connection with the sparkling wine and chocolate ventures founded by John. Casey was hired to help at the ranch in 1977, and he's been there ever since. The ranch was purchased in 2005 by Roland and Barbara Wentzel, owners of a successful chain of home furnishing stores who also grow Pinot Noir (and a tiny bit of Albariño) in Anderson Valley.
From Barrel :
'06 Grenache, Grenache Noir clone: no new oak is being used with this wine, which will be bottled in May. Medium purple in color, the wine displayed very bright cherry and strawberry aromas and light, dusty tannins. Casey told us that he will blend a little Syrah into this before bottling.
'05 Syrah, 877 clone: dark purple, this had aromas of meat, dark fruit, and a bit of pepper. Blackberry and plum flavors and fairly grippy tannins were followed by a long finish – this might be Casey's best Syrah yet, an excellent wine. It will be bottled in April.
'05 Petite Sirah: very dark color, somewhat shy aromatics, but lots of blueberry fruit flavors leading to fairly big tannins on the finish. Casey may blend in a bit of Grenache to brighten up the aromatics on this, but it's already very promising.
'06 Zinfandel: this one was difficult to judge as it's still going through malolactic fermentation. Medium purple color, with fairly bright wild berry aromas and flavors, this will become the primary component of the '06 Coro Mendocino blend.
'06 Syrah / Grenache Coferment: this is 83% Estrella clone Syrah and 17% Grenache. Casey is experimenting with a coferment after Edmunds St. John's successful "Redneck 101" wine, which is a 50/50 cofermented blend of Eaglepoint Ranch Syrah and Grenache. Also going through malolactic fermentation, this has about 10% new oak. Medium-dark purple, the Grenache component provides a brighter fruit element to the aroma and flavor compared with the 100% Syrah.
'06 Syrah, 877 clone: medium-dark color, this had a "prettier" aroma than the '05, with a distinct floral character in addition to the fruit and meat notes that were also apparent in the '05. The flavor was a bit brighter than the '05, with plum and some gamey and peppery elements – great varietal character and this should be a really nice wine.
As Casey was heading out of town that afternoon, he was short of time to taste us on his current releases, so he generously gave us a bottle of each to try. We opened two of these at dinners during our weekend trip, and then got together to try the other two a couple of weeks later.
Current Releases :
'05 Grenache: frost and shatter reduced the Eaglepoint Ranch Grenache crop considerably in 2005, but the remaining fruit was more intense than usual, so Casey decided to keep this wine 100% Grenache rather than blend in a bit of Syrah as he usually does. The wine displayed bright, sweet strawberry aromas and flavors, and even without any Syrah added it seemed weightier than earlier vintages of this wine. Not a lot of complexity in this wine, but a tasty, medium-bodied Grenache.
'03 Coro Mendocino: this blend of 58% Zinfandel, 24% Syrah, 13% Petite Sirah, and 5% Grenache is the current Eaglepoint Ranch version of the Coro Mendocino series. While it clearly showed the brighter fruit of it's Zinfandel base, we could also pick out the distinct elements that the Syrah and Petite Sirah (though not so much the Grenache) added to the overall blend. Great mouthfeel and depth of flavors and a long finish made this a real standout wine.
'04 Syrah: a blend of both 877 and Estrella clone Syrah, this wine had fairly shy aromas, and in retrospect, maybe it should have been decanted. Some plummy fruit showed through, although the tannins were very evident. It's obviously a young Syrah, and all the current releases, this wine would benefit most from some additional bottle age to better balance the fruit and tannin.
'04 Petite Sirah: unlike the Syrah, this was decanted and perhaps that made a difference. There's some intense blackberry / blueberry fruit in this wine, and although we expected strong tannins, the fruit masked them very well and made this one of the most drinkable young Petite Sirahs I've tried.
Out of 1,255 total acres on the ranch, 84 acres are currently planted with Syrah, Petite Sirah, Grenache, Zinfandel, Sangiovese, Cabernet Sauvignon, and the latest addition – four acres of Counoise planted last year. Casey said that the more recent plantings have focused on Rhône grape varieties, as these have been very successful at Eaglepoint Ranch and are much in demand. There had originally been some Chardonnay and Sauvignon Blanc in the vineyard, but they are long-gone. There are still some of the original vines dating from the late '70s, but Casey says these will need to be replanted soon, probably with Grenache and Petite Sirah. The soil is mostly soft decomposed sandstone. Several different rootstocks are used, including St. George and 1103, and different trellising systems are used – vertical shoot positioning is used for many of the vines, and a quadrilateral trellis is used for the Syrah.
The morning was beautiful – nothing but blue skies, but quite cool. Casey cautioned us to be careful not to slip on any ice that might still be in the shade around his house. At an elevation of about 1,800 feet, it's not unusual for the vineyard to receive a light dusting of snow during the winter of most years. Because of the elevation, the vineyard stays cooler than the hot Ukiah Valley below.
The new counoise block is 100% organically farmed, and the rest of the vineyard is about 75-85% organic - they don't use nitrate fertilizer or insecticides, and sulfur is the main fungicide. Although it's not certified organic at this point, Casey told us that the Wentzels would like it to be in the future. He pointed out the cover crops, mainly legumes, planted between the rows of vines. Along with Casey, there is a crew of four full-time vineyard workers – between them all, they know every vine on the land. In this relatively "wild" location in the hills, Casey noted that deer, wild turkeys, and other birds are not the only pests to deal with – black bears sometimes get into the vineyard, as the deer fence isn't much of an obstacle to them! He did mention that the installation of owl boxes has been successful in helping to control gophers and other burrowing critters.
As we walked alongside a Grenache block planted in 2001, we noticed that many of the vines seemed to be only partially pruned. Casey explained that this technique, called "long pruning", delays budbreak – a useful method to help protect against potential frost damage. Final pruning is done later. Budbreak at Eaglepoint Ranch happens most years between mid-March and early April.
Eaglepoint Ranch fruit is sold to many notable wineries, including Copain, Eno, Navarro, Redline, Rosenblum, Sean Thackrey, and a number of others – a room below Casey's house contains many bottles from the various wineries that have made Eaglepoint Ranch vineyard-designated wines. Casey also produces his own wine under the Eaglepoint Ranch Winery label – a partnership between Casey and John Scharffenberger. Casey made his first wine back in 1990, and today Eaglepoint Ranch Winery produces small quantities of Syrah, Grenache, Petite Sirah, a Rosé, and the "Coro Mendocino" blend, all from estate vineyard fruit. The wines are produced at the Parducci facility in Ukiah.
Casey is also one of the founding members of the Coro Mendocino line of wines, currently produced by eleven Mendocino County wineries. "Coro" means "chorus" in both Italian and Spanish, and the concept behind the wines was to create a series of Mendocino wines that would showcase the fruit from the county (which is often bought by larger wineries from out of the area and blended anonymously into other wines). The participating wineries collaborate to produce wines that share common packaging, identical price, and a similar Zinfandel-based blend. The specifics of the blend are outlined on the Coro Mendocino website, which notes that Coro wines are "the first proprietary appellation-specific blend governed by strict winemaking protocols to be established in the United States". In addition to restrictions on the blend of the final wines, there are also acceptable ranges of alcohol, acidity, pH, and other elements with which the wines must comply. The wines must be aged a minimum of one year in barrel (between 25% and 75% new oak) and six months in bottle. There is also a rigorous series of blind-tasting peer reviews that each wine must pass before it can be released. It's a very interesting concept, and the Coro Mendocino wines I've tasted have been impressive. The current vintage for the Coro wines is 2003.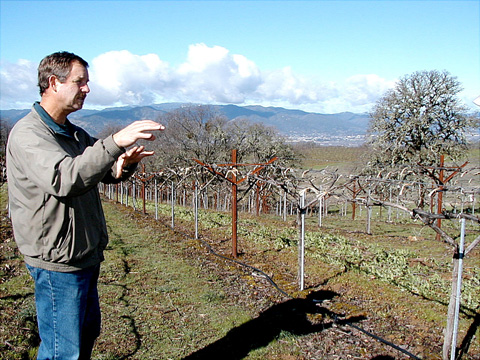 Following our vineyard tour, Casey invited us into his house to taste a number of barrel samples that he had prepared for us. Overall, Casey's wines seem to reflect the wildness of their vineyard location. Although they're unquestionably Californian, there's also a distinctive untamed, "sauvage", element to many of them that's very attractive.
We said goodbye to Casey, who was eager to hit the road with his brother – they were off to Reno to attend a convention of the Elk Foundation. We headed back over a ridge, down alongside a tree-lined creek, and back to Ukiah Valley.
Ukiah Valley is well inland, and mountains block the cool Pacific air, so the summer temperatures exceeding 100 degrees are not unusual – Eaglepoint Ranch, at a higher elevation, does not get at hot as the valley. Viticulture and winemaking in the Ukiah Valley has a long history, extending well back into the nineteenth century. Italian immigrants in particular led the early wine boom in the area. The Parducci family winery was one of only a few in the area that was able to survive Prohibition, and Parducci Wine Cellars (now part of the Mendocino Wine Group) remains a major player among Mendocino wineries.
Graziano Winery
When I was arranging vineyard and winery visits prior to the trip, I'd asked Casey for recommendations on who else we might visit in the Ukiah area, and he suggested we see Greg Graziano, who also produces a Coro Mendocino wine. When I'd spoken on the phone to Greg to arrange our visit, he mentioned that it would be good for us to visit the winery tasting room in Hopland before meeting him at the winery, since they had so many wines to taste. It turned out that we had some extra time before our appointment with Greg, so I thought we could backtrack the ten miles or so south to Hopland, check out the tasting room and have a quick bite to eat before heading north to the winery in Redwood Valley. I called Paul, who by this time was well on his way up to Ukiah, and asked if he could meet us at the tasting room.
We met Paul in front of the Graziano tasting room, along the main drag in Hopland. It's more properly called the Graziano Family of Wines, since it includes four separate labels: Saint Gregory, Monte Volpe, Enotria, and Graziano. Bob Meadows was behind the tasting bar, and he explained the different labels to us. Saint Gregory includes wines from Burgundian grape varieties, Enotria features wines from Piedmonte region grape varieties, Monte Volpe specializes in central and southern Italian varieties, and Graziano makes primarily Zinfandel and Petite Sirah, as well as other grape varietals that have traditionally been grown throughout inland Mendocino County. Bob explained that all of the fruit is purchased from vineyards that practice sustainable agriculture (though not necessarily certified organic).
Current Releases:
'02 Monte Volpe Tocai Friulano: light, a bit of citrus character in the aromas, good acidity
'05 Enotria Arneis: this was a standout, light-bodied but flavorful apple-pear notes, with great acidity – should be a terrific food wine.
'05 Saint Gregory Pinotage: this is a variety I generally don't care for, but this one (with a small amount of Syrah blended in) was an exception – fairly light color, spicy, nice acidity.
'05 Saint Gregory Pinot Meunier: pronounced earthy, mushroomy character, with some cherry fruit and noticeable tannins.
'05 Saint Gregory Pinot Noir: medium-bodied and smoother than the Pinot Meunier, this had a sweet, almost candied cherry character.
'99 Enotria Nebbiolo: aged for 33 months in barrel and another year in bottle before release, this wine probably still needs years of aging to show its best. Showing rather lean and tannic from a just-opened bottle, there was still a distinct sweet cherry core to the flavors along with an earthy component.
'03 Graziano Coro Mendocino – 62% Zinfandel, 15% Petite Sirah, 9% Sangiovese, 9% Barbera, and 5% Dolcetto. A medium purple color, the aromas and flavors were dominated by the bright Zinfandel fruit, but with interesting layers of darker fruit flavors as well. Moderately tannic, the wine had a long, pleasant finish – very nice!
'05 Graziano Sauvignon Blanc: barrel-fermented in two- to five-year old oak, and with no malolactic fermentation. A slightly grassy note accompanied apple and pear aromas, and the wine displayed a nice combination of crispness with good mouthfeel.
'05 Monte Volpe Pinot Grigio: citrus aromas, clean and crisp with a mineral note to the flavors, quite nice.
'02 Enotria Barbera: sourced from three vineyards, and aged in barrel for over two years. Bright cherry fruit, a touch of oak, and nice texture and acidity marked this wine, another very good effort.
'04 Mendocino Zinfandel: blended with a little Carignane, this was aged in 30% new oak, and like the Barbara, used a combination of French, American, and Eastern European barrels. The fruit was sourced from several vineyards, some of which have 40- to 60-year old Zinfandel vines. Medium purple, this had nice raspberry and wild berry aromas and flavors, along with good acidity
'02 Enotria Dolcetto: Greg told us this was from the oldest Dolcetto vineyard in the country. Aged over two years in barrel, this wine was on the shy side, showing just a touch of cherry-like fruit along with some oak in the aromas, and a firm tannins
'04 Graziano Petite Sirah: similar to the other reds, this spent over two years in a variety of different types of barrels. Blended with about 10% Zinfandel, and including some fruit from Eaglepoint Ranch, this had black fruits along with a bit of oak and spice in the aromas, rich mouthfeel, and surprisingly tame tannins.
Having spent more time at the tasting room than anticipated, we were now running a bit behind schedule. And after what we'd hoped would be a quick bite to eat at a nearby deli took much longer than we'd planned, we were now running seriously late for our appointment with Greg Graziano at his winery. A phone call to Greg assured us that arriving late would be no problem, and we headed back north on Highway 101.
Arriving at Graziano winery facility in Redwood Valley, a few miles north of Ukiah, Greg greeted us in his office, and spoke with us about the history of winemaking in his family. His grandfather, Vincenzo Graziano, came to America from the Piedmonte region of Italy and settled in Mendocino County in the early 1900s. His family grew Moscato, Barbera, Grignolino, later planted Alicante Bouschet and Carignane, and later still Chardonnay, Merlot, and Sauvignon Blanc as the market for grape varietals changed over the years. Greg co-founded Milano Winery in Hopland in 1976, and he's also been the winemaker at La Crema Winery and at Hidden Cellars. In 1988, Greg started Saint Gregory and Monte Volpe and in more recent years he's added the Enotria and Graziano labels. Total production for the four labels is approximately 30,000 cases.
Greg is very friendly and enthusiastic, full of energy. His talk with us was also full of….well, rather colorful language (not unlike Casey – it's no surprise that they're pals!). But it all seemed to fit in with his obvious zest for what he does. Greg led us to a room next to his office that contained a large table as well as shelves displaying wines and wine books. He'd pulled out a few wines for us to taste, and was delighted to hear that he hadn't already tried any of those particular wines at the Hopland tasting room. As we were sitting at the table I noticed one Graziano Zinfandel bottling displayed on the shelves that we didn't taste – it was labeled Robert Parker Vineyard…...no, it's not that Robert Parker, Greg told us, as we all had a good chuckle.
As we started the tasting with a couple of white wines, Greg explained that he likes to keep fermentation temperatures cool for these, and tries to keep solids out of the barrels to maintain the fruit character of the wines. He uses both cultured and indigenous yeast in his wines.
It was easy to tell that Greg crafts his wines with food in mind – they all have excellent acidity, and they avoid the overly rich or sweet character that makes some wines difficult to pair with food. Combined with his goal of producing affordable wines (other than the Coro Mendocino, prices ranged from $10 to low $20s), the Graziano Family of Wines presented an impressive lineup for both price and quality. We thanked Greg, and started the hour-long drive over the mountains to our next appointment in Anderson Valley.
Ferrington Vineyard
By the time we finally made it across the scenic but winding road from Ukiah to Anderson Valley, we were running way behind schedule. I'd called Norman Kobler, the Ferrington vineyard manager, as we were leaving the Ukiah area and he assured me that it was no problem, he was going to be at the vineyard anyway, so we should come by whenever we got there. The skies were darkening as we entered the valley, both from the late afternoon time and from gathering clouds. The weather forecast had called for showers and rain throughout the weekend and we were all hoping to at least have dry weather for our vineyard visits. Although it was overcast, there was no rain yet when we arrived at Ferrington Vineyard, located just west of the town of Boonville, the "metropolis" of Anderson Valley with a population of around 1,000.
After a short drive through the vineyard, we arrived at a small house where we were greeted by Norman, along with his two young children, and a dog and cat. Norman manages other vineyards in addition to Ferrington, and everyone we spoke with holds him in very high regard. Friendly but soft-spoken, he comes from a well-known local wine family – his father Hans founded Lazy Creek Winery over 35 years ago.
Norman offered us a quick tour on the "Mule" – the vineyard ATV – and we quickly accepted and hopped on board along with Norman's children. Ferrington Vineyard was first planted in the late 1960s, and a few acres of the original Sauvignon Blanc vines are still there, although they will have to be replanted soon. Current owners Kurt and Heather Schoeneman purchased the vineyard in 1997. A total of 74 acres are currently planted, with Chardonnay, Pinot Noir, Gewürztraminer, and Syrah in addition to the Sauvignon Blanc. The vineyard has a gentle south-facing slope, and has decomposed sandstone and clay soils with three to four feet of topsoil. There is a lot of recent planting evident throughout the vineyard. Some of the 25 acres of Pinot Noir vines were planted in 1998 and some more recently. Ferrington currently sells Pinot to eight wineries, and Pinot clones grown there include 115, 667, 777, 2A, and Pommard. Williams Selyem's Ferrington Vineyard Pinot Noir was the first to highlight this vineyard, and demand for their fruit has grown since then. MacPhail, Handley, Breggo, Arista, Londer, Husch, and Navarro are some of the other labels that source fruit from Ferrington.
A little background on Anderson Valley…..although it's only about a 2-1/2 hour drive from most of the Bay Area, it feels farther away, since there's no way to get there except along the slow, twisty roads mentioned above. Isolated in their small valley, local residents even developed their own dialect, "Boontling", in the late nineteenth century. Guides to Boontling can be found in most of the small stores in the valley. Italian and Swiss immigrants planted wine grapes in the area in the late 1800s, but like the Ukiah area, the wine industry virtually died out during Prohibition (although several old Zinfandel vineyards high on the ridges between the valley and the ocean survived and continue to produce today). The modern era of Anderson Valley wine only began in the mid-1960s when Dr. Donald Edmeads planted 24 acres of vines, and the region started to grow in earnest during the '70s, when wineries such as Husch, Navarro, Lazy Creek, and Greenwood Ridge started up. The Anderson Valley AVA was recognized in 1983.
State Highway 128 runs through the valley, which is oriented roughly east-west lengthwise. Boonville is near the eastern end of the valley, the smaller town of Philo is near the middle, and the even smaller village of Navarro is at the western edge. The ocean is only a few miles farther west, so fog and sea breezes keep the valley cool even when nearby areas are scorching hot in the summer. Forests and grassland cover the hillsides to the north and south of the valley floor, where vineyards share the landscape with woodlands, orchards, and pasture.

Along with a scarcity of accommodations, there are also limited choices for dining in Anderson Valley. One place that sounded promising for dinner was the Highpockety Ox in Boonville. We were told that "highpockety" is Boontling for rich/snobby, but there was nothing highpockety about the restaurant, an informal place which used to be the old Buckhorn Saloon, formerly the Anderson Valley Brewery's brewpub. The brewery, which makes excellent Ales, Stout, and Porter, outgrew that location and moved up the road to a larger facility. We took a table in the uncrowded dining area. There was plenty of activity in the adjacent bar area, though – it was hopping all evening with people "harpin'" and "hornin'" (talking and drinking). We split some very tasty appetizers, but were a bit disappointed with the oxtail stew that we all ordered – how could we pass up that dish at a place called Highpockety Ox?
Arriving back at the house, we chatted with Norman for a short while longer before saying goodbye and heading to our accommodations for the weekend, Frogwood Lodge Retreat Center, a few miles south of Boonville along twisty Mountain View Road. Anderson Valley, being a fairly isolated area only accessible via windy roads over mountains or from the coast, has never developed into much of a tourist draw, and you get the sense that's just fine with the local residents. Accordingly, there are not many places to stay – mainly bed & breakfasts, most of which are both small and somewhat pricey, and the historic but also small Boonville Hotel. We searched in vain for a suitable place for four single guys to stay until Eric came across the Frogwood website. A few phone calls later, and we had a home for the weekend. The Frogwood Retreat is primarily set up for larger groups, but when they don't have any large groups staying there, they are open to individuals or small groups.
We arrived late in the afternoon and made our way up the steep dirt driveway to the small office. We were met there by Trout (yes, that's his name), and paid for our cabin. The setting was beautiful, on a forested hillside. Trout invited us to join the Frogwood staff members in the hot tub, but cautioned us that bathing suits are not preferred……we politely declined. After leading us down a steep hill from the office to our cabin, Trout walked back up the hill, presumably to join his friends in the hot tub (we didn't venture back there to find out). Before he left us, Eric asked about a key for the cabin. Trout replied that there weren't any keys, the locks didn't work anyway, and that they'd never had any problem with theft – but he did mention that the only people who would steal anything in the area would be tourists. Since we were the only "tourists" there, we figured we should be OK. The cabin was spacious, with four bedrooms and a loft, all with lots of beds for the large groups, but despite being named the "Spiral" cabin, no spiral stair….
Savoy Vineyard – Part 1
We awoke to rain on Saturday morning, so we were worried that our visit to Savoy Vineyard might get washed out. Fortunately, by the time we had a quick breakfast and headed to the vineyard, the rain had stopped. We had a bit of trouble finding the vineyard, but turned into what looked like the right driveway – the one that had the big white truck with "Savoy Vineyard" on it parked alongside. Not seeing any sign of owner Rich Savoy, we drove around and finally parked near the upper edge of the vineyard. I called Rich and he apologized for running late, but assured us he would be there soon. We decided to take a look around while we were waiting, and strolled up and down rows of the bare vines, most of which had already been pruned. Spotting an interesting steep section of the vineyard on the other side of a small creek, we made our way across and climbed up the terraced hillside. It reminded me of the Bone Rock section of James Berry Vineyard near Paso Robles with its narrow terraces following the curve of the hill.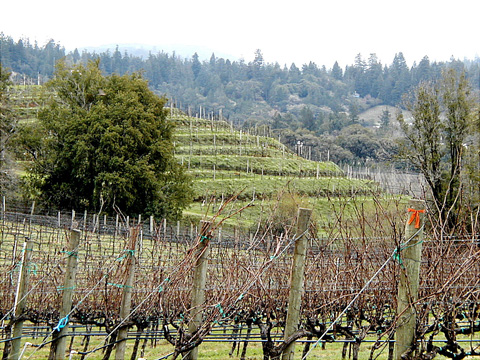 As we returned from the terraced hillside and made our way back toward our cars, Rich arrived at the vineyard. Forty years ago, Rich founded Green Apple Books in San Francisco, one of the best-known bookstores in the Bay Area. He still owns the store, although he's in the process of selling it to three long-time employees in order to focus more on his vineyards. Rich struck me as a true "gentleman farmer" – his years as owner of an urban bookstore have given him a broad worldview, but it was clear that he's incredibly passionate, knowledgeable, and detail-oriented when it comes to his vineyards. Always ready to answer our questions with more information than we'd expected (and in many cases more than I could absorb in such a short time), it was a pleasure to spend time with him.
Located just west of Philo, the 45-acre vineyard is one of two that Rich owns in Anderson Valley. Extending from the hills down to the highway, the south-facing slope is gentle in some parts and rather steep in others. It was first planted in 1991, and with more recent plantings coming on line, Rich will be able to sell fruit to more wineries in the coming years. Littorai, Roessler, Radio-Coteau, and Adrian Fog are among the top-notch wineries that currently produce Savoy Vineyard Pinot Noirs. Rich's Philo vineyard has a variety of Pinot Noir clones planted, including Pommard, Martini 15, 2A, 114, 115, 667, 777, 828, Calera, and Swan. Wente clone Chardonnay is also planted at this vineyard. Rich told us that he had some Syrah and Pinot Meunier planted there in the early '90s but that the vineyard is now exclusively Pinot Noir and Chardonnay. The vineyard is farmed by mostly organic methods including use of fish emulsion, compost tea, and cover crops. Most of the established fruit is sold by the acre rather than by the ton. Rich noted that there was a fairly large crop in 2006, something we heard from most other Anderson Valley growers we visited as well.
As we prepared to leave the vineyard, Rich told us that we should contact him if we were ever back in the area and wanted to see his older hillside vineyard, something we kept in mind in the event we wound up with any time to spare during the weekend.
Goldeneye Winery
In contrast to the day before, we were running a little early on Saturday so I called Lazy Creek Winery, our next scheduled visit, to find out if we could arrive a bit sooner than planned. It turned out to be a good thing that I called, as owner Mary Beth Chandler explained that they had an unexpected conflict that morning and asked whether we could reschedule for early afternoon. Fortunately, we were able to rearrange our appointment at Goldeneye Winery so we headed the short distance down the highway to their tasting room.
We met Lisa de Melogue of Goldeneye at the tasting room. As we admired the interior of the building, which as Paul pointed out, has a handsome Arts & Crafts style, Lisa told us about the background of the winery. Goldeneye – named for a species of diving duck that migrates through Anderson Valley – is owned by Dan and Margaret Duckhorn, owners of Duckhorn Vineyards in Napa Valley, well-known for their Merlot. The Duckhorns began searching in 1990 for a location to grow Pinot Noir, and they settled on the property near Philo in 1996. The winery has since grown to include four estate vineyards in Anderson Valley – Confluence (adjacent to the winery), Gowan Creek, Abel, and The Narrows (the vineyard formerly known as Floodgate). The four vineyards now total 150 acres, with 23 different Pinot Noir clones grown on the properties.
Barrel samples:
Pommard clone on 101-14 rootstock, picked at 26.1 brix: intense black cherry aromas, slight floral component, very nice.
667 clone on 101-14 rootstock, picked at 26.5 brix: dark cherry, riper character, more sweet vanilla/oak influence
115 clone (oops, missed the rootstock on this one), picked at 26.7 brix: brighter red fruit aromas, and a bit richer mouthfeel.
Currrent releases:
'04 Goldeneye – 24.9 average brix at harvest, 14.5% alcohol. Sweet, rich, black cherry and darker fruit, some tea leaf and spice, distinct but fairly well-integrated oak, and a lingering finish.
'05 Migration – 26.5 average brix at harvest, 14.5% alcohol. With brighter fruit and less obvious oak than the Goldeneye, this also had a more noticeable spice component and nice mouthfeel.
The first bottling of Goldeneye Pinot Noir was in 2000. A second bottling, Migration, was added in 2001, from fruit that was not selected for the final Goldeneye blend. Roughly 8,400 cases per year of Goldeneye are produced, and 4,400 cases of Migration. In addition to the just-released '04 vintage of the Goldeneye and '05 Migration, the winery is adding two new vineyard-designated '04 bottlings, from Confluence Vineyard and The Narrows Vineyard. Winemaker Zach Rasmussen worked at Stag's Leap, Robert Sinskey, and Husch before joining Goldeneye.
All the Pinot fruit is destemmed, and the Goldeneye Pinot is aged 16 months in 100% new French oak, then another 14 months in bottle before release. The barrels are from 16 different coopers, mainly François Freres and Sirugue, and from a variety of forests, mostly Allier, with Vosges, Nevers, Tronçais, and Bertranges as well. Beginning in the '06 vintage, the Goldeneye oak program is being modified to 75% new and 25% one-year old barrels. The Migration Pinot is aged 11 months in 75% new and 25% one-year old French oak, then another 7 months in bottle. The barrel and bottle aging of the two wines is timed so that the '05 vintage of Migration was released at the same time as the '04 Goldeneye.
Lisa led us to the nearby winery building to taste a few 2006 barrel samples, all from the adjacent Confluence Vineyard. Once we'd tasted from the three barrels, we tried a blend of all three, and the 667 barrel tended to dominate with its riper and oakier character.
After walking back to the tasting room, we sat at a long table with a beautiful view of the vineyard and the hills beyond. Lisa poured us samples of the winery's two current Pinot Noir releases, which were accompanied by small plates of cheeses and berries.
The two wines are clearly similar in many ways – both have a generous helping of new oak, but both have plenty of fruit to balance it. They offer another side to Anderson Valley Pinots, showing a level of richness that is in contrast to many Pinots from the area. The Migration should be more a more accessible wine to drink now while waiting for all the components of the bigger, richer Goldeneye to come together over the next couple of years. We thanked Lisa for the very pleasant tasting experience, and hit the road again.
A couple of people had suggested that we try Libby's Restaurant in Philo for lunch, and it was a great recommendation. The place was busy, always a good sign. Excellent Mexican food – we later learned that the owner had been a chef at the well-regarded Boonville Hotel restaurant.
Lazy Creek Winery

Back on the road again after our lunch, we turned off the highway at the small Lazy Creek sign, and followed the long dirt road across a creek and to a small group of buildings near the base of some rolling hills. The rusting flatbed truck with three wine barrels on the back, located at the edge of the vineyard, has been photographed many times, and it was impossible to resist taking another photo of it.
Lazy Creek is one of the oldest wineries in Anderson Valley. The winery was started by Hans Kobler around 1970, and current owners Josh and Mary Beth Chandler bought the property in 1999. The vineyard includes Pinot Noir, Riesling, and Gewürztraminer, around 30 acres total. The original vines are over 35 years old, many others are 20 to 30 years old. Many of the old Pinot vines are from "suitcase" clones from France rather than the newer Dijon clones.
Current releases:
'05 Dry Riesling: fermented in older oak, with stirred lees for better mouthfeel. Floral, nice acidity, very pleasant
'05 Dry Gewürztraminer: classic Gewürz aromas – lychee, spice, nice mouthfeel, very good acidity, great finish (no bitterness as Gewürz often has in its finish). Josh notes this is meant to be aged, unlike nearly all other California Gewürztraminers, though it's very tempting right now.
'99 Dry Gewürztraminer: an example of how well Lazy Creek Gewürz can age – this had a deeper color, honeysuckle aromas, still maintaining great acidity and mouth-coating viscosity. Josh feels his Gewürztraminers can age 10-15 years.
'06 L'Aperitif de Gewürztraminer: a light Moscato-style wine, just 9% alcohol, with distinct pear aroma and flavor, this would be a fine sipping wine.
'05 Rosé: this is not from second-quality fruit, as you find in many Rosés – it's from dry-farmed old-vine Pinot Noir, cropped at two tons per acre. Light salmon color, it was weightier than a lot of Rosés, with some richness in the mouth, definitely a more "serious" style of Rosé.
'04 Estate Pinot Noir: with 18% whole cluster fermentation, this had medium color, with a spicy stem character in the aromas. Earthy cherry flavors with moderate tannins, this should age nicely. There is also a Reserve Pinot Noir that we did not taste.
'05 Syrah: Josh told us that his Anderson Valley Syrah comes from the coolest-climate Syrah vineyard in California – a claim I've heard from a couple of other vineyards as well – but Josh said that the vineyard has fewer degree-days than any other Syrah vineyard in the state. Fermented with 33% whole clusters, this wine spends five months in 38% new oak, then is racked into neutral barrels. There's a tiny amount of Viognier in this wine, but I couldn't detect it – the wine displayed dark fruits, meat, pepper, classic cold-climate Syrah character.
With training as both a landscape architect and a chef, Josh is a man of many talents. In fact he is a very accomplished chef, having worked at restaurants including Auberge du Soliel in Napa and Masa's in San Francisco. His connections to food, wine, and the land led his to his new life as a grape-grower and winemaker. I'd hoped that we would be able to meet his wife Mary Beth, as she had been very helpful in suggesting local dining options when I'd first called to arrange our visit, but the day had turned out busier than expected and she wasn't able to join us.
Josh uses 12 different coopers for his barrels, with larger puncheons (for some of the Pinot Noir) and foudre used as well. Tasting the wines, Josh's preference for older oak was clear, as the Lazy Creek wines benefit from the roundness that barrel fermentation and aging can provide without the flavors and tannins that new oak can impart.
Josh struck me as being both very passionate about his wines as well as very matter-of-fact, so he wasted little time in getting us started with tasting.
Josh's food background was evident in his wines – subtle wines meant to be enjoyed with food, not to overpower it. And although the current releases are tasty now, the potential for aging is clearly there, and based on the older Gewürz we tasted, they can transform into some very compelling wines with cellar time.
Claudia Springs Winery
Current releases:
'05 Estate Pinot Gris: some citrus aromas, a touch of spice, and a fairly rich mouthfeel.
'04 Viognier, Lolonis Vineyard, Redwood Valley: this displayed peach aromas, a bit of oak, and like the Pinot Gris, a rich mouthfeel.
Harmonique '03 "The Noble One" Pinot Noir: aged for 18 months in 70% new oak, this was fairly light in color, with raspberry aromas, some darker fruit flavors, some mild tannins and a nice finish.
'03 Estate Pinot Noir, Klindt Vineyard: aged in about 30% new oak, medium-light color, this wine had fairly intense cherry and raspberry aromas and very good acidity.
'00 Estate Pinot Noir, Klindt Vineyard: the first one from the vineyard, only one barrel of this wine was produced. Dark cherry and "Dr. Pepper" aromas and flavors.
'03 Zinfandel, Rhodes Vineyard, Redwood Valley: light to medium reddish-purple in color, this has bright berry, spice, and oak aromas.
'03 Zinfandel, Ulysses Lolonis Vineyard, Redwood Valley: darker and riper fruit flavors, but still retains some spicy character.
'04 Zinfandel, John Ricetti Vineyard, Redwood Valley: this showed the most intense aromas of the three, with wild berry / raspberry, pepper, and chocolate aromas and flavors, rich mouthfeel, and moderate tannins.
Our next appointment was at the Claudia Springs Winery tasting room in tiny Navarro, at the far western end of Anderson Valley, just before the road to the coast enters the beautiful redwood forest along the Navarro River. Owner / winemaker Bob Klindt had agreed to take a break from his work at the winery that day to meet us at the tasting room.
Bob and Claudia Klindt purchased land in Anderson Valley in 1989, along with friends Warren and Claudia Hein, and Bob wasted no time making their first wine, producing a Chardonnay from purchased fruit that same year. In the mid-'90s, the Klindts moved from San Jose to Anderson Valley in order to devote more time to their winery.The Heins sold their interest in the venture to the Klindts in the late '90s. Over the years, the winemaking focus has moved from Chardonnay to Pinot Noir and Zinfandel. The estate vineyard was planted in 1998, and includes about 8 acres of Pinot Noir (Pommard, 113, 115, 667,and 777 clones), and 2 acres of Pinot Gris. Along with fruit from the estate vineyard, Claudia Springs also buys fruit – mainly Zinfandel – from several vineyards in the warmer Redwood Valley. They currently produce a total of about 2,500 cases per year.
Bob started out as a home winemaker, and augmented his experience with courses from the UC Davis enology program. Bob and Claudia do the bulk of the winery work themselves, maintaining a personal "hands-on" appoach to producing their wines. Along with Claudia Springs, Bob is a partner in Harmonique Winery, which produces two Anderson Valley Pinot Noirs, "The Noble One" and "Delicacé".
The tasting room pours both Claudia Springs and Harmonique wines – Bob tasted us through the current releases available at the tasting room, all but one of which were from Claudia Springs.
Although it was clear that Bob enjoys making Pinot Noir, it was evident that he really loves Zinfandel, and he does a fine job with both. We said goodbye to Bob and headed out of the tasting room and back to our cars as a light rain fell.
Londer Vineyard
Current releases:
'05 Dry Gewürztraminer, Ferrington Vineyard: fermented in stainless steel, this was one of the standout wines of the weekend – intense floral, spicy aroma, lychee and citrus flavors, crisp acidity with a great finish.
'05 Chardonnay, Kent Ritchie Vineyard, Sonoma Coast: medium-light color, with citrus aromas and moderate oak.
'05 Anderson Valley Pinot Noir: includes fruit from their estate vineyard along with Ferrington, Donnelly Creek, and Valley Foothills Vineyards. Bright fruit, rich, silky mouthfeel.
'05 "Paraboll" Pinot Noir: a blend of Ferrington and Valley Foothills Vineyard fruit, aged in about 30% new oak, this wine had a very vibrant color, richer mouthfeel and more complex flavors (both red and black fruit, spices) than the Anderson Valley bottling, a clear step up.
'05 Estate Pinot Noir: only their second Estate bottling – containing 115, 777, and Swan clones and about 35% new oak, this featured somewhat deeper, darker fruit than the other two Pinots, with great mouthfeel and finish – very nice.
'02 "Immigranté": a one-time only wine made from of 95% Sangiovese and 2.5% each Cabernet Sauvignon and Pinot Noir, this had very characteristic Sangiovese aroma, a spice component, good acidity and noticeable tannins.
'02 Syrah, Gabrielli Vineyard, Redwood Valley: medium-dark color, with earthy, plummy fruit aromas and flavors, and medium tannins.
As we drove the few miles east from the town of Navarro to Londer Vineyard, the rain increased until it became a downpour. Following the directions to the vineyard and then to the Londers' guest house where we had been directed to go, the rain did not let up. We waited briefly in our cars outside the house until Shirlee Londer arrived to let us inside. Larry Londer was busy with another appointment so Shirlee was pouring us tastes of their current releases.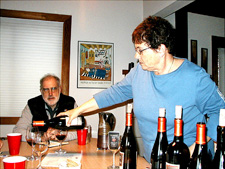 Larry, an opthamologist from Albuquerque, and his wife Shirlee, who ran his optical shops, bought property in Anderson Valley in the late '90s. They planted their vineyard in 2001, and now have about 15 acres of Pinot Noir (115, 777, Pommard, 2A, and Swan clones), and 1 acre of Gewürztraminer. Much of the vineyard slopes down a south-facing hill, with sandy loam and clay loam soils. The first harvest from their estate vineyard was in 2004, and the Londers also purchase fruit from some other top vineyard sources. Their wine is made in Sebastopol by winemaker Rick Davis and consulting winemaker Greg LaFollette.
We'd hoped that the weather would have cleared up somewhat by the time we finished our tasting with Shirlee so that we could take a quick look at the vineyard, but we were out of luck. It had been a long day, so we just headed back to our cabin at Frogwood to relax for awhile before dinner.

We'd made plans for our Saturday dinner at the Boonville Hotel restaurant, as we'd read and heard from everyone that it had the best food in Anderson Valley. We were not disappointed – the food and service were excellent and I'd highly recommend dinner there. Definitely "bahl gorms" – Boontling for great food.
Drew Wines
I'd enjoyed several wines from Drew in the past, and although I'd known that the winery had moved from their previous Santa Barbara County location, I had completely forgotten that they are now located very close to Anderson Valley…..until by good fortune I received an email from them the Thursday morning just before our trip and looked it over (very glad now that I'm their email list!). I called the winery phone number and reached Jason Drew, and he was kind enough to allow us to visit early on Sunday morning, since that was the only time slot left open on our itinerary at that point.
Pinot Noir barrel samples:
'06 Weir Vineyard, Yorkville Highlands – Rochioli, DRC, Pommard clones: light-medium color, floral aromas, earthy, tangy berry flavors, good acidity, with a mineral note, nice finish.
'06 Monument Tree Vineyard, Anderson Valley: raspberry and darker berry, a touch of spice, great mouthfeel, more tannin than the Weir.
'06 Gaia Vineyard, Sta. Rita Hills – 115 clone: floral, brighter fruit, cherry, lots of spice notes
'06 Rio Vista Vineyard, Sta. Rita Hills – 115, 667, 777 clones: still finishing malolactic fermentation, a bigger style, darker fruit, and more apparent oak.
Current releases:
'05 "Fog Eater", Hennenburg Vineyard – 667, 115, Pommard, 113 clones, about 30% new oak: explosive aromas of black fruits and spice, the flavors echo the aromas and add earthy and mineral components, very good acidity, great finish. Very nice Pinot that has a darker fruit character than many from Anderson Valley.
'05 Weir Vineyard – DRC, 2A, Pommard clones, about 30% new oak: earthier and less fruit-driven than the "Fog-Eater", displays some brighter fruit flavors and spice, and nice acidity, a more "Burgundian" profile.
Of course, trying to get Eric, Al, Paul, and myself on the road in time to make our 9am appointment wasn't easy. We cleared out of our cabin early at Frogwood and stopped for breakfast in Boonville (as far as we could tell, there was only one place in town that served anything more than pastries or bagels for breakfast). Running just a few minutes later than I'd planned, we headed down the highway, then turned southwest from Philo toward the coast, where we climbed high up Greenwood Ridge. Wow, this place was way out there, farther than I'd thought! Winding through the forest in weather that varied from brief moments of bright sunshine to periods of driving rain, we eventually spotted the old apple orchard just off the road that marked the entrance to the new location of Drew Wines. We parked in front of the new winery building around 9:15 or so.….oh well, we really tried to get there on time.
Stepping into the winery building, we were met by Jason and Molly Drew. Jason had worked at Navarro Winery in the mid-'90s before moving to Santa Barbara County, and had wanted to return to the Anderson Valley area to pursue his winemaking goals. Jason and Molly found the ridgetop property in 2004 and purchased it the following year. They moved before the 2005 harvest and lived in a trailer with their young children while their new combination winery / home was built. Completed in time for the 2006 harvest, the handsome wood structure is large enough to accommodate a 5,000 case production (the Drews currently produce about 2,000 cases per year). The Drew property, just three miles from the ocean is about 26 acres and includes an old apple orchard. At an elevation of about 1,300 feet, it's within both the Anderson Valley and Mendocino Ridge AVAs. The Drews plan to take out part of the old orchard and plant Pinot Noir. Jason told us that the soil on their gentle south-facing slope is similar to the well-known Goldridge soil of Russian River Valley, and is between three to ten feet deep. He plans to dry-farm the vineyard (annual rainfall at their location is about 66 inches, compared with about 40 inches in Anderson Valley itself), and hopes to farm it organically and possibly biodynamically.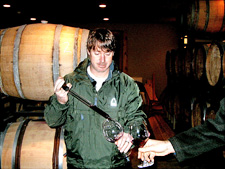 The Drews plan to continue buying Santa Barbara County fruit in addition to their new Mendocino and Sonoma fruit sources. Currently, they buy Pinot Noir from Cargasacchi-Jalama, Gaia (the former Ashley's Vnyd), and Rio Vista Vineyards, all in the Santa Rita Hills.
Jason uses some native yeast in his fermentations, and also Assmanhausen, RC212, and BGY yeasts. He ferments mostly in 1.5 ton plastic-lined wood fermenters – these are widely-used by Central Coast wineries but I've rarely seen them elsewhere. He uses some whole cluster fermentation and also stem addback (adding some stems back to destemmed fruit in fermentation bins) – the percentage varies, but it's generally between 5% to 30%. He typically uses 30%-50% new oak, and stirs lees in the barrel.
Jason noted that the Gaia and Rio Vista fruit will be blended for the "Gatekeepers" bottling, and that a small amount of Gaia Pinot may be bottled separately.
Jason then opened two of the current Pinot Noir releases, the '05 Weir Vineyard and '05 "Fog Eater". The Weir Vineyard, planted in 1992, is at about 900-foot elevation in the Yorkville Highlands, in the mountains southeast of Anderson Valley. The "Fog Eater", the first Anderson Valley Pinot release from Drew, is named for the Boontling term that Anderson Valley residents gave to coastal dwellers – an appropriate name as the vineyard source is in the "Deep End", the far western part of the valley.
These are two impressive Pinot Noirs in very different styles that seem to show off their respective vineyard sources nicely. We thanked Jason and Molly, and started our drive back to the valley, where we managed to arrive at our next appointment just about on time.
Navarro Winery
We were met at Navarro by tasting room manager Pat Daniels, who has been with the winery since they first opened for business in the late '70s. The rustic tasting room, overlooking the vineyards, was completed in 1980 and was built from the wood of three large redwood trees.
Current releases:
'04 Première Reserve Chardonnay: 100% malolactic fermentation, light color, apple & mildly oaky aromas, creamy mouthfeel
'04 Mendocino Chardonnay: sourced from an organic vineyard in Potter Valley as well as Anderson Valley fruit, and fermented in older barrels, this was more fruit-driven and crisp than the Première Reserve Chard, with apple-pear and some citrus aromas and flavors
'05 Estate Gewürztraminer: made in dry style, aged in 1,500-gallon oak foudre, very intense aroma, floral, lychee, spice, great acidity – another classic Anderson Valley Gewürz!
'05 Gewürztraminer: from 35% estate fruit and 65% Santa Barbara County fruit, more muted aroma and flavor than estate bottling
'05 Pinot Gris, Anderson Valley: peach / stone fruit aromas, good acidity, moderately rich mouthfeel
'05 Muscat Blanc, Estate: a dry style, fermented in large casks, very floral muscat aromatics, with moderate stone fruit flavors
'05 "Edelzwicker", California: Navarro's off-dry blend of Gewürztraminer, Riesling and Pinot Gris, a popular summertime sipping wine, this had good acidity to balance the 1.6% residual sugar, and some nice floral and spice aromas
'05 Rosé, Mendocino: a blend of Grenache, Mourvèdre, Syrah, and Carignane from Ukiah-area vineyards, this had a light pink color, strawberry aromas, and we thought we detected just a touch of spritz, very pleasant
'04 Pinot Noir, Méthode à l'Ancienne, Anderson Valley: recently released, this is a blend of many different Pinot clones, with 60% of the fruit coming from the estate vineyard. The wine showed dark cherry, a bit of spice and oak
'03 Pinot Noir, Méthode à l'Ancienne, Anderson Valley: Pat poured the '03 vintage, which contains 80% estate fruit, to contrast it with the '04. The '03 had brighter fruit, more spice, and a bit less oak character than the '04.
'04 Zinfandel, Mendocino: from a variety of vineyard sources, this had big raspberry and wild berry aromas and flavors, with moderate tannins
'05 White Riesling, Custer Select Late Harvest: made from botrytised fruit and harvested between mid-October and early November at an average of 36.2 brix. With its 20.1% residual sugar balanced by acidity, this had intense apricot and honey aromas, with an additional spicy note in the flavors, mouth-coating richness and a very long finish – excellent dessert wine!
'05 Muscat, Custer Select Late Harvest: it's rare that Navarro is able to make a botrytised Muscat – the '05 is only the second one in the past 20 years. Similar to the Riesling but with unmistakable and intense floral Muscat aromatics.
'06 Gewürztraminer grape juice: you say you'd like your wine to have lower alcohol….how about 0.0%? Navarro has long been known for its outstanding grape juice. This Gewürztraminer grape juice has a little Chardonnay Verjus (from under-ripe grapes) added to boost the acidity. The juice has typical Gewürz floral/lychee/spice aromas – very tasty.
'06 Pinot Noir grape juice: the Pinot juice has an interesting rhubarb component to the aromas and flavors – I preferred the Gewürz but this is quite nice too.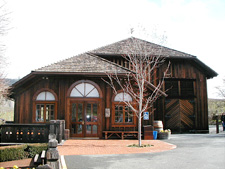 The 900-acre Navarro property was purchased by Ted Bennett and Deborah Cahn in the early 70's and the first vines were planted in 1974. Plantings have continued over the years, the most recent being just last year. Ted owned a successful chain of stereo stores before moving to Anderson Valley with the aim of growing Gewürztraminer and Pinot Noir. There are about 90 acres currently planted, with Chardonnay adjacent to tasting room and Gewürztraminer, Pinot Noir, Riesling, Muscat, more Chardonnay, and other grape varieties in other portions of the vineyard. Although not certified organic, vineyard practices aim for organic farming methods, avoiding pesticide use, planting cover crops between rows of vines, and trying to promote biodiversity and ecological balance on the land. Like Eaglepoint Ranch, Navarro has a vineyard crew that they employ rear-round. Many employees, like Pat, have been there for years, and Ted and Deborah's children, Aaron and Sarah, are now part of the winery team. Winemaker Jim Klein made wine in Santa Barbara County and New Zealand before coming to Navarro in the early '90s.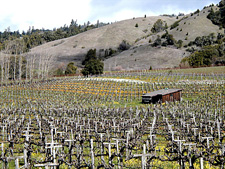 Arguably the most consistent performer among long-time Anderson Valley wineries, Navarro continues to produce a wide variety of wines, from Alsatian-inspired Riesling and Gewürztraminer and traditionally-styled Pinot Noir to some of the finest late-harvest wines in California. Even though the total production is now around 40,000 cases per year, Navarro prefers more traditional, labor-intensive winemaking over high-tech methods. And there's not a lot of new oak in evidence in most of their wines – in fact, they use older large oak ovals for their Riesling, Gewürztraminer, Muscat, and Pinot Gris.

In a light drizzle, we walked with Pat along the slightly muddy vineyard road from the tasting room to the winery. She pointed out a couple of llamas in a large fenced enclosure near the winery, along with a few sheep and goats (I emailed a photo of the long-necked critters to noted llama fan Brian Loring, who confirmed that they're "cute"). We looked into the winery's barrel room and another space with a long row of the large oval oak foudre. Returning to the tasting room, Pat was assisted by Ed Donovan in pouring us samples of Navarro's current releases.
Overall, an impressive line-up of wines. No blockbusters, but that's not Navarro's style – instead, they are reasonably-priced, food-friendly wines that speak of their grape varieties and their vineyard locations.
Breggo Winery
We had no trouble finding our next destination, about midway between the towns of Boonville and Philo – the website mentioned the yellow house and barn just off the road, and the brightly-colored buildings were hard to miss.
Current releases:
'05 Sauvignon Blanc, Ferrington Vineyard: fermented in 1/3 stainless steel and 2/3 neutral oak, this had citrus aromas and flavors and good mouthfeel
'05 Rosé – from 45% Pinot and 55% Syrah, fermented entirely in stainless steel, strawberry and spice aromas
'05 Chardonnay, Savoy Vineyard: pear aromas, with some oak vanilla and spice character, rich mouthfeel
'05 Pinot Noir, Anderson Valley – mainly Pommard, 113, and Stang clones: the fruit was sourced from Donnelly Creek Vineyard, near Boonville, and included a new clone to me – the Stang clone (apparently the same as UC Davis clone 105). Red fruits, cherry, cranberry, rich mouthfeel, long finish.
'05 Pinot Noir, Ferrington Vineyard – 2A and 777 clones: from a part of the vineyard planted in 1998, this showed black cherry and darker fruits, a bit more oak character and a larger spice component than the Anderson Valley bottling.
'05 Pinot Noir, Savoy Vineyard – Martini, Pommard, 115, 667 clones: a big wine, but with brighter red fruits, strawberry / cherry, great mouthfeel and finish.
Barrel samples:
'06 Pinot Noir, Savoy Vineyard: rather closed at this stage, but nice mouthfeel and concentration
'06 Syrah, Anderson Valley: about 25% whole cluster, this comes from a vineyard just across the road from the winery. Doug mentioned that the berries were tiny at harvest. Very dark color, blueberry and coffee aromas, and showing a lot of structure.
Breggo means sheep in Boontling – appropriate since the property was formerly a sheep ranch. Doug, who grew up in Sonoma and had already started a successful sorbet business, and his wife, Ana, who grew up in Ecuador, purchased their Anderson Valley property in 2000, and moved into their new winery building in 2006. They have 40 to 50 plantable acres on the property, and plan to plant around 8 acres with Pinot Noir and Syrah in the next couple of years.
Breggo's first vintage was 2005. Production was about 50 tons in 2005 and about 67 tons in '06 – roughly 4,000 cases – and the plan is to remain at this production level. They've been fortunate (Doug called it "good timing") to obtain Pinot Noir fruit from two of the best-known vineyards in Anderson Valley – Ferrington and Savoy, as well as sourcing other fruit an other highly-regarded vineyard, Wiley. Making both a Ferrington Vineyard and Savoy Vineyard Pinot Noir puts Breggo in an enviable position.
Pinots are destemmed, but Breggo is using some whole cluster fermentation for Syrah. They use native yeast fermentation for the Chardonnay, Gewürztraminer, and Pinot Gris, and inoculate with cultured yeasts for the Sauvignon Blanc, about 2/3 of the Pinot (mainly RC212), and Syrah. They plan to try more native yeast fermentation with the Pinot Noir in the future. They like longer macerations, often three weeks in the fermenters. Breggo uses mainly French and some Hungarian oak – mostly Gillet, Cadus, François Freres, and Sirugue barrels. About 50% new oak is used on the vineyard-designated Pinot Noirs, about 35% on the Anderson Valley Pinot bottling, about 30% on the Syrah and 20% for the Chardonnay.
In addition to the wines we tasted, Breggo produces two more that we didn't try, a Pinot Gris from Wiley Vineyard and Gewürztraminer from Ferrington.
After tasting Breggo's current wines, Doug took us back into the winery facility, in the same building as the tasting room. There we met consulting winemaker Ryan Hodgins. Trained at UC Davis, Ryan has worked harvests in Oregon, Napa, and India(!), and also works with Hanzell Vineyards in Sonoma.
One of the most interesting aspects of Breggo's winemaking is their very unusual equipment. They have a Euroselect destemmer – basically an inclined conveyor belt that takes the fruit up through a series of rotating destemming "fingers" before dropping the destemmed fruit into a fermentation bin. Doug and Ryan say that their destemmer is extremely gentle with the fruit, does not break up the individual berries (not an easy task with thin-skinned Pinot Noir), and does a great job of keeping the small stems referred to as "jacks" out of the fermenters. The destemmer looked like a complex machine, and I asked how easy it was to clean……well, not so easy as it turned out – very time-consuming to clean.
Breggo's other unusual piece of equipment is their Coquard bucket press – the first of its kind to be used in the United States. Doug and Ryan say this is also extremely gentle, allows very little solids into the press wine, and unlike the destermmer, is very quick and easy to clean. They also noted that unlike most modern presses, their bucket press has only one moving part, making breakdowns less likely. Similar to a traditional basket press, the bucket press differs in that the wine is pressed downward through a stainless steel screen rather than out through the sides of a basket cylinder.
Although this is just their second vintage, Breggo is off to an impressive start, and this should be a winery to watch.
We'd been scheduled to visit Paul Gordon's new Syrah vineyard in Yorkville Highlands on Sunday afternoon, but the bad weather we'd experienced in Anderson Valley had been even worse in the mountains of the Yorkville Highlands to the east. Paul had called that morning to say there were snow flurries and there was lots of mud on the vineyard road, so it would be better to postpone our visit to another time. Since we had some extra time on our hands, we thought we'd try to contact Rich Savoy and take him up on his offer to show us his older vineyard up in the hills. When we called, we were delighted to find that we would be able to visit with him that afternoon. As his directions to the vineyard were a little hard to grasp over the telephone, we thought that getting a more detailed map of the area would be helpful, since we only had the Anderson Valley Winegrowers winery and vineyard map. We stopped at the small general store in Philo, where Eric asked about getting a street map – laughter ensued from the locals in the store, and Eric was informed that there were no "streets" in Anderson Valley! Our group of "brightlighters" (Boontling for city folk) quickly learned our lesson and we purchased a "road map".
Since the road to Rich Savoy's hillside vineyard was just outside of Boonville, we headed back to the town for a late lunch. We'd heard about Lauren's Café, which had taken over the location of the longtime Boonville institution, the Horn of Zeese (Boontling for "cup of coffee"). Lunch at Lauren's was nothing remarkable, but it hit the spot after three extended winery visits. We said goodbye to Paul after lunch, as he had a Bien Nacido Vineyard Pinot tasting in Marin County to attend later that day.
Savoy Vineyard – Part 2
Al, Eric, and I headed out from Boonville, and with Rich Savoy's directions and our brand new road map, we found our way up into the hills and to Rich's original Anderson Valley vineyard. We met Rich outside of his house adjacent to the vines.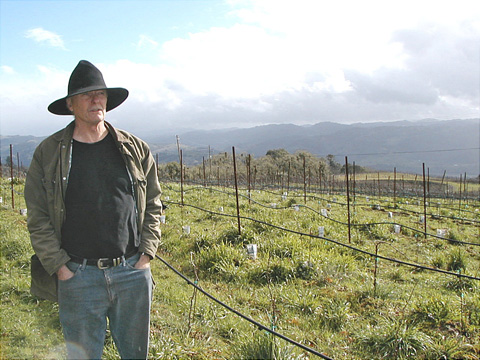 First planted in 1985, this hillside vineyard is the source of the famous "One Acre" Pinot Noirs from Littorai. The entire vineyard is about 9.5 acres, planted on decomposed sandstone and clay soils, with a hard layer of sandstone below. Originally planted with both Chardonnay and Pinot Noir, it is now exclusively Pinot. Sadly, the original vines, planted on AxR rootstock (which was initially thought to be phylloxera-resistant), have succumbed to phylloxera over the years, and the entire vineyard has been replanted recently. The new vines should start to produce fruit in the next couple of years. Much of the vineyard has been replanted with cuttings from the original vines, as well as some with cuttings from Rich's Philo vineyard. Like the Philo vineyard, this one is planted with a variety of Pinot clones, including DRC, 37, 2A, Martini 15, 114, 115, 777, 828, and Calera.
There are a few other vineyards in the hills above Boonville – Demuth Vineyard is located across the road and just downhill, and Cerise Vineyard is a bit further east, at a lower elevation. At an elevation of about 1,600 feet, I first thought that this vineyard would always be cooler than the Philo one at the valley floor, but Rich explained that the hillside is above the fog layer that often blankets the valley below, moderating the temperatures.
Rich graciously invited into his house to taste a couple of wines. He had one bottle that he'd opened the day before, and he excused himself to find another bottle from his wine cellar, then returned shortly with something special – a 2000 Littorai One Acre Pinot Noir. We sat around the large dining table in Rich's rustic home as he opened the bottles for us.
Tasting at Rich Savoy's house:
'00 Littorai One Acre: medium-red color, very complex aromas of roses, cherry, raspberry, and exotic spices. The bright fruit and spice character blended with an earthy element in the flavors, which lingered on the long finish. Very smooth mouthfeel, the tannins and oak are well-resolved in this bottle. A real treat to taste this wine!
'05 Drew Fog Eater: we'd tasted this earlier that same day, but Rich's bottle had been opened the day before, so it was interesting to note how the wine had developed with some air. The aromatics were not as intense as the just-opened bottle we'd tried at Drew, and the dark fruit and spice flavors took center stage, along with more noticeable tannins than I'd recalled from the bottle at the winery. Obviously a much younger wine than the Littorai, this was clearly a bigger-styled wine as well.
It was getting to be late in the afternoon, and Al, Eric, and I had a long drive back to the Bay Area, so we thanked Rich for his generous hospitality and drove down the hill, enjoying the beautiful views across the valley. Passing through Boonville one more time, we soon bid farewell to Anderson Valley as we made our way along the twists and turns of Highway 128 back to Cloverdale, where we turned south on Highway 101. After a pleasant dinner at Insalata's in San Anselmo, we all headed back home.
In addition to Paul Gordon's vineyard in Yorkville Highlands, there were a couple of other vineyards we were hoping to see, but were unable to visit on this trip. We'd wanted to visit Cerise Vineyard, in the hills northeast of Boonville, but I was unable to get in touch with vineyard owner Lindsay Jones until after our trip – hopefully we'll be able to stop there another time. And I'd spoken with Brad Wiley, owner of Wiley Vineyard in the "Deep End" of Anderson Valley (the westernmost portion), but he was scheduled to be out of town during the weekend of our trip. I'd visited Brad's vineyard briefly last year, and I'm looking forward to going back again.
Located outside of the mainstream California wine country areas, Mendocino County wineries don't get the number of visitors that Napa or Sonoma do, and most people we visited made us feel exceptionally welcome. Many of the people we met along the way were a bit out of the mainstream themselves. The people we met who had grown up in Mendocino County are tough, individualistic, and fiercely proud of their native region. And there are quite a few relative newcomers to the County who have completely changed course in their lives, chosen to relocate from big cities, and are now flourishing in relatively remote rural locations as winegrowers and vintners.
We saw two sides of Mendocino – different climates, different grape varieties – and trying to compare them directly would be almost literally like comparing apples to oranges. As expected, many of the wines we tasted from the Ukiah area were big and bold, but they displayed surprisingly fine balance and food-friendly acidity. Also as expected, most of the Anderson Valley wines tended to be in a lighter, more subtle style, but also had great depth of flavors and intriguing aromatics.
The Coro Mendocino wines were standouts from our Ukiah-area tastings – big wines, but elegant and more refined than you'd expect from Zinfandel-based blends. In Anderson Valley, there were some fine Pinots, but I thought the real standouts were the Gewürztraminers – some of the finest California Gewürz I've tasted. There's clearly a lot to like about the wines from both areas – as they say in Boontling, bahl hornin'!
Thanks to Al, Eric, and Paul for being great traveling companions, and as always, thanks to everyone that we visited for being so generous with their time and their wine!