Spring is a great time to head to the wine country, and I was itching to get out and hit the road to explore a couple of nearby wine regions. I wanted to visit Livermore and Lodi, areas that don't get wide coverage in the wine press, as they don't make many wines that connoisseurs and collectors drool over. Livermore is only a half-hour from home for me, but I hadn't been tasting there in 4-5 years, and I'd never been to Lodi before, despite it being only an hour's drive further. Both regions are among the oldest wine-growing areas in the state, with Livermore in particular being home to several historic wineries.
I planned a four-day wine tour, about two days each in Livermore and Lodi, and I was joined for various parts of the trip by Eric Anderson, Al Osterheld, Eric Lundblad, Bob Summers, April Williams, Paul Homchick, and Tom Leaf. I don't always make appointments for wine touring, but with the number of people in our group it made sense to arrange visits with key people at each winery, and all of them were very friendly and accommodating.
Livermore
Grapegrowing in Livermore Valley dates back to 1846, when Robert Livermore planted the first known vineyard in the area. But there wasn't much of a wine business in the valley until the early 1880s, when a vineyard planting boom took place, led by Carl H. Wente and James Concannon, still familiar names in the Livermore wine industry. Other early vineyards included those of Louis Mel (El Mocho Vineyard), John Crellin (Ruby Hill Winery) and Charles Wetmore. Wetmore's Cresta Blanca Winery, one of several able to obtain cuttings from Chateau d'Yquem through Mel, shocked the wine world by being awarded the "Grand Prix" at the Paris Exposition in 1889, the first ever awarded to an American winery.
Grape growers were initially attracted to Livermore Valley by the climate, where cool air funneling through natural breaks in the neighboring north-south mountain ranges moderates the hot summer daytime temperatures. The well-known windmills of Altamont Pass are a testament to the air movement from the cooler San Francisco Bay 20 miles to the west to the hot Central Valley to the east. Another attractive feature was the soil – deep alluvial soil with lots of rocks and gravel, it's been compared to the Graves region of Bordeaux.
Wines from Sauvignon Blanc and Semillon became the first big successes from Livermore Valley, though red Bordeaux varieties gained increasing importance. By the early twentieth century, the Livermore Valley wine industry was thriving, and wines from the area were highly-regarded. But as with most wine regions in California, its wineries suffered badly during Prohibition. Out of more than 50 wineries operating in the area prior to Prohibition, only a handful – Wente and Concannon among them – survived. In a sense, Livermore Valley has never regained the lofty position it once held among California wine regions.
Today, the Livermore Valley AVA is a contrast between small mom-&-pop style wineries and the huge Wente and Concannon operations. There are now over 40 wineries in Livermore Valley, the number nearly doubling in just the past six years. While there are a few well-financed larger new ventures, many are tiny boutique wineries launched by people realizing their dream of making their own wine – and Livermore is a far more affordable place to do so these days than Napa or Sonoma. With so many new wineries, it's no surprise that a good deal of fruit must be sourced from outside the area, though with more recent plantings now producing fruit, more Livermore Valley fruit is becoming available.
Another serious issue facing the Livermore wine industry has been the tremendous pressure on vineyard land from developers. At one point, only about one-quarter of historic vineyard land in the valley remained planted, leading wineries and other local groups to gain the approval and implementation of the South Livermore Valley Specific Plan in the mid-'90s. Among other things, this requires one acre of land to be placed under an agricultural easement for every individual building lot and every acre developed with housing. The Plan has been credited with revitalizing the Livermore wine business, as many acres of new vineyards (and new olive orchards as well) have been planted in recent years.
A number of Livermore vintners feel that their wine region has the potential to be on a par with Napa Valley, but lacks the marketing cachet to compete. In recent years, there has been some effort to make Livermore more of a "destination" area for visitors, particularly with Wente's golf course and summer concert series. But despite improving wines and its rich wine history, Livermore is still lacking in other visitor appeal – for example, other than Wente's own restaurant, there are few top-notch dining options in the area.
Another issue is that Livermore still lacks an identity as a quality wine region. As noted above, a number of local wineries purchase much of their fruit from outside the area. And some wineries from other areas that use Livermore fruit choose to use the "San Francisco Bay" AVA rather than "Livermore" on their labels. The image of Livermore not producing high-quality wines, whether valid or not, contributes to keeping grape prices and wine prices down. And this in turn affects local vintners' ability to spend more money on capital improvements that could boost the quality of their grapes and wine. It's a difficult cycle to break.
I had hoped to arrange a visit to Thomas Coyne Winery as part of our four-day tour, but because they were bottling wine the weekend of our Livermore visit, I scheduled an appointment there the Sunday before that. Having a bit of spare time in the area before the appointment, I stopped to taste at Big White House. Owner/winemaker John Marion started the label in the late '90s after a decade of home winemaking in…….you guessed it, his "big white house." The move to commercial winemaking happened after the number of barrels at home outgrew the garage and they started appearing in the living room, prompting John's wife Diana to say "enough"! After further growth and a couple of moves, the winery has settled into its current space on Greenville Road near the eastern edge of Livermore wine country.
Big White House - Current releases:

NV "Peche Mignon," California: a peach-flavored sparkling wine that is produced for the winery at the Weibel facility, this is made in an off-dry style from Chardonnay and Chenin Blanc fruit. A simple and fun wine that has good fresh peach aromas – not canned or candied – and avoids being overly sweet.
'06 Roussanne, McCoy Vineyard, Lodi: medium gold color, stone fruit and tropical fruit aromas with some orangepeel and spice notes. Rich texture and smooth finish.
'06 Pinot Noir, Holland Vineyard, Clarksburg: medium color, ripe raspberry and plum aromas with a bit of smoky oak. A bigger-bodied Pinot that retains good balance, though it lacks the structure for much aging.
'05 Syrah, Emory Nelson Vineyard, Livermore Valley: medium color, smoky plum and darker fruits with some meaty notes and vanilla/oak. Fairly smooth mouthfeel that gives way to a moderately tannic finish.
'04 Estate Cabernet Sauvignon, Red Feather Vineyard, Livermore Valley: medium-dark color, black cherry and currant aromas with overtones of vanilla and spice. Some firm tannins sneak in on the finish but are nicely integrated.
'05 "Liquid Amber" Late Harvest Chardonnay, Clarksburg: with about 1/3 of the fruit having botrytis, this has fairly intense floral, ripe apple, and honey aromas and a soft mouthfeel.
'07 Roussanne Port, California: fortified with spirits distilled from Riesling, this is very rich and sweet (20% residual sugar).
John Evan barrel samples:
'05 Syrah, Dry Creek Valley: from an organic vineyard with densely-spaced vines, this is a big, smoky, and meaty Syrah. Dark color, plummy fruit, and a grippy tannic finish.
'05 Zinfandel, Russian River Valley: from a vineyard off of Westside Road, this has intense blackberry and black pepper aromas with an overlay of vanilla/oak. With nice acidity and medium tannins, this should have the structure for some mid-term aging.
'07 Late Harvest Syrah, Screeching Owl Vineyard: from a small warm-climate vineyard near Tracy, this has an explosive nose of ripe raspberry and chocolate. With 8% residual sugar, it has mouth-coating richness, with a little roughness on the finish that should smooth out given some time.
Housed in a small wood building overlooking rolling hills filled with vineyards, the tasting room features displays by local artists, with new artists featured every month or so. The winery is a family affair, with Diana helping behind the tasting bar and son John Evan Marion, who assists with Big White House winemaking, pulling barrel samples of his own John Evan wines. Fruit is sourced from a number of locations, not just Livermore Valley, and most wines are produced in small lots.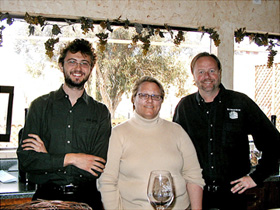 Winemaking is fairly straightforward and not unusual for a small winery. Whites are whole-cluster pressed and then barrel-fermented. John has a temperature-controlled room for these, to keep fermentation temperatures down, retaining fruit esters that tend to blow off if the fermentation is too hot. Whites are aged on the lees. Reds are fermented in small bins with hand punchdowns two or three times daily, and sometimes go through an extended maceration if John is looking for a little more extraction. Barrels are a combination of new French oak and older French and American oak, from a variety of coopers. The John Evan wines are even tinier production, sourcing fruit from different areas than Big White House, and the wines seem aimed toward a more select group of consumers.
I tasted the Big House White wines with John Marion at the tasting bar, then walked across the room to taste barrel samples with John Evan Marion of his own wines. Both Johns are talkative and enthusiastic about what they're doing – like so many vintners, they're living their dream. As with several other Livermore wineries we visited, the Big White House wines were mostly quite nice – pleasant wines but ultimately no real standouts. The three barrel samples from John Evan were very promising though, and once this new label gets off the ground, it could be one to watch.

Thomas Coyne Winery

Next stop was Thomas Coyne, one of my favorite Livermore Valley wineries over the years. I met Bob Summers and Al Osterheld at the winery tasting room, housed in an old building that had once been part of the Bellevue Winery, founded by French engineer Alexander Duvall in 1881. Together with a couple of other buildings from that historic winery, the facility is located on a hillside overlooking several old farm buildings and the valley beyond, with imposing Mt. Diablo in the distance.
Thomas Coyne - Current releases:

'02 Chardonnay, Livermore Valley: barrel-fermented and aged in new French oak, with full malolactic fermention, this has citrus, butter, and some earthy lees on the nose, followed by rich buttery flavors and a smooth finish.
'02 Merlot, Detjens Farms, Livermore Valley: medium-dark color, smoky black cherry and plum with an herbal note, a touch of vanilla/oak, and very mild tannins.
'04 Cabernet Sauvignon, Livermore Valley: blended with small amounts of Petit Verdot and Merlot, this has medium color, cassis and plum aromas, with underlying herbs and rich mouthfeel.
'03 "Confluence," California: 53% Cabernet Sauvignon, 30% Merlot, 8% Cabernet Franc, 7% Petit Verdot, 2% Malbec. Blended following fermentation, this has a smoky, earthy character, with floral notes in the nose. Flavors reveal plum, black cherry, and herbs. Vanilla/oak and moderate tannins come through in the finish.
'04 Cabernet Franc, Livermore Valley: blended with a little Cabernet Sauvignon, this has a medium-light color, bright cherry aromas with hints of earth and herbs. Well-structured, with a lively mouthfeel and firm tannins.
'05 Petit Verdot, Lodi: dark color, with blackberry fruit and overtones of herbs, tobacco, vanilla, and just a hint of dill. A full-bodied wine with fairly big tannins.
'04 Petite Sirah, Livermore Valley: very dark color, boysenberry and black pepper dominate the aromas, with an overlay of vanilla/oak. Dense mouthfeel and quite tannic, this should age for years.
'04 Port, California: made with traditional Port varieties – Bastardo (also known as Trousseau), Touriga Nacional, Tinta Roriz and Souzão – this is quite ripe and a bit raisin-like in the nose, very thick and viscous, a fairly straightforward California Port.
'06 "Sweet Emilie" Chardonnay Port, Livermore Valley: 9% residual sugar, light color, floral and ripe apricot aromas with a touch of oak.
'05 Late Harvest Viognier, Lodi: about 10% residual sugar, rich gold color, ripe stone fruit aroma with floral notes, mouth-coating richness with just a slightly rough finish that some bottle age should smooth out.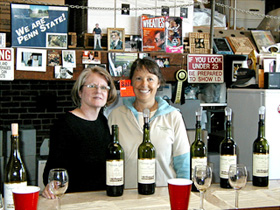 We met Thomas next to his barrel storage building, a short distance from the tasting room, where he was finishing up a discussion with one of his growers. We introduced ourselves and he invited us inside, out of the chilly afternoon wind. Thomas has an engaging and straightforward manner, and despite having probably gone through his story with visitors hundreds of times over the years, he was happy to do so for us, while answering our many questions along the way.
Thomas has a chemical engineering degree from Penn State University, and started making wine at home in western New York in 1969. He told us that his very first wine was made from cherries! Later, he started buying lug boxes of "O Sole Mio" brand grapes from Lodi that were sent east for home winemakers. Thomas' work led him and his wife Emilie to Livermore in 1978. A key event happened not long afterwards, when Thomas met winemaker Kent Rosenblum through the Berkeley Ski Club. Thomas began working at Rosenblum Cellars in 1987. Rosenblum encouraged Thomas' own ambitions and in 1989 he launched his own label, at first making his wine at Rosenblum's facility in Alameda. He moved out in 1994 after finding the old winery buildings in Livermore, where he continues to rent space from the Detjen family, who have owned the property for many years.
Since moving the winery to Livermore over a decade ago, the production has increased modestly, from about 2,000 cases then to about 3,500-4,000 now. The "Quest" Rhône-style blend is the largest single bottling, and prices are remarkably low for wines of the quality the winery produces, with nothing in the current wine list over $20. Thomas started his label making mostly Merlot, and has become known for that variety as well as for his many Rhône-style wines and dessert wines. His fruit is now sourced mostly from Livermore, Lodi, and El Dorado County, with some coming from the Detjen Farms in Livermore near the winery property. The Detjens used to have 70 acres of Grey Riesling (which is not actually a Riesling at all, but another grape called Chauché Gris) on their property. They sold the fruit to Wente, but when that variety went out of fashion, the vines were grafted to Pinot Blanc, Syrah, and Petite Sirah in the '90s.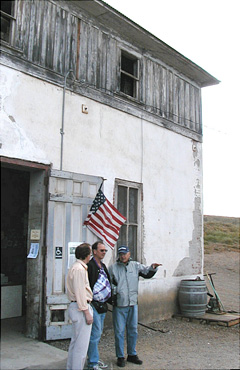 Whites wines are all barrel-fermented, and the winery has a cold room for temperature control during fermentation. Reds are fermented in t-bins & half-ton macrobins, plus some small stainless steel tanks. All lots are inoculated with commercial yeast strains. Thomas uses mostly American oak for his wines, along with some French and Hungarian. On average there is about 20% new oak, with older barrels used for Grenache, Mourvèdre, and the regular Syrah bottling, and more new oak for reserve Syrah and Bordeaux varieties. Only older oak is used for white wines.
Thomas led us to the rustic tasting room, where he left us before attending to another meeting that afternoon. The tasting room is decorated with lots of Penn State memorabilia among other things. Of special note is the display case near the door, containing many old bottles from historic Livermore Valley wineries such as Cresta Blanca, Wente, Valle de Oro, and Ruby Hill.
Claudia was pouring wines in the tasting room the day we visited, along with Emilie Coyne herself, both of them very cheerful as they tasted us on many of the winery's current releases. With over 20 wines on their current tasting list, the tasting room switches off pouring Rhône- and Bordeaux-style wines each weekend. Whichever wines the main tasting room is not serving on a given weekend are poured at a satellite tasting room at Blacksmith Square in downtown Livermore. Bordeaux varieties (and a few other wines) were the order of the day when we visited. Among the wines that we didn't taste are Pinot Gris, Viognier, a couple of red Rhône-style blends ("La Petite Quest" and "Quest"), Grenache, Mourvèdre, Syrah, Petite Sirah, Malbec, and a blend of Portuguese varieties.
Our tasting confirmed my view that Thomas Coyne continues to be one of the most consistently fine wine producers in Livermore Valley, and certainly among the best in terms of quality for the price.

The Steven Kent Winery itself is not much more than 10 years old, but the family history is among the oldest in California wine. The owner, Steven Kent Mirassou, is a 6th-generation winemaker. Pierre Pellier first planted grapevines in Santa Clara Valley in the 1850s, and his son-in-law Pierre Mirassou lent his name to the business that would become Mirassou Vineyards. Although the Mirassou brand is now owned by Gallo, Steven and his father – also named Steven – founded the Steven Kent Winery in 1996. Originally connected with Iván Tamás Winery (which the elder Steven founded along with Iván Tamás Fuezy in 1984), Steven Kent Winery became a separate entity in 2001.
Steven Kent - Current releases:
2006 Sauvignon Blanc - Ghielmetti Vineyard, Livermore Valley. Clean and crisp nose, with light notes of citrus, clover and alfalfa. Meaty and juicy mouthfeel, slightly riper style - but good acids and finish. 14.5% alc. - EA
2005 Chardonay Merrille - Livermore Valley. Full, rich coffee-smoke nose and rich mouthfeel. Nice lemon-lime flavors and good balance. Aged sur lie, barrel fermented with full ML. - EA
2005 Merlot - Central Coast. The addition of 13% cabernet sauvignon from Livermore Valley definitely pumps this wine up. Hints of herbs, cocoa and cigar in the nose, with lots of fruit, good balance, nice flavors and long finish. 15.2% alc. - EA
2005 Cabernet Sauvignon - Livermore Valley. Nose of dark fruit, with notes of eucalyptus and toasted herbs. Burnished flavors on the palate, made in more of the classic style of CA Cabs. Nice balance and long slightly tannic finish. 14.4% alc. - EA
2004 Cabernet Sauvignon - Home Ranch, Livermore Valley. Dark rich cassis nose, with hints of chocolate and toast. Certainly a bigger wine then the previous Cab, this will require some aging time. 13.9% alc. - EA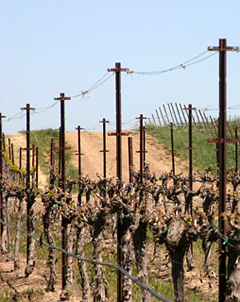 Eric Lundblad and I arrived a few minutes early at the Steven Kent tasting room on Tesla Road for our Friday morning appointment. Al Osterheld drove up shortly afterwards, with Eric Anderson joining us moments later after his long drive from Southern California. The spring of '08 had been unusually cool, but the weather forecast called for the hottest temperatures of the year over the weekend. Waiting outside at first, the cool tasting room soon became a good alternative to the increasing heat. After a few minutes, Steven Mirassou walked in and we all introduced ourselves, after which he proceeded to tell us about his winery while pouring us his current releases at the tasting bar.
The winery's principal mission is to produce world-class Cabernet Sauvignon from Livermore Valley fruit, something that Steven feels is quite possible but which has rarely been the goal of other winemakers in the area. He told us that the degree-day numbers for Livermore Valley are very similar to that of Oakville and St. Helena in Napa Valley. Steven also noted that the alluvial fans from the surrounding hills are responsible for depositing the rocks and gravel on the valley floor that give the soil its Bordeaux-like character. He pointed out that Bordeaux-variety wines from Livermore tend to be more fruit-forward than their Napa equivalents, with a more dense, fleshy mid-palate and softer tannins.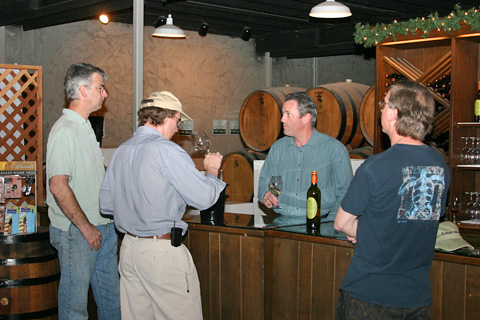 (l to r) Eric Lundblad, Al Osterheld, Steven Kent Mirassou, Ken Zinns
Steven mentioned that before starting the winery with Ivan Tamás in 1984, his father was heading up wholesale sales at Wente – an irony in that most Steven Kent wines are sold direct and through the wine clubs rather than through wholesale channels.
Planting started in 1996 for the new winery, beginning with 6 acres of Cabernet Sauvignon, along with some Sangiovese and Barbera. The estate Home Ranch itself is about 3 acres, and was planted with Clone 7 Cabernet Sauvignon. Newer plantings are nearby – 22 acres of Cabernet Sauvignon (5 different clones), Cabernet Franc, Merlot, Petit Verdot, Malbec, Petite Sirah, Syrah, Grenache, and Mourvèdre. The winery's first release was in 2002.
All Steven Kent wines are sourced from Livermore Valley, and are produced at the nearby Wente facility. The current annual production is about 7,000 cases, about 5,000 cases of which is sold through wine clubs and direct. Steven usually aims at a riper style for his wines, picking his fruit at 25+ brix. Winemaking uses small-scale techniques, fermenting in ¾-ton to 1½-ton bins, with manual punch-downs. The cooperage is mostly American oak, with some French and Hungarian. We found that the American oak is not nearly as aggressive or apparent as that used at some other wineries – we might not have even guessed it was used had Steven not told us. About 60-65% new oak is used for Chardonnay, with up to 90% new for Cabernet. The winery's Sauvignon Blanc has been made entirely in stainless steel (with no malolactic fermentation), but a barrel-fermented Sauvignon Blanc will also be released in the future. Chardonnay is all barrel-fermented with 100% malolactic fermentation (the winery's "Merrillie" Chardonnay is named after Steven's grandmother). Beginning with the '06 vintage, whites are being bottled under screwcap, with some reds following suit as well.
Steven was a great host, and his energy and drive to boost the quality of Livermore Cabernet, and Livermore wines in general, was very evident. While the Steven Kent Cabernets may not yet be in the same class as the finest in California, they are setting the standard for what can be done with Livermore Valley fruit. They can be expected to continue raising the bar higher in future vintages and in time they may indeed join the upper echelon of California Cabs.

La Rochelle Winery
La Rochelle - Current releases:
2005 Pinot Noir - Monterey Co. Nice sappy nose, with bright fruit accented by floral and forest floor notes. Spicy flavors, very nice balance, and lovely finish. Not the epitome of complexity, but quite tasty. 14.7 Alc. - EA
2005 Pinot Noir - Paraiso Vnyd, Santa Lucia Highlands. Veru nice dark redberry aromas, with a touch of sap and wet leaf. Slightly sweet on the palate, with lots of strawberry and cherry fruit and touch of spice. Leans more to pure fruit, rather than typical spice for the SLH, with very nice balance and finish. 14.9% alc. - EA
2005 Pinot Noir - Santa Lucia Highlands. Very seductive nose of spicy dark fruit. Huge mouthfeel of fruit-driven flavors, with juicy balance and very long finish. 15% alc. - EA
2005 Pinot Noir - Garys' Vnyd, Santa Lucia Highlands. Burnished nose of dark sweet cherry, spice, and toast. Quite grippy in mouthfeel, with a big presence, and really clings to palate. I also some perception of extra sweetness and maybe stem inclusion on the huge long finish. 15% alc. - EA
2005 Pinot Noir - Anindor Vnyd, Umpqua Valley, OR. Nose of dark red fruit, cinnamon, clove, rose petal and talc. Very Burgundian (IMHO), in mouthfeel and flavors. Excellent balance and finish. 14.7% alc. - EA
2005 Pinot Noir - Wadensville Clone, Mission Ranch, Arroyo Seco. Nice cinnamon-infused nose, with a withering light toast complexity. Somewhat austere yet soft in mouthfeel, nice balance and finish. More of an intellectual wine, than a tasty delivery-system. 15% alc. - EA
2005 Pinot Noir - Wadensville Clone, Anindor Vnyd, Umpqua Valley, OR. Fascinating difference here between the CA and OR renditions of this clone. Highly perfumed, with sinnamon and spice, wet leaf, earth and loam, and touch of pine. A little fuller on the palate that the previous wine, and delicious throughout. Wow! 14.7alc. - EA

Following our tasting at Steven Kent Winery, we followed Steven to taste the wines from his other label, La Rochelle, in their tasting room just a few steps away. It's fitting that La Rochelle specializes in Pinot Noir, as it was Steven's ancestor Pierre Pellier who is usually credited with bringing the first Pinot Noir vines to California in the 1850s. The La Rochelle label was started by the Mirassou family in 2003 and purchased by Steven in 2005. Named for the French town from where the family came, La Rochelle focuses mainly on Pinot from Monterey County fruit. In addition to Pinot Noir, they also produce limited bottlings of other varieties including Pinot Gris, sparkling wine, Petite Sirah, and Zinfandel. The winemaker for La Rochelle is Tom Stutz, who had formerly worked at Hanzell and Mirassou.
As with its sister winery, winemaking is small-scale, with fermentations done in 1½-ton bins. Fruit is 100% destemmed, and usually undergoes an extended maceration. The wine spends about 12-18 months in barrel (all French), with an average of about 50% new oak though some wines are up to 100%. An unusual facet of the winemaking is that there is no free sulfur dioxide – commonly added to protect wines from oxidation and spoilage – introduced in the wines until bottling.
We sat with Steven at a table in the cozy La Rochelle tasting room. Tastings here are sit-down affairs, and the wines are paired with an assortment of cheeses, crackers, tapenade, and other goodies. We tasted seven current Pinot Noirs, five of which were sourced from the Santa Lucia Highlands and Arroyo Seco in Monterey County, and two of which was from Umpqua Valley in Oregon. This wine is La Rochelle's first Oregon Pinot and was made at Brandborg winery near the vineyard source (we wondered whether the wines were made there by Umpqua-Lumpquas……ooof, bad pun). Winemaker Tom Stutz owns property in the area, near the town of Elkton.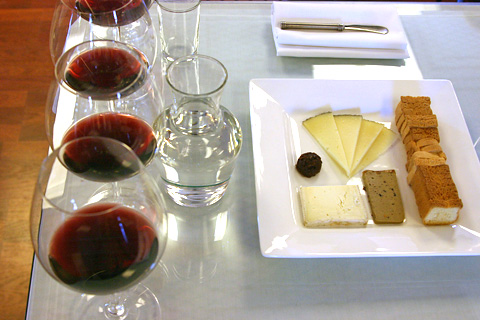 We finished the tasting with two very limited-release clonal bottlings, allowing us to compare the Wadenswil (2A) clone from Mission Ranch in Arroyo Seco and from Anindor Vineyard in Umpqua Valley. We noticed that each vineyard-designated wine cleverly lists the longitude and latitude of the vineyard right on the front label – easy to find the vineyards with a GPS device!
Although La Rochelle produces wines from outside Livermore Valley, they were a treat to taste – particularly the very distinctive and tasty Umpqua Valley bottlings. You wouldn't expect to see a Pinot Noir specialist based in Livermore, but this is one to keep an eye on.

Murrieta's Well
Next stop on our itinerary was Murrieta's Well, on Mines Road just around the corner from Steven Kent / La Rochelle, and yet another Livermore winery with a long history. The winery was originally built in 1884 by Louis Mel, who had brought cuttings of Sauvignon Blanc and Semillon from Chateau d'Yquem to Livermore. The sturdy building, dug partly into the hillside, is one of the oldest concrete structures in the area and an early example of a gravity-flow winery in California. Purchased by the Wente family upon Mel's retirement in the 1930s, the facility was little-used until Philip Wente and Sergio Traverso – who had been the winemaker at nearby Concannon Vineyards – founded the Murrieta's Well label there in 1990.
Murietta's Well - Current releases:
2006 Semillon/Chardonnay - Livermore Valley. This 50/50 blend seemed like kind of an odd hybrid - so we tried it! Interesting - you could actually smell both varietals in the nose. Somewhat indescribable in taste, with a light mix of tropical and citrusy fruit and a definite nuttiness and toasted grain background note. Think Key Lime pie. 14.5% alc. - EA
2005 White Meritage - Livermore Valley. Blend of 60% Semillon and 40% Sauv Blanc, the Sauv Blanc seems to dominate with its boxwood and grassy scent and flavor. - EA
2006 Tesoros Mourvedre - Livermore Valley. Effusive fleshy nose of dark fruit and earthy scents. Somewhat uninspiring in mouthfeel, and seems a bit underfilled in fruit. - EA
2004 Zinfandel - Ribolli Vnyd, Livermore Valley. Very nice brambly dark fruit in the nose. A bit restrained in mouthfeel, slightly sour cherry note, but nicely balanced and smooth spicy long finish. Made in more of a claret style. 85 yr-old vines., 9% Barbera. - EA
2005 Tesoros Touriga Nacional - Livermore Valley. Nose of black fruit with floral and bacony scents, with wild game or musky notes. Almost Northern Rhone in profile Bit drying in mouthfeel, with a narrow band of flavors, good balance and long finish. - EA
2004 Tesoros Touriga Francesca - Livermore Valley. Almost vintage-port-like in the purity of fruit, yet not "Porty" at all. Seems riper than the Nacional, with smoother slightly rich mouthfeel and a plummy flavor and texture. - EA
2004 Zarzuela - Livermore Valley. Blend of 54% Touriga Nacional, 42% Tempranillo, 4% Souzao had me wondering. Well, initially it seems very Zin-like in the nose, but seems to change in the glass to more of a cold-climate Syrah poser. Fascinating nose; mouthfeel was less so. It starts out huge and seemingly chewy, but tapers off to something narrow and lean from mid-palate onward. - EA
2005 Merlot - Livermore Valley. Deep, dark and fruit-driven nose, with hints of toast and wet leaf. Nice blance and plummy flavors, with nice finish. Thought maybe a trace of heat, but at 14.1%, I shouldn't think so. - EA
2005 Cabernet Sauvignon - Livermore Valley. Very nice ripeness in the nose, with rich cassis and hint of chocolate. Initially seems more to a claret style, but from mid through latter palate it gives the impression of being a bit underfilled. - EA
2006 Port - Livermore Valley. Blend of 67% Touriga Nacional, 33% Touriga Francesca. This honest effort to make a Port-style wine out of the Portugese grapes comes off nicely, with rich palate, excellent balance and long finish. - EA

We were a bit late in arriving for our appointment, but tasting room manager Greg Rogers was ready for our group and led us to the tasting bar. Greg talked with us about Murrieta's Well as he poured the winery's current releases for us.
Named for the property's artesian well, which was reputed to have been favored by famed California bandit / folk hero Joaquin Murrieta in the 1850s, the winery provided a brand where Philip Wente and Traverso could focus on smaller lots of wines than were produced at their larger wineries. Later on, it also allowed Traverso, a native of Chile, a chance to explore making wines from Spanish and Portuguese grapes, with a number of varieties being planted over the last ten years. Philip Wente continues to head up the winemaking team, while Traverso is now a consultant. And the well? It's still there too, and now feeds an attractive fountain next to the winery.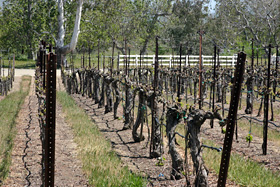 The old winery, which now houses the tasting room on its upper floor, is on a 92-acre estate, planted with two white and nine red grape varieties: Sauvignon Blanc, Semillon, Cabernet Sauvignon, Cabernet Franc, Merlot, Petit Verdot, Zinfandel, Mouvèdre, Tempranillo, Touriga Francesca, Touriga Nacional, and Souzão. All of the wines made by Murrieta's Well are made from estate fruit, and they are produced at the nearby Wente facility. Production has grown to average 6,000-10,000 cases per year.
The winery produces two brands. The Murrieta's Well label focuses on four wines – a white and red Meritage, a Zinfandel, and "Zarzuela" (Spanish for "Operetta"), a blend of Spanish and Portuguese varieties. A second label called Los Tesoros de Joaquin (The Treasures of Joaquin) produces a number of small lots of wine that are available mainly through the tasting room and wine club.
The White Meritage is barrel-fermented, while all of the Los Tesoros whites are made in stainless steel. Components of the Red Meritage and "Zarzuela" are barrel-aged separately, blended, and then returned to barrel for additional aging. Most of the Los Tesoros reds are fermented in ½-ton bins.
Overall this was a solid line-up of wines. And while individually I didn't find any of the wines we tasted to be truly exceptional, as a group they were distinctive – full-flavored, yet with a more restrained style than many other Livermore Valley wines.
I had eaten before at Café Garré, not far from where we were on the eastern side of Livermore wine country, so I suggested that would be a nice spot for lunch. It's a very convenient location and the food was good – a pleasant stop if you're looking to have a non-picnic lunch when touring Livermore Valley wineries.

Livermore Valley Cellars
After an enjoyable lunch, we drove a few miles west to our next stop at Livermore Valley Cellars, or "LVC" as it's called by everyone in the area. It had been a few years since I'd visited here and we nearly got lost trying to find the winery, as it is now surrounded by a development of new homes. We nearly overshot the access drive from the main road, then had to zig-zag through the new residential streets to reach the winery buildings. Parking next to one of the buildings, we walked up to another one where we could see some activity going on, and there we met winemaker Tim Sauer. Tim is the son-in-law of winery founders/owners Chris & Beverly Lagiss. Chris & Beverly purchased the property in 1955, and sold fruit to local wineries for many years until they started the winery in 1978.
Livermore Valley Cellars - Barrel Samples :
2007 Semillon/Sauvignon Blanc - Livermore Valley. This 50/50 blend has notes of lemon and lime, with touches of smoke and roasted grains. Nice weight and balance, fairly juicy through mouthfeel and finish. - EA
2007 Chardonnay/Semillon - Livermore Valley. This 50/50 blend mostly smells of Chard, though there is a faint toasted straw aroma. More fleshy in mouthfeel than the previous wine, with a slightly sweet finish. - EA
2006 Mourvedre - Livermore Valley. Burnished nose - slightly gamey and earthy. A bit lean and acidic on the palate, with an light finish. - EA
2006 Zinfandel - Kestrel Ridge, Livermore Valley. Nice brambly, spicy, Zinny boysenberry scent to the nose. Very nice on the palate, excellent balance of flavors and smooth finish. - EA
2007 Petite Sirah - Livermore Valley. Huge, thick and dark, with good, black fruit-driven aromas and flavors. Seemed a bit acidic on the palate, but it could've just been the oak calling my name. - EA
2006 Zinfandel - Livermore Valley. Blend of three local vineyards along with a small % of Mourvedre. Seemed a bit too burnished - almost oxidized in the nose and very light in color. Lovely mouthfeel - almost Dry Creek style of Zin, with smooth long finish. - EA
Livermore Valley Cellars - Current releases:
2006 Sauvignon Blanc- Livermore Valley. Light and crisp on the nose and palate. Good balance, nice acids, slight coarseness on the finish. - EA
2005 Mourvedre - Livermore Valley. Much fuller and richer than the barrel sample of the '07, with lower acids and what seems like considerably more fruit. It's really not really fair to compare it to a barrel sample, but either this picked up weight or the '07 will be a lighter style. - EA
2005 Syrah - Clark Vnyds, Livermore Valley. Fascinating, with a very Northern Rhone or cool climate profile. Big and chewy, very nice balance and flavors, peppery long finish. - EA
2006 "Rhonivore" - Livermore Valley. This blend of 50% Petite Sirah, 40% Syrah, and 10% Mourvedre has a fruity, almost claret-like body, with nice flavors, balance and finish. - EA
2005 Zinfandel "Weigh Behind" - Livermore Valley. Nice ripe slightly sweet spicy Zinny nose, that comes across exactly the same in mouthfeel. 20% Petite Sirah. - EA
2004 "Arcanum" - Livermore Valley. This Bordeaux blend of 65% Cab, 35% Merlot has a nicely ripened nose of cassis abd toasted herbs and a wiff of chocolate. Ripe, but nicely balanced throughout. - EA

The land had originally been planted in 1930s with Grey Riesling and French Colombard, now long-gone. Much of the property has been sold in recent years for the construction of homes, which now surround the winery. The remaining land includes 7½ acres of recently-planted estate vineyards – varieties include Cabernet Franc, Malbec, Petit Verdot, Syrah, Grenache, Mourvèdre, Petite Sirah, Alicante Bouschet, Sauvignon Blanc, and Semillon. Plans are in the works for a new facility to replace the collection of utilitarian buildings that now house the winery and tasting room.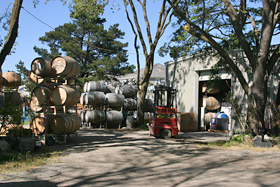 Tim has worked at LVC since 1983, taking over as full-time winemaker in 1990. About 2,000 cases per year are produced, 75-80% of that being red wines. Zinfandel is currently largest production at about 300 cases. Similar to many Livermore Valley wineries we visited, most sales are through the tasting room and wine club. All fruit is sourced from Livermore Valley, and LVC currently buys from about 9 growers in the area. As expected with a winery of this size, wines are fermented in small lots. I got the sense that Tim would really love seeing the new winery built (though he mentioned this was somewhat up in the air at the moment), as we could see the crowded arrangement and other limits of the current facility restrict what he's able to do there.
Zinfandel seems the signature wine here, especially LVC's "Derriere" series of Zins. Besides the two we tasted, others in the series have included "Sweet Cheeks," "Left Behind" and "Right Behind" – surely some big-ass wines! For a winery producing only 2,000 cases, LVC makes a fairly wide variety of wines. In addition to the wines we tasted, they also make a Chardonnay, varietal bottlings of Sauvignon Blanc and Semillon, Syrah Rosé, Grenache, a couple of Cabernets, and Petite Sirah. All wines on the current list were $25 and under. Tim noted that they had a difficult time deciding how to price their '06 Grenache – he decided it should be $20.06…..since after all it's a 2006.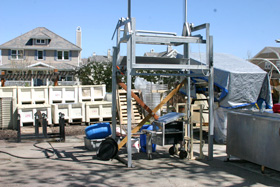 Like many small wineries, LVC depends on volunteer help – a couple of volunteers were on hand the day we visited. John, one of the long-time helpers there, tasted us on some barrel samples and current releases while Tim was briefly occupied with other activities. Tim returned to the tasting room to help pour the last few wines on their current release list. He and John were clearly enjoying themselves – and no doubt this was a nice break for them from the tougher work they'd been doing that hot afternoon.
LVC's motto is "Wine with Character……Made by Characters." The overall lineup may lack some consistency, but a number of the wines had distinctive character. With newer estate plantings maturing and hopefully an upgraded facility in the future, the winery should be able to rely on its strong local following to support it in helping move the wines to the next level.

Fenestra Winery
Our last winery visit of the day was at Fenestra. Parking in front of the old winery building, we were distracted by a group of wild turkeys nearby…..at least Eric Anderson was distracted, I've seen enough wild turkeys before! The turkeys took little notice of us, but winery owners Lanny and Fran Replogle had noticed our arrival and walked up the sloping drive next to the winery to greet us. Fran had to go, leaving us in the capable hands of Lanny and his new winemaker, Brent Amos.
Fenestra - Current releases:
2006 Verdelho - Silvaspoons Vnyd , Lodi. Fresh and crisp, with lots of flavor and a nice lemony nose, - EA
2006 Semillon - Livermore Valley. Just a bit of Sauvignon Blanc and Verdelho from Wente in this wine. Clean, crisp and lemony, with just a touch sweetness in nose and mouth, - EA
2006 Viognier - Contra Costa Co. Very nice peach and floral aromas. Crisp and tasty, nice flavors with just a hint of sweetness from the 1/2% residual sugar. - EA
NV "True Red" - Livermore Valley. Somewhat of a kitchen sink blend of juice, but this wine is definitely above quaffer level. Interesting flavors and aromas, very good body, blaance and finish, - EA
2005 Alvarelhao - Silvaspoons Vnyd , Lodi. Interesting gamey scent to the nose - something like Blaufrankisch meets Mourvedre. Somewhat lighter in mouthfeel, with good balance and finish, but I didn't warm up to the flavor profile., - EA
2005 Touriga - Livermore Valley. A nice claret style of blend, with the majority Tourigan Nacional and a lesser % of Francesca. Nicely made wine that has some Rhone qualities in both nose and mouth, - EA
2005 Pinot Noir - Tenuta Vnyd, Livermore Valley. Nice enough nose - maybe a littel weak, but certainly Pinot. Very tasty in mouthfeel, with nice flavors, balance and finish. Upon learing there was a small % of Mourvedre added for color and Merlot used to fill out the palate, we wondered how this might have been w/o the additions of these. We didn't have to wonder too long, because Lanny grabbed us a barrel sample of 100% Pinot. - EA
2007 Pinot Noir - Tenuta Vnyd, Livermore Valley - barrel sample. Lighter in color and a bit less filling in mouthfeel, but this is a very nice Pinot from a surprising location. - EA
2005 Mourvedre - Estate, Livermore Valley. Lovely nose of roasted grain and meat, with spicy backnote. A bit les so in mouthfeel, and eminently tasty, - EA
2005 Syrah - Estate, Livermore Valley. Nicely perfumed sweet fruit in the nose and mouth. More fruit-driven than garrigue or complexity driven, this is tasty and balanced throughout, - EA
2005 Tempranillo - Livermore Valley. Reminiscent of a Torres wine - Ribera del Duero meets Cabernet. Lots of smoky fruit, plenty of grip on the palate, good balance and long finish, - EA
2002 Port - Livermore Valley. Another in the Portugese variety lineup, this was tasty, if just a bit less interesting than the Murietta's version. - EA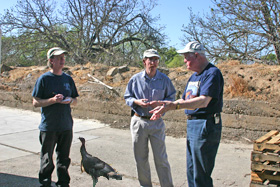 Lanny led us down to the base of the drive and around a corner to a large paved area with old concrete retaining walls on two sides. He told us that this had been part of the George True winery, founded in 1889 – yet another historic winery, they seem to be everywhere in Livermore!
There had once been a two-story building where we stood, constructed about 1910 by True. Other than the concrete retaining walls, the building is now gone, and Lanny uses this area as the winery's crushpad. There's a small tunnel leading through one of the walls to another one of the early structures, a brick building from the 1890s. This brick building has since been expanded and turned into the winery's main facility. Lots of work was done to renovate the building, which was slowly falling apart before Lanny and Fran moved their winery there in 1980. A new roof replaced the old decaying one and tons of debris were hauled out from inside the building. Lanny and Fran are in the process of installing solar panels on the winery roof.
Lanny is an exceptionally gregarious fellow, and he seemed to really enjoy talking with us about his winery. He taught organic chemistry at San Jose State University, and started out by making wine at home. The winery was founded in 1976, under the original name of Ventana, but had to change the name due to Ventana Vineyard in Monterey County. Lanny and Fran cleverly chose Fenestra – "window" in Latin rather than in Spanish.
Before the winery moved to its current location in 1980, the wines were made at Stony Ridge Winery, then housed in the historic old Ruby Hill Winery facility. Lanny retired from his teaching job in 1992 to work at winery full-time. He stepped down as winemaker in 2007 and his assistant winemaker, Brent Amos, took over that position. Brent had worked for at Ferrari-Carano and Fritz wineries before coming to Fenestra 2½ years ago.
Adjacent to the winery, there's a vineyard on the property, planted in 1996-7. It's planted with Syrah and Mourvèdre, with some of the Syrah grafted over to Grenache last winter. A big recent event for the winery was that the Replogles were able to purchase the property in 2007 (they had been leasing it prior to that), a total of just under 17 acres including the vineyards.
We followed Lanny and Brent into the old winery building, which like several others we visited, was partially dug into the hillside. Just outside was a very old crusher, no longer in use but fascinating to see. Inside the building, I was surprised to see some very nice bottling line equipment, a rare sight at smaller wineries. Lanny explained that they bought it in 2006, as they found it more convenient to have their own bottling line to handle their many small-production bottlings. Total production is about 7,500 cases per year, with over 20 different bottlings. Fenestra's "True Red" (named after George True) is their most popular and largest production wine at about 1,700 cases.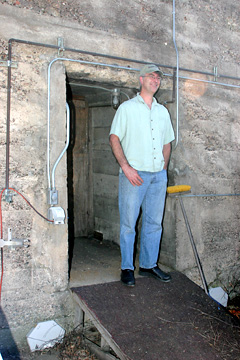 We lined up for tasting at an informal counter in the heart of the old brick building, surrounded by barrels and cases of wine. Lanny told us about his winemaking, which is similar to many other smaller Livermore Valley wineries – fermentation for reds in half-ton bins, and aged in mostly American oak along with some French and Hungarian. And also like many local wineries, 75-80% of Fenestra's wine is sold through the tasting room and wine club.
It's a rare vintner who doesn't love pouring their wines for visitors, and Lanny was no exception. We tasted many of the wines in Fenestra's line-up, including some relatively unusual varieties such as Verdehlo, Alvarelhão, and Touriga. Another unusual variety – from this area, at least – was a Pinot Noir from Livermore Valley, sourced from Tenuta Vineyard. The "True Red" (a non-vintage blend of Rhône, Bordeaux, and Iberian varieties) was one of the tastiest "spaghetti red"-style wines I've tried in quite awhile, combining bright flavors and some unexpected complexity with a more-than-reasonable price.
Among other wines besides those we tasted are Sauvignon Blanc, dry Rosé, Cabernet Sauvignon, Merlot, Malbec, and Petite Sirah. Lanny sources much of his fruit from outside Livermore Valley – for example, his Spanish and Portuguese varieties come from Silvaspoons Vineyard in Lodi, a source we were to hear about a number of other times. He wishes he could source more of what he wants locally but often finds that he can't…..he likes to make Semillon but notes that local plantings are disappearing. We asked which grape variety he thought does best in Livermore Valley, and Lanny feels that Syrah may hold the most potential for future success.
Lanny and Fenestra Winery both struck me as being very down-home, welcoming and unpretentious. Combined with the wide variety of tasty wines at attractive prices, it's not hard to understand why it's been one of the most popular wineries among Livermore locals over the years.
Saying goodbye to Lanny and Brent, we found that our timing was perfect, allowing us just enough time to drive the short distance to downtown Pleasanton for our dinner there at Agora Bistro, recommended by our friend Andrew Gelb. We met Andrew and his lovely wife Xiaopei there and enjoyed some delicious Greek food along with plenty of good wines.
Saturday - April 12, 2008
We reconvened the next morning at Eckert Estate, on Arroyo Road in the southern part of Livermore wine country, where we were joined by Paul Homchick. The winery was having an event that afternoon, where visitors would be able to bottle their own wine from a barrel of Eckert Livermore Valley Cabernet. They would repeat the event the following weekend with a barrel of Merlot. Mike Eckert was busy setting up a bottle-filler and corker under a small tent outside the tasting room when we arrived, but we talked with him as he worked.
Eckert - Current releases:
2003 Semillon - Dry Creek Valley. As might be expected, this was getting a little long in the tooth - and yet, it was mildly interesting to try a 4 yr-old Semillon. Some lighter toasty notes, and flavors as well of this slightly citrus-scented wine. - EA
2005 Viognier - Contra Costa Co.. Very nice! Slightly sweet/sour lemon, smooth mouthfeel, nice crispness and slightly sfot finish. - EA
2006 Verdelho - Silvaspoons Vnyd, Lodi. Crisp lemon-scented nose, touch of quinine/tonic, floral like on the palate, and nice finish. - EA
2003 Dolcetto - Livermore Valley. Nice bing and black cherry scents, with similar flavors in mouthfeel and refreshingly crisp finish. - EA
2004 "Mistura della Campagna" - Livermore Valley. This field blend of Italian varietals has a slight floral scent to the red fruits. The mouth seems a bit grapey in flavor, with a slightly tart and juicy mouthfeel, good body and very long finish. - EA
NV "Ensamble" - Livermore Valley. Made as an everyday red from mostly Carignane, the nose has plenty of dark almost pungent fruit, and the mouthfeel seems to carry a fair amount of astringency. - EA
2001 Cabernet Sauvignon - Livermore Valley. Claret-like, with nice aromas and flavors, and nicely balanced finish. - EA
2005 Malbec - Lodi. Nose of cocoa-scented red fruit. The flavor profile is nice, though it seems like it could have used a little more stuffing. - EA
2001 Merlot - Triska-Crane Vnyd, Livermore Valley. Fleshy and plummy nose. Very fleshy, yet drying mouthfeel with plenty of tannins throughout, and into very long finish. - EA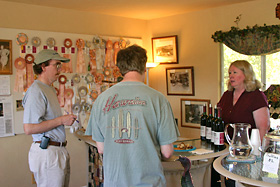 Mike & Vickie Eckert started their winery in 2000. They met while working in the high-tech industry, and decided to start their own business rather than be subject to the constant ups and downs of high-tech. Mike had been a home winemaker for a number of years, so launching a winery seemed like the direction to take.
After talking with several local vintners, they decided to plant grapevines at their property on Arroyo Road. Although Mike credits Thomas Coyne in particular as being his winemaking mentor, he worked with Lanny Replogle at Fenestra as well, and made the first Eckert Estate wines at Fenestra. Mike & Vickie have Cabernet Sauvignon, Zinfandel, Petite Sirah, and Mourvèdre planted on their property. Just across the drive leading to their winery, neighbor Rick Hansen has a sizable plantation of olive trees and makes well-regarded olive oil under the Arroyo Windmill Grove brand.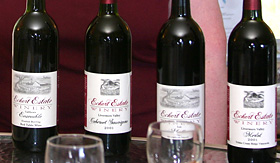 We headed into the modest tasting room, where Vickie had a number of the winery's current releases set up for us. The winery currently produces 2,500-3,000 cases per year, and sells about 95% of its wines through the tasting room – quite an amazing percentage. Similar to the strategy employed by other small Livermore Valley wineries we visited, Eckert produces a wide variety of wines, mostly made in small lots of about 100 cases. Mike stepped in to take a break from his hard work outside partway through our tasting, and he helped Vickie in recounting all the other wines they make in addition to those we tasted: Zinfandel, Petite Sirah, Mourvèdre, Charbono, Barbera, Touriga, Alvarahão, Tempranillo, another blend of Portuguese varieties, and several different Ports.
Eckert is making some interesting and unusual wines, though as might be expected with so many different bottlings (especially from a fairly new producer), the quality across the board isn't as consistent as it could be. Perhaps paring down the line-up a bit might help focus the brand, but there were some promising wines here and it should be worth keeping tabs on this new winery.

Wente Vineyards
To many, Wente is synonymous with Livermore Valley wine. Celebrating its 125th year in 2008, it is the oldest continuously-operating family-owned winery in California. The winery was founded in 1883 by Carl H. Wente, who learned winemaking from another California wine legend, Charles Krug. He bought 47 acres in Livermore Valley that year, planted a vineyard, and started his winery.
Wente managed to survive Prohibition years by shipping grapes for home winemaking (which was still legal) and producing sacramental wines. The winery's notable achievements include producing California's first varietally-labeled Chardonnay and Sauvignon Blanc, both made not long after the end of Prohibition.
Wente Current releases: ...or, good grief, how many wines do you guys make, anyway?
2006 Sauvignon Blanc - Livermore Valley. Proto-typical nose of boxwood and dried grasses. Good mouthfeel initially, but seems to fade out quickly to a soft finish. - EA
2006 Chardonnay - "Morning Fog". Clean lemony nose. Nice mouthfeel, somewhat crisp, but with a light KJ quality sweetness and some smoky oak. - EA
2005 Chardonnay - "Nth Degree". Bigger and richer in both nose and mouth. Though it seems to embrace its own bigness, I found no overt oak, just lots of chewy fruit. - EA
2006 Pinot Blanc - Monterey Co. Light meaty scent in the nose, good off-dry fruit, tasty slightly chewy mouthfeel. - EA
2006 Viognier - Monterey Co. Spicy non-descript nose doesn't seem to have much typicity. Ahhh, it apparently got hit with some Gewurtzraminer and Riesling! That certainly accounts for the obliteration of varietal nuance. - EA
2004 Syrah - Livermore Valley. Nice, slightly Estrella-like nose of blousey overt dark fruit. Tasty, lightly meaty flavor. Seems well made, if a bit underfilled. - EA
2004 Merlot - Livermore Valley. Fleshy sweet nose of Merlot fruit (has 21% Cab, 2% Barbera). The Cab comes across more strongly on the palate, yet finishes abruptly. The nose smells great. Too bad the mouthfeel didn't get the memo. - EA
2005 Zinfandel - Livermore Valley. Nice Zinny nose of spicy briary fruit and some pepper. Tasty in mouthfeel, with nice flavors, balance and finish. It's a nice wine, although by flavor alone you'd be hard pressed to identify it as a Zinfandel. - EA
2005 Cabernet Sauvignon - Livermore Valley. Cassis, with a blueberry streak. Fair mouthfeel, with a decided hole at mid-palate, and a blueberry finish. - EA
2006 "Serenity" - Livermore Valley. This Counoise/Syrah has a fascinating nose of flinty and peppery fruit. Its slightly soft mouthfeel of red fruit makes it seem more of quaffer, though at $35, it's a pricey option. - EA
2005 "Contrasta" - Livermore Valley. This Tempranillo, Merlot, Cab blend apparently included some fruit from south of the border. Very nice nose. Big and rich - it smells huge! Tasty, slightly rustic, but a nice sweet spot in the center carries through the long tasty finish. - EA
2005 Petite Sirah - Livermore Valley. The inclusion of 14% Touriga Nacional seems to be just what the doctor ordered here. Dense anise-filled nose, with a very Rhone-like garrigue. Fairly sweet in mouthfeel, with big rich presence and a slight floral component. Nice balance, soft center and nice finish. - EA
2005 Petite Verdot - Livermore Valley. Slightly sweet blueberry compote in nose and mouth, though the addition of 15% Touriga Nacional seems to perk up bandwidth here. Tasty and fleshy, with an odd musky aftertaste. - EA
2005 Syrah - "Nth Degree". Nice tarry scent to the licorice-filled nose and mouth. Good flavors, and almost a Paso-like quality to the mouthfeel. I'm not sure what the addition of 12% Cabernet did for things. - EA
2005 Merlot - "Nth Degree". Fleshy, with a faint green pepper scent,and some chocolate. Good mouthfeel, excellent balance and long finish. 15% Cabernet. - EA
2004 Riesling - Monterey Co. Diesely petrol-like scent, with background aromas of golden raisin and peach. What a contrast: like sitting at a gas pump eating fruit - but in a good way. Clean mouthfeel, okay flavors and finish. Nicer in the nose. - EA
2006 Orange Muscat - Livermore Valley. Clean and fresh, with good RS thourhgout, nice balance and finish. Likable! - EA
2006 Petite Sirah Port- Livermore Valley. Dense nose of dark monolithic fruit. Sweet flavors of black fruit, good balance and bit of grip on the finish. Okay, I have to ask, with Touriga Nacional in your repertoire, why use Petite Sirah for Port? - EA

Today, Wente produces about 350,000 cases of wine per year, and owns about 2,000 acres of vineyard land in Livermore Valley and elsewhere in the San Francisco Bay Area and another 1,000 acres in Monterey County. In addition, they manage the farming of well over 1,000 acres more in Livermore. In recent years, the winery has been especially well-known for its Chardonnay, and the famous Wente Chardonnay clones, descended from the winery's plantings nearly a century ago, continue to be some of the most-planted vines of that variety in the state.
The Wente family was instrumental in creating the South Livermore Valley Plan that has helped preserve vineyard land in the area. The winery has also been a leader in helping to promote Livermore Valley as a visitor destination, sponsoring a successful summer concert series, building a Greg Norman-designed golf course, and opening a top-notch restaurant. They've come to the assistance of other local wineries, notably fellow Livermore legend Concannon, and helped to save the historic Ruby Hill winery building after it was gutted by a fire, allowing it to be reconstructed (it's now the Mitchell Katz Winery). In addition to Wente Vineyards itself, the family also owns Murrieta's Well and Tamás Estate wineries. If not for Wente, the Livermore Valley wine industry would surely not be as healthy as it is today.
The winery is currently managed by the 4th generation of the winemaking family – Eric, Philip, and Carolyn Wente. Eric's son, UC Davis-trained Karl Wente, formally joined the winery in 2002, and heads up winery operations while his sister Christine is in charge of marketing. A few years ago, Karl started the Small Lot (300-700 case bottlings) and Nth Degree (up to 300 case bottlings) lines of Wente wines. These are not widely available, with much of the production going exclusively to wine club members and the tasting room. Using fruit from more meticulously-farmed vineyard blocks, and made in one-ton fermenters, these wines are meant to ultimately compete with the best from California, something that Wente has not attempted to do for many years.
I had spoken with Amanda Stellhorn from Wente's marketing department, who arranged for our group to have a special in-depth tasting at the winery's large Tesla Road tasting room (they also have a separate sparkling wine facility, along with their golf course and restaurant, a few miles away at the site of the historic Cresta Blanca Winery). We were greeted at the tasting room by Kristin, who proceeded to taste us on many of Wente's current releases. She generously poured us samples from Wente's regular line of wines as well as from their Small Lot and Nth Degree lines.
The Wente wines were well-made, but as could be expected from a winery with such large production, most were pleasant but not especially distinctive. The Small Lot and Nth Degree wines were clearly a step up, although at this point they seem priced somewhat high for what they are. But the Wentes over the years have been undeniably successful at reaching their intended markets, and hopefully as these new programs continue to develop we'll see wines that better match the prices.
After our tasting at Wente, we decided to try a fairly new eatery for lunch, Firehouse Bistro & Books in downtown Livermore. As the name suggests, it's a combination café and bookstore, and it's housed in an old firehouse building. The front area was small and fairly busy when we arrived, but we were led to a spacious and airy back room with a large skylight and bookshelf-lined walls. Lunch was very good, and although it would have been tempting to relax and peruse the books, we had to hit the road for the one-hour drive over Altamont Pass and north toward the San Joaquin River delta, where we had our next winery appointment just outside the town of Lodi.