Visits in this Issue:


AJB Vineyard
Core Wine Company
McPrice Myers Wine Company
Vnyd Interlude - Peter Cargasacchi
Dragonette Cellars
Ampelos Cellars
Arcadian
DiBruno / Curran / Badge
Palmina Wines


It's good to get in one last summer wine tour before harvest / crush begins in the fall. I'd talked with Eric Anderson, Al Osterheld, and Eric Lundblad about getting together for a three-day weekend visiting some Central Coast wineries and vineyards. We arranged a number of appointments for visiting some old acquaintances as well as some people and places that were new to us.
AJB Vineyard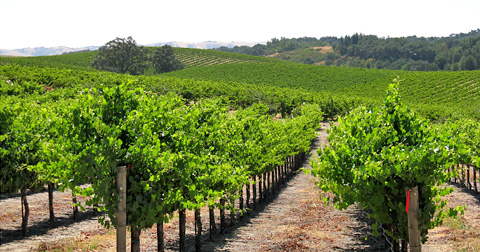 After a smooth drive south from the Bay Area, our first stop was at AJB Vineyard on the west side of Paso Robles, in the Templeton Gap area not far from Saxum, Denner, and Linne Calodo. My main interest in visiting AJB was that Harrington Wine (where I work part-time) would be buying some Nebbiolo fruit from AJB in the fall and I was curious to check it out. I contacted owner A. John Berardo – aha, so that's where the AJB comes from – and he was happy to have us visit him to take a look at his vineyard and taste his own Nebbiolo. Al had arrived a few minutes before Eric and I drove up to the small building that houses the winery and tasting room, and after a short while we were met there by John's wife Marilyn, as well as by the winery's friendly and very attention-hungry cat. John was just across the road, working on one of the houses that they rent out to wine country travelers. While we waited for John, Marilyn opened a bottle of their current release of 2002 Nebbiolo. Aged in neutral oak for four years, and then held in bottle for another year, AJB was obviously not looking for quick cash flow with this wine! Marilyn noted that their previous Nebbiolo had not been in barrel for as long and had been much more tannic than the '02.
AJB - Current release:
'02 Nebbiolo, Paso Robles: medium-light red color, delicate scents of rose petals, dried cherries, and smoke, with some cherry, plum, and earth notes in the flavors, and surprisingly moderate tannins for a young Nebbiolo. Very approachable now, this should still have the ability to age gracefully, and it's certainly one of the better California Nebbiolos I've tasted.

After a few minutes talking with Marilyn and enjoying the '02 Nebbiolo, John arrived at the tasting room, and he gave us a quick background of the winery. As in a number of Italian-American families, John's father and uncles made wine at home, where the main place for wine was as a regular accompaniment to meals. John had been a dentist in southern California before he and Marilyn purchased their property in Paso Robles and moved there in 1992. The first plantings on the 16½-acre property were Syrah and Viognier in 1993, followed by Nebbiolo, Sangiovese, and Zinfandel from '94-'96. The winery was started in late 1999, and since the '99 vintage, all the wines have been estate-grown. John & Marilyn also purchased an adjacent 23½-acre parcel that year. A total of 10 acres of vines are currently planted, with some olive trees planted on the property as well.
AJB currently makes about 1,000 cases per year, and most fruit from the vineyard is sold to other wineries. John hopes to ultimately reach a 5,000-case production, and plans to focus more on Italian varieties in the future. He's recently planted a Primitivo clone of Zinfandel in the vineyard. The winemaking techniques are pretty typical for a small winery and fairly low-tech. A variety of cooperage is used, but most barrels are older, with no more than 25% new oak generally used on any wine. John works with consulting winemaker Kevin Riley, who's worked with a number of Central Coast wineries.
John asked if we wanted to take a look at the vineyard – sure we did! We stepped out of the winery and walked around to the back of the building, where the rows of vines climbed up the hillside beyond. The soil was somewhat rocky, but not as much as in some other nearby vineyards I've visited. I asked John whether his soil is the same calcareous shale I've seen in other west side Paso vineyards, and he told me that it is indeed – he says it's part of a vein of calcareous soil that runs from Justin Vineyards all the way east to Creston.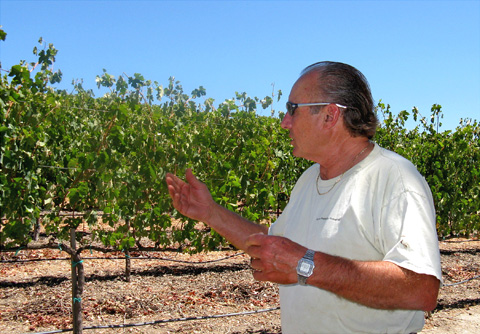 Of course I was particularly interested in seeing the Nebbiolo vines, and they turned out to be the rows closest to the winery. The 2½ acres of Nebbiolo vines, planted in 1995, are on VSP trellising. Not having seen Nebbiolo fruit growing in the vineyard before, the first thing that struck me was the size of the clusters. These were large and very elongated clusters, almost all still very green with just a handful of berries starting to show any color. The vines were obviously carefully-tended, with some leaf-pulling to expose the fruit zone to sunlight on the morning side while keeping a denser canopy of leaves to shade the fruit from the hotter afternoon sun, protecting the berries from su nburn. John noted that his Nebbiolo is the first variety to go through budbreak and last to harvest – a long growing season. He also mentioned to us that he decides on a picking date for his fruit based mainly on pH and flavor, not brix.
AJB remains well below the radar for Central Coast wineries, and I got the feeling that John is happy enough maintaining a low profile. Being a bit limited on time, we decided to focus our attention on their Nebbiolo on this visit. I've felt that Nebbiolo has been less successful than many other Italian varieties in California, so I was curious as to how AJB's version would be, and it's very nice indeed. If John can repeat the success of his '02 Nebbiolo, this could be a winery to watch. I'd like to return to AJB when I have more time to check out their other wines.
Core Wine Company
Core - Current releases:
2006 B. Core - Rodney's/Camp 4 Vnyds. This 73%/27% Roussanne/Marsanne blend has a lovely gold color and really nice floral and waxy notes. Excellent minerality in mouthfeel, and the acids ought to do a really nice job on richer food and/or cream based sauces. Some oak noted, but it's not at all intrusive. 14.9% alc. - EA
2006 Core Red - SB Highlands. A GSM blend of 50% Syrah, 35% Grenache, and 20% Mourvedre. Very fleshy and fruit forward, with plenty of raspberry and boysenberry aromas and flavors. Nice balance throughout, with an engaging wild streak - thanks to that Mourvedre, I'm sure. - EA
2006 Hard Core - SB Highlands. Another GSM blend similar to the Core Red, except with the addition of 20% Cabernet the varietals are more balanced in their respective percentages. For me, the Cab really comes through in both aroma and flavor, and in my opinion really makes this wine more than the sum of its parts. - EA
2006 Elevation Sensation - Alta Mesa Vnyd. This 60/40 Grenache/Mourvedre really sings. Big and rich, but with plenty of fruit throughout. Nice acids contribute to the juicy mouthfeel, the balance is very good and there's a nice grip to the back end. - EA
2006 Kuyam 13 Moons - SB Highlands. This Bordeaux blend of Merlot, Cab, Malbec and Franc seemed slightly shut down in aromatics, but some vigorous swirling brought out a prototypical Bordeaux nose. Very Bdx-like in mouthfeel and flavors, with hints of leather and tobacco. Grippy, with excellent balance and very long finish. - EA
2006 C³ Tempranillo - SB Highlands, w/10% from Letitia Vnyd. Nice ripe nose of dried red fruit, with the barest of hint of floral notes. Nice mouthfeel and flavors, very good balance, with lots of fruit pumping through the long finish. - EA
2006 Turchi Syrah - SB Highlands. Huge nose of jammy blackberry, garrigue, and some fascinating earthy notes. Big and beefy through mid-palate, but seems to taper off and soften a bit on the later palate. This is a big wine, and I think more bottle time will knit things together nicely. - EA
2005 C³Tempranillo Crazy 8's - Laetitia and SB Highlands Vineyards. This forerunner of the '06 Tempranillo above had about 20% Cab added, creating a beautiful nose of dried cherry, toasted herbs and a faint wisp of smoke. Based solely on the nose, the mouthfeel was riper than I expected, but entirely delicious. - EA
Barrel Samples:
2007 Tempranillo - Letitia Vnyd. I'd forgotten that the Letitia Vnyd in Arroyo Grande has a small amount of Tempranillo planted (no doubt to keep the Pinot nervous), so it was nice to taste it on its own. Lovely nose of dried and jammy cherry, with a smooth mouthfeel and gripping finish. - EA
2007 Cabernet Sauvignon - SB Highlands. Tons of fruit in nose and mouth. This is not currently strutting its full Cab-nicity, so I suspect it's just too early to assess this wine. - EA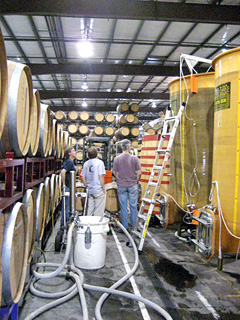 After stopping at Hush-Harbor Bakery in Atascadero for a quick lunch, Al, Eric, and I continued south to Santa Maria where we arrived at the Central Coast Wine Services (CCWS) facility. We were due to meet there with Eric Anderson, who'd driven from southern California that day, and to taste with Dave Corey of Core Wine. After a few minutes trying to locate Eric in the vast building, we discovered that he had already tracked down Dave's new assistant John Tancinco, a former sommelier from New York City, who had just started working with Dave about a month before our visit. Dave was running a bit late, but he arrived just as John had begun pouring us a taste of the first Core wine of the day.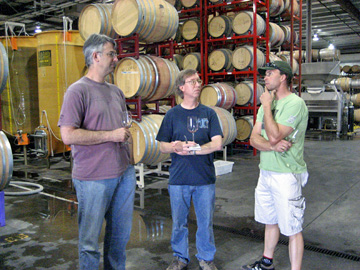 Dave's background is in agriculture – he earned a master's degree in Entomology and Plant Physiology from Kansas State University. Early on, he worked in the agricultural field in Salinas Valley and the Central Valley before moving to viticulture in 1996. He worked with Cambria and Kendall-Jackson in Santa Barbara County in the late '90s before forming his own consulting business, Vital Vines, focusing on sustainable viticulture. During these years, Dave learned about winemaking as well. Dave's wife Becky has a background in wine marketing and winery hospitality, and she's also been instrumental in designing Core's creative labels. Dave and Becky started Core Wine Company in 2000, with their first commercial release in 2001.
Dave saw special potential in one of the vineyards he worked with, in a remote part of northeastern Santa Barbara County above the Cuyama Valley. Dave arranged to lease and manage this property, which he named Alta Mesa Vineyard. Planted in 2000 to Grenache and Mourvèdre, the 17½-acre vineyard is at a 3,200-foot elevation, one the highest vineyard locations in the state. Rocky soil and wide diurnal temperature swings are some of the distinguishing features of the site. Farmed using sustainable viticultural practices (of course), much of the fruit from Alta Mesa is sold to other wineries as well as going into various Core wines. Dave mentioned that there has been some discussion of creating a new AVA for this part of Santa Barbara County, which includes Santa Barbara Highlands Vineyard in addition to Alta Mesa.
Dave & Becky's winery started out small, but has grown a lot in just a few years. Beginning with a Rhône-style red blend in the '01 vintage, Core expanded to include a number of red and white Rhône blends, and the business has now branched out to include four labels – Core, C³, Kuyam, and Turchi – producing a total of about 8,000 cases per year. Core will remain focused on Rhône-style blends, while C³ (a partnership between Dave and his two sisters…..three Coreys = C³) features Tempranillo and blends, Kuyam is mainly blends of Bordeaux varieties, and Turchi produces more value-priced wines.
With few exceptions, Dave's wines are blends of different varieties. And speaking of different varieties, the winery features lots of different sizes and shapes of oak barrels and tanks…..standard 228-liter barriques, elongated "cigar" barrels, 350-liter, 500-liter, 600-liter barrels and larger wood tanks.
We tasted a variety of current releases from all four of Dave's labels, plus a couple of barrel samples. Most of Dave's wines are not in the typical lush and fruit-forward Central Coast style, showing greater restraint and needing more time to develop in the bottle than most. But experience with past bottlings has shown that they can blossom into very food-friendly wines with complex flavors. In particular the wines he sources from Alta Mesa Vineyard have wonderful acidity and a distinct mineral character. All in all, these are wines that stand out from the crowd.
McPrice Myers Wine Company
McPrice Myers - Current releases:
2006 L'Ange Rouge (red label) - SB Co. Mostly Grenache (91%, with 9% Syrah) the wine has a lovely nose and slightly sweet mouthfeel. More plush and lush, the lower acids also give it a softer mouthfeel and finish. - EA
2006 Beautiful Earth (blue label) - Paso Robles. About 85% Syrah, the addtion of Grenache and Mourvedre seem to really focus this wine. Great nose, very tasty on the palate, excellent balance and finish. Really lovely, and almost restrained - in a Paso sort of way. - EA
2005 Syrah (black label) - Les Galets Vnyd, Arroyo Grande. Fascinating nose of black fruit, dried herbs, sweet tar and a garrigue. Complex and well-knit on the palate, excellent balance and delicious finish. - EA
2005 Syrah (green label) - Larner Vnyd. Interesting hit of citrus peel in the complex tar-infused nose. Quite dark and very smooth on the palate, with almost perfect ripeness, excellent balance and very long finish. - EA
Barrel Samples:
2006 Grenache/Syrah - Larner Vnyd. This was an almost finished 82/18 blend, using 30% whole cluster. Very cohesive in nose and mouth, and the w/c doesn't seem that apparent. Very nice fruit and fell on the palate, with a ramping-like finish that kept building in the mouth. Nice stuff. - EA
2006 Syrah - clone 877, Les Galets Vnyd. Bright nose - more red than black fruit. Touch of citrusy component noted in bioth nose and mouth. Interesting. - EA
2006 Syrah - clone 383, Les Galets Vnyd. More minerally, with iodine, tar and chalk in the nose. Quite meaty in flavor - almost bloody. Nice acid streak. Fascinating on its own, but it's easy to see where this will help balance out a blend. - EA
2007 Grenache - From a mix of vnyd sources, this will probably become the '07 L'Ange Rouge. Lovely ripeness, teeming with plenty of raspberry and wild strawberry fruit. Very tasty! - EA
2007 Beautiful Earth - This 72% Syrah, 23% Grenache, 5% Mourvedre blend from Paso fruit is slightly less Syrah than in '06. Very nice core of dark fruit, with plenty of substance and no overt sweetness. - EA
2007 Syrah - Larner Vnyd. Wonderful dark nose of blackberry, minerals, tar, and dried herbs. About 30% whole cluster. - EA
2007 Syrah - Les Galets Vnyd. Alban clone. Dark, rich, chewy and loaded with tannins. New oak gave this an unmistakeable espresso/roasted coffee scent, but the tarry fruit just about masked it. 40% whole cluster. - EA
2007 Syrah - Les Galets Vnyd, clone 383, no whole cluster fermentation. Fascinating nose of red and black fruit, asphalt, iodine and roasted beet - all of which smelled amazing! Dense and very grippy on the palate. - EA
2007 Mourvedre - SB Highlands/Alta Mesa. Dark sweet fruit, scents of tar, smoke, and even some Michelin tire (low profile). Big and chewy, and entirely tasty. - EA

We'd figured that it would make sense to visit one of the many other wineries who produce their wines at CCWS while we were there. I'd bumped into McPrice Myers on a couple of other occasions at the facility, but never arranged a real tasting visit with him before so this was a good opportunity to do that.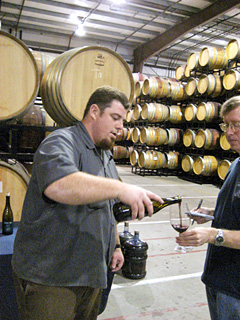 Many people are surprised when they learn that McPrice and Myers are not two people, it's just one guy with an unusual name! McPrice got his start in wine when he worked at Trader Joe's in Whittier, California (back when they got in a lot of good wines, he noted). His boss there let him participate in many of their tastings, and he developed a particular liking to wines from the Rhône Valley. After tasting many of the Rhône-style wines from the Central Coast and traveling to the area to meet a number of the local winemakers and help at wineries, he eventually moved to Santa Barbara wine country and launched his own label about seven years ago. In addition to his own label, McPrice teams up with fellow CCWS winemaker Russell From of Herman Story Wines to produce more value-priced wines under the Barrel 27 label.
McPrice has had the good fortune to work with fruit from some top-notch vineyards in the Central Coast, including Larner, Alta Mesa, Laetitia, and Colson Canyon. We can look for a new vineyard source in the coming years – McPrice is having about 12 acres planted just south of Santa Maria with Grenache, Syrah, and Viognier.
In terms of his winemaking, McPrice incorporates some whole cluster fruit in his fermentations, but generally not a large percentage. He inoculates everything with selected yeast strains (too many unknown yeasties floating around a big facility like CCWS). Like Dave Corey, McPrice prefers to make blends rather than single varietal wines. So far he's only released red blends, but he'll be adding some Rhône-style white wines to his line-up soon. Also like Dave, he uses some larger barrels, and we tasted a few samples from 500-liter barrels. He currently makes about 2,500 cases under his own McPrice Myers label, and around 12,000 cases of Barrel 27 wine.
We tasted four current release wines and a number of barrel samples. McPrice treated us to comparisons between different Syrah clones, and between wines made from completely destemmed fruit and ones made with a percentage of whole clusters. The differences were often remarkable. His wines are on the bigger side of Central Coast Rhônes and show great intensity of fruit, but also display secondary flavors such as grilled meats, earth, tobacco, and iodine that other big Rhône-style California wines sometimes lack. Overall, I thought both the finished wines and barrel samples from Larner Vineyard and Les Galets vineyard were the stars of the show, although a final barrel sample of '07 Mourvèdre from Alta Mesa Vineyard was also especially promising.
Leaving CCWS, we drove south across the Purisima Hills to Lompoc. We had just enough time to check in to our motel before heading a few miles east to Buellton, where we'd been invited to a BBQ at the home of our friend John Tomasso and his lovely wife Cindy. Also there were Peter & Julia Cargasacchi, and Bernard Roth & his wife Sam (Anne Twigg from Hitching Post & her SO Norm joined us briefly but had to leave before dinner). John had promised us a Santa Maria-style barbeque and he delivered big time. Perfectly-grilled tri-tip, delicious beans, veggies, and salad – the works! Of course we popped the corks on many tasty wines that evening too.
Saturday - August 2, 2008
Vineyard Tour with Peter Cargasacchi
Bright and early the next morning, Al, the two Erics, John Tomasso, and I met up with noted grape grower / winemaker / wild & crazy guy Peter Cargasacchi at the junction of Sweeney Road and Hwy. 246, just east of Lompoc. We stopped a mile or so down Sweeney Road, on our way to Cargasacchi Vineyard, to look at a distinctive white rock formation that is exposed alongside the road. Peter told us that this was Monterey Formation shale, from the Miocene era (roughly 10-28 million years ago). These layers of marine sediments have been tilted and folded into some wild, distorted shapes as they have pushed up and crashed into California over time.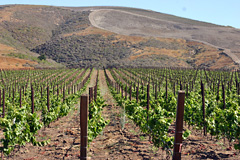 The typical morning fog was burning off earlier than normal, and we made a second stop along the road to take a quick look at a large vineyard that was planted in 2007. With Stolpman winemaker Sashi Moorman as a consultant, the vineyard has very dense 4-foot by 2-foot spacing with the vines being trained along unusually low fruiting wires. Peter mentioned that a lot of new vineyards have been planted in the Santa Rita Hills in the past few years, with more in the works. Most of these new vineyards are planted to Pinot Noir, not surprising considering the high demand for quality Pinot these days and the resulting high prices being paid for the fruit.
Before proceeding to Peter's new vineyard, we stopped at his well-known Santa Rita Hills site to have a quick look at the developing grapes. The 115 clone Pinot Noir was still entirely green, and there were a number of millerandage clusters (sometimes called hen & chick for the differing sizes of the berries). After a few minutes there, we piled back into our cars and drove about ¼ mile further to Peter's house. He'd already warned us that to get to his new vineyard, we'd have to climb up a steep slope from there.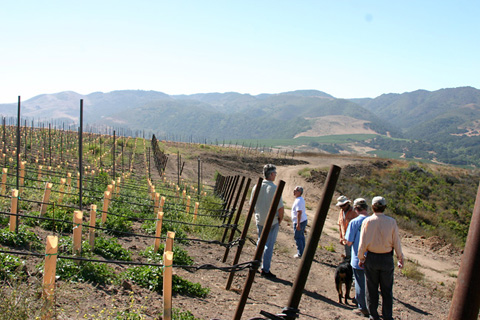 As we huffed and puffed our way up the hill to Peter's new vineyard, we encountered a rattlesnake in the dry grass just off the trail. We couldn't see the snake, but hearing its persistent rattling, we all kept our distance as we passed by. We finally came to the gently-sloping hilltop above Peter's house, where his newly-planted 14-acre vineyard is located. Planted to about 60% 667 Pinot clone, with smaller amounts of 114, 115, and 777 on several rootstocks (mostly 420A, plus SO4 and 1103P), the fruit is already slated for wineries including Siduri, Brewer-Clifton, Hitching Post, Copain, Kosta Browne, A.P. Vin, and Peter's own Cargasacchi label. Peter noted that most of the new vineyard is fairly well sheltered, but that one section of the vineyard is more exposed to wind, so he's planted 115 clone on 1103 rootstock there, which he says should allow the fruit set in these vines to be later than the others. The soil type is Tierra Loam, which is deep, moderately well-drained alluvial soil derived from sedimentary rock.
After a quick walk around part of the vineyard, admiring the expansive views across the valley, Peter led us to a spot on a blindingly-white outcropping of diatomaceous earth on a nearby hillside, where he showed us the fossilized head of a huge prehistoric crocodile. At least that's what he told us it was…..as Al later put it, it was sort of like looking at a Rorschach test. He said there was evidence of ancient dolphins and whales in the area as well. "Imagine...gang wars between the aquatic mammals and the oceanic crocodilians...(it's safe now, the sea monsters are all encased in stone and the friendly dolphins ate all the crocodilians...)" – only Peter could describe it like that!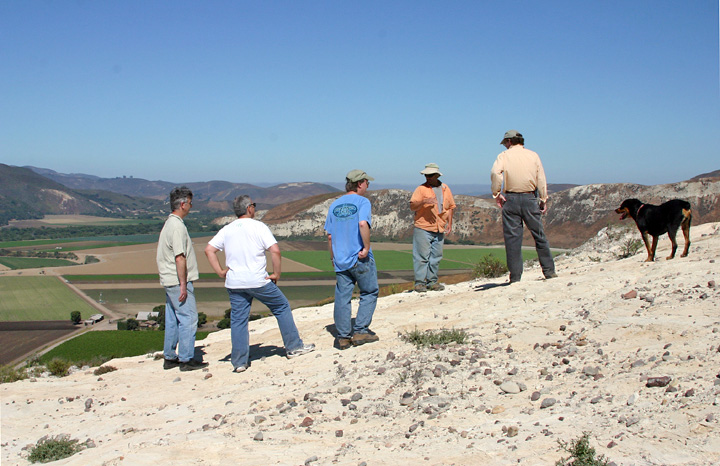 Peter had to go meet with one of his distributors later that morning, and John was heading to the Clos Pepe Vineyard BBQ event that afternoon, so the rest of us drove off (taking Peter's advice on a shortcut by driving across the dry bed of Santa Rosa Creek) and headed back to Lompoc for our next appointment of the day.
Dragonette - Current releases:
2007 Rosé - Santa Ynez Valley. This nearly equal blend of Grenache, Syrah, and Mourvedre was tank fermented, bled away from the skins (saignée) then and put into neutral barrels. The result here is a very floral-infused fruit with just a hint of citrus. They didn't make very much of this stuff (which wasn't helped by our continuing to go back to it), but what they did make was excellent. - EA
2006 Pinot Noir - Sta. Rita Hills. Smoky bing and black cherry aromas, with a fleshy meaty background note. Nice level of spice and some white floral notes. Good coverage on the palate, yet more of a textural wine that seems to be aimed more on finesse than power. Good choice! - EA
2005 Syrah - Santa Ynez Valley. Beautiful touches of smoked meat, tar, and citrus rind accompany the dark fruit. Almost Euro-styled in mouthfeel, with lovely flavors and balance, perfect ripeness for this style too, as the textures here seem to win out on the palate. This will make you rethink Calif Syrah. - EA
Barrel Samples:
2007 Pinot Noir - Sta. Rita Hills. (from the former Gaia Vnyd). Pommard clones, new oak. Nice black cherry and wood spices in the nose. Quite elegant on the palate, with very nice flavors, balance and finish. - EA
2007 Pinot Noir - Sta. Rita Hills. (from the former Gaia Vnyd). Pommard clones, neutral oak. Nice cherry and spice in the nose, but much more th essence of fruit. Elegant on the palate, with more obvious acids. Always interesting to see the difference imparted by the oak treatment. - EA
2007 Syrah - clone 7, Watch Hills Vnyd, Alisos Cyn. Neutral barrel. Nose of pure blueberry, with the faintest hint of chocolate and tar. Meaty in mouthfeel and taste, with dried meats and a touch of minerality to put a snap in the finish. - EA
2007 Syrah - clone 877, Watch Hills Vnyd, Alisos Cyn. Newer François Frères barrel. Bigger and brighter than the wine above, with hints of citrus rind as a backnote. - EA
2007 Syrah - Estrella/Durell clones, Demetria Vnyd. Nose of plum and black stone fruits. Very fruit-driven, with perhaps less of the garrigue character. Big and chewy, especially from mid to latter palate. - EA
2007 Syrah - 470/Estrella clones, Shadow Cyn Vnyd. New Sylvain barrel. Very cold-climate in the nose, with coal tar and almost menthol hints. almost N.Rhone-like, with nice tarry aspects. Great balance and finish. Very tasty. - EA
2007 Syrah - 470/Estrella clones, Shadow Cyn Vnyd. Neutral oak - 5-yr old Seguin Moreau. Much more pure blue and blackberry fruit. Nice light spice, and fainter notes of tar than sample above. - EA
Our destination was a familiar one, the small industrial park on the northwestern edge of town that houses Ampelos Cellars. Since my last visit there in December 2007, Ken Brown moved his winery out of the space he shared with Ampelos and into a new custom crush facility in Buellton called Terravant (Hartley-Ostini Hitching Post Winery has also recently moved into Terravant). Taking Ken Brown's place is Dragonette Cellars.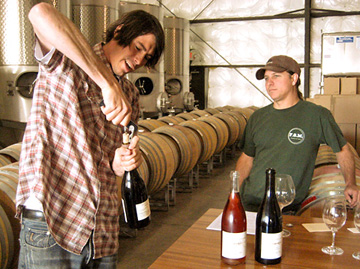 A fairly new winery, Dragonette's first commercial vintage was 2005. The winery was founded by brothers John and Steve Dragonette and their friend Brandon Sparks-Gillis. Al and I had met Brandon in the spring of 2007 during a visit to Demetria Estate, where he has his "day job" as assistant winemaker. John and Brandon both worked at noted retailer Wally's Wine & Spirits in Los Angeles. Brandon has also worked at wineries in Washington and Colorado and at famed Torbreck in Australia and Sine Qua Non in California. John has worked at Fiddlehead Cellars and continues to work with highly-respected vineyard manager and consultant Jeff Newton at Coastal Vineyard Care Associates (Brandon's wife also works as a vineyard manager for Coastal Vineyard Care). Steve handles most of the business side of the winery, while all three share in the winemaking.
The trio began their winemaking with a single barrel made in John's garage in Hermosa Beach in 2003 and have moved on from there to starting their own label. They share a belief in biodynamic vineyard and winemaking principles….though Brandon stressed that's only up to a point. They prefer to make use of the more common-sense and scientifically-based elements present in many biodynamic practices but they are not dogmatic about including the more "mystical" elements often associated with biodynamics.
Dragonette's current releases include a Rosé, Pinot Noir, and Syrah. The Rosé is tank fermented with native yeast and aged in neutral oak for seven months, aiming for more serious, Bandol-style Rosé (though they believe the '07 is more akin to a Tavel). The fruit for this wine is sourced from a number of vineyards including Shadow Canyon from the York Mountain AVA west of Paso Robles, Watch Hill (next to Thompson in Alisos Canyon), and Demetria in the Santa Ynez Valley AVA. The Pinot Noir fruit is sourced from Fiddlestix and Gaia (now Las Hermanas) vineyards in the Santa Rita Hills, and includes 113, 114, 115, 777, and Pommard clones. Brandon and John told us that they feel extra barrel-aging for their Pinot helps to round out the mid-palate, and the '06 was in barrel for 17 months. The Syrah is from Tierra Alta and Cuatro Vientos vineyards in Santa Ynez Valley, and includes 99 and Estrella clones. Dragonette is using a variety of cooperage for aging their wines, and they plan to add larger puncheons to their selection of barrels.
Dragonette's '07 wines will include two vineyard-designate Pinot Noirs and three Syrahs. They plan to add a Sauvignon Blanc to their line-up this year, from dry-farmed older vines at Koehler Vineyard in Santa Ynez Valley and from newer high-density plantings at Grassini Vineyard in Happy Canyon. They also will be getting fruit from a new 140-acre vineyard located east of Foley's Rancho Santa Rosa in the northern part of the Santa Rita Hills, including Pinot, Grenache, and Syrah. The vineyard is planted on fairly-dense 6x3 spacing. Brandon and John told us that they may look for their own vineyard land, and would like to get more involved in grape-growing as well as winemaking in the future. Their current releases total less than 500 cases. They would like to stay small, in the 3,000-4,000 case range, focusing on Sauvignon Blanc, Pinot Noir, Grenache, and Syrah.
John and Brandon tasted us on their three current releases plus a number of barrel samples. These were among the most impressive wines we tasted on our brief trip, with lots of fruit and great complex flavors without being over the top. Certainly a good start to this young winery, and one to watch in the future.
Ampelos Cellars
Ampelos - Current releases:
2007 Chien Edelzwicker - SBCo. An Alsatian style blend of grapes, this white had an interesting nose with its nutty, pumpkin and ginger-like spice. Lightly spicy mouthfeel, refreshing with almost a Riesling meet GWT meets Pinot Blanc - some of which ironically was a substantial part of the blend. - EA
2007 Viognier - SBCo. Very restrained nose, with light aromatics and mouthfeel, and nice white floral and stone fruit accents. - EA
2007 Rosé of Syrah - Santa Ynez Valley. Very tasty, with a nice meaty streak. Balanced very nicely, with some light sweetness on the palate, but not at all cloying. - EA
2006 Pinot Noir, Lambda - Sts. Rita Hills. Bright notes of strawberry and bing cherry, with a nice light touch on the palate. Nice balance; long finish. - EA
2005 Pinot Noir, Rho - Sta. Rita Hills. This barrel-select bottling is a bigger framed wine with more brown spice. Ripe, burnished fruit, plenty of spice and a very long finish. - EA
2005 Syrache - SBCo. Nose of raspberry, plum and wild cherry. Fairly bright and lifting in mouthfeel, with sweet-sour juicy acids, nice balance and finish. Certainly a more Euro-styled wine. - EA
2005 Syrah, Gamma - Sta. Rita Hills. This is from young Estate fruit. Nose of black cherry and spice, Moderately full mouthfeel, nice spicy fruit, very good balance and long finish. - EA
2005 Syrah, Epsilon - Santa Ynez Valley, Alisos Vnyd. Really nice tarry, spice and dried beef notes in the nose. Rich and chewy mouthfeel, with flavors of dark berry and dark chocolate, hints of tar and asphalt. Nice! - EA
2005 Grenache, Delta - SBCo, Nielsen Vnyd (currently owned by Byron Vineyard). While they wait for their own Grenach to come on line, the gang is working with from an area near the Santa Maria Valley. Really nice rich strawberry/raspberry aroma. Seemingly perfect ripeness, with very good good balance and finish. - EA

Peter and Rebecca Work happened to be at the facility when we stopped by to visit Dragonette, and Peter invited us to taste Ampelos Cellars' current releases. Peter joked that now that the facility is shared by Ampelos Cellars and Dragonette Cellars, maybe they should call it AC/DC!
I've visited both Ampelos Vineyard and the winery several times over the past few years, so no need to get into great detail again about them. Their Santa Rita Hills vineyard is planted to Pinot Noir (some blocks interplanted with Pinot Gris), Grenache, Syrah, and a tiny bit of Viognier. It's farmed biodynamically, with the assistance of Jeff Newton of Coastal Vineyard Care.
One recent development in the Ampelos winemaking team……after several years as the assistant winemaker at Sea Smoke Cellars, Rebecca's son Don Schroeder became Sea Smoke's winemaker earlier this year. He had previously consulted on the winemaking at Ampelos but with his increased responsibilities, he is no longer able to do that. Bruno D'Alfonso is now consulting with Peter and Rebecca on their winemaking.
In addition to the current Ampelos releases, we also tasted a new wine made by Don and his wife Lindsay (who works at Ampelos) from their new label, Chien. We tasted through just about all of Ampelos' wines on this visit, and as always, they offer a nice line-up of tasty wines.
Arcadian Winery
Arcadian - Current releases:
2005 Pinot Noir - Sleepy Hollow Vnyd, Santa Lucia Highlands. Nose of lovely black cherry, tapenade with a nice smoky backnote. Fleshy and slightly meaty in mouthfeel. Very good balance, very polished, and nice level of ripeness (read: not too ripe). . - EA
2001 Pinot Noir - Sleepy Hollow Vnyd, Santa Lucia Highlands. Wow, this is doing quite nicely. A bit light in color. Classic aromas of black and bing cherry, light citrus and floral notes. Smooth and elegant on the palate, excellent balance and nice long finish. - EA
2004 Pinot Noir - Fiddlestix Vnyd, Sta Rita Hills. Big, rich and lush, this wine showed-off the whole cluster fermentation quite well, with its backnotes of bark and forest floor. Slightly soft in mouthfeel, with very good flavors and balance, and nice finish. - EA
2005 Pinot Noir - Dierberg Vnyd, Santa Maria Valley. Seemingly darker notes in this wine, with aromas of black cherry and plum. Fascinating balance of acids and ripeness level, leading me to compare this to a Burg in my notes. - EA
2005 Chardonnay - Sleepy Hollow Vnyd, Santa Lucia Highlands. We switch to Chard at this point (a favorite tactic of Burg drinkers). Wonderful nose of lemon and line with hints of tropical fruit. These same qualities come across on the palate, but with a lovely creaminess. - EA
1997 Chardonnay - Bien Nacido Vnyd, Santa Maria Valley. The beautiful toasted grain and faint yeasty qualities made me think of an older Champagne. Excellent acids, citron and mild citrusy flavors still abound, and the whole package just sings! - EA
2004 Syrah - Stolpman Vnyd, Santa Ynez Valley. The background aromas of earth and wet tobacco seemed to indicate a high % of whole cluster fermentation (it was 30%). Wild, gamey, and filled with little touches of everything. - EA
2001 Syrah - Garys' Vnyd, Santa Lucia Highlands. Smoky dark fruit, lots of tar and asphalt in the nose, very good balance and very long finish. - EA

Our next stop of the day was a visit with Joe Davis of Arcadian Winery. Joe had another group of visitors and it worked nicely into our schedule to consolidate our appointment with theirs. Arcadian relocated from their old location at CCWS to a year-old facility set in the midst of a walnut grove just off Santa Rosa Road not far from Lompoc. The facility is also home to the Clos Pepe, Prodigal, Cold Heaven, and Di Bruno / Curran / Badge labels.
We were welcomed into the facility by Joe's wife Jill, who proceeded to prepare a plate of wonderful cheeses for everyone to enjoy during the tasting. Their young children Francesca and Max amused each other and us as well, tossing water at one another and generally enjoying themselves. Joe wasted no time in getting the tasting started, and he talked about his background and his winemaking philosophy as as we tasted through a number of current and older releases.
Joe worked in a wine shop while in college in the early '80s, and he found that he was drawn to Pinot Noir in particular. An early favorite was Acacia's St. Clair bottling from Carneros, and he also loved Burgundies. As is the case with many winemakers, there was one wine that was an "epiphany" – in Joe's case it was a bottle of '78 Domaine Dujac Clos de la Roche that was a gift from a customer. After attending the UC Davis wine program, Joe worked as assistant winemaker with Dan Lee at Morgan Winery in Monterey County in 1984, and became winemaker there the following year. After a number of years at Morgan and a brief stint at Bernardus in Carmel Valley, he began his own Arcadian label in 1996. The winery focuses exclusively on Chardonnay, Pinot Noir, and Syrah from cooler-climate vineyards.
A slight detour before getting back to Joe's discussion of his winemaking…..one of the hallmarks of Arcadian's winemaking style is the use of whole cluster fermentation. Using this method, particularly in Pinot Noir, is a contentious subject – many Pinot producers routinely use a large percentage of whole clusters while others would never even consider using them. It's controversial in France too – though more vignerons in Burgundy use whole cluster than is the case in California. There's no question that either method can yield some stunning wines. Completely destemming the fruit usually results in a more fruit-forward wine, and whole cluster fermentation is widely considered to be a riskier proposition (see what Bruno D'Alfonso thinks about it below). But when using whole clusters works, the wine can gain complexity – often with a distinct spicy character – and a texture on the palate that's not always found in Pinots made from 100% destemmed fruit. It's also true that wines made with a lot of whole cluster fruit tend to take more time in bottle to show their best, which can test some consumers' patience. It can be a matter of faith as to whether some of these wines will transform over time from hard and stemmy to silky and complex. In recent years, it seems that more California winemakers are experimenting with whole cluster (mostly in Pinot and Syrah), but few are as devoted to using it as a matter of course as Joe is, and few have as much experience with it as he does.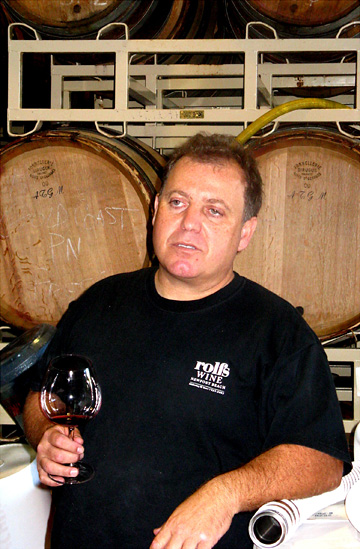 Joe's winemaking model for Pinot Noir is Domaine Dujac, one of the great producers of Burgundy and a proponent of whole cluster fermentation. Joe is often the first one to pick fruit at the vineyards he sources from, looking for lower brix and higher acidity. He's meticulous about sorting fruit – he told us that he and his crush crew have spent as much as 27 hours sorting fruit from a single vineyard! He typically adds about 15-30ppm of SO2 plus dry ice to his fruit at the crushpad to promote a good cold soak (to extract color and flavor without extracting alcohol as well). Joe decides year by year and vineyard by vineyard how much whole-cluster fruit to include in his fermentations – it's generally a relatively high percentage and can be up to 100% in some cases. The wines are inoculated with commercial yeast and malolactic cultures, due to the issue of working in a facility shared with other wineries. Fermentations normally last 10-12 days (Joe says that using whole-cluster fruit leads to longer and gentler fermentations) and undergo traditional pigeage foot treading. The Pinots are pressed at 1-2 brix into 40-100% new oak. There is no racking, and wines remain in barrel for a particularly long time – '05 is the current Pinot vintage here, at a time when the release of many wineries' '07 Pinots is only a few months away. There is generally no fining or filtering (except for some fining with Chardonnay) prior to bottling the wines.
Production has varied by vintage – Arcadian produced very little wine from the '04 vintage for example, due to the severe September heat spike that sent the sugars in many Pinot vineyards well beyond the limit that Joe and his growers agree to (Arcadian only made three Pinots that year). The '06 production was about 6,500 cases, and the total will increase to nearly 10,000 cases this year. Current single-vineyard designate Pinots include Sleepy Hollow, Pisoni, Gold Coast, Dierberg, and Fiddlestix. Joe expects to be getting fruit in the future from a new vineyard planted by Mark Cargasacchi (Peter's brother) near Mt. Carmel Vineyard in the Santa Rita Hills.
Tasting at Arcadian is one of the few places in California where the Chardonnays are tasted after the Pinots, as is the case when tasting in Burgundy (or so I'm told, never having had the chance to do so myself). A sign of Joe's generosity came when he opened a bottle of '01 Bien Nacido Chardonnay for us and it proved to be corked – after rummaging around the winery and not finding another bottle of that wine on hand, he pulled out a magnum of '97 Bien Nacido Chard! This was quite a treat, and one of the highlights of our tasting. We finished our tasting with a couple of Syrahs.
Arcadian produces some of the most distinctive wines anywhere on the Central Coast. Stylistically, there are few winemakers in California who make their wines in quite the same way that Joe does, and they offer a refreshing change of pace. The quality of the wines is high across the board, and they pose a counterpoint to most California wines for both the intellect and the senses.
Di Bruno / Curran / Badge
DiBruno/Curran/Badge - Current releases:
2006 DiBruno Pinot Grigio - Light floral scent in the nose, and a fleshy mouthfeel that was fresh and a little spicy. - EA
2007 Curran Gewurtztraminer - We always hear producers tell us that their GWT is "bone dry." The thing is, it's a grape which, like Reisling, has sufficient sweet spice that it can easily come across as slightly sweet in the mouth. Lovely aromatics here, with floral and spice meating up with maybe a golden raisin or two. Fleshy and almost meaty in mouthfeel, quite dry (lack of sweetness) very tast long finish. - EA
2007 Curran Grenache Blanc - Nice light lemon-lime scent, fairly big on the palate, especially from mid-to latter, with a very long flavorful finish. - EA
2007 Curran Grenache Rosé - Fresh and floral (roses) in the nose. Substantial feel on the palate, with a meaty body and very nice red fruit flavors. Very good balance and finish. - EA
2006 Badge Chardonnay - Nice lemony notes, with a touch of sweet citrus rind. Somewhat rich, with nice weight on the palate, very good balance and long finish. - EA
2006 Badge Pinot Noir - Lovely dark cherry and spice in the nose, with just a touch of orange zest. There was about 40% new wood on this, but to me it's transparent. Very tasty, excellent balance and nice flavors through the long finish. - EA
2004 Curran Syrah Reserve - Black Oak Vnyd. Light tar and chocolate notes accent the deep blackberry fruit. Very tasty and rich through mid-palate, where it seemed to soften a bit and continued through the finish. Seemed like there was a little more going on in the nose, than in the mouth on this wine. - EA
Barrel Samples:
2005 Curran Syrah - Black Oak Vnyd. Somewhat rounder than the '04 version, maybe not as complex aromatically, but it also seemed like a more complete wine from front to back. - EA
2005 Curran Tempranillo - Oak Savannah Vineyard. A surprisingly good example of this variety from an area near Los Olivos in the SYV. Nose of dried cherries, spice, and some sweet oak. Very good dark fruit flavors, some obvious oak here as well, but the whole package is very nicely done. - EA
Once again we were able to take advantage of visiting more than one winery in the same facility. Kris Curran and Bruno D'Alfonso, who make their wines at the other end of the same building as Arcadian, were able to see us following our visit with Joe Davis. They produce three different labels at the facility, Di Bruno, Curran, and Badge. Kris & Bruno, accompanied as always by their four beautiful German Shepherds – Roland, Gunner, Breaker, and Badge – welcomed us into their space. After many years of being together, Kris and Bruno finally tied the knot earlier this year.
Having studied soil science in college, Bruno had wanted to work for the Forest Service, and worked briefly with them as a firefighter. After deciding that line of work wasn't for him and with an increasing interest in wine, he enrolled at UC Davis and earned a degree in Enology there. His first wine job was at Edna Valley Vineyards in the early 1980s, where he had the chance to work with legendary California winemaker Richard Graff. After meeting Richard Sanford a couple of years later, Bruno became the winemaker for Sanford Winery until leaving in late 2005 after the change in that winery's ownership. Bruno has been a consultant to a number of other wineries over the years, and continues to do consulting work.
An animal lover all her life, Kris earned a degree in Animal Science from Cal Poly San Luis Obispo. While she was at Cal Poly, she met Bruno, and she credits him with getting her interested in wine. Deciding to pursue a winemaking career, she got her degree from Cal State University in Fresno and immediately got a job as assistant winemaker at Cambria Winery in Santa Maria Valley. From there, she became winemaker at Koehler Winery, on Foxen Canyon Road near Los Olivos, where she was instrumental in getting the then-new winery off the ground. In 2000, she joined another new venture, Sea Smoke Cellars, as their winemaker. She left Sea Smoke earlier this year to become winemaker for Foley Estates.
Both Kris and Bruno launched their own labels over the years. Kris' Curran label was started in 1997. Although Kris has made some fine Syrah and Sangiovese for a number of years, the variety that really put the Curran label on the map was its Grenache Blanc, which continues to be one of the best and most distinctive bottlings of that variety in California. Bruno has made Pinot Grigio and Sangiovese under his Di Bruno label since 1996, and added Pinot Noir from Santa Rita Hills under the Badge label starting with the 2003 vintage.
Among the other wines that Kris makes under the Curran label, she is now producing three different Grenache varieties: in addition to their Grenache Blanc and red Grenache (Grenache Noir), they've recently added Grenache Gris. This wine is labeled as Grenache Rosé for now, until the TTB approves Grenache Gris as a separate variety (which may take a few years). She also plans to make other varieties including Tempranillo, Carignane, and Grüner Veltliner. While Bruno will continue with his Di Bruno Pinot Grigio and Sangiovese and his Badge Santa Rita Hills Pinot Noir, Kris and Bruno will be joining forces on a new label – D'Alfonso-Curran, which will focus on single-vineyard designate Pinot Noirs from the Santa Rita Hills. Three '06 vineyard designates will be bottled later this year – Rancho La Viña, Rancho Las Hermanas (the vineyard formerly known as Ashley's and Gaia), and Sanford & Benedict. Total production is currently around 10,000 cases between all the labels.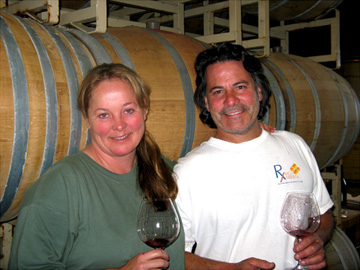 All the Curran whites are made entirely in stainless steel with no malolactic fermentation, to retain their fresh fruit character. The Badge Chardonnay that we tasted went through about 30-50% malolactic fermentation, and used about 30% new oak. Fruit for the Pinots is entirely destemmed, and the percentage of new oak used for the Pinots ranges from around 40-100%. Unlike Joe Davis, Bruno is not a fan of whole cluster fermentation in Pinot Noir. He gave us several reasons – he feels it can impart a vegetal character to the wine, strips it of color, and raises the pH, which makes the finished wine less stable. Bruno is known far and wide for being outspoken in his views on winemaking, and he was quite emphatic in his opinion regarding whole cluster fermentation.
Before leaving, Kris & Bruno gave us a quick tour of their new RV, "Road Warrior", which was parked just outside the winery. They would be taking off on a road trip to a wine event in Whitefish, Montana just two days after our visit, and needless to say, the size of the vehicle will make it a much more comfortable trip for them and their four furry friends.
While we were fortunate to taste with Kris & Bruno at their winery, a convenient way to taste their wines is by paying a visit to their "Trio" tasting room in Solvang. Some very good wines are coming from Di Bruno, Curran, and Badge. The current Badge Pinot is a nice follow-up to the '05 – I get a lot of spice character from the Badge Pinots, though I've been assured it's got nothing to do with stem inclusion! And I really liked the Di Bruno and Curran white wines in particular – they all display good varietal character and they're quite tasty.
It's not a real visit to Santa Barbara County wine country without dinner at the Hitching Post, and Al, the two Erics, and I were joined there by Peter Cargasacchi and John Tomasso on Saturday evening. The number of wine bottles we shared at our smallish table drew lots of attention and a few curious comments from diners at neighboring tables and from those walking past!
Palmina Wines
Palmina - Current releases:
'07 Traminer, Alisos Vineyard, Santa Barbara County: very light color, lemon aroma with hints of herbs, very smooth, creamy texture with a mineral note in the mouth, bright acidity in the lingering finish –flavorful and refreshing.

'07 Pinot Grigio, Honea Vineyard, Santa Ynez Valley: very light color, stone fruits along with a touch of citrus in the nose, some floral and stony undertones come out in the flavors. A smooth mouthfeel balances the crisp acidity – very tasty.

'06 Arneis, Honea Vineyard, Santa Ynez Valley: very light color, shy aromatics with but with more floral character than the other two whites, a bigger wine on the palate yet displaying similar minerality and acidity, this also had some bite in the finish and maybe needs another year or two to show its best.

'06 Dolcetto, Santa Barbara County: sourced from Honea and Zotovich vineyards, this had medium-light color, with very pure raspberry / blackberry aromas and hints of flowers and smoke. No reason to wait on this wine, the tannins are mild, it's delicious, and ready to enjoy now.

'06 Barbera, Santa Barbara County: sourced from Honea, Alisos, and Zotovich vineyards, brilliant purple-red color, with spicy dark cherry and toasty oak in the nose, full-bodied with typical Barbera acidity on the palate, and medium tannins on the lengthy finish.

'05 "Undici" Sangiovese, Santa Barbara County: Sourced from Honea and Eleven Oaks vineyards, this has medium-dark color, earthy dark cherry and raspberry fruit with an herbal undercurrent. Medium-big mouthfeel with a fairly tannic finish.

'05 "Savoia," Santa Ynez Valley: 50% Nebbiolo, 25% Syrah, 25% Barbera. Medium color, this features big aromas of black cherry and darker fruits with hints of dried herbs, and a dusty, earthy quality in the mouth. Although it's tasty now, the firm tannic backbone of this wine suggest it's got years to go before it peaks.
After enjoying a hearty breakfast at the Cajun Kitchen in Lompoc, we said goodbye to Eric Anderson, who had to get an early start on his drive home. I had planned to meet a couple of friends for lunch in Los Olivos before driving back to the Bay Area, so Al, Eric Lundblad, and I tried to figure out where we might be able to go before lunch. We took a chance on Palmina, located in Lompoc's "Wine Ghetto", even though the information we had indicated they were not open on Sundays.
We drove up to the winery anyway, Eric hopped out and knocked on the tasting room door, and we were surprised to find there was someone in…..not only that, she was just about to open up the tasting room for the day. Our hostess for the tasting was Genevieve, who we learned was fairly new to both the wine business and Santa Barbara County but who was now working for a vineyard management company as well as at the Palmina tasting room.
Run by Steve & Chrystal Clifton, the Palmina label was started by Steve in 1995 as way for him to focus on Italian grape varieties. He met Chrystal (who's fluent in Italian) in 2000 and they were married in Friuli, Italy in 2004. While the wines are unquestionably Californian, they still stay true to the varietal distinctions of their Italian counterparts and are among the best "Cal-Ital" wines being made. And in the best tradition of Italian wine, Palmina's versions are definitely styled to pair well with food.
Al, Eric Anderson, and I had visited Steve & Chrystal to taste their wines in late 2004, and at that time we'd also visited Honea Vineyard, just south of Los Olivos. Honea was planted in 2003 almost entirely to Italian grape varieties for Palmina. As the first harvest for those Italian varieties did not take place until 2005, this visit would be a good opportunity to taste some of the wines made from Honea fruit.
Genevieve poured us three current whites and four reds at the tasting room. The Traminer and Pinot Grigio are fermented and aged entirely in stainless steel with no malolactic fermentation, while the Arneis is blended from lots made in stainless steel, neutral oak, and new French 500-liter barrels. The Dolcetto is aged in neutral oak and stainless steel, preserving the intense fruit-forward character of the variety. The Barbara is aged in French and Slovenian oak, and was bottled just a few months ago. The "Undici" Sangiovese was aged in 25% new French oak, with the rest being neutral barrels. Fruit from each of the two vineyards that went into this wine were fermented and aged separately, then blended after 18 months in barrel and bottled in spring 2007. The three component varieties of the "Savoia" blend were also fermented and aged separately, then blended after 24 months in barrel and bottled earlier this year.
The Traminer was my favorite of the wines we tasted, and overall I preferred the whites to the reds, but this is strong line-up of wines, and strengthens the case for making Italian-style wines in California.
Following our tasting at Palmina, we drove east to Los Olivos, where we met my friends Erwin & Linda, who had been in Santa Barbara for the "Old Spanish Days Fiesta" that weekend. The huge and delicious sandwiches at the Los Olivos Grocery are always a favorite, and we relaxed for awhile in the Grocery's covered patio in the heart of Santa Ynez Valley. Finally ready for the long drive back to the Bay Area, we all headed up Highway 101 toward home, ending yet another enjoyable visit to the Central Coast wine country. As always, thanks to everyone that we visited for being so generous with their time and their wine!