Visits in this Issue:

Dehlinger Winery
Scherrer Winery
Holdredge Wines
Copain Wine Cellars

Two notable Russian River Valley wineries that are not usually open to the public – Dehlinger and Scherrer – hold open house events in the spring and fall of each year. I took the opportunity to visit them and to stop at a couple of other wineries while in the area. Al Osterheld and Eric Lundblad came along to act as color commentators for the day. The weather was perfect, just a day before a record April heat wave hit the Bay Area, and we had a smooth drive to our first stop at Dehlinger Winery, a few miles north of the town of Sepastopol.
Saturday - April 18, 2009

Dehlinger Winery

Current releases & library wine:

'07 Chardonnay, "See's Selection," Estate: light yellow-gold color, pretty spiced apple and vanilla on the nose, medium weight and lively on the palate, the finish is a little short but should round out with a bit of bottle age.

'06 Chardonnay, Estate: from Wente clone, similar color to the "See's" with more shy aromatics, more lemon/citrus with less of a spice component but with some mineral notes. The richer and creamier mouthfeel is balanced by bright acidity, and the finish is smooth and long. Probably a bit young right now, this should age well for at least a few years.

'06 Pinot Noir, Estate: mostly Swan and Pommard clones, with smaller amounts of 777 and Martini. Medium ruby color, ripe black cherry, floral, and baking spice character in the nose with a touch of vanilla/oak underneath, lively acidity and mild tannins – it's all a little tight right now but a few years of cellar time should smooth everything out nicely.

'02 Pinot Noir, Estate: showing a bit of age in the more reddish-purple color, the aromas feature a lot of clove/spice character along with cranberry and cherry and subtle floral hints. Smooth and perhaps reaching its peak now, but should still hold up for a few more years.

'06 Syrah, Estate: from 100% Estrella clone, this is dense, almost opaque purple in color, ripe boysenberry and darker fruits, black pepper, with a savory note that becomes more apparent on the palate. This has great structure for aging with a bright acidity and grippy tannins that really kick in midway through the long finish.

'06 Claret, Estate: Dehlinger's Claret bottling is 100% Cabernet Sauvignon that is from lots made in a somewhat lighter style meant for earlier drinking than their Estate Cabernet bottling. Aged for 25 months in 50% new French oak, this features medium-dark color with aromas of herbs, plums, and cassis, and an overlay of vanilla. Medium-rich in the mouth, this finishes with firm, chewy tannins – needs time, but very tasty.
Dehlinger has been one of the standard-bearers for Russian River Valley wines for many years. All of their wines are made from fruit grown on their 45-acre estate vineyard, which surrounds their modest winery building. Among the most consistent producers of Pinot Noir in the area, they also grow Chardonnay, Syrah, and – unusual for Russian River Valley – Cabernet Sauvignon. The winery produces an annual total of about 7,000 cases.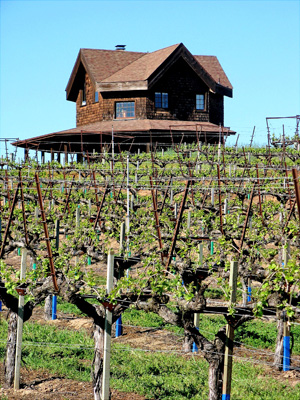 The first plantings in the vineyard date from 1975, and we noticed right away when we drove through part of the vineyard to the winery that some of the old vines had been cut down. We asked inside what the story was, and found out that these had been some of the original Chardonnay vines that, besides their age, were afflicted with phylloxera (AxR1 rootstock strikes again) and leafroll virus. The bases and roots of these vines will be removed soon. These sections of the vineyard will be replanted in about three years, probably with Pinot Noir and Syrah. The "lyre" trellis system seen in the older plantings is less common these days, and we were told that some of the vines have been retrained to decrease vigor. The new plantings will be on a closer spacing than the old ones, and will probably use VSP trellising. Other older blocks of the vineyard will be gradually replanted in the coming years.
The open house was enjoyable, with tasty salumi, cheeses, and other appetizers to accompany the wines. Tom Dehlinger seems to prefer staying in the background at these events, and he was busy taking care of various tasks as we tasted through all of the winery's the current releases plus one library wine. Dehlinger's wines can be a little tough to judge when they're as young as these are – all of them tend to round out from some time in the cellar and hit their peak after a few years – but the new releases all show plenty of promise. Considering how delicious the winery's Cabernet and Claret wines can be with some bottle age, I'm surprised that more of their neighbors don't make their own Cabs.
All of Dehlinger's wines show beautiful balance – for example, while some sweet oak is often noticeable, it never is allowed to dominate but always serves to complement the fruit and other components of each wine's profile. Pinot Noir is their flagship wine, and while they usually feature rich, sweet fruit, they don't stray into over-ripeness or over-extraction. It's this combination of ripeness and restraint in Dehlinger's wines that has led them to become one of the area's finest producers.
Scherrer Winery

Current releases:

'08 Dry Rosé, Sonoma County: light salmon color, strawberry, peach, and floral aromatics, refreshingly crisp acidity and clean flavorful finish.

'06 Chardonnay, Helfer Vineyard, Russian River Valley: very light gold color, lemon custard and spice with some minerally character along with oak undertones, big creamy mouthfeel and long bright finish. As is the case with Fred's Chardonnays from Helfer Vineyard, this will benefit greatly from time in the cellar.

'06 Pinot Noir, Russian River Valley: medium ruby color, rose petal, red fruits, a touch of rhubarb, and spice in the nose, a smooth texture on the palate, and some mild but noticeable tannins on the finish – this is quite nice now but promises to gain complexity with some bottle age.

'07 Zinfandel, "Shale Terrace," Scherrer Vineyard, Alexander Valley: medium purple color, a little tight at this stage, but still with bright wild berries and lots of spice, a zingy acidity in the mouth with moderate tannins.

'07 Zinfandel, "Old & Mature Vines," Scherrer Vineyard, Alexander Valley: bigger, riper berry aromas along with a mineral note and a touch of spice, bigger on the palate with more tannic bite in the finish.

'05 Cabernet Sauvignon, Scherrer Vineyard, Alexander Valley: medium-dark purple, ripe plum / currant with strong herb and tobacco overtones and a bit of toasty oak, some earth and mineral character in the mouth, and medium tannins.

'07 Zinfandel, "Special Cuvée," Scherrer Vineyard, Alexander Valley: made from a section of vines that are nearly 100 years old, this is a vibrant dark purple, with dense sweet boysenberry and blueberry fruit and spice, rich mouthfeel, and long smooth finish.
After leaving Dehlinger, we drove a short distance west and soon arrived at the Scherrer facility, housed in an old steel shed building that was once used for apple-packing, the area around Sebastopol having been famous for its apple orchards before vineyards took over much of the land.
Fred Scherrer was on hand to help pour all of his spring releases, plus a Chardonnay released last fall. The wines were arranged atop three barrels, with some delicious appetizers on a table nearby. As usual, Fred's father Ed – owner of Scherrer Vineyard in Alexander Valley – was also there to help pour at the open house.
We had a chance to talk with Fred for a short time as we sampled his Rosé and Chardonnay. He noted that the Rosé is always a blend of saignée from Pinot Noir and Zinfandel. He blends it carefully to the point where neither retains its distinct varietal character, but instead melds into a harmonious synthesis of the two. In '08, this wine is 61% Pinot Noir and 39% Zinfandel, and did not go through malolactic fermentation. Fred thinks the '08 vintage is the best rendition of this wine that he's produced, and it was indeed outstanding.
Fred also told us that he only ended up with 47 gallons of Helfer Vineyard Chardonnay in 2008 due to frost damage in the vineyard (springtime frosts hit many vineyards in '08). He barrel-fermented this in one new and one once-used barrel, then racked the wine into a custom-made 47-gallon barrel for aging. The '06 vintage that we tasted was excellent, and this wine has a track record of aging very well.
Before we moved to the wines being poured at the next barrel, Fred noted how much work the '06 Pinot Noir demanded. As was the case with many California Pinot vineyards that year, the clusters had lots of botrytis, so slow and careful sorting was essential to get clean fruit prior to destemming. He was pleased at how well his Russian River Valley bottling had turned out, his hard work having paid off in a challenging vintage.
It's not surprising that Dehlinger and Scherrer wines share some similar characteristics – after all, Fred Scherrer worked for Tom Dehlinger at his winery for many years. Both winemakers are thoughtful and low-key, and their wines reflect that character. Both produce wines that showcase ripe fruit which clearly says "California," while maintaining balance and elegance not always found in many of the bigger, riper, and more extracted wines that have been popular in recent years.

We drove north to Healdsburg for lunch, since there are so many good dining options there. We settled on Ravenous, just off the plaza near the center of town. We all ended up ordering a pasta dish featuring several types of mushrooms – a delicious and relaxing meal. Since we had not made any winery appointments in the afternoon, we decided to drop in at a couple of local tasting rooms. The first of these was right in Healdsburg, at Holdredge Wines, a winery I'd heard about but had never visited before.
Holdredge Wines
Current releases:

'07 Pinot Noir, Russian River Valley: a blend from 6 vineyards and 13 clones, medium-light color, ripe cherry and raspberry, some earthy notes and a touch of spice, medium-bodied with very mild tannins and smooth finish.

'07 Pinot Noir, Bucher Vineyard, Russian River Valley: mostly 667 and 115 clones with a little 777, black cherry and floral notes, fairly light-bodied but with more structure than the RRV blend.

'07 Pinot Noir, "Mazie Rose," Russian River Valley: mostly 828, plus some 667, 777, and 115, very pretty aromatics, with rose petals, strawberry and other red fruits, bright acidity and great structure in the mouth, long finish, an outstanding young Pinot.

'07 Pinot Noir, "Selection Massale," Russian River Valley: clones include 2A, 4, 9, 23, 37, 115, 777, Swan, and Martini, from Saralee's Vineyard, very spicy black cherry and raspberry, with a touch of earth, lots of complexity a young Pinot. Medium-bodied with a mild tannic bite.

'07 Pinot Noir, Wren Hop Vineyard, Russian River Valley: mostly Swan clone, ripe raspberry and darker fruits, anise and pepper, a bigger bolder wine than the other Pinots, with richer mouthfeel and more grip on the finish.

'06 Zinfandel, Dry Creek Valley: 5% Petite Sirah, sweet boysenberry, spice, and a touch of black pepper, this stays lively on the palate, with moderate tannins, and just a touch of heat at the end.

'06 Zinfandel, Alexander Valley: 4% Syrah, medium color, riper and jammier fruit than the Dry Creek Zin, this is a bold, mouthfilling wine with a rich finish.

'06 Syrah, Lovers Lane Vineyard, Russian River Valley: co-fermented with 3% Viognier, medium-dark color, blackberry fruit with touches of earth and violets, nice structure and balance.

'06 Syrah, Russian River Valley: 100% Syrah, a bit deeper color and more densely-concentrated dark fruits, this also features more spicy flavors and big, chewy tannins.

'06 Late Harvest Pinot Gris, "Grace's Cuvée," Russian River Valley: picked at 38.5 brix, with 12.2% residual sugar. Nectarine, orange zest, and spice, with some floral notes. Rich but not heavy, with a long, sweet finish.

'06 Late Harvest Gewürztraminer, Saralee's Vineyard, Russian River Valley: picked at 36.4 brix, with 10.2% residual sugar. Classic intense lychee and spice Gewürz character, with a honeyed botrytis component on top – my favorite of the two late harvest wines.

'07 Gewürztraminer, Saralee's Vineyard, Russian River Valley: This was made in an off-dry style, and features very floral aromatics, along with lychee fruit. Smooth mouthfeel, with just a touch of bitterness on the finish that is not uncommon to Gewürz.
John Holdredge greeted us at the tasting bar just inside his winery. He told us that the barn-like 19th-century building on the southern edge of Healdsburg that houses Holdredge Wines was once a cream of tartar works (cream of tartar is a byproduct of winemaking, formed from the tartaric acid in grapes). It was owned by none other than Georges de Latour, who sold the successful cream of tartar business, purchased a vineyard in Napa Valley and founded Beaulieu Vineyard in 1900.
John and his wife Carri started their winery in 2001, and they now produce around 2,000 cases per year. Although I'd never met John before, I was familiar with him through his participation in several internet wine forums. I'm happy to report that the ever-present humor that John displays so well on the web is even more apparent in person. Gregarious and witty, he's a great host for anyone coming to taste at his winery.
It was a treat tasting through five Pinot Noirs as distinctive from one another as John's '07s are. Generally on the lighter side of California Pinot (except for the bigger Wren Hop bottling), they all feature a bright and lively acidity – a distinguishing trait that I found in all of John's wines. All the Pinots get an 8-10 day cold soak, and are fermented entirely with indigenous yeast. They're punched down by hand and generally pressed slightly before they go dry. They are not inoculated for malolactic fermentation either. The Holdredge barrel room looks like the sales floor for François Frères barrels – that's virtually the only cooper that John uses.
The Zinfandels and Syrahs also showed the hallmark Holdredge acidity, and like the Pinots, the wines showed a clear differentiation between the bottlings. Both Syrahs are fermented with about 50% whole-cluster fruit. This is handled very well in the winemaking, as neither wine seemed overtly stemmy, which some whole-cluster fermented wines can be when this young. Overall, Holdredge has an impressive group of wines that should appeal to those looking for unmistakably California wines in an elegant and food-friendly style.
Copain Wine Cellars
After driving south from Healdsburg, we arrived at Copain Wine Cellars for our last stop of the day. Copain has produced excellent and distinctive wines over the years, made in their custom crush facility in Santa Rosa. They built their own winery along Eastside Road south of Healdsburg, and moved into it in time for the 2007 crush. This was my first visit to the handsome new facility, on a hillside overlooking Russian River Valley to the west. There is a vineyard surrounding the winery, although Copain does not use this fruit for their own wines and instead sells it.

Current releases:

'07 Roussanne, James Berry Vineyard, Paso Robles: light straw color, subtle stone fruit, citrus, and honey aromas with some vanilla/oak undertones. Rich mouthfeel balanced by lively acidity, and a long, smooth finish.

'07 Pinot Noir, "Tous Ensembles," Anderson Valley: sourced from Cerise, Monument Tree, and Wentzel Vineyards, medium-light color, tea leaf, earth, and spice along with red fruits in the nose, a bright acidity in the mouth, and a tasty finish.

'07 Pinot Noir, Hacienda Secoya Vineyard, Anderson Valley: from 115 and Pommard clones, medium-light color, deeper fruit aromas along with floral and stemmy/spicy notes, plus some pine needle and oak components, bigger on the palate than the "Tous Ensembles", but well-balanced with mild tannins on the finish. Very good now, this could be a stunning wine in a few years.

'07 Pinot Noir, Baker Ranch, Anderson Valley: from 114, 115, and 777 clones, medium-light color, red fruits, tea leaf, and vanilla with a touch of spice, a richer mouthfeel and more tannic bite on the finish.

'05 "Les Copains," James Berry Vineyard, Paso Robles: 42.5% each Grenache and Mourvèdre, 15% Syrah, medium-dark color, explosive aromas of dark berry fruit, lavender, and spices, an earthy note and a stemmy character that becomes more apparent in the mouth. Medium-full bodied with tannins that work their way in on the long finish.

'07 Syrah, "Tous Ensembles," Mendocino County: sourced from Alder Springs, Eaglepoint Ranch, Hawk's Butte, and McDowell Valley Vineyards, dark fruits and black pepper, the mouthfeel is hefty, and the finish is tasty, with medium tannins.

'06 Syrah, "Les Voisins," McDowell Valley: about 1/3 each old vine Grenache and Syrah and 1/3 field blend of Pelercin, Aubon, Durif, and Carignane, medium-dark color, bright strawberry and raspberry with spices and black pepper, lively acidity in the mouth and grippy tannins on the finish. The Grenache component of this wine is very noticeable.

'06 Syrah, Thompson Vineyard, Santa Barbara County: medium-dark color, ripe blueberry/blackberry fruit, black olives, and a stemmy/spicy note. Rich, sweet fruit and greater density on the palate, with very big chewy tannins.
We walked into the spacious tasting room and settled in at the bar. We noticed right away that the bottles for the 2007 wines are smaller than the earlier ones, something that will please many wine-lovers who are not fond of the larger, heavier bottles from previous vintages. Also new is the winery's "Tous Ensembles" series of wines, blended appellation-labeled wines rather than single vineyard bottlings, and something of a replacement for Copain's earlier "Saisons des Vins" line.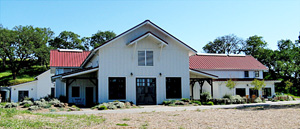 Winemaker Wells Guthrie has made changes in the past few years with his winemaking program. He's picking fruit earlier than before, aiming for wines with lower alcohol and more acidity than his earlier ones. He's also using some whole-cluster fermentation for his Pinots, something he's done consistently over the years with Syrah. With his Syrahs, he's modified his fermentation methods (going to pumpovers rather than punchdowns) to produce less extraction from stems, as well as using less new oak for aging. The goal is to produce wines that will pair better with food and will age more gracefully.
Tasting room manager James Castañeda poured us a number of Copain's current releases. Copain's wines have always been stylistically different from most California wines. If anything, their recent changes have set them apart even farther, but that's not a bad thing in this case. The wines still feature plenty of flavor and concentration, but combine that with better acidity and structure. These are wines that demand both bottle age and food to show their best, and they should be very rewarding over the coming years.
Al, Eric, and I drove back to the East Bay after a most enjoyable day. A trip to the Russian River Valley is always a treat – the combination of history, beautiful scenery, and fine wines is among the best California has to offer. As always, thanks to everyone that we visited for being so generous with their time and their wine!