Visits in this Issue:

Inman Family Wines
Wind Gap Wines
Moshin Vineyards

It seems I've been drawn to Russian River Valley lately, and I took a day off to drive there for the third time in as many months. A friend from Finland, Hanna-Mari, was in town for a short time in early June, and since she's a wine-lover, she'd asked about visiting a few wineries while she was here. I had some free time during the week, and managed to lure Al Osterheld away from work with the promise of visiting some very good producers – Inman Family Wines, Wind Gap Wines, and Moshin Vineyards. The three of us met in Berkeley early on a cool Wednesday morning and drove north to our first appointment, with grower/winemaker Kathleen Inman at her Russian River Valley vineyard.
Wednesday - June 10, 2009

Inman Family Wines
Traffic was light on our drive north, and we had no problem finding the vineyard, at the corner of Olivet and Piner Roads northwest of Santa Rosa, arriving a few minutes early. After a moment, Kathleen appeared from one of the vine rows and we all introduced ourselves. I'd met Kathleen briefly at a few wine events but had never spoken with her at length. I've enjoyed her Pinot Noirs and was happy to have the opportunity to taste more of them, as well as to try her Rosé and Pinot Gris. Kathleen asked if we'd like to take a closer look at the vineyard – of course we would! As we walked with Kathleen through the rows of leafy vines, she told us about her background and about the vineyard and winery.
Current releases:

'06 Pinot Noir, Russian River Valley: 58% Olivet Grange Vineyard, 42% Thorn Ridge Ranch. Medium-light ruby color, bright red fruits with a big spice component, along with some savory grilled meat notes and just a touch of vanilla/oak. Medium-bodied and lively on the palate, with a lingering finish.

'06 Pinot Noir, Thorn Road Ranch, Russian River Valley: 100% Thorn Ridge Ranch. More subtle red fruit aromas, with a bit of tea leaf and earth, more lively acidity in the mouth, and some mild tannins on the tangy finish, distinctive and should develop nicely with some time in bottle.

'06 Pinot Noir, "OGV," Russian River Valley: 100% Olivet Grange Vineyard. Slightly darker color, with black cherry, cinnamon, some floral and earthy notes, along with a savory component, more lush, silky texture with a mineral note on the palate, long, smooth finish. Delicious now, but has the structure for some cellar aging too.

'08 "Endless Crush," Rosé of Pinot Noir, Russian River Valley: Light salmon color, very floral on the nose, along with watermelon, strawberry and hints of stone fruits and spice, zippy acidity, and a nice little bite of tannin on the refreshing finish.

'07 Pinot Gris, Russian River Valley: 61% Saralee's Vineyard, 39% Olivet Grange Vineyard. Bottle had been opened and refrigerated for two days. Light straw color with a slight greenish tinge, pear and nectarine aromas, with some spice undertones, and nice texture in the mouth. Due to the bottle having been opened earlier, it lacked the freshness that I'm sure a new bottle would have shown, but this was still very pleasant even after two days.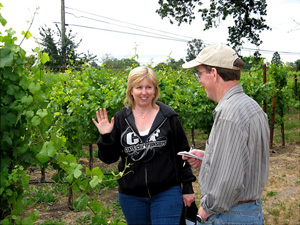 Kathleen Inman, Al Osterheld
Kathleen grew up in Napa Valley, and her grandparents had a prune orchard there. While studying Art History at UC Santa Barbara, she took a summer job at Napa Creek Winery, where she worked in the tasting room and helped in the cellar. On her very first day there, Simon Inman, a visitor from England, stopped by the tasting room. The rest, as they say, is history – two years later, Kathleen and Simon were married. They lived in England for 15 years, where Kathleen earned another degree and pursued a career in the business world, before the couple moved to California in 1998 with the goal of making their own wine. Gardening had been one of Kathleen's passions while living in England, so together with her family's background in farming, it was not a huge stretch for her to look at establishing her own vineyard. After moving back to northern California, it took about a year of searching for a spot to plant the vineyard before Kathleen found the site along Olivet Road in the heart of Russian River Valley. The vineyard was planted the following year. The Inmans named their vineyard Olivet Grange after the location on Olivet Road and their country home in England, The Grange at Elvington.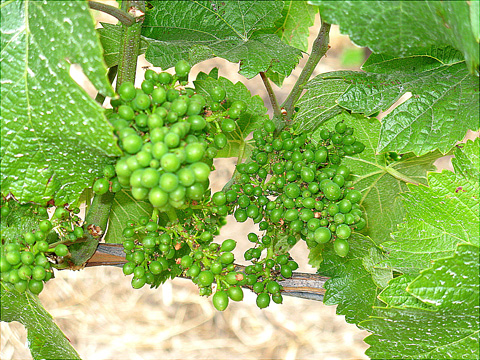 The 10½-acre vineyard is planted mainly to Pinot Noir plus a small amount of Pinot Gris. In addition to the vineyard, there is a three-bedroom farmhouse on the property that Kathleen restored, and the Inmans rent it out to guests as what she calls a "Bed-and-get-your-own-Breakfast!" Kathleen told us that they are just about to begin construction of a new winery building adjacent to the vineyard on the property. It will be built with insulated metal panels made with recycled metal from automobiles, and should be completed by the end of this year. The Inman wine is currently made at the nearby Martin Ray facility, and Kathleen will continue to make some of the wine there. The new winery will be for small wine lots, and more importantly, it will include an on-site tasting room. The building will be nearly 100% solar-powered, and waste water from winery operations will be recycled – Kathleen told us how time-consuming the County permits were for all of these measures that are intended to save valuable resources. Many wineries these days pay lip service to being eco-conscious, but Kathleen is quite serious about it.
The Inmans were careful to retain the old valley oak trees on their land when they established Olivet Grange Vineyard, and they maintain a wildlife corridor through the property as well. Bird boxes and cover crops in the vineyard rows, things seen in many vineyards now, are very much in evidence. Kathleen farms the vineyard organically, but does not plan to obtain organic certification due to the red tape involved. She also makes an effort to have other growers from whom she buys fruit farm their vineyards organically. Kathleen told us that she would be interested in trying biodynamic farming, but the property isn't large enough to create a true closed biodynamic system, and she doesn't want to cut corners in this respect. Kathleen does use a lunar cycle for many aspects of farming, including pruning and harvest. She consults a farming calendar developed by woman in Sebastopol for the timing of many of these activities. Kathleen told us that she prefers to harvest her fruit before a full moon, as she finds that the sugar in the grapes goes up about 1 brix afterwards. The Inmans use composts, microbial teas, and worm castings to help enrich the soil of their vineyard. The "Four-Course Compost" they've used for the past five years is derived from table scraps from some of San Francisco's finest restaurants.
Olivet Grange Vineyard was planted in 2000, on soil that is sandy loam with gravel. Kathleen told us that they discovered a 22-foot deep layer of old redwoods underground when they were drilling for their well. The vines are planted on a 6x4 spacing, with 101-14 rootstock on portions of the vineyard with a higher water table and 420A on the rest. Pinot clones 114, 115, 667, 777, and 828 are planted, and all the vines are cane-pruned. The vineyard is mostly dry-farmed, although irrigation is used when necessary. She is making an effort to balance the vines with less canopy, as she feels this allows the fruit to ripen at lower brix. However, she does not like to leaf-pull, as she's concerned about causing sunburn to the fruit. Kathleen is at work in the vineyard nearly every day – she does much of the work there herself, and she kept busy pulling sucker shoots from the vine trunks as we walked the vineyard. Kathleen's love of grape-growing was obvious as she showed us her vineyard. Al noted a particularly telling statement that she made – "Selling wine is hard. Growing is the most rewarding. Winemaking is a lot of fun. But selling wine is the hardest." Hopefully the future on-site tasting room will help with the selling part!
Returning to our cars (what kind of car does Kathleen drive – a Prius, of course!), we headed to Windsor, where the Inman tasting room and case storage facility is located, in a small industrial park. We walked into the tasting area at the front of the space, and waited for Kathleen to retrieve bottles of the current releases for us to taste. Unfortunately, she did not have a fresh bottle of Pinot Gris in the refrigerator, and apologized that the bottle she had chilled had been opened two days earlier. Inman's first release was Pinot Gris in 2002, followed in 2003 by Pinot Noir and by Pinot Rosé in 2004. Production varies by year, with the current release being about 2,800 cases, and the ultimate target is about 3,500 cases. As the vineyard got considerable frost damage in 2008, production for that vintage will be lower. Kathleen said that she plans to add Chardonnay to the Inman lineup in the future.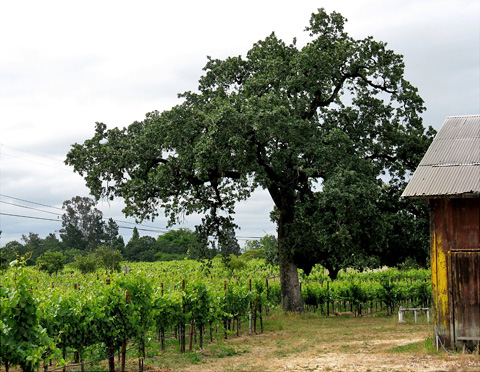 Most of the Olivet Grange Vineyard fruit goes into the Inman wines, although they have sold some Pinot fruit to Siduri, Pali, and a new Idaho Winery, Périple, started by former Helen Turley assistant Angie Riff. Inman has purchased some Pinot Gris from Saralee's Vineyard, although starting this year, the Inman Pinot Gris will be entirely from their own fruit. They also purchase Pinot Noir from Ted Klopp's Thorn Ridge Ranch, in the Sebastopol Hills area south of Bodega Highway, right on the edge of Russian River Valley AVA in an area that had previously been part of the Sonoma Coast appellation. There were some trademark issues with the use of the vineyard name at the time the '06 Thorne Ridge Pinot was bottled, so Inman used "Thorn Road" on the label rather than "Thorn Ridge Ranch." Inman currently gets Pommard, Swan, 667, and 777 Pinot clones from Thorn Ridge.
We noticed that all of the Inman wines are bottled under screwcap. Kathleen told us that they'd had a bad experience with corked bottles on their initial Pinot Gris release, and looked for an alternative closure. So far she's been very happy with the Stelvin screwcaps. She laughed about an instance of someone remarking on how difficult is was to cut the foil from one of the Inman bottles, not realizing it was actually a screwcap. She even had a photo to show us of the bottle with the cut screwcap – that must have been one tough foil-cutter!
We started our tasting with the three current Inman Pinot Noirs. Kathleen noted that they have had up to four separate picks from their vineyard for Pinot Noir each year, and that they pick by ripeness rather than picking each clone separately. Thus, the Pinots are fermented by pick date, and not necessarily by clone. Overall, Kathleen picks her fruit on the early side compared with many other Russian River producers. The Pinot fruit is entirely destemmed (Kathleen does not like using whole clusters or stems in making her Pinots) and typically cold soaked for about four days, then fermented with both native and inoculated yeast. Fermentation takes place in 5-ton open-top stainless steel tanks, and both punchdowns and pumpovers are used. Fermentation temperatures are kept on the low side to aid in retaining the freshness and delicacy of the fruit. The '06 Pinots were aged in about 35-50% new oak, using mainly Sirugue, Billon, Remond, François Freres, and Mercurey barrels. Kathleen stirs the lees (batonnage) throughout barrel aging until the wine is racked to tank for bottling.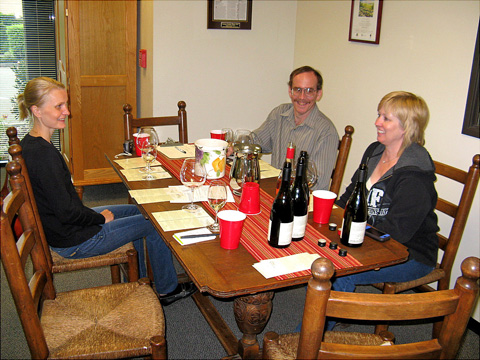 Hanna-Mari, Al Osterheld, Kathleen Inman
Kathleen tries to let her wines reflect each vineyard and vintage. She adds no sulfur at crush, there is no bleeding off (saignée) of juice, and she does not make any water or acid additions except when unusual circumstances require it (that was needed in one case when some purchased fruit had a high incidence of botryitis in the clusters). Each of the three Pinot Noirs that we tasted certainly had their own distinctive character. Kathleen explained that the Russian River Valley bottling is a barrel selection from both Olivet Grange and Thorn Ridge, with the aim of making a blend that creates a "classic" Russian River appellation Pinot. The vineyard-designate Pinots are made to reflect their own specific sites. These are all elegant, lighter-styled Pinots, with alcohols ranging from just 13.7-14.1% in 2006. Wines from cooler vintages should have even lower alcohol levels (earlier vintages of the OGV Pinots have ranged from 13.2-13.7%). Beginning with the '05 vintage, the Estate Pinot has been labeled "OGV" rather than "Olivet Grange Vineyard" due to trademark issues that arose with respect to Penfolds' Grange wine – as if anyone would confuse them!
Next up was the Inman Pinot Noir Rosé, named "Endless Crush." This was first made in 2004 from fruit picked that year on September 1st, which was Kathleen and Simon's 20th wedding anniversary (thus the "Endless Crush" name). They had enjoyed a local Rosé on a picnic in Provence in the mid-'80s, and Kathleen wanted to recreate that style in her own Rosé. Unlike most California Rosés, this is whole-cluster pressed rather than made from the saignée method of bleeding off juice prior to fermentation. "Endless Crush" is only made in even-numbered years due to expense of using whole-cluster press for Rosé with expensive Pinot fruit. Clusters for the Rosé are selected from throughout the vineyard, not just from a specific block.
We finished our tasting with Pinot Gris. The current '07 vintage averaged 22.1 brix at harvest, and was whole-cluster pressed, then fermented in stainless steel barrels using an Alsatian yeast strain (58W3), with the fermentation temperature kept no higher than 74 degrees. Kathleen also uses batonnage on the Pinot Gris while it is in the stainless barrels. The wine finished at 13.1% alcohol.
Kathleen was a wonderful and charming host for Hanna-Mari, Al, and me. It's become a cliché to describe the wines of some female winemakers as "feminine," yet it's hard to find a better descriptor for Kathleen's wines. They emphasize the lighter, more delicate side of Russian River Valley fruit over ripeness and power. But make no mistake, these are serious wines, with well-focused flavors, good structure and lovely texture on the palate. Kathleen is doing a fine job of growing her fruit to bring out what she's aiming for in her wines, and Inman is producing some of the best Russian River wines to be found in this style.
Wind Gap Wines
We left the Inman tasting room and headed west to Forestville for our next appointment at Wind Gap Wines. Wind Gap shares space with Arnot-Roberts Wines, where I had visited a month earlier – so this time I didn't get lost trying to find the building, tucked away off of a small street just south of Forestville's main drag. As we walked into the building, Wind Gap owners Pax and Pam Mahle welcomed us.
Current releases and barrel samples:

'07 Chardonnay, Sonoma County: Medium-light gold color, bright lemon/citrus aromas with hints of stone fruit, a creamy texture balanced by good acidity, and a long and flavorful finish.

'07 Chardonnay, Brosseau Vineyard, Chalone: A bit deeper color than the Sonoma Chard and slightly hazy, more complex aromatics with lemon curd, apple, and spice, bracing acidity in the mouth with a minerally component that many Brosseau Vineyard wines share, all leading to a very crisp, clean finish.

'06 Syrah, Sonoma Coast: Medium-dark color, slightly tart raspberry and blackberry fruit with complex spice, stem, grilled meat, pepper, and floral notes, medium-bodied and very lively on the palate, moderate tannins.

'06 Grenache, Booker Vineyard, Paso Robles: Medium color, pretty floral and ripe cherry/plum aromatics, with some smoky, meaty undertones along with stemmy notes, richer, more dense mouthfeel, fairly big tannins with just a touch of heat on the finish.

'08 Pinot Noir, Woodruff Vineyard, Santa Cruz Mountains (barrel sample): 100% whole cluster. Medium-light color, bright cherry and raspberry on the nose along with earthy, savory components, medium-bodied with moderate tannins.

'06 Nebbiolo, Glenrose Vineyard, Paso Robles (barrel sample): 50% whole cluster, 65+ days on skins. Medium-light color, lots of rose petal aromas, along with bright cherry fruit, spice, and orangepeel, medium-bodied and lively in the mouth, with big tannins on the finish, a great rendition of Nebbiolo.

'07 Nebbiolo, Glenrose Vineyard, Paso Robles (barrel sample): 100% whole cluster, 23 days on skins. Medium-light color, aromatics not unlike the '06 but with some noticeable VA, more spicy whole cluster character, and more tannic.

'07 Nebbiolo, Luna Matta Vineyard, Paso Robles (barrel sample): Clones 230 & 142, 100% whole cluster, 20 days on skins. A bit lighter color, a more floral component in the nose along with cherry, earth, a touch of spice, and some ash/tar notes, very tannic finish.

'07 Nebbiolo, Luna Matta Vineyard, Paso Robles (barrel sample): Clone 142, 100% whole cluster, 20 days on skins. Medium-light color, very intense and pretty rose petal and cherry aromas along with some spice and earth notes, lively mouthfeel and not as tannic as the blend of clones.

'07 Nebbiolo, Luna Matta Vineyard, Paso Robles (barrel sample): Clone 230, 100% whole cluster, 20 days on skins. Slightly darker color, not as aromatic, with more earthy with candied strawberry and cherry, a bit weightier on the palate, and more tannic than the Clone 142.

'07 Nebbiolo, Luna Matta Vineyard, Paso Robles (barrel sample): Clone 142, 0% whole cluster, 34 days on skins. Lighter color, similar pretty aromatics to the whole-cluster Clone 142 sample, with floral cherry and raspberry notes with orangepeel and spice undertones, great acidity and big tannins, very nice.

'07 Nebbiolo, Luna Matta Vineyard, Paso Robles (barrel sample): Clone 230, 0% whole cluster, 34 days on skins. Medium-light color, strawberry, earth, and a hint of tar with some VA on the nose, some spice comes in on the flavors, not as tannic as the Clone 142.

'08 Nebbiolo, Glenrose & Luna Matta Vineyards, Paso Robles (barrel sample): 75% whole cluster, 22 days on skins. Medium color, more primary raspberry-like fruit, with earth, orangepeel, and mineral notes, big chewy tannins.

'08 Nebbiolo, Glenrose & Luna Matta Vineyards, Paso Robles (barrel sample): 0% whole cluster, 54 days on skins. Medium color, more complex aromas of sour cherry, raspberry, orangepeel, and earth, with lots of spice, lively mouthfeel and tannic finish.

'08 Grenache, California (barrel sample): 85% Grenache, 12% Mourvèdre, 3% Syrah, mostly from James Berry Vineyard with some Booker and Castelli-Knight fruit – this ultimately may not be labeled as Grenache. 100% whole cluster, no new oak. Medium color, ripe black cherry and plum with floral notes, picking up some earth and mineral in the mouth, big and rich on the palate with moderate tannins.

'08 Syrah, Sonoma Coast (barrel sample): 100% Syrah, 100% whole cluster, mainly from Clary, Armagh, and Nellesen with a little Griffin's Lair, about 11.5% alcohol, this is a trial blend. Medium-dark color, very pretty floral, spicy aromatics along a smoky bacon component, medium-bodied and lively mouthfeel, the tannins are big but not intrusive, very promising.

'08 Syrah, Castelli-Knight Ranch, Sonoma Coast (barrel sample): Mostly 100% whole cluster tank-fermented, with some portions bin-fermented (50% and 0% whole cluster in the bins) – the sample is a blend from the 100% and 0% whole cluster lots. Medium-dark color, more primary fruit character, blackberry with spice, black olive, and black pepper notes, fairly big on the palate with moderate tannins.

'08 Syrah, Griffin's Lair, Sonoma Coast (barrel sample): 100% whole cluster, 470 and Noir clones (originally from Hudson Vineyard) and 877 clone (originally from Que Syrah Vineyard). Darker color, fairly primary blackberry fruit with black pepper, very dense mouthfeel and big tannins.

'07 Pinot Gris, Russian River Valley: Slightly cloudy orange-peach color, exotic aromas of flowers, white peach and melon, with spicy undertones, more weight on the palate than a typical Pinot Gris, with bright acidity and some mild tannins on the finish.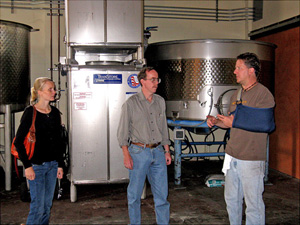 Hanna-Mari, Al Osterheld, Pax Mahle
The first thing we noticed was that Pax had his left arm in a sling – he told us he'd broken his collarbone in a recent mountain biking accident. The second thing we noticed was a long table set up with stemware, water glasses and spit cups, and no less than 19 bottles of wine for us to taste – we weren't expecting all this! Most of the bottles contained barrel samples that Pax had pulled for us, and he explained that he had not tasted many of these barrels for awhile and thought this would be a good chance to do it. Among the barrel samples were nine different lots of Nebbiolo – Al and I had run into Pax at a wine event a couple of months earlier and we'd talked about how excited we were about Nebbiolos currently in barrel (Harrington Wines, where I work part-time, is making Nebbiolo from one of the same vineyards that Pax sources from).
Pax started his new Wind Gap Wines label in 2008 following his split from Pax Wine Cellars. Pam takes care of much of the business and promotion side of the winery. The Wind Gap name refers to the various "wind gaps" that bring cool marine air to many of the vineyards they source fruit from – the Petaluma Gap in Sonoma County and Templeton Gap in the Paso Robles area for example. Pax has been able to retain a number of vineyard sources he's used in the past. He'd started his previous winery in 2000 after working as a wine buyer for upscale food and kitchenware shop Dean & DeLuca.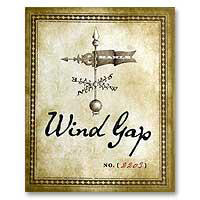 The new Wind Gap releases continue a stylistic shift from many of Pax's earlier wines – the most notable difference being the use of lower-brix fruit with resulting lower alcohol (and I think more complex flavors) – while retaining most of his winemaking hallmarks, such as the considerable use of whole-cluster fermentation. He told us that he's now willing to take more risks with his winemaking, and from what we tasted, I'd say the risks he's taken on the Wind Gap wines are paying off so far. We asked him if this was a deliberate change in style for his new label, and he told us no, he'd been moving in this direction for awhile. Still, there's no question that it's helpful to have some distinction in wine style from his old label. Another distinction (which will be welcome to most wine consumers) is the use of smaller, lighter bottles than the old ones, with foil capsules and no wax seal. The first release of Wind Gap wines this year was about 600 cases, with about 200 of that total being the Sonoma Coast Chardonnay. Pax and Pam expect to increase production to about 1,600 cases soon.
In discussing Pax's current winemaking techniques, we found that in addition to his continued use of whole clusters (rather than destemmed fruit) in many of his fermentations, he also does not inoculate for any fermentations, either primary or malolactic. He mentioned that both he and Arnot-Roberts are very happy with whatever indigenous yeast strain is in their facility – cultured yeasts are absolutely not allowed inside! He also uses very little new oak on his wines, keeps wines on their heavy lees throughout barrel aging, and uses no fining or filtering, which explained why a couple of the whites were not crystal-clear. It's largely a "hands-off" approach, though not "feet-off" – foot-treading of fruit is done on a number of the lots, a useful approach when dealing with whole-cluster fermentation.
Before we started our tasting, Pax took us on a tour of the small facility. Pax and Arnot-Roberts had their first crush in the building in 2008. Because the space had been used as a winery in the past, not too much work was needed for upgrades, although new floor drains were added. A new wall was also added that separates the fermentation/tank area from the barrel room and case storage spaces, using recycled beams and doors. Pax is still moving his equipment and wines into the building, and expects to have everything in the building sometime this summer.
The most interesting and unusual equipment we saw were several concrete fermenters (Pax calls them "eggs" because of their shape), which weigh a little over a ton each, and which are used on Wind Gap's white wines. Pax has six of these eggs, three of which are currently on-site. He likes them because they maintain their temperature better than stainless steel during fermentation, and fermentations with native yeast have gone more smoothly in them. Like stainless steel, though, the concrete is a completely neutral vessel – Pax noted that even older barrels will impart a little wood character to wines. He also told us that because of the shape, the eggs are essentially "self-stirring." This allows the lees to be mixed with the wine without introducing any oxygen, as would be the case with typical batonnage in barrels. He fills them about halfway until the most vigorous part of the fermentation is complete, then combines lots to fill the eggs. He mentioned they're tough to clean, though!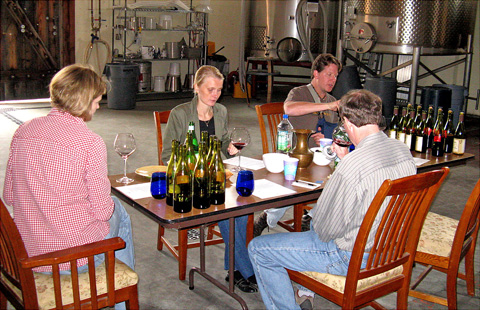 Pam Mahle, Hanna-Mari, Pax Mahle, Al Osterheld
We returned to the main winery space and sat down around the table to begin our tasting. We started with the two current-release Chardonnays. The Sonoma County Chardonnay is a blend from Gap's Crown Vineyard in the Petaluma Gap area of the Sonoma Coast, and Obsidian Vineyard in Knights Valley. Fruit from Gap's Crown was picked at 22.5 brix and the Obsidian was 24 brix. The Obsidian fruit is from Wente Clone vines planted in 1976. The Brosseau Chard is also sourced from older Wente Clone vines, and was picked at 22.5 brix. The finish alcohol for the Brosseau is only 12.2% – Pax told us he's aiming for 12.2-12.7% for this wine. The Sonoma Coast is a bit riper, and finished at 13.7% alcohol. Both Chardonnays were whole-cluster pressed, with no sulfur added, and fermented in stainless steel, older barrels, and the concrete "egg" fermenters. After a long fermentation period, which includes some batonnage (except for those "self-stirring" concrete eggs!), all the wine was racked to neutral oak until just before bottling. One new barrel was used on the '07 Sonoma County Chard, and although there was no new oak on the '07 Brosseau, Pax said that he used a little on the '08.
The Sonoma Coast Syrah was next. Pax sources Syrah from several Sonoma Coast vineyards, so the bottling will always be designated "Sonoma Coast," even though it's possible some vintages (like the '06) could be from a single vineyard. The '06 is 100% Clary Ranch fruit. Other vineyard sources include Armagh, Nellessen, Majik, and Griffin's Lair. The '06 fruit was picked just before the fall rains began, at 22.5 brix. 100% whole cluster and foot-trod, this fermented quickly in a stainless steel tank. It was pressed off after only eight days into mostly older oak, and finished at 12.1% alcohol. Pax noted that in this wine as well as many of the other reds, the inclusion of the stems during fermentation helps to buffer the high acidity of the fruit. Pax mentioned that his model for this wine is the more traditional style of some St. Joseph producers in the northern Rhône.
The Booker Vineyard Grenache is 100% varietal, whole-cluster fermented in a bin and pressed into neutral oak, later racked to stainless barrels for a time and then racked back into neutral oak for the final five months prior to bottling. The vineyard source – on the Westside of Paso Robles – tends to produce riper fruit than Wind Gap's other sources, and at over 15%, this is the lone higher-alcohol wine of the current releases.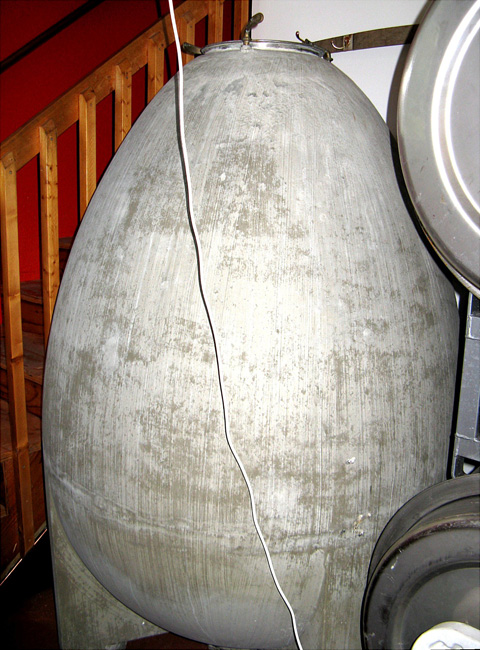 Concrete fermentation "eggs"
Pax Mahle is making Pinot? Yes, it's true. He was looking for Chardonnay fruit in the Santa Cruz Mountains when some Pinot fruit was offered to him from Woodruff Vineyard in the Corralitos area. Sourced from 30+ year old vines, the fruit was picked at about 22.5 brix, and finished at 12.2% alcohol. The wine started out with 100% whole cluster fermentation, initially using foot-treading to break up the fruit, and then was partially destemmed by hand. This wine fermented quickly, in only 2½ days, and was then kept on the skins another week before pressing into 50% new oak. I asked Pax what clone of Pinot he gets from Woodruff, and he replied that he thinks it's Mt. Eden selection, but he's not certain about that – identifying clones or selections of older vines is often not a sure thing.
Pax & Pam love drinking Barolo, and Pax is intrigued by the challenge of making great Nebbiolo in California. He is very happy with his Nebbiolo vineyard sources on the Westside of Paso Robles – Glenrose and Luna Matta – for their climate and soil, has not found comparable sites for Nebbiolo in California. He noted that the Glenrose fruit comes from vineyard selections rather than certified clones, while Luna Matta has both Clones 142 and 230 planted. Pax feels that the clonal material may lend itself to a more "modern" rendition of Nebbiolo. The first Wind Gap Nebbiolo to be released, the '06, will probably be bottled next spring. Based on the barrel sample we tasted, this will be a stunning wine.
We tasted through a variety of Nebbiolo barrel samples from both vineyards, both 100% whole cluster and 100% destemmed lots, with different periods of time spent on the skins during and after primary fermentation. The destemmed fruit was fermented in new puncheons with the head knocked out. Pax reiterated what we've found elsewhere – destemming Nebbiolo is very difficult (although it seems to be almost universally practiced in Piemonte), as it tends to break up the individual berries while still leaving lots of tiny stems in the must. Pax feels that extended skin contact on his Nebbiolos has been beneficial. Interestingly, we all felt that both single clone barrel samples of '07 100% whole cluster Nebbiolo from Luna Matta were better at this point than the blend of the two. But Pax anticipates that the Wind Gap Nebbiolo will always be a blend, not single clone or single vineyard – he realizes that the market is not ready yet for multiple Nebbiolo bottlings. He also noted how his Nebbiolo goes through frequent changes in barrel, not unlike Pinot Noir. For example, we found a couple of samples to have more noticeable volatile acidity (VA) – Pax noted that higher VA is not unusual in Nebbiolo – but that this character does change in barrel.
After a few Grenache and Syrah barrel samples, we came to the last of the 19 wines on the table, the Pinot Gris. Unlike most Pinot Gris, the Wind Gap version has a good deal of color. About 33% of the fruit was destemmed, foot-trod, and fermented on its skins in small tanks – and since the skins are indeed "gris" or grayish in color, they do impart some color to the wine. This portion of the wine underwent a slow 30-day fermentation and then a 20-30 day extended maceration. The rest of the fruit was whole-cluster pressed into the concrete eggs and stainless steel. Each component was aged separately in neutral oak, then blended prior to bottling. The wine finished at 12.3% alcohol with high natural acidity. Pax knows that this wine will not be an easy sell as it's so different from typical Pinot Gris, so most of the production is going to restaurants, where sommeliers can recommend it individually to diners.
And as if the marathon tasting that Pax and Pam had prepared for us was not enough, they brought out a delicious spread of fresh locally-baked bread, salumi, cheeses, and olives for us to enjoy – an unexpected treat. Pax realizes the Wind Gap wines are not ones that everyone will love or even "get." They're definitely outside the mainstream of California wine, with aromas, flavors, and textures that defy easy and familiar descriptions – and that seems to be very intentional. They're all wines that deserve time to grow and evolve. For those willing to step outside the mainstream, Wind Gap is making some beautiful wines. Along with their neighbors Arnot-Roberts, these are some of the most exciting California wines that I've tried in awhile.
Moshin Vineyards
We reluctantly left Wind Gap and drove from Forestville across the Russian River to Moshin Vineyards, on Westside Road. I'd visited Moshin a couple of times in the past and enjoyed their wines, and I happened to see owner/winemaker Rick Moshin there a month earlier when I stopped by the winery to visit Leslie Sisneros of Arista Winery, as Arista makes their wine at the Moshin facility. I spoke briefly with Rick that day, and I thought it would be good to taste through their latest releases while I was in the area on this day-trip. As it turned out, Rick was out of town this time, but he left us in the capable hands of Sean O'Herlihy at the tasting room. Rick and hospitality manager Julia Lander had arranged for Sean to open a few of the winery's smaller-production wines that usually aren't poured at the tasting room.
Current releases:

'08 Sauvignon Blanc, Larrick Vineyard, Dry Creek Valley: Very light color, subtle green apple and citrus on the nose, medium-bodied with refreshing acidity and clean finish.

'07 Chardonnay, Foppoli Vineyard, Russian River Valley: Buttery, toasty, ripe tropical fruit aromas, big and rich on the palate with a smooth finish – a bigger-style Chard but not overblown.

'08 Rosé of Pinot Noir, Sonoma County: A light pink-colored dry Rosé, this had pretty floral notes along with strawberry and spice, a lush and flavorful summertime wine.

'07 Pinot Noir, Halo's Hill, Russian River Valley: Medium-light ruby color, tart cherry/plum with tea leaf and spice elements, lighter-bodied with a smooth finish.

'07 Pinot Noir, Ridgeway Vineyard, Russian River Valley: Slightly darker color than the Halo's Hill, with brighter strawberry/raspberry fruit, cola, and a dash of sweet oak, nice acidity in the mouth.

'06 Pinot Noir, "Lot 4," Russian River Valley: Medium color, ripe cherry, earth, and tea leaf aromas with an overlay of vanilla/oak, beautiful lush texture on the palate with a long, rich finish.

'07 Pinot Noir, Sonoma Coast: From Dijon clones. Medium-light color, bright red fruits, earth, and spice, lively acidity in the mouth with some mild tannins, very distinct from the Russian River Pinots.

'06 Merlot, Molinari Vineyard, Dry Creek Valley: 5% Cabernet Sauvignon. Medium-dark color, black cherry, plum, and a hint of smoke on the nose, rich mouthfeel with good balancing acidity and medium tannins.

'06 Zinfandel, Bowman Vineyard, Shenandoah Valley: Medium-light color, very ripe, jammy berry fruit with a touch of black pepper framed by sweet oak, medium-bodied.

'06 Zinfandel, Carreras Vineyard, Dry Creek Valley: Aged in neutral oak, this featured a darker color than the Bowman Zin, with boysenberry and spice aromas and a bigger, richer texture with moderate tannins on the finish – I preferred this to the Bowman.

'06 Petite Sirah, Foppiano Vineyard, Russian River Valley: From 40-year old vines, dark color, peppery dark fruits with a touch of earth and an overlay of vanilla/oak, mouthfilling texture and not as tannic as many Petites.

NV "Promoshin" Red Blend, Sonoma County: A blend of mainly Merlot, along with Cabernet Sauvignon, Petite Sirah, and Pinot Noir, this is a straightforward red with sweet, ripe fruit, a touch of spice, and not too much oak. Should be a good "pizza wine."

'07 "Moshin Poshin No. 7" Late Harvest White, Solano County: 80% Malvasia Bianca, 20% Sauvignon Blanc, picked at 46 brix and with 22% residual sugar. Intense floral and tropical fruit aromas, very viscous and quite sweet. Could use a bit more acidity to balance the sugar, but it's tasty.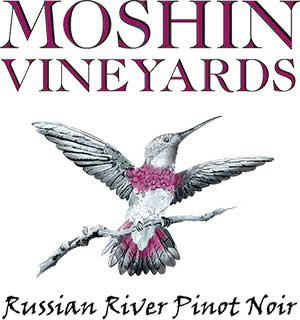 A little background information on the winery – Rick Moshin had been a mathematics professor at Cal State University in San Jose (he retired just a few years ago), and he began with winemaking as a hobby in the '70s. As he became more serious about his hobby, he did some work in the '80s at Davis Bynum Winery with Gary Farrell, who was their winemaker at the time. Rick also worked part-time as a grape broker for a number of years. He eventually caught the wine bug in a big way, purchased a 10-acre property not far from Davis Bynum in 1989, and planted Pinot Noir there. Rick started the Moshin label that same year. In 2001 he bought a nearby property and planted another Pinot vineyard there, on the Russian River Valley's famous Goldridge soil, a sandy loam with excellent drainage and low fertility that limits vine vigor. He also leases and farms Molinari Vineyard in southern Dry Creek Valley, just across the Russian River appellation boundary, where he grows Pinot and Merlot.
Rick has been a long-time proponent of sustainable viticulture, and practices eco-friendly growing at all the vineyards he farms. Moshin currently farms about 25 acres of Pinot Noir, plus Merlot and a small amount of Pinot Blanc. Pinot selections grown at the original Moshin vineyard include Martini, Dehlinger, Swan, Rochioli, and Romanée Conti, and were sourced from bench grafts that Rick acquired from several local growers. Recent plantings at the newer vineyard include 1A and Pommard 4 clones. Another recent 2½-acre planting near the winery will come into production this year or next year, while more Pinot Noir and Pinot Blanc is being planted on an adjacent property.
Besides the desirable Goldridge soil, another key aspect in choosing the property Rick purchased in 2001 was the hillside, perfect for building the gravity-flow winery that he had been envisioning for years. He had a big hand in the design of the building, and it was finally completed in 2005, with the first crush there that fall. Prior to that, Moshin's wines were made at the Davis Bynum and Hallcrest facilities. Several other wineries besides Arista use Moshin's winery for custom crush. On my earlier visit to Moshin, Rick proudly showed me construction photos of winery, displayed on a wall near the tasting room. The winery has four levels (not three as I'd thought when I'd visited the facility a month earlier) – crushpad at the top, then fermentation tanks, barrel room, and bottling area on each successive level below. Few wineries in the US are as completely designed for gravity-flow as Moshin's. In addition, the facility is solar-powered. Rick worked for years to make his gravity-flow design a reality, as he feels that the more gentle handling and minimal introduction of oxygen in Pinot Noir that are possible with the new winery are keys to retaining delicacy and freshness of the fruit.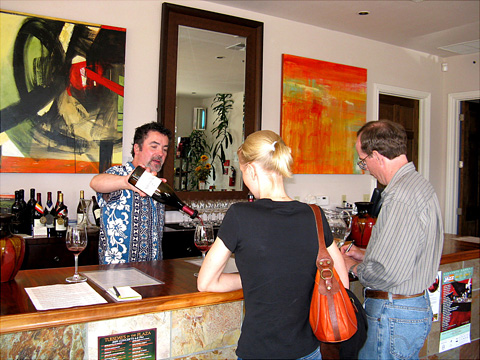 Sean O'Herlihy, Hanna-Mari, Al Osterheld
Moshin Vineyards produces about 7,000 cases per year, and is known mostly for its Pinot Noir. There are currently about 12 different Pinot bottlings produced, with about eight single vineyard designates, some of which are made in very small quantities. Rick has said he relies mostly on flavor and pH for picking decisions, wanting to retain the natural acidity of the fruit. One of Moshin's best-known Pinot bottlings is their "Lot 4" from their estate vineyard. Sean told us that the vines that had been the source for this bottling were pulled out after 2007 due to their age and declining health. That portion of the vineyard was replanted the following spring, but the upcoming '07 "Lot 4" vintage may be the winery's last one, at least for awhile. Rick does not like to use a lot of new oak on the Pinots, and most of them see only about 25-30% new French oak.
Similarly, most other Moshin wines don't get a lot of new oak either – the Sauvignon Blanc is fermented in stainless steel and aged in neutral oak, and no new oak at all is used on the Merlot or Zin. Unlike many Zinfandels, both the ones we tasted at Moshin were aged entirely in French oak, no American oak at all. The Rosé is made from Pinot sorting table runoff juice and fermented in stainless steel with no malolactic fermentation. All the whites are whole-cluster pressed, while all the reds are entirely destemmed. An advantage that was noted with picking the fruit at lower pH (higher natural acidity), along with the minimal oxygen exposure to the wine in the gravity-flow facility, is that less sulfite needs to be added to protect the wine.
Moshin is producing a solid group of wines. In general, the wines tend to be fruit-forward, but with restraint and balance, good acidity, and not too much oak. Most of these are not wines that will knock your socks off, but I don't get the sense that they're meant to – they're definitely not in a big, "showy" style. I thought all the wines we tasted were well-made and displayed good appellation character. With an array of distinctive and tasty Pinots at its core, Moshin's wines find a nice middle ground between the lighter and richer styles that Sonoma wines can deliver.

We left Moshin late in the afternoon, and briefly considered stopping at another tasting room before heading home, but we decided it had already been a full day. This was a fun day-trip, with particularly memorable visits at Inman and Wind Gap. All of the producers we visited make distinctive and high-quality wines, but in very different styles – something for nearly everyone among all the wines we tasted. As always, thanks to everyone that we visited for being so generous with their time and their wine!