Visits in this Issue:

Glenrose Vineyard and Katin / Arada Wines
Derby Vineyard and Derby Wine Estates
Luna Matta Vineyard and Giornata Wines
Dover Canyon Winery
Hug Cellars

I was in Paso Robles at the beginning of May for the annual Hospice du Rhône (HdR) event, and scheduled a few vineyard and winery visits for that weekend. Some were at places I'd been to in the past, but it was good to check in and taste new wine releases and learn new things. And I was able to see two vineyards that I'd wanted to check out for awhile but had not visited before.
I drove with Eric Lundblad from the Bay Area to Paso Robles on Friday morning, May 1st, for the first of the two big HdR tastings. Following the Friday afternoon "Rhône Rendezvous" tasting and a Friday evening barbeque and wine extravaganza shared with many friends, old and new, I got an early start on Saturday morning to visit a couple of vineyards before that afternoon's HdR Grand Tasting. I was joined by a number of familiar faces at the vineyard and winery visits – Eric, Al Osterheld, John Tomasso, Boyce Brannock, and Bob Summers.

Glenrose Vineyard and Katin / Arada Wines
I'd met winemaker Justin Kahler just a week before HdR, at the Pinnacles Wine Festival held every spring at a beautiful bed-and-breakfast inn overlooking Brosseau Vineyard, in the mountains east of Salinas Valley. I'd heard about Justin from a couple of people and wanted to check out his wines – he has recently launched a couple of new labels, Katin and Arada. He makes his wine at San Saba Vineyards near Soledad, in a facility shared with Michael Michaud. When I spoke with Justin about getting together during HdR weekend, he suggested going to visit one or two vineyards he sources fruit from on the Westside of Paso Robles.

Current releases and tank & barrel samples:

Katin '08 Grenache Blanc, Paso Robles (tank sample): 100% Grenache Blanc from Russell Family Vineyard, to be bottled soon. Spiced apple aroma, lively mouthfeel, tasty finish.

Katin '07 Viognier, Paso Robles: 50% stainless steel, 50% once-used barrels, with no ML. Tropical fruit aromas with some mild oak notes, smooth and refreshing finish, very nice.

Arada '08 Albariño/Garnacha Blanca, Central Coast (barrel sample): A 50/50 sample blend – final blend still to be decided, tropical fruit / stone fruit with some spice and lees notes, nice complexity and lively acidity.

Katin '07 Syrah, Glenrose Vineyard, Paso Robles (barrel sample): 33% new oak, to be bottled soon. Medium-dark color, very floral nose, along with ripe boysenberry, bright acidity and good structure.

Katin '07 Syrah, Del Rio Vineyard, Rogue Valley: Medium-dark color, earthy and savory, with plum and boysenberry aromas coming out with some air. Medium-bodied with some youthful tannins.

John Tomasso, Justin Kahler
Meeting on Saturday morning at the Paso Robles Inn parking lot, John Tomasso and I hopped into Justin's pickup truck and headed west out of town along scenic Peachy Canyon Road. The narrow, curving road rolls by some of the area's most highly regarded vineyards. After a few miles, Justin pulled off the pavement and up to a nondescript metal gate leading to a dirt road. After a short ride up the adjacent hillside, we stopped along a ridgetop at the edge of Glenrose Vineyard.
The vineyard is like nothing I've seen in California – rocky terraces cut into what seemed like an impossibly steep slope, cascading down from a dramatic pyramid-shaped hilltop. We started walking along one of the terraces, and it was immediately clear what a struggle the vines must have to grow in the thin chalky soil. Most of the main slope is roughly south-facing, though other portions of the vineyard slope have southwest-facing and northeast-facing slopes.
Vineyard owner Don Rose has a background in earthwork for building railroad rights of way, and he's put that experience to use in creating Glenrose Vineyard. He's been described by some as "crazy" for undertaking the monumental work of terracing the steep, rocky hillside, but the fruit he grows there is now much sought-after. The site rises to as high as 2,000 feet in elevation, one of the higher vineyards in the area. As it is not located right in the well-known "Templeton Gap," it is more cut off from cool marine air by the mountains to the west, but there is still a big diurnal temperature swing, up to 50 degrees, with 3-5pm being hottest period. The cool nights help the grapes retain acidity.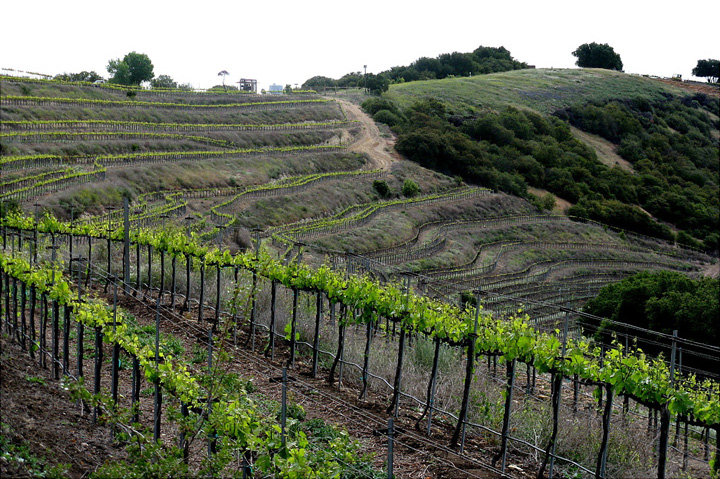 The vineyard is about 15 years old, and is farmed sustainably but is not organic. Most of the vineyard is planted to Syrah, Grenache, and Mourvèdre, although there are also a number of other varieties including Viognier, Roussanne, Grenache Blanc, Counoise, Tannat, and Nebbiolo. The Rhône varietal plantings were from cuttings from Tablas Creek's old nursery. Other wineries buying fruit include Adelaida, Lone Madrone, and Four Vines. Tablas Creek made a Glenrose Vineyard Syrah in 2002, a rare non-estate wine from them.
We walked to the end of one of the long terraces and proceeded down the hillside. Chalky-colored rocks large and small are scattered about the vineyard, and we saw a few good-sized boulders along the terrace rows. Justin gets four rows of Clone 99 Syrah from Glenrose – about ½ acre – which works out to around 1½ tons of fruit. His rows are well down the slope, so after we checked them out, we all had a good hike to climb back up to his truck! Justin usually harvests his Syrah from this site around the third week of September, although of course this varies depending on the year. He will be bottling a vineyard-designated 2007 Glenrose Syrah soon. This is a stunning vineyard site, and I'm looking forward to trying more wines sourced from Glenrose.
| | |
| --- | --- |
| | |
As we walked back to Justin's pickup, he told us more about his background and his plans for his new wine labels. His grandparents own a ranch in Santa Margarita, about 20 miles south of Paso Robles. Justin worked in a fine restaurant in the Sierra Foothills town of Oakhurst, and tasted many great wines there. That led him to pursue studies in enology and chemistry at Cal State University in Fresno. He's worked with several Central Coast wineries and vineyards including Michaud Vineyard in the Chalone AVA and Calcareous Vineyard, just across Peachy Canyon Road from Glenrose.
Justin has launched the JK Wine Company, which includes two separate labels, Katin and Arada. Katin Wines is strictly for Rhône varieties – aromatic whites plus mostly Syrah for red wines. Justin plans to source fruit from all over the west coast, looking for long-term vineyard relationships. One of his first releases is a Syrah from Rogue Valley in Oregon, and he is looking to get fruit from the Red Mountain AVA in Washington. Katin has also released a Brosseau Vineyard Syrah.
Arada Wines (Arada is Spanish for plow) will focus on Bordeaux and Spanish varieties, with the flagship wine being a Cabernet Franc-based blend, 40-50% Cabernet Franc with the balance being Petit Verdot and Cabernet Sauvignon. There will also be some single-vineyard Cabernets, an Albariño / Garnacha Blanca blend and probably a Tempranillo. Arada's Cab Franc is sourced from Russell Family Vineyard in Kiler Canyon, not far from Glenrose, and from Margarita Vineyard outside of Santa Margarita.
Justin plans to produce around 400-500 cases per year of his two labels. His goal is to make world-class wines that combine power and elegance, with good acidity and developed tannins. I was able to taste some of the current and upcoming Katin and Arada wines at HdR, which is where the tasting notes here are from. Justin has some ambitious plans and he's off to a good start – these will be two labels to watch over the next few years.

Derby Vineyard and Derby Wine Estates
Current releases and barrel samples:

'07 "Fifteen10" White, Derby Vineyard, Paso Robles: 40% Marsanne, 40% Roussanne, 20% Viognier. The "Fifteen10" name is a play on the vineyard address, 1510. Medium straw color, ripe stone fruit and tropical fruit aromas with characteristic Roussanne wax and honey notes. Medium-bodied on the palate, with enough acidity to keep the mouthfeel lively and not heavy, smooth finish.

'06 Pinot Noir, Derbyshire Vineyard, Central Coast, San Simeon: Medium ruby color, ripe black cherry, tea leaf, and spice, with underlying earth and oak. The acidity is still somewhat sharp and could use a couple of years to calm down, while the finish is very tasty and clean.

'07 Pinot Noir, Derbyshire Vineyard, Central Coast, San Simeon (barrel sample): Similar aromatics to the '06, with ripe red fruits and tea leaf, and perhaps a shade less of the earth component, but with some additional richness and texture on the palate and more noticeable tannin on the finish. An intriguing combination of ripe fruit and unexpectedly juicy acidity. Like the '06, this really needs a few years of bottle age, and it should work nicely with a variety of foods.

'07 Counoise, Derby Vineyard, Paso Robles (barrel sample): Tasted at the Friday HdR "Rhône Rendezvous" tasting. Super-intense aromas of ripe boysenberry / wild berry with baking spice notes, smooth mouthfeel and mild tannins, very tasty. This will probably go into the "Fifteen10" blend, but some might be bottled separately – I sure hope we see a varietal bottling of this wine!

'05 Cabernet Sauvignon, Laura's Vineyard, Paso Robles: 100% Cabernet. Cassis, plum, and herbs on the nose, with a mild overlay of sweet oak. Medium-bodied, with a mineral note on the palate, and moderate tannins on the finish.

'06 "De Facto," Paso Robles: Port-style wine made from 60% Syrah and 40% Counoise. Sweet plum/prune, with more vanilla/oak influence than the other wines. A pleasant dessert wine, but my least favorite of the Derby offerings we tasted.
Justin had hoped to show us one more vineyard that morning, but we were starting to run late for our next appointment at Derby Vineyard. After an unsuccessful battle with a troublesome gate lock that would have led us to a shorter drive back to Paso Robles, we doubled back and returned the way we had come, picked up Eric Lundblad, and quickly hit the road again.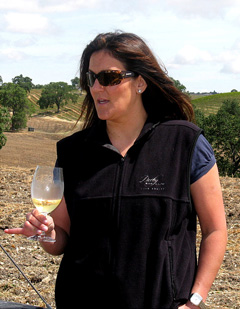 We were indeed a bit late, but as it turned out, we arrived at Derby Vineyard right behind Tiffinee Vierra, with whom we were scheduled to meet. Tiffinee is the winemaker and general manager for Derby Wine Estates, who own three vineyards in the Paso Robles area. After studying food science at Cal Poly San Luis Obispo, Tiffinee worked for a number of Central Coast wineries including Wild Horse, Edna Valley, and Tablas Creek before heading up the Derby team a few years ago. Tiffinee's husband Steve works for Vineyard Professional Services, which manages the Derby vineyards and about 2,500 acres total. They also manage Denner, Halter Ranch, Cass, and Fetzer Five Rivers Ranch among others. Derby Wine Estates is owned by Ray and Pam Derby, who moved to the Paso Robles area in the late 1990s. In addition to being growers, the Derbys have their own wine label, currently producing about 2,000 cases annually, mostly from their own fruit. The sell about 95% of the fruit from their three vineyards to other wineries.
We all piled into Steve's pickup truck and drove slowly along the low rolling hills of the Derby Vineyard, seeing both older plantings and newly planted blocks. Located off of Live Oak Road a few miles west of Highway 101, the vineyard is in the heart of the Templeton Gap, where cool marine air contributes to large diurnal temperature swings. Derby Vineyard was established in 1998 as Rozet Vineyard. Notable wines from the Rozet Vineyard were made by Edmunds St. John and Garretson. After Bruce Rozet passed away about six years ago, the Derbys purchased the property. The vineyard was not in great shape at that time, but they have turned it around since the current management team took over in 2006.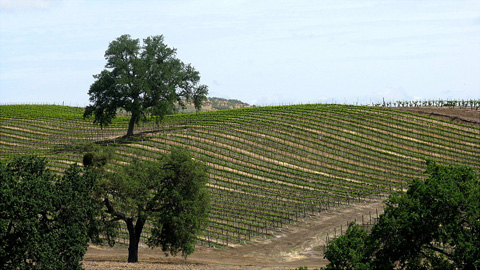 There are about 35 acres currently planted out of just under 100 total acres on the property. The vineyard has been known for its Rhône varieties – Roussanne, Marsanne, Viognier, Syrah, Grenache, Mourvèdre, and Counoise were planted there in the late '90s. Most of the fruit is sold to a number of smaller wineries, with only about 15 tons going to the Derby label. Other wineries that purchase fruit from the vineyard include Sans Liege, Kukkula, Kiamie, Herman Story, and L'Aventure. An ambitious series of new plantings is underway, and includes more Rhône varieties, plus some Spanish and Bordeaux grapes. Phase 1 of the new plantings, done last year, include Albariño, Grenache Blanc, Picpoul Blanc, Carignane, Graciano, Mourvèdre, Petit Verdot, Tempranillo, and Zinfandel. The Rhône varieties are generally being planted in the cooler parts of the vineyard. Phase 2, to be planted this year, will include Cabernet Franc, Cinsault, Grenache, Malbec, and more Mourvèdre. There are more planting phases planned for the future.
We stopped at a high spot along the vineyard road to get a good overview of the site. Tiffinee and Steve talked with us about the vineyard soils and vine management. There are a number of different soil types on the property – there is some alluvial soil, along with large sections of calcareous soil with a layer of clay loam near the surface. Steve pointed out that much of the "limestone" that's often claimed to be in Paso Robles is not true limestone. I've heard the same thing from other growers in the area, and have also read it in an interview with local soil expert Dr. Thomas Rice, which appears on the Appellation America website. While there is true limestone in Paso Robles, a lot of what is said to be limestone is actually calcareous mudstone and shale. The calcareous shale soils at Derby are around 40% calcium carbonate, and although definitions vary, this is below the percentage usually accepted to qualify as true limestone.
Vine spacing and row orientations change within Derby Vineyard but are kept consistent within each vineyard block to help in uniform ripening, trying to match slope, aspect, and soil types to the vines in each block. Many of the new plantings have a northwest-southeast row orientation with vertical shoot positioning trellising. The goal is to create even sun exposure on the fruit during the hottest hours of the day during the growing season, balancing the vines so one side does not get substantially more sun/heat than the other. New portions of vineyard are going in at 8x4 and 8x5 spacing, and there are some blocks that have head-trained vines. Cover crops are planted in every other row – about 60% Cayuse oats and 40% bell beans.
At this point we were all getting a bit thirsty, and right on schedule, Tiffinee and Steve broke out some of the Derby Wine Estates wines for us to taste. We started with a refreshing white Rhône-style blend from Derby Vineyard, then continued with wines from Derbyshire and Laura's vineyards. As we tasted through the wines, we learned more about the other two vineyard sites.
Derbyshire Vineyard is situated barely a mile from the coast between Cambria and San Simeon. First planted in 2002, the 63 planted acres are strictly Pinot Noir and Pinot Gris. Pinot Noir clones 115, 667, and 777 clones are planted, all on 101-14 rootstock. The soil is mainly sandstone and sandy loam, more acidic than the calcareous soil at Derby Vineyard. The windy coastal location creates some difficulties with flowering and setting crop, but Tiffinee and Steve told us that ripening the fruit is seldom a problem there. The vines are cane-pruned, with fruiting wires set low to ground to gain heat from the soil. The acidity of the grapes stays very high late into the growing season, so they have to pick a bit on the ripe side for acids to drop sufficiently. The yield has been miniscule – they have improved year by year but still only get about ½ ton per acre! They are confident that they can improve this yield to the point where the vineyard is more economically viable. Besides Derby's own label, other wineries buying Derbyshire fruit include Tantara, Wind Gap, and Wild Horse.
Laura's Vineyard, about six miles east of Highway 101 and just north of Highway 46, is the third of the Derby Wine Estates vineyards. It is the largest and oldest of their properties, with over 250 acres planted. Part of the original Estrella River Winery property, and named for Gary Eberle's mother Laura, it was originally established in the late '70s. The vineyard was replanted in 1997 after phylloxera struck the original vines, and the Derbys purchased the property in 2001. Laura's Vineyard has deeper soil with clay over calcareous shale. Most of the site is planted to Cabernet Sauvignon, with some Merlot, Zinfandel, Syrah, and Petite Sirah as well.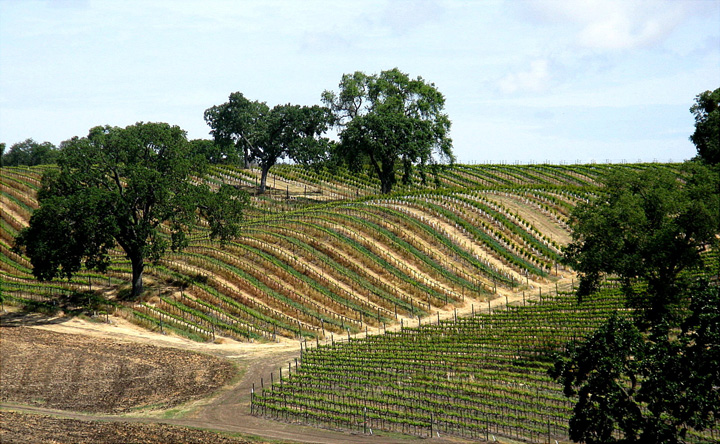 There have been plans for a new winery building at Derby Vineyard, but the approval process has hit a snag, so it's uncertain what will happen. Derby's wine is currently made at the large Paso Robles Wine Services custom crush facility, so all wines are inoculated with selected yeast and malolactic cultures. The "Fifteen10" white blend is whole-cluster pressed, with all lots kept separate until blended prior to bottling. It's made mostly in stainless steel with some neutral barrels as well. The Pinot Noir is destemmed (although Tiffinee experimented with some whole-cluster fermentation in '08), and undergoes a cold soak of about three days. It's inoculated with Assmanhausen yeast, then after pressing, it's aged for around 24 months in about 50% new oak, using mostly François Frères and Vernou barrels, with some Meyrieux and Billon as well. The Cabernet is also aged for 24 months in about 50% new oak.
In addition to the wines we tasted at the vineyard, Derby has released a Pinot Gris from their Derbyshire Vineyard, a Chardonnay sourced from Edna Valley, a Rosé made from both Derby and Laura's Vineyard fruit, a Mourvèdre/Cabernet blend sourced from both Derby and Laura's, and a Zinfandel and a Meritage-style red blend, both from Laura's Vineyard. They just bottled a number of other wines shortly before our visit (including the '07 white blend we tasted) – these include a Syrah and a red "Fifteen10" Rhône blend from Derby Vineyard, a Petite Sirah from Laura's Vineyard, and a Cabernet Franc and a new Meritage-style red called "Implico." These newly bottled wines will be released over the coming year.
Derby Wine Estates is producing some very nice wines from a trio of diverse vineyard locations. The Derbyshire Vineyard Pinot Noir, with its combination of ripe fruit and great natural acidity, was especially distinctive, and the Derby Counoise was an amazing blast of pure fruit and spice. As the current Derby vineyard and winemaking team gains experience with their three sites, we can expect to see the quality of their wines continue to improve.
We finished up our tour of Derby Vineyard and returned to Paso Robles in plenty of time for a leisurely lunch at Berry Hill Bistro before heading to the Event Center for that afternoon's HdR Grand Tasting. Our informal vineyard tour group gathered with a few other friends for dinner Saturday evening at Buona Tavola in Paso Robles, where we enjoyed some fine northern Italian cuisine and lots of good wines. We had an enjoyable evening, but did our best not to party too hard since we had another early vineyard visit scheduled for the next morning.
Luna Matta Vineyard and Giornata Wines
Most of us were headed back home on Sunday following the HdR festivities, but we decided to take in a couple more vineyard and winery visits first. We gathered bright and early at the Melody Ranch motel, where several of us were staying, and then formed a caravan as we drove west along Peachy Canyon Road a few miles past Glenrose Vineyard until we arrived at the gate to Luna Matta Vineyard. Proceeding along the dirt road to the small house on the property, we met Stephanie Terrizzi. Stephanie is the vineyard manager at Luna Matta, and she and her husband Brian have their own wine label, Giornata Wines.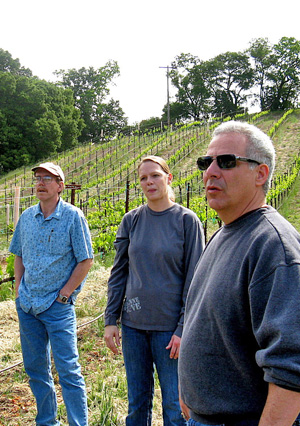 Al Osterheld, Stephanie Terrizzi, John Tomasso
Brian & Stephanie met at the enology program at Cal State University in Fresno. They got married in 2005, and have twin 3½ year old daughters. Brian grew up in Ohio and had some exposure to very good wines in his family. His direction toward a wine career continued with his passion for Italian food and for wines that pair well with that food. Brian loves the way that food and wine are integral to the culture of Italy and bring people together. He noted that he's visited distant relatives in Italy, and that they all had barrels of wine in their homes. Brian worked at Rosenblum Cellars before traveling to Italy to work with Paolo DeMarchi at Isole e Olena in Tuscany. Following that, Brian worked at both Red Car and Sinor-Lavallee on the Central Coast. He also partners with Chris Brockway of Broc Cellars in Berkeley to produce a value-priced Central Coast Cabernet (with Chardonnay joining the lineup this spring) under the Broadside label.
Stephanie's background is in chemistry, but she enjoys working outdoors and found that vineyard work was a way to combine those two interests. She worked in restaurant industry, taking wine classes at the same time. After studying viticulture at Santa Rosa Junior College, she worked for some larger wineries in Napa and Sonoma for about five years. Stephanie continued her education at Fresno State, studying enology and plant science there. She has been the vineyard manager at Luna Matta for about three years. Stephanie is also an advanced level sommelier in the Wine & Spirit Education Trust (WSET) program, and she works part-time at the 15c wine shop / wine bar in nearby Templeton.
Luna Matta Vineyard is owned by John Ahner & Jody McKellar, who joined us at the vineyard that morning. The 240-acre property has 33 acres planted with grapevines and 40 acres with walnut trees. The land used to be mostly grazing land for cattle as well as a walnut orchard. Most of the old walnut trees were preserved when the vineyard was first established in 2001, and more vines went in over the next two years. The elevation at the site ranges from about 1,600-1,900 feet, and like Glenrose, it is outside of the true Templeton Gap corridor. The vineyard receives an average of about 20" of rain per year, although it only got 14" last year. Stephanie hopes to ultimately dry-farm most of the vineyard. There have been very few problems with frost, although a small amount of damage occurred this spring. The soil is mostly the calcareous/limestone soil typical of the area, with a clay top layer that extends to about 6"-48" below the surface. The pH of the soil ranges from about 7.9-8.2 – very alkaline.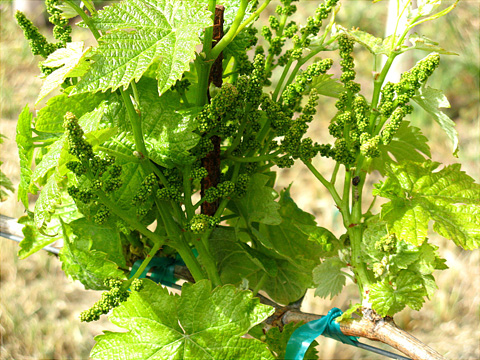 Plantings at Luna Matta include Rhône varieties Grenache, Syrah, Mourvèdre, Grenache Blanc, and Picpoul Blanc, and Italian varieties Nebbiolo, Sangiovese, Aglianico, and Moscato Giallo. Some Fiano, another Italian white, might be planted soon, but that's not yet definite. There are two Nebbiolo clones planted – 142 and 230 – two of the newer clones that have been imported from Italy. Rootstock and canopy management varies depending on the variety planted and the location in the vineyard. Original plantings were mostly on 1103 rootstock, with some 110R too. More recent plantings have also used St. George along some own-rooted vines (including some new Alban clone Grenache). Much of vineyard is on 5x10 spacing, wider than many recently-planted vineyards, partly in an effort to avoid having to use a narrower tractor that would be less stable on some of the steep vineyard slopes. Besides Giornata, other wineries buying Luna Matta fruit include Villa Creek, Broc Cellars, Wind Gap, and Harrington (where I'm helping to make some '08 Nebbiolo).
I'd visited Brian and Stephanie at Luna Matta last fall to look at the Nebbiolo with Bryan Harrington just prior to harvest. They noted that they love to have visitors come see the vineyard, and that folks are welcome to contact them through the Giornata Wines website to arrange an appointment there. The Nebbiolo vines we saw in early October last year were beautifully-managed, and the fruit was quite tasty!
Brian was a couple of miles down the road at the Villa Creek winery facility, where he makes the Giornata wines, pulling some barrel samples for us to taste after our vineyard tour. Starting on our way from the house, we walked the vineyard with Stephanie, John & Jody, the Terrizzis' young daughters Aida and Kate, and ranch foreman Cisco. We first stopped to check out a block of Picpoul Blanc near the house, which was grafted over from Syrah in '08. The vines looked very healthy, with loads of tiny clusters forming along the new shoots.
We continued on to a couple of more experimental Grenache blocks. First was the "Diamond Patch" – named by Jody for the diamond-like bits of shiny quartz in the soil throughout the vineyard block. The vines are Clone 132 Grenache, planted on St. George rootstock. Planted about eight years ago on a steep south-facing slope, the vines were originally head-pruned and had a wide 10x10 spacing. Finding that this was not an optimal system for this particular block, Stephanie has now installed trellising along the rows of vines, and new vines will be interplanted between the old ones to tighten up spacing. While the upper part of the hillside block is rocky and the vines there are less vigorous, the middle and lower sections have suffered from overly vigorous vine growth. The interplanting should increase competition for nutrients and decrease vigor in these areas. Stephanie is also making use of "pseudo kicker canes" on these vines to help reduce vigor. By retaining one unpruned cane on each vine, more early-season growth is channeled into these long canes – when they are cut off later, it will leave the vines in better balance.
Finally, we walked a short distance to the smaller "Olive Block", also Clone 132 Grenache, and head-pruned with wide vine spacing. Named for the adjacent olive trees, this is in on an extremely steep and rocky slope, too steep for vineyard equipment. Because of this, the block looks rather unkempt, with lots of undergrowth nearly obscuring the scrawny vines. Stephanie noted how difficult is has been to farm this block and how much the vines have had to struggle there, growing very slowly. Stephanie told us that Broc Cellars might take this block of Grenache and joked that Chris Brockway might have to harvest that fruit himself…but looking at that steep hillside, maybe she wasn't joking!
Current releases & barrel samples:

'07 "il Campo," Central Coast: This is Giornata's version of a traditional Italian field blend style, with about 75% Sangiovese and other varieties including Merlot, Petit Verdot, and Nebbiolo. Medium color, black cherry and spice dominate the nose, medium-bodied with bright acidity on the palate and medium tannins. Brian calls this his "pizza wine" and it's that and more, and a terrific QPR to boot.

'06 Nebbiolo, Luna Matta Vineyard, Paso Robles: Giornata's first Nebbiolo, this was pressed through Barbera skins to help soften the tannins and provide a bit more upfront fruit (this was not done on the '07 or '08 Nebbiolo). Medium reddish-purple, floral, cherry, and earthy aromas, bright and lively in the mouth with firm but not harsh tannins.

'06 "Aglianico Experience," Paso Robles: Only a tiny amount of this was made for friends and family, and some Syrah was blended in since there was not enough Aglianico to fill a barrel. Medium purple color, slightly floral red fruits on the nose, nice texture in the mouth with a big, chewy tannic finish.

'07 Nebbiolo, Luna Matta Vineyard, Paso Robles (barrel sample): Sourced from two vineyard blocks, some whole-cluster fermentation, the sample was a composite blend of two neutral barrels and two new Taransaud barrels. Medium reddish-purple, very pretty aromas of rose petal and bright cherry fruit, along with a big hit of baking spices and notes of dried herbs, smoke, and earth. Seems a bit less ripe than the '06 (though maybe that's the absence of the Barbera component), this has a juicy feel on the palate and firm tannins. Due to be bottled in June, this is a big step up from the '06 and is among the very finest California Nebbiolos I've tasted.

'08 Nebbiolo, Luna Matta Vineyard, Paso Robles (barrel sample): Brian told us that there were two pick dates for the Nebbiolo in '08, the first at the beginning of October and the second about 2½ weeks later. This first sample was a press lot from both picks, part whole-cluster ferment, pressed at about 8 brix and aged in neutral oak. Medium color, raspberry, cherry, and earth, quite spicy, very bright acidity and firm, chalky tannins.

'08 Nebbiolo, Luna Matta Vineyard, Paso Robles (barrel sample): This sample was all free run from the second pick date, also part whole-cluster, and aged in a new 500-liter Siguin Moreau puncheon. There's a substantial oak component, but also the characteristic floral and cherry aromas, along with some "Dr. Pepper" notes. A bit rounder in the mouth than the other '08 sample, this also had bigger tannins on the finish.

Barrel 27 '08 "Head Over Heels" Moscato, Paso Robles: 11.5% alcohol, some residual sugar. Very light color, intense floral and ripe stone fruit aromatics along with a spice note, the acidity balances the sweetness very well. A fun, lively and refreshing summertime quaffer.
We walked back downhill to the house, where we found that Brian had arrived and set up a table for us to taste some of the Giornata wines. Giornata creates wines from Italian grape varieties, and Brian and Stephanie's ultimate dream is that these grapes earn the same respect in the US that French varieties have. They know that will be a tough goal to achieve, and they've encountered plenty of skeptics along the way. They credit Steve Clifton of Palmina Wines, one of California's finest producers of Italian-varietal wines, with helping inspire them to continue their quest. They currently get 2-3 tons of Nebbiolo, 1 ton of Aglianico, and ½ ton of Sangiovese from Luna Matta, and source from other vineyards as well.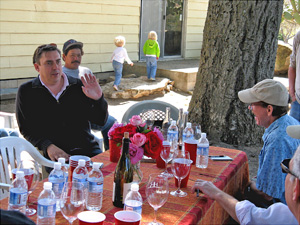 Giornata's fruit is generally destemmed, although destemming Nebbiolo is a particularly difficult task due to the thin and easily broken skins and the tenacity with which individual berries cling to their pedicels (the small connecting stems). Because of this, some of the Nebbiolo gets whole-cluster fermentation. Brian notes that every winemaker he spoke with in Piemonte destems Nebbiolo, and he thinks that the amount of small stems that remain in the fermentation vessels have an impact on the resulting wine's character (no doubt they would increase the tannin). There's no effort made to have a lengthy cold soak – again, Brian did not find cold soaks were practiced much in Italy – but the fruit is kept cool and fermentation is allowed to start naturally. Brian has added yeast once fermentation has started, using BRL97 yeast on the Nebbiolo, but he may try fully "native" fermentations on a few lots this year. One-ton bins and 500-liter puncheons with the heads removed are used for fermentation.
Brian has been experimenting with pressing the lots at different stages – he noted that a number of producers in Piemonte press early to try extracting less tannin. He tried that last fall, and although he said the '08 Nebbiolo still has plenty of tannin, he was pleased with the results. He's planning to continue experimenting with different techniques each year. The wines spend different amounts of time in barrel, with the "il Campo" blend seeing the least time, about 9-10 months, while the Nebbiolo is in barrel for about 20 months. Several barrel coopers are used, as are some 500-liter puncheons. Brian noted that he did not rack the '06 or '07 Nebbiolos while they were aging in barrel, though he may try that with the '08.
Giornata's first release – a Sangiovese, Nebbiolo, and a red blend – was in fall 2008, with less than 350 total cases produced. Brian and Stephanie don't plan to expand Giornata beyond about 1,000 cases per year. About half the production will be the $20 "il Campo" blend – their everyday "pizza wine" – that they hope will sell well enough to allow them to keep producing their Sangiovese and Nebbiolo, as well as some Aglianico, which they realize will be more difficult wines to sell. They may add a Barbera and perhaps a white or two to their lineup as well. But they are well aware of the difficulties of selling so-called "Cal-Ital" wines, and Nebbiolo in particular, and they plan to take things slowly and not try to grow their brand too quickly.
We sat around the table outside the vineyard house and tasted three barrel samples of '07 and '08 Nebbiolo, plus a wine from Paso Robles producer Barrel 27 made from Luna Matta's Moscato grapes. Brian and Stephanie have made a little Vin Santo style wine in the past from the Moscato for themselves and friends – it would have been fun to try some of that too! The first three wines in tasting notes listed here were from our Saturday dinner at Buona Tavola, where Brian and Stephanie joined us and brought those current bottlings for us to try.
It's hard to get a good feel for a winery just based on their first release or two, but I was impressed by the Giornata wines. Brian and Stephanie seem to be on the right track, though there's no doubt that they've chosen a difficult road. Brian is passionate about all the Giornata wines but he seems to have a special love for Nebbiolo, partly because of the challenge of making great Nebbiolo in California. Some have told Brian and Stephanie that it can't be done, but from tasting the soon-to-be-bottled '07, those people may well be proven wrong.


Dover Canyon Winery

Current releases & library wines:

'07 "White Bone," Paso Robles: 60% Viognier, 25% Marsanne, 15% Roussanne, 2% residual sugar. Light color, ripe peach/apricot aromas with a nice spice component. Medium-bodied, with acidity that keeps the slight sweetness from being too dominant, and the finish is smooth and pleasant.

'06 "Bone Lore," Paso Robles: 68% Grenache, 16% Syrah, 16% Petite Sirah. Medium color (the Syrah and Petite Sirah were blended in to add color and depth to the wine), nice upfront fruit with black cherry and raspberry, along with some smoke and black pepper notes, smooth mouthfeel and finish.

'07 Old Vine Zinfandel, Benito Dusi Vineyard, Paso Robles: From 90 year-old vines, intense brambly ripe raspberry and plum along with earth and pepper. A big spice component really comes through on the palate, and the finish is very long. A classic Paso Robles old-vine Zin!

'07 Reserve Zinfandel, Paso Robles: Made partly from Estate fruit and from other dry-farmed Westside vineyards. Medium color, plum and darker berry fruit along with some black pepper, chocolate and spice notes, with moderate tannins on the finish.

'07 "Tre Noce," Paso Robles: 62% Zinfandel, 38% Syrah. All Estate fruit, with head-trained and dry-farmed Zin. Medium-dark color, very peppery aroma, along with dark fruits and a distinct earthy component, very lively mouthfeel, with some chalky tannins.

'07 "Cujo" Zinfandel, Paso Robles: Medium-dark color, this has more jammy, ripe, upfront raspberry and boysenberry fruit with touches of pepper and sweet oak. Big and rich, with a lively but smooth finish, this is a more fun, hedonistic style of Zin that should be great at barbeques.

'07 Reserve Syrah, Paso Robles: 65% Jimmy's Vineyard, 35% Starr Ranch. Dark color, blackberry, spice, and vanilla/oak aromas. Bright acidity and a mineral note keep the mouthfeel interesting, while the firm tannins suggest a few years of bottle age will benefit this wine.

'02 "Cujo" Zinfandel, Paso Robles (library wine): Medium-light color, with slightly reddish edges, ripe and bright wild berry and plum, with loads of spice. Smooth on the palate, and the tannins have resolved nicely on the finish. This wine is proof that some big jammy Zins can age very well!

'01 "Fralich Vineyard," Paso Robles (library wine): 75% Syrah, 25% Zinfandel, all from Fralich Vineyard. Medium color, blackberry, spice, and herb, along with some American oak dill notes and an earthy edge. Perhaps a bit tired at this stage, but still with some life left.

'98 Reserve Zinfandel, Paso Robles (library wine): Sourced from six vineyards. Medium-light color, earthy raspberry with some oxidation and funky notes, showing more age than the other library wines we tasted.

'98 "The Barbarian," Paso Robles (library wine): 67% Zinfandel, 33% Petite Sirah. Medium-light color, dark berry fruit along with some spice and an intriguing herbal/green note, nice texture on the palate with still-substantial tannins. Next to the '02 "Cujo," this was the best of the library wines.

'03 Port, Paso Robles: from Cabernet Sauvignon and Syrah. Ripe, sweet raspberry and darker berry fruit, chocolate, and oak on the nose, very rich and viscous with a long, jammy finish.
We could easily have spent more time at Luna Matta, but Brian had to leave and we had an appointment to visit with Mary Baker at Dover Canyon Winery. Dover Canyon is a fun, informal spot to stop and taste, and Boyce in particular had wanted to visit since he'd never been there before. Mary greeted us from behind the rustic bar inside the wood-paneled tasting room. The winery was started in 1997 by Mary and partner Dan Panico, who makes the wines. Mary and Dan live in a charming 1920's farmhouse right next to the tasting room. The winery is especially known for its Zinfandel, but they produce other wines as well, notably some tasty Rhône-style varietals and blends. They made some Cabernet and Chardonnay in the early years of the winery, but Mary told us that was not really what Dan wanted to do, so they quickly gave that up and focused on the wines they wanted to make. Annual production is typically about 2,500 cases.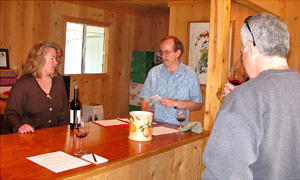 Dan had worked as winemaker for Eberle Winery before starting Dover Canyon, while Mary's background is in wine hospitality and winery business management. She had previously worked at Wild Horse Winery and Justin Winery. Mary also is a regional editor and correspondent for the Appellation America website and she writes the Dover Canyon Winery blog, one of the best winery blogs to be found.
Dan and Mary have a small estate vineyard, growing Zin and Syrah, and they are committed to sustainable farming not only with their own vineyard but also with those that they purchase fruit from. They make some big, flavorful wines that don't come across as high-alcohol or overtly sweet, and maintain good balance. They use some American oak along with French oak on their wines (mainly American oak for their Zinfandels) but not a lot of new barrels, so what oak flavors there are in the wines tend to be restrained.
After Mary had poured us Dover Canyon's current releases, she asked whether we would like to taste some library wines – sure! No arm-twisting was needed. Mary went outside and opened up a low door to a cellar below the farmhouse, and soon emerged with four bottles of older wines, vintages ranging from 1998 to 2002. Some of the labels were a little worse for wear but the wines themselves were a treat to taste. Not surprisingly, some fared better than others, but it did surprise us that the one that held up the best was the "Cujo" – the biggest, jammiest Zin of them all – who would have guessed? Dover Canyon makes some serious wines, though they're not what I'd call "cerebral" – more than anything, they're made to be enjoyed!
We said goodbye to Mary and drove back into Paso Robles, where we also said goodbye to John and Boyce. Eric, Al, Bob and I wanted to visit Hug Cellars, but since we were pretty hungry by then, we stopped for lunch off the downtown square at The Crooked Kilt Pub & Grill, where we had some exceptionally tasty burgers and fries. After the relaxing meal, we drove out to the northeast edge of town, where Hug Cellars is located just off Highway 46.

Hug Cellars


Current releases:

'08 Viognier, Cedar Lane Vineyard, Arroyo Seco: Light straw color, intense floral and white peach aromas along with a touch of oak, smooth and rich on the palate with a pleasant finish.

'07 Pinot Noir, Cedar Lane Vineyard, Arroyo Seco: From 114, 115, and 777 clones. Medium color, black cherry and plum with floral, tea leaf, and spice notes, medium-bodied with a smooth and elegant finish.

'07 "el Papé," Central Coast: 55% Grenache, 40% Mourvèdre, 5% Syrah. Medium color, with plum, spice, herbs, some earthy notes and a touch of sweet oak on the nose, lively on the palate with mild tannins and a long tangy finish, very tasty!

'07 Mourvèdre, Santa Barbara Highlands, Santa Barbara County: Medium-dark color, very intense aromas of plum and darker berries, dried herbs, and smoky grilled meat. Spicy notes come out more in the mouth, and the finish has only moderate tannins.

'07 Zinfandel, Cushman Vineyard, Paso Robles: Medium-dark color, big spicy and ripe raspberry / boysenberry nose with an overlay of vanilla/oak, lively mouthfeel and a smooth finish.

'06 Syrah, Cedar Lane Vineyard, Arroyo Seco: 3% Viognier. Dark color, slightly floral nose with dark berry fruit, coffee, and spice, mineral notes in the mouth, great texture on the palate, and medium tannins, nice cooler-climate Syrah.

'07 Merlot, Cedar Lane Vineyard, Arroyo Seco: 10% Syrah. Dark color, black cherry, plum, and herbs, with a smoky note, nice acidity, and firm tannins, very elegant and food-friendly.

'07 Syrah, "el Grandé," Terry Hoage Vineyard, Paso Robles: Dark color, Ripe blackberry fruit with roasted meat, coffee, pepper, and some vanilla/oak, dense and powerful on the palate, long finish with moderate tannins.
We made our last stop of the weekend at the Hug Cellars winery and tasting room, and Augie Hug was behind the tasting bar. Augie & Raquel have a new neighbor in the winery space next door, as Garretson Wine Company closed up shop last fall and Barrel 27 (run by Russell From of Herman Story and by McPrice Myers) moved in. Augie had most of his current releases open for tasting, and we proceeded to work our way down the line. Raquel was busy working in the back office, but came in to join us partway through our tasting.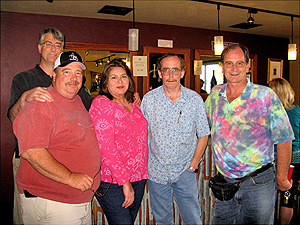 Eric Lundblad, Augie & Raquel, Al, Bob Summers
The Hug Cellars style has remained fairly consistent over the years. The wines tend to be big and lush (but not over-ripe or over-extracted), and usually have interesting complexity and nice balancing acidity – not shy wines but far from simple fruit bombs. Augie sources quite a few of his grapes from Cedar Lane Vineyard in the cool Arroyo Seco AVA of Monterey County, and the cooler-climate fruit source shows through in the wines.
The most recent line-up continues in the Hug style, and the wines are appealing for early drinking yet have enough structure to benefit from some bottle age. The latest releases feature a few first-time bottlings from Hug – a Mourvèdre, a Merlot, and a Terry Hoage Vineyard Syrah ("el Grandé"). There are also new vintages of some past favorites, including the "el Papé" Rhône-style red blend and some of the wines from Cedar Lane Vineyard, the Viognier, Pinot Noir, and Syrah. It was good to find that the new bottlings rise to the level set by their predecessors. It's always fun to visit with Augie & Raquel, and being able to taste their wines almost seems like an extra bonus!

Bob was staying an extra day in Paso Robles, but Al, Eric, and I had to start our three-hour drives back to the Bay Area so we parted ways after our visit to Hug Cellars. Hospice du Rhône weekend is as much about seeing old friends, making new ones, sharing good food and wine, and visiting new places as it is about the seminars and tastings of the event itself. HdR weekend is the wine trip I look forward to more than any other each year, and this year's trip once again lived up to expectations. As always, thanks to everyone that we visited for being so generous with their time and their wine!