Visits in this Issue:

Littorai
Arista Winery
Arnot-Roberts Wines

I needed to drive to Russian River Valley to pick up a couple of wine orders at Littorai and Williams Selyem wineries, and while I was in the area I took the opportunity to visit a couple of additional wineries that I've admired for awhile, Arista and Arnot-Roberts. It was a Tuesday morning, and the traffic was light as I drove north from Oakland, over the Richmond-San Rafael Bridge, and then continued through Marin and southern Sonoma County. The green on the hillsides was beginning to turn to brown as I headed past Petaluma, then turned onto Highway 116 toward Sebastopol. It wasn't long before I arrived at my first destination, Littorai Wines.

Littorai Wines

Current releases:

'08 Vin Gris of Pinot Noir, Anderson Valley: Whole-cluster pressed, fermented in 87% stainless steel and 13% neutral oak, no malolactic. Very light salmon color, floral aromas blend with ripe watermelon and a hint of citrus, very smooth with a touch of sweetness in the finish but plenty of balancing acidity, a lovely Vin Gris.

'07 Chardonnay, Thieriot Vineyard, Sonoma Coast: Medium-light straw color, ripe spiced apple with a touch of citrus and vanilla/oak, a lively texture and smooth finish.

'07 Chardonnay, Charles Heintz Vineyard, Sonoma Coast: Slightly deeper color than the Thieriot, more citrus and floral aromas along with a buttery note, rich and creamy but with good acidity on the palate, long finish.

'08 Pinot Noir, "Les Larmes," Anderson Valley: Light ruby color, bright strawberry, cherry, and a bit of a floral note on the nose along with a mild hint of smoke, light-bodied with a nice streak of acidity in the mouth, and a bit more of the smoke component on the juicy finish. A wine that's ready to drink now.

'06 Pinot Noir, Roman Vineyard, Anderson Valley: Medium ruby color, black cherry aromas along with spice and forest floor notes along with a background of oak, bright acidity with great depth and texture on the palate, only mild tannins on the long and pleasant finish. Unmistakably Anderson Valley, very nice.

'06 Pinot Noir, Savoy Vineyard, Anderson Valley: Tasted at the Anderson Valley Pinot Noir Festival on 5/16/09. Medium-light color, red fruits and herbs, with some baking spice undertones, lively mouthfeel and more tightly-wound than the Roman with a bit more tannic finish.

'06 Pinot Noir, Cerise Vineyard, Anderson Valley: Medium color, very spicy raspberry and plum, some earthy notes, and an overlay of sweet oak, very structured with firm tannins on the long finish – this will certainly benefit from some bottle age.

I pulled up to the Littorai winery, set in the rolling hills nearly halfway between Sebastopol and the tiny town of Freestone in western Sonoma County. The groundbreaking ceremony for the new winery building was held in June 2007, and the building was completed in time for the 2008 harvest and crush. The building utilizes straw bale construction, and is built on several levels into a hillside, both to provide natural thermal insulation and to allow gravity flow in the winemaking process. The environmental awareness of Littorai extends to waste recycling and to biodynamic farming of its new estate vineyard on the property.

was founded in 1993 by Ted and Heidi Lemon. The winery name is derived from the Latin word for "coasts," a reference to the coastal fruit that Littorai sources for most of its wines, in western Sonoma and Mendocino Counties. Winemaker Ted Lemon has followed a true Burgundian path in his career, studying enology at the Universite de Bourgogne, and working at a number of well-known Burgundian estates including Domaine Dujac and Domaine De Villaine. He became the first American winemaker and vineyard manager in Burgundy, at Domaine Guy Roulot in Meursault. Before founding Littorai, he also worked at many US wineries including Howell Mountain, Green and Red, Keller Estate, and Archery Summit. He is a firm believer in the terroir-driven philosophy of winemaking, and he seeks to bring out the unique qualities of each vineyard site in his Chardonnays and Pinot Noirs. If winemaking is both art and science, he seems clearly to lean toward the art end of the scale.
This was Littorai's spring wine pick-up week, and I was met at the winery by Sheri Wood, who had a half-dozen bottles open for tasting – two Chardonnays, three Pinot Noirs, and starting off, a Vin Gris of Pinot Noir, the first Rosé the winery has made since 1997. Much of the reason for making the Vin Gris in 2008 was the difficulty that Littorai faced that year with the effects of wildfire smoke in many of their vineyards. This affected most of the vineyards they source fruit from in Anderson Valley, and some along the Sonoma Coast as well. Because much of this fruit was not up to Littorai's standards, a good deal of it was sold before it even reached the winery. Some vineyards that usually have vineyard-designated Pinot Noir bottlings (Cerise, Savoy, Roman, and Hirsch) will not have those bottlings in the '08 vintage, and what fruit that Littorai could use has gone into appellation Pinot bottlings, the Sonoma Coast and "Les Larmes" Anderson Valley, as well as the Vin Gris. Both '08 appellation Pinots as well as the Vin Gris were released this spring – the Pinots obviously being released much earlier than normal. The wildfire smoke affected many north coast vineyards, most notably in Mendocino County, and we'll see how this plays out at other wineries as they release '08 wines over the coming year or two.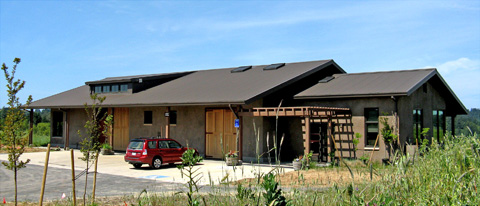 I contacted Ted Lemon after my visit to Littorai to ask him about some of the means he took to make the '08 "Les Larmes" Pinot the best that he could given the difficult circumstances of the vintage. He explained that the smoke effects not only differed between vineyards but also between blocks within the same vineyard, so the choices for what fruit to accept and what to reject were not easy ones. Since the smoke taint compounds in grapes are mostly within the skins (and not just on the skins), some of the Anderson Valley fruit was whole-cluster pressed for the Vin Gris, which got the affected skins separated from the juice immediately. Efforts to mitigate the smoke taint in the fruit going into the "Les Larmes" Pinot included reducing fermentation time and extraction, modifying juice to skin ratio, fining and filtering, and making final barrel selections (20% of the original barrels did not make the cut). Ted also felt it was best to bottle and release these two '08 Pinots early to take advantage of the freshness of their expression of the fruit.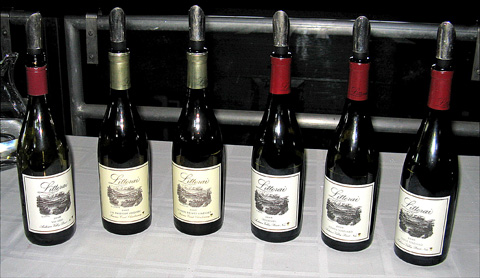 As I finished up my tasting with Sheri, associate winemaker Neil Bernardi, whom I've met on several occasions, came by and said hello. Assessing the wines I tasted, while there was still some mild smokiness present in the '08 "Les Larmes" Pinot, it was not nearly as pronounced as in barrel samples of some '08 wines I've tasted at various places over the past six months. It should be noted that the bottle I tasted from had been open for awhile, and it's my understanding that a fresh bottle would most likely show even less of the smoke element. The '08 Vin Gris shows no sign of the smoke at all, and is a delightful wine – regardless of the circumstances, we'd be fortunate to see more Vin Gris from Littorai in the future! The '07 Chardonnays and '06 vineyard designate Pinots I tasted that day (plus another '06 Littorai Pinot I tasted at the Anderson Valley Pinot Noir Festival later the same week) were all in keeping with the style I've come to expect from the winery – rich and elegant wines that show tremendous distinction between the different vineyard bottlings, and with structure and depth that allow for graceful aging. My favorites were the Vin Gris, Charles Heintz Chard, and Roman Pinot. Oh, and I finally learned how to pronounce the name of Thieriot Vineyard – it sort of rhymes with "cheery-o"!
Leaving Littorai, I headed north across the Russian River on the old one-lane wide Wohler Bridge to pick up wine at Williams Selyem Winery along Westside Road. I'd missed their spring open house weekend (unfortunately it was the same weekend as Hospice du Rhône this year) so I did not have a chance to taste any wines there. After stopping for a quick lunch and an errand in Healdsburg, I drove back down Westside Road to Moshin Vineyards, where I had an appointment to meet with Leslie Sisneros, the winemaker of Arista Winery.

Arista Winery
Current releases and barrel samples:

'08 Gewürztraminer, Russian River Valley: Tasted at Saralee's Vineyard on 2/26/09 (three days after bottling). From 100% Saralee's Vineyard fruit, 87% stainless steel, 13% barrel-fermented, totally dry. Very light color, with intense lychee, stone fruit, and spice aromas, smooth mouthfeel with crisp acidity, slight bitter note in the finish that's common to Gewürz. A very enjoyable wine, even tasted so soon after bottling – spot-on varietal character.

'08 Pinot Noir, Keller Vineyard, Sonoma Coast (barrel sample): Clones 115 and 828, new Siguin Moreau barrel. Medium-dark color, ripe raspberry and darker fruit, coffee, and earth, great acidity, some mild tannins.

'08 Pinot Noir, Mononi Vineyard, Russian River Valley (barrel sample): Clone 115, new Remond Allier barrel. Medium-dark color, intense ripe cherry and cola, some vanilla and spice.

'08 Pinot Noir, Mononi Vineyard, Russian River Valley (barrel sample): Clone 113, one-year-old Mercurey barrel. Medium color, very floral aromas, bright strawberry and pomegranate, great acidity and lively mouthfeel, flavorful finish. This could easily be bottled this on its own.

'08 Pinot Noir, Toboni Vineyard, Russian River Valley (barrel sample): Clone 777, new Marcel Cadet barrel. Medium-dark color, dark brambly fruit, more earthy along with some wood notes, bigger mouthfeel and more tannins.

'08 Pinot Noir, Bacigalupi Vineyard, Russian River Valley (barrel sample): Pommard clone, older Remond barrel. Medium color, intense raspberry and spice, silky texture with a long, tasty finish.

'08 Pinot Noir, Bacigalupi Vineyard, Russian River Valley (barrel sample): Wente clone, new Marcel Cadet barrel. Medium color, plum and darker fruits with dried herbs and some sweet oak notes, richer mouthfeel.

'08 Pinot Noir, Martinelli Vineyard, Russian River Valley (barrel sample): Clones 115 and 777, new Mercurey barrel. Ripe cherry, vanilla/oak, very smooth and lush mouthfeel, some noticeable tannins.

'08 Pinot Noir, Martinelli Seven Mules Vineyard, Russian River Valley (barrel sample): 85% Clone 114, 15% Clone 113, new François Freres Vosges barrel. Medium-dark color, bright cherry aromas with a savory component and some coffee notes, very rich mouthfeel, some tannins on the finish.
Arista's wines are produced at the Moshin Vineyards facility near Forestville. Moshin currently has about 6 custom crush clients in their 3-level gravity flow winery, which was completed in 2005. As I waited in the tasting room for Leslie Sisneros, I met Moshin owner/winemaker Rick Moshin. I've stopped at their tasting room in the past, and they make some very nice wines. After a couple of minutes, Leslie came in and I followed her back into the winery. I'd met Leslie a few years ago through Bryan Harrington of Harrington Wines, where I work part-time – Bryan and Leslie shared a Pinot vineyard source in 2006, though neither still sources fruit from that vineyard. Leslie is a petite woman, proving (along with Vanessa Wong of Peay Vineyards, among others) that one's physical size should not be a barrier to anyone who has the talent and the drive to become a winemaker.
Leslie earned a degree in viticulture from UC Davis, and has worked for a number of highly-regarded Sonoma County wineries over the years, including Rodney Strong, Chateau St. Jean, and Haywood. She worked at Kendall-Jackson for thirteen years, becoming their assistant winemaker in charge of operations. Her specialty at K-J was Pinot Noir, working with fruit from Anderson Valley, Russian River Valley, Monterey County, and Santa Maria Valley. Leslie became Arista's winemaker in early 2005. She also works with Kastania Vineyards and a couple of other labels, and she's been developing her own label along with a few partners – it's now being re-named as one of the partners has left, and Leslie mentioned how tough it is to come up with a good winery name!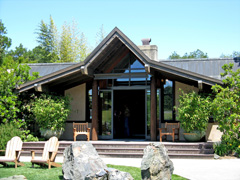 Arista Winery was founded by the McWilliams family in 2002. Al McWilliams had been an orthodontist in Texarkana, Texas before moving his family to Sonoma County in 1996. Al, his wife Janis, and brother-in-law John Copeland all played parts in bringing Arista into being. Al and Janis' sons Mark and Ben have also become a big part of the family business. Learning from courses at UC Davis and from time working at Kendall-Jackson, Mark now heads up winery operations and assists with the winemaking, while Ben manages the tasting room. Arista currently produces about 5,000 cases annually. Pinot Noir is the winery's specialty and the majority of their production, but they produce very good Pinot Gris, Gewürztraminer, Zinfandel, and Syrah as well.
Al and Janis purchased 36 acres along Westside Road in the heart of the Russian River Valley in 2004, as the site of their estate Pinot Noir vineyard. This is a few miles northwest of the Moshin facility, and very close to both Williams Selyem and Rochioli. A six-acre portion of the property was planted in 2007, and another four acres of vines are planned, as is a winery on the property. They should start to get some Pinot fruit from their new estate vineyard this year, from Swan, Mt. Eden, and Pommard clones. With its beautiful Japanese garden just outside, the Arista tasting room on the property is one of the loveliest places for wine tasting in Russian River Valley, and definitely well worth a visit.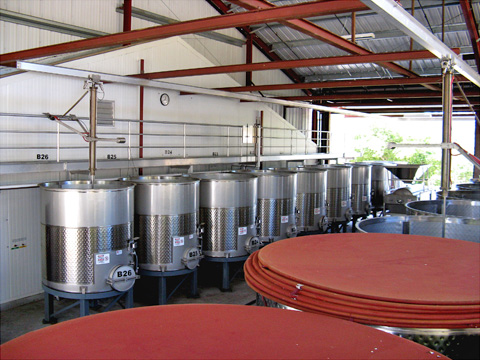 Leslie led me outside and up the driveway adjacent to the Moshin winery, where she pointed out a number of Arista's stainless steel fermentation tanks. The largest fermentation tanks at Moshin are 6-7 ton, but Arista's are typically smaller, and some of the smallest lots are fermented in bins rather than the larger tanks. Leslie noted that accommodating all the fermenting Pinot can be a challenge, since most of their fruit tends to come in within a short time period during harvest, with most of the vineyards being within a small geographical area. Vineyard sources include Mononi, Toboni, Bacigalupi, Martinelli, and Saralee's vineyards, all near the heart of Russian River Valley Pinot country, and Perli Vineyard in the remote Mendocino Ridge AVA.
We walked down from the crushpad, on the highest level of the winery, to the fermentation tanks below, and then into the barrel room, where Leslie got out a wine thief and began pulling Pinot barrel samples. As that's the wine that Arista is best-known for, most of our discussion centered on Pinot Noir. Since most of the vineyards are close to the winery, Leslie is able to get the fruit there while it is quite cold, and the fruit undergoes a cold soak at around 45-50 degrees for four days. She prefers to inoculate with selected yeast strains, and she likes Assmanhausen and RC212 in particular, for the different characteristics they impart to the wines. Fermentations are kept around 85 degrees, and once complete, Leslie keeps the press wine separate from the free run – she uses most of press wine for blended appellation Pinot bottlings, though some may go into vineyard-designate wines if they need a little extra body or tannin. She stirs the lees once the wine is in barrel. New oak can be as much as 60% for some wines, though most of them use a lower percentage. The Pinots typically spend about ten months in barrel before bottling. Leslie also noted that both the Gewürztraminer and Pinot Gris are mostly fermented in stainless steel, with a small percentage being barrel-fermented.
As we tasted 2008 Pinot barrel samples, Leslie talked more about some of the vineyards. Both Mononi and Toboni have their own vineyard-designate Pinot bottlings, and there have been other vineyard-designate Pinots in the past, including Ferrington Vineyard from Anderson Valley. In addition, Arista produces a couple of appellation-designate Pinots from Russian River Valley and Sonoma Coast, plus a high-end Russian River Valley Pinot called "Longbow," which is a blend of barrels from several vineyards. The five-acre Mononi Vineyard is near Olivet Road and River Road, and is planted to Clones 113 and 115. Leslie expects that the '08 Mononi vineyard-designate will end up being about a 50/50 blend of each clone. I thought the Clone 113 barrel sample was especially distinctive – it would make a good candidate for a single-clone Pinot bottling if Arista ever does one. The nearby Toboni Vineyard, also just off of Olivet Road, is about 15 acres and has Clones 115, 667, 777, and Pommard 5 planted. I mentioned to Leslie that I always get the similar-sounding Mononi and Toboni vineyards confused – Leslie told me not to worry, everyone does that! Bacigalupi has older vines, many of them 20-30 years old. The fruit from Martinelli will go into blends rather than a vineyard designate bottling.
Leslie's winemaking style at Arista shows a deft touch – considering most of the samples I tasted were from new barrels, the oak did not mask the beautiful Pinot fruit but complemented it nicely. That's not an easy accomplishment, and I was impressed at how clearly these young wines displayed their vineyard and clonal distinctions. While these are not shy wines, they retain a delicate character that many bigger Pinots lack. Arista is producing some excellent wines that successfully combine boldness and refinement.
Arnot-Roberts Wines
I needed to head to my last appointment of the day, so I said goodbye to Leslie and drove back across the Wohler Bridge, up the hillside above the Russian River, and into the town of Forestville. After spending a few minutes unsuccessfully trying to locate the address I was looking for, I finally found it and pulled up to the old building that houses Arnot-Roberts Wines. I was greeted there by Pax Mahle, whose new Wind Gap Wines label shares the space with Arnot-Roberts.
I first tasted Arnot-Roberts wines at Hospice du Rhône in 2008, where I tried their '06 Clary Ranch Syrah. It was a revelation for me there, one of the finest and most distinctive California Syrahs I've tasted in some time, and a great example of how cool-climate fruit can produce exceptional Syrah here. I found it to be just as stunning when I tried it again at the Rhone Rangers tasting in San Francisco this March. At that time, I also tasted two of their '07 Syrahs, which were also excellent, and I realized that this was a winery I needed to check out in more detail.
Current releases & barrel samples:

'08 Chardonnay, North Coast: 50% Green Island Vineyard, 50% Bei Vineyard, 20% malolactic, all neutral oak. Medium-light color, lemon/citrus aromas along with mineral and spice. Nice texture in the mouth along with brisk acidity, and a clean, refreshing finish. Very flavorful, crisp, and distinctive Chard at a most reasonable $30 price.

'07 Syrah, Hudson Vineyard North Block, Carneros: Tasted at Rhone Rangers Tasting, 3/22/09. Clone 99, 50% whole cluster, 30% new oak. Dark fruits and black pepper, with lively acidity and distinct mineral notes. Still tightly-wound, but a tasty young Syrah that screams out for food.

'07 Syrah, Griffin's Lair, Sonoma Coast: Tasted at Rhone Rangers Tasting, 3/22/09. 100% whole cluster, no new oak. This has more floral character in the nose than the Hudson, while retaining the pepper and minerality. More noticeable spice notes accompany the blackberry fruit, and the wine carries a bit more weight in the mouth than the Hudson – should age nicely.

'06 Syrah, Clary Ranch, Sonoma Coast: Tasted at Rhone Rangers Tasting, 3/22/09. Floral, meaty, black pepper – classic cool-climate character aromatics. Black fruits with savory and spicy overtones on the palate, nice acidity, and youthful tannins on the finish.

'06 Cabernet Sauvignon, Clajeux Vineyard, Chalk Hill: 100% Clone 7 Cabernet Sauvignon, about 30% whole cluster. Medium-dark color, herbal blueberry and cassis with notes of spice and minerals, a very structured style, not showing the oak too much, lively acidity in the mouth, tannic and in need of time in bottle.

'06 Cabernet Sauvignon, Bugay Vineyard, Sonoma County: About 7% each Petit Verdot and Cabernet Franc, and about 25% whole cluster in the Clone 15 Cabernet Sauvignon. Dark color, more fruit-forward cassis and plum, with a slight minty note, more lushness and weight on the palate than the Clajeux, with big, grippy tannins on the finish.

'07 Cabernet Sauvignon, Clajeux Vineyard, Chalk Hill (barrel sample): Already blended, with about 75% new oak. Dark color, a bit riper than the '06 but with similar aroma and flavor profile, more dense texture in the mouth with finer tannins on the finish.

'07 Cabernet Sauvignon, Bugay Vineyard, Sonoma County (barrel sample): About 10-12% Petit Verdot and 3-5% Cab Franc. Dark color, raspberry, plum, and chocolate on the nose, similar mouthfeel to the '06, with less aggressive tannins.

'08 Cabernet Sauvignon, Fellom Vineyard, Santa Cruz Mountains (barrel sample): 100% Cabernet Sauvignon. Medium-dark color, less fruit-forward, more herbal with some green pepper, spice, and white pepper, along with dark fruit flavors and some smoky notes, fairly big tannins.

'08 Syrah, Hudson Vineyard North Block, Carneros (barrel sample): Clone 99, 50% whole cluster. Dark color, peppery blackberry, some green/stemmy notes, very bright acidity, chewy tannins.

is the creation of childhood pals Duncan Arnot Meyers and Nathan Roberts. They've known each other since they were eight years old, when they were in school together in Napa Valley. Duncan has degree in kinesiology (science of human movement). He got into wine afterwards and eventually became the assistant winemaker at Pax Wine Cellars for 4½ years. He's been working full-time on Arnot-Roberts for the past year. Nathan's background is in barrel cooperage, which he learned from his father Keith, who is also a cooper (Keith helped set up the Demptos cooperage in the US in the 1970s, and also worked for Mondavi). Duncan and Nathan eventually joined forces and decided to make their own wine together. Their first commercial vintage was in 2002, and they've grown slowly but steadily since then.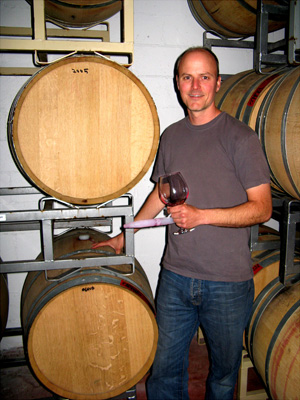 Duncan was out of town the day of my winery visit, though I had a chance to talk with him at a wine release party shortly afterwards. Duncan uses his middle name as a tribute to his grandfather David Arnot, who was killed in World War II. He traces the Arnot family roots to Normandy through Scotland, where his grandmother and grandfather lived. Duncan explained that after the move to Scotland, the Arnot name went from being pronounced "are-no" to "are-nut," which is how he now pronounces it. Shortly after Duncan's grandfather died, his grandmother, who was pregnant with Duncan's father, moved from Scotland to Tasmania. There she met and married an American merchant marine and they settled in California. The winery also pays tribute to Nathan's grandmother, Margrit Biever Mondavi, who designed the beautiful label art for the bottles.
Nathan was on the telephone in the small winery office (are there any winery offices that aren't small?), so while I waited, I chatted with Pax and played fetch the tennis ball with Nathan's dog Django – the name being a nod to both the '66 spaghetti western movie, and the '69 album by Lee "Scratch" Perry and the Upsetters, a favorite at the winery. After a few minutes, Nathan came out to meet me. He told me that their winery had moved into the building in late 2007, with their first harvest there in '08. They had previously made their wine at Pax's old winery in Santa Rosa. The concrete block building dates from the 1920s, with an addition that was built in the '40s. It had been an apple processing facility, and at one time housed the American Wine Company. There's still an old "American Wine Co." sign by the front of the building, but Nathan said they have not had much luck finding out information about it. More recently, Taft Street made their wine in the building in the 1980s. Arnot-Roberts and Wind Gap share the building with a coffee roaster, massage therapist, Zen center (all things a busy winemaker can use!), and a few other interesting small businesses. The two wineries produce about 2,500 cases per year at the facility now. About 1,200 cases is the Arnot-Roberts production, with the rest being the Wind Gap reds. Pax plans to move the Wind Gap whites moving into the building soon. The shared winery space is about 50'x100' in size, with a dividing wall that separates the barrel storage from the crushpad & tank area.
Arnot-Roberts produces Chardonnay, Syrah, and Cabernet Sauvignon, and Nathan said that they intend to stick with those three varieties for the foreseeable future. These are the wines they like, don't want to get pigeonholed as being identified only with Burgundian / Rhône / Bordeaux varieties. Their inspirations are Chablis and the Northern Rhône, but don't draw upon Bordeaux as much as a model for their Cabs. They have played around with some sparkling wine, made from about 50/50 Pinot and Chardonnay sourced from Demuth Vineyard in Anderson Valley, but this was only made in tiny amounts for friends and family.
The 2008 Arnot-Roberts Chardonnay is a 50/50 split between two vineyards, Green Island Vineyard, in very southern Napa Valley near American Canyon and close to the Bay salt flats, and Bei Vineyard, at about 1,800 foot elevation near Cazadero, only a few miles inland from the Sonoma Coast. This wine has loads of acidity – .87 TA and under 3.2pH – and though it's only 12.9% alcohol, the fruit tastes perfectly ripe. Aged in neutral oak, only about 20% of the wine went through malolactic fermentation. Their first Chardonnay, the '07, was entirely from Green Island fruit.
Arnot-Roberts sources from several cool-climate Syrah vineyards. Alder Springs is located in northern Mendocino County, in the mountains west of Laytonville, while Griffin's Lair is in the windy and cool Petaluma Gap area. Hudson, on the Napa side of Carneros, is a very well-known vineyard, with Syrah going to the likes of Kongsgaard, Neyers, Lewis, and other big names. Nathan mentioned that their Hudson fruit was picked at lower sugar than usual in 2008, only about 22 brix. Then there's Clary Ranch, in the western reaches of Petaluma Gap, between the tiny settlement of Two Rock and Petaluma itself. One of the very coolest Syrah sites in California, the fruit struggles to ripen there. When it does, as in 2006, the results can be stunning (Wind Gap also produced an excellent Syrah from this fruit in '06), but this is not an every-year occurrence, and the fruit did not ripen sufficiently to be bottled separately in '07 or '08. In those years, the fruit goes into non-vineyard designated wines instead. The '07 Clary Ranch fruit went into Arnot-Roberts' Syrah-Viognier bottling.
Two vineyards have supplied most of the winery's Cabernet Sauvignon fruit to date. Clajeux Vineyard (another pronunciation challenge…but just think of saying "gesundheit" afterwards!) is on a cool, rocky hillside with volcanic soil on the western slope of the Mayacama Mountains. Only 2½ barrels were made in '06, with one each new and used full-sized barrel plus one new half-barrel, all made by Nathan. Bugay Vineyard is off Mark West Road east of Windsor, on a rocky volcanic ridge in the Mayacama Mountains, just a few miles south of Clajeux. The vines there have struggled so much that it took six years to produce the first crop there. In 2006, Arnot-Roberts produced just three barrels of Bugay Cabernet, using all new oak. A newer Cabernet source is Fellom Vineyard, in the Santa Cruz Mountains on Montebello Road very close to Ridge. The vineyard was planted in mid-1980s, is mostly dry-farmed and head-trained, and has a crop yield of only about one ton per acre. The Cabernet from this vineyard has a much different profile than the other two – the '07 bottling will be the winery's first.
Nathan discussed with me how he and Duncan make their wines. Most of the fruit is fermented in 1½-ton bins, which is practical since most of their fruit lots are only about 3 tons. Nathan and Duncan like to use a good deal of whole-cluster fermentation for their Syrahs and Cabs, as they feel it keeps the wine livelier and spicier. With so many whole clusters going into the bins, little sorting at the winery is needed – Nathan mentioned that their fruit is well-sorted in the vineyard before it ever reaches the winery. The Alder Springs and Griffin's Lair Syrahs are usually 100% whole cluster, while different percentages have been used in the Hudson Syrah in different vintages, though both the '07 and '08 were 50%. Nathan and Duncan have used some whole cluster for their Cabernets as well, though the Fellom Cab was entirely destemmed in '08.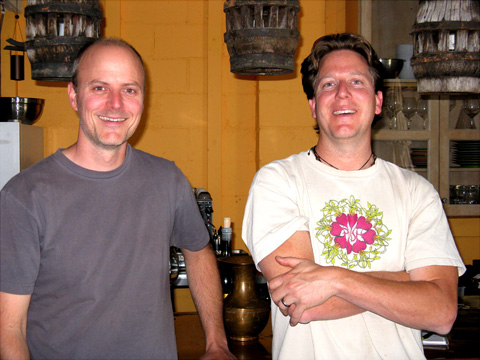 Nathan Roberts, Pax Mahle
Fermentation takes place with native yeast. Pumpovers are used early on in the ferments for the reds, switching to punchdowns later on. Nathan told me that once the wine is pressed into barrel, they top up the barrels about every two months, less than many winemakers – they feel that opening the barrels for topping more frequently exposes the wine to more oxygen. The Chardonnay is aged about six months in neutral oak. Syrah spends around 11 months in barrel, while the Cabernet is in oak for 22-23 months, and is racked about once a year. Sulfur levels in the wine are kept on the low side, under 30ppm for the Chardonnay, and under 20ppm for the Syrahs and Cabs.

With Nathan's background as a cooper, it's no surprise that he has designed and built nearly all of Arnot-Roberts' barrels. There are a few purchased neutral barrels, but as their own barrels become older, they will be able to go entirely with Nathan's cooperage. Nathan looks for Tronçais and Center of France oak for the Cabs, and Allier and Center of France for Syrahs, mostly medium toast but with some variety of toast levels. He's able to select the barrel wood stave by stave.
Nathan started out our tasting with the winery's recently-released '08 Chardonnay, and then proceeded to the two new '06 Cabernets, which he had decanted a short time earlier. He knew that I had already tasted some of the current '07 Syrahs, so we skipped over those this time. From there, we headed into the barrel room, where Nathan pulled some Cabernet and Syrah barrel samples. As we tasted, the lights flickered out briefly a couple of times, only to come back on a moment later. But the third time was the charm – the lights went out and never did come back on. As we finished tasting a barrel of Hudson Vineyard Syrah in the dim light, Pax looked in from the barrel room door and announced that power was out all over town, so we decided to call it a day.
Arnot-Roberts is producing some of the most distinctive California wines I've tasted recently. The wines show their cool-climate vineyard sources, and all feature structure that should make them very food-friendly as well as great choices to lay down in the cellar for a few years or more. But that's not to say these are hard, lean wines – far from it. They are flavorful and deep, with complex aromas and flavors that wines from warmer-climate sources often don't develop. Duncan and Nathan have made a successful team, and based on the Arnot-Roberts wines I've tasted, the future holds great things in store for them.

I headed back to the East Bay late in the day, after another great visit to the Russian River Valley. As many times as I've been there, I always find new things to discover (including the correct way to pronounce a few vineyard and winery names!). And fortunately, with so many top-notch wineries in the area, I can look forward to more discoveries for years to come. As always, thanks to everyone that we visited for being so generous with their time and their wine!