A visit to Pierce Ranch and Coastview Vineyards with Ian Brand
Ian Brand has his hands full.
He's an up-and-coming presence on the northern Central Coast wine scene – as consulting winemaker for no less than five wineries as well as heading up two wine labels of his own (with a third soon to be launched), it's a wonder that he has time to sleep. So it was quite a coup to get a full day's worth of Ian's time to lead a tour of two Monterey County vineyards and to taste twenty wines.
The genesis of this visit with Ian was two-fold. I've been impressed by the wines from Iberian grape varieties that he's made for Pierce Ranch Vineyards. I'd tasted them at the San Francisco tasting of TAPAS (Tempranillo Advocates, Producers, and Amigos Society), as well as some very good wines from the Quinta Cruz label that are also sourced from Pierce Ranch fruit. I've also been intrigued for awhile by Coastview Vineyard, with which Ian has a close connection. So after getting in touch with Ian after the most recent TAPAS event, this became a perfect opportunity to check out both vineyards with him. Joining me on this short trip to Monterey County were Bryan Harrington – for whom I work part-time at Harrington Wines in San Francisco – and Wes Barton – wine blogger and Santa Cruz Mountains wine expert who also is making a barrel of Syrah from Coastview Vineyard himself.
The day of our trip was the summer solstice, and it turned out to be the hottest day of the year to date as well as the longest. Getting an early start from Oakland, I picked up Bryan in San Francisco and Wes in the South Bay before continuing on to Salinas, where we met Ian at his home there.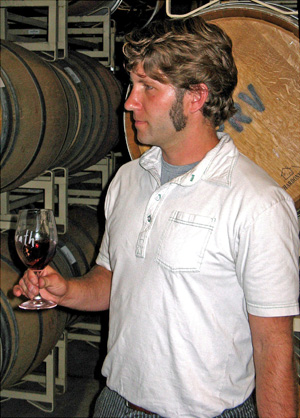 Ian Brand
Ian grew up in Connecticut, and he has a degree in Environmental Science. He spent time in the Peace Corps, which took him to Ecuador, and he's lived in a number of other places, including Vermont and Utah. Ian originally came from Utah to California – specifically to Santa Cruz – not for anything wine-related, but for surfing. Needing a job, he answered an ad from Bonny Doon Vineyard and started working in their lab. From there, Ian moved on to work in their cellar where he quickly picked up winemaking knowledge and experience. After two years at Bonny Doon, he went to Big Basin Vineyard, where he became the assistant winemaker.
Ian left Big Basin in early 2008, looking to take the next step in his winemaking career. He realized that without a degree from UC Davis or Fresno State, it would be more difficult to take that step in a more "established" wine region like Napa or Sonoma, so he focused on other areas. He considered Oregon, but he found an opportunity to make his own wines from Coastview Vineyard and decided to move to Monterey County.
After leaving Big Basin, he looked for a way to support himself until his new Coastview and Le P'tit Paysan wine labels started generating income. He found a consulting position as winemaker for Nicholson Vineyards in the Santa Cruz Mountains in early 2008, and a few months later he took a similar winemaking position at Pierce Ranch Vineyards in Monterey County. Pierce Ranch had been making some of their wine at Santa Cruz Mountain Vineyard – they buy Pierce Ranch fruit for their Quinta Cruz label – and some was made by Marilyn Remark Winery's Joel Burnstein at his facility a few miles south of Salinas. After Ian came on board, the winemaking was consolidated at the San Saba (now Wrath Wine) facility near Soledad.
Ian feels that his home base in Salinas is a great central location for him – close to the Monterey County vineyards, and not far from Paso Robles, the Santa Cruz Mountains, and San Benito County. In fact, all the vineyards that he works with are within a 1½-hour drive from his home. Ian's wife Heather works for Delicato business services not far from there too.
Ian's own wine labels – in partnership with Coastview Vineyard owners John & Julie Allan – are Coastview, Le P'tit Paysan, and a new label he will be launching later this year called Fieldfare. Coastview's current annual production is around 700 cases, while Le P'tit Paysan (French for "the small farmer") makes around 2,700 cases. Ian also makes these wines at the Wrath Wine facility.
Coastview – Ian's "flagship" label – is all from Coastview Vineyard fruit. Already known for its Chardonnay and Syrah, we can look for 2009 Bordeaux-style red blends to be released before long, and we should see some Viognier and (hopefully) Riesling from the 2011 vintage. The fanciful Coastview label artwork, with its hot-air balloon and antique maps, is meant to convey a sense of adventure, as well as of the elevation of the vineyard. Le P'tit Paysan focuses on more value-oriented wines, including Albariño, Chardonnay, a Rhône-style white blend, Rosé, Grenache, Petite Sirah, a Syrah-Mourvèdre blend, and a Bordeaux-style red blend. Fieldfare will have a similar price point to Le P'tit Paysan but will aim for broader appeal – they'll be more "conventional" wines than Le P'tit Paysan, which Ian says sometimes "teeters on the edge of esoteric." Fieldfare will start out with Pinot Noir and Chardonnay, and may add more wines in the future.
Ian's consulting winemaking duties keep him busy. Pierce Ranch makes about 15 wines (more on those later), and Nicholson has about 12, including Chardonnay, Viognier, Pinot Noir, Syrah, Zinfandel, and Cabernet. Ian has more recently taken on winemaking duties for Chateau Lettau (Chard, Cab, Syrah, and blends from Monterey and Paso). He's also working with his friend John Locke on a custom-crush project called Birichino (Ian ferments their Old Vine Grenache, and the label also features a Monterey Malvasia Bianca). And earlier this year he started as winemaker at De Tierra (best-known for Monterey Chard and Pinot) as well.
Whew! Does it sound like Ian's got his hands full?
Pierce Ranch
We all got into Ian's car and headed south on Highway 101 through Salinas Valley, passing the towns of Chualar, Gonzales, Soledad, and Greenfield along the way. As we drove through the valley, Ian pointed out landmarks in the mountains on each side. He told us that Pico Blanco, in the Santa Lucia Mountains to the west, has largest limestone deposit in California. With all that limestone, it's a shame it's too close to the ocean to be a good vineyard site – and it's mostly public land there in any case. He said that he feels the Cienega Valley, just across the Gabilan Mountains in San Benito County to the east, is an underrated viticultural area, and can produce great Grenache, Zinfandel, and Mourvèdre. And he mentioned that Monterey County in general is a great area for growing aromatic white grape varieties such as Albariño, Malvasia Bianca, and Riesling.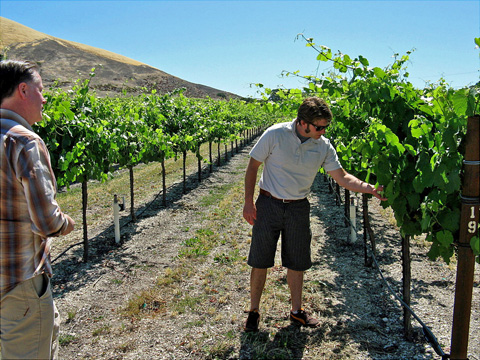 Bryan Harrington (l) listens to Ian's cluster prognosis
About 45 minutes south of Salinas, just before reaching King City, Ian turned off the freeway onto Jolon Road. This lonely road goes southwest over the hills, passing the edge of Fort Hunter Liggett as it drops into San Antonio Valley, where Pierce Ranch is located. A remote and little-known part of Monterey County, near the tiny town of Lockwood, the valley is situated between the southern portion of Salinas Valley and the rugged Santa Lucia Mountains.
The San Antonio Valley AVA was approved in 2007, making it one of California's most recent grape-growing appellations, but viticulture is hardly new to the area. The first local winegrapes were cultivated over two centuries ago at the nearby Spanish mission of San Antonio de Padua. In more recent times, the Hearst family once owned most of the valley, along with other vast landholdings in the region.
The San Antonio River runs through the valley – the river has been dammed near the base of the mountains to form Lake San Antonio, a popular recreation area. While the coastal mountains can receive as much as 60-100 inches of rain per year, the valley is in their rain shadow so it gets only a small fraction of that amount, as little as 6 inches in some years. Unlike most other Monterey growing areas, the valley is cut off from the ocean's cooling influence. As a result, the climate during the growing season is warm to hot, not unlike that of Paso Robles. In fact, the southern tip of San Antonio Valley is only about 25 miles from Paso Robles.
We passed by a handful of other vineyards in San Antonio Valley as we drove along – most of them are fairly small and situated on the flat valley floor. Ian told us that these vineyards mainly grow Bordeaux varieties, with much of the fruit going to Napa wineries. Eventually we climbed toward the southern end of the valley, into low, rolling hills, where Ian said the soil becomes rockier. Pierce Ranch is located at the base of some hills near the southeastern edge of the valley, at an elevation of about 1,000 feet, and part of the vineyard extends up the lower parts of these hills. There's good access to well water there, and the site is well sheltered from wind by the coastal mountains.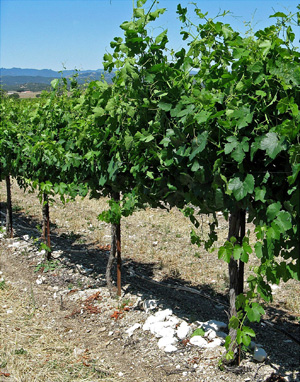 Pierce Ranch is owned by Bill & Gail Pierce. The Pierce family owns a number of car washes in the Salinas area, but Ian told us that Bill had always wanted to be a farmer. After purchasing the property in San Antonio Valley, he started putting in grapevines. Today, the Pierces grow grapes and raise sheep on their land. The first vines were planted in 1999, and planting continued for the next few years. Originally, most of the vineyard was planted to Petite Sirah, and David Bruce Winery in the Santa Cruz Mountains bought much of that fruit. More recently, a number of vineyard blocks have been grafted from Petite Sirah to other varieties, so there is a wide range now grown there, 22 varieties in all. Bill Pierce's family has Portuguese roots, which accounts for his interest in planting many Portuguese grape varieties in the vineyard, a number of them rarely-seen in California.
The Pierces grow Zinfandel, Cabernet Sauvignon, Petit Verdot, and several Rhône grapes – Syrah, Grenache, Mourvèdre, Carignane, and Petite Sirah – but what makes the vineyard distinctive are its Iberian varieties. Albariño, Verdehlo, and Arinto are the whites planted there, while reds include Tempranillo, Graciano, Touriga Nacional, Touriga Franca, Tinta Cão, Tinta Amarela, Tinta Bairrada, Trincadeira, and Periquita. (Note – I've seen it spelled both "Bairrada" and "Barraida" but Bairrada seems to be the most common, so that's what I've used here.)
Pierce Ranch is among a number of growers, in California and elsewhere in the US, who have an issue with labeling their wines made from Spanish and Portuguese grape varieties. The TTB – the federal agency that regulates wine – has not yet approved the names of many Iberian grape varieties for use on wine labels. For example, they have not approved the use of the varieties Touriga Nacional or Touriga Franca, so those wines must simply be labeled "Touriga," and many other varieties are simply not yet recognized under any name.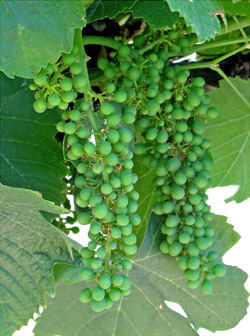 Cluster development at Pierce Ranch
Ian makes a number of varietal wines for the Pierce Ranch Vineyards label, including Albariño, Cabernet Sauvignon, Petite Sirah, Zinfandel, Tempranillo, and Touriga. There are also several blends, including "Tourbillon" (a blend based on Grenache, Syrah, and Petite Sirah), "Cosecheiro" (a blend based on Tempranillo, Touriga, and Graciano), and "Vinho Doce" (a dessert wine made with Portuguese varieties). They also make some limited bottlings for their wine club, including Tinta Cão and a Rosé. Total production is around 1,600 cases per year. Pierce Ranch has a tasting room for their wines on Wave Street in Monterey.
After turning off Jolon Road and entering Pierce Ranch, Ian stopped the car near the base of some vine rows. He explained to us that the vineyard is divided into two parts – Home Ranch and Y Ranch. The Home Ranch vineyard is about 20 acres, while Y Ranch is around 13. A potential third Pierce Ranch vineyard plot, also about 13 acres in size, has not yet been planted.
Getting out of the car, we could feel the heat beating down on us, even in the late morning. We'd stopped at Y Ranch, situated on slopes that climb up the low hillside toward the main road. As we began to walk up one of the vineyard rows, Ian told us that the soils at Y Ranch are a mix of calcareous rock/limestone, granitic sand, broken shale and clay – quite varied. The soil is mostly light-colored, and we found lots of limestoney rocks along the lower part of the vine rows. Farther up the hill, the soil became sandier, and the exposed rocks were less calcareous and more granite and sandstone. The Grenache, Albariño, and Touriga vines in this area looked to be doing very well.
Climbing back into Ian's car, we proceeded about ¼ mile to Home Ranch, located on a flatter site. Ian told us that this part of the vineyard contains most of the overall number of grape varieties grown at Pierce Ranch. Strikingly darker in color, the soil at Home Ranch is mostly a silty clay loam, with a little calcareous soil mixed in. Ian feels that blends rather than single varietal wines have worked better from this part of the vineyard.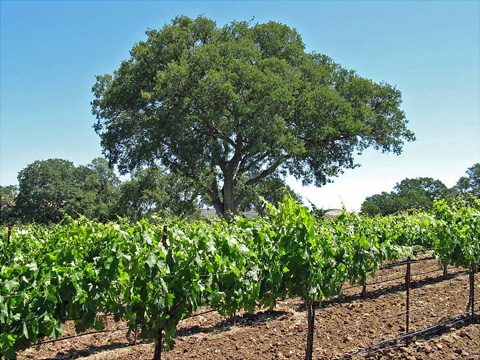 We found some shade under a large oak tree, where Ian told us that dealing with the heat at this site is the toughest aspect of farming the grapes. He said the temperature hit 117 degrees one day last year, and some Graciano grapes went from 21 to 37 brix in three days! With that kind of heat, and the dry air not posing much of a mildew threat, it's no surprise that the vine canopies are left pretty full, to provide shade to the grape clusters. Salt buildup in the soil can occasionally be an issue too, due to the low rainfall, but Ian didn't feel that has been too much of a problem. Ian would be interested in moving to organic farming there, but he's not sure how much interest the Pierces have in doing that.
Among the varieties at Pierce Ranch, Albariño is always the first picked, and Cabernet generally the last. Ian feels that Petite Sirah currently produces the most consistently good wines from the vineyard. Tempranillo generally does well but Ian said it is more variable from year to year, and Ian noted that the Touriga Franca is more aromatic but less structured than the Touriga Nacional. With the number of varieties grown at Pierce Ranch, there should be nearly endless opportunities for interesting blends.
Leaving the vineyard, we retraced our route up Jolon Road to King City, where we stopped for lunch at El Lugarcito, near the south end of Broadway. Though the atmosphere was pretty typical of smaller Mexican cafés in the area, Ian chose this spot for our lunch since he felt it had more "cachet" than other options! Cachet or not, the food was quite good – since El Lugarcito specializes in seafood, we all opted for various camarón (shrimp) dishes. My camarón tostada with a cold beer really hit the spot on that hot day.
Barrel Tasting
Tasting Notes: Barrel Samples

Pierce Ranch 2010 Albariño, "Sur Lie," San Antonio Valley. From one once-used and two neutral François Frères barrels, this wine was barrel-fermented and Ian stirred the lees in barrel. Medium-light yellow color, minerally lemon and lime on the nose, bright with lots of texture in the mouth, and a slightly tangy finish.

Le P'tit Paysan 2010 "L'Apiculteur," Pierce Ranch, San Antonio Valley. 60% Viognier, 20% Marsanne, 20% Roussanne, from one neutral and one once-used barrel, plus a stainless steel barrel. The wine name is French for "the beekeeper." Medium-deep yellow color, this featured waxy citrus and stone fruit aromas. Medium-bodied with a lively mouthfeel and clean finish.

Coastview 2010 Chardonnay, Coastview Vineyard, Monterey County. Medium-light yellow color, this had deep tropical fruit, lees, hazelnut, and spice aromas. Fairly rich mouthfeel, with a long, smooth finish.

Coastview 2010 Chardonnay, Coastview Vineyard, Monterey County. This may be blended with the previous Chardonnay or may be in a separate bottling. A bit lighter in color, this had more a brighter, more citrus fruit profile, along with a mineral note and a touch of lees. More juicy acidity in the mouth and on the finish.

Pierce Ranch 2010 Tempranillo, San Antonio Valley. From vines with one cluster per shoot, fermented with about 15-20% whole cluster, this is now in 100% new oak and will probably be a reserve bottling (Ian may rack it out of the new oak). Medium-dark reddish-purple color, featuring bright plum, earth, spice, and vanilla/oak on the nose. Big and rather viscous on the palate, the tannins were surprisingly refined for a barrel sample.

Pierce Ranch 2010 Trincadeira, San Antonio Valley. From an older barrel. Medium ruby color, this showed earthy red fruits, with a big spice component. In the mouth, tangy cherry flavors were followed by moderate but chalky tannins. Hard to describe this wine adequately – it was really quite different and distinctive.

Pierce Ranch 2010 Tinta Bairrada, San Antonio Valley. From a new Hungarian oak barrel. Medium-dark purple color, the smoky, spicy oak dominated the aromas. Medium weight, with a moderately tannic finish.

Pierce Ranch 2010 Tinta Bairrada, San Antonio Valley. From a neutral barrel. Similar color to the previous wine, this displayed plum and blueberry fruit, earth, and a big stony, mineral component. Still not completely finished with its fermentation, this sample had a touch of residual sugar that probably boosted the perception of the wine's body and helped offset the still substantial tannins.

Pierce Ranch 2010 Grenache, San Antonio Valley. From an older barrel. Medium-light garnet color, with aromas of strawberry, spice, and dried herbs. Medium-light bodied, with good structure and moderate tannins.

Pierce Ranch 2010 Tinta Amarela, San Antonio Valley. Ian said this is supposedly the same variety as Trincadiera, but a different clone. From a neutral barrel. Medium-dark purple, with funky/earthy plum and wild berry fruit, plus a green/herbaceous note. Fairly big mouthfeel, with grippy tannins.

Pierce Ranch 2010 Petite Sirah, San Antonio Valley. 50% new oak. Very dark color, featuring dark fruits, chocolate, and spice. Big and rich, with a smooth texture and only medium tannins, a very civilized Petite Sirah.

Le P'tit Paysan 2010 Grenache, from Ian's "secret vineyard." About 50% whole cluster, and Ian noted that the color – deep for a Grenache – is natural, with no enzymes used. Medium purple color, with a pretty floral component on the nose along with strawberry, raspberry, and spice – the whole cluster component is nicely-integrated. Medium weight on the palate, with a lively texture, and fairly big, chewy tannins on the long, tasty finish.

Le P'tit Paysan 2010 Mourvèdre, from Ian's "secret vineyard." No whole cluster, no enzymes, native yeast fermentation. Medium-dark purple, showing great earthy and herbal Mourvèdre character, with darker berry fruit, a touch of pepper, along with savory and minerally notes. Medium-bodied with moderately grippy tannins.
Coastview 2009 Syrah, "North Block," Coastview Vineyard, Monterey County. About 25% whole cluster, from a new barrel. Very dark purple, opening with a pretty floral note, then expanding with plum, minerals, chocolate, and pepper aromas. Lively mouthfeel with great structure, and fairly grippy tannins.
Coastview 2009 Bordeaux-style field blend, Coastview Vineyard, Monterey County. Field blend of Cabernet Sauvignon, Cabernet Franc, and Malbec. Very dark color, showing minerally, peppery currant and plum fruit with a mildly green component. Big, mouthfilling texture, with a chewy, chalky tannic bite.

Le P'tit Paysan 2010 Petite Sirah, Pierce Ranch, San Antonio Valley. Picked at 21.5 brix, with 25% whole cluster, tasted from an '08 barrel. This will be blended with a riper lot for the final wine. Dark color, not fruit-forward and displaying loads of black pepper on the nose, along with herbs and darker fruits. Big and structured on the palate, with tannins that were grippy but not harsh.

Coastview 2010 Syrah, "North Block," Coastview Vineyard, Monterey County. A little more whole-cluster fermentation than the '09, about 20% new oak. Medium-dark color, showing some stemmy/green notes along with black cherry, pepper, and minerals. Medium-full bodied, with substantial tannins that were still rather rough on the finish.

Coastview 2010 Syrah, "Casita Terraces," Coastview Vineyard, Monterey County. From a block growing on almost pure granite, about 35% whole cluster. Ian said the "Casita Terraces" name may change. Medium-dark vibrant purple, very pretty floral aromas and a stony, minerally quality, along with darker fruits, pepper, and black olive. Bigger mouthfeel than the "North Block", with great balance and substantial but refined tannins on the long and vibrant finish.
After lunch, Ian drove us a few miles north to the Wrath Wine facility near Soledad, where he makes most of his wine. Located just off of River Road at the foot of the Santa Lucia Highlands, the winery's production area is in a large metal building, with the Wrath tasting room just across the drive. We all appreciated getting away from the early afternoon heat and into the cool winery barrel room.
The first thing we noticed – other than the usual tall stacks of barrels – was a bottling line, a luxury for a relatively small facility such as this one. In fact, a bottling run was getting started while we were visiting. Ian told us that he's the only winemaker sharing space there with Wrath's own winemaking team. He doesn't mind sharing the space, especially as he has access to more equipment than he would be able to afford on his own, including an ozone machine, glycol lines for chilling the stainless steel tanks, as well as the bottling line.
Ian pulls some barrel samples
The second thing we noticed was Oscar, the winery's friendly black cat, who came out from the barrel racks to greet us. He hung around with us for much of the time we were there, even gladly tolerating the noisy bottling session.
We talked with Ian about some of his winemaking philosophy and methods. Ian feels that his job as winemaker is to preserve the core of the wine – the main flavors of the grapes from the vineyard – and then to give it a little style. But he stressed that this is limited and he does not want to impose his will on the grapes, but to allow them to express themselves in the wine. He likened his role in the process to that of a producer rather than an artist. Ian tries to be consistent in how he treats fruit from vineyards from year to year, but considering that every growing season is different, he expects each vintage to reflect those differences, especially with his Coastview wines but to some degree with the Le P'tit Paysan wines as well. He told us that "the best wines are the ones with the least winemaking," and mentioned striving for a "Continental sense of balance" in his wines.
Ian decides when to pick based mainly on flavor, but also noted that he has to keep a close eye on weather conditions – heat spikes, rainstorms – and sometimes has to pick a bit earlier than he'd like to in order to avoid those things. In addition to the flavors, he also stressed the importance of picking at a level of acidity and pH that he's looking for. He feels that picking at higher brix usually does not improve a wine's flavor, but clouds the perception of flavor due to the increased sweetness of the fruit.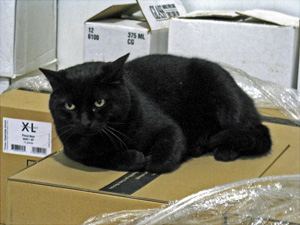 Fermentation is done mostly in one-ton t-bins, and also some in 5-ton fermenters. Ian likes what whole-cluster fermentation adds to a wine – he feels the stems add a savory element as well as a black pepper character, and can help to fill holes in a wine's flavor and structure. He told us that he does not particularly like sweet flavor profiles in a wine (not speaking of residual sugar here) and that the stems often help lessen or balance out that sweetness. In choosing what percentage of whole clusters to add, he said he looks more to keep out immature stems than to add mature ones. He also said that he's found better stems for inclusion in his fermentations from more rocky and mountainous vineyards, adding that he in general dislikes most heavy soils. The Syrahs usually have 25-50% whole cluster, the Petite Sirah 15-25%, Pinot Noir 0-33%, and Grenache around 50%.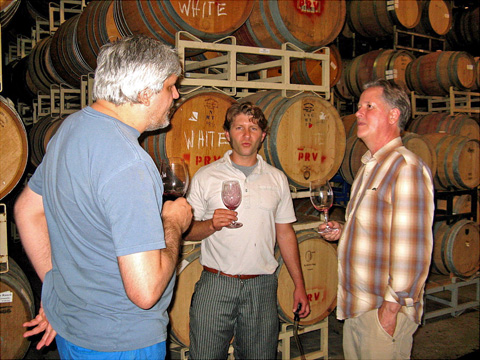 For his Coastview wines, Ian uses more native yeast fermentations and little or no additions to the wine, to better reflect the vineyard sites. With his Le P'tit Paysan wines and the other labels he makes wine for, he tends to use a greater variety of winemaking techniques. For lots that do not use native fermentation, Ian uses a wide variety of yeasts. He mentioned that the Tempranillo gets yeasts that are usually associated with Pinot winemaking. Although we didn't taste the Le P'tit Paysan Rosé on this occasion (I've tasted it before), Ian told us that it is made from pressed Syrah fruit plus saignée from Tempranillo, Grenache, and other varieties. It's made in about 50% each stainless steel and neutral oak, with about 50% each inoculated yeast and native yeast.
Looking at the barrels stacked up in the winery, we could see that Ian uses a variety of coopers, and the samples we tasted were from both French and Hungarian oak. Different wines get different percentages of new oak.
Barrel tasting is a treat but I always have to bear in mind that these are not finished wines – there's more aging ahead as well as some blending still to be done. We were at the winery for awhile – Ian went through 18 different barrel samples with us! We tasted various wines from Pierce Ranch, Coastview and Le P'tit Paysan. Bryan was hoping for a taste of the Touriga Franca from Pierce Ranch (and so was I), but alas, some of the barrels had been moved around and Ian was unable to find that one. Among the wines we tasted were two barrel samples from a new vineyard source for Ian – he wants to keep the vineyard location under wraps for now so I've called it the "secret" vineyard in the tasting notes. Based on the two wines we tried, I can see why Ian wants to make sure he has a firm commitment with this vineyard so that no one grabs the fruit out from under him.
Coastview Vineyard
The afternoon was moving along, and we needed to get back on the road and head to Coastview Vineyard. We continued north through Salinas Valley along River Road, and Ian pointed out many of the adjacent Santa Lucia Highlands vineyards as we passed by. As we drove along the scenic road, Bryan and Ian traded Santa Cruz surfing stories, both having spent time riding the waves there. And since Bryan had mentioned earlier that he's always on the lookout for more good inexpensive food choices in the area, Ian gave us some tips – Castro's Bakery & Deli in King City, Pacheco's Market in Soledad, Alma's Bakery-Deli in Chualar, and Gutierrez Drive-In in Salinas were among his picks.
We crossed Highway 101 at the small town of Chualar, about ten miles south of Salinas, and headed east toward Chualar Canyon in the Gabilan Mountains. The name of the mountain range is from "gavilan," Spanish for hawk – and sure enough we spotted some of the large birds on our way toward the vineyard as well as while we were there. Ian told us that these mountains are mostly granite, though there is some loamy soil and shale – and notably some areas of limestone. That limestone is a famed feature of vineyards such as Chalone and Brosseau, farther south along the western side of the Gabilans, and of the Mt. Harlan vineyards of Calera, on the eastern side of the range in San Benito County.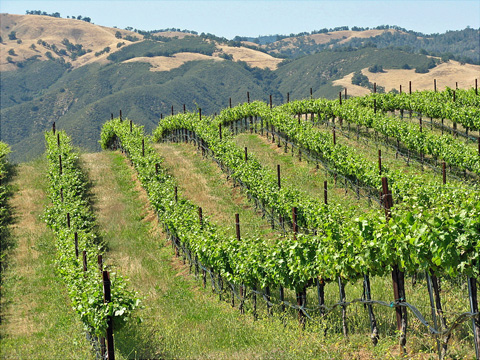 We came to the end of Chualar Canyon Road and started up a long but well-maintained dirt road to the vineyard. Although it's not particularly steep, Ian told us that it can be a difficult drive when it gets wet and muddy. Wes was in the front of the car with Ian, so he was the designated gate-opener on our drive up the road. As we climbed out of Chualar Canyon and wound our way up into the hills, Wes hopped out of the car to open and close no less than six gates on our drive. I must confess that I made sure to let him have the front passenger seat on our way back down, so he had plenty of gate work in that direction too – thanks, Wes!
Coastview Vineyard is owned by John & Julie Allen. At one time, the property was a hunting ranch, with deer and wild pigs common in the area. In the mid-1990s, John Allen had been looking for 20-25 acres of rural land as a weekend getaway – but a deal that he couldn't pass up led him to buying the 2,600-acre property in the mountains. In 1997, when he was looking for something to do with the land, Doug Meador of Ventana Vineyards suggested planting a vineyard, and Allen started doing just that in 1999. Allen laid out the vineyard himself, though he had no training in viticulture. The vineyard has now grown to about 32 acres. Fruit from Coastview Vineyard has gone to a number of wineries, including Morgan, Landmark, Thacher, Big Basin, Cima Collina, and Savannah-Chanelle, and of course to the Coastview and Le P'tit Paysan labels.
On our dusty drive up to the vineyard, we briefly met Tony, who runs the ranch with the help of his brothers. We also met up with a couple of the big, friendly, and hardworking ranch dogs, who help herd the ranch's sheep and goats – they help control weeds on the property – as well as protect them from coyotes and mountain lions. Ian told us that because of the long and sometimes treacherous road, during harvest the fruit is brought down to the base of the hills one ton at a time in a large pickup truck. It's a time-consuming method, but certainly much safer than trying to negotiate that road in a bigger flatbed truck carrying a heavier load of fruit.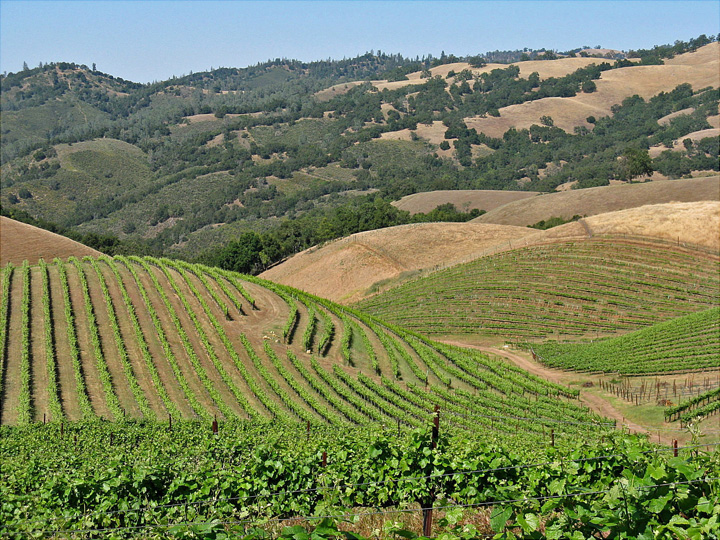 Various vineyard blocks at Coastview Vineyard
Tasting Notes: Current Releases

Coastview 2009 Chardonnay, "Terraces," Coastview Vineyard, Monterey County. All barrel-fermented, in about 78% neutral oak and 11% each new and once-used barrels. Light yellow color with a very slight haze (since it's unfiltered). Bright, lemony, and minerally aromas along with touches of lees and spice. Medium-bodied with a lively texture in the mouth, with a crisp, lemon-tinged finish. The kind of Chardonnay that invites you to pour yourself another glass.
Coastview 2008 Syrah, "North Block," Coastview Vineyard, Monterey County. 25% whole-cluster fermentation, 20% new oak. Vibrant dark purple color, this had aromatics that displayed dark berry fruit, a meaty, savory component, flowers, herbs (maybe some fennel?), black pepper, and a bit of sweet oak. Moderately rich and viscous on the palate but with very good balancing acidity, it had medium tannins and a long, tasty finish. The aromas and flavors opened and developed their complexity over the hour or so that we tasted the wine.
Wes opened one last gate for us, and we finally drove into the vineyard area, passing blocks of Syrah, Riesling, Pinot Noir, and Grenache. We saw one block near the top that has been recently grafted to more Riesling. Syrah takes up the largest part of the vineyard, at around 15 acres, with Chardonnay next at about 7. In addition to all these varieties, there is also a small block of Viognier, and a collection of Bordeaux varieties planted on a hilltop – Cabernet Sauvignon, Cabernet Franc, Malbec, and Petit Verdot. Ian mentioned that the Syrah is mainly Clone 1, with some of it coming from Alban Vineyard. The rootstocks at Coastview are 5BB for the older Syrah and Grenache and 420A for newer Syrah plantings. The Chardonnay is on 125AA rootstock. The rootstocks are of note since 125AA and 5BB are known as being fairly vigorous, a sign of how tough it is to grow the vines in the rocky, granitic vineyard soils.
Stopping near one of the vineyard's hilltops, we got out of the car and walked through the site. Planted up, down, and around the hills, the vines at Coastview seem to go every which way in straight rows, curves, and on terraces cut into some of the steeper areas. The panorama from the vineyard is spectacular – to the west we could see Chualar Canyon Road far below, with Salinas Valley and the northern tip of the Santa Lucia Highlands beyond. And although a veil of fog obscured it on this occasion, it was not hard to tell that on a clearer day you would indeed have a view of the coast beyond Salinas itself.
Slower Cluster development at Coastview
With its perch in the mountains high above the valley, at an elevation of about 2,200-2,400 feet, the vineyard escapes the damp and chilly fog that can blanket the lower regions. Yet the temperature at that elevation seemed cooler than it had been at Pierce Ranch in the late morning, and definitely cooler than it was in Soledad earlier that afternoon. Considering the hilltop location, I was surprised at how little wind there was during our visit, and Ian says that's typical there. Perhaps that's because although the vineyard is among the local hilltops, it's still well below the crest of the mountains. Access to water is an issue at the vineyard. Ian told us that there is a rainwater catchment system, and they also are able to collect water from a few springs on the property.
Like a number of other California vineyards I've seen, Coastview is farmed organically but for various reasons is not certified organic. We saw plenty of bugs flitting around the vines – lots of ladybugs in particular – which attest to the health of the vineyard ecosystem. The difference in cluster development was striking compared with what we saw that morning at Pierce Ranch. Most clusters at Pierce Ranch were finished with flowering and the individual berries were already growing in size. At Coastview, flowering had barely begun in many areas, and not at all in some.
After our walk through the vineyard, we returned to Ian's car. There he opened up the back and produced a folding table, bread, cheese, prosciutto-wrapped melon, sliced sausages, blueberries, and a couple of current Coastview wines. We spent quite awhile there, enjoying the food and wine, the beautiful hilltop scenery, and the sunny afternoon – a relaxing way to end our day's tour.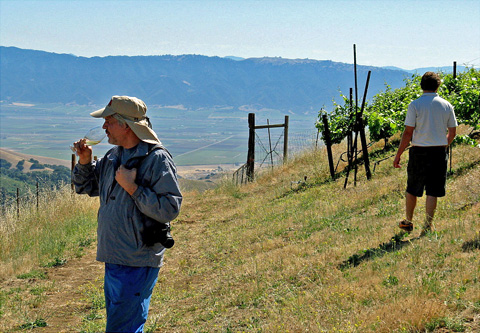 Wes and Ian take in the view
We had a great time with Ian visiting the vineyards and tasting a wide array of wines. We were able to experience a couple of interesting and contrasting vineyards at opposite ends of Monterey wine country – one a warm valley site in the south and the other a cool hilltop location in the north. The wines we tasted from each vineyard show that Ian has taken good advantage of the natural benefits of each site. The wines sourced from Pierce Ranch tended to be richer, more fruit-forward, but they're far from simple fruit bombs. Showing distinctive differences between grape varieties, most of the wines displayed fine structure and many featured surprisingly good acidity coming from such a warm climate. And if there's a single word that describes the wines from Coastview Vineyard, I'd say it's "minerality." I know that can be a nebulous term, but so many wines we tasted from the vineyard shared a stony, sometimes chalky character that I think of as mineral. With crisp and citrusy Chardonnays and peppery, sometimes floral Syrahs, the wines reflect the cooler-climate origins of their grapes.
Thanks to Ian for being an exceptional tour guide and for being so generous with his time and for letting us taste so many wines with him. I have no doubt that we'll be hearing a lot more about Ian and his wines in the years to come.