Paso Robles – April 2011
Prologue
Every year, a group of friends and I make the trip to Paso Robles in late April for the annual Hospice du Rhône (HdR) event, and we usually arrange a few vineyard and winery visits for the day before the event starts and the morning after it ends. There were a number of people who joined in for some or all of the visits this year – Eric Anderson, Jay Selman, Brian Clark, Al Osterheld, Eric Lundblad, Mike Ripley-Lotee, Charlie & Pat Chadwick, Terry & Joan Hyde, and Paul Homchick – not quite as big a crowd as we've had some years but still a sizable group!
Almost all of us arrived in Paso Robles by that Wednesday afternoon, so we were able to attend Augie Hug's pre-HdR "Pinot Pirates" dinner at Villa Creek Restaurant that evening. This dinner has become a tradition for many of us who travel from all over the country for HdR, and it's a nice counterpoint to the upcoming weekend of Rhône wines. As always, the food at Villa Creek was excellent and went well with the wide variety of Pinots brought by all the attendees. The "Rancho Cassoulet" was my favorite dish of this year's dinner.
This year, we had appointments scheduled with a number of wineries that I'd heard of but whose wines I had little or no experience with. Four in-depth winery visits in a single day can make for a tough schedule, but some of this year's stops wound up taking less time than expected, so the pace was not as hectic as it has been on occasion in past years. We still needed to get an early start, and we all met up for our first Thursday appointment at 9:30am, just a few miles east of Paso Robles.

Thursday - April 28, 2011
Vina Robles
Our first winery visit was at Vina Robles, just off of Highway 46 East. Our appointment there was before the tasting room opened, so our group's three cars were just about the only ones in the parking area. The large hospitality center, which opened in July 2007, has a good view across the low rolling hills on the Eastside of Paso Robles. The building includes the tasting room, retail area, art gallery, and banquet area, and the winery holds concerts and other events there throughout the year. Both the inside and outside spaces are very inviting. A new winery facility to be built nearby is in the planning stages.
Tasting Notes: Current Releases

2010 Sauvignon Blanc, Jardine Vineyard, Paso Robles. Made entirely in stainless steel, cold-fermented, batonnage, bottled under screwcap. Very light color, with fresh grapefruit/citrus aromas, fairly creamy mouthfeel with zippy acidity and a clean finish.

2010 "White4," Huerhuero Vineyard, Paso Robles. 23% Viognier, 28% Verdehlo, 27% Sauvignon Blanc, 22% Vermentino. Just released, there is no oak on this wine. Medium-light straw color, aromas of lemon, tropical fruit, spice, and a bit of lees. Richer on the palate than the Sauvignon Blanc, but still crisp and lively. A very nice blend in which none of the varieties dominate and all work well together.

2008 "Red4," Huerhuero Vineyard, Paso Robles. 62% Syrah, 34% Petite Sirah, 2% Grenache, 2% Mourvèdre. About 25% new oak. Medium-dark color, showing dark berry fruits, earth, a touch of oak, and lots of baking spice on the nose. Bright and juicy in the mouth, it was medium-bodied and not very tannic, a nice value red blend.

2007 Cabernet Sauvignon, Huerhuero Vineyard, Paso Robles. 86% Cabernet Sauvignon, 14% Petit Verdot.About 45% new oak, with some of the Petit Verdot coming from a high-density planting. Dark color, fairly bright raspberry and currant fruit, with overtones of smoke and herbs. A lighter-style Cabernet, with medium weight on the palate and good acidity, but with grippy tannins on the finish.

2008 Petite Sirah, Jardine Vineyard, Paso Robles. Blend from Huerhuero, Jardine, and Penman Springs vineyards. Some larger-format cooperage was used for aging this wine. Dark color, with intense dark fruits, vanilla, and spice, with slightly floral notes. Lighter in body than many Petites, the mouthfeel was moderately rich, and it finished with some chalky tannins.

2008 Petite Sirah, Creston Valley Vineyard, Paso Robles. A bit darker in color than the Jardine bottling, and showing more of an earthy component on the nose, along with blackberry and dried herbs. Bigger on the palate but not heavy, this had a smoother mouthfeel and big but more refined tannins than the Jardine.

2007 Petite Sirah, Penman Springs Vineyard, Paso Robles. Very dark color, this showed aromas of earth, blueberry, vanilla, herbs, and lots of pepper. This had the richest mouthfeel of the three Petites, and the biggest, chewiest tannins of the bunch as well.

2007 "Signature," Estate Cuvée, Paso Robles. 66% Petit Verdot from Huerhuero, 34% Petite Sirah from Creston Valley. Very dark purple color, opening with some floral aromas along with ripe blueberry, baking spices, vanilla, and some mineral undertones. Viscous on the palate, with good structure for aging, and firm, chalky tannins.

2007 "Suendero," Paso Robles. 86% Cabernet Sauvignon, 14% Petit Verdot, all sourced from Adelaida Springs Ranch. Dark color, with lots of upfront cassis, black pepper, vanilla/oak, and minerals on the nose. Lively mouthfeel, with fairly big but refined tannins and a lingering finish, nice.

2007 "Syrée," Paso Robles. 79% Syrah from Ryan Road Vineyard, 21% Petite Sirah from Creston Valley Vineyard. Very dark color, displaying riper, more "Paso-like" fruit aromas, mainly blackberry, spice, and some vanilla. Big and rich in the mouth, with deceptively big tannins that sneak up on the long finish.


We walked into the building and were soon met by Vina Robles marketing head Marc Laderriere – originally from France but with years of experience on the Central Coast – and with Simone Michel, who heads up customer relations at the winery. They led us into the spacious tasting room, where they had already opened a line-up of wines for us to taste.
About the winery's name – it is indeed "Vina," not "Viña." As the winery puts it, they are a "California winery with Swiss roots that Americanized the Spanish word for vineyard." It's one example of the winery's aim to represent what they see as the best of the old world and new world.
The winery was founded by Hans Nef. A native of Switzerland, Nef was trained as a civil engineer and founded a successful engineering firm in Zurich. In the early 1990s, he became involved in the purchase of agricultural land in the southern US, and it was as a result of this venture that he became acquainted with Hans Michel, another Swiss native, who managed agricultural properties. As a growing collector of Bordeaux and other wines, Nef began to have the idea of starting his own winery. Around the same time, he became aware of the Paso Robles wine region and ultimately he decided it was there that he wanted to establish a winery and vineyards.
In 1996, Nef joined with Michel as partners in the new wine venture. Starting out by purchasing several vineyard sites in the Paso Robles area, they began planting in 1997. By 1999 they had hired another native of Switzerland, Matthias Gruber, as their winemaker. Gruber's family grew Pinot Noir, and he had studied at the enology program at the College of Wädenswil near Zurich. He had wine experience ranging from the Rhône Valley, Tuscany, and California as well, fitting the bill for the winery's desire to strike a balance between old world and new world winemaking.
Today, Hans Nef still lives near Zurich, while Hans Michel manages the winery in Paso Robles. Vina Robles recently announced that Nick de Luca, formerly the winemaker at Dierberg and Star Lane in Santa Barbara County, would be taking over winemaking duties from Matthias Gruber, who will be returning to Switzerland to work with his family's vineyard there.
Vina Robles has four estate vineyards, three of which are located in nearly a straight north-south line extending from the tasting room. Huerhuero Vineyard, where over 15 grape varieties are grown, is on a nearby hillside at about 1,100-foot elevation. Jardine Vineyard is a few miles to the north of the winery, and has mainly Bordeaux varieties planted, while farther north, near San Miguel, is Pleasant Valley Vineyard, planted largely to Syrah and Zinfandel. About 20 minutes to the southeast is Creston Valley Vineyard – this is higher up, around 1,400-1,600 feet, and has more limestone in the soil. In addition, portions of Adelaida Springs Ranch on Paso Robles' Westside and Ryan Road Vineyard near Creston are farmed for Vina Robles. The winery also purchases fruit from Penman Springs Vineyard, a few miles south of the winery – another vineyard with a fair amount of limestone in the soil. Vina Robles' estate vineyards are managed by their viticulturist, Sukhy Sran.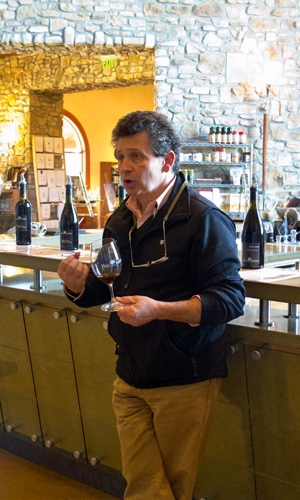 Vina Robles grows nearly 20 grape varieties in all, including some that are not widely-planted in the area. He noted that they have had some difficulty growing some of these varieties – notably Marsanne – while others like their Verdehlo and Vermentino have been doing very well. He also told us that Albariño is doing nicely that the winery plans to release one before too long.
Fruit is hand-picked in the vineyards, and fermentation is done in temperature-controlled stainless steel tanks. A variety of coopers are selected for Vina Robles' barrels, and Marc told us that some larger-format cooperage is used for several of the wines we tasted, including the "Signature" blend and the Jardine Vineyard Petite Sirah.
The winery's first vintage, in 1999, totaled less than 1,000 cases, but it's now grown to an annual production of about 29,000 cases. Their largest single bottling is the "Red4" blend, at about 10,000 cases, while the Cabernet is next at 4,000-5,000. There are several series of wines under the Vina Robles label: the Estate Wines, Special Releases (available at the tasting room and online only), Signature Club Wines (wine club only) and the Cuvée Collection. We started out our tasting with a number of the Estate and Special Release wines. Marc wanted us to compare three of the winery's Petite Sirah bottlings, which were all quite distinct from one another. One was a blend of three vineyards while the other two were each entirely from a single vineyard source.
We continued to the Cuvée Collection wines – three limited-production red blends. The "Signature" is a blend of Petit Verdot and Petite Sirah. The "Suendero" is a Meritage-style wine whose name comes from "Sueño Sendero," meaning "Dream Path." The third wine is called "Syrée" – a combination of "Syrah" and "Cuvée." Other Vina Robles wines that we did not taste during our visit include a Chardonnay from Monterey County, Viognier, Verdehlo, Zinfandel, Syrah, and some additional Petite Sirah and Bordeaux-style blend bottlings.
Marc was an engaging and informative host for us. He was exceptionally well-prepared for our group and raised a few interesting questions as well as answering ours. For example, he said that although the Paso Robles area has proven to be very versatile for making many types of wines, he wondered whether it has developed a real identity as a wine region yet. It became clear both in listening to Marc and in tasting the Vina Robles wines that the winery is not aiming for the full-blown, big, ripe style of wines for which Paso has developed a reputation. Indeed, while the wines we tasted were not shy, I'd say the overall style was relatively restrained in comparison to many from the area.
Not having tasted their wines before, I must admit that I wasn't expecting a lot when we drove up to the impressive Vina Robles hospitality center for our visit. I'd been to a couple of the large and rather showy tasting rooms along Highway 46 and had not been impressed with many of the wines at those places – it seemed like there was more care put into building grand structures than into making quality wines. But it was clear from the start that wasn't the case at Vina Robles, and tasting through their wines was a pleasant surprise for me. They feature plenty of upfront fruit, but it was never overdone and all the wines were nicely balanced. While there was nothing that bowled me over, this was a very consistent and solid line-up of wines – in particular, I thought the "Suendero" and "White4" blends were standouts, the latter being an excellent value as well.

Sextant Wines & 10knots Cellars
Leaving Vina Robles, we drove a short distance north to the production facility of Sextant Wines & 10knots Cellars, located in an industrial park near the Paso Robles airport. We kept driving farther and farther back alongside the row of utilitarian metal buildings until we reached the end of the line, where we spotted a stack of grape bins behind the last building – always a dead giveaway that there's a winery nearby! Quickly locating the entrance, we parked alongside the building and walked in, where Josh Harp greeted us at the tasting bar just inside the door.
Tasting Notes: Current Releases - all Sextant, except as noted

10knots 2008 Chardonnay, Edna Valley. Sourced from McGregor Vineyard and barrel-aged sur lie. Medium-light color, with bright and fruit-forward citrus aromas and some leesy notes. Medium-bodied with a creamy texture and moderate acidity.

2009 Chardonnay, Central Coast. Sourced from Edna Valley and Santa Lucia Highlands, and made in about 90% stainless steel. Restrained aromatics with leesy, apply notes. A little richer on the palate than the 10knots bottling.

2008 Chardonnay, Santa Lucia Highlands. This is Sextant's "flagship" white wine, Wente clone Chardonnay from Sarmento Vineyards, aged 9 months in 30% new French oak. Oaky, buttery aromas dominate, with some pear and tropical fruit in the background. This is a big, "California-style" Chard, quite rich and smooth in the mouth with a viscous feel on the finish.

10knots 2008 "Beachcomber," Paso Robles. 82% Viognier, 14% Grenache Blanc, 3% Roussanne, 1% Marsanne, barrel aged in mainly French oak. Light gold color, showing ripe tropical fruit and sweet oak on the nose. Medium-bodied and smooth though not particularly lively on the palate.

2008 Zinfandel, Central Coast. 82% Zinfandel, 9% Petite Sirah, 6% Syrah, 3% Mourvèdre, from Paso Robles and Monterey County fruit. Medium-light color, this featured upfront raspberry and boysenberry aromas, with hints of oak in the background. A fairly simple, straightforward lighter-style Zin.

2008 "Wheelhouse" Zinfandel, Paso Robles. 84% Zinfandel, 9% Petite Sirah, 7% Syrah, sourced from RBZ Vineyard. Medium purple color, displaying riper red and black fruits, plus vanilla/oak and spice. Fairly bright in the mouth, and not too tannic on the finish.

2007 "Holystone" Zinfandel, Paso Robles. 75% Zinfandel, 19% Syrah, 6% Petite Sirah, aged 11 months in about 32% new French and Eastern European oak. Medium-dark color, more earthy and brambly fruit along with some herbs and black pepper. Medium-bodied, with bigger tannins than the "Wheelhouse." The oak in this wine was better-integrated than in some of the others.

2008 "Holystone" Zinfandel, Paso Robles. Similar blend to the '07. Medium-dark color, more fruit-forward and riper than the '07, showing a lot of vanilla and dill (American oak?) on the nose. Bigger, denser mouthfeel and not showing nearly as well as the '07 at this point.

10knots 2006 "Atlantis," Paso Robles. 41% Syrah, 30% Mourvèdre, 29% Grenache, aged for 22 months in French and Hungarian oak. Medium color, the aromas seemed a bit tired, with earth, subdued black cherry and plum, and spicy oak. Medium-bodied and not too tannic.

2006 "Kamal," Paso Robles. 50% Cabernet Sauvignon, 29% Merlot, 14% Cabernet Franc, 7% Petit Verdot, aged 27 months in about 50% new French and Eastern European oak. Medium-dark, displaying ripe plum, dried herbs and tobacco, and some vanilla/oak. A middleweight Bordeaux-style blend, it finished with moderate tannins.

2007 "Kamal," Paso Robles. Recently bottled, blended by new winemaker Steve Martell. Similar fruit profile to the '06 but showing more herbs and oak than the previous bottling. Fairly lively on the palate, with medium-big tannins.

2007 "Night Watch," Paso Robles. 45% Petite Sirah, 32% Zinfandel, 19% Syrah, 4% Grenache, aged 11 months in about 40% new French, Eastern European, and American oak. Medium-dark color, with ripe fruit that leaned toward the Zin component of the blend, along with lots of baking spice and vanilla. Fairly big and a bit rough on the palate, with firm tannins.

NV "Genoa," Paso Robles. 2008 release, 61% Zinfandel, 21% Petite Sirah, 18% Syrah, about 50% new French and Eastern European oak. Medium-dark color, with spice, herbs, and dark fruits. Despite the bigger percentage of Zinfandel in this wine, it seemed less "Zinny" than the "Night Watch."

2009 Late Harvest Sauvignon Gris, Paso Robles. 5.3% residual sugar. Light straw color, showing ripe and straightforward peach and nectarine on the nose. Medium-bodied and not overly sweet.

2009 Late Harvest Zinfandel, Paso Robles. 78% Zinfandel, 22% Petite Sirah. Medium-dark color, with ripe, spicy, and somewhat peppery black cherry and raspberry aromas. Thick and syrupy, this was medium-sweet and very smooth on the finish.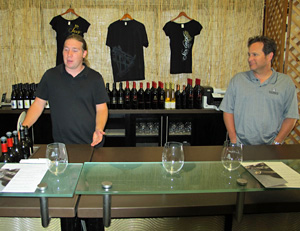 Sextant and 10knots are owned by Craig & Nancy Stoller. Craig comes from a multi-generational grape-growing family. His father, Glen, founded the well-known Sunridge Nurseries in 1977. Craig got a degree from Cal Poly San Luis Obispo in 1991, and he is now the CEO of Sunridge in addition to running the wineries. Nancy takes on the public relations and marketing side of the business. The winery's roots go back to 2004, when the Stollers began to make wine from some of the fruit grown in Templeton at one of the nursery's recently-planted vineyards. Their early focus was on Zinfandel, and that is still considered Sextant's flagship wine. Not long after establishing Sextant, the Stollers launched a second label, 10knots, which focuses on Rhône-style blends. The nautical theme that is consistent through the names of the labels and wines comes from a love for the sea and sailing.
In 2007, the Stollers purchased 25 acres in Edna Valley, which included the old Windemere Winery and MacGregor Vineyard. With that came an expansion of wine varieties to include Chardonnay and Pinot Noir from their new property. Sextant and 10knots opened a new tasting room and deli in 2009, located in the heart of Edna Valley. In addition, a new winery and tasting room is in the planning stages for Paso Robles, to replace their current industrial park location. The most recent significant addition to the Sextant and 10knots team is winemaker Steven Martell, who came on board in 2010. Total production is currently about 8,000-10,000 cases per year.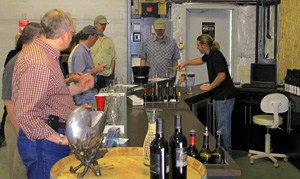 Sextant and 10knots source most of their fruit from their three vineyards, which are located in three Central Coast AVAs. In all, about 450 acres are currently planted. RBZ Vineyard is in the El Pomar area in the eastern part of Templeton. Developed by Sunridge Nurseries, RBZ covers 114 acres, with about 75% of that area currently planted. MacGregor Vineyard in Edna Valley dates back to 1975, when it was planted by Andy MacGregor. This cool-climate site grows mostly Wente clone Chardonnay but has some Pinot Noir as well. Chalk Knoll Vineyard is the largest of the estate vineyards, and is located in the San Ardo area of southern Monterey County. Warmer than most Monterey County vineyards, it is planted mostly to Cabernet and Merlot, and also includes Syrah and Zinfandel.
Once we were inside the winery, we wasted little time getting started on our tasting with Josh. A clever feature of the tasting bar was a dump bucket that was fashioned from a large nautilus shell, continuing the nautical theme. We tasted through most of the current Sextant and 10knots releases, though there were a few that were sold out so we were not able to try them. Those included the 10knots Pinot Noir and a Rhône-style red blend called "Moonraker." We were able to taste two vintages of a couple of the wines, compare several Chardonnays and Zinfandels made in different styles, and we finished with two dessert wines.
We went through the wines pretty quickly, and it would have been nice to have a little more time to get a better feel for them and to find out more about the winemaking. Josh mentioned that they are using more American oak in their flagship Santa Lucia Highlands Chardonnay from the 2010 vintage. I think that surprised most of our group, since we tend to think of French oak being the typical choice for better Chardonnays – but I'd be curious to see how that wine turns out. My favorite wine of the tasting was the '07 "Holystone" Zinfandel, a blend sourced from two Westside vineyards, AJB and Willow Creek, featuring head-trained vines up to 40 years old.
I have to say that I was hoping for more from the Sextant and 10knots wines. I thought that several wines seemed ripe to the point of tasting noticeably sweet, and that the oak on some was heavy-handed – the balance of some wines and the consistency of the overall line-up could have been better. But the present vineyard sources should be quality ones, and with a new winemaker at the helm, the opportunity is there for improvement. Hopefully we'll see better results in future vintages of these wines.
We thought we'd check out a new lunch option for this year's Thursday winery tour, and we had sent in an advance order for box lunches from It's A Wrap, on Spring Street in Paso Robles. As our next visit was on Paso's Westside, it was easy for us to swing through town to pick up our order, but It's A Wrap delivers as well. As their name implies, their specialty is wraps, and our group ordered quite a few different ones. Mine was delicious, and I got similar feedback from everyone else too. They're certainly a good choice for a wine-touring lunch on the go.
It turned out that our first afternoon stop at Niner Wine Estates did not have a suitable picnic area available, but Allison Addison, Niner's marketing manager, offered to let us use the conference room at their winery, which worked out very well. With allergy season in full swing, less time spent outdoors at that time of year is usually better – for me, at least. We all arrived at the Niner production facility on Anderson Road, just north of Highway 46 West…or at least most of us did. Eric and Jay got their signals crossed and headed to the nearby Niner hospitality center rather than the winery, but they caught up with us before too long. As our late-morning tasting had not lasted as long as we'd anticipated, we actually had time for a leisurely lunch before our next appointment, a rarity for what's usually a busy day of wine touring.
Tasting Notes: Current Releases

2009 Sauvignon Blanc, Bootjack Ranch, Paso Robles. Light straw color, bright citrus fruit, with some melon and herbal notes. Vibrant mouthfeel and finish.

2010 Sangiovese Rosato, Bootjack Ranch, Paso Robles. Made from saignée. Light pink color, showing citrus and cranberry notes along with a little spice. Dry and crisp, with a touch of bitter tannins on the finish.

2007 Sangiovese, Bootjack Ranch, Paso Robles. Blended with 3% Cabernet Sauvignon. Medium-light ruby color, bright aromas of cherry, baking spices, with overtones of tobacco and dried herbs. Lively mouthfeel with medium tannins, nice.

2006 Syrah, Bootjack Ranch, Paso Robles. Aged in French and Hungarian oak. Medium-dark color, featuring smoky dark berry fruit, earth, and black pepper. Medium-bodied with a moderately tannic finish. Intriguing wine that showed both warmer- and cooler-climate character.

2007 Syrah, Bootjack Ranch, Paso Robles. Medium-dark color, this was riper and more fruit-forward than the '06, with boysenberry and pepper notes. Bigger mouthfeel with more grippy tannins on the finish.

2007 Cabernet Sauvignon, Bootjack Ranch, Paso Robles. 90% Cabernet Sauvignon, 8% Cabernet Franc, 1% Petit Verdot, 1% Merlot, about 33% new French and American oak. Medium-dark purple, with smoky black cherry, plum, and tobacco aromas. Bright and lively on the palate with a firmly tannic finish, this deserves at least a few years of bottle age.

2005 "Fog Catcher," Paso Robles. 65% Cabernet Sauvignon, 25% Cabernet Franc, 10% Merlot. Barrel selection, aged entirely in French oak for two years. Slightly lighter color than the '07 Cab, this showed black cherry, earth, leather, and spice on the nose. Fairly rich mouthfeel with big but refined tannins on the finish.

2007 "Twisted Spur," Paso Robles. 59% Merlot, 27% Cabernet Franc, 12% Syrah, 2% Petite Sirah, aged in French, Hungarian, and American oak. Medium color, fruit-forward ripe cherry, smoky oak, and touches of tobacco and earth. Light-medium bodied and not too tannic.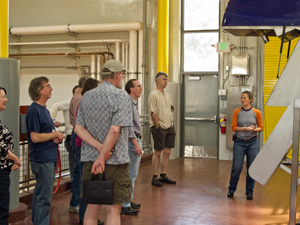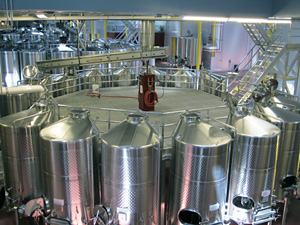 Winemaker, Amanda Cramer, describes the unique gravity-flow, radial tank layout.
After finishing our lunch, Allison introduced us to Niner winemaker Amanda Cramer. Amanda started out our visit by giving us a tour of their new production facility before taking us for a short drive through the adjacent vineyard and then tasting us on some wines at their hospitality center. High-energy and entertaining, Amanda really captivated our group as she led us on our tour of Niner. Along the way, she told us the story behind the winery as well as her own background.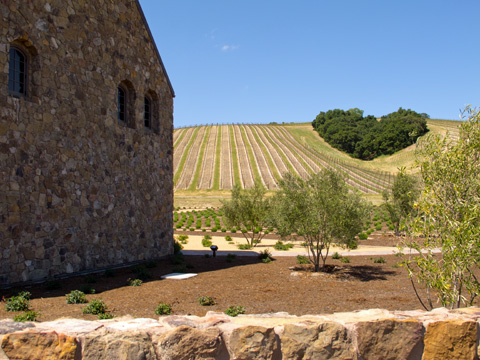 The winery was founded in 2001 by Richard & Pam Niner. Richard went to Princeton University and Harvard Business School, and spent many years investing in small businesses. In the course of one of those business ventures, he wound up spending a good deal of time in San Luis Obispo County in the mid-'90s. With a growing interest in wine, he saw an opportunity to create a winery in the area. Purchase of 224-acre Bootjack Ranch marked the beginning of Niner Wine Estates, and a few years later, 139-acre Heart Hill Vineyard became the winery's second estate vineyard. Niner's first wines were released in 2006. About 90% of the production are red wines, and all the fruit is sourced entirely from the two estate vineyards.
Bootjack Ranch, on the Eastside of Paso, is planted to warmer-climate varieties including Cabernet Sauvignon, Cabernet Franc, Merlot, Malbec, Petit Verdot, Carménère, Barbera, Sangiovese, Syrah, Petite Sirah, and Sauvignon Blanc. Initially planted in 1999, it has undergone more plantings since then, most recently just last year. There are currently just over 150 acres planted, on sandy loam soils with some chalky hillsides.
Heart Hill is on the same property as the winery and tasting room, and is named for the heart-shaped cluster of trees in the vineyard that is visible on the hillside facing Highway 46. The site has rocky sandstone soils, on hillsides with various orientations. In 2007, the first vines went in, with more added last year, for a total of 46 acres planted. Varieties there include Grenache Blanc, Roussanne, Syrah, Grenache, and Mourvèdre, as well as Cabernet Sauvignon, Cabernet Franc, Malbec, and Petit Verdot.2010 saw the first harvest of Heart Hill fruit.
A New Hampshire native, Amanda has been the winemaker at Niner since 2004, and was honored as "Winemaker of the Year" at the 2010 San Francisco International Wine Competition. She followed an unusual path to the wine business, having been a high school math teacher before making her career switch and studying viticulture and enology at UC Davis. She followed that by working for such producers as Far Niente in Napa, Casa Lapostolle in Chile, andD'Arenberg inAustralia, before returning to Napa as assistant winemaker to Heidi Peterson Barrett at Paradigm. She was lured away from there in part by the opportunity to assist in designing a state-of-the-art winery at Niner. Amanda's input in the design process brought together what she felt were the best aspects of wineries she had seen and worked at around the world.
Amanda explained some of the features of the winery as we walked through it. Completed in time for the 2009 crush, it's a gravity-flow design with a unique layout. The hillside siting facilitates the gravity flow arrangement, and also allows part of the building to be dug into the earth. All crush operations are handled indoors, with multiple destemming stations located on a mezzanine level. In order to eliminate supporting columns below the mezzanine, it is suspended from the roof structure. Must is carried down from the destemming stations via inclined conveyors that rotate to feed four "pods" of radially-arranged stainless steel fermentation tanks. The tanks in each pod are of different sizes, to accommodate separate fermentations for each vineyard block harvested. This arrangement is something I've never seen elsewhere.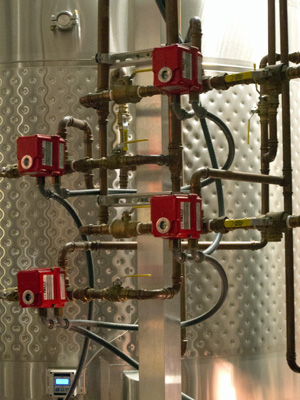 Other features include hot and cold glycol systems for all the tanks, and barrel rooms that all have individual temperature control, with whites in their own room and separate rooms for each vintage of reds. Case goods are also stored in the building. Amanda told us that current winery production is about 10,000-15,000 cases per year, with room built in for expansion. The maximum winery capacity is around 50,000 cases, although the total potential yield for the two estate vineyards is only about 30,000-35,000 cases, and there are no current plans to expand the vineyard holdings. The space needed for the circular tank pods, case goods storage, future expansion, etc., made the structure quite large, even when dug partially into the hillside. The size of the building as initially proposed was not popular with some of the neighbors, and Amanda said that the final structure was made smaller to deal with their concerns.
Another significant aspect of the new winery building is that it is LEED-certified, the first such winery on the Central Coast and only the fourth in California. LEED (Leadership in Energy and Environmental Design) certification is earned by buildings that demonstrate superior energy and environmental performance in design, construction, and operation. At Niner, 100% of winery waste water is recycled, and gray water is used for irrigation. There's a rainfall catchment and storage system as well. The structure itself uses insulated tilt-up concrete panel walls, and of course having a portion of it built into the hillside helps reduce energy demand for summertime cooling.
On the mezzanine level, Amanda took us through the winery's destemming and sorting procedures. Niner currently has two types of berry sorting tables that have been customized for their needs. She told us that she's still evaluating which of them will ultimately work best for the winery. After berry sorting, the fruit goes through a crusher before being fed into the fermentation tanks. The crusher is set to break up most berries for red varieties, while leaving some whole berries. Reds are then cold-soaked for a couple of days before being inoculated with yeast. Whites are whole-cluster pressed before going into tank. Amanda uses mostly French oak for barrel-aging, along with around 15% Hungarian. The flagship "Fog Catcher" wine is 100% French oak. She also uses a little American oak on Syrah, Petite Sirah, and Barbera.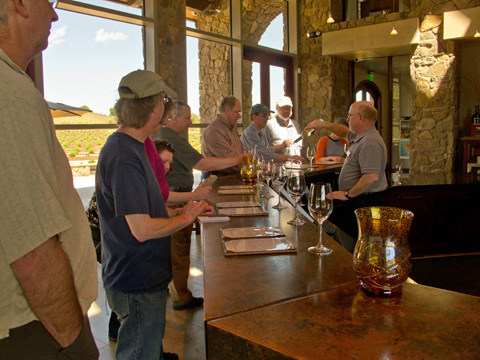 From the winery, Amanda led us on a brief drive through Heart Hill Vineyard, which runs over the hills between the production facility and Highway 46. A great deal of care was taken in landscaping the area and in dealing with erosion and drainage issues. We continued on to the Niner tasting room in their hospitality center, which opened in spring 2010. The handsome stone building also houses a demonstration kitchen and a wine club lounge. Amanda poured us many of Niner's current releases. She mentioned that upcoming vintages of their "Fog Catcher" Bordeaux blend will include some Carménère – she became a fan of this lesser-known Bordeaux grape from her time working in Chile. Amanda described the "Twisted Spur," which includes both Bordeaux and Rhône varieties, as the winery's "Paso blend." Other Niner wines that we didn't taste include a Barbera, Merlot, Cabernet Franc, Petite Sirah, and the "Super Paso" – a limited-release Sangiovese/Barbera/Syrah blend.
I thought the Niner wines we tasted were quite good across the board, with the Sangiovese, '06 Syrah, and Cabernet being slight favorites. Overall, the wines featured fruit that was ripe but not overly so, and displayed a consistently deft use of oak. Niner's new Heart Hill Vineyard is in a location that should produce top-notch grapes, so it will be worth keeping an eye open for upcoming vintages that source fruit from there. The Niner wines are good now but it looks like new pieces are now in place – their winery and Heart Hill Vineyard – for even better wines in the future.
Epoch Estate Wines
I had contacted Epoch Estate Wines about a possible visit, and was pleased to receive an email from their tasting room manager, Kristen Carrillo, who wrote that they would be having a small open house at their new tasting room on the afternoon of our wine tour – that worked out perfectly for us. The tasting room is not normally open on Thursdays, but Kristen said that they decided to have the open house since so many people who are interested in their wines would be in town for Hospice du Rhône. With Kristen's directions, we had no trouble finding the tasting room along York Mountain Road in the mountains west of Paso Robles.
Tasting Notes: Current Releases

2010 Rosé, Paderewski Vineyard, Paso Robles 36% Grenache, 32% Syrah, 32% Counoise. Light pink-salmon color, aromas of ripe strawberry, a touch of watermelon, and some floral undertones. Bright and lively on the palate, with a refreshing finish.

2008 "Epoch Red," Paderewski Vineyard, Paso Robles. 33% Syrah, 27% Tempranillo, 18% Grenache, 14% Petite Sirah, 8% Mourvèdre. Medium-dark color, featuring ripe boysenberry and raspberry fruit, spice, earth, and black pepper. Nice acidity and structure in the mouth, with a firm tannic finish, this shows great promise for some bottle aging.

2008 Zinfandel, Paderewski Vineyard, Paso Robles. Medium-dark color, with raspberry, spice, and a touch of menthol on the nose. Medium-bodied and smooth with fairly mild tannins.

2007 Tempranillo, Paderewski Vineyard, Paso Robles. 100% Tempranillo. Dark purple color, the nose showed plum, earth, and sweet, smoky oak. Big and structured, with grippy tannins on the finish.

2008 "Ingenuity," Paderewski Vineyard, Paso Robles. 61% Syrah, 17% Grenache, 14% Petite Sirah, 8% Mourvèdre. Dark color, ripe plum and blueberry fruit, lots of baking spice, and some black pepper. Rich and layered texture on the palate, with big but refined tannins.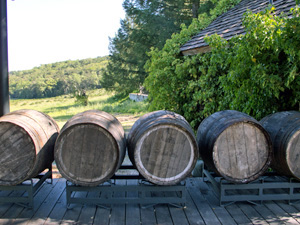 Kristin spotted our group as we walked toward the tasting room and she led us inside, where we were treated to the interesting background story of the winery as we tasted through a number of wines. The small, modernistic tasting room – imaginatively modified from a modular building moved onto the site – opened early this year, on the property of the old York Mountain Winery. The focus of Epoch is on Rhône-style blends, Tempranillo, and Zinfandel.
Epoch owners Bill and Liz Armstrong acquired the York Mountain Winery property in 2010, adding to their collection of historic properties in the area. Hailing from the Denver area, the Armstrongs met while studying geology at SMU, and Bill has continued into the energy business. Both fans of Rhône wines and Tempranillo, in 2004 they established Epoch – a good geological term – and they quickly started off with a bang. They not only purchased the historic Paderewski Vineyard that year but also brought on board as vineyard and winemaking consultant Justin Smith of Saxum, who even then was a rising star in the local wine industry.
A history lesson or two may be helpful here. In 1914, famed Polish pianist and statesman Ignacy Jan Paderewski first traveled to Paso Robles in search of what it was best-known for in those days – hot mineral springs (now you know how Paso's Spring Street got its name). Looking for relief from his rheumatism, he frequently returned to the area, and purchased extensive properties to the west of town. On one of those sites he planted Zinfandel and Petite Sirah, and made award-winning wines from the fruit. The Armstrongs now own 350 acres of Paderewski's original 2,800-acre ranch. Prior to their purchase of the property, the vineyard had long been neglected, and the old vines had actually been pulled out a number of years ago. In 2005 the Armstrongs replanted 65 acres, with the first fruit harvested in 2007.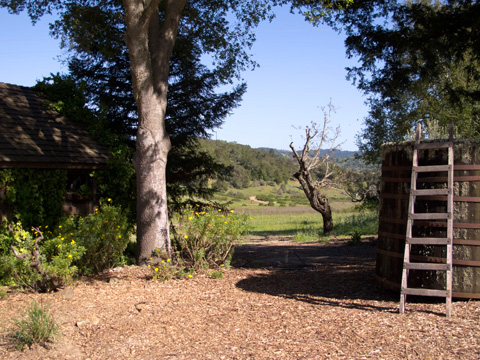 Over 30 years before Paderewski first visited Paso Robles, York Mountain Winery was founded by Andrew York in 1882, the first winery in the area. Until it shut down in 2008, it was said to be the oldest continually-operating winery in California. The surrounding York Mountain AVA, approved in 1983, remains the smallest in the state. There is a connection between the historic vineyard and the winery too – following the end of Prohibition, Paderewski produced wine from his vineyard at York Mountain Winery. Sadly, the old winery building was badly damaged in the December 2003 earthquake that struck the area, and it will need major reconstruction and strengthening. The Armstrongs plan to restore the old building as well as adding a new production facility and tasting room on the property.
The Paderewski Vineyard is now planted to Viognier, Marsanne, Syrah, Grenache, Mourvèdre, Counoise, Petite Sirah, Tempranillo and Zinfandel. The vineyard has some extreme slopes and calcareous soils. The Armstrongs bought land for a second Westside vineyard in 2006 and planted that two years later. Located off of Anderson Road near Booker Vineyard, their new 30-acre Catapult Vineyard produced its first harvest in 2010. Catapult includes Grenache Blanc, Roussanne, Syrah, Grenache, Mourvèdre, Cinsault, and Tempranillo. Veteran Central Coast vineyard manager John Crossland of Vineyard Professional Services oversees both Epoch vineyards.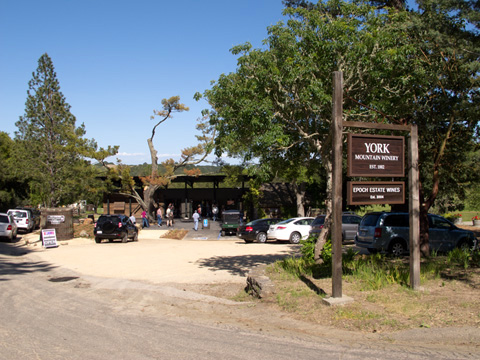 The Armstrongs really have assembled an "all-star" winery team for Epoch. In addition to Justin Smith and John Crossland, they have brought in winemaker Jordan Fiorentini (previously at Chalk Hill Winery and before that, Antinori in Italy and Araujo in Napa). Until a new winery can be completed at York Mountain, the wine will continue to be made at the Denner facility along Vineyard Drive. The winery's first releases were from the 2007 vintage, and current annual production is about 1,500 cases.
We tasted five current Epoch releases at their tasting room. The Rosé was made by several methods – whole-cluster pressing, pressing destemmed fruit, plus some saignée from Grenache. The "Epoch Red" blend was aged for 20 months in 60% new French oak, while the Zinfandel spent 12 months in 60% new oak. The big and bold Tempranillo was the only '07 vintage wine we tasted – it was in barrel for 23 months in 100% new French oak. Finally, there was a Rhône-style blend called "Ingenuity," which was in 32% new French oak for 22 months. In addition to the wines we tried, there are a couple of other releases that we didn't taste: "Veracity" – a 2007 Grenache/Syrah/Mourvèdre blend, and "Authenticity" – a Syrah-Mourvèdre blend in 2007 but 100% Syrah in 2008.
Although Bill & Liz Armstrong were not at the tasting room when we stopped by, I did have the pleasure of meeting them and chatting with them briefly the following day at the afternoon HdR tasting. They certainly have proceeded with great focus toward their goal of producing world-class wines. There's no question that the presence of Justin Smith on their winemaking team has given them cachet, but that only goes so far if the wines don't live up to the excitement that has generated. But overall, the Epoch wines we tasted certainly can take their place among the big, bold-styled wines that Paso is becoming known for. I'm not sure that they really stand out from that crowd yet, but that may be in part due to the very young vines from Paderewski Vineyard. But there is a great deal of potential, and I thought some of the wines – particularly the "Epoch Red" with its interesting Rhône-Tempranillo blend – were quite distinctive. Wines such as that one signal a promising direction for Epoch, undoubtedly a winery to watch.

Returning to town after our day of wine touring, most of our group gathered again for dinner that evening at Robert's Restaurant in Paso Robles. Just opened late last year, it's a relatively small place in the downtown area. The food was quite good and reasonably-priced. And although their own wine list is rather limited, they were a wine-friendly spot for our BYOB bunch.
The next two days were filled with Hospice du Rhône events, but I had to break away from them for awhile to get together with friends for our traditional Friday night barbeque. The group was a little smaller than last year's, but as usual there was more than enough tasty food and outstanding wines to go around. It's always a highlight of HdR weekend for me.
The official HdR festivities ended on Saturday evening, but a few of us got together for Sunday breakfast at Hoover's Beef Palace in Templeton. It was my first visit to a "beef palace," and they served up a hearty meal that got us ready to head out to a couple more winery and vineyard visits before driving home.
Al, Paul, and Eric Lundblad joined me for two Sunday morning appointments. Our first one was just across from Niner on Anderson Road, where we met Scott Hawley of Torrin Vineyard outside of the Booker Wines facility. Torrin is one of the hot new wineries in the Paso Robles area. All three wines from the 2008 vintage received 95+ scores from Wine Spectator – no surprise that they all sold out quickly!
We met Scott at Booker Wines since his vineyard is accessed through part of the Booker property – Torrin is actually between the Booker and L'Aventure vineyards. He asked whether any of us had a four-wheel drive vehicle in which to follow him, since parts of his vineyard are steep. But as none of us was driving a 4WD vehicle that day and there were just four of us, we were all able to squeeze into Scott's pickup truck for the vineyard tour. We headed around the corner of one of the very steep hillside sections of Booker and quickly came to Torrin Vineyard. Scott stopped to give us an overview of his property and told us a little about himself.
Tasting Notes: Current Releases & Tank Samples

2008 "The Maven," Paso Robles.80% Grenache, 20% Syrah. Deep purple color, showing bright red fruits, herbs, and minerals on the nose. Bright mouthfeel with good structure and medium tannins, with just a trace of heat on the finish.

2008 "The Banshee," Torrin Estate, Paso Robles.30% Mourvèdre, 26% Grenache, 26% Syrah, 18% Alicante Bouschet. Very dark color, with expressive floral, plum, spice, and earth aromas along with a touch of oak. Rich and deep but not dense, this had a lively mouthfeel with chalky tannins. Very nice now, and should improve with some bottle age.

2008 "Akasha," Paso Robles.100% Syrah. Very dark color, this showed black fruits, dried herbs, an interesting briny note, along with some sweet oak. Rich and mouthfilling, this had much grippier tannins on the finish.

2009 "The Maven," Paso Robles (tank sample).75% Grenache, 25% Syrah. Vibrant dark purple color, this featured some pretty floral notes along with cherry and strawberry fruit, baking spices, and pepper. Nice balance and structure, this had a very chewy tannic finish.

2009 "The Banshee," Torrin Estate, Paso Robles (tank sample).60% Syrah, 22% Mourvèdre, 18% Grenache. Dark color, aromas of earth, minerals, black cherry and plum fruit, anise, and a briny, saline note. Great texture on the palate, and not as tannic as the '09 "Maven."

2009 "Akasha," Paso Robles (tank sample).95% Syrah, 5% Grenache. Very dark color, this was more aromatic than the '08 bottling, with blueberry, flowers, minerals, and grilled meat on the nose. With a chalky sensation in the mouth, the finishing tannins were big and chewy but still less than the '09 "Maven."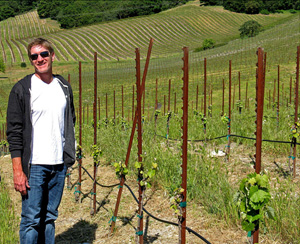 Scott Hawley, at Torrin Vnyd
Originally from Porterville, California – between Fresno and Bakersfield – Scott attended Fresno State University, originally to participate in their water polo program. But while there, he became interested in winemaking and viticulture – he says he was drawn more to the artistic side of it than to the scientific side. After completing an enology degree there, he worked at Fetzer, and spent some time working in McLaren Vale as well. It was while traveling through Burgundy and the Rhône that he met Philippe Guigal, who really sparked Scott's interest in Syrah. It was Justin Smith's father "Pebble" who introduced Scott to wines made from Westside Paso Robles fruit, and he moved to the area in the late 1990s. He made wine at SummerWood Winery prior to starting the Torrin label. Scott and his wife Viquel launched Torrin in 2005 with their purchase of 30 acres of land that had been part of Eric Jensen's Booker Vineyard, and the first Torrin wines released were from the 2006 vintage.
Torrin is a word of German origin meaning "of the hills," an appropriate name for a vineyard on such a hilly site. Eric Jensen and Justin Smith had originally planted about 10 acres of the land that Scott & Viquel bought, mostly in 2002, and a bit more has been planted since the Hawleys took over. In general, Grenache and Mourvèdre are planted on the warmer south- and west-facing slopes, while Syrah is on the cooler north- and east-facing slopes. The vineyard includes some Tannat as well. It also had some Alicante Bouschet, which had to be removed due to leafroll virus – Scott will graft these vines over to another variety although he's not yet sure what that will be. He told us that he may plant some white varieties on an east-facing hillside, probably Viognier and Roussanne. He'd also like to put in more high-density head-trained "gobelet" planting.
Walking through some of the older Grenache plantings, we saw some frost damage – Paso-area vineyards were particularly hard-hit by frosts this spring – though second growth looked to be pushing pretty well when we visited. Scott noted that the Tannat had some frost damage too. Vine density throughout the vineyard is about 2,074 vines per acre, with three-foot vine spacing in most rows, and most of it is farmed for one cluster per shoot. There are irrigation drip lines, but Scott does not irrigate very much and would like to dry-farm as much as possible. The soil is fairly consistent throughout the vineyard, mainly a whitish-colored siliceous shale. The hillside slopes have a soil pH of around 8.2, with a bit less near the base of the hills. The rocky soil is porous, which allows good drainage, and the fractured rock lets the roots reach deep down through the shale. Scott told us that he is considering bringing in sheep to the vineyard, and that he likes the ecosystem component of biodynamic farming.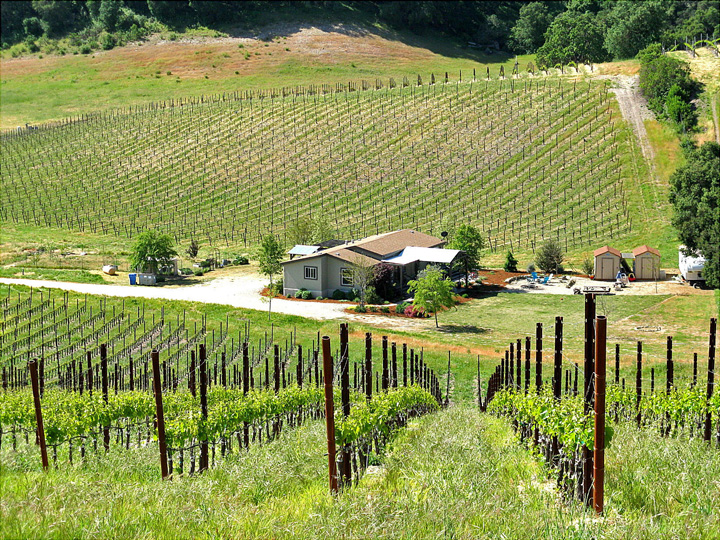 We continued in Scott's truck through the hilly vineyard to some of the Syrah plantings. I was glad none of us had to follow him in our own cars – that vineyard road was really steep! Scott said that he's found his Clone 877 Syrah tends to have larger clusters but more intensity of flavor, while the 470 has tiny berries and is very tannic. He picks the top and bottom of Syrah rows separately – fruit from the top portion tends to be brighter, with blueberry flavors, while the bottom produces darker fruit flavors with higher pH. There is also some Clone 174 Syrah that Scott planted more recently, and he's kept more of this for his own wines as the vines have matured. Scott is particularly excited about the potential of this 174 Syrah.
The Grenache clone is from Alban, and produces very small clusters and berries, with a yield that's usually only about 1½ tons per acre. Scott grafted new Grenache vines on a hillside block that had originally been planted to Clone 6 Cabernet Sauvignon. The Cab that was grafted over would not set fruit very well in the chalky, high-pH soil (there is still another small block of Clone 4 Cabernet in the vineyard). Scott is very happy with three newer small north-facing blocks of head-trained Grenache, and some head-trained Mourvèdre on south-facing blocks. He told us that some of the Grenache is own-rooted, and that the planting consists of different "mystery" clones. He noted that the fruit from these blocks has had more spice and dried herb qualities, and that the head-trained Mourvèdre has been very promising so far.
Scott has sold some of his Tannat to Jada Vineyard in the past (he also works as Jada's winemaker) but he will keep it all for the Torrin wines this year. He noted that Tannat will produce a big crop so he drops a lot of that fruit, mainly on the afternoon sun side of the rows. With the 2010 vintage, Scott kept all of the fruit from his vineyard except for some Tannat, and this year he plans to keep everything from the vineyard for his own wines.
Scott drove us back to the Booker winery, where we hopped back into our own cars and followed him out to the Denner facility on Vineyard Drive, where he currently makes his wine. As we tasted the most recent Torrin wines as well as some wines in tank that were to be bottled soon, Scott told us about his winemaking.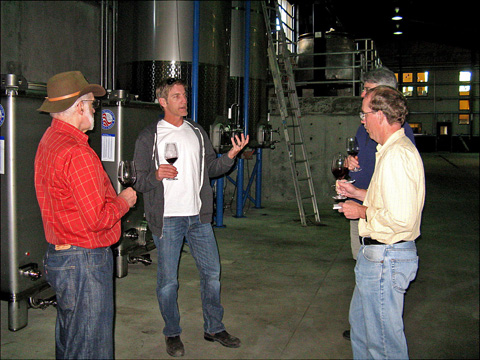 (l to r) Paul Homchick, Scott Hawley, Eric Lundblad, Al Osterheld
As is the case with many winemakers, Scott does not decide when to pick based on brix but instead relies on flavors. He mainly uses 1½-ton fermentation boxes and does hand punchdowns. We asked about using stems in his fermentations, and he told us that he'll use different percentages of whole-cluster fermentation or will destem and add stems back, depending on the vintage. He used 30-40% whole-cluster in '06 and '07, none in '08, then back to about 30% for Syrah and 15% for Grenache in '09 (all destemmed with stems added back in '09). He uses dry ice to cool the must for 5-6 days, contributing to a cold soak that can go for over 10 days, with native fermentation allowed to start on its own. Scott waits for everything to go dry, rather than press off any lots that are still sweet. The long cold-soaks and generally slow fermentations mean that the wine is on the skins for a fairly long time, even though he does not do extended macerations.
Scott uses a basket press and combines free run and press wine for consistency in the barrels. He told us that since he uses no enzymes and no acid additions for his wines, all adjustments that may be needed are made through blending the various lots of wine after they're in barrel. Scott allows very little air exposure during élevage, but he has not had much problem with reduction in the wines. He's been using some puncheons for aging Grenache, after they've been used first for fermenting Syrah. The wines are racked and blended between June and August following harvest, then returned to barrel for further aging. The lees stays in the barrels so the blended wines stay on the lees right up until they're ready for bottling.
Speaking of "ready for bottling," that's what the three 2009 vintage Torrin wines were. They'd been racked from barrel to tank just a few days before our visit, to settle them in preparation for bottling. Scott said he feels the '09 vintage of his wines combines a lot of upfront fruit with good structure. Torrin produces only three wines, all red blends. The wine production is ramping up. There were a total of about 300 cases produced in 2008, and around 400 in 2009 (about 90 for "The Maven" and 150 each for the other two bottlings). Scott expects the 2010 production might reach 1,000 cases.
The blend for "The Maven" changes from year to year but is always primarily Grenache. The Grenache component of the blend has come from both James Berry Vineyard and Torrin's own estate vineyard. The Syrah for this was 877 clone from Torrin. Scott noted that there was no whole cluster used for the '08 vintage of this wine since the stems were so green. His aim for "The Maven" is to produce a wine that will show well when young but will benefit by bottle age too.
"The Banshee" blend also changes – in 2008, it was a nearly equal blend of Mourvèdre, Grenache, and Syrah, along with some Alicante Bouschet, while it was Syrah-dominated in 2009. The Mourvèdre and Alicante were co-fermented in 2008. All the fruit for both vintages came entirely from the Torrin Vineyard. Scott told us that "The Banshee" is meant to express the vineyard site without focusing on a particular grape variety.
The third Torrin wine is called "Akasha." This was 100% Syrah in 2008, with 80% of the fruit coming from Torrin Vineyard and 20% from James Berry. 70% of the Syrah for this wine was 877 clone with the rest being 174. The 2009 vintage included 5% Grenache from Torrin Vineyard. The Syrah component in the '09 was sourced from 85% Torrin Vineyard fruit, but 60% of the Syrah in that vintage was 174 clone. Scott told us that much of what he wants to do with his wines is to highlight the texture.
Scott projected a lot of confidence when he discussed his vineyards and his wines with us. He seems to have a great handle on what he wants to achieve and on how to get there. It helps that he's got a great vineyard site and is able to source fruit from other top growers as well. With critics' scores like the ones that Torrin has received for its wines to date, it's easy to see why the winery has generated so much interest in so little time. And tasting through the wines, it was also easy to see how much there is to like about them. They're in a similar vein to some of the other high-scoring wines from the Paso area, but they struck me as livelier and better-structured than some others. My favorite of the '08s was "The Banshee," while it was tough to pick a favorite among the '09s – even at this early stage they all showed their own distinctive character. Torrin has rocketed to the top tier of Paso Robles wineries, and I expect they'll stay there for quite awhile.

Thacher Winery
We were running a little late by the time we said good-bye to Scott and headed farther north along Vineyard Drive to our last appointment of the day at Thacher Winery. I phoned Sherman Thacher once we were on the road, and was glad to hear that our timing would not be a problem. Sherman greeted us at the modest stucco and wood tasting room once we arrived and suggested that we move our tasting just outside, under the shaded side porch. With the day's beautiful and warm weather, that was a fine idea.
Tasting Notes: Current Releases

2009 Viognier, Hastings Ranch Vineyard, Paso Robles.The fruit was harvested over two dates, and the two lots were later blended. Made entirely in stainless steel. Light yellow color, bright aromas of stone fruit with a light floral note. Fairly viscous on the palate with a smooth finish.

2006 Zinfandel, Paso Robles.About 85% from Je t'aime Vineyard and 15% from Hastings Ranch. Medium-light color, showing raspberry and other red fruits, pepper, and baking spice. Lighter-bodied and not tannic, good for drinking now.

2007 "Triumvirate," Reserve Zinfandel, Paso Robles.About ⅓ each from Je t'aime, Bailey Ranch, and Will's Hills vineyards. A bit darker in color than the '06 Zin, with more depth and intensity to the aromas. Ripe boysenberry, bramble, black pepper, clove and other spices on the nose, with very good balancing acidity in the mouth. With great texture and fine-grained tannins on the long finish, this was a seamless package and an outstanding Zinfandel.

2007 Syrah, Paso Robles.Sourced from Halter Ranch and Alta Colina Vineyard. Medium-dark color, showing plum and blueberry, spice, and touches of earth and dried herbs. This was medium-bodied with a fairly smooth mouthfeel and moderate tannins.

2007 Syrah, Coast View Vineyard, Monterey County.Darker color, this featured lots of pepper along with dark berry fruits, spice, and hint of fresh flowers. Big and structured, this should benefit from some bottle age, distinctive and very good.

2008 "Controlled Chaos," Paso Robles.42% Mourvèdre, 35% Zinfandel, 23% Grenache, mainly from Halter Ranch and Alta Colina vineyards. Medium purple color, displaying baking spices and earth, plus plum and boysenberry fruit and some sweet oak. A bit richer on the palate, this finished with medium-big tannins.

2008 Mourvèdre, Halter Ranch, Paso Robles.100%Mourvèdre, a small-production bottling for the wine club. Medium-light color, with intriguing aromas of earth, funk, and flowers, with dried herbs, black cherry, and plum in support. A leaner style in the mouth, with very good acidity and fine tannins on the finish.

2008 "GSM," Central Coast.38% Grenache, 36% Syrah, 26%Mourvèdre, aged in 12.5% new Hungarian oak. Medium-dark color, showing ripe red fruits and plum, spice, and sweet oak on the nose. A round mouthfeel combined with good structure and moderate tannins. Quite tasty now, and should age nicely for at least a few years.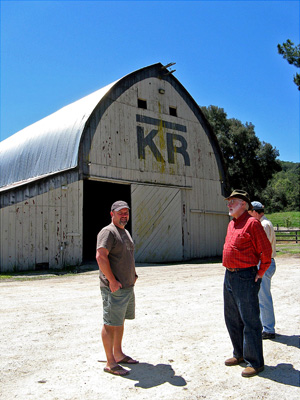 Sherman has deep roots in agriculture – he grew up on his family's citrus orchard in Ventura County, south of Santa Barbara, and family members going back several generations grew citrus, avocados and olives in the area. Sherman had worked at other wineries before starting his own, and was also a brewer at Los Gatos Brewing Company. After graduating from UC Davis, he followed a friend from school to the brewery, where he was hired as an assistant and ultimately became brewmaster there. He made his first wine in 1993, some Zinfandel from the vineyard of Savannah-Chanelle in the Santa Cruz Mountains. Working there and with other nearby wineries, he started making more of his own wine. The earlier wines were made at the Savannah-Chanelle facilities, while more recent wines were made at Templeton Wine Services until the current Thacher winery was finished. The winery and adjacent tasting room were completed in time for the 2008 harvest.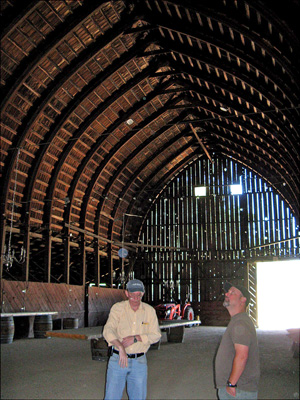 The Thacher label itself was launched in 2004, when Sherman and his wife Michelle purchased the 52-acre property where the winery is now located. Its most distinctive feature is the arch-roofed barn that can be seen from Vineyard Drive, with the large letters "KR" emblazoned on its front. The barn dates to the 1920s, and is one of a number of older structures from the days when the property was known as Kentucky Ranch, a well-known horse-breeding operation. The winery still celebrates that heritage, and holds a big event every year on Kentucky Derby day. Sherman and Michelle made the full-time move from Santa Cruz to Paso Robles in 2006, and the following year they planted about 4.5 acres on the property, mostly Zinfandel with some Petite Sirah.
Although the winery has been around for a few years, I'd never really noticed it until a couple of its wines won some of the top awards at this year's San Francisco Chronicle Wine Competition, considered one of the most prestigious annual wine competitions in the country. The Thacher 2008 "GSM" was a Best of Class Winner, while the 2008 "Triumvirate" Zinfandel won not only Best of Class, but also was named Red Wine Sweepstakes Winner – one of only six Sweepstakes winners out of over 5,000 wines entered in the competition. That certainly attracted interest, and the '08 "Triumvirate" sold out quickly following the announcement of competition results a few months ago.
We stood outside at a simple wood tasting bar set on a couple of barrels, while Sherman talked with us about his wines as he poured most of his current releases. Zinfandel is the largest part of the Thacher production, followed by Rhône-style red blends. Viognier is the only white wine produced, although Sherman is expecting to get some Grenache Blanc this year. He may also get some Tannat as well, and he's considering Cabernet in the future.
Sherman likes to buy fruit from different sources – he told us that he treats the various vineyard lots as a "spice rack" for blending the final wines. He also likes to co-ferment different varieties when possible. The standout "Triumvirate" Zin bottling is sourced from three Westside vineyards: Will's Hills is on Willow Creek Road, and Je t'aime Vineyard is nearby, while Bailey Ranch is on Peachy Canyon Road. Bailey Ranch is organically-farmed, and like Will's Hills, it has head-trained Zinfandel vines. Thacher makes a separate small-production Will's Hills Zin bottling for its wine club members.
Most red wines are aged in barrel for around 22-23 months, with final blends assembled in late spring and bottling taking place in August. Sherman usually does not use a lot of new oak on the wines. He said that the 2008 "Triumvirate" Zin has the most new oak of any of his wines made to date, at 37.5%. He uses some larger barrels for aging Grenache and Mourvèdre, and he told us that he'll probably use more of these in the future. The total annual production is currently just under 2,000 cases.
I asked Sherman about the grasshopper shown on the Thacher labels – it's very simply and elegantly drawn in an almost-abstract style. He told us that it was inspired by the Thacher family crest, which features three grasshoppers. The label is tasteful, yet still stands out from the crowd.
After we finished our tasting, we followed Sherman for a quick tour to check out the winery, vineyard, and the beautiful old "KR" barn. He has a relaxed, low-key character that I think carries over to his wines. The Thacher wines have plenty of ripe fruit, but they're not as big, and seem better-balanced by acidity, than with many other Paso producers. Winning wine competitions alone doesn't make for memorable wines, so I'm happy to report that the Thacher wines we tasted lived up to the promise. The 2008 "GSM" that fared so well at the wine competition was indeed a standout, and the Coast View Vineyard Syrah from Monterey County was a fascinating counterpoint to the Paso Robles Syrah. But the 2007 "Triumvirate" Zinfandel was my favorite wine of the line-up, and one of the finest Paso Robles Zinfandels I've tasted. Yes, it was the '08 vintage of this wine that won the big wine competition award, but it's hard for me to believe that it could have topped the impressive 2007 that we tasted. The Thacher wines were a real eye-opener, and a fine way to wrap up the morning's wine touring.

After leaving Thacher, we drove back down Vineyard Drive and into Templeton, where we stopped for lunch at Pier 46 Seafood Market, right off Vineyard and the 101 freeway. The place was packed and the seafood was excellent and fresh. We enjoyed ahi tacos, calimari & chips, and other tasty items.
Hug Cellars
Tasting Notes: Current Releases

2008 "el Conquistador," Central Coast.33% Petit Verdot from Booker Vineyard, 24% Cabernet Franc, 23% Cabernet Sauvignon, 10% Mourvèdre, all from Santa Barbara Highlands Vineyard, and 10% Merlot from Cedar Lane Vineyard. Dark color, ripe blueberry, spice, with some herbal / tobacco notes. Rich but structured, with big, grippy tannins that could use some bottle age.

2007 Syrah, Cedar Lane Vineyard, Arroyo Seco.Medium-dark color, aromas of blackberry, tar, minerals, smoky oak, with some floral hints. Lively with great texture on the palate, the tannins are noticeable but fairly refined, already complex and tasty now and should develop nicely for years.


As we often do when heading home from HdR, Al, Eric, and I made one last stop in Paso Robles at Hug Cellars. We got a chance to say good-bye to Augie & Raquel Hug, and Augie poured us a couple of wines that we hadn't tried at HdR. Augie has been making more blends in recent years as opposed to single-varietal wines, and the "el Conquistador" was a good example – basically a Bordeaux-style blend with a twist. The Cedar Lane Vineyard Syrah remains one of the few varietal Hug wines, and we were able to taste the '07 vintage, which has a couple of years of bottle age now (the '09 is the current release).
The Hug wines continue to be made in a style that is quite enjoyable when young, but as we tasted when Augie poured a '94 Syrah at HdR, they can age very gracefully too.
Epilogue
This was another enjoyable trip to Paso Robles. Nearly all the wineries we visited were new ones to me – I had either never tasted the wines from these producers at all or had only tasted a couple of them at large events. It's always fun to discover new wineries, even in an area I've traveled to as often as I have to Paso wine country. And happily, most of the places we visited were very good, with some standout wines along the way.
There were a couple of things I'd known before but that really hit home on this trip. First, the area around Anderson Road a few miles west of the 101 freeway is certainly the current hot spot in Paso Robles for top vineyards – Booker, Caliza, Niner, Torrin, and Epoch's Catapult Vineyard among others. And secondly, there may be no wine region in California whose wineries produce as many interesting and off-beat blends as the wineries of Paso Robles do – especially with Zinfandel-Rhône blends, but also blends of Rhône grapes with Bordeaux, Spanish, and Italian varieties. "Breaking the rules" seems to be the rule in Paso, and very often to good effect.

Hospice du Rhône weekend would not be nearly as much fun as it is without getting together with old and new friends to share good food and wine and to visit new places. It's always my favorite wine trip each year, and I've already got next year's date marked on my calendar. As always, thanks to everyone that we visited for being so generous with their time and their wine!