Santa Barbara County - March 2011
Finding myself with a free day to go wine-tasting on the Central Coast is not a bad situation. I wound up that way by helping Eric Lundblad of Ladd Cellars pour his wines at the World of Pinot Noir in Shell Beach, held each year in early March.
We were pouring at tastings there on Friday and Sunday, but we had nothing on the agenda for Saturday, so we decided to make the short drive south to Santa Barbara County to check out some wineries there. It was all rather spur-of-the-moment, and the only advance appointment we made was a visit to Tantara Winery – that's where we started on a beautiful late winter morning.


It was only about a 40-minute drive from the Shell Beach area to Tantara Winery, located at the edge of famed Bien Nacido Vineyard in Santa Maria Valley. Eric and I got out of the car and we were welcomed right away by Barry Rossum. We've both known Barry for a number of years, as he'd previously worked at Arcadian Winery and also runs the small tasting room at the Ballard Inn (more on that later). Barry mentioned that a few more people were due to arrive in about a half-hour, but that we could get started with some barrel-tasting and have them join in later. But he'd barely gotten the words out of his mouth when another car drove up to the winery – sure enough it was the other group, arriving earlier than expected. The timing was perfect for all of us.
Tasting Notes: Barrel Samples

2009 Pinot Noir, Dierberg Vineyard, Santa Maria Valley (115 clone): Medium ruby color, showing red fruits, tea leaf, and spice, very lively on the palate, and a long, spicy finish, very nice.

2009 Pinot Noir, Solomon Hills Vineyard, Santa Maria Valley (667 clone): Slightly lighter color than the Dierberg, with raspberry and plums aromas, and a bit less spice and less acidity in the mouth.

2009 Pinot Noir, Bien Nacido Vineyard, Santa Maria Valley (777 clone): This will go into the "Adobe" bottling. Medium-light color, showing more apparent oak but also lots of bright fruit and spice on the nose. Bigger and creamier mouthfeel, with a fairly smooth finish.

2009 Pinot Noir, Bien Nacido Vineyard, Santa Maria Valley (667 clone): This will go into the "Adobe" bottling. Medium color, displaying ripe black cherry and a big spice component. Very good acidity with a tasty, lip-smacking finish, nice.

2009 Pinot Noir, Laetitia Vineyard, Arroyo Grande Valley (Martini clone): This will go into the "La Colline" bottling. Very vibrant ruby color, beautiful aromatics of red fruits and tea leaf. Bright and juicy in the mouth, with great texture, very nice.

2009 Pinot Noir, Bien Nacido Vineyard, Santa Maria Valley (Mt. Eden clone): Medium-light color, with spicy and smoky plum on the nose, lively mouthfeel and finish.

2009 Pinot Noir, Garys' Vineyard, Santa Lucia Highlands
(Pisoni clone): Medium-dark color (darkest of the wines we tried), showing plum and darker fruits. Bigger tannins combined with the acidity to give this a rougher texture than the other wines.

2009 Pinot Noir, Garys' Vineyard, Santa Lucia Highlands (Pisoni clone – 50% whole cluster): The color was noticeably lighter than in the previous barrel, and though showing some telltale stemmy notes on the nose, overall the whole-cluster was nicely integrated. With brighter fruit and more herbal qualities, this also finished with grippy tannins.

2009 Pinot Noir, Bien Nacido Vineyard, Santa Maria Valley (Pommard clone): Medium color, with very pretty, floral aromatics along with raspberry, plum, smoke, and baking spices, nice complexity. Bright but smooth on the palate, with a lingering finish, very nice.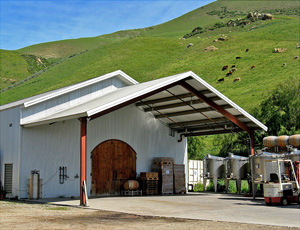 Established in 1997 by friends Jeff Fink and Bill Cates, Tantara has become known mainly for Pinot Noir and Chardonnay, and they also make a small amount of Syrah. They've made other varieties on occasion as well, including Sangiovese and Pinot Blanc. The wines were originally produced at Laetitia, near Arroyo Grande, until the current winery was completed in 2002. About 7,500 cases are produced annually, around 6,000 of which are Pinot Noir.
Barry told us that the name Tantara comes from the name of a horse that Bill Cates owned years ago when he lived in Virginia. At one point, the horse was not expected to live much longer, but went on to live for a number of years beyond the prediction – an inspiration for what the owners hope will be long-lived wines from their winery.
Among the vineyards that Tantara sources fruit from are Bien Nacido, Dierberg, Solomon Hills, Sanford & Benedict, Rio Vista, Talley Rincon, La Colline (Laetitia), Silacci, Pisoni, Garys', and Brosseau. Tantara also has several estate vineyard blocks on the periphery of Bien Nacido – these are the Corral, Pentagon, Adobe, and Riversedge blocks, which go into the "Bien Nacido – Adobe" Pinot Noir bottling – named for the 165 year-old adobe building nearby. Farmed organically, the estate vineyard blocks include 2A, 115, 667, and 777 Pinot clones.
Barry went inside the small winery office area and returned with a wine thief and some stemware for our tasting. As we walked the short distance to the barrel room, Barry pointed out the cattle grazing high on the verdant hillside above the winery – he said sometimes the scene makes him feel like he's in Switzerland!
Once inside the barrel room, we focused on tasting 2009 vintage Pinot Noirs, which will be bottled soon. As we tasted through wines from various vineyards with Barry, he explained some of the distinctions that make them all different from one another. Besides the climatic differences that come from the widely-scattered locations, the vineyards have different soils. For example, Dierberg has mainly sandy loam, while Solomon Hills is quite sandy, Laetitia is on volcanic soil with some limestone, and Bien Nacido has rocky loam. There's a wide variation in the age of vines that produce the fruit for Tantara's Pinots too – Barry noted that the Martini clone vines at Laetitia are 30 years old, while the Pommard clone fruit from Bien Nacido dates back to 1973. Both of these two plantings are own-rooted as well, rather unusual these days.
Nearly all the Pinot fruit is destemmed – a small amount of whole-cluster fermentation is used in the Garys' and Pisoni Pinots, but usually only about 5-10% of the total. Barry contrasted two barrels of Garys' to demonstrate to us the effect of whole-cluster fermentation. All the Pinots are vinified separately by vineyard and by clone. Fermentation takes place mainly in 1½-ton open top bins, using RC212 yeast for most lots. The Pinot barrels are racked in the July following harvest, after the malolactic fermentation is complete, and aged for a total of 16-17 months. The Pinots see more new oak than Syrahs (we spotted one 12-year old barrel with Syrah in it), and the predominant coopers used are François Frères, Remond, Dargaud & Jaeglé, and Rousseau. The winery's aim is to produce Pinot Noirs that will be flavorful when young, but will reward years of aging by developing increased complexity.
This was a great opportunity to taste a wide assortment of Pinots from Tantara. Almost all the wines shared a noticeable spice component and very good acidity. While quite flavorful, they're certainly not the big, fruit-dominated wines that some think of when it comes to Santa Barbara Pinots – these featured all sorts of other aromas and flavors that complemented the fruit nicely. There was a nice sense of restraint and balance present in these barrel samples, and I expect that they'll develop into some fine, age-worthy wines.

We left Tantara and crossed the Sisquoc River on the new Tepusquet Road bridge, opened just last year. The bridge saves lots of time in getting between Santa Maria Mesa Road on the north side of the river and Foxen Canyon Road on the south. Eric had not been to Foxen Winery for some time, so we decided to stop there. Foxen now has two tasting rooms – one at the old "shack" and their new tasting room about ¼ mile farther east along the road. Since we figured we'd only have time to stop at one of the two, we picked the new tasting room, which focuses on the winery's Chardonnays, Pinot Noirs, and Rhône-style wines.
Tasting Notes: Current Releases

2009 Chardonnay "Block UU," Bien Nacido Vineyard, Santa Maria Valley: Medium-light yellow color, lemon and guava aromas with spice and a hint of sweet oak in the background. On the palate, a creamy texture was balanced by bright acidity, and the finish was clean and smooth, very nice.

2009 Chardonnay, Tinaquaic Vineyard, Santa Maria Valley: Similar color to the "Block UU" but more apple and lees aromas along with tropical fruit and more apparent toasty oak notes, and a richer texture in the mouth. Big, creamy, and smooth finish.

2009 Pinot Noir, Santa Maria Valley: Medium-light color, very aromatic, a bit floral, with bright bing cherry, spice, and tea leaf notes. Lots of upfront fruit and enough acidity to keep the mouthfeel and finish fresh. This was all about the pretty fruit – not the most complex Pinot you'll find but undeniably delicious.

2008 Pinot Noir "Block 8," Bien Nacido Vineyard, Santa Maria Valley: Deeper color than the SMV bottling, this showed much more vanilla/oak and spice that tended to overpower the plummy, earthy fruit. Big and rich on the palate, this had the structure for aging, but it's hard to tell when the oak might come more into balance.

2008 Syrah, Tinaquaic Vineyard, Santa Maria Valley: Medium-dark color, with spices and dried herbs, earthy plum and darker berries, and an overlay of vanilla/oak. Fairly dense in the mouth, it finished with grippy tannins.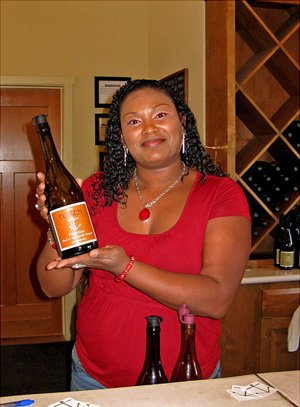 As we stepped into the handsome new building, we were greeted by Mo – a familiar face who's been working at Foxen's tasting room for a number of years. The new solar-powered facility, which opened in 2009, has much more room for tasters than the old one down the road – that one has plenty of funky character but is short on space. There were only a couple of people at the new tasting bar when Eric and I got there (there are actually two tasting bars in the large space), but it gradually filled up.
Founded in 1985 by Bill Wathen and Dick Doré, the winery is named for William Benjamin Foxen, Dick Doré's great-great-grandfather. In 1837 Foxen purchased Rancho Tinaquaic in the scenic canyon that now bears his name. The familiar anchor logo on the Foxen label comes from the old ranch cattle brand. Before starting the winery, Bill Wathen had been the vineyard manager at Chalone Vineyard, where he worked with winery founder Dick Graff. Dick Doré was raised right on Rancho Tinaquaic. He'd worked as a banker, but spent a number of years with his family in Europe where his love of wine emerged. Returning to Santa Barbara County in the late '70s, he met Bill while working at Tepusquet Mesa Vineyard.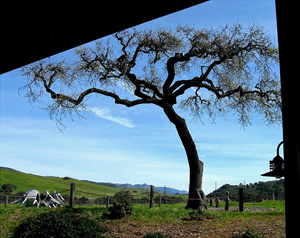 Foxen owns a ten-acre estate vineyard – Tinaquaic – that's located a short distance from the winery in Foxen Canyon. It was planted in 1989, and it's the only vineyard in the area that is dry-farmed. It's planted mainly to Chardonnay, along with some Syrah and Cabernet Franc, all of which is own-rooted. Foxen's main outside vineyard sources are Bien Nacido and Julia's in Santa Maria Valley, Sea Smoke in Sta. Rita Hills (Foxen is the only producer other than Sea Smoke Cellars to get fruit from there), and Vogelzang in Happy Canyon. Foxen sources 40+ year-old Chenin Blanc from Ernesto Wickenden Vineyard in Santa Maria Valley – it's one of California's best Chenin Blancs. There's also Williamson-Doré Vineyard, planted mostly to Syrah in 1999 by Dick Doré and his wife Jenny Williamson-Doré, and located in eastern Santa Ynez Valley near Happy Canyon.
Mo started us out on our tasting with a couple of '09 Chardonnays. She told us that the "Block UU" Bien Nacido Chardonnay is fermented in about 20% new French oak, while the Tinaquaic Chard gets about 25%. Malolactic fermentation on both wines is allowed to start and proceed naturally, and generally stops on its own before it is 100% complete. Chardonnays are barrel-fermented sur lees for six months, and then racked to neutral oak for an additional few months of aging. The Chardonnay fruit from Foxen's estate Tinaquaic Vineyard is from Davis 4 and Wente clones.
Mo told us that they like to call their basic Santa Maria Valley Pinot Noir bottling "Pinot candy" for its intense and pretty aromatics. It's aged for about 8-10 months in neutral oak, so the purity of fruit shows through. In 2009, this bottling was sourced from about 70% Bien Nacido fruit plus about 15% each from Julia's and Riverbench vineyards, with mostly Pommard clone. The "Block 8" Bien Nacido Pinot comes from a section of the vineyard that Foxen has leased since the late 1990s. With 2A, 113, 115, Pommard, and Mt. Eden clones, this bottling sees about 16 months in 60% new François Frères barrels.
The Tinaquaic Syrah is from Durell clone, dry-farmed in a 1.5-acre block of the estate vineyard. The fruit is entirely destemmed and fermented in small open-top containers. Even though the 2008 vintage was aged in 100% new French oak, it was nicely balanced with the other components of the wine.
Foxen has for many years maintained a place among the finer Santa Barbara County producers. The "Block UU" Chardonnay was one of the best we tasting during our day, and the Santa Maria Valley Pinot was the kind of wine that makes you want to keep pouring yourself another glass. Although there are other wineries in the area that have pursued what I think are more exciting directions, Foxen's wines have been consistent and solid, sometimes hitting some real highs and seldom disappointing – that's why I find myself returning there time and again.
After our tasting at Foxen, Eric and I continued along scenic Foxen Canyon Road, eventually coming to the town of Los Olivos, where we rolled into the parking lot of Los Olivos Grocery. Featuring some of the best sandwiches in Santa Barbara wine country (not to mention a great assortment of cheeses, deli salads, and local wines), this is a favorite lunch stop. We ordered sandwiches and chowed down at one of the tables in the covered patio just outside.
The small "downtown" of Los Olivos these days is loaded with wine tasting rooms, a far cry from the way it was on my first visit there nearly 20 years ago. I'm still not sure if that's a positive development, but it does afford the opportunity to spend an entire day just strolling from one tasting room to the next. Since we had a few other winery visits in mind for the afternoon, Eric and I settled on just one stop in town – at the Tensley tasting room just off the main street.
Tasting Notes: Current Releases

Tensley 2010 "Blanc," Camp 4 Vineyard, Santa Barbara County: 65% Grenache Blanc, 35% Roussanne. Light straw color, ripe tropical fruit aromas along with some spice, lees, and oak notes. Medium-rich mouthfeel with good balancing acidity, nice.

Lea 2010 Rosé, Tierra Alta Vineyard, Santa Ynez Valley: Syrah Rosé. Very light purple-pink color, watermelon and pomegranate on the nose, refreshing and clean. Syrah-based Rosés are usually not my favorites, but this one was very nice.

Lea 2009 Pinot Noir, Turner Vineyard, Sta. Rita Hills: Medium-light color, black cherry with notes of herbs and tomato, somewhat tart and acidic in the mouth, with some mild tannins on the finish.

Tensley 2009 Syrah, Colson Canyon Vineyard, Santa Barbara County: Dark color, brambly dark berry fruit with spice and mocha notes along with a stony, mineral component. Lively and well-structured for aging, this finished with moderately grippy tannins.

Détente, 2008 Red Wine, 50% France, 50% America: Medium color, with earth, white pepper, leather, and spice leading the way, and plum and blueberry fruit in the background. A bit hard and tannic at this point, this has potential but will take a few years to develop and soften.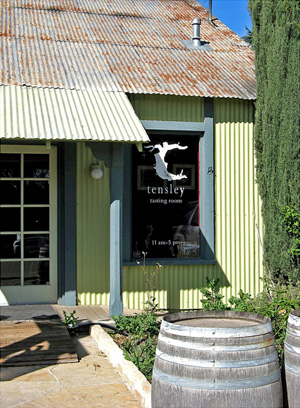 We walked into the unassuming corrugated metal-sided building, and were greeted by Kathi at the tasting bar. The space is shared with Carina Cellars, which has their tasting bar across the room. Tensley is known for single-vineyard Syrahs from various Santa Barbara County vineyards, as well as for their Rhône-style white blend. A few other varieties are released from time to time, including Grenache, Roussanne, and Riesling. Sharing the small tasting bar with Tensley Wines is Lea Wines, made by Joey Tensley's wife Jennifer. Lea produces Syrah Rosé and Pinot Noir.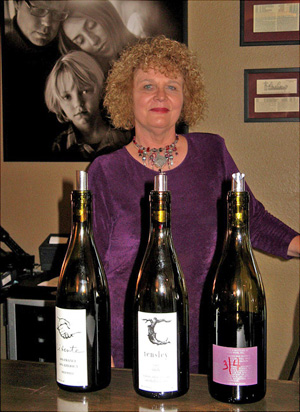 Joey Tensley launched Tensley Wines in 1998, and now makes several thousand cases per year, mostly vineyard-designated Syrah bottlings. Joey grew up in Bakersfield, and started out in the wine business as a cellar worker at Fess Parker Winery in 1993. He later became the assistant winemaker at Babcock and then at Beckmen, where he was able to start his own label. His Syrahs are somewhat unusual in that every one of the single-vineyard bottlings are priced identically. The basic Santa Barbara County appellation bottling is often a bargain for the quality. There are some high-end bottlings too, the "OGT" and "BMT," named for the initials of Joey's son and niece, respectively.
The Syrahs from various vineyard sources – which include Colson Canyon, Thompson, Tierra Alta, and Turner – are made in similar fashion, using a moderate percentage of whole-cluster fermentation and little or no new oak for aging. The Lea Rosé is whole-cluster crushed, with half on the skins for three hours and half overnight before pressing. I've tasted a number of Tensley Syrahs over the years, and found them to have great distinction among the vineyard sources. The Colson Canyon usually is the most fruit-forward and rich, while others express more meaty, earthy, or peppery character. They're not nearly as full-throttle as many Central Coast Syrahs.
There's one more wine that has been added to the line-up recently. Called "Détente," it's the result of a collaboration between Joey and Cécile Dusserre of Domaine de Montvac in Vacqueyras. Composed of 50% Domaine de Montvac Gigondas (70% Grenache, 25% Syrah, 5% Mourvèdre) and 50% Tensley Colson Canyon Vineyard Syrah, it was no surprise that this wine presented a unique profile among the wines we tasted.
I've enjoyed visiting the Tensley tasting room in the past, but it had been a few years since my last stop there, so it was good to check in and taste the latest wines. The Lea Rosé was delicious, one of the better Syrah Rosés I've tried recently. It's probably too early to get a good grip on the Détente wine – I'd love to revisit it in a few years to see where it's going. It would have been nice to be able to taste a couple more of the Tensley wines, but both the "Blanc" and the Colson Canyon Syrah were much in the same style as I recall from earlier vintages. These wines steer a nice middle course that's neither too big and ripe nor too lean, and they showcase distinct vineyard-driven character.

Eric and I next drove south from Los Olivos just a few miles to the small town of Ballard, in the heart of Santa Ynez Valley. We were there to visit the tasting room of the Ballard Inn, a charming bed and breakfast that also boasts perhaps the best restaurant in all of Santa Barbara wine country. Wines from a number of local producers are poured at the tasting room. As we walked in, Barry Rossum was still setting out the day's bottles along the small wood bar, having just arrived a short time earlier after hosting another group at Tantara Winery. Barry told us that the tasting room has been open on weekends for about 5½ years, and that it's been very successful.
Tasting Notes: Current Selections

Au Bon Climat 2009 Chardonnay, Santa Barbara County: Sourced from Sierra Madre and Bien Nacido vineyards. Light color, grapefruit/citrus on the nose with some spice and a little vanilla. Medium-bodied with enough acidity to keep the mouthfeel lively and fresh.

Storm 2009 Sauvignon Blanc, Santa Ynez Valley: Very light straw color, lots of upfront grapefruit and lightly herbal aromas. More body than many Sauv Blancs, with a refreshing finish.

Kaena 2009 "Hapa Blanc," Santa Ynez Valley: 75% Grenache Blanc, 25% Roussanne. Very light color, showing apple and pear fruit. Lighter-bodied, and with more Grenache Blanc character than the similar Tensley blend we'd tasted earlier. Smooth mouthfeel and finish.

Calzada Ridge 2009 Viognier, Santa Ynez Valley: Light color, ripe peach and tropical fruit aromas along with some spice. Medium-bodied with a long, tasty finish.

Lane Tanner 2009 Pinot Noir, Bien Nacido Vineyard, Santa Maria Valley: Medium-light garnet color, very pretty floral aromatics, along with slightly tart cherry and red berry fruit. Fairly light and lively on the palate, but showing a bit of tannin on the finish.

Luminesce 2008 Pinot Noir, Laetitia Vineyard, Arroyo Grande Valley: Mostly from Martini clone, with a little 115. Medium color, showing a good deal of sweet oak plus black cherry and plum on the nose. Bigger and richer on the palate than the Lane Tanner, with more tannic grip on the finish.

Tantara 2003 Sangiovese, Paso Robles: Medium reddish-ruby color, the somewhat tart cherry fruit was showing some signs of fading. Still had the acidity to work well with food, while the finish showed some mild tannins that had no doubt mellowed from the wine's youth.

Kaena 2009 "Hapa," Santa Ynez Valley: 60% Syrah, 30% Grenache, 10% Mourvèdre. Sourced mainly from vineyards in Ballard Canyon. Medium color, displaying both red and black fruits, earth, pepper, and spice, with a touch of vanilla. Nicely-balanced blend, with each variety adding components to the whole but not dominating. Medium-big on the palate with some moderately-grippy tannins, nice.

Kenneth-Crawford 2006 "Four Play" Syrah, Santa Barbara County: Medium-dark color, with plum, blueberry, chocolate, and spice on the nose. Rich mouthfeel with medium tannins but still a smooth finish.

Baehner Fournier 2007 "Solus," Estate, Santa Ynez Valley: 100% Cabernet Sauvignon. Medium-dark color, earthy and herbal dark fruits. Fairly dense in the mouth but still lively, with big, chewy tannins on the finish.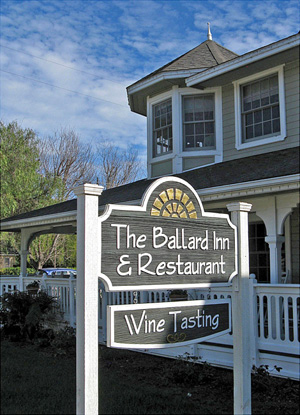 Many of the wines featured at the Ballard Inn are ones that you won't find in many other places. All of the wineries whose bottlings are represented do not have their own tasting rooms, and many are small and new producers. The wines are all from Santa Barbara County producers, and with a few exceptions, are made from Santa Barbara County fruit. They're all selected by the Ballard Inn Restaurant's executive chef, Budi Kazali, along with Barry and with input from the wait staff as well, since all of the wines are also available by the glass in the restaurant. Naturally, they're selected to pair well with the restaurant's food (French/Asian Fusion) and they're all reasonably-priced as well, with bottles ranging from about $20-40 retail.
Barry always has some new labels to showcase at the Ballard Inn – ones I had never tried before were Storm, Luminesce, and Baehner Fournier. Storm is a fairly new label from Curtis Winery assistant winemaker Ernst Storm, who's originally from South Africa. In addition to the Sauvignon Blanc we tasted, he also produces Pinot Noir and Syrah. Tantara assistant winemaker Kevin Law is behind the Luminesce label. The current releases feature Syrah and Petite Sirah in addition to Pinot Noir, and some Bordeaux variety wines are in the works. Baehner Fournier is from the husband-and-wife team of Dr. Robert Baehner and Vickie Fournier-Baehner, whose five small Santa Ynez Valley vineyards supply their Bordeaux-variety fruit. The winemaker is Drew Horton, who also works at Bridlewood Winery.
A couple of other labels whose wines I've tasted in the past – Calzada Ridge and Kaena – will be familiar to some but are still well below the radar. Calzada Ridge, from Richard and Pamela Harris, focuses exclusively on very small production Viognier from their estate vineyard, planted in 1997 in Santa Ynez Valley. Kaena owner/winemaker Mikael Sigouin, who grew up in Hawaii, is also the winemaker for Beckmen. The Kaena wines are all made from Rhône varieties, with the Grenache bottlings and "Hapa" blends being especially noteworthy.
The better-known wineries – Au Bon Climat, Lane Tanner, Tantara, and Kenneth-Crawford – deserve some quick notes too. Founded in 1982, Jim Clendenen's Au Bon Climat was one of the first Santa Barbara County producers to make a big splash in the wine world. The focus remains on Chardonnay and Pinot Noir, but there are numerous side projects as well. Lane Tanner founded her eponymous winery later in the '80s and she has become another Santa Barbara wine legend. Known especially for her elegant Pinots, the current 2009 vintage will be her last, as she recently announced her retirement.
Although we've already discussed Tantara, it's worth noting that the Sangiovese we tasted at the Ballard Inn was made only in the 2003-4 vintages, and came from some recently-discovered cases. Kenneth-Crawford – the partnership of Kenneth (Joey) Gummere and Mark Crawford Horvath – is known for its Syrah and Grenache, sourced mainly from the Ballard Canyon area of Santa Ynez Valley, as well as for Pinot Noir from Sta. Rita Hills. Their 2006 "Four Play" Syrah is named for the four vineyards it's sourced from.
You're almost sure to find some little-known gems at the Ballard Inn Tasting Room. It's well worth the short drive from crowded Los Olivos or Solvang. Be sure to say hi to Barry if you do stop in, and do yourself a favor and stay for dinner at the excellent restaurant!
We'd rushed through our tasting a bit at the Ballard Inn so that we could drive out to the Melville tasting room, along Hwy. 46 a few miles east of Lompoc, before it closed at 4pm. Eric and I arrived about 10 minutes to closing time and found a spot at the tasting bar. Alvin was our server in tasting room, which had pretty much cleared out by the time we got there, though there was still a large group of people enjoying themselves out on the adjacent patio. Alvin was quite helpful in explaining the details of each wine he poured for us, even as he was dutifully engaged in explaining the benefits of a wine club membership to a couple at the tasting bar (glad to report that he was successful).
Tasting Notes: Current Releases

2008 Chardonnay, Estate – Verna's, Santa Barbara County: Very light yellow color, slightly leesy citrus aromas with faint floral notes, medium-bodied, fairly rich on the palate with a smooth finish.

2009 Chardonnay, Estate, Sta. Rita Hills: Slightly deeper color, showing citrus, apple skin, and a bit of hazelnut and spice, medium-bodied and more complex than the Verna's bottling, with flavors carried by a bright acidity, nice.

2009 Chardonnay, "Clone 76 – Inox," Estate, Sta. Rita Hills: Very light straw color, showing lemon, lime, and spice, with a zingy acidity and slight mineral note. Very lively on the palate, with a bit of tartness on the finish, overall very nice.

2009 Pinot Noir, Estate – Verna's, Santa Barbara County: Medium light color, very aromatic rose petal, bright cherry, and spice with a slight stemmy note that should integrate into the wine soon. A lush yet lively mouthfeel led to a smooth finish. Very nice basic Pinot bottling.

2009 Pinot Noir, Estate, Sta. Rita Hills: Slightly deeper ruby color, and featuring black cherry, plum, and tea leaf on the nose. The herbal, stemmy component was more noticeable than in the Verna's, but it did not stand out. Bigger-bodied than the Verna's with some tannic bite on the finish.

2009 Pinot Noir, "Carrie's," Estate, Sta. Rita Hills: Medium color with a more reddish tinge than the Sta. Rita Estate bottling, showing brighter ripe red fruits, some green/stemmy notes, and a bigger spice component. The fruit seemed a bit sweeter, though the wine was lighter in body than the Sta. Rita Estate, and with similar tannins.

2009 Pinot Noir, "Terraces," Estate, Sta. Rita Hills: Slightly lighter color than the "Carrie's," with darker and more intense fruit – ripe plum, raspberry, and black cherry – along with earth, tea leaf, stems, and spice. Lively and textured in the mouth, this had somewhat grippier tannins that will need a few years to resolve. A very good young Pinot with a promising future.

2009 Syrah, Estate – Verna's, Santa Barbara County: Medium-dark color, with plum and darker berry fruit, flowers, spices, and a dash of black pepper. Medium-full on the palate, with enough acidity to keep the finish lively.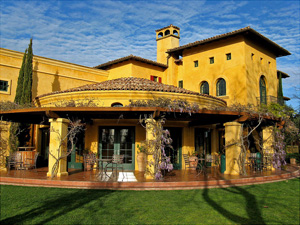 Melville Vineyards began back in 1989 – many people don't know that Melville traces its roots to Knights Valley in Sonoma County, where founder Ron Melville first grew Chardonnay, Merlot and Cabernet Sauvignon. The move to its now-familiar location in the Santa Rita Hills came in 1996, where Ron, along with his sons Brent and Chad, planted their estate vineyard alongside a new winery. A few years later, they also planted another estate vineyard, Verna's (named for Ron's mother), in Cat Canyon near Los Alamos, a few miles north over the hills from the winery. There are currently 139 acres planted near the winery and another 100 at Verna's. Brent and Chad manage the two vineyards, while Greg Brewer is the winemaker.
Most of the two vineyards are planted to Chardonnay and Pinot Noir, along with some Syrah and Viognier. There are over a dozen clones of Pinot planted, along with nine Syrah and six Chardonnay clones. The soil at the Santa Rita Hills estate vineyard site is mainly sandy, with some clay loam and shale. Vine spacing is tighter than at many vineyards, typically 8' x 3', with a vertical shoot positioning trellis system. Melville has reduced their Syrah plantings in recent years, replacing the vines with Pinot Noir. Perhaps that was a wise move given the shaky market for California Syrah these days, but their cooler-climate plantings near the winery often made some exceptional wines.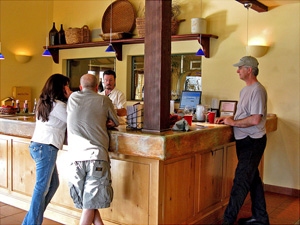 On the winemaking side of things, five to six Chardonnay clones go into both the Verna's and the Sta. Rita Hills Estate bottlings. Both are aged in 5-12 year-old French oak barrels. The '09 Verna's bottling went through about 15% malolactic fermentation while the Estate went through about 50%. The "Inox" bottling is – as the name implies – made entirely in stainless steel, and does not undergo any malolactic fermentation. You see more Chards in California made entirely in stainless steel these days, but this was one of the first and still among the best.
The Verna's Pinot Noir is sourced from 2A, 667, and 777 clones and Merry Edwards selection, while the Sta. Rita Hills Estate bottling includes a whopping 16 clones. Both include about 33% whole-cluster fermentation – winemaker Greg Brewer is known for including a lot of whole clusters in his Pinot Noirs. The Pinots see little or no new oak for aging. The "Carrie's" and "Terraces" Pinots are both small production bottlings, and were due to be released a couple of weeks after our visit. The percentage of whole-cluster fermentation varies from year to year – each of these 2009's used 60%. Another Pinot, the "Clone 115 Indigène" bottling, uses only 115 clone Pinot Noir and is the only Melville wine fermented with native yeast.
The Verna's Syrah includes seven clones, and the '09 used about 30% whole clusters in its fermentation. Two other limited Syrah bottlings – "Donna's" and "High Density" – use varying percentages of whole cluster. The '08 "Donna's" (named for Ron Melville's wife) has 80% whole cluster, while the "High Density" (from a vineyard block with 4' x 3' vine spacing) used entirely destemmed fruit. Both of those '08 bottlings are now sold out.
The Melville wines can be somewhat controversial, mainly due to the amount of whole-cluster fermentation used on so many of them. That technique creates aromas and flavors that not everyone loves, and it may take years for these wines to show their best. But experience has shown that the wait is often worth it – the green, stemmy aromas of the young wines are replaced with floral and spicy character that's only revealed with bottle age. It's a different approach – some would say a risky one – and it takes some courage and determination to maintain it. If you're willing to go along for the ride, Melville is among California's best at this style of wine.

Since we were not far from Lompoc, Eric and I thought we'd check out one of the tasting rooms at the Lompoc Wine Ghetto. What started as an offbeat nickname for a group of wineries operating in a small industrial park (though no one seems to recall who first coined the "Wine Ghetto" name) has now become an official wine country destination, complete with its own map of tasting rooms. Going through the list on the map, we saw that there were a number of the wineries that we'd visited recently or that had already closed for the day – we were now hoping to get into one before a 5pm closing time. Bingo! The recently-opened Loring tasting room fit the bill perfectly.
Tasting Notes: Current Releases

2009 Chardonnay, Sierra Mar Vineyard, Santa Lucia Highlands: Light yellow color, with big, ripe apply fruit, butter, and oak on the nose, viscous mouthfeel and smooth finish. Seemed a bit disjointed, and may need more time in bottle.

2009 Chardonnay, Keefer Ranch, Russian River Valley: Slightly darker color, showing apple, tropical fruit, and toasty oak aromas along with lots of spice. Eric took a whiff and immediately said "crème brûlée" – a great descriptor. Rich and buttery in the mouth, but the acidity kept it from being heavy and it had a long, flavorful finish. A very good "California-style" Chard.

2009 Pinot Noir, Sta. Rita Hills: Medium-dark color, earthy and peppery dark berry fruit, rich mouthfeel with good acidity, fairly smooth finish.

2009 Pinot Noir, Keefer Ranch, Russian River Valley: Medium ruby color, black cherry and raspberry aromas along with spice and earth notes. Firm and rather tight at this point, this could use some time to open up.

2009 Pinot Noir, Aubaine Vineyard, San Luis Obispo County: Medium color, noticeably riper aromas with plum and spice leading the way. Medium-bodied with sweet, somewhat jammy flavors, not my favorite of the Pinots.

2009 Pinot Noir, Cargasacchi Vineyard, Sta. Rita Hills: Medium-dark color, pretty aromatics of rose petal and black cherry, with a pleasantly earthy backdrop. Nice texture on the palate, with good structure and balance, and moderate tannins on the finish, nice.

2009 Pinot Noir, Clos Pepe Vineyard, Sta. Rita Hills: Slightly lighter color than the Cargasacchi, showing plum and spice notes. A bit smoother on the palate and less tannic, with an interesting chalky minerality.

2009 Pinot Noir, Rancho La Viña, Sta. Rita Hills: Darker color, with riper blueberry and blackberry fruit and spice on the nose, this was the most dense and firmly tannic of the Pinots.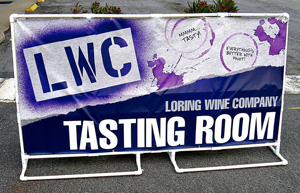 Trying to orient ourselves on the Wine Ghetto map proved a bit tricky, but we soon pulled up in front of one of the blue-gray metal buildings on the southeast edge of town – the big "LWC Tasting Room" sign outside was a good clue that we were in the right place. The Loring tasting room is one of a dozen now open to the public within the industrial park. It had been awhile since I'd tasted through a group of Loring wines, so this was a good opportunity to do just that. We were welcomed in by Brittany, who was behind the tasting bar for our visit.
Brian Loring worked in a wine shop while attending college in Southern California and developed a taste there for Burgundy. California Pinots that first got him excited included Calera, Chalone, Williams Selyem, and Sanford. But it was tasting a 1990 Cottonwood Canyon Pinot that really got Brian going, and he was able to work at the winery during the '97 crush to learn the winemaking process. Two years later, he was making the first Loring Wine Company vintage there. Brian and his sister Kimberly now run the winery, located across town from the tasting room. Completed a few years ago, the facility affords the luxury of enough space to have all the barrels of wine at floor level, rather than stacking them as is usually the case.
An early proponent of the bigger-style Pinots that have gained popularity over the past decade or so, Brian's production has grown from making about 20 barrels of wine in a corner of Cottonwood Canyon's wine cave when I first met him ten years ago to making over 5,000 cases today. There are eleven different vineyard-designated Pinots currently available from the 2009 vintage, with fruit sourced from Santa Barbara County to Oregon. There are also three appellation Pinots, plus a couple of Chardonnays. He often has a special project or two in the works – a Syrah and sparkling wine have been a couple of those – and his latest is called "Divergence," a Cabernet-Mourvèdre blend inspired by the wines from Bodegas El Nido of Jumilla in southeastern Spain.
Brittany led Eric and me through a tasting of two Chardonnays and six Pinot Noirs, all from the 2009 vintage. As with all the Loring wines since the 2004 vintage, everything is bottled with screwcaps. Surprisingly, my favorite wine of the tasting was not a Pinot, but a Chardonnay! Brian added Chardonnay to the winery's line-up since he found that the richer, buttery Chards he prefers were becoming tougher to find. The Loring Chardonnays are barrel-fermented and undergo a full malolactic fermentation.
The Pinot Noirs are also big and bold in keeping with the Loring style, with plenty of ripe, upfront fruit. Brian has dialed back the alcohol level of his Pinots from earlier years, but they're still sizable wines. Along with the single-vineyard Pinots we tasted on this visit, we also tried the Sta. Rita Hills appellation Pinot, with fruit sourced from Clos Pepe, Cargasacchi, and Rancho La Viña vineyards. All the Loring Pinots are 100% destemmed – Brian has related the story that he hated eating vegetables when he was a child (and still doesn't like them) so he can't stand the thought of anything green in his wines!
Brian Loring's wines have always had an unabashedly hedonistic side to them, but compared with his earlier releases, the latest wines are certainly more structured – not just the "drink me now" wines that many of them were in the past. That being said, I felt that the transition from the big, fruit-forward opening to the sometimes firm and tannic finish was not always seamless in the wines we tasted. Now maybe I'm offbase here – scores from major wine critics continue to be outstanding – but I think the balance between the entry and finish could be better. In any case, I do get the sense that Brian is getting closer all the time to producing the wines that he's always had in his mind from the beginning.

From Lompoc, we drove north along Hwy. 1, past Vandenberg Air Force Base and over the Purisima Hills. Once again racing the clock to beat a tasting room closing time (this one at 6pm), Eric and I found a parking spot right across the street from the Core tasting room, located in the quaint small town of Orcutt, just south of busy Santa Maria. There were still a number of people seated at the tasting bar, but we managed to find an open spot and settled in. Dave Corey was busy attending to the other tasters but welcomed us and soon got us started with some wines.
Tasting Notes: Current Releases (all Core, except as noted)

2008 Grenache, Santa Barbara County: About 15-20% Syrah blended in. Medium-light color, ripe red fruits and spice, good acidity and moderate tannins. A pleasant, lighter style of Grenache for early drinking.

2007 "Hard Core," Santa Barbara County: 37% Mourvèdre, 33% Cabernet Sauvignon, 26% Syrah, 4% Grenache. Medium-dark color, intense aromatics or dark fruit, flowers, dried herbs, tobacco, and leather. The Cab component was clear on the nose, but did not dominate the nicely-balanced blend. Medium-bodied and rather firm on the palate, it finished with moderate tannins. An unusual but effective Cab/Rhône blend.

C³ 2007 Tempranillo, Reserve, Santa Barbara County: Medium-dark color, with ripe plum, smoked meat, and sweet oak on the nose. Big and structured, with fairly grippy tannins.

2007 "Elevation Sensation," Alta Mesa Vineyard, Santa Barbara County: 62% Grenache, 38% Mourvèdre. Medium color, ripe red fruits with similar aromas to the '08 Grenache but with added earthy and herbal components. Another firm and structured wine that could use some additional bottle age.

2007 "Mister Moreved," Alta Mesa Vineyard, Santa Barbara County: 93% Mourvèdre, 7% Grenache. Medium-dark color, with dark fruits, earth, dried herbs, and chalky minerals. Big yet lively on the palate, with very chewy tannins on the finish.

2007 "Cuvée Fletcher," Alta Mesa Vineyard, Santa Barbara County: 89% Grenache, 11% Mourvèdre. Medium color, showing big, ripe, and fleshy strawberry and cherry aromas along with sweet oak and a touch of earth. A more lush mouthfeel compared to some of the other wines, but still with good structure and a moderately tannic finish.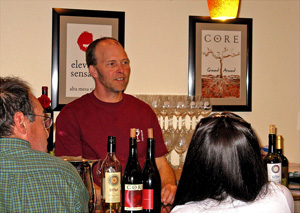 Dave and his wife Becky started the winery in 2001. Dave studied at San Jose State and Kansas State Universities, and worked for Cambria and Kendall-Jackson wineries before starting his own vineyard consulting business in 1999. His clients there have included many noted Santa Barbara County wineries and growers. He's managed Alta Mesa Vineyard, a high-altitude site in the far eastern reaches of Santa Barbara County, where Core has sourced much of its fruit over the years. Becky studied wine marketing at Cal Poly San Luis Obispo, and worked for Byron and Laetitia wineries before moving into a full-time workload for Core.
Dave and Becky make wines under a number of labels – Core, Kuyam, C³, and Turchi – all involving various family members. Core focuses on Rhône varieties, Kuyam features Bordeaux-style blends, C³ produces Tempranillo-based wines, and Turchi makes mostly value-priced varietal wines. Current annual production is around 7-8,000 cases. Besides Alta Mesa, Core has sourced fruit from a variety of Central Coast vineyards, including Camp 4 and Rodney's, both planted by Fess Parker Winery, Laetitia, in Arroyo Grande Valley, and French Camp, near Paso Robles. Nearly all of the wines are blends rather than a single grape variety. Having visited Dave's winery space several times over the years, I can say I've never seen one winemaker use so many different shapes and sizes of cooperage for aging his wines.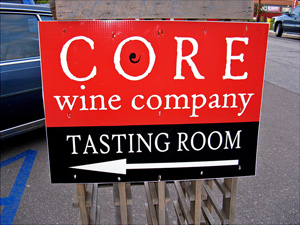 We were tight on time to taste with Dave, as we were meeting with our friend John Tomasso a short time later for dinner in Los Alamos, but Dave kept pulling out bottles – "you have to try this one before you go!" So our tasting was rushed but we did get to try a good assortment of wines. We tasted mostly Core wines on this visit, along with one C³ Tempranillo.
We started out with a 2008 Grenache, which had been bottled little more than a month before our visit. Even suffering a little from bottle shock, it still showed well. The 2007 vintage "Hard Core" and "Mister Moreved" received extended barrel aging of 37 months, while the Tempranillo Reserve was aged for 30 months. The 2007 "Elevation Sensation" includes about 5% whole-cluster fermented fruit, while the "Mister Moreved" has around 20%.
The Core wines and related labels continue to feature the ripe fruit that Dave's vineyard sources provide, but they've never been "fruit bombs." They're structured, often with a minerally edge, and I've found in the past that most of them benefit greatly from a few years of bottle age. The latest Core releases look like they are in the same mold, and patience is in order to really get the most from these wines.
By the time we headed out of the Core tasting room, we were running about 15 minutes late for our planned meeting with John Tomasso at Full of Life Flatbread in Los Alamos, so I called him to let him know. No problem – since they do no take reservations, we'd have to wait anyway, so John had put our name in for a table and was enjoying a beer at the bar. When Eric and I arrived, John had finished his beer and it was only a few more minutes until our table was ready. The food was very good – we split four tasty appetizers and a couple of pizzas. And of course some excellent bottles of wine were enjoyed by all.
It was a whirlwind one-day tour through Santa Barbara County, and in retrospect we probably tried to cram too many wineries into too little time, but it was still fun! Eric and I were able to sample a number of different styles of wines from the various producers we visited – mostly Pinot Noirs and Chardonnays, as well as some interesting Rhône-style wines and a few others. The day's tastings showed me that there's still plenty of experimentation going on in Santa Barbara wine country, as winemakers there continue to seek new expressions of their vineyard sources, and look to establish unique identities for their labels. As always, thanks to everyone that we visited for being so generous with their time and their wine!