Central Coast - March 2012
The World of Pinot Noir in Shell Beach is one of my favorite wine events, so I was happy to help pour wine there at one of their big tastings again – this year for Harrington Wines, where I work part-time. Bryan Harrington drove from the Bay Area on Saturday morning for the tasting that afternoon, but I decided to make the drive on Friday to spend a little extra time in the Central Coast area. I managed to squeeze in a few short winery visits while I was in the area, the first of which was on my way through Paso Robles as I headed south on Friday afternoon.
I'd wanted to visit Caparone Winery for some time, but for one reason or another I hadn't made it there. A couple of years ago I stopped there during their regular tasting room hours but they weren't open. So I decided this would be a good opportunity to give them another try.
Tasting Notes: Current Releases

Caparone 2008 Sangiovese, Estate, Paso Robles. Medium reddish-purple color, aromas of ripe red fruits, earth, dried herbs, and a touch of vanilla. Medium-light mouthfeel, with good acidity, fairly mild tannins, and moderate finish.

Caparone 2004 Zinfandel, Estate, Paso Robles. Medium purple color, showing tart berries and a brushy note on the nose. A lighter style, with more spice showing in the flavors, and surprisingly fresh acidity for a 2004. The tart fruit carries through on the finish.

Caparone 2008 Aglianico, Estate, Paso Robles. Medium color, with loads of baking spice, earth, ripe dark berry fruit, and a hint of oak. More structured on the palate, the acidity and tannins reinforce each other, leading to a slightly harsh finish that will need some time in bottle to smooth out.

Caparone 2004 Merlot, Santa Maria Valley. Sourced from Bien Nacido Vineyard. Medium color, this displayed tart black cherry, herbs, and a slightly smoky note. Medium-bodied with bright acidity in the mouth, and finishing with chewy tannins.

Caparone 2006 Cabernet Sauvignon, French Camp Vineyard, Paso Robles. Medium-dark color, with earthy black cherry, plum, and darker fruit aromas. A bit bigger mouthfeel than the Merlot, with lively acidity and firm tannins on the finish.

Caparone 2007 Nebbiolo, Estate, Paso Robles. Light ruby red color, showing bing cherry, spice, earth, tea leaf, and a touch of characteristic tar on the nose. Medium-light weight on the palate with plenty of acidity and a big, grippy tannic finish. An interesting wine that clearly needs years of bottle age.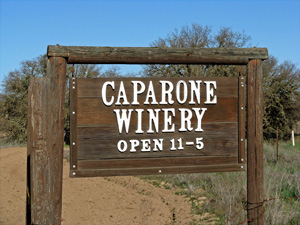 Located between Paso Robles and San Miguel, the winery is pretty much in the middle of nowhere. Turning west from Highway 101 and heading along bucolic San Marcos Road, I drove for miles before I spotted the lone small wooden sign for Caparone. I made my way up the dirt drive to a couple of simple brown metal buildings and parked in the shade beside one of them. Only a couple of tiny signs around a door to the other building – one sign saying "Wine Tasting" and the other "Open" – gave any clue that there was a tasting room inside. I stepped into the building, where Dave Caparone was stationed behind a simple tasting counter.
Caparone may be the last of the true old-time Paso Robles wineries. Unpretentious to a fault, there is nothing remotely touristy about the place. The tasting counter shares the space with stacks of barrels, stainless steel tanks, and pallets of bottled wine. Dave and his son Marc do nearly everything themselves, both in the vineyard and the winery, so there is little time or money to spend on a fancy tasting room, or on advertising for that matter (part of why you rarely hear about Caparone). Dave told me that there were only five other wineries in Paso Robles when he founded Caparone in 1979, and throwbacks to that earlier era still abound at the winery. No Riedel stemware here – the wines are tasted from small, sturdy, old-fashioned wineglasses. Not quite the shot glasses that were notable at the old Pesenti – now Turley – tasting room, but not too far off! And the wine prices certainly don't make it seem like it's 2012 – every wine that Caparone produces sells for the same price, all of $14. There's also a wonderful 1985 Paso Robles winery map on the wall behind the tasting counter, and not surprisingly, few of the wineries shown on the map are still in existence.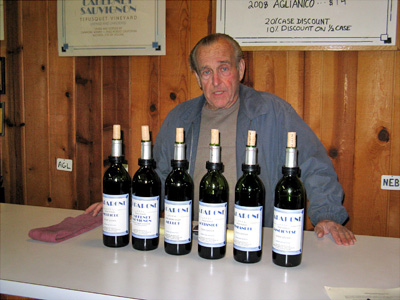 Since he does little self-promotion, not many people are aware that Dave is among the pioneers of making serious wines from Italian grape varieties in California. Caparone released the first varietally-labeled Sangiovese in the US in 1986, and the first Aglianico in 1992. The winery was an early producer of Nebbiolo as well, with their first release in 1985. Dave's love of Italian wine started back in the 1960s, and he began collecting fine Italian wines at that time. He started making wine in 1973 – his first effort was a Zinfandel from Benito Dusi Vineyard. Dave spent a good deal of time researching Italian grape varieties at UC Davis and searched wine country to find a good spot to grow them. Ultimately he purchased the property off of San Marcos Road in 1978 and began planting his vineyard there two years later.
Over time, the Caparones' vineyard grew to 28 acres, but in recent years Dave and Marc have scaled it down to 13 acres of vines – since they do so much of the work on their own, the smaller size worked better for them. Dave planted Nebbiolo and Zinfandel in 1980, while Sangiovese followed in 1982, and Aglianico in 1988. These remain the only varieties planted at Caparone. The vineyard soil consists of sandy clay loam, with igneous and sedimentary rock below. Dave told me that the topsoil, which extends down about five feet, has very good water-holding capacity. Because of this, he needs very little irrigation in the vineyard, though he says the vines need at least some additional water nearly every year. Yet the dry climate of the site means that mold and mildew problems are virtually non-existent. The vineyard shows the planting methods of the time, with more widely-spaced vines than you see in more recently-planted vineyards – Caparone has only about 600 vines per acre, where it's not unusual to see two or even three times that vine density today. In addition to the fruit from their own vines, Caparone purchases Merlot from Bien Nacido Vineyard in Santa Maria Valley (from the same vineyard block since 1984) and Cabernet Sauvignon from French Camp Vineyard on the eastern side of the Paso Robles AVA.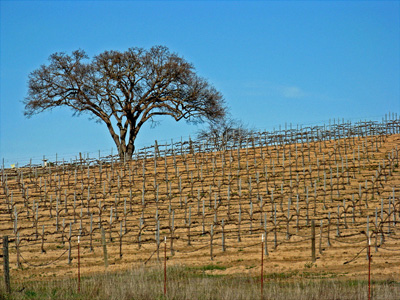 Winemaking at Caparone also seems to point toward an earlier time in Paso Robles – you won't find super-ripe fruit, heavy extraction, or loads of new oak in these wines. Grapes are picked on the early side, and resulting alcohol in the wines I tasted ranged from 13.2 to 13.6%. All of the wines go through an extended maceration and are left on the skins for about 30 days in closed-top stainless steel fermenters. They typically spend about two years in barrel and receive further aging in bottle before release. Everything is bottled unfined and unfiltered, and all of the wines are 100% varietal – no blending at all here. The first commercial Caparone wine was a 1979 Cabernet Sauvignon from Tepusquet Vineyard in Santa Barbara County, and the winery has focused exclusively on red wines since the beginning. As with the vineyard size, total production at Caparone has been downsized in recent years, from a high of about 10,000 cases to about 3,000 today. As Dave pointed out, he's not as young as he used to be, and making more wine is not as easy as it once was – something I can attest to as well!
Talking with Dave Caparone was fascinating. Though he's now over 70, he's as sharp as a tack, and his knowledge of Italian grape varieties in California is impressive – a result of the extensive research he's done over the years as well his work with his own vines. Dave's passion for these wines is clear, and the Nebbiolo was my favorite of the wines I tasted. Taking advantage of their father-and-son operation, with no employees and a low overhead, Caparone's wines are among the most affordable you'll find anywhere along the Central Coast. The wines are far from what most people think of as typical "Paso"-style reds these days – they're high-acid, low-alcohol, a bit "rustic" – and they're clearly made both to go with food and to age for years. Caparone Winery's motto is "simple winery, complex wines" – while the wines may not be for everyone, you won't find a better spot to capture a piece of Paso Robles wine country's past.
Claiborne & Churchill Vintners
Al Osterheld, who also helped pour for Harrington at the World of Pinot Noir on Saturday afternoon, and Eric Anderson, who was covering the event for GrapeRadio, were already in town when I arrived late Friday afternoon. I joined them for dinner at Meze in San Luis Obispo, where we shared a variety of tasty small plates. The next morning we got together again, and over breakfast we discussed wineries to visit that morning, prior to the big Pinot tasting…then we proceeded to scrap all of those plans and headed to a few other places instead!
Tasting Notes: Current Releases

Claiborne & Churchill 2009 Dry Riesling, Central Coast. Very light yellow color, showing lightly floral aromas along with notes of petrol and orangepeel. Medium-light mouthfeel with vibrant acidity and a zippy finish, very nice.

Claiborne & Churchill 2010 Dry Gewürztraminer, Central Coast. Sourced mainly from Ventana Vineyard in Arroyo Seco. Very light straw color, this featured ripe pear, lychee, and a touch of spice. A bit more weight on the palate than the Riesling, this had a lively and clean finish, nice.

Claiborne & Churchill 2010 Pinot Blanc, Central Coast. Light straw color, with pear, flowers, and vanilla on the nose. Bigger body with more oak showing than the first two whites, this had a richer and smoother finish.

Claiborne & Churchill 2009 Pinot Noir, Edna Valley. Sourced from Wolff and Twin Creeks vineyards. Medium ruby color, very aromatic with ripe cherry and vanilla/oak notes plus some baking spice. Displaying sweet fruit in the mouth, this had a moderately rich texture and finished with mild tannins.

Claiborne & Churchill 2010 "Clueless Red," Central Coast. Blend of Petite Sirah, Syrah, and Pinot Noir. Medium purple color, quite fruit-forward with dark berries along with touches of earth and dried herbs on the nose. Bigger-bodied with medium tannins, this was a pleasant but fairly simple red blend.

Claiborne & Churchill 2010 Syrah, Central Coast. Medium-dark purple, with blueberry, black pepper, and savory aromas. Medium-full bodied, this had a lively mouthfeel and moderate tannins on the finish.

Claiborne & Churchill 2009 "Port Obispo," San Luis Obispo County. Made from 63% Cabernet Sauvignon and 37% Petite Sirah, 8% residual sugar and 18% alcohol. Dark color, showing dark berry fruit along with lots of vanilla and milk chocolate aromas. Fairly rich mouthfeel, this could have used a bit more acidity to balance the sugar but it had a long, tasty finish.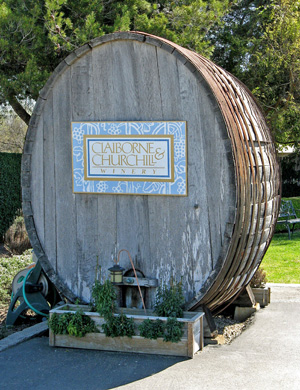 All of the wineries we visited on that Saturday were located in Edna Valley, just south of San Luis Obispo. It's a locale known mainly for its Chardonnay and Pinot Noir – like a few other spots in California, a major gap in the coastal mountains to the west allows cool ocean air to sweep in over the vineyards. Our first stop of the day was Claiborne & Churchill – the only winery of the four I visited on this trip that I'd been to before, and my only time there was back in 2006. The winery was founded in 1983 by Claiborne (Clay) Thompson and Fredericka Churchill. Both Clay and Fredericka had taught at the University of Michigan before moving to California in 1981, with a career change in mind and inspiration from the dry white wines of Alsace. After a couple of years spent learning the basics of winemaking while working at another local winery, Clay and Fredericka launched their new label with Dry Riesling and Dry Gewürztraminer, and nearly 30 years later these remain Claiborne & Churchill's signature wines. At the time, it was rare to find truly dry bottlings of these varieties in California (and there are still not that many today).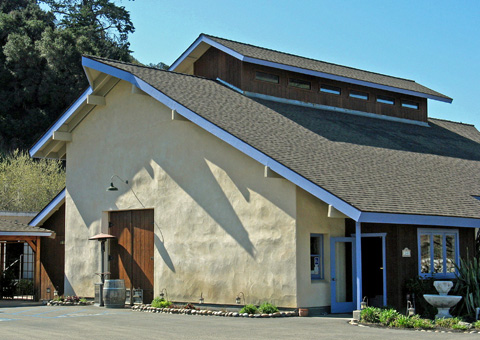 Claiborne & Churchill purchase fruit from a variety of sources throughout the Central Coast. Riesling and Gewürztraminer have come from various vineyard sources in Monterey County, Edna Valley and Arroyo Grande, and Santa Barbara County. 2009 marked the first vintage for Claiborne & Churchill's small estate Riesling vineyard, located adjacent to the winery. The vineyard is farmed sustainably, and certified by the Central Coast's Sustainability in Practice (SIP) program. The winery now bottles a small amount of "Estate" Riesling in addition to their Central Coast bottling. Coby Parker-Garcia has been the winemaker for about five years, though the winemaking remains much as it has been over the years. Unlike much California Riesling and Gewürztraminer, Claiborne & Churchill's wines include a portion that is fermented and aged in neutral oak rather than being made entirely in stainless steel.
The Claiborne & Churchill winery building is of special note. Built in 1995, it was the first commercial building in California using "straw-bale" construction. The 16-inch thick walls made from rice straw insulate the building so well that mechanical cooling is not needed, a huge energy savings for a winery. The building has received awards from both the American Institute of Architects and the US Green Building Council. The entrance to the winery parking area is marked by a large oval oak cask – typical of the type used in Alsace – a good clue as to the inspiration of the wines. And speaking of clues, Clay Thompson is a noted cruciverbalist – a crossword puzzle enthusiast. This has led to a couple of unique wine labels, those for the "Clueless White" and "Clueless Red" blends. What grape varieties are in these wines? You have to solve the crossword puzzle on the labels to find out! And the puzzles are truly "clueless," at least on the labels themselves. You can find the clues on the Claiborne & Churchill website.
Robert "The Saturday Guy" Mariani talks to Al and Eric
We were welcomed into the tasting room by Robert Mariani, who poured us a selection of current releases. I noticed that the whites are now bottled under screwcap, and Robert told us that this has been done for about two years. The whites are made mostly in stainless steel, but all are at least partly aged in oak. Both the Central Coast Dry Riesling and Dry Gewürztraminer were bone-dry, as advertised. Alcohol on these two wines was only 12.6% and 13.5% respectively. Besides the other wines we tasted, Claiborne & Churchill produces a number of small-production bottlings, many available only directly from the winery. These include Pinot Gris, Dry Muscat, Chardonnay, "Edelzwicker" white blend, Dry Rosé, several additional Pinots, Cabernet Sauvignon, Petite Sirah, and "Douce Amie" Sweet Orange Muscat. They also make a Sparkling Brut Rosé every other year. One of the Pinot bottlings is named "Runestone" – a reference to Clay Thompson's academic past where he was a professor of Old Norse languages and literature. Total annual production is around 10,000 cases, with the Central Coast Dry Riesling and Dry Gewürztraminer accounting for about ⅔ of the total. Most wines range in price from $20-40, with the Riesling and Gewürztraminer – both at $20 – being particularly good values.

I first tasted Claiborne & Churchill's Dry Riesling and Dry Gewürztraminer 20 years ago, and they were revelations to me at the time. There are still few other wineries in California that do as good a job with these varieties. As I found in my previous visit here, I preferred the white wines to the reds. But all the wines are solid, and Claiborne & Churchill is well worth a visit when you're in Edna Valley – and if you're a fan of Alsatian-style whites, it's a "must" stop on your wine tour.
Our next stop was Wolff Vineyards, where we met up with Brian Clark of GrapeRadio. While I'd never tasted the winery's own bottlings before, the vineyard name was familiar to me through the Wolff Vineyard Chardonnay produced for many years by Mt. Eden Vineyards. The roots of the Wolff Vineyard go back to 1974, when Edna Valley wine pioneer Andy MacGregor first planted vines at the property. Some of the original Chardonnay vines are still there, the oldest in Edna Valley that remain in production. Mt. Eden has been buying Chardonnay from here for 27 years, one of the longest-running winegrape contracts in California. Jean-Pierre and Elke Wolff purchased the property in 1999 and expanded the vineyard at that time. A family-run business, their sons Clint and Mark also work at the winery.
Tasting Notes: Current Releases

Wolff 2010 Dry Riesling, Central Coast. Light straw color, somewhat shy aromas of tropical fruit, petrol, and flowers. A touch of sweetness in the mouth, with medium-light body and fairly smooth finish.

Wolff 2009 Chardonnay, Estate, Edna Valley. Medium-light yellow color, displaying nectarine and tropical fruit, vanilla, spice, and butter on the nose. Medium-rich on the palate, with vanilla/oak lingering on the finish.

Wolff 2009 "Dijon Clones" Pinot Noir, Estate, Edna Valley. Medium ruby color, with bright cherry fruit along with herbs and touches of earth and sweet oak. This was medium-light bodied with very lively acidity, finishing with moderate tannins.

Wolff 2008 "Brixie's Red," Central Coast. 40% Merlot, 30% Cabernet Sauvignon, 20% Syrah, 10% Cabernet Franc. Medium color, with herbal plum and darker fruit, a touch of green olive, and smoky oak. Medium-bodied, with a big, chewy tannic finish.

Wolff 2010 Syrah, Estate, Edna Valley. Medium-dark color, this showed expressive aromatics of slightly tart dark berry fruits, white pepper, herbs, and a touch of vanilla/oak. Medium weight on the palate, with vibrant acidity and moderate tannins on the lively finish, nice.

Wolff 2009 Petite Sirah, Estate, Edna Valley. Dark color, this seemed a bit reductive with funky, earthy notes in the forefront along with black fruits and loads of black pepper. Big but bright mouthfeel, the tannins were firm but surprisingly not harsh at all.


The first thing we noticed as we walked up from the parking area to the tasting room was the conspicuous "SIP Certified" sign – Wolff is another winery that believes strongly in sustainable farming, and their vineyard was one of the first in the Central Coast to gain SIP certification. Clint was behind the tasting bar when we arrived, and he talked with us about the vineyard and wines while busily attending to other visitors (including a limo group, which he wisely set up for tasting out on the patio). The winery and tasting room, set atop a small hill, was expanded about five years ago and now commands a fine view of the valley. After awhile, Jean-Pierre Wolff came by and filled us in some more about the winery as well as about his own background.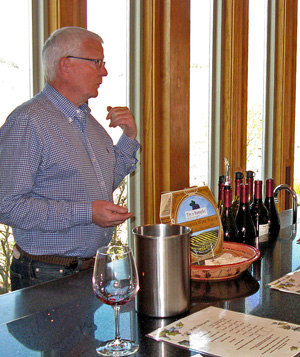 Born in Belgium, Jean-Pierre has a Ph.D. in nuclear engineering, though he told us he'd originally wanted to be an agronomist. His university studies began in Belgium but continued in the US. He said he'd always kept the idea of working in an agricultural-related field in the back of his mind, and he eventually decided on a career change. Jean-Pierre likened himself to a cat with nine lives – he's worked through several career lives but he still feels he has many left to go! After looking at many of California's wine regions, Jean-Pierre and Elke decided on Edna Valley, and Jean-Pierre took some viticulture and enology classes at UC Davis and soaked up knowledge from local vintners (especially Piedra Creek's Romeo Zuech) before launching the Wolff label.
The Wolff Vineyard is situated on sandy, loamy clay soil (part of the ancient seafloor) on lower parts of vineyard but extends into the hills to the east with varying soils there. Clint pointed out that the vineyard is shaped a bit like the state of Nevada, and showed us where the parts that corresponded to Las Vegas and Lake Tahoe would be – I was tempted to ask if they hold the equivalent of Burning Man there but I didn't! Parts of the vineyard are dry-farmed – the old Chardonnay vines have been dry-farmed for the past ten years. Vine rows have a cover crop of native grasses, runoff water is collected wherever possible, and integrated pest management is practiced. The Wolffs have worked to restore fish habitat in creeks bordering their property, and even use their pond as a habitat for native California Pacific Pond Turtles. The vineyard takes up 115 acres of the 125-acre property, and is planted to about 55 acres of Chardonnay, 40 acres of Pinot Noir, 13 acres of Syrah, and smaller blocks of Petite Sirah, Teroldego, and Riesling. Wolff sells about half of the vineyard's fruit to other wineries, including Claiborne & Churchill, Talley, Stephen Ross, Chamisal, Phantom Rivers, and Mt. Eden.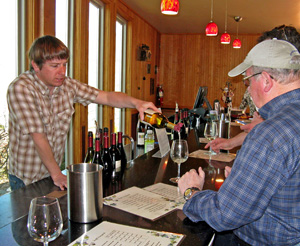 Clint pouring for Eric and Brian
We sampled six of Wolff's current releases with Clint at the tasting room. The Dry Riesling turned out to be not quite as dry as the Claiborne & Churchill version – though Clint told us it was under 0.5% residual sugar, it had a definite trace of sweetness. The Chardonnay is from Wente clone fruit, with vines on their own roots (unusual in California) and with older-style vine spacing of 12'x5'. The wine is barrel-fermented in 30% new French oak, and undergoes 100% malolactic fermentation and monthly batonnage. The Pinot Noir is made from 115, 667, 777, and Pommard clones, planted on south-facing slopes, and all fermented in one-ton bins, mostly separated by clone. "Brixie's Red" – named for the winery's English Lab – is a blend made entirely from purchased fruit. It's made mostly from Bordeaux grape varieties. The Syrah comes from two clones planted on north-facing slopes, while the Petite Sirah (the first planted in Edna Valley) comes from a windy part of the vineyard to help prevent bunch rot in clusters. The Petite Sirah is the only one of the Wolff wines that is aged in American oak. They also make a small amount of Teroldego, the most recent vintage of which was already sold out. Altogether, Wolff produces about 6,000 cases per year, and prices range from $18.50 to $27.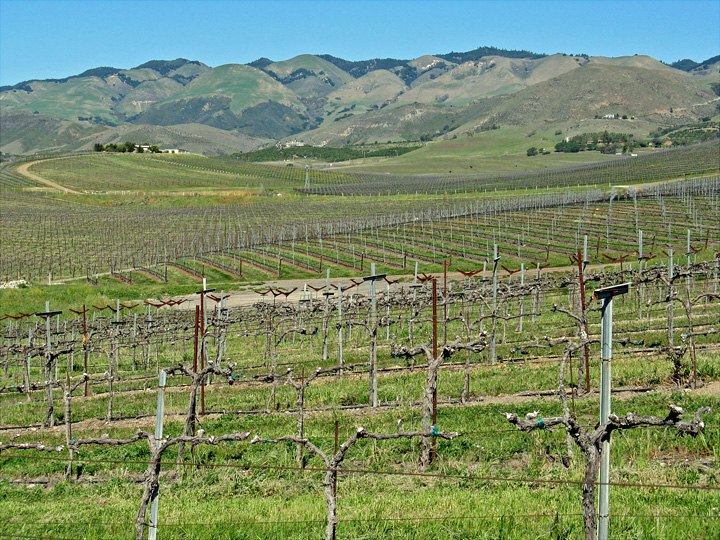 We had a great time talking with Clint and Jean-Pierre during our visit to Wolff Vineyards. The wines were all well-made but perhaps not as distinctive as I'd hope they might be considering the obvious care that goes into farming the land. The Syrah – showing its cool-climate origins – was my favorite of the bunch, and in general I preferred the reds here to the whites. But it's certainly a beautiful spot to visit and taste wine, and it holds the promise for some standout wines in the future.
We had time for one more quick stop before heading back for the afternoon Pinot tasting, and we decided to give Autry Cellars a try. Edna Valley's newest tasting room, Autry is located just off local highway 227, near the local airport and quite close to the railway, in case you're looking for planes, trains, and automobiles. We walked into the modest winery and tasting room building and were met by owner/winemaker Steve Autry. We spent a few moments in the winery part of the space, checking out the equipment there, some of it not much different from what I use at the small wineries I work for. We soon headed through the door to the tiny tasting room, as Steve told us a little about himself.
Tasting Notes: Current Releases

Autry 2007 Sauvignon Blanc, Paso Robles. Medium-light yellow color, aromas of vanilla/oak, red apple, and herbs. Medium-bodied and smooth on the palate, the vanilla/oak component came to the fore again on the finish.

Autry 2008 Chardonnay, Edna Valley. Medium-light yellow, showing lots of vanilla and butter on the nose, along with ripe tropical fruit notes. Fairly rich in body, this had a smooth texture and finish.

Autry 2007 Cabernet Sauvignon, Paso Robles. Medium purple color, this displayed ripe plum and darker fruit, some herb/tobacco notes, plus vanilla/oak. Medium-full bodied, with grippy tannins that sneaked up on the finish.

Autry 2007 Syrah, Edna Valley. Medium-dark color, with ripe blueberry and blackberry fruit along with vanilla and spice. Big and fairly rich in the mouth, this had a moderately tannic finish.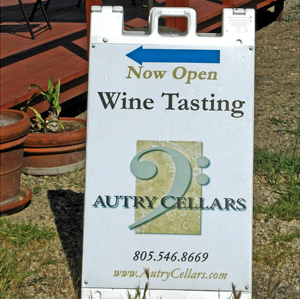 Steve has a background in aerospace engineering – and commercial beekeeping! His interest in wine started in earnest following a Zinfandel he had back in 1983. He started making wine at home in 1999 and went into the wine business soon afterwards. He's also worked at Doc's Cellar in San Luis Obispo, a store that supplies home winemakers. He launched his own label in 2007, first finding space in the southern part of San Luis Obispo before moving to his current Edna Valley location in 2011. The winery logo features a bass clef – besides his winery, Steve keeps himself occupied by playing bass in several local jazz and rock bands.
All of the Autry wines are made with purchased fruit from just two sources, one in the warm Creston area southeast of Paso Robles and one in cooler Edna Valley. The winery makes 12 different varietal wines, yet produces only about 800 total cases per year! Petite Sirah is currently the highest-production wine, at 125 cases, while other releases range from less than 50 cases to about 75. In addition to the four wines we tasted, Autry makes Pinot Noir, Sangiovese, Zinfandel, Tempranillo, Cabernet Franc, Malbec, Merlot, and Petite Sirah, and Steve has recently begun producing a brandy as well. The white wines range in price from $18-20, while reds are $24-44.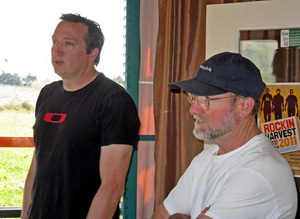 Brian Clark and Steve Autry
Steve's winemaking philosophy is rather different from that we encountered at the other wineries we visited on this trip. He prefers long "hangtime" for his fruit, so the resulting wines are noticeably higher in alcohol (for example, the Chardonnay was 15.1%). He also uses various methods to enhance extraction from the grapes before they go into barrel. Whites get 24 hours of skin contact before pressing, then spend two months in American oak barrels. Red wines are also mostly aged in American oak – the Cabernet we tried spent three years in barrel.
The Autry wines were certainly a contrast to the others we tasted on this trip. Big, bold, and ripe, they seem more in line with what you'd expect from a Paso Robles-area winery than one located in cooler Edna Valley. Of course, much of Steve's fruit comes from Paso Robles, but even the two wines we tasted that were sourced from Edna Valley fruit were done in more of a "Paso" style. Perhaps it was partly that shock of the big stylistic change from what we'd tasted earlier in the day, but these wines were not among my favorites of our trip. Still, if you find yourself in Edna Valley but prefer the bigger style of Central Coast wines, Autry would be worth checking out.
We all headed back to Shell Beach in time for the afternoon World of Pinot Noir tasting. The event was fun – especially good food this year and plenty of it – and our table at Harrington Wines was busy with tasters all afternoon. And this tasting has easily the most spectacular setting of any large wine event I've been to, perched on a cliff overlooking the ocean – as the tasting wound down, we all enjoyed a gorgeous sunset. After Al and I had helped clean up the table following the tasting and Eric had finished up his winemaker interviews for GrapeRadio, we picked up some food at a local deli and got together for a relaxing evening at the place where Eric was staying. Naturally we opened up a few nice bottles of wine there as well!
Stopping in at smaller wineries along the Central Coast is a rewarding experience – without any advance arrangements, we were able to talk with the owner/winemakers at three of the four places we visited. Try doing that in Napa! We had fascinating conversations with Dave Caparone and with Jean-Pierre Wolff – I'd love to return to their wineries just to talk with them some more. I have to admit that the wines we tasted on this brief trip were a mixed bag, with the only real standouts being the two Alsatian-style white wines at Claiborne & Churchill. Yet a few others were intriguing enough that I'm guessing they might show better under different conditions – the Caparone wines really scream out for having with food rather than on their own, for example – so I don't want to be too hasty in my judgement. Regardless, it was fun checking out some wineries that were entirely new to me on this trip, and looking at the wine maps, there are many more new ones left to try. As always, thanks to everyone that we visited for being so generous with their time and their wine!