Sonoma County - July 2012
Eric Anderson (Mr. Grape-Nutz himself) emailed me in late June that he was going to be in Santa Rosa in mid-July to help judge wines for the West Coast Wine Competition, held by Vineyard & Winery Management Magazine. He mentioned that he had an extra day there on a Thursday before he flew back home to Southern California, and asked whether I wanted to join him for a day of wine-tasting in the area. Hmmm… working or tasting wine, tough choice. Yes, I do believe I will opt for the wine-tasting, Eric.
Between the two of us, we came up with some places we wanted to visit and we were able to put together an itinerary on fairly short notice. I drove from Oakland to Santa Rosa and met Eric near the Sonoma County Fairgrounds, where I picked him up and we headed to our first stop of the day, just a few miles south along Bennett Valley Road – a visit with Jim Mack of Jemrose Wines.

Eric and I rolled up to Jim & Gloria Mack's house just before 10am. Jim came out to meet us and welcomed us in. Perched on a knoll overlooking Bennett Valley, the house has an outstanding view, and Jim led us out to the rear patio to take in the panorama. One of the four Jemrose vineyards – Two Sisters – is directly beyond the patio, while Sonoma Mountain dominates the scene across the valley to the southwest. Jim pointed out the locations of other vineyards for us – some Kendall-Jackson vineyards are on the valley floor, while several well-regarded vineyards, including Connell, Judge, and Dry Stack, are near Grange Road to the northwest. Jim told us that Bennett Valley can be thought of as the eastern end of the Petaluma Gap – the valley gets fog and cool marine air flowing from west, making it cooler than the surrounding area. The Bennett Valley AVA was created in 2003, largely through the efforts of Jess Jackson.
Tasting Notes: Current Releases & Library Wines

Jemrose 2007 Viognier, Egret Pond Vineyard, Bennett Valley. Light yellow color, showing spice and lees notes upfront with nectarine and citrus fruit in support. Medium-rich texture along with bright acidity and a lively finish.

Jemrose 2009 Viognier, Egret Pond Vineyard, Bennett Valley. Light yellow, this displayed more apricot and stone fruit character on the nose, a light floral note, plus a spice (fennel?) component. Not quite as big in the mouth as the 2007, and leading to a clean, fresh finish.

Jemrose 2010 Viognier, Egret Pond Vineyard, Bennett Valley. Light straw color, with bright, minerally white peach, citrus, and spice aromas – this seemed a bit less ripe than the first two wines. Brighter and leaner texture, it had a long, clean and refreshing finish, quite nice and my favorite of the Viogniers.

Jemrose 2011 Viognier, Egret Pond Vineyard, Bennett Valley. Light straw color, bolder peach and citrus notes along with some lees on the nose. Somewhat more body in the mouth than the 2010 but with a zippy acidity to go with it. A promising youngster that could use more time to come together in the bottle.

Jemrose 2007 Grenache, Foggy Knoll Vineyard, Bennett Valley. Medium-light color, with upfront ripe strawberry and herb aromas, along with an earthy note. Medium-bodied with moderate tannins.

Jemrose 2008 Grenache, Foggy Knoll Vineyard, Bennett Valley. Similar color to the 2007 but with a big spice component and less ripe raspberry and cherry fruit. Medium weight on the palate with more tannin on the slightly tangy finish.

Jemrose 2009 Grenache, Foggy Knoll Vineyard, Bennett Valley. Slightly lighter color, showing strawberry, pepper, earth, and minerals on the nose. Brighter on the palate but with nice texture and weight, this had a moderately grippy finish, probably my favorite of the Grenaches.

Jemrose 2010 Grenache, Foggy Knoll Vineyard, Bennett Valley. Similar color to the 2009, this had a floral note along with more herb and spice character along with red fruits and a slight mineral touch. A bit lighter-bodied along with a more tannic finish, another youthful wine that deserves some time to integrate.

Jemrose 2006 Syrah, Cardiac Hill Vineyard, Bennett Valley. Dark color, showing raspberry fruit plus earthy and savory, meaty aromas, together with touches of baking spice and pepper. Medium-bodied and lively, with refined tannins, quite nice.

Jemrose 2008 Syrah, Cardiac Hill Vineyard, Bennett Valley. Dark color, with more intense dark fruit along with savory and floral notes along with a hint of black pepper. Richer on the palate but with a bright, lingering finish, nice.

Jemrose 2009 Syrah, Cardiac Hill Vineyard, Bennett Valley. Slightly lighter color, showing dark berry fruit, touches of stone fruit, grilled meat, and vanilla/oak, and spice on the nose. A bit lighter in body than the 2008, with moderately grippy tannins on the finish.

Jemrose 2010 Syrah, Cardiac Hill Vineyard, Bennett Valley. This showed a more brilliant purple color in the glass, along with a more peppery character plus dark fruit, grilled meat, and vanilla/oak. Medium weight with a bright mouthfeel, this finished with bigger, chewier tannins.

Jemrose 2010 "Cardiac Cuvée," Bennett Valley. Dark color, with lots of upfront dark berry fruit along with floral and spice aromas. Moderately rich texture and not too tannic, this should be a good value.

Jemrose 2006 "Gloria's Gem," Bennett Valley. 50% Syrah, 50% Merlot. Dark color, displaying bright ripe black cherry, meat, and spice on the nose, plus a touch of sweet oak. Medium-rich and smooth on the palate, this had fairly mild tannins and a long, flavorful finish, nice.

Jemrose 2008 "Gloria's Gem," Bennett Valley. 55% Syrah, 45% Merlot. Dark color, with cherry, pepper, herbs, and vanilla/oak aromas. Richer mouthfeel than the 2006, with a bit more grip on the finish.

Jemrose 2009 "Gloria's Gem," Bennett Valley. 65% Syrah, 35% Merlot. Dark color, this showed more toasty oak on the nose along with darker fruit, spice, and a mineral note. More full-bodied, and finishing with chewier tannins.

Jemrose 2010 "Gloria's Gem," Bennett Valley. 60% Syrah, 40% Merlot. Dark color, featuring raspberry and cherry fruit plus herbal, meaty, and peppery components with a touch of oak spice. Medium weight on the palate with moderate tannins, this is a promising youngster that should flesh out with more time in the bottle.

Jemrose 2008 Late Harvest Viognier, Egret Pond Vineyard, Bennett Valley. About 10% sugar, 12% alcohol. Deep gold color, with intense apricot and honey aromas along with touches of spice and earth. Balanced with very good acidity and a rich texture, this had a long, smooth finish, delicious.
Barrel samples:

Jemrose 2011 Grenache, Foggy Knoll Vineyard, Bennett Valley (barrel sample). Fermented in a puncheon. Medium color, bright strawberry aromas along with herb and oak notes. Medium-bodied with a bigger structure in the mouth, the finishing tannins were surprisingly refined.

Jemrose 2011 Merlot, Two Sisters Vineyard, Bennett Valley (barrel sample). Dark color, featuring black cherry, herbs, and toasty oak. Medium weight with a moderately rich mouthfeel and not too tannic.

Jemrose 2011 Syrah, Cardiac Hill Vineyard, Bennett Valley (barrel sample). Estrella clone. Dark color, with meaty, savory aromas upfront, along with dark berry fruit, earth, and a touch of oak spice. Medium-full bodied with moderate tannins.

Jemrose 2011 Syrah, Cardiac Hill Vineyard, Bennett Valley (barrel sample). 470 clone, co-fermented with some Viognier. Dark color, this displayed pretty floral aromas plus blackberry and vanilla/oak. Lively and showing a mineral note in the mouth, this had fine tannins on the finish.


Genial and soft-spoken, Jim is originally from Chicago and first became interested in wine while in business school in the mid-'70s, where he skipped some classes to go to tastings. After a career in advertising and marketing, he purchased the 68-acre property in Bennett Valley in 2002. While some of the land had already been planted in 1998, changes were made to those plantings and new vineyards were added after Jim took over. The fruit was sold to other vintners for the first few years, but since the Jemrose label was launched in 2006, most of it has gone into the Jemrose wines. Keith Jaffee joined Jim as a partner in Jemrose in 2009. They work closely with viticulturist Greg Bjornstad and vineyard manager Chris Bowland, both of whom started working with Jim in 2006.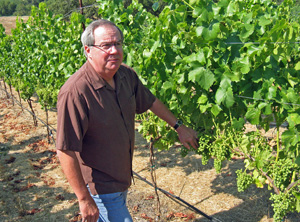 Earlier plantings had included some Chardonnay and Pinot Noir along with Syrah and Merlot, while now the Jemrose vineyards are planted to Viognier, Grenache, Syrah, and Merlot. Jim told us that he thought the early Syrah fruit produced at the site was a particular standout and that the Merlot was noteworthy as well, so those varieties were retained. He feels that Syrah and Merlot both do especially well in Bennett Valley – he said that the Syrah tends to be meaty and peppery while the Merlot tends to show cherry and plum fruit. While Jemrose uses most of the estate fruit for their own wines, they sell some to other vintners, including Thomas Rivers Brown and Mike Officer.
Jim invited us to hop in his SUV for a short tour of the estate vineyards. There are four separate vineyards planted at Jemrose, totaling about 20 acres. They are situated on all sides of the Macks' house, with different aspects, elevations, and soils (mostly alluvial volcanic soil). Two Sisters Vineyard, just below the house at about 800-foot elevation, is planted to Merlot and to Alban clone Grenache. Jim noted that this will be cut back to one cluster per shoot, which will help promote ripening in the cooler location. He mentioned that as many as five passes need to be made through vineyard after the grape clusters start developing, to thin clusters, remove wings, remove some leaves in the fruit zone, etc. Foggy Knoll Vineyard has Tablas A clone Grenache, planted in 1998, along with a little Syrah. This has a mainly southern exposure, at an elevation ranging up to 1,000 feet.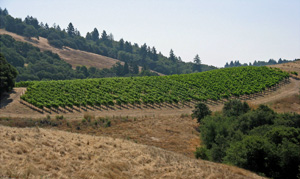 Egret Pond Vineyard is planted to Viognier and is located in a lower part of the property near the road – not surprisingly, it's adjacent to a two-acre pond that's used for irrigation. Jim has worked to keep the pond in as natural a state as possible, and it attracts egrets, blue herons (we saw one there), and other birds, and it contains fish as well. I asked Jim whether frost has been a problem at this low spot – the coolest of the Jemrose vineyard sites – and he told us that has sometimes been an issue, particularly in 2008, when much of the early vine growth was affected by a spring frost. He also pointed out to us how the Viognier clusters often develop with "hens & chicks" – berries with varying sizes.
Our last stop on the vineyard tour was at the top of Cardiac Hill, a very steep hillside that's planted with Syrah, mainly with the Estrella River clone. Jim feels that this clone shows more distinction in his vineyard than it does in some other locations. The Syrah vines are 12 years old, planted in shallow, rocky volcanic soil that generally results in lower crop yields than at the other vineyard sites.
We returned to the house, and followed Jim into his dining room, where he had prepared a four-vintage vertical of four Jemrose wines for us, along with a couple of special surprises. Four different Jemrose wines have typically been produced each year – Viognier, Grenache, Syrah, and a Syrah/Merlot blend called "Gloria's Gem." In 2006, a separate Merlot bottling was produced as well, but this has not been continued. Jim told us that this was indeed a special occasion, and that it had been awhile since he had done a retrospective tasting through his wines. I've been impressed by the Jemrose wines at various tasting events over the years, and this was a great opportunity to compare the different wines and vintages.
Jemrose has had some highly-regarded winemakers producing their wines. Earlier vintages were made by Michael Browne and Shane Finley. Jim had met Michael when Michael was working at Deerfield Ranch and Jim sold some of his fruit to Deerfield. Jim knew that Michael and Shane would not be able to continue making the Jemrose wines in the long term, and Russell Bevan took over from them in late 2010 (Alex Kanzler also helped with that vintage). Total annual production remains fairly small, varying between 1,100-1,500 cases depending on the vintage.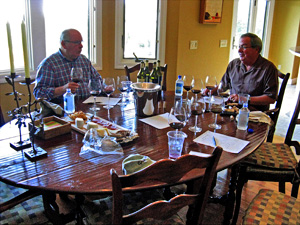 We started our tasting with the Jemrose Egret Pond Vineyard Viognier. The fruit is whole-cluster pressed and then fermented mostly in stainless steel, with some in neutral oak. Malolactic fermentation is stopped early. The fruit is generally picked around 24 brix, with the resulting alcohol usually around 14% or just over, although the Viognier from the cool 2011 vintage is just 13.5% alcohol. The Jemrose Viogniers are quite dry, fermented to 2g/L sugar or less. I've found that they are not as bold or opulent as some California Viogniers, but have great acidity that makes them more food-friendly. 2007 was first vintage of the Viognier.
The fruit for the Foggy Knoll Vineyard Grenache is 100% destemmed, and fermented with native yeast. The wine is typically aged for about 20 months in French oak, with only about 10% new oak. Up to 5% Syrah is blended in to give the wine a bit more depth but not overwhelm the red-fruited Grenache character. Some eggwhite fining and racking is usually done to help control tannins, always an issue with Grenache. We tasted 2007-2010 vintages of the Jemrose Grenache.
Before we moved on to the Syrah and "Gloria's Gem," Jim brought out an as-yet unnamed entry-level Rhône-style blend. He told us that they're still working on the name but that it may be called "Cardiac Cuvée" and will probably sell for around $18-20. The first release, from the 2010 vintage, is about 90% Syrah along with a little Grenache and Viognier, aged mostly in neutral oak. Jim said that the Syrah is mostly from 383, 174, and 877 clones, which tend to produce more upfront fruit in the wine. Russell Bevan blended and finished the all of the 2010 vintage wines, including this one.
Next up was the Cardiac Hill Vineyard Syrah. There are five clones of Syrah planted – Estrella, 470, 174, 383, and 877 – and all are usually picked on separate dates. They're always fermented separately, with native yeasts. The 2006 was made from four clones, and the later wines from five. The Estrella River clone is on the steeper, rockier part of Cardiac Hill and generally makes up 20-25% of the total blend. Around 30% of the fruit is usually fermented with whole clusters but this varies by both clone and vintage. Starting in 2009, about 3% Viognier has been co-fermented with the Syrah. The wine is aged for about 22 months in around 30% new French oak, with the Estrella and 470 clones generally getting more new oak than the other clones. Jim told us that the wine from the Estrella clone tends to be dark and meaty while the 470 and 174 clones show more spice and pepper.
After the Syrah came the "Gloria's Gem" blend – Jim said the idea behind this bottling is to produce a "sexy, voluptuous" wine. It's more of a style-driven wine than the others, which are more variety- and vintage-driven. The fruit for "Gloria's Gem" comes from Cardiac Hill Syrah and Two Sisters Merlot. It's in barrel for about 20 months, with around 50% new French oak. Jim mentioned that there is typically more new oak on the Merlot than the Syrah, and that the final blend represents a barrel selection that presents a more fruit-forward wine. As we tasted through the vintages at the table, Eric noted that the Merlot "smoothes off the edges" of the Syrah, which I thought was a good way to describe how the two varieties work together in this wine.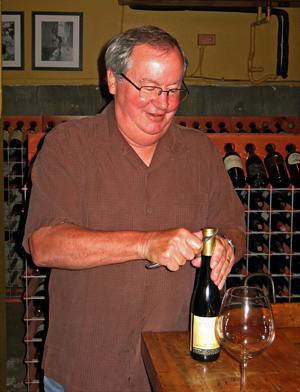 To wrap up our tasting, Jim led us from the dining room down to his "man-cave" – the wine cellar below the house. There he pulled out a bottle of the Jemrose 2008 Late Harvest Viognier. He told us he now has less than a case remaining of this wine, so this was indeed a rare treat! The Late Harvest wine was made from the second crop of Egret Pond Viognier in 2008, after the spring frost had affected much of the initial crop. Coming in late in the season, it was picked at about 32-33 brix, with just a little botrytis on the fruit. Having made a late-harvest Roussanne a few years ago, I could relate to what Jim told us – that making a wine like this is a true labor of love, as the effort required is far out of proportion to the tiny amount of wine produced from the grapes. But a taste of the Jemrose Late Harvest Viognier demonstrated that it was all worth the effort.
Jim had arranged for us to taste a few wines from barrel at Vinify Wine Services in Santa Rosa, where the Jemrose wines are made (along with a number of other well-known labels), so we all munched on some of the bread, salumi, and cheese that Jim had set out before making the 25-minute drive. We arrived at the facility, located in a small industrial park on the north edge of town, and were joined there by Jemrose winemaker Russell Bevan and his assistant Kimberly Hatcher. Russell and Kimberly were able to take advantage of a break in bottling the latest vintage of Bevan Cellars wines that day to pull a few 2011 Jemrose barrel samples for us to taste – a Grenache, Merlot, and two Syrahs.
The Jemrose wines show the cool-climate origins of their grapes consistently. While they tend to display a pleasant ripeness in the fruit, they also have a beautiful restraint and finesse about them. The wines show a sense of place and continuity of winemaking style, but retain vintage variation distinctions as well. My favorites of the retrospective tasting included the 2010 and 2011 Viognier, 2009 and 2010 Grenache, 2006 and 2008 Syrah, 2006 and 2010 "Gloria's Gem," as well as the 2008 Late Harvest Viognier. Jemrose continues to produce one of California's most consistent and elegant line-ups of Rhône-style wines.
When we had first made our plans to visit with Jim Mack, he told us that he would ask Russell Bevan whether he would have time to taste Eric and me on some of his Bevan Cellars wines after we'd finished with the Jemrose barrel samples at Vinify Wine Services. Even though Russell was going through a typically-stressful bottling day, the break in the bottling session continued long enough for he and Kimberly to present some of the brand new Bevan wines to us.
Tasting Notes: Upcoming Releases & Tank Samples

Bevan 2010 "Oscar," Sugarloaf Mountain, Napa Valley. Proprietary blend of 50% each Cabernet Franc and Merlot. Dark color, with aromas of blueberries and cassis, herbs, and mocha. A rich, silky mouthfeel and refined tannins on the finish, quite nice.

Bevan 2010 "EE," Oakville, Napa Valley. Proprietary blend of 50% each Cabernet Franc and Cabernet Sauvignon. Dark color, with more of an herbal component than the "Oscar" along with dark fruits, chocolate, and tobacco. Livelier texture than the "Oscar" with grippier tannins, this will need some time but has lots of character.

Bevan 2010 "Impetus" (tank sample). Cabernet Franc and Merlot. Dark color, with cherry, herbs, and chocolate on the nose. Fairly bright on the palate with a more chewy tannic finish.

JP Harbison 2010 Cabernet Sauvignon, Oakville, NapaValley. 100% Cabernet Sauvignon. Very dark color, featuring ripe cassis and darker berry fruit, smoky oak, mocha, and spice. Full-bodied and rich, with a bigger structure and grippy finish.

Bevan 2010 "Ontogeny," Oakville, Napa Valley (tank sample). Cabernet Sauvignon, Merlot, Petit Verdot. Dark color, more fruit-forward with bright cherry, plum, and herb notes plus touches of spice and chocolate. Rich and smooth, this had refined tannins and a lingering finish.


For those who have never met Russell, the term "larger than life" seems to define him. True, he's a big guy (who seems to have a knack for picking people up off the floor for photos with him!) but even his physical frame can't contain his outgoing, sometimes over-the-top personality. But as a winemaker, he's gained a reputation as one of the most meticulous vintners around. The Bevan Cellars slogan is "grape by grape" – that's an indication of how Russell and his crew spend hours and hours on every day that fruit comes in to the winery, sorting the individual berries so that only the most select ones go into his wines.
A Sonoma County native and a self-described "wine geek" from early on, Russell got his first taste of the wine business while he was still in college. He was one of the early enthusiasts of internet wine bulletin boards and discussion groups, where he became well-known, posting under the name "Bacchus." By the late 1990s, while living in Minneapolis, he was organizing and leading "Bacchus Wine Tours" of California wine country for fellow internet wine board participants – the tales of those trips are now legendary. His passion for wine over the years led him to become a wine writer, whose work appeared in newspapers and in wine publications such as Wine Spectator. And all this while still holding down a day-job to actually pay the bills.
Through the years, Russell learned more about wine and winemaking from some of California's most-respected vintners – he lists Philip Togni, Bob Foley, and Greg La Follette among his mentors, and there have been many others who have influenced him as well. And not long after Russell and his longtime fiancée/life partner, Victoria De Crescenzo, purchased a property near the base of Sonoma Mountain in Bennett Valley, they took the first steps toward planting a vineyard there, encouraged by their friend Kal Showket, who grows some of Napa Valley's finest Cabernet. Showket did more than that though – he soon sent a ton of Cabernet Sauvignon from his Oakville vineyard to Russell to spur him into making his own wine. Russell has noted that it took a dozen friends 15 hours to sort that one ton of fruit! It's clear that at Bevan Cellars, "grape by grape" is no mere slogan, it's a way of life.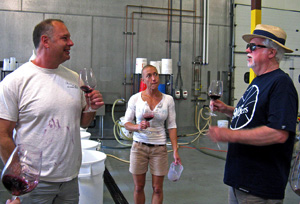 That first experience hooked Russell on winemaking for good, and he and Victoria soon formed Bevan Cellars. On top of that, the Showkets thought highly enough of Russell's first efforts with their fruit that when Heidi Peterson Barrett left as the Showket Vineyards winemaker, they hired Russell to take over. He's gone on from there to make wine for a host of other labels as well, including Jemrose, JP Harbison, Westerhold, and Wren Hop (he's also made wine for Grey Stack and Sanglier in the past). Kimberly came on board to work with Russell in 2009, and she now has her own label, Morgado Cellars, as well.
The focus of Bevan Cellars has been on Bordeaux varieties and Syrah, mostly sourced from vineyards in Napa Valley and Bennett Valley. The current releases include a Sauvignon Blanc, a couple of Cabernet Sauvignons, and several proprietary red blends that include varying percentages of Cabernet Sauvignon, Cabernet Franc, Merlot, and Petit Verdot. During our visit with Russell and Kimberly, we tasted two 2010 Bevan Cellars wines bottled earlier that day, tank samples of two more 2010 Bevan wines to be bottled shortly afterwards, plus a tank sample of 2010 JP Harbison Cabernet. Vineyard owner Joe Harbison had stopped by and joined us in tasting the wine. Russell apologized for not being able to taste 2011 wines still in barrel, but he told us that those wines had been sulfured just a few days earlier, so they would not be showing well.
Russell uses plenty of new French oak in his Bevan Cellars wines, but he does not follow a set path for the wines during their barrel-aging, checking them often to determine when and how often to rack them, when to sulfur them, etc. One of the wines we tasted – the 2010 "Oscar" – had been racked just once prior to being readied for bottling, while another one – the 2010 "Ontogeny" – had been racked four times to soften the tannins. The 2010 "Ontogeny" is a blend of Cabernet Sauvignon from Harbison Vineyard (near Screaming Eagle in the Oakville area), plus Merlot and Petit Verdot from nearby Tench Vineyard. The "Oscar" is a 50/50 blend of Cab Franc and Merlot, and the "EE" blend we tasted is 50/50 Cab Franc and Cab Sauvignon. We also tasted a new blend, the 2010 "Impetus" – only 50 cases, this is a blend of Merlot from Tench Vineyard and Cabernet Franc from the new Bevan estate De Crescenzo Vineyard in Bennett Valley. Fruit from De Crescenzo Vineyard has been making its way into the Bevan wines for the past couple of years, and it should only improve as the vines mature there.
The style of the Bevan Cellars wine can be described as rich, concentrated, hedonistic, or whatever similar term you might choose. Russell aims to make wines that don't need long cellar aging to make them drinkable, so tannin management is a key part of his winemaking. The wines are big and forward (sort of like Russell himself!), with more refined tannins than what you'd expect, but they're far from one-dimensional "fruit bombs." He credits his growers for sending him top-quality fruit, and his wines reflect the care in the vineyards as well as the winery.
I wish we'd had a longer time to visit with Russell but it was very generous of him to take time out for us at all during his busy bottling day – always one of the most nerve-wracking days for any winemaker. For having been bottled earlier that day, both the 2010 "Oscar" and the "EE" were showing quite well, my favorites of the five wines we tasted. All the wines all display Russell's winemaking style, but they retain a distinctiveness as well. Russell has carved out an impressive niche with his Bevan Cellars wines in just a few short years, and it will be fascinating to see where the future takes him.
John Tyler / Bacigalupi Vineyards
Russell and Kimberly needed to get back to their bottling session, and it was time for Eric and me to head to our next appointment of the day, so we got back in my car and headed off. Driving west along River Road, we turned off to cross the Russian River on the old one-lane Wohler Bridge before continuing north on Westside Road. Before too long, we arrived at the tasting room of John Tyler Wines, where we were welcomed by Nicole Bacigalupi. Eric had met Nicole previously, but this was the first time I'd met her and my first visit to John Tyler and to Bacigalupi Vineyards.
Tasting Notes: Current Releases

John Tyler 2005 Pinot Noir, Bacigalupi Vineyard, Russian River Valley. Medium-light reddish-garnet color, this showed spicy red fruits, earth, mushrooms, and herbs. Medium-light bodied with good acidity and moderate tannins, though the finish seemed a bit on the tired side.

John Tyler 2007 Pinot Noir, "Clonal Selection," Bacigalupi Vineyard, Russian River Valley. 100% Pommard clone. Slightly darker ruby color, featuring black cherry, plum, cola, and baking spice on the nose. Both brighter and with more body and texture than the 2005 Pinot, this had a longer finish with fairly mild tannins.

John Tyler 2005 Zinfandel, Bacigalupi Vineyard, Russian River Valley. Medium purple color, with brambly and spicy red wild berry and raspberry fruit plus a touch of vanilla/oak. Medium weight on the palate with moderate tannic grip on the finish.

John Tyler 2007 Zinfandel, Bacigalupi Vineyard, Russian River Valley. Slightly darker color, the aromatics were tighter than the 2005, with the fruit taking a back seat to spice, chocolate, and vanilla aromas along with a hint of black pepper. Smoother mouthfeel than the 2005 bottling, with refined tannins.

John Tyler 2008 Petite Sirah, Bacigalupi Vineyard, Russian River Valley. Dark color, this displayed plum and darker berry fruit, black pepper, spice, and chocolate on the nose. Medium-full bodied, rich but not dense on the palate, and finishing tannins that were grippy but not harsh, a nice Petite Sirah that is quite drinkable now.


Bacigalupi is not as well-known a vineyard name as some in Russian River Valley, but it has a long history that ranks with any of them. Nicole's grandparents, Charles and Helen, purchased the 121-acre Goddard Ranch property on Westside Road in 1956. Born in Santa Rosa in 1924, Charles was a dentist, and he and Helen were looking for a place to live in the country. Fruit orchards were much more common in Russian River Valley than grapevines in the 1950s, but along with prunes, cherries, and apples, the land had an existing 16-acre vineyard on it, with Golden Chasselas, Mission, Muscat, and Zinfandel vines. Though neither Charles nor Helen had any agricultural background, they took to their new roles as farmers.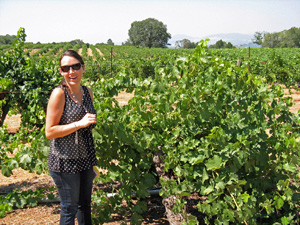 In 1964 Charles followed the recommendation of his friend Paul Heck and of UC Davis farm adviser Bob Sisson to plant Chardonnay and Pinot Noir on the land – almost unheard of in the Russian River Valley in those days. In fact, the varieties were so unfamiliar to Charles at that time that he had to write down the grape names so he wouldn't forget them. He started with six acres of each variety, obtaining budwood from Karl Wente in Livermore Valley. The Bacigalupi family sold their fruit to a number of vintners, most notably providing much of the fruit that went into the famed 1973 Château Montelena Chardonnay that stunned the wine world at the 1976 "Judgement of Paris" tasting.
The family has continued to sell fruit to numerous vintners over the years, both large and small, famous – Williams Selyem being a notable example – and virtually-unknown. Some make vineyard-designated wines from the fruit, while in other cases the fruit source remains anonymous, as was the case for that Château Montelena Chardonnay. Just two days after our visit, John Tyler Winery hosted the first ever "Bacigalupi Vineyard Designate Tasting." Highlighting wines from ten vintners, and including Chardonnay, Pinot Noir, Zinfandel, and Petite Sirah, the goal was to demonstrate the vineyard's expression in the wines. I actually had an opportunity to get my hands into some Bacigalupi Vineyard fruit two years ago, when I helped John Fones and his crew in sorting Pinot Noir as it came into the winery for his new Cellars 33 label.
The outside world got its first look at wines made from Bacigalupi fruit in the early 1980s, when Peter Friedman of nearby Belvedere Winery created a "Grapemaker Series" of wines to highlight growers. Putting vineyard names on the wine labels (in fact the "Bacigalupi" name on those labels was far more prominent than that of Belvedere) was still a rare practice in California in those days. The Grapemaker Series wines were produced at Belvedere and included other wines sourced from Robert Young, Winery Lake, and York Creek vineyards.
After years of only selling fruit to other vintners, in 2002 the Bacigalupi family finally started producing their own wines, under the John Tyler label. Who's John Tyler? It's actually not an individual, but a combination of the first names of the two principal family members involved in the winery – grower John Bacigalupi and winemaker Tyler Heck.
John Bacigalupi grew up on the family's ranch in Russian River Valley, and has worked on the vineyards there for over 30 years. John's parents, Charles and Helen, still live there and Charles continues to take an active role in the management of the family's estate vineyards. Twins Nicole and Katey are the daughters of John and his wife Pam, and they're now the third Bacigalupi generation in the wine industry, both with backgrounds in business and marketing. You'll undoubtedly see them if you visit the John Tyler tasting room – though they don't mind getting their hands dirty and helping out in the vineyards and at crush as well.
Tyler Heck is John Bacigalupi's nephew – Tyler's late father Patrick was the brother of John's wife Pam. The Heck family also has a history in California wine. In the 1950s,Tyler's grandfather Paul had managed the Asti Winery and he and his brother had owned Korbel Champagne Cellars, and Patrick had worked at a number of wineries and related businesses, including Korbel, Adler Fels, and Scott Laboratories. Paul Heck and Charles Bacigalupi developed a friendship over 50 years ago – as noted above, Paul encouraged Charles to first plant Chardonnay and Pinot on his land – and the two families have been close ever since. Tyler studied enology, viticulture and agricultural business at Fresno State University and at Cal Poly San Luis Obispo, and worked at a number of wineries, including Iron Horse, Fetzer, and Foppiano.
A 2002 Pinot Noir marked the first commercial release from the John Tyler label, and they have continued to produce wines since then, focusing mainly on Pinot and Zinfandel, but producing some Petite Sirah as well. The wines used to be made at the Mauritson Wines facility in Dry Creek Valley, but are now made at Merriam Vineyards in Russian River Valley.
After chatting with Nicole outside the tasting room for a few minutes, she asked Eric and me if we would like a quick tour of some of the vineyards – of course we said yes to that! Nicole drove us a short distance north to the vineyard at Goddard Ranch, which is now one of four Bacigalupi estate vineyards totaling about 125 planted acres. The family's first harvest of grapes from Goddard Ranch was in 1956, shortly after Charles and Helen bought the property. The historic four-acre block of Chardonnay planted in1964 is still producing, and the fruit from that block now goes to Napa's Rudd Winery. About 40 acres are planted at Goddard Ranch, mostly to Chardonnay and also to Pinot Noir, with Wente, Pommard, Wädenswil, 667, and 777 among the Pinot clones planted there. Fruit from some of the older Pinot plantings go into the Williams Selyem "Westside Road Neighbors" bottling.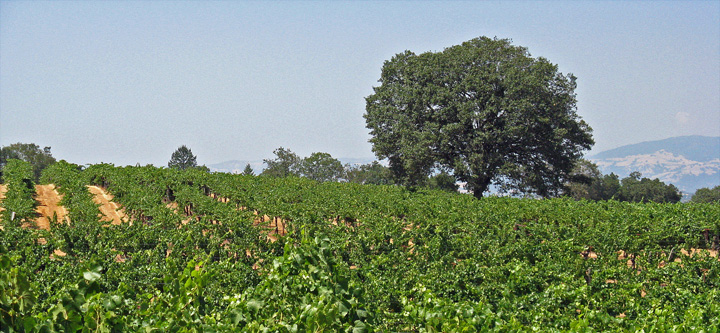 From there, we headed back south along Westside Road to Frost Ranch, purchased by the Bacigalupi family in 1990 and first planted in 1993. Closer to the Russian River, this 60-acre vineyard includes Chardonnay, Pinot Noir, Zinfandel, and Petite Sirah. We saw some of the head-trained Zinfandel vines that supply fruit to Williams Selyem there. There are two other vineyard sites that we didn't visit – the nearby Bloom Ranch, purchased by the family in 1973 and planted entirely to Chardonnay, and Alexander Valley Ranch, purchased in 1983 and planted to Zinfandel and Petite Sirah. As with many growers these days, the Bacigalupis strive for sustainable farming methods, and they make use of cover crops, composted grape pomace, and owl boxes in their vineyards.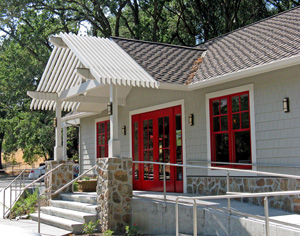 After our vineyard tour, we pulled back up to the John Tyler tasting room and walked inside, while Nicole told us a little about her background. She went to business school, and afterwards worked at the Mauritson Wines tasting room before moving on to a marketing position at Silver Oak Cellars. She works full-time for the family wine business now, and helped work toward getting the tasting room completed – it opened in 2011. We briefly met Nicole's sister Katey in the tasting room – it was not hard to tell they're twins, from their looks to their bubbly, gregarious personalities.
As Nicole poured Eric and me the current John Tyler wines, she showed us a bottle of 1981 Bacigalupi Chardonnay that was part of the Belvedere Grapemaker Series. She also showed us a copy of the weigh tag for the 1973 Chardonnay grapes that went from their vineyard to Château Montelena. We tasted five wines – two Pinots, two Zinfandels, and a Petite Sirah. It was notable that some of the currently-available wines date as far back as the 2005 vintage – John and Tyler believe in both extended barrel aging and extended bottle aging prior to release of their wines. Current production is around 1,200-1,400 cases per year.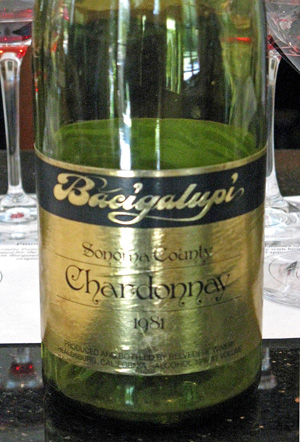 Grapes typically get an extended cold soak and a long, cool fermentation with a small percentage of whole clusters included in the Pinots. New oak ranges from around 20%-33%. The 2005 Pinot Noir is a nearly even mix of Wente and Pommard clones, while the 2007 that we tasted was a separate bottling of 100% Pommard clone (the winery also produced a Wente clone bottling that year). We also tasted Zinfandels from 2005 and 2007, both from the DuPratt Zin clone. Last up was a 2008 Petite Sirah made from the Foppiano clone, first planted by the Foppiano family over a century ago.
Nicole told us that a new development for the Bacigalupi family is an upcoming wine brand that will be called simply "Bacigalupi Vineyards" – the first wines with the family name on them since those Grapemaker Series wines of the early 1980s. The first release is planned for September and will be a 2011 Chardonnay. Winemaker Ashley Hertzberg is working with the family on these wines, which are intended to be distinct from the John Tyler wines. Nicole said that the John Tyler wines will continue to be more "old world" style and cellar-worthy, while the Bacigalupi Vineyards wines will be more in a ripe, fruit-forward "California" style. Production of the Bacigalupi Vineyards wines will start out small, and Nicole said that they will see how things evolve and grow from there.
Eric and I enjoyed our visit with Nicole. I always appreciate seeing vineyards with as interesting a background as the Bacigalupi family's vineyards in Russian River Valley. And the John Tyler wines were different from what I had expected, certainly not the rich and fruit-forward style of wines more typical of the area. The 2007 Pinot Noir and 2008 Petite Sirah were my favorites of the John Tyler wines. The family is justifiably proud of their place in Russian River Valley wine history, and they should benefit as the Bacigalupi name becomes better-known – both through more vineyard-designated wines from other producers and through their own new wine label – in the coming years.
Our final appointment of the day was for dinner. I'd contacted Jim Cowan about tasting his Cowan Cellars wines, and he had suggested meeting for dinner at The Fig Café in Glen Ellen. When I'd mentioned our plans to meet Jim there to Russell Bevan and Jim Mack, they were not surprised – turns out that it's a regular hangout for Jim and his wife Diane. And no wonder – the food was terrific (the café is run by the same folks as the girl & the fig in Sonoma), it's reasonably-priced, and best of all there's no corkage charge! It's an inviting, informal space that fills up quickly for dinner (no reservations accepted), so we all arrived right at their 5:30pm opening time.
Tasting Notes: Current Releases

Cowan 2010 Sauvignon Blanc, "Isa," Lake County. 100% Sauvignon Blanc, skin-fermented. Medium yellow-gold color, this displayed bright citrus and stone fruit aromas, even a touch of tropical fruit, along with spice, lees, and a mineral note. A fairly rich and creamy mouthfeel combined with bright acidity, this had some mild but noticeable tannins on the long and flavorful finish. A very intriguing and distinctive wine that was delicious on its own and should pair well with a variety of foods.

Cowan 2010 Pinot Noir, Sonoma Coast. Medium-light color, beautiful floral aromatics plus red cherry and strawberry fruit, spice, and earth. The wine had an almost weightless sensation in the mouth, while also maintaining a classic Pinot texture. This had mild tannins on the clean and lively finish, very nice. This is a lovely Pinot to drink now in its youth but ought to develop with some bottle age as well.

Cowan 2010 Pinot Noir, Bennett Valley. Medium ruby color, showing a darker fruit profile of black cherry and darker berries, along with a bigger spice component and a touch of tea leaf and dried herbs. Richer on the palate with more structure than the Sonoma Coast bottling but not heavy, this featured great acidity and more tannic grip on the finish. While not as "pretty" a wine as the Sonoma Coast bottling – this is a more "masculine" rendition of Pinot – it may have more potential for some extended time in the cellar.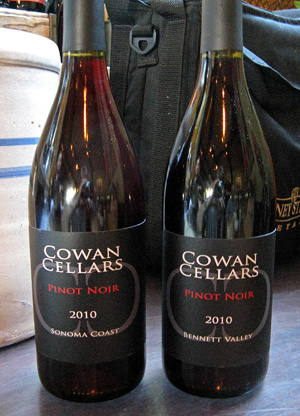 Jim also makes his wine at Vinify Wine Services in Santa Rosa, and I'd asked him when we set up our meeting whether he wanted Eric and me to taste any barrel samples of his wine there. He replied that he preferred not to taste barrel samples, saying that "bottled wine bears faint resemblance to what's in barrel" – certainly not the only winemaker I've met who holds this view. So Jim told us that he planned to open some of his wines at dinner, which sounded just fine to Eric and me.
Jim's a former lawyer, and he told us that his serious interest in wine goes back 40 years, when he used to visit one of the Imperial Chateau wine shops in Florida, where he discovered fine Burgundies and Rieslings. Like Russell Bevan, Jim was an early participant on internet wine discussion boards, and his "Florida Jim" tasting notes will be familiar to most who have followed wine on the web. Jim met Russell through that common connection years ago, and he joined in on one of Russell's "Bacchus Wine Tours." That tour and others through wine country increased Jim's interest, and eventually he volunteered to help out during crush and in the winery, both with Russell and with Steve Edmunds of Edmunds St. John in the East Bay. I'd actually first met Jim in the fall of 2006 when he helped Steve crush some El Dorado County Syrah at the Eno Wines facility in Berkeley. Jim gives both Russell and Steve much credit for teaching him about winemaking while he was a "cellar rat" for them.
The big change in Jim's status came in 2007, when Russell offered Jim ½ ton of fruit so he could make his own wine. Never released commercially, that wine – a Syrah from Dry Stack Vineyard in Bennett Valley – started Jim on the road to launching his own winery. Edmunds St. John provided a model for the type of winery that Jim could manage to start up – all purchased fruit with the wines made in rented space at an existing winemaking facility (custom crush). The first commercially-released Cowan Cellars wine was from the 2008 vintage – a skin-fermented Sauvignon Blanc from Sonoma Mountain – and the current line-up consists of a Dry Stack Vineyard Syrah, two Pinot Noirs, and another Sauvignon Blanc, this one also fermented on its skins. Jim and Diane now take to the road twice a year to spend about six months in Florida and six in Sonoma County.
Steve Edmunds' wines also provided a guide for Jim's own winemaking style – as Jim puts it on his website, his goal is "letting the grape and the place speak", producing wines that show a distinctiveness of vintage and vineyard rather than aiming for a consistent flavor profile. Indeed, Jim's wines show a lightness and elegance that makes them go well with food – if you've ever read any of the "Florida Jim" tasting notes on the web, you know that pairing wines with food is central to his way of looking at wine. The Cowan Cellars wines tend to have lower alcohol (all the current wines are under 14%) and higher natural acidity, and they see no new oak. Jim is also a firm believer in not releasing wines until he feels that they're ready – for example, his most recent Syrah release is from the 2009 vintage but he still has not released the 2008. The production level is tiny – a total of less than 600 cases among all the current releases.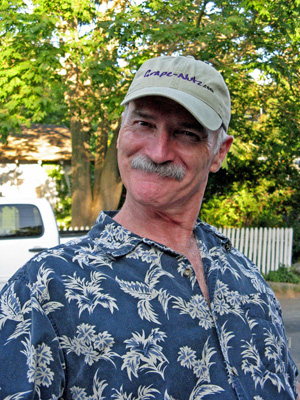 At dinner at The Fig Café, Jim opened three of his most recent fall 2011 releases for us to taste. First was the 2010 "Isa" Sauvignon Blanc from Lake County. This was destemmed, cold-soaked, and then fermented to dryness on its skins – as Jim told us, it was made just like a red wine. It was aged for 10 months on its gross lees (but not stirred) in 3-4 year-old barrels. The "Isa" was totally unlike a typical Sauvignon Blanc, though also not an "orange wine" as most would define that term – although it was skin-fermented, it has no oxidative character. Despite the lower alcohol of this wine – just 13.1% – it had loads of body and texture. The "Isa" was a wonderful wine on both intellectual and sensory levels – tough to put into words, but it was unlike any wine that I can remember tasting, and absolutely captivating. Bravo, Jim!
The "Isa" was a tough act to follow, but we continued with two Pinot Noirs, the first that Jim has produced. First was a 2010 Sonoma Coast Pinot from a vineyard about 3 miles from coast, next to Hirsch Vineyard. The vines are 14 years old, and farmed by David Hirsch. The fruit – all 777 clone – was entirely destemmed, and underwent pumpovers rather than punchdowns during fermentation, as Jim feels that is gentler on the fruit. The wine was then aged for 10 months in 2-3 year-old barrels. Following this light and pretty wine came another Pinot, from Bennett Valley. Mostly Pommard clone along with some Swan and 115, this is from a newer (4th leaf) vineyard in one of the cooler parts of the valley, situated on steep slopes. Made just like the Sonoma Coast bottling, this one was darker and bigger, though surprisingly, the Bennett Valley Pinot is the lower alcohol wine of the two (13.4% vs. 13.9%).

Jim is a straight talker but a gentleman – he'll tell you exactly what he thinks, but he's always gracious about it. That character seems to be reflected in his Cowan Cellars wines too. They're direct and "unspoofilated," made in a lighter style that brings out the subtleties of the fruit. The first few vintages have shown the promise of the direction the Jim has taken. All three of the wines we tasted were very good, and I thought the "Isa" and the Sonoma Coast Pinot were standouts. I expect that as Jim gains more experience with his vineyards and their fruit, we'll see even better wines to come (no doubt including a few more off-beat ones like the "Isa") from Cowan Cellars.
We all went our separate ways after dinner, and I had an uneventful drive home. This was a fun day, starting out with a great retrospective tasting through the Jemrose wines with Jim Mack. And although three of the day's visits were to relatively new operations, we did also see Nicole Bacigalupi at her family's vineyard – a place with plenty of history behind it. I thought it was interesting to learn the story of Kal Showket prodding Russell Bevan into starting on his winemaking path with a small amount of fruit, then Russell in turn doing the same for Jim Cowan a few years later. It's one more example of the great generosity in the wine community, and how established growers and winemakers often help jumpstart the careers of newer ones. As always, thanks to everyone that we visited for being so generous with their time and their wine.