Sonoma Co. & Napa Valley - December 2012
I got together with some friends for an end-of-the-year wine trip to Sonoma and Napa, something I've done a few times in the past. If the weather cooperates – as it did on this trip – it can very enjoyable, taking advantage of a time of year when many winery tasting rooms are not particularly crowded. But the weather doesn't always cooperate, and on a similar late-2005 trip, my friends and I found ourselves in the midst of the now-infamous New Year's Eve storm and flooding in the wine country. My friends Jane, Warren, Dean, and Alan joined in on the trip this time, and we stayed at a timeshare facility in Windsor, a few miles north of Santa Rosa – a relaxing option that allowed us to have dinners and breakfasts at our temporary "home." Jane and Warren had arrived in Windsor on Friday, and they had also visited Vincent Arroyo Winery and Envy Wines / Carter Cellars in the Calistoga area that day. I drove up from Oakland early on Saturday morning, while Alan and Dean were set to meet up with us later in the day. After I arrived at the timeshare to drop off my luggage (and wine for dinners), Jane, Warren, and I hopped into Jane's car and drove out toward Sebastopol for our first winery visit.

Saturday - December 29, 2012
Our first stop of the day was at Halleck Vineyard. Jane and Warren had tasted some of their wines with Ross Halleck in early November at one of the "Vintners' Holidays" sessions at the Ahwahnee Hotel in Yosemite Valley. They were impressed by the wines and wanted to see if we could visit the vineyard, in the Sebastopol Hills a few miles southwest of the town of Sebastopol. I was not very familiar with the Halleck wines, so I was looking forward to trying them. It looked like Ross would not be available to join us for the visit but Jennifer Halleck was able to meet with us.
Tasting Notes: Current Releases

Halleck 2011 Sauvignon Blanc, "Little Sister," Russian River Valley. Light straw color, displaying lemon and grapefruit with an herbal note in the background. Medium-light bodied with a fairly round mouthfeel but a crisp finish, nice.

Halleck 2010 Dry Gewürztraminer, Russian River Valley. Light straw color, this showed characteristic citrus and lychee fruit and spice on the nose. More weight on the palate than the Sauvignon Blanc, with good acidity and a pleasant, textured finish.

Halleck 2008 Pinot Noir, "Three Sons Cuvée," Russian River Valley. Medium-light color, bright aromatics of red cherry, earth and forest floor, with touches of flowers, minerals, and oak. Medium-light bodied with a lively texture in the mouth and milder tannins on the finish, a nice lighter-style Pinot.

Halleck 2008 Pinot Noir, The Farm Vineyard, Russian River Valley. 100% 777 clone. Medium ruby color, featuring a riper fruit profile than the "Three Sons Cuvée," with plum and black cherry fruit, earth, and spice. Medium weight with more structure than the previous wine.

Halleck 2008 Pinot Noir, Hallberg Vineyard, Russian River Valley. 115 and 777 clones. Medium-light color, showing more tart fruit than The Farm Pinot, plus a bigger earth component along with hints of black pepper, vanilla/oak, and minerals. Bigger mouthfeel and structure, with good acidity and a grippier tannic finish.

Halleck 2008 Pinot Noir, "Hillside Cuvée," Sonoma Coast. Medium-light color, this had bright strawberry and cranberry fruit plus a savory element, plenty of spice, and touches of fresh herbs and oak on the nose. Medium weight with a brisk acidity and medium tannins, this is tasty now and should age well too, nice.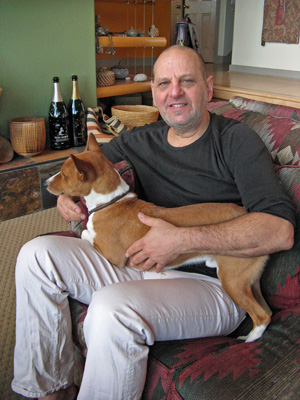 We arrived at the Halleck house, where Jennifer greeted us at the door along with Franki, a very friendly Basenji – a dog originally bred in Africa and an unusual breed in that they don't bark. Jennifer led us into the living room of the house, a tall space with large windows overlooking their hillside vineyard. We started out with tasting the two Halleck white wines, and to our surprise, Ross arrived in the living room shortly afterwards – it turned out that he was able to join us for most of our visit after all. As we proceeded through our tasting, Jennifer and Ross told us about the background of their winery.
Ross is the founder of the Halleck Design Group marketing agency, which has included several noted wineries among their clients. The Halleck Vineyard property was purchased in 1991. Ross told us that the original thought was to look for land in Napa Valley, but that proved to be too expensive so the search continued farther and farther west until they found the spot in the Sebastopol Hills. At that time there were no vineyards in this cool-climate area, but the property had been a grazing pasture so there were not lots of trees to clear. Soon after this Ross and Jennifer were married, and she was pregnant with the first of their three sons when the first vines were planted in 1993. Their plan was to use money from selling the grapes to help pay for their son's college education.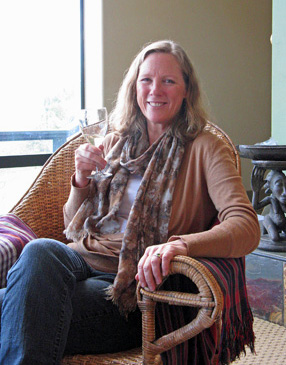 The Hallecks decided to plant Dijon clones of Pinot Noir that they had found through John Caldwell's nursery (now a part of Sunridge Nurseries). These clones were still relatively new to California at the time. Noted local grower Steve Dutton assisted with the planting. The one-acre vineyard includes 115, 667, and 777 Pinot clones on a mainly north-facing slope at around 900-foot elevation. The first harvest was in 1999, and fruit from the earliest vintages was sold to Tandem Winery, where Greg LaFollette made the wines. A big break happened when the 2001 Tandem Halleck Vineyard Pinot Noir was judged the top wine at the prestigious "Pinot Noir Summit" in San Francisco. This brought the vineyard and the Hallecks themselves to greater attention, and it led to their decision to launch their own label and produce their own wine.
Considering the success of that Tandem wine, it was an easy decision to have Greg LaFollette make the Halleck wines in the early years of the label. After the three Halleck children were of school age, Jennifer began to study winemaking, working with Greg at Tandem and also working at the J Vineyards tasting room. She also later worked for a wine broker and gained more insight into the wine business. Beginning in 2005, Rick Davis, who had worked with Greg for a number of years, took over as the Halleck winemaker. Both Jennifer and Ross are key members of the winemaking team as well as the business side of the venture. The wines are made at the Owl Ridge facility just north of Sebastopol. Production remains small, in the range of 1,000 to 1,500 cases per year. Most wines are sold direct to the Hallecks' mailing list and wine club, with just a few distributors.
Since their estate vineyard is so small, the Hallecks from the beginning supplemented their own fruit with that from other nearby vineyards. Two of these vineyards in particular figure strongly in the Halleck wine line-up. The Farm is about two acres in size and located a short distance north of Sebastopol. Planted in 1999, the vineyard provides the Hallecks with 777 clone Pinot Noir. Only about ¼ mile from The Farm is Hallberg Vineyard, planted around the same time with 115 and 777 clones of Pinot. Both The Farm and Hallberg fruit go into vineyard-designate wines as well as the Halleck "Three Sons Cuvée" Pinot (which has now helped fund all three sons' college education). The estate Halleck Vineyard Pinot is a tiny production wine – only 65 cases of the current 2008 vintage – and is available mainly to wine club members.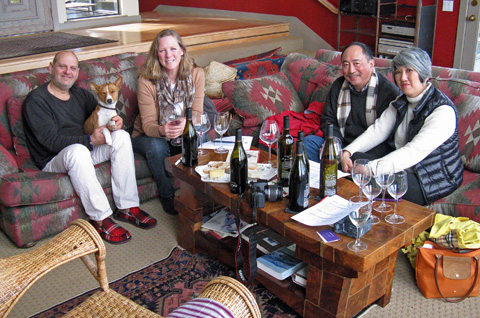 We began our tasting of the Halleck wines with their "Little Sister" Sauvignon Blanc, which is made in stainless steel along with a small amount in neutral oak. Displaying the lightly herbal but citrusy character of the grape, Jennifer told us that the wine pairs well with grapefruit salad. We asked about the "Little Sister" name, and Jennifer told us that since their "Three Sons Cuvée" Pinot was thought of as the "little brother" to their Estate bottling, "Little Sister" seemed appropriate for the more feminine Sauvignon Blanc – plus Jennifer is the youngest of four siblings. Next up was Dry Gewürztraminer. The idea behind the Halleck version of this is to ferment as dry as possible while keeping out the bitter edge that's often on the finish of dry Gewürz. To do this, they allow the fruit to hang longer and ripen more than many others do. The wine may finish with a bit higher alcohol this way (though the 2010 is only 13.3%) but it displayed more body than many truly dry Gewürztraminers, and the usual bitter finish of those wines was not in evidence at all.
We proceeded to taste four of the Halleck Pinot Noir bottlings. First was the "Three Sons Cuvée" which is sourced mainly from The Farm and Hallberg vineyards in western Russian River Valley. We followed that with single-vineyard Pinots from each of those two vineyards, and finished up with the "Hillside Cuvée," sourced from neighboring Sebastopol Hills vineyards as well as from a little estate fruit. All were very good, with the "Hillside Cuvée" being perhaps the most distinctive of the four due to the vineyard sites being in a different area than the other three.

Ross and Jennifer explained that they aim for the different Pinot bottlings is to share a similar "house" style, yet retain distinctive character from their vineyard sources. All of the Pinots get essentially the same winemaking regimen. There is little or no whole-cluster fermentation (sometimes a small amount for the "Hillside Cuvée" and Estate fruit), and open-top fermenters are used. Wines are aged in about 30% new oak, 30% once-used barrels, with the rest of the cooperage being older. The wines are racked and blended once during their ten months in barrel, and the percentage of new oak for each wine can be adjusted at this time as the wine can be racked back into newer or older barrels as needed. The wines are held in bottle for an unusually long time prior to release – 2008 is the currently-available vintage and the 2009s will be released soon.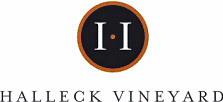 Both Ross and Jennifer remain deeply involved in the winery, and one of the most important things to them is making personal connections with their customers. They enjoy setting up tastings at the house, and they arrange many events and travel opportunities to meet and share wine with customers and friends. Ross explained the Halleck logo – it's not simply an "H" for Halleck, but a cleverly-designed symbol denoting "1 to 1." The central dot in the logo is a grape that connects the Hallecks to each customer, while the surrounding circle represents the community that creates.
Halleck deserves credit as one of the pioneering vineyards in the Sebastopol Hills area, and on top of that they are making some very good wines. Ross spoke of "New World winemaking with Old World sensibilities," and that seems like an accurate description of the Halleck wines, particularly the Pinot Noirs that form the core of their production. They show plenty of fruit, yet display complex aromatics and fine acidity – elegant examples of Sonoma Pinot. The "Three Sons Cuvée" and "Hillside Cuvée" were my favorites of the four Pinots, though Jane told me that she preferred the Hallberg and The Farm bottlings – something for everyone here. Halleck is one of those producers that tend to fly under the radar, but they are well worth checking out.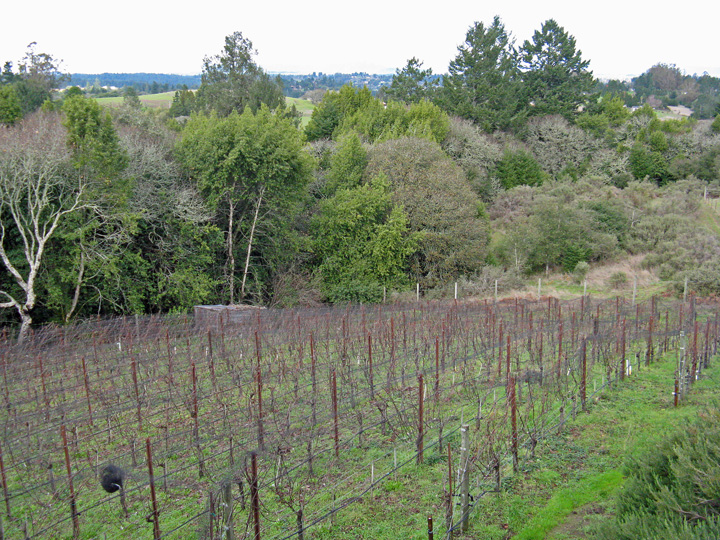 After leaving Halleck, we met our friend Alan for lunch at Underwood Bar and Bistro in Graton, still my "go to" place for lunch in that part of Sonoma County. It's a favorite spot of many local vintners too, so it's not unusual to spot one or two of them there (though we didn't see any on this visit). We enjoyed various dishes including a spicy Moroccan lamb sandwich, cheeseburger, and chicken with mushroom sandwich. I'd found out that morning that our early-afternoon winery appointment had been postponed until Monday, and Ross and Jennifer Halleck had suggested Lynmar as a possible option. I had tasted Lynmar's wines a number of times but I had never been to their current tasting room, so that seemed like a great idea.
After a short drive from Graton, we pulled into the Lynmar Estate parking area. We walked into the handsome hospitality center, completed in 2005. Dean, the final member of our group, arrived shortly afterwards and joined us at the tasting bar, which is set in a soaring interior space with large windows looking out to vineyard. Lynmar owner Lynn Fritz purchased the 100-acre property in 1980. He had founded and been CEO of Fritz Companies, a global logistics firm.
Tasting Notes: Current Releases

Lynmar 2009 Chardonnay, Russian River Valley. Medium-light yellow color, this featured lemon zest, lime, touches of earth and spice, and toasty oak. Moderately rich mouthfeel with enough brisk acidity that another year or two in bottle should help it mellow out a bit, but it's delicious even now.

Lynmar 2009 Pinot Noir, Russian River Valley. Medium ruby color, showing slightly floral black cherry fruit, spice, and vanilla/oak on the nose. Medium weight in the mouth with a fairly bright but oaky finish.

Lynmar 2010 Pinot Noir, Quail Hill Vineyard, Russian River Valley. From 14 different Pinot clones. Medium color, with more floral notes and more intense cherry fruit, and better-integrated spicy oak. A minerally component came out on the palate, and the lively acidity led to a long and tasty finish, nice.

Lynmar 2009 Pinot Noir, Hawk Hill Vineyard, Sonoma Coast. Medium color, featuring brighter red fruit aromas, spice, and earth. Bright mouthfeel and more structure, with a bit of tannic grip on the finish. A promising young wine that deserves some time in the cellar.

Lynmar 2008 Syrah, "Reserve Cuvée," Sonoma County. Medium-dark purple color, this showed savory, meaty aromas along with dark berry fruit, pepper, and touches of chocolate and sweet oak. Medium-full bodied, this had moderate tannins on the finish.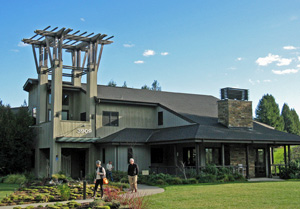 In 1990, Lynn launched the Lynmar label, with the winery's first releases coming in 1994. He and his wife Anisya now live full-time on the property. In addition to the hospitality center, they built a new multi-level gravity-flow winery and created new wine caves. The winery focuses on Russian River Valley Chardonnay, Rosé of Pinot Noir, Pinot Noir, and Syrah, much of it coming from their estate vineyards.
The heart of Lynmar Estate is Quail Hill Vineyard, adjacent to the hospitality center and originally planted in the early 1970s. This estate vineyard is sited on a hilly spot above the Laguna de Santa Rosa wetland and watershed in the western part of Russian River Valley. Some of the original vines are still in place, though most of the vineyard has been replanted. Phased replanting began in 1996, and this was mostly finished by 2005, using more diverse clonal material and rootstocks in the vineyard, which is now about 70% Pinot Noir and 30% Chardonnay. The vineyard includes 14 clones of Pinot Noir, two clones of Chardonnay, plus a very small amount of Syrah. Some blocks are planted to specific clones, while others are field mixes of various clones. The remaining 1970s vines include two blocks of Rued clone Chardonnay and one block of Swan clone Pinot (obtained directly from Joe Swan), both on St. George rootstock. A total of about 70 acres of estate vineyards are currently planted, including Quail Hill Vineyard at the main property and nearby Susanna's Vineyard.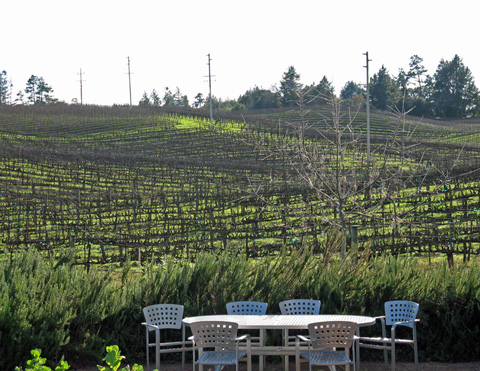 Lynmar has had a turnover of winemakers in recent years. Hugh Chapelle (now at Quivira) had been winemaker until 2009, when Bibiana González Rave took over. She left to join Pahlmeyer in summer of 2012, and Shane Finley is now the Lynmar winemaker. Shane was most recently the associate winemaker at Kosta Browne, and he worked at Paul Hobbs and Copain before that. Shane also has his own eponymous wine label. Jason Saling is the vineyard manager, and David Frakes joined Lynmar as chef in 2011. A variety of wine-tasting and food pairing options are available, with less- and more-formal choices including an optional cheese plate, and "Pinot and Pizza" on some summer weekends. Much of the food served at Lynmar is sourced from the their adjacent estate gardens, which provide vegetables, fruits, and herbs.
For the winemaking, Lynmar's Chardonnay is whole-cluster pressed in a membrane press, left to settle briefly in stainless steel tanks, then transferred to French oak barrels, where native fermentation takes place. The wine is barrel-aged for up to 14 months, with favored coopers including François Frères, Latour, and Remond. Some of the Russian River Valley appellation Chardonnay is fermented in stainless steel. The Rosé of Pinot Noir is made by the saignée method of bleeding off juice prior to the start of fermentation. Pinot is destemmed into small open-top, temperature-controlled tanks to ferment. Following fermentation, the wine is basket-pressed, then aged for 11 to 15 months in French oak. A number of different coopers are used, with most of the oak coming from the Tronçais and Allier forests.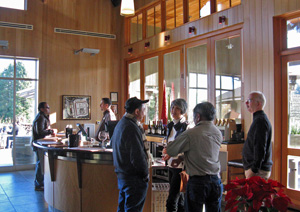 Aaron welcomed us all at the tasting bar, and we started our tasting with a Russian River Valley Chardonnay, sourced from three vineyards. It was barrel fermented in 22% new oak, with the rest of the barrels being two to five years old. The Russian River Valley Pinot fruit came from three vineyards, with about ⅓ each from the estate Quail Hill and Susanna's vineyards. Next was the Quail Hill Vineyard Pinot Noir, which used all 14 of the Pinot clones planted there. We followed that with a Sonoma Coast Pinot from Hawk Hill Vineyard, near the small town of Freestone and including 115 and Pommard Pinot clones. Our final wine was the "Reserve Cuvée" Syrah, which includes some fruit from the estate vineyard and some from Kick Ranch in a warmer part of Sonoma County. Overall, Lynmar produces a host of different Chardonnay and Pinot Noir bottlings, some quite limited in production.
Lynmar has long been known for their Chardonnays and Pinot Noirs, and the ones I've tasted – both during this visit and on other occasions – put them in the upper tier of Russian River Valley producers. Lynmar's wines feature ripe fruit and fairly lush textures, and they are not shy with oak, but they are nicely-balanced and avoid overly-ripe or overly-oaky character. The Lynmar Chardonnays and Pinots are good examples of why Russian River Valley wines are so highly-regarded and so popular.
We had time for another winery visit before our late-afternoon appointment, so we decided to stop at Joseph Swan Vineyards, located on Laguna Road near the location of the long-gone small town of Trenton. The property was purchased in 1967 by airline pilot Joe Swan, who'd had a long interest in winemaking, picking up tips from friends at UC Davis. When he bought the property, it included 13 acres of apple trees, some old Zinfandel vines, and a few old farm structures.
Tasting Notes: Current Releases

Joseph Swan 2009 Pinot Gris, Trenton Station Vineyard, Russian River Valley. Medium-light straw color, with minerally citrus and spice notes. Medium-light bodied with moderate acidity and finish.

Joseph Swan 2010 Chardonnay, "Cuvée de Trois," Russian River Valley. Light color, this showed apple and pear fruit, earth, and spice notes on the nose. Medium-bodied with crisp acidity and a lingering finish, nice.

Joseph Swan 2010 Pinot Noir, "Cuvée de Trois," Russian River Valley. Medium-light color, displaying bright red cherry and rhubarb, herbs, earth, and a light touch of oak. Medium-light weight in the mouth with a lively finish.

Joseph Swan 2008 Pinot Noir, Saralee's Vineyard, Russian River Valley. From ten clones, including Swan, Pommard, 29, 37, 115, and 777. Lighter garnet color, with a more earthy red fruit character and touches of herbs and spice. A bigger mouthfeel than the "Cuvée de Trois," with a bit more tannic bite on the finish.

Joseph Swan 2007 Zinfandel, Sonoma Valley. From 100+ year-old vines. Medium purple color, this featured ripe wild berry fruit, loads of spice, and a touch of earth on the nose. Medium-bodied, some black pepper came through on the moderately tannic finish.

Joseph Swan 2006 Syrah, Trenton Estate Vineyard, Russian River Valley. Co-fermented with 4% Viognier. Medium-dark color, with earthy, herbal, and slightly floral notes along with black fruits. Medium-full bodied with a tangy finish.

Joseph Swan 2006 Syrah, Great Oak Vineyard, Russian River Valley. Medium-dark color, showing more forward dark berry fruit, spice, dark chocolate, and oak aromas. Bigger and richer on the palate than the Trenton Estate bottling, with a grippier tannic finish.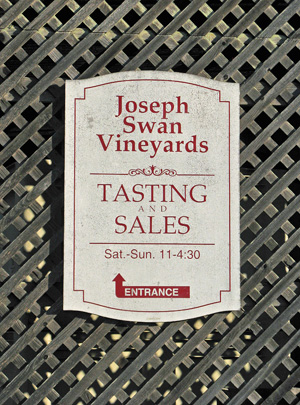 Friend and mentor André Tchelistcheff encouraged Joe to replant the vineyard with Chardonnay and Pinot Noir, and he planted ten acres over the next few years with those two varieties, plus a little Cabernet Sauvignon (unfortunately those old Zin vines were pulled out). This was one of the early plantings of Pinot Noir in Russian River Valley – other early plantings included those at Bacigalupi and Rochioli vineyards a few miles farther east. It is thought that the original vine cuttings for Joe's Pinot Noir came from Mt. Eden Vineyard in the Santa Cruz Mountains. Cuttings taken from Joe Swan's Pinot vines have been propagated throughout many parts of California and have come to be known as "Swan clone" or "Swan selection."
Joe Swan started to make wine with a few barrels of Zinfandel in 1968, and he made his first Pinot Noir in 1973 and first Chardonnay the following year. Retiring from his pilot job in 1974, he built the current "tin shed" winery at the property in 1974, with the help of friend – and future Ravenswood founder – Joel Peterson among others. Considered one of the Russian River Valley's wine pioneers, Joe traveled often to France for advice from vintners there and to see the techniques they were using. He learned about the use of whole clusters and manual punchdowns during fermentation, and aging wine in new French oak barrels. He also searched for better clonal material for vines than much of what he found available in California.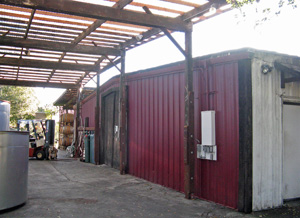 Joe was a mentor to current winemaker Rod Berglund, inspiring Rod to make wine in the late 1970s. Rod, who grew up in Petaluma and has lived in Sonoma County his entire life, began his wine career in 1979 at La Crema Vinera (which was later reorganized as the present-day La Crema). He married Joe's daughter Lynn in 1986 and helped with harvest at Joseph Swan in 1987. That turned out to be Joe's last harvest at the winery, and he passed away in early 1989. Rod now heads up Joseph Swan Vineyards and continues to make the wines in much the same style that he learned from Joe.
About half of the original Trenton Estate Vineyard was replanted in the mid-1990s, and it's currently planted with Pinot Noir plus a little Chardonnay, Viognier, Syrah, and Cabernet Sauvignon. There are ten Pinot clones planted there, including Swan, Pommard 4, 29 (Jackson clone), 37 (Mt. Eden clone), 115, and 777. Other vineyards that provide fruit for the Joseph Swan wines include the nearby estate Trenton View Vineyard (generally younger vines), plus a number of others in the Russian River Valley and Sonoma Valley, including Trenton Station, Saralee's, Stellwagen, and Great Oak.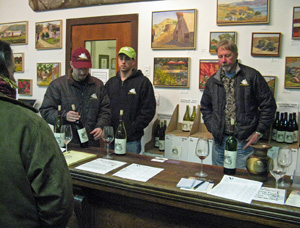 We opened one of the heavy wood doors of the 1970s winery building and stepped inside. A simple tasting counter is just inside the space, most of which is filled with barrels of wine. Chris and Cody were behind the counter, and Rod Berglund came in for awhile as well. We started our tasting with a Pinot Gris, followed by the "Cuvée de Trois" Chardonnay, sourced from both old and young vines from the estate vineyard and Kent Ritchie Vineyard. We tasted two Pinot Noirs, including the "Cuvée de Trois" bottling that is Joseph Swan's largest-production wine. We moved on to a Zinfandel from Stellwagen Vineyard in Sonoma Valley, from vines planted in the 1880s or 1890s. With finished with two Syrahs, first a Trenton Estate Syrah, co-fermented with about 4% Viognier, than one from Great Oak Vineyard on Westside Road, which is 100% Syrah.
Current releases include various bottlings of Pinot Gris, Chardonnay, Gewürztraminer, Roussanne/Marsanne, Pinot Noir, Zinfandel, Syrah, and Tannat. Much of the production is sold direct to consumers through the tasting room, mailing list and wine club (which is known as "Joe's Drinking Buddies"). Joseph Swan Vineyards' signature wine remains the Trenton Estate Pinot Noir, which includes fruit from some of the original Pinot vines planted there. Overall, the wines are very reasonably priced for quality Russian River Valley wines.
Over the years, I've found the wines of Joseph Swan Vineyards to be hit-and-miss, and this visit was much the same. The vineyard and winery have a lot of history behind them, the people there are very nice, and I often come away feeling like I wanted to like the wines more than I actually did. And to be blunt, you have to put up with more fruit flies in the tasting area than just about anywhere else I can recall visiting, not the most pleasant experience. But that said, the wines we tasted on this visit were certainly pleasant if not especially outstanding – lighter-styled, not heavily-oaked, and often not particularly fruit-forward. And they were not pouring their best wine, the Trenton Estate Pinot Noir, at the tasting room when we visited – this has often been excellent, and the 2007 and 2009 vintages were particularly outstanding. So I suppose I'm conflicted about both the tasting experience and the wines themselves, though at their best, there's no question that the Joseph Swan wines can be something special.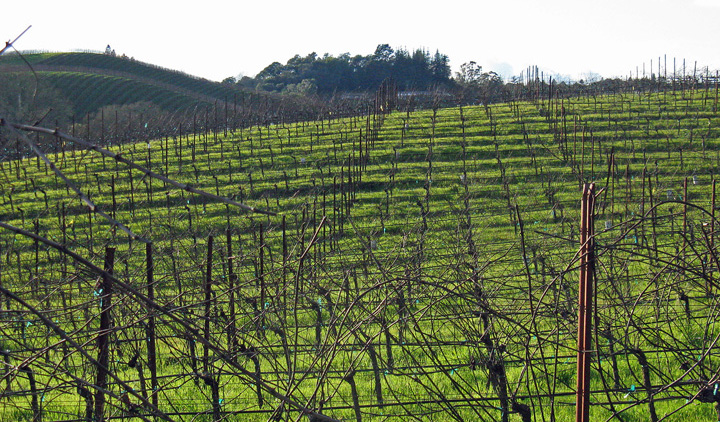 For our last visit of the day, we headed to the east side of Highway 101, and started up into the hills leading to the Chalk Hill AVA. Although this appellation is considered a part of the Russian River Valley AVA, it's a distinctly warmer spot, well-suited to the Bordeaux grape varieties grown at Calluna Vineyards. We proceeded up a curving drive to the top of a knoll overlooking the vineyard and pulled up alongside the home of David and Marla Jeffrey and their family. David came out to welcome us, along with Molly, their friendly and rather rambunctious dog. I had tasted the 2008 vintage wines from Calluna at the Family Winemakers of California tasting in San Francisco a couple of years previously and they had been distinctive and impressive enough that I'd always kept them in mind for making a visit.
Tasting Notes: Current Releases

Calluna 2009 "Calluna Vineyards Cuvée," Chalk Hill. 43% Merlot, 41% Cabernet Franc, 10% Cabernet Sauvignon, 4% Petit Verdot, 2% Malbec. Medium-dark color, featuring black cherry and currant with tobacco / dried herbs and light touches of spice and vanilla/oak. Medium weight on the palate with a lively texture, good balance, and fine tannins on the long finish, quite nice.

Calluna 2009 Merlot, "Aux Raynauds," Chalk Hill. 98% Merlot, 2% Cabernet Franc. Medium-dark color, with more intense cherry aromas along with a minerally component, plus earth and dried herb notes and undertones of sweet oak. Medium-bodied with a fairly bright mouthfeel and somewhat chewier tannins than the "Cuvée."

Calluna 2009 Cabernet Sauvignon, "The Colonel's Vineyard," Chalk Hill. 100% Cabernet Sauvignon. Slightly darker color, this displayed both bolder currant and darker berry fruit and a stronger tobacco/herb element than the first two wines, plus a mineral note and well-integrated oak. Bigger on the palate with firm but elegant tannins, this has the potential to be very good with more time in the cellar.

Calluna 2009 "Calluna Estate," Chalk Hill. 40% Cabernet Sauvignon, 38% Merlot, 8% Cabernet Franc, 8% Petit Verdot, 6% Malbec. Dark purple color, this was the most fruit-forward of the four bottlings, but also showed earth, dried herb, spice, and vanilla/oak aromas. Fairly rich mouthfeel, with a lively texture and tannins that were big but not harsh. A very young wine that will need time to evolve.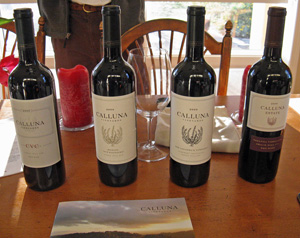 David led us to the rear patio of the house, with the vineyard now bathed in a beautiful late-afternoon light. Molly busied herself with a chew toy while David told us about his background and about the property and vineyard. Originally from the East Coast, David had worked in finance at the Seagrams Company. While he was there, he took a wine appreciation course and soon started collecting fine wines in the mid-1980s, and he developed a particular love for the wines of Bordeaux. With wine becoming an ever-increasing interest, he and his family moved to California in 2001, and he enrolled in the enology department at Fresno State University. While he was studying there, he took time off to work in Bordeaux during the 2003 harvest for Château Quinault in Saint-Emilion. He worked there with noted French vintner Dr. Alain Raynaud, learning both traditional and new techniques that he would later put into practice at Calluna.
David found the 80-acre Chalk Hill property in 2004, and following extensive soil testing, planting began the following year. The hilly site had previously been bare land, which made the vineyard planting simpler. All five of the classic Bordeaux red varieties are planted – Cabernet Sauvignon, Cabernet Franc, Merlot, Malbec, and Petit Verdot. Twelve acres have been planted to date, and David is planning to add a bit more in the coming year – some Cabernet Sauvignon on a southwest slope and Merlot on a more northern slope. David told us that he will probably soon add some Sauvignon Blanc and Semillon to the vineyard as well. He noted that Chalk Hill is a transitional area between the cooler parts of Russian River Valley and coastal areas to the west and the warmer Alexander and Napa valleys to the east. He feels that some of these warmer areas are in hotter climates than what he would prefer for his vines, and that Chalk Hill was an ideal spot for him.Vines are planted in various blocks on the hillside site, which combines good drainage with various exposures and slopes. There is about 18-24 inches of loamy clay topsoil throughout most of the site, with fractured shale and sandstone below. The elevation of the site helps to cool it down earlier on hot days while also avoiding potential frost damage to vines during the late winter and spring. David works with a vineyard manager but living on the property allows him to remain intimately involved in the vineyard as well.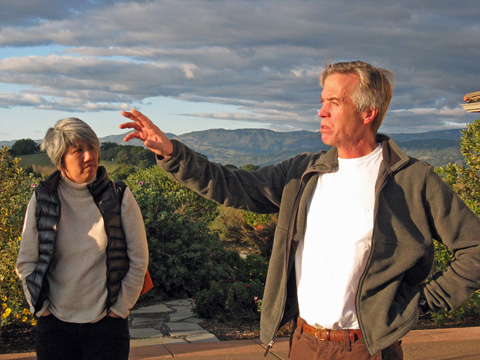 Two vineyard blocks deserve special notice, since they have particular significance for two of the four Calluna wines. The best one-acre block of Merlot is named in honor of Dr. Alain Raynaud and his family. Planted to Merlot clone 181 on 420A rootstock, this goes into the Calluna "Aux Raynauds" Merlot. The Colonel's Vineyard is a 1¼-acre block on a gentle southwest slope near the top of the hill, just below the house. This block is planted to Cabernet Sauvignon clone 337 on 3309C rootstock and goes into Calluna's "The Colonel's Vineyard" Cabernet. Coming from these small vineyard blocks, both the Merlot and Cabernet are small-production wines, only about 100-125 cases each. From the rear patio of the house, we could also see the guesthouse on the property just down the hill. The Jeffreys built this as a place to visit for the friends and investors who have helped to make their dream a reality. Their first harvest was in 2007, with only about 200 cases produced that year. Current production is up to about 2,500 cases, and the wines are distributed in nine states. The wines are made at the Vinify custom crush facility in Santa Rosa.
After our overview of the vineyard, we headed inside and sat down at the dining table, where we proceeded to taste through the four current-release 2009 vintage Calluna wines. David told us that he aims to maintain fresh fruit character in the wines but without over-ripeness, and to have intensity without being heavy-handed. He also would like his wines to be well-balanced and long-lived, and his goal is to create wines in the model of the great wines of Bordeaux but that express the terroir of Chalk Hill. He said that he thinks that his vineyard can produce wines that will be similar to Bordeaux in a riper year, though not as unusually warm a vintage as 2003, for example. David tries to keep what he called "herbaceous" character out of his wines – I asked him to clarify that, since some herbal notes are intrinsic to many of the Bordeaux grape varieties. He said that can be a fine line, but he wants to keep out the excessive green, vegetal notes that can crop up, particularly when the fruit does not get sufficiently ripe. At the same time, the cooler climate of the vineyard in comparison to Napa and other hotter locations allows David to avoid water and acid additions in the Calluna wines, something that has become commonplace for a number of other producers.
The Calluna line-up includes four wines. There are two varietal wines – the Merlot and Cabernet Sauvignon – and two blends – a Merlot-based one ("Calluna Vineyards Cuvée") and the flagship blend, which is Cab-based ("Calluna Estate"). All are inspired by the wines of Bordeaux – the "Calluna Vineyards Cuvée" and "Aux Raynauds"Merlot are described as Right Bank in style while the Estate blend takes its cue from the wines of the Left Bank. All of the wines are made from 100% estate fruit, and all of the vineyard's fruit goes into the Calluna wines – none is sold to other vintners.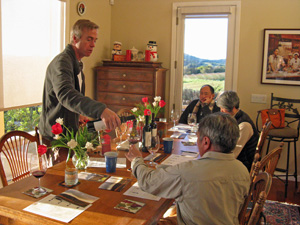 One of the techniques that David learned from Dr. Raynaud at Château Quinault is barrel fermentation for red wines. Currently this is only done with "The Colonel's Vineyard" Cabernet, which is about 75-80% barrel-fermented. It's a laborious method, which utilizes custom-designed barrels from Tonnellerie Baron. Grape must is fed into the barrels for fermentation through a small hatch in one of the barrel heads. Rather than pumpovers or punchdowns for cap management during the fermentation, the barrels are spun by hand on special racks on which the barrels rest on wheels. One of these barrels has a Plexiglas head to allow visual monitoring of the fermentation. It's an interesting technique that's not widely-used in California, due to the additional effort required – David and his barrels were featured in Wines and Vines magazine earlier in 2012. David told us that he likes what the barrel-fermentation achieves as he feels it allows for better integration of new oak and provides more elegant tannins in the wine.
Wines are aged for about 20-22 months in barrel, with favorite coopers including St. Martin, Bernard, Baron, and Quintessence, and David noted that he's trying out some Taransaud barrels this year. The wines average around 50% new oak, but this varies by bottling and can be as much as 70% for "The Colonel's Vineyard" Cabernet. I felt the oak was very well-integrated in the Calluna wines – sometimes in evidence but always in balance with the wines' other components.

A couple of us at the table mentioned the nicely-designed Calluna labels. David told us that the central feature illustrated on the labels is a heather plant – "calluna" is the botanical name for heather. He said that he had wanted to name the vineyard and the wine brand in honor of a family friend who had passed away, but that he found everything with "heather" had already been trademarked. But on a trip with his wife to Mendocino, they noticed a heather plant in a nursery that was labeled "calluna" and the name for their winery became clear to them.
The Calluna wines are among the more elegant and understated Bordeaux-style wines I've tasted from California in recent years. While they're unmistakably Californian in their bolder fruit character, they feature restraint, complexity, and minerality that are lacking in many bigger, riper California wines made from Cabernet Sauvignon and other Bordeaux varieties. And although they are structured to age, the balance and the nicely-managed tannin profiles of the Calluna wines make them approachable in their youth as well, with the "Calluna Vineyards Cuvée" bottling in particular very tempting to drink right now. David mentioned "intensity, balance and longevity" as being key goals for his wines, and I'd say he's doing a fine job achieving that so far. Calluna is a label to watch for those seeking these characteristics in Bordeaux-style wines from California.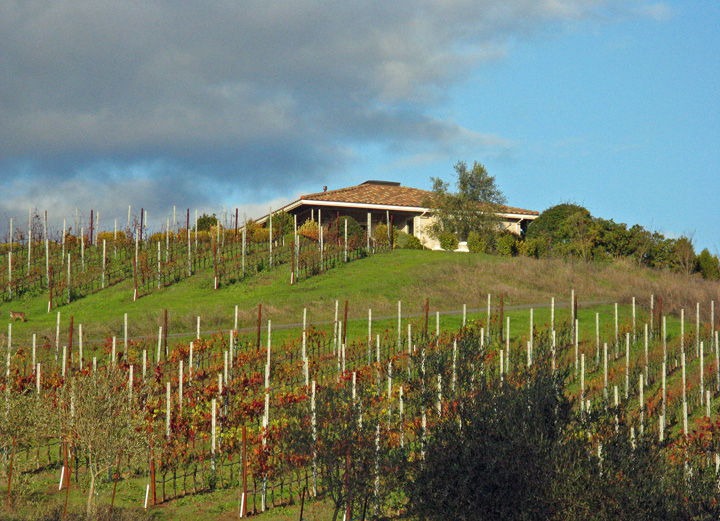 It was dusk by the time we rolled back down the hill from Calluna, and we stopped to pick up groceries for dinner on our way back to the timeshare units in Windsor. Jane and Dean in particular love to cook, so we were fortunate to have some great "home"-cooked meals during our stay.

Sunday - December 30, 2012
Lagier Meredith Vineyard / Chester's Anvil Wines
We got an early start the next morning for the drive to Lagier Meredith Vineyard, on Mount Veeder near the crest of the Mayacamas Mountains. The address is on Dry Creek Road, but it takes a hair-raising journey from the road up a long, steep, and narrow drive to reach the vineyard. The air was chilly at the 1,300-foot elevation, high above Napa Valley. Steve Lagier and Carole Meredith came out of their house to welcome us, and we walked down a short distance to their old house (and future winery site) to take in the view. Beyond their east-facing hillside vineyard we could see far across Napa Valley on the clear morning. Carole told us that farther up the ridgeline, the view extends all the way to the Sierra Nevada mountains over 100 miles to the east. After heading back up the hill to their house, Carole and Steve pointed out the view to the south, where we could see across the hillsides to San Pablo Bay and beyond.
Tasting Notes: Current Releases & Library Wine

Chester's Anvil 2010 Gewürztraminer, Mendocino. Very light color, with lychee and citrus aromas along with floral and mineral notes. Medium weight in the mouth, with a slight touch of sweetness to counter the bitter edge that dry Gewürz often has on the finish.

Lagier Meredith 2010 Syrah, Mount Veeder, Napa Valley. Dark color, this showed intense aromas of herbs, olives, earth, and dark berry fruit along with floral and savory components. Medium-full bodied, with a bright texture and refined tannins on the long finish, nice.

Lagier Meredith 2000 Syrah, Mount Veeder, Napa Valley. Slightly lighter color than the 2010 bottling, with smoky blueberry and blackberry fruit, lots of spice, and a savory note. Still lively on the palate, the tannins were still noticeable but fairly mellow. Tough to say whether this wine will improve with more time in the cellar, but signs are that it will continue to hold up fine for years to come.

Chester's Anvil 2010 "Hattori Hanzo," Napa Valley. 38% Malbec, 25% Cabernet Sauvignon, 25% Syrah, 12% Cabernet Franc. Dark purple color, displaying tobacco and dried herbs, currant and blueberry fruit, minerals, and spice on the nose. Big and bold in the mouth but approachable even now, the tannins were firm but not harsh, nice.

Lagier Meredith 2010 "Precious Bane," Mount Veeder, Napa Valley. Dark color, this featured lots of upfront ripe plummy fruit along with touches of brown sugar, spice, and earth. Rich and mouthcoating, the grippy tannins suggest that some bottle age will smooth out the still-rough edges of this wine.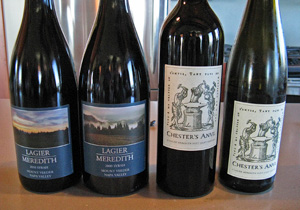 I've visited Steve Lagier and Carole Meredith a number of times, and I've written about them before, but a brief background will be helpful to those who are not familiar with them and their wines. Steve was a winemaker with Robert Mondavi Winery for 14 years before leaving in 1999 to spend full time at Lagier Meredith. Carole retired as professor at the Viticulture and Enology Department at UC Davis in 2003. She's renowned for her work in analyzing grapevine DNA, and especially for determining the true origins of Zinfandel – a Croatian grape variety called Crljenak Kastelanski. She also identified the parent varieties of Chardonnay, Cabernet Sauvignon, and Syrah.
Carole and Steve have lived on the property since they purchased it in 1986, and they moved slightly up the hill from their old house to a new one a few years ago. They originally had the idea of planting some grapes and making a bit of wine as a hobby – it wasn't until later that they decided to take full advantage of the exceptional site and to grow grapes and make wine commercially. The first planting of Syrah there was in 1994, initially with the Durell clone and later with clones 174, 383, 470, 525, and 877. They added a small block of Mondeuse in 2007, and in 2010 they grafted over some Syrah to Malbec and Zinfandel. The shallow soil is mostly fractured sandstone and shale, and Steve and Carole do virtually all of the work on the 4½-acre vineyard themselves.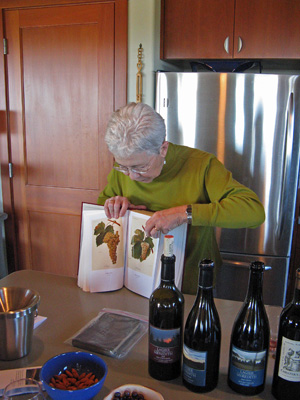 The first commercial Lagier Meredith release was from the 1998 vintage, and until recently they produced only Syrah and Syrah Rosé. They added a Mondeuse (Carole sometimes calls it "Syrah's crazy uncle" – a grapevine geneticist in-joke!) with the 2009 vintage, and they recently released a Syrah dessert wine called "Precious Bane." 2013 will see the first releases of Lagier Meredith Malbec and Zinfandel. They currently make the wine at the Monticello Vineyards facility in Napa. In recent years, Steve and Carole have also teamed up with their neighbors and friends Aaron and Claire Pott of Pott Wine to create the Chester's Anvil label. Meant to be fun and early-drinking wines, the current line-up includes Gewürztraminer, Chardonnay, Zinfandel, a mostly-Bordeaux style blend called "Hattori Hanzo," and Malbec.
Carole and Steve asked whether we wanted to taste a few of their wines out on the deck of the house so we could enjoy the view, but with a light though decidedly cold wind blowing, we opted to go inside. We sat around Carole and Steve's kitchen island, joined by the two most sociable of their four cats. We munched on some delicious almonds and olives – the almonds from Steve's family's farm in the San Joaquin Valley and the olives from a small grove of old olive trees near the house.
Although I knew about Carole and Steve's more recent backgrounds at UC Davis and Mondavi, I didn't know much about how they first became interested in wine, so I asked each of them about that. Steve told us that he was a biochemistry major at UC Davis, but before the more recent biotech boom, there were limited opportunities for jobs in that field. He said that he would probably have had to relocate to find a job, and he wanted to stay in northern California, where his family has roots. He mentioned that he had worked at UC Davis in biochemistry research with Ted Edwards – he's now Director of Winemaking at Freemark Abbey Winery – and after earning his biochemistry degree, Ted inspired Steve to go on to earn a masters degree in enology at Davis. Afterwards, Steve decided to take a job at Robert Mondavi Winery and thought he might stay there for 30+ years – until working with the Lagier Meredith vines and wine changed his plans!
Carole earned a doctorate in plant genetics at UC Davis – she worked with tomatoes during her studies there, and went on to study corn, soybeans, cotton, and tobacco during subsequent postdoctoral work at Michigan State University. After Carole was hired by UC Davis to take over for the legendary Dr. Harold Olmo (he developed over 30 new grape varieties among other groundbreaking work), she began working with grapevines, never having worked with them before. Carole and Steve met at Davis and the rest, as they say, is history.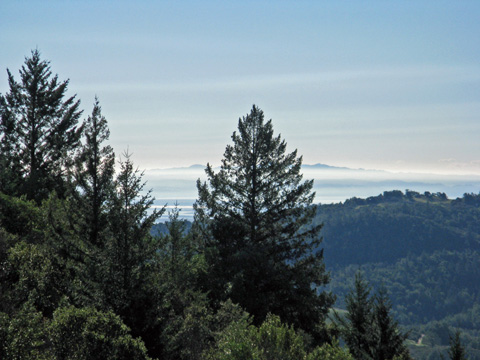 We tasted some Lagier Meredith and Chester's Anvil wines as we sat around the kitchen island, starting with a Chester's Anvil Gewürztraminer from Potter Valley in Mendocino County. We followed that with the recently-released 2010 Lagier Meredith Syrah, and then proceeded to a bottle of their 2000 Syrah. Carole and Steve originally had their 2002 Syrah out on the countertop, but I mentioned that I had a bottle of that same vintage that I was going to open for dinner that evening, so they brought out the 2000 instead. Although they told us that the 2000 had not always been one of their favorite vintages, this bottle was showing very well and demonstrated again how beautifully the Lagier Meredith Syrahs can age. Each vintage of the wine features a different – and always stunning – photo that Carole shoots of the vineyard.
Next was a bottle of Chester's Anvil "Hattori Hanzo," a blend that is mostly from Bordeaux grape varieties but includes Syrah as well. Several of the Chester's Anvil wine names have connections to the "anvil" theme – Hattori Hanzō was a 16th-century samurai and ninja master, and the name was appropriated for the swordsmith character in Quentin Tarantino's Kill Bill films. A previous Chester's Anvil wine was a white blend called "Gretna Green" – a reference to a town in southern Scotland where English couples would travel to elope, and the wedding ceremonies were often held in a blacksmith shop atop a large anvil. The wine labels display a 16th-century engraving of three men pounding away with hammers on an anvil, meant to symbolize the futility of religious suppression. And what of the real Chester's anvil itself? It's an actual 100+ pound anvil that had belonged to neighboring grower and friend Chester Brandlin – Steve actually has dragged it out to wine tasting events in the past!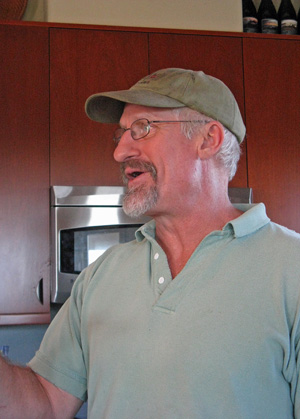 We finished our tasting with the 2010 "Precious Bane" dessert wine, made from part of one Syrah block where the fruit was left to ripen to about 30 brix. Steve told us that the fermentation was stopped with the addition of neutral spirits at about 10 brix and the wine was aged for 22 months in barrel, finishing at 18.5% alcohol and 7.5% residual sugar. Carole disagreed, thinking the number was actually 9.5%, but she checked on it and Steve's memory proved better in this case – no wagers were placed though! No "Precious Bane" was made in 2011 or 2012, but Carole and Steve thought they would make it again sometime in the future. The name "Precious Bane" comes from the title of a 1924 novel written by Carole's great-aunt Mary Webb, and Carole brought out an old edition of the book to show us. In a curious bit of wine trivia, the novel's heroine was named Jancis Beguildy – famed wine writer Jancis Robinson was named for her, as her parents were fans of Mary Webb's books and liked the unusual name.
Steve mentioned that he had just topped up the 2011 barrels, and that they will bottle 2012 Syrah Rosé and 2011 Zinfandel in March, with the other 2011 wines following in the summer. All of the fruit for the Lagier Meredith wines is destemmed, and fermented in one-ton t-bins. They age the wines for 18-20 months entirely in older French oak – they buy three-year old barrels and estimate that the average age of their barrels is nearly seven years. With all the Lagier Meredith wines coming solely from their small estate vineyard, the total annual production remains under 1,000 cases – and in a tough vintage like the current-release 2010 one, fewer than 400 cases of Syrah and less than 50 cases of Mondeuse were made. The Chester's Anvil wines are also small-production, ranging from fewer than 50 to just over 200 cases for each of the five wines produced from the 2010 vintage.
I always look forward to seeing Carole and Steve at their vineyard. Although I had previously tried all of the wines we tasted on this visit, with the exception of the "Precious Bane" dessert wine, I found that I enjoyed them more on this occasion than when I tasted the other new releases in early September. Maybe the few additional months in the bottle helped or maybe it was just the different tasting experiences, but I thought the two 2010 reds were considerably more approachable by the end of the year, and they were my two favorites of this tasting. The Chester's Anvil "Hattori Hanzo" blend was delicious, and although the 2010 Syrah should age well, it's as tasty a young Lagier Meredith Syrah as I can recall in recent years. And I have to thank Carole and Steve for sharing the 2000 Syrah with us – that was quite a treat. Both the Chester's Anvil and Lagier Meredith wines have been consistently fine over the years. The Lagier Meredith website notes "no employees, no consultants, no partners, no investors" – I've come across a number of small producers who do pretty much everything themselves in the vineyard and in the winery, and this is certainly among the best of them.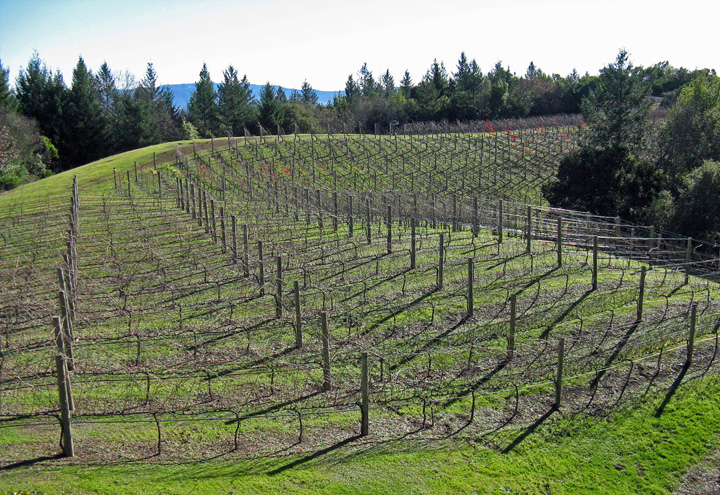 The only disappointment on our visit to Lagier Meredith was seeing that the large Tyrannosaurus Rex sculpture a mile or so down Dry Creek Road no longer held Santa Claus in its jaws…a holiday tradition that we must have just missed this time! We had asked Carole and Steve for suggestions on where to grab a quick lunch before our next winery appointment, and their recommendation was excellent – Oxbow Public Market in Napa. Basically an upscale food court, there are lots of good choices for lunch there. We all wound up getting food from C Casa, which features out-of-the-ordinary takes on Mexican favorites. I had a duck taco, and we split what C Casa calls "Nachos Not!," with chips, white beans, salsa, goat cheese, and chipotle aioli. For what it was, it was pricey – it is Napa, after all – but it was delicious and different.

From Napa, it was a fairly short drive to our first stop of the afternoon at Folio Fine Wine Partners / Michael Mondavi Family Estate, located on the Napa side of Carneros. This had formerly been the location of Carneros Creek Winery, and it's a beautiful facility, set amongst the low rolling Carneros hills. There we met Kale Anderson to taste his Kale wines. I'd met Kale and tried his wines at the 2012 Hospice du Rhône event in Paso Robles and the two wines he poured there stood out from the crowd.
Tasting Notes: Current & Upcoming Releases

Kale 2011 Rosé, Sonoma County. About 60% Syrah, 40% Grenache, with a tiny bit of Viognier. Light pink with a salmon tinge. Slightly floral red fruits, along with touches of spice and fresh herbs. Medium-light on the palate with a refreshing finish.

Kale 2008 Syrah, Samantha's Vineyard, Russian River Valley. 99% Syrah, 1% Roussanne. Dark color, this displayed blueberry and blackberry fruit, smoked meat, spice, and earth. Medium-full bodied with a moderately lively mouthfeel and refined tannins.

Kale 2009 Syrah, "Spirit Rock," Alder Springs Vineyard, Mendocino County. 90% Syrah, 10% Viognier. Medium-dark purple color, featuring pretty floral aromas along with dark berry fruit, minerals, earth, and a touch of sweet oak. Brighter mouthfeel than the Samantha's bottling and structured to age, this finished with grippier tannins. Terrific young Syrah that should only get better with time in the cellar.

Kale 2009 "Home Run Cuvée," Kick Ranch Vineyard, Sonoma County. 68% Syrah, 27% Grenache, 5% Viognier. Medium-dark color, this showed a riper profile than the "Spirit Rock," with both red and black fruits, some savory and earthy notes, and a bit more oak on the nose. Richer but still lively on the palate, with a minerally component in the mouth and a firmly tannic finish – another wine that should reward more bottle age.

Kale 2010 Syrah, "Spirit Rock," Alder Springs Vineyard, Mendocino County (pre-release). 96% Syrah, 4% Viognier. Medium-dark color, displaying a less fruit-forward character than the 2009 release, with floral, herbal and briny/minerally elements upfront followed by blackberry and touches of smoked meat and black pepper. With a silky mouthfeel and elegant tannins on the long finish, this is already a stunning young wine.

Kale 2010 "Home Run Cuvée," Kick Ranch Vineyard, Sonoma County (pre-release). 60% Syrah, 37% Grenache, 3% Viognier. Slightly lighter color, with the Grenache component leading the way aromatically, showing riper strawberry and wild berry notes along with a savory component, earth, and a bit of oak in the background. Fairly rich on the palate along with a bright texture and a grippy tannic finish.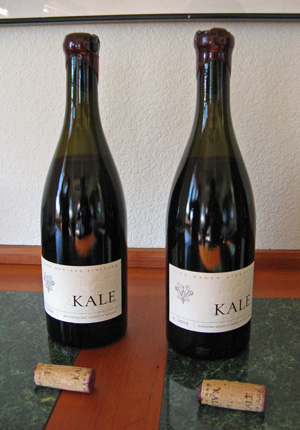 As we walked with Kale to the tasting room building, he told us that 2012 was the first year he'd made his wines at this facility. He had previously made them at Cliff Lede Vineyards in Napa Valley, where he had been the winemaker until moving to become winemaker at Pahlmeyer during the summer. He knows Rob Mondavi Jr. – the son of Michael Mondavi and grandson of Robert, Rob is in charge of winemaking for the various wines made at Folio – and he was able to move his production to the Folio facility.
Kale grew up in Sonoma County and enrolled at UC Davis, intending to follow his father into a medical career. But he was ultimately drawn to winemaking, as it fulfilled both his interest in science and engaged his creative side – and it also allowed him spend time working outdoors, which appealed to him. His first winery internship, while he was still at college, was at J Vineyards near Healdsburg. After earning his degree from UC Davis in 2002, Kale's first job was working with Mark Aubert at Colgin Cellars. He'd already become interested in Rhône wines while at school, and when he made a Syrah at Colgin, he was hooked. He moved on from there to Terra Valentine Winery and then to Cliff Lede as assistant winemaker in 2005. Kale moved up to the winemaker position there a few years later, and he has now become director of winemaking at Pahlmeyer.
I asked Kale about his unusual first name, and he told us that it's Hawaiian – he's part Filipino and his mother lived for a time in Polynesia and Hawai'i, though she grew up in northern California. Although the true Hawaiian pronunciation is "ka-le," he says he's always been called "kale," just like the veggie that's so popular these days! He started his own wine label in 2008, focusing on Rhône-style wines. The currently-available wines include three reds and a Rosé. Kale told us that he doesn't have any immediate plans to make a white wine but he may make one in the future. Production is small, and Kale plans to grow the label slowly. Currently all the wines are sold to wine club members.
Kale led us through the Folio tasting room and onto the rear porch, where he opened his 2011 Rosé for us. He said that he's aiming for a Provence style in this wine. About 70% of fruit that went into the wine was grown and picked specifically for the Rosé and whole-cluster pressed, with the remaining 30% made from saignée. The fruit was sourced from Kick Ranch in Sonoma County – Syrah, Grenache, and a tiny bit of Viognier. The wine was made in older oak barrels and did not go through malolactic fermentation. A nice way to start our tasting, it was refreshing and crisp, and just 12.9% alcohol.
From the porch, we headed back inside and then upstairs to the board room, which boasts a great view out across the hills, fully green at the end of the year. We sat around the conference table to taste Kale's red wines, starting off with a 2008 Syrah from Samantha's Vineyard, located south of Healdsburg on the eastern edge of the Russian River Valley AVA. Kale uses a modest percentage of whole-cluster fermentation on some of his reds, with 20% in this wine. Interestingly, this Syrah was co-fermented with Roussanne rather than the more typical Viognier used for co-fermentation. Kale explained that the Viognier ripened a month earlier than the Syrah but the Roussanne ripened at the same time.
Kale's red wines are mostly native fermentations in open-top stainless steel and French oak tanks. They get extended maceration and are aged about 18 months – the Samantha's Syrah was aged in neutral puncheons plus 45% new French oak while the other two reds got 25%-33% new French oak. The wines are not racked during aging and are bottled unfined and unfiltered. I mentioned the fine acidity that shows through on the wines, and Kale noted that this was entirely from the vineyards – none of the wines we tasted had any acid additions.
The second red we tasted was a 2009 "Spirit Rock" Syrah from Alder Springs Vineyard, near Laytonville in far northwest Mendocino County. First planted in 1993, the vineyard is on fractured sandstone soil in the cool coastal mountains. The Spirit Rock vineyard block, named for a sacred sandstone outcropping just to the north, is the highest elevation planting at Alder Springs, at 2,700-foot elevation. Grown on an east-facing slope, the 470 and 383 Syrah clone grape clusters feature small berries that Kale described as "Pinot-like." The Syrah in this wine was fermented with about 20% whole clusters and co-fermented with 10% Viognier. Kale said that his inspiration for the "Spirit Rock" Syrah are the wines of St. Joseph in the northern Rhône.
I was impressed by the Kale wines at Hospice du Rhône and I was impressed again at this tasting. All of the wines are very solid, and I feel that the "Spirit Rock" Syrah is exceptional. There is a clear distinction between the "Spirit Rock" and the "Home Run Cuvée," with each wine showing its vineyard source well. These are wines that are built to age, and it will be intriguing to see how they develop with more time. There are a number of fine Rhône-style wines in California these days, but Kale is among the better new producers I've run across in recent years. I'm looking forward to keeping up with Kale Anderson and his wines in the future.
Our last stop of the day was a short drive from Kale, traveling west along the Carneros Highway and then turning north onto 8th Street East in Sonoma, where we soon came upon the industrial park that houses several wineries within simple gray metal buildings. After a bit of searching, we found the space for Bailiwick Wines, where we met co-owner/winemaker Bryan Vais. Bryan and his brother Paul head up the Bailiwick label, and they share the space in the building with Talisman Wines. As we stepped inside, I also noticed a few barrels belonging to my friend Atilla Telli – he makes some of his new Tilla wines there (currently a Pinot from Tina Marie Vineyard in Russian River Valley). Bryan pointed out some of the equipment in the winery, and he mentioned that both Talisman and Bailiwick make nearly the same number of cases per year now. The first Bailiwick releases included a 2009 Marin County Pinot Noir that caught my attention at the Marin County Wine Celebration in late spring of 2011, and I've been following this promising new label since then.
Tasting Notes: Current Releases & Barrel Samples

Bailiwick 2011 Vermentino, California. Very light straw color, displaying slightly floral citrus and herb aromas. Medium-light weight in the mouth, this had a lively texture and finish, nice.

Bailiwick 2010 Pinot Noir, "Borderline," Marin County. Medium-light ruby color, this had reserved aromatics of red fruits and rhubarb, spice, earth, and a touch of sweet oak. Lighter-bodied, bright and somewhat minerally on the palate, it finished with fairly mild tannins.

Bailiwick 2010 Pinot Noir, Sonoma Coast. Slightly brighter color, this had a more savory profile along with black cherry, earth, baking spice, and a faintly brushy herbal note. A bit weightier than the "Borderline" bottling, it showed more structure and finished with moderate tannins, a nice young Pinot that should reward some cellar time.

Bailiwick 2011 Pinot Noir, Russian River Valley (barrel sample). Medium-light color, showing a pretty floral element along with ripe cherry, spice, and a bit of vanilla/oak. Richer mouthfeel with a slightly tangy finish.

Bailiwick 2011 Pinot Noir, Silver Pines Vineyard, Sonoma Mountain (barrel sample). Bright ruby color, featuring black cherry fruit, exotic spices, earth, and minerals on the nose. More structured than the Russian River Valley sample, this had grippier tannins on the finish. Quite distinctive, this promises to be very nice when bottled.

Bailiwick 2010 Cabernet Franc, Russian River Valley. Medium purple color, with blueberry and plum fruit, dried herbs, earth, and an interesting jalapeño note. Medium-bodied and lively on the palate, this had moderate tannins and a flavorful finish, nice.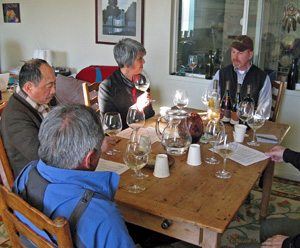 Bryan and Paul grew up in the San Francisco Bay Area, and they were home winemakers for a number of years before launching their Bailiwick label in 2009. Bryan told us that he had studied mechanical engineering in college, and had worked in both the power and software fields. His interest in winemaking began when his wife gave him a home winemaking kit and he made a Chardonnay from it. After moving from San Francisco to San Rafael, he started to make more wine at home, trying out lots of different grape varieties. He found that he enjoyed making Pinot Noir the most, both for the greater challenge in making it compared with most other varieties as well as the complexity of the wines.
The 2008 economic downturn affected Bryan's career, at a time when Paul and his family were living and working in Italy and Paul was helping out at a local winery there. They both found themselves looking for a new direction, and with their shared interest in making wine, and they decided to give commercial winemaking a try. Bryan noted that the 2009 vintage offered some good opportunities to a start-up winery – many other wineries were limiting their fruit purchases due to the economy, so it was possible to buy from some very good vineyards that would probably not have had fruit available in most other years. Bryan and Paul made the first vintage of Bailiwick wines at the Starry Night facility in Novato, and they moved to Talisman the following year. They started out with eight tons of fruit in 2009 and have grown from there to an annual production of around 1,500-2,000 cases. Production of individual wines ranges from 100 to 270 cases for the current releases.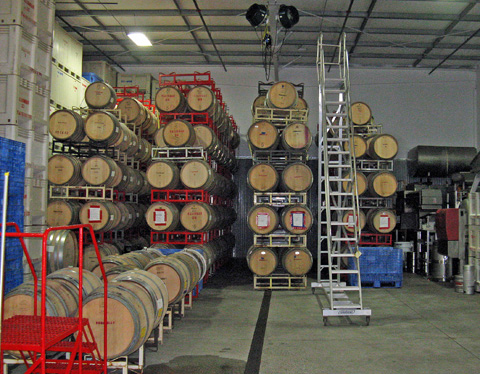 Bailiwick currently produces six different Pinot Noir bottlings, plus Vermentino and Cabernet Franc. There are three appellation Pinot bottlings – from Russian River Valley, Sonoma Coast, and the Marin County bottling called "Borderline" – as well as three single-vineyard bottlings. One of these is from Michaud Vineyard in the Chalone AVA of Monterey County, while another is from Silver Pines Vineyard on Sonoma Mountain. The third is called "Foray," and the vineyard source for this will change from year to year. The current 2010 vintage came from RLR Vineyard just outside Forestville, and Bryan told us that the 2012 "Foray" Pinot was sourced from the Sangiacomo Roberts Road Vineyard in the Petaluma Gap area of the Sonoma Coast. The Vermentino is a blend of very different vineyard sources, one vineyard from Lake County and two from Paso Robles. The Cabernet Franc comes from Alegría Vineyard – located in the warmest part of Russian River Valley, it's still a relatively cool location to grow that variety.
Following the Vermentino, we went through some of the Bailiwick Pinot Noirs. The inaugural 2009 vintage featured four Pinots, with two more added to the line-up in 2010 in addition to the Vermentino and Cab Franc. Our first Pinot was the 2010 "Borderline" bottling from Marin County. In that vintage, all of the fruit was 115 and 777 clone Pinot Noir sourced from Kendric Vineyard, located on a gentle hillside close to the Marin-Sonoma border near the edge of the Petaluma wind gap. Next was the 2010 Sonoma Coast Pinot, sourced from Ross Ranch Vineyard just southwest of Sebastopol. The vineyard is on a hilly site featuring the Goldridge loam soil that this area is noted for, and 115 and Pommard Pinot clones were used in the wine. Both Pinots were made in a similar way – the fruit was entirely destemmed, cold-soaked for a few days, and fermented in 3- to 5-ton temperature-controlled open-top stainless steel tanks, with extended maceration. Bryan and Paul typically inoculate their fermentations with specific yeast cultures, though some wines start out with native fermentations. The wines were aged for 17 months in 50% new French oak, though Bryan noted that he more typically aims for 30-40% in the Pinots. The Bailiwick Pinots are typically racked and blended the June following harvest, then returned to barrel and ultimately bottled the next spring.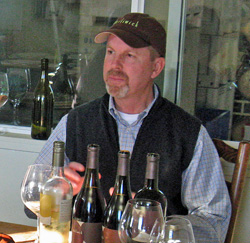 Bryan had also pulled barrel samples of two of the upcoming 2011 Pinots for us to taste. We tried the Russian River Valley Pinot, made with fruit from Dutton-Lorenzo Vineyard in the Green Valley area and from Moore Ranch. We also tasted a sample from Silver Pines Vineyard, planted in 2000 and located at 900-foot elevation on Sonoma Mountain overlooking Bennett Valley. Bryan and Paul get 115 clone Pinot from this vineyard. Bryan mentioned that he prefers vineyards at higher elevations for better frost resistance and also for the smaller grape clusters the vines tend to produce. The 2011 Pinots will be bottled in March 2013.
Our last wine was the 2010 Cabernet Franc from Alegría Vineyard near Healdsburg, planted in clay loam soil in 1991. As noted above, this comes from a fairly cool-climate area for that grape variety, and Bryan noted that they waited as long as they could to pick the fruit, getting it in at 22.5 brix, just before a big late-October rainstorm hit the area. The Cab Franc was made in a similar way to the Pinot Noirs with one notable difference – no new oak was used for the barrel-aging. This was a very distinctive wine and a nice way to end the day's tasting.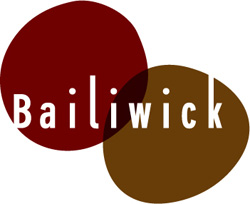 I asked whether the brothers had considered buying their own vineyard property, and Bryan said that they had discussed the possibility but they are undecided about doing it. They are working on ideas for opening a tasting room in the future, though. Regarding other possible changes, Bryan told us that there will likely be different vineyard sources for some future releases but no new varieties are planned, other than a possible wine club-only Rosé. He noted that the term "bailiwick" means area of expertise, and that the wine label artwork is based on a Venn diagram, where the two circles represent Bryan and Paul and the overlap is their shared bailiwick of winemaking.
Bailiwick is making some nice wines, with Pinots showing good distinction among their various vineyard sources, and the Vermentino and Cab Franc displaying interest beyond simple varietal typicity. The 2010 Sonoma Coast and barrel sample of the 2011 Silver Pines Vineyard were favorites among the Pinots, but they're all well-made and tasty. Bryan mentioned that the wines are meant to be food-friendly – each description on their current release wine list includes suggested food pairings – and I think they succeed, with enticing aromatics, good acidity, and subtle complexity throughout. There's a judicious use of oak – it's apparent as part of the whole but nicely-integrated and in balance. Bailiwick's wines are very good, and if they don't yet quite stand out from the crowd, they're still intriguing enough to make this new and promising producer worth watching in the coming years.
Monday - December 31, 2012
After another dinner at "home" in our Windsor timeshare, we got a late start on Monday morning, the last day of 2012. We drove to Healdsburg and walked around the plaza there for a short time before having lunch at Zin Restaurant & Wine Bar in Healdsburg. Our server suggested starting with the beer-battered green beans with mango salsa, and it turned out to be good advice – they were highly addictive. We enjoyed burgers and other sandwiches – I had a smoked fennel sausage sandwich with caramelized onions and homemade sauerkraut, which was tasty though a bit messy to eat. It had been quite a few years since I'd been to Zin (though with my name, you'd think I would go there all the time!) but it proved to be a fine choice for our lunch.
After our relaxing lunch, it was time for us to hit the road for an early-afternoon appointment with Eric Demuth of Demuth Kemos Wines. We drove south to River Road, then west for a short distance to Laughlin Road, not far from the Sonoma County Airport. Turning off onto a dirt drive, we soon arrived at the pair of small structures that serve as the winery for Demuth Kemos and the home of Eric Demuth. I'd met Eric and tasted his Chardonnay and one of his Cabernets at the June 2012 Taste of Mendocino event in San Francisco, and both wines impressed me.
Tasting Notes: Current & Upcoming Releases

Demuth Kemos 2010 Chardonnay, Demuth Vineyard, Anderson Valley. Light yellow color, with bright, minerally citrus and apple fruit and spice. Lighter-bodied with a zingy acidity and crisp, refreshing finish, nice.

Demuth Kemos 2011 Chardonnay, Demuth Vineyard, Anderson Valley (pre-release). Light color, this showed more tart green apple fruit on the nose along with hints of herbs and butter. Richer on the palate than the 2011, with a creamier mouthfeel but somewhat sharp acidity on the finish that will need time in the bottle to mellow out.

Demuth Kemos 2011, Syrah, Bei Ranch, Sonoma Coast (pre-release). Medium purple color, displaying dark berry fruit, smoked meat, spice, and minerals. Medium weight in the mouth with surprisingly refined tannins on the finish, showing very well already.

Demuth Kemos 2007 Cabernet Sauvignon, Mountain Terraces, Sonoma Valley. Medium-dark color, with bright ripe plum and currant fruit, herbs, and a touch of spicy oak. Structured mouthfeel with a grippy tannic finish.

Demuth Kemos 2008 Cabernet Sauvignon, Mountain Terraces, Sonoma Valley. Medium-dark purple color, with riper, more forward blueberry and currant fruit, plus some spice and mineral notes. Big and rich but still well-structured, this finished with chewy tannins.

Demuth Kemos 2008 Cabernet Sauvignon, Clajeux Vineyard, Chalk Hill. Slightly darker purple, this was less fruit-forward, showing herbal currant and plum fruit along with spice and a chalky component. Medium-full bodied and structured for aging, the chalky character returned on the finish. A distinctive Cab that should benefit from extended time in the cellar.

Demuth Kemos 2007 Cabernet Sauvignon, Bei Ranch, Sonoma Coast. Medium-dark color, featuring brighter and more herbal aromas along with black cherry and plum fruit and more noticeable vanilla/oak. Medium-full bodied and lively on the palate, the substantial tannins sneaked up on the finish of this wine. Still showing quite youthful and deserving of further bottle age.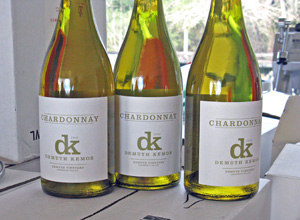 Eric's wine roots go back to his youth. He and his father, Chris, planted the family's well-known Demuth Vineyard in Anderson Valley in 1982. Eric told us that his father used to take him along to visit Napa Valley wineries when he was about ten years old, and he said his wine epiphany was smelling the oak casks at Beringer during one of those trips. Eric stayed involved with the family vineyard until it was sold a few years ago to Peter Knez. His winemaking is largely self-taught, though he has taken various classes through UC Davis Extension. He also learned much from his father as well as from Dan Goldfield (when he was winemaker at La Crema), and he mentioned others as well, including Sebastien Pochan of Unti Vineyards and Tasha McKee of Whitethorn Winery. He gained experience working not only at his family's winery but also at Edmeades and at Everett Ridge. Eric mentioned more than once that Pax Mahle of Wind Gap Wines and Duncan Meyers and Nathan Roberts of Arnot-Roberts have been particular influences on his winemaking.
Eric met Peter Kemos in college, and the two longtime friends launched their winery in 2004 with two barrels of Cabernet Sauvignon from Clajeux Vineyard (a vineyard he learned about from Pax, Duncan, and Nathan). Peter lives in Santa Cruz and mainly handles the business side of the winery. Demuth Kemos is now full-time for Eric, having left his "day job" in 2010. Production remains small enough that Eric and Peter handle virtually all of the winemaking work themselves. Eric would like the winery production to increase to around 1,800-2,000 cases per year, and plans to do that through slow, steady growth.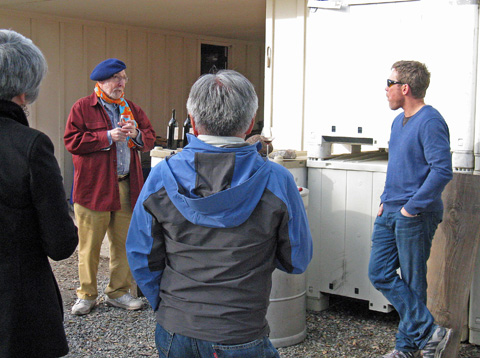 Eric's modest house and the adjacent 800-square foot winery sit in the midst of the Martinelli Family's Moonshine Ranch in Russian River Valley. Just behind the buildings is Mark West Creek, and the story goes that this spot was used to launch barrels of "moonshine" liquor to float down the creek to be smuggled away during Prohibition. The small facility had formerly belonged to Old World Winery, and Eric mentioned that he was lucky to have gotten it, since new home/winery permits have not available there since 1998 but this one was "grandfathered" in since it was an existing facility. What was not so lucky is that Eric moved in at the very beginning of 2006, immediately following the torrential New Year's Eve storm that caused widespread flooding and raised Mark West Creek nearly to the level of the house and winery. I told Eric that my friends and I were staying in Windsor during that storm and wondered whether we'd be able to get out. He told us that Windsor has lots of low-lying land that's easily flooded, and because of the wetlands there it's considered the "goose capital" of California – we've certainly seen plenty of geese and other waterfowl around that area over the years.
Eric has noted that the proximity of Mark West Creek provides natural cooling and humidifying for the small winery. He's also mentioned how this fits in with the overall low-tech nature of the wine venture, which was very much in evidence in looking at some of the winery equipment around the building. Eric really likes the present arrangement, so while the amount of wine Demuth Kemos makes will increase beyond the small facility's capacity at some point, he would like to maintain it for part of the winery production and move the rest to another location – probably white wines at one spot and reds at the other. In addition to the Demuth Kemos wines, Eric does a small amount of custom crush work there for other vintners.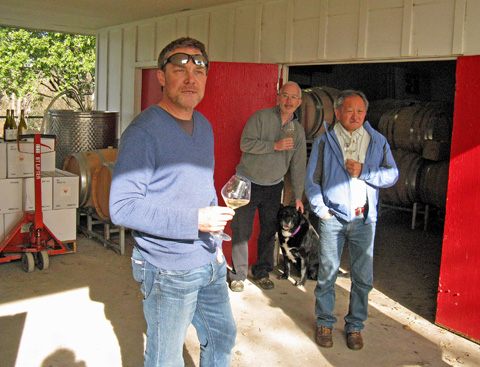 The main focus of Demuth Kemos Wines is on Cabernet Sauvignon from cooler-climate single-vineyard sites in Sonoma County. In addition, they produce a Chardonnay and a Syrah. We gathered outside the winery building on the sunny but cool afternoon, distracted on occasion both by Eric's friendly dog Boone and by an array of interesting airplanes from the nearby airport, including a large biplane and an odd-looking small personal aircraft. As Eric got ready to start us with tasting some of the wines, we were joined by his father, Chris, who entertained us with some wonderful stories and observations. We began with the 2010 Chardonnay from Demuth Vineyard. Eric and Chris planted old Wente clone Chardonnay vines over 30 years ago at the hillside site high above Boonville in the Anderson Valley. The vineyard has a clay topsoil with fractured shale below. This Chardonnay was made in 50% stainless steel and 50% neutral (3+ year old) oak barrels, and is just 12.8% alcohol. Production was small, with only about 150 cases made.
Eric had some of the 2011 Demuth Vineyard Chardonnay on hand as well. This was bottled three months ago will be released in 2013. Given the especially cool 2011 growing season, it was no great surprise that it was even lower in alcohol than the 2010 – 12.4% for the 2011 vintage. Eric used a single new barrel for the 2011 Chardonnay – a four-year air-dried François Frères barrel (the same type used by Rhys Vineyards), and true to that barrel's reputation, there was hardly any overt oak influence noticeable in the wine, though it did have a creamier texture. Eric mentioned that the 2012 vintage will introduce a new Chardonnay source – Black Knight Vineyard in Bennett Valley.
We proceeded from the Chardonnays to reds, the first being a pre-release 2011 Syrah from Bei Ranch, located on a 1,600-foot high ridge west of Cazadero and less than four miles from ocean. Grown on an east-facing slope and planted in rocky marine sediment soil, the fruit for this wine was fermented entirely with whole clusters and co-fermented with ½% Viognier from Mountain Terraces Vineyard. Eric kept the wine on its skins for 85 days, using the extra-long maceration period to help moderate the tannins. He told us that he learned this technique from Tasha McKee, and that it's essential to monitor the wine carefully since the tannins can take over if the maceration is extended too long. Eric said that his model for Syrah is a northern Rhône in the style of Clape or Allemand – not bad models!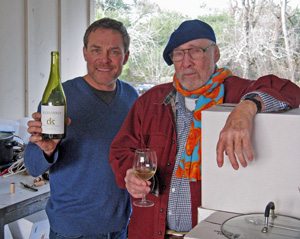 Next up was the first of four Cabernet Sauvignons that Eric opened for us. We began with two from Mountain Terraces Vineyard, first the 2007 and then the 2008. The vineyard is located on the Sonoma Valley side of Mt. Veeder in the Mayacamas Mountains, and is planted along steep, terraced slopes on the volcanic soil common to the area. Eric brought out some of the characteristic rocks for us to look at. The darker basalt looked like reddish pumice but was much heavier, while the light-colored rhyolite was chalky and flaked into dust easily – Eric demonstrated this by scraping a couple of rhyolite rocks together to dust Boone the dog's black coat with white powder! The 2008 vintage was warmer than 2007, and that showed through in the riper fruit aromas and flavors of that wine, though they both displayed a minerally character and fine acidity.
Eric uses a fair amount of whole-cluster fermentation on all of the Demuth Kemos Cabernets, usually around 30% but varying depending on the lignification of the stems. Eric mentioned that he only uses the destemmer for the portions of the Cabernet that aren't fermented with whole clusters, since the Syrah is entirely whole-cluster fermented. I recognized the small destemmer as being nearly identical to the one I've used at Harrington Wines in San Francisco. All of the reds are fermented with native yeast in one-ton "t-bins." Typically about ⅓ of Cab fermentations get extended maceration, and the wine is pressed in a modified hand-operated basket press. Differing amounts of new oak are used on the reds (Eric has made Cabs with 100% new oak and with no new oak), and they are generally in barrel for around 23 months, with some wines getting longer barrel aging.
Following the two Mountain Terraces Cabernets was a 2008 Clajeux Vineyard Cab. This was the vineyard that Eric and Peter started with in 2004. It was a young vineyard at that time, with the 2004 vintage being just its fourth leaf. Clajeux is located in the Chalk Hill AVA and is planted on a southwest slope. Eric told us that by coincidence, all of the Cabernet he currently buys is 337 clone planted on 101-14 rootstock.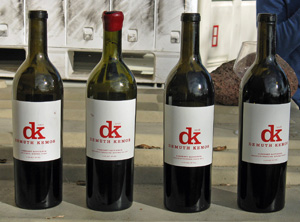 The final wine we tasted was the 2007 Bei Ranch Cab. Eric believes that Bei Ranch may be nearest to the coast of any Cabernet Sauvignon planting in California. The 2007 vintage was aged in 100% new oak barrels with light toast and without toasted heads, made with tight grain wood from the Vosges and Allier forests. Eric told us that he had to make four picks over a month's time in 2007 from Bei Ranch, but due to intervening rains, the fruit from each pick had nearly identical brix. This wine was aged for three years in barrel and an additional two years in bottle before release. Eric tries to do something different each year with the Bei Ranch Cabernet – in 2008 the wine was barrel-fermented (with the fermentation temperature never exceeding 61 degrees), and in 2009 it was made entirely in neutral oak.
I asked Eric whether he and Peter plan to add any other wines to the Demuth Kemos line-up in the near future, and he told us that they might want to add a Sonoma Mountain Pinot Noir at some point. Their current group of wines is very good, with an excellent Chardonnay, very interesting Syrah, and several distinctive Cabernets. I thought the similarities between the Demuth Kemos Cabs and those from Arnot-Roberts – which Eric mentioned as an influence – was notable. They show their cool-climate, mountain vineyard origins very well, with complex and minerally character and plenty of structure. Yet there seems to be plenty of fruit to hold up to the grippy tannins. Demuth Kemos is making some very good wines that I think are worthy of wider notice.
Jane and Warren headed back to Windsor to start working on New Year's Eve dinner after our visit with Eric Demuth, but Dean, Alan, and I drove a few miles north to the tasting room of J Vineyards & Winery. This seemed like an appropriate place to end our Sonoma / Napa winery tour – both because J Vineyards is well-known for their sparkling wine (perfect for New Year's Eve) and because two of the people we'd visited over the weekend had worked there earlier in their careers (Jennifer Halleck and Kale Anderson).
Tasting Notes: Current Releases

J Vineyards 2011 Pinot Gris, Russian River Valley. Light straw color, with ripe tropical fruit and nectarine aromas. Medium-bodied and fairly smooth, with a touch of sweetness on the finish.

J Vineyards 2009 Chardonnay Russian River Valley. Medium-light yellow, this had toasty oak, vanilla, and butter upfront, with pear and stone fruit in the background. Rich and creamy texture with a long, smooth finish.

J Vineyards 2010 Pinot Noir, Russian River Valley. Medium ruby color, featuring ripe black cherry, vanilla/oak, and spice notes. Medium-bodied and fairly lively on the palate, with mild tannins.

J Vineyards 2010 Pinot Noir, "STRATA," Russian River Valley. Medium color, this was less fruit-forward, with more complex aromas of bright cherry and rhubarb, spice, earth, and better-integrated oak. Medium-weight in the mouth with more structure and a moderately tannic finish – a clear step up from the basic Russian River Valley Pinot.

J Vineyards 2010 Pinotage, Backdoor Vineyard, Russian River Valley. Medium-dark color, showing bright plummy fruit, earth and herbs, and a touch of mocha. Medium-full bodied with grippier tannins. An interesting wine that lacked the odd funk of most Pinotages.

J Vineyards NV "Cuvée 20," Russian River Valley. 49% each Chardonnay and Pinot Noir, and 2% Pinot Meunier. Light straw color, this displayed pear and stone fruit along with a creamy note. A moderately creamy texture in the mouth with a slightly sweet finish.

J Vineyards NV Brut, "Bin 1008," Russian River Valley. 48% each Chardonnay and Pinot Noir, and 4% Pinot Meunier. Light color, with strawberry and cranberry joining apply fruit on the nose along with yeast, baking spice, and a mineral note. Creamy texture but with a livelier mouthfeel than the "Cuvée 20," and a crisp, dry finish, nice.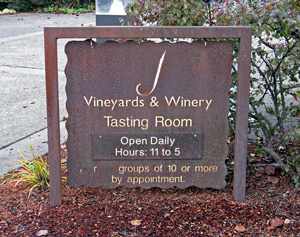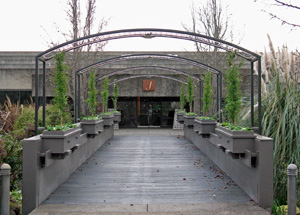 J Vineyards was founded in 1986 by Judy Jordan, daughter of Jordan Vineyard's Tom Jordan. She earned a degree in earth sciences / geology from Stanford University, so she knows her vineyard soils well. She worked for a time in geophysics before joining her family's wine business and then ultimately branching out on her own. In 1996, she purchased the former Piper Sonoma facility in Healdsburg, and opened the J Vineyards tasting room there in 1999. From the start, the winery has emphasized how food and wine pair with one another at their tasting room. They have always focused on sparkling wines, while they also brought viticulturist John Erbe and winemaker George Bursick (formerly at Ferrari-Carano) on board in 2006 to help bring the still wine program more to the fore. Former La Crema winemaker Melissa Stackhouse took over from George Bursick in 2011.
J Vineyards has nine estate vineyards with over 250 acres planted, one of the largest winery estates in Russian River Valley. In addition to a number of sparkling wines, several bottlings of Pinot Gris, Chardonnay, and Pinot Noir are now produced, both single-vineyard designates and vineyard blends. The winery also produces Vin Gris, Pinotage, a dessert wine called "Ratafia" and a pear liqueur. I've tried the pear liqueur (a twice-distilled eau de vie) in the past and it's very good.
J Vineyards has consistently made their sparkling wines in the time-honored and time-consuming mêthode champenoise. Grapes for the sparkling wines are pressed as whole clusters in their Coquard press, a type widely favored in Champagne. Sparkling wines are typically aged from three to eight years. Fruit for the still Chardonnay wines is also pressed using the Coquard press, which is said to be particularly gentle, extracting less harshness from the grapeskins than some other presses. The Chardonnay is then fermented in French oak barrels. Pinot Gris gets a similar treatment at first, but is fermented in temperature-controlled stainless steel tanks, and does not undergo malolactic fermentation. Pinot Noir is fermented in both open- and closed-top tanks, and is aged from nine to eleven months in French oak before bottling.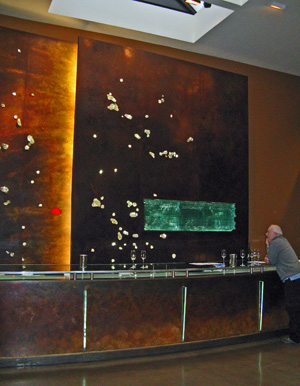 We entered the striking tasting room, with a tall ceiling and beautiful backdrop to the tasting bar. Though it was just mid-afternoon, things were starting to wind down for the day with New Year's Eve coming up. J Vineyards offers five tasting options, with two of them including food pairings. The more basic tasting presents two choices of wine flights, one featuring both still and sparkling wines and one with a selection of five sparklers. Radie was behind the tasting counter and she poured us the still plus sparkling wine flight along with a couple of added wines since it was the end of the day's tasting. We tasted a Pinot Gris, Chardonnay, two Pinot Noirs, Pinotage, and two sparklers to finish up. 2010 was inaugural vintage of the "STRATA" line of Pinot Noir and Chardonnay. The fruit for this Pinot came from two selected growers, with 115, 777, and Pommard Pinot clones all grown on Goldridge soil. I've never been a fan of Pinotage, but I have to say this was probably the best one I've ever tasted. The "Cuvée 20" is J Vineyard's basic lighter sparkling wine, with a slightly sweet finish (1.48% residual sugar). The "Bin 1008" sparkling wine is a more limited production bottling, and received a dosage of a blend of J's reserve wines, cane sugar, and a small amount of distilled brandy.
The J Vineyards wines we tasted were all well-made, although I thought most of the still wines were not particular standouts, with the exception of the STRATA Pinot Noir, which was very good. And as noted above, there may yet be some hope for Pinotage! The "Cuvée 20" sparkling wine was tasty, while the "Bin 1008" was quite nice and the more interesting of the two we tasted. The tasting experience was enjoyable, though going through their sparkling wine flight might be the direction I'd choose next time. Overall it was a pleasant visit and worth a stop in the area, particularly for fans of sparkling wines.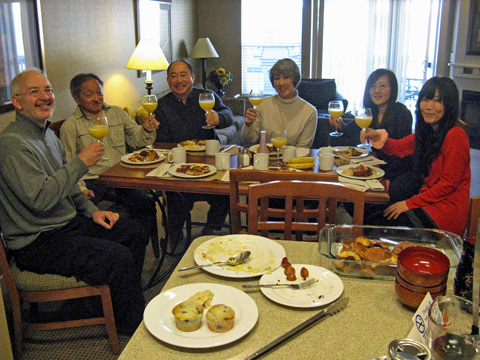 We were joined in Windsor that evening by two more friends, Hiroko and Kyoko. Everyone pitched in as Jane and Dean headed up the preparation of our New Year's Eve dinner. Our leisurely dinner lasted through much of the evening, and featured deep-fried panko-crusted risotto balls, French onion soup, popovers, prime rib, and braised leeks, and of course, plenty of good wine. We managed to make good use of some of our leftovers for a late New Year's morning breakfast, including sake mimosas.
This was a fun trip to Sonoma and Napa wine country. While it would have been nice to visit a few more wineries, it was relaxing to take things easier and not rush around too much. It's good to have enough time to mix in a few drop-in visits to tasting rooms, and the stops at Lynmar, Joseph Swan, and J Vineyards were all good ones. I enjoyed the in-depth visits with producers whom I'd encountered at various larger tasting events – Calluna, Kale, Bailiwick, and Demuth Kemos – and if anything, I appreciated their wines even more in the less hectic tastings on these visits. Jane's recommendation to visit Halleck was a great tip – this was a producer with whom I was only faintly familiar, but the wines were very good. And as mentioned above, a visit to Lagier Meredith is always a highlight. This trip featured a good mixture of established wineries and promising, little-known newcomers that I think we'll hear more of in the years to come – a good sign that even in the crowded Sonoma and Napa wine world, there is still room for new, high-quality producers to make their marks. As always, thanks to everyone that we visited for being so generous with their time and their wine!