Mount Eden Vineyards and Ridge Vineyards - April 2013
I had the opportunity in late April to visit one of California's most historic vineyard sites, Mount Eden in the Santa Cruz Mountains. Wes Barton, who knows as much about vineyards and wines from that area as anyone, had arranged for a few of us to meet longtime Mount Eden winemaker Jeffrey Patterson. As an added bonus, the day of our visit coincided with the Assemblage Monte Bello event at another famed and historic winery not far away, Ridge Vineyards, and we were able to attend that as well. Bryan Harrington of Harrington Wines in San Francisco joined us for the day, and we met Wes at his home in the South Bay. From there, I drove the three of us to the base of the 2-mile private road that leads to Mount Eden Vineyards. We met Wes' friend Tom Pohorsky there, and he hopped into my car for the final climb up the mountainside. The steep dirt road is in fine shape, and in just a few minutes we arrived at Jeffrey Patterson's home at the top of the vineyard.

We parked next to a large tree outside of Jeffrey's house and we were immediately greeted by his friendly dog. Jeffrey soon appeared and welcomed us to Mount Eden. A native Californian and graduate of UC Berkeley before going on to study viticulture and enology at UC Davis, Jeffrey has been the winemaker at Mount Eden for over 30 years, one of the longest current tenures for a winemaker in California. The original vineyard and winery on the site date to the mid-1940s, but the roots of Mount Eden go back much farther.
The story begins with the 1878 arrival of French vintner Paul Masson in the South Bay. In 1896 he purchased property on a hillside above Saratoga and established his own vineyard and winery there, with the aim of producing the finest California "champagne." The winery building – rebuilt after the 1906 earthquake – is still there, now known as The Mountain Winery. Masson brought back cuttings of Chardonnay and Pinot Noir from Burgundy to plant his vineyard (there are several variations to this story as to exactly where he got the cuttings from). Masson's wines were a great success, and he was befriended by young Martin Ray, who grew up not far from the winery. Ray became Masson's protégé and ultimately bought the winery and vineyard from him in 1936. Ray in turn sold the business to Seagram's a few years later and purchased his own property a short distance away at a higher spot on Table Mountain. The story has been related that Paul Masson had pointed out this location to Ray as a promising spot for him to plant his own vineyard, which is now the site of Mount Eden Vineyards.
Martin Ray began his own vineyard and his eponymous winery in 1945, using cuttings from Paul Masson's Chardonnay and Pinot Noir vines. He later added Cabernet Sauvignon in a warmer spot a little farther downslope, with cuttings from Emmett Rixford's noted La Questa Vineyard near Woodside. Rixford's vines had been planted in the 1890s, reputedly from cuttings obtained from Château Margaux. Ray was undoubtedly a major figure in the history of California wine, though his legacy remains somewhat controversial. While Ray's wines over the years have been described as uneven, there is wide agreement that the best of the wines he produced from his vineyard were among the finest made in California during that period. Jeffrey described Martin Ray as the first real "cult winery" in California, commanding very high prices for the times, and producing only 100% varietal wines, a practice that was far ahead of its time. Ray brought investors into his winery business in the 1960s, but the new partnership did not go as planned, and litigation left Ray with only a small portion of his former vineyard land (now Peter Martin Ray Vineyard, named for Martin Ray's stepson). Ray's former investors took over the rest of the vineyards and the winery, renaming the venture as Mount Eden Vineyards in 1972.
The first decade of Mount Eden Vineyards saw a succession of noted winemakers – Dick Graff, Merry Edwards, Bill Anderson, and Fred Peterson all came and left during this time. Jeffrey first joined the winemaking team in 1981 and became the winemaker the following year. Jeffrey and his family are now the majority owners of Mount Eden, and his wife Ellie is the winery's business manager. They live in the house built by Martin Ray over 60 years ago, overlooking the vineyards and Silicon Valley far below.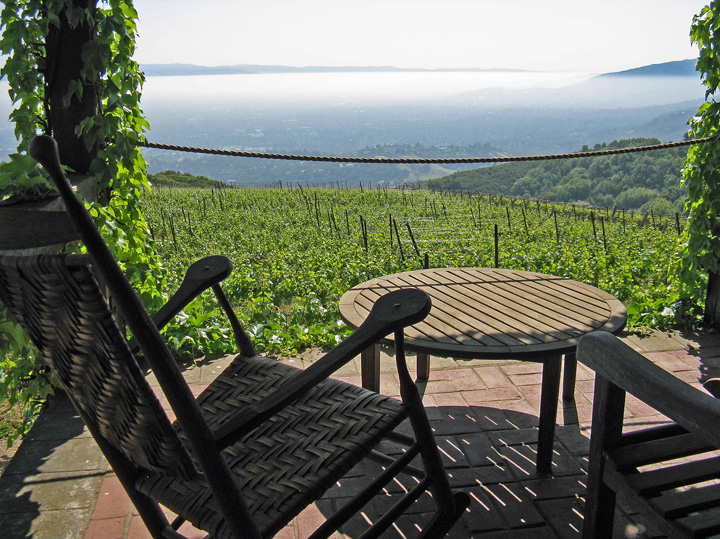 The vineyards are well above the fog line – the house and upper vineyards are at an elevation of about 2,000 feet. Jeffrey told us that there is a fault line that runs along base of mountains, with more clay soils toward base and fractured Franciscan shale higher up where the vineyards are located. Jeffrey noted that one advantage of the high hillside site is that the vines have never suffered any significant frost damage in the years he's been at Mount Eden. And he said that there has been little problem with Pierce's Disease there either, due to the vineyard being well away from watercourses that might harbor the sharpshooter insects that spread the disease.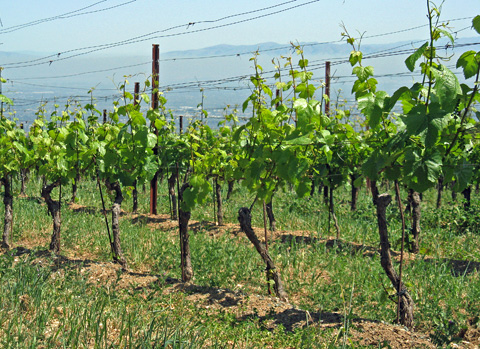 All of Mount Eden's vineyards have been replanted over the years, with the last of Martin Ray's original vines (Cabernet dating from the 1950s) having been pulled out in 2000. The last of the old Chardonnay and Pinot vines were pulled out in the later 1990s, and the oldest current plantings date from 1980. Jeffrey pointed out that the original plantings were very widely-spaced – 10 feet by 10 feet – and mostly head-trained with basket canes rather than being trellised. With relatively few vines per acre to begin with, the grape yields suffered further due to most of the vines being afflicted with leafroll virus. Yields were typically no more than one ton per acre and often much lower. The newer plantings have 8-foot row widths and 3-foot spacing between vines. Jeffrey was able to propagate some of the healthier old vines and these are now part of the replanted vineyard, carrying on the vine heritage from Martin Ray, Paul Masson, Emmett Rixford, and from the French vineyards where they obtained their cuttings.
There are now 40 acres planted at the Mount Eden estate vineyard, with 7 acres of Pinot Noir, 20 acres of Chardonnay, and 13 acres of Bordeaux varieties – mostly Cabernet Sauvignon along with a little Merlot, Cabernet Franc, and Petit Verdot. The Pinot vines include several Dijon clones and California heritage selections in addition to the Mount Eden selection. All of the estate vines are dry-farmed. Jeffrey feels that this is the most sustainable way to farm the vineyard, though he noted that more vines die each year and need to be replanted than would be the case if they were irrigated. The young vines are watered until their root systems are established enough that they can be dry-farmed. The vines are all cane-pruned, and Jeffrey told us three reasons he does this rather than cordon-pruning. One is that cane-pruning offers better protection from eutypa – a fungal grapevine disease. Other reasons he mentioned were more uniform shoot density than with cordon-pruned vines, and better cluster primordia development in the dormant buds.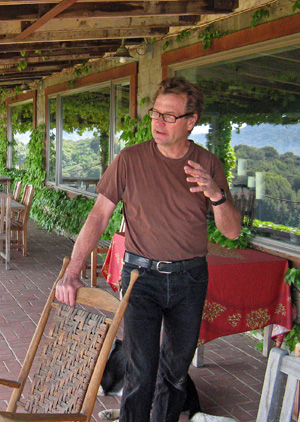 In addition to the main estate vineyard, Mount Eden in 2007 purchased the former Cinnabar vineyard and winemaking facility not far away. Twelve acres are currently planted there, mostly with Chardonnay and Pinot Noir (a little Cab remains on a warmer west-facing slope), and Jeffrey told us that an additional 15 acres of vines will go in on land there that had previously been planted. This fruit, along with some declassified estate fruit, goes into the Domaine Eden line of wines. Mount Eden also purchases some Chardonnay fruit from the Central Coast, most notably from Wolff Vineyard (formerly MacGregor Vineyard) in Edna Valley – this fruit goes into separate bottlings. The Domaine Eden and Wolff bottlings are priced lower than the estate wines, and although they don't display the same depth and complexity as the estate bottlings, they are fine wines that usually offer excellent value.
As we enjoyed the views from the wide veranda of the house, Jeffrey brought out bottles of three current and upcoming Mount Eden estate bottlings for us to taste. While we went through the wines, he talked with us about his winemaking, which has undergone a few subtle changes over the years. We started out our tasting with the 2011 Chardonnay. Barrel-fermented with native yeast, the Chardonnays are the only wines that generally don't go through native malolactic fermentation – Jeffrey noted that they don't tend to go through this easily (possibly due to the low pH) and he'll inoculate them with a malolactic culture. The Chardonnay is aged for 10 months on the lees – Jeffrey told us that he used to do some batonnage (lees-stirring) but no longer does it. About 50% of the barrels are new with the rest being one- to two-year old, almost all Sirugue and François Frères. Jeffrey said that his goal is for the estate Chardonnay to be a "20-year wine," and their track record for aging has been very good indeed.
We moved on to a 2010 Pinot Noir. Jeffrey mentioned that he feels 2010 is best Pinot vintage in California since 1994 – a cool year that had a late budbreak but long growing season with a moderate crop. Mount Eden, with its higher elevation, saw little effect from the heat spikes that took their toll on some other parts of California in late summer that year. The 2010 Pinot was made with about 50% whole clusters, which were foot-trod and put in the bottom of fermenters with destemmed fruit on top. Jeffrey told us that the 1970s Mount Eden Pinot Noirs had used a large percentage of whole clusters and he didn't care for them, feeling they never lost their stemmy character. However, he began working with some whole-cluster fermentation again in more recent years and continues to do so. The 2010 Pinot was aged for 12 months in about 70% new French oak (the previous few vintages were about 50%). I thought the whole-cluster aspect of this Pinot was already integrating nicely into the overall wine character.
We finished our tasting with the 2009 Cabernet Sauvignon. Fermented in small stainless steel tanks, the wine is aged for 22 months in 50-75% new oak, and racked several times during the barrel-aging. The typical varietal make-up of the wine is around 75-90% Cabernet Sauvignon, with most of the rest usually being Merlot, along with a little Cabernet Franc and sometimes Petit Verdot – the exact blend varies from year to year. This is the one instance where Jeffrey has moved away from the Martin Ray legacy of 100% varietal wines. He feels the blend creates a more harmonious wine than he would get with a 100% Cabernet Sauvignon. Mount Eden is so well-known for its Chardonnay and Pinot Noir that the Cabernet sometimes is overlooked, but this was a terrific example of a cooler-climate California Cab.
Tasting Notes: Current & Upcoming Releases

Mount Eden 2011 Chardonnay, Estate, Santa Cruz Mountains. Medium-light yellow color, displaying pear and green apple, earth, with undercurrents of toasty oak. Bright acidity along with a moderately rich texture in the mouth, showing a stony, minerally component on the long finish. Obviously very young, this should age nicely.
Mount Eden 2010 Pinot Noir, Estate, Santa Cruz Mountains. Medium-light ruby color, this featured bright aromas of strawberry and red cherry, flowers, tea leaf, lots of spice, and touches of vanilla/oak and stony minerals. Medium-light weight and lively on the palate, this is very pleasant now but has great structure for aging.
Mount Eden 2009 Cabernet Sauvignon, Estate, Santa Cruz Mountains. 88% Cabernet Sauvignon, 6% Merlot, 4% Cabernet Franc, 2% Petit Verdot. Medium purple color, with lots of dried herb/tobacco, black cherry and plum, earth, smoke, and an iron-like mineral note. Medium-bodied with great acidity and moderately-grippy tannins, an outstanding young Cabernet.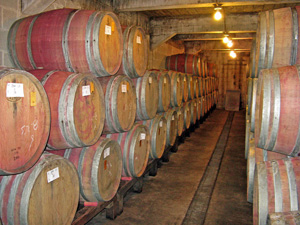 Although Jeffrey had to leave for an appointment in San Francisco, he had enough time to show us the barrel room below the house. This small space with sturdy concrete walls had been the original winemaking facility for Martin Ray, and now houses mostly barrels of the estate Bordeaux varieties from even-year vintages – there's not enough room for both the even and odd years due to the length of time they age in barrel. There is a large wine cave built in 1991 that's located partway down the road leading to the house – all the estate Chardonnay is made and barrel-aged there. The estate Bordeaux varieties from odd-year vintages and estate Pinot Noir are all made and barrel-aged at the Domaine Mount Eden facility. Jeffrey noted that the availability of this winemaking facility was a big plus when they purchased it from Cinnabar.
Jeffrey told us that even after more than 30 years at Mount Eden, he still is very much a hands-on guy there, from ordering supplies, maintaining and repairing equipment (including their own bottling line), in addition to his time in the vineyards and the cellar. He also makes wine for the recently-revitalized wine production at The Mountain Winery and for the small House Wines label (Dave House is co-owner of The Mountain Winery).
I enjoyed our visit with Jeffrey Patterson at Mount Eden a great deal – while we were there, it was hard not to feel the history behind the winery and vineyard. The winery website notes that "Mount Eden's lineage of estate bottled Chardonnay and Pinot Noir is the longest in California" – a legacy made all the more impressive by the high quality of wines that continue to be produced there today. The wines have a reputation for showcasing the distinctive terroir of the vineyard and for aging particularly well. All three of the wines we tasted were excellent, with the Cabernet being my favorite. Jeffrey continues to carve out his own legacy at Mount Eden, following in the footsteps of Martin Ray and Paul Masson before him.
We drove back down the dusty dirt road from Mount Eden and dropped off Tom at the base of the hill. Bryan, Wes, and I continued a few miles north to Montebello Road, where we began the twisting drive up to Ridge Vineyards. Like Mount Eden, Ridge commands a spectacular view over the South Bay, though from even higher up, with vineyards reaching an elevation of nearly 2,700 feet. Ridge was holding an event that day, the second of three each spring that allows customers to track the blending process for their flagship wine, "Monte Bello." The event on the day we visited featured tasting a barrel sample from the first assemblage of the wine, a Bordeaux-style blend. A component tasting was held in March and the final assemblage tasting follows in May. Those familiar with California wine know that the Ridge "Monte Bello" has long been one of the state's most highly-regarded wines made from Bordeaux grape varieties. Up until 1975 it was 100% Cabernet Sauvignon, but since then it has been a blend with varying amounts of Merlot, Petit Verdot, and Cabernet Franc.
Tasting Notes: Current & upcoming releases, library wine, barrel sample

Ridge 2011 Chardonnay, Estate, Monte Bello Estate Vineyards, Santa Cruz Mountains. Light color, this showed lemony, citrus aromas along with spice and a good deal of vanilla/oak on the nose. Moderately rich with a creamy texture but a long and lively finish. Showing a lot of oak right now but given time it is likely to integrate much better.
Ridge 2010 Merlot, "Perrone," Monte Bello Vineyard, Santa Cruz Mountains. 100% Merlot. Medium-purple color, with bright black cherry, earth, and spice, along with undertones of sweet oak. Medium-bodied with very good acidity and a minerally note on the finish, nice.
Ridge 2010 Cabernet Sauvignon, "Klein," Monte Bello Vineyard, Santa Cruz Mountains. 100% Cabernet Sauvignon. Medium-dark color, this displayed a more herbal character than the Merlot, plus plum and currant fruit and touches of black pepper and earth. More structured than the Merlot, with moderately grippy tannins.
Ridge 2000 "Monte Bello," Monte Bello Vineyard, Santa Cruz Mountains. 75% Cabernet Sauvignon, 23% Merlot, 2% Cabernet Franc. Medium purple color, featuring lots of herb/tobacco notes along with leather and earth, with fruit in the background. Lively on the palate, with still-substantial tannins that sneaked up on the finish.
Ridge 2012 "Monte Bello," Monte Bello Vineyard, Santa Cruz Mountains (barrel sample). 58% Cabernet Sauvignon, 26% Merlot, 8% Petit Verdot, 8% Cabernet Franc. Intense medium purple color, showing bright plum and darker fruit, dried herbs, and mineral/iron notes. Medium-bodied and well-structured, with youthful tannins.
Ridge 2011 "Geyserville," Estate, Sonoma County. 78% Zinfandel, 16% Carignane, 4% Petite Sirah, 1% Alicante Bouschet, 1% Mataro. Medium-purple color, with ripe berry, spice, and a dash of black pepper on the nose plus vanilla/oak. Fairly big and bold on the palate, with chewy tannins on the finish.
Ridge 2010 Merlot, Estate, Monte Bello Vineyard, Santa Cruz Mountains. 100% Merlot. Medium-purple color, bright cherry, spice, and earth, with undercurrents of sweet oak. Medium-bodied, finishing with moderately grippy tannins.
Ridge 2010 Cabernet Sauvignon, Estate, Monte Bello Vineyard, Santa Cruz Mountains. 80% Cabernet Sauvignon, 17% Merlot, 2% Petit Verdot, 1% Cabernet Franc. Medium-dark purple, this had lots of herb/tobacco notes, earth, and minerals framing the currant and darker berry fruit. Big and structured but with refined tannins, this should age nicely.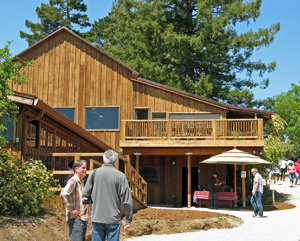 I won't go into a lengthy history of Ridge Vineyards, but a summary is in order. The first vineyards on the property were planted by Osea Perrone, who purchased 180 acres near the top of Monte Bello Ridge in 1885 and began producing his own wine in 1892. Perrone's restored three-level winery remains the heart of Ridge's production facility. Closed due to Prohibition, the business was not able to succeed after re-opening, and William Short bought the winery and largely-abandoned vineyards, replanting some Cabernet Sauvignon in the late 1940s. In 1959, the property was sold again, and the new owners – four engineers from the Stanford Research Institute – produced a quarter-barrel of Cabernet that year.
Dave Bennion led the winery through the 1960s, and made the first commercial wines from the re-bonded winery in 1962, including the inaugural "Monte Bello" bottling. The winery's first Zinfandel, with fruit sourced from a nearby vineyard, was made in 1964, and over the years Ridge has become known as much for its many fine Zins – from Sonoma and Paso Robles as well as the Santa Cruz Mountains – as for the "Monte Bello."
Paul Draper joined Ridge in 1969 and has been the winemaker there since 1971 – an even longer term as winemaker than Jeffrey Patterson at Mount Eden. The Otsuka Pharmaceutical Company bought the winery in 1986, but unlike a number of other wineries that have been purchased by larger entities, Ridge has flourished under the new arrangement. Ridge continues to be led by Paul Draper, while Eric Baugher, at Ridge since 1994, oversees the day-to-day winemaking at Monte Bello. In addition to their facility on Monte Bello Ridge, the winery also operates a winery and tasting room at their Lytton Springs property in Dry Creek Valley, where John Olney has been in charge since 1999. David Gates, who joined Ridge in 1989, manages the estate vineyards. Current wines include the "Monte Bello" bottlings – both the red and a Chardonnay – plus other Chardonnays, Cabernets, Merlots, over a dozen Zinfandels, Petite Sirah, several Rhône-variety reds (for Ridge's Advance Tasting Program), and other small-production bottlings.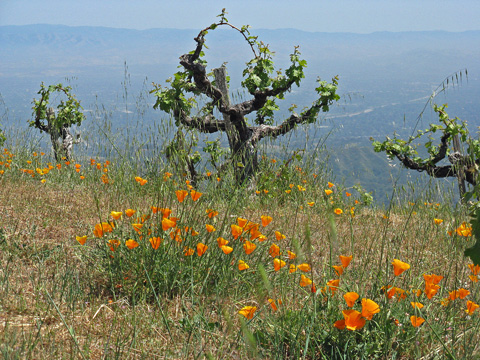 The 125-acre Ridge estate Monte Bello Vineyard encompasses a number of different sites along the ridge that the winery either owns or leases. This is among the cooler areas in California for Bordeaux grape varieties, and the vineyards feature fractured limestone subsoils that come more to the surface near the ridgetop itself. Ridge is pursuing organic certification for Monte Bello. Most of the vineyard is now planted to Bordeaux varieties, along with some Chardonnay and a little Zinfandel. About 35 acres of additional plantings on the property are currently planned.
Two of the wines we tasted during the day's event were previews of upcoming releases in Ridge's Historic Vineyard Series. These wines honor four early vineyards that are now part of the Monte Bello Estate – Torre Ranch, Perrone Ranch, Klein Ranch, and Rousten Ranch. It was at the Torre site that William Short planted his Cabernet in the late 1940s, and some of those vines still remain. There is already a Torre Ranch Merlot from the Historic Vineyard Series. The two wines we tasted were a Perrone Merlot and Klein Cabernet. The early Perrone vineyard and winery have already been mentioned, and the vineyard planted by Pierre Klein dates from just a few years later. Most of the original vines did not survive an early 1900s phylloxera outbreak, though a little Zinfandel still remains. The site was purchased in 1936 by the Schwabacher family and renamed Jimsomare Ranch – it was replanted with Chardonnay and Bordeaux varieties in the early 1970s.
Winemaking at Ridge follows a path of minimal intervention. Native yeast and malolactic fermentations are allowed to take place, and sulfur additions are kept to a relatively low amount. Ridge has been known for using nearly all American oak barrels for its wines, both red and white – something that has been atypical over the years for California wines of this quality. The selection of wood and the air-drying regimen for the staves results in a less-aggressive oak presence in the Ridge wines than in many that use American oak barrels, particularly those with kiln-dried wood. More wineries have been using high-quality American oak in recent years, but Ridge was one of the pioneers in this. For many years, Ridge has provided more detailed wine information on their labels than most producers, and they've recently announced that they will be among the few that are voluntarily adding an ingredient list to the back labels of their wines. A somewhat controversial idea, we'll have to see how this procedure develops in the coming years.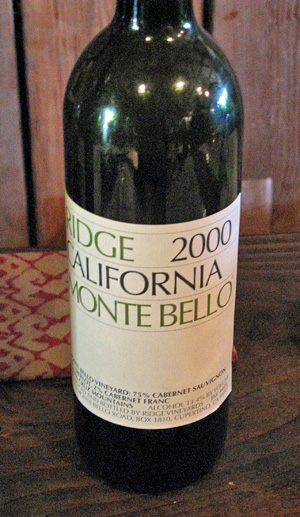 The Assemblage Monte Bello event featured bread from Gayle's Bakery, cheese from It's Not You, It's Brie, and charcuterie from Fatted Calf, all delicious. In addition to the first assemblage barrel sample of the 2012 Monte Bello, Ridge was pouring a selection of other wines, including an older Monte Bello, a number of current releases, and previews of two wines to be released later this year. The wines were poured at a number of tables, both inside and outside the old Torre Winery barn building just above the tasting room. We started with the 2011 Estate Chardonnay, a wine that will need some time in bottle to settle down and integrate. From there, we tried the two pre-release 2010 bottlings from the Ridge Historic Vineyard Series – the "Perrone" Merlot and "Klein" Cabernet Sauvignon, both of which showed very well.
Of course the centerpiece of the day's event was the "Monte Bello" tasting. Before we got to the 2012 barrel sample, we tasted a library release from the 2000 vintage. I'm not an expert on older "Monte Bello" wines, but I'm told that the 2000 is a lighter wine that's reaching maturity more quickly than most vintages. The 2012 first assemblage barrel sample was obviously extremely young, but was undeniably a flavorful and well-structured wine that displayed the minerality noted of the vineyard. We proceeded down the hill to the tasting room, where we finished up with three Ridge current 2010 releases – the Zin-based "Geyserville" bottling and the Estate Merlot and Cabernet Sauvignon. The Estate Cab and Merlot are sourced from Monte Bello Vineyard, but the barrels that go into them are selected from those that are felt to be more approachable at an early age than those that go into the "Monte Bello" bottling.
Ridge Vineyards has been one of California's most consistent producers of high-quality wine for many years, and based on the wines that we tasted during our visit, there's every reason to believe that the consistency and quality will continue. We focused mainly on the winery's Bordeaux-variety bottlings, which showed distinction and subtlety. My favorites included the "Perrone" Merlot and Estate Cabernet Sauvignon, with the "Klein" Cabernet close behind. The 2000 "Monte Bello" seemed rather closed – perhaps it needed more aeration or it's going through an awkward phase. The 2012 barrel sample certainly showed potential, but as I don't have experience with "Monte Bello" wines at such an early stage in their development, it's tough to guess how this one will compare with other vintages. All in all, the wines we tasted were quite good, and this was a very enjoyable event at Ridge.

We'd spotted Picchetti Winery along Montebello Road when we were driving up to Ridge, so we thought we'd stop in on our way back down. Picchetti is another winery with a long history. Brothers Vincenzo and Secondo Picchetti purchased 160 acres of land in 1877 and planted fruit trees and grapevines, including Zinfandel, Carignane and Petite Sirah. It's said that it was the Picchetti brothers who first gave the name of Monte Bello, or "beautiful mountain," to the ridge where they settled. In the early years they sold their fruit to local wineries but in 1896 they built their own winery – the red brick building that today houses the Picchetti tasting room. Other late-19th Century structures built by the Picchetti family still stand nearby. Although the Picchettis were able to restart their winery after Prohibition ended, the business was losing money by the early 1960s, and production shut down in 1963. In 1977 the family sold the land to the Midpeninsula Regional Open Space District, which continues to manage the grounds today.
Tasting Notes: Current Releases

Picchetti 2010 Brut Rosé, Santa Cruz Mountains. Very light salmon/pink color, with mild apple and cranberry notes, a bit harsh on the finish.
Picchetti 2010 Chardonnay, Leslie's Estate, Santa Cruz Mountains. Barrel-fermented in 30% new oak. Light straw color, featuring vanilla/oak, spice, and stone fruit aromas. Medium-bodied with a fairly long, rich finish.
Picchetti 2012 "Mattie Rose," Bellicitti Vineyard, Santa Clara County. Rosé from 100% Merlot. Very light pink color, slightly floral aromas along with herbs and red berry fruit. Lighter-bodied with refreshing acidity and a pleasant finish.
Picchetti 2011 Pinot Noir, Truchard Vineyard, Napa Valley. Aged in about 40% new oak. Medium-light ruby color, this showed ripe red fruits, earth, and baking spices on the nose. Lively mouthfeel and finish, nice.
Picchetti 2007 "Vino di Vicino," Santa Cruz Mountains. 54% Cabernet Sauvignon, 42% Merlot, 4% Petit Verdo. Medium purple color, displaying ripe plum and black cherry aromas along with vanilla/oak, dried herbs, and touches of chocolate and spice. Medium-rich on the palate with moderate tannins.
Picchetti 2007 Cabernet Sauvignon, Leslie's Estate, Santa Cruz Mountains. Medium-dark color, this showed more herb/tobacco character than the previous wine, along with an iron-like mineral component, currant and plum fruit, plus chocolate, earth, and vanilla/oak notes. Good structure and depth in the mouth with refined tannins, nice.
Picchetti 2009 Zinfandel, Picchetti Estate Vineyard, Santa Cruz Mountains. From 120-year old dry-farmed vines. Medium color, with higher-toned ripe and jammy fruit on the nose. Sweet flavors revealed likely residual sugar, and there was some alcoholic heat on the finish.
Picchetti 2009 Port, Bellicitti Vineyard, Santa Clara County. 50% each Zinfandel and Petite Sirah. Medium-dark color, with Zin-like aromas together with spice, chocolate, and a nutty component. Medium-sweet and fairly rich in the mouth, with a long finish, nice.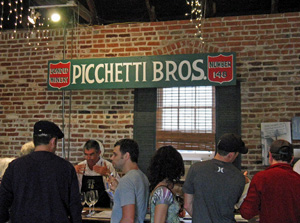 From 1982 to 1998, Sunrise Winery leased the facility from the Open Space District. In 1998, Leslie Pantling took over the operation and renamed it in honor of the Picchetti family, who were not only one of the pioneering vintners in the area but also helped establish the old one-room Montebello School in 1892. Leslie and her family continue to run the winery today, and Aimee Baker is the winemaker. As part of the Open Space District, the land includes part of a longer hiking trail, and there is a spacious lawn and picnic area on the grounds. It was certainly a popular destination on the day of our visit, with lots of families enjoying the sunny weather. Wes told us that there are often peacocks roaming the grounds but we didn't spot any when we were there. Picchetti also operates another tasting room in South Lake Tahoe.
Today, the winery produces in the neighborhood of 9,000 cases of wine per year. Grapes are sourced from a number of vineyards in the area, including Leslie's Estate and Picchetti Estate. The Picchetti Estate includes about three acres of dry-farmed Zinfandel that dates to the 1890s. Wines are aged in French, Hungarian, and American oak.
Bryan, Wes, and I walked up the steps into the rustic tasting room, which features plenty of tasting bar space. We tasted a number of current releases, starting with a sparkling wine made from 56% Pinot Noir from Krause Vineyard above Los Altos and 44% Chardonnay from Mount Eden Vineyard. The Rosé was made from whole-cluster pressed Merlot from Bellicitti Vineyard in Saratoga, fermented in stainless steel and aged in neutral oak. The Pinot Noir, sourced from Truchard Vineyard in Carneros, was quite good. "Vino di Vicino" means "wine of the neighborhood," and this wine was made with fruit from five local vineyards, and barrel-aged for over four years in 50% new French oak. The Port – fortified with 187-proof brandy – was not overly sweet and displayed more complexity than many Port-style wines from California.
I was glad that we stopped at Picchetti, with its pleasant grounds and historic buildings. Overall, I felt the wines were a bit uneven, though most were good, and the best of them – the Cabernet and Port – were very nice, while the Chardonnay and Pinot Noir were also noteworthy. It's a good spot to taste some wines from the Monte Bello Ridge area without taking the winding road all the way up to Ridge Vineyards, or to take a break after the drive back down.
This was a day rich with history, visiting three wineries in the Santa Cruz Mountains above Saratoga and Cupertino that have roots extending back to the 19th Century. It seemed almost a bonus that we tasted some outstanding wines on our visits to Mount Eden, Ridge, and Picchetti as well. As always, thanks to everyone that we visited for being so generous with their time and their wine!