Paso Robles - March 2013
Playing hooky from work to go wine-tasting is not a bad way to spend a beautiful Friday, and I joined Sasha Verhage of Eno Wines – where I work part-time – for a day-trip to Paso Robles in early March. The main goal of the journey was to taste some wines from Law Family Vineyard on the Westside of Paso Robles. We have some co-fermented 2012 Grenache and Syrah from that vineyard in barrel at Eno Wines, and Sasha arranged a couple of winery visits specifically to try some other samples from the vineyard, from Nicora Wine and from the new Law Estate Wines label. And since we were in the area, he also set up a couple of additional tastings of Denner and Epoch wines. We even had time for a quick tasting room drop-in at Brian Benson Cellars.
Sasha had originally expected one or two other friends to join in for the day, but they were both late cancellations. To avoid having to clean out the family car (Sasha and his wife Kiara are proud parents of two young daughters), he rented what he thought was going to be a sedan for our trip, but it turned out to be a cool muscle car – just the thing for cruising down Highway 101 to Paso Robles!
(A short note regarding the tasting notes in this report – since nearly all the wines we tasted were barrel samples rather than finished wines, I felt that including the more formal tasting notes that usually accompany these reports might not be the way to go this time. Many of the samples we tasted were very young and were components that ultimately will be blended to make the finished wines, and a formal tasting note might not be of much value in the long run. So keep in mind that the notes for the barrel samples show points in development of very young wines.)

Our first stop of the day was at Denner Vineyards, located along Vineyard Drive on the Westside of Paso Robles. Sasha and I walked into the large winery space, where winemaker Anthony Yount greeted us. Not yet 30 years old, he started out at Denner doing cellar work, moved on to become cellarmaster at Villa Creek Cellars, and then returned to become the winemaker for Denner in 2009. I'd met Anthony a couple of years earlier when a group of us stopped at Denner and tasted a few wines from his own Kinero label.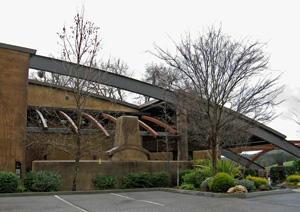 The Denner label was founded by Ron Denner, and most of the winery's estate vineyard was planted in 1999, with smaller plantings since then. Located in the well-known Templeton Gap (where cool ocean air is funneled through the coastal mountains), there are over 100 acres planted with 19 grape varieties, mostly Rhône and Bordeaux varieties along with a few others such as Vermentino and Zinfandel. Much of the annual grape crop is sold to other producers. The beautiful gravity-flow winery was completed in time for the 2005 harvest, and is large enough to house a number of custom crush clients in addition to the Denner production. Current Denner wines include a Rhône-style white and Rosé, Syrah, Mourvèdre, Zinfandel, the "Ditch Digger" Grenache-based blend, "Dirt Worshipper" Syrah (with some Viognier), and "Mother of Exiles" Bordeaux-style red blend. Anthony's latest Kinero wines include the "Rustler" Roussanne, "Alice" Grenache Blanc, and Chardonnay.
Anthony's assistant Paul had just brought over two barrels of 2012 Marsanne from the estate vineyard, made in a Vin De Paille style. Starting fermentation at 44 brix with 8 grams/liter acidity and finishing at about 20% residual sugar, the wine was ready to be racked to a concrete barrel for aging. Beginning our tasting with a sweet wine was not optimal, but it was tough to pass up Anthony's offer to taste us on the two barrels. The wine from each one was a little different than the other, but both had a beautiful gold color and sweet nectarine and honey aromas – should become a very nice dessert wine.
We walked down a broad ramp into the main barrel room, where we resumed our tasting. Paul joined us after he'd finished racking the Marsanne, and we spotted several other familiar faces in the barrel room – Ed Sauret of Edmond August Wines, Amy Butler of Ranchero Cellars, and Carl Bowker of Caliza Winery.
Anthony started us on a tasting through 2012 barrel samples of various reds – we tried a total of 20 wines! We began with some Grenache samples, both from the Denner estate vineyard and – believe it or not – from Bassetti Vineyard near Cambria, very close to the coast. Bassetti is noted for being a marginal site for Syrah, so adding Grenache to their vineyard in 2010 was a bold move. The Bassetti Grenache is Anthony's own barrel, and he told us that is may become a Kinero bottling but he's not yet sure. The 100% whole-cluster fermentation was very well-integrated, and the wine featured red fruits and loads of spice.
The Denner estate Grenaches we tasted included two from the Alban clone, one made by carbonic maceration and another that used 100% destemmed fruit with extended maceration time. Two other samples were from the Spanish 814 Grenache clone, one of which came from a portion drained from the fermentation tank overnight and displaying darker color and great texture. All showed different character – some savory and spicy, others brighter and more fruit-forward, different colors and textures that will add components to the blends they will end up in. We also tried a co-fermented Grenache-Syrah (50% each) from a new "cigar" barrel – an elongated barrel type that's rarely-seen in California.
We moved on to Syrah, starting with two samples sourced from the same Denner estate fruit but with one co-fermented with 10% Roussanne. There was a dramatic difference between them – the co-fermented sample had floral and stone fruit notes along with red and black fruits, while the other was meatier and darker, as well as more tannic. We also tasted estate Syrah from Estrella and 525 clones – the latter one a new clone for me. That sample was from entirely destemmed fruit, bright and fruit-forward. Last of the Syrahs was from Bassetti Vineyard, co-fermented with 5% Denner estate Viognier, quite floral and spicy. Anthony told us that most of the Syrah will ultimately go into one of three wines – the Estate Syrah bottling and the "Dirt Worshipper" and "Ditch Digger" blends.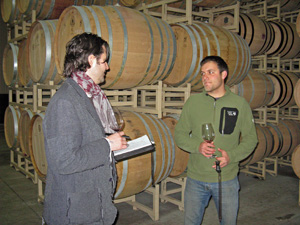 Anthony finished up our tasting with samples of several other varieties – Cinsault, Counoise, Carignane, and Mourvèdre. All of these were from the Denner estate vineyard except for the Counoise, which was sourced from Glenrose Vineyard, a few miles away on Peachy Canyon Road. The Cinsault may have been made from the lowest-brix fruit of any of the samples we tasted, just 21.5 brix. Bright, savory, and not too tannic, it was very nice. Anthony told us that one block of Denner's Mourvèdre that was planted in 2005 includes some Vermentino vines, about 2-3% of the total. The barrel sample we tasted from that block was 100% whole-cluster fermented, and was spicy, minerally, and earthy. A sample from a different block lacked the mineral character and was more herbal, with a grippier tannic finish.
As we tasted through the barrels with Anthony, it was clear that many of them were from whole-cluster fermented lots. Anthony told us that much of the fruit is fermented with 50% or more whole clusters and a number of them are 100% – all of the Counoise, Cinsault, and Mourvèdre, for example. He said that the Denner estate fruit retains its acidity even at higher brix levels, and he feels this works well with whole-cluster fermentations. One benefit he mentioned is that the wines tend to end up with lower alcohol using this method. Anthony likes to have a long cold soak and to press slightly sweet for whole-cluster lots. Other winemaking techniques that he favors include batonnage (lees-stirring) and smaller, more frequent sulfur additions than at many other wineries. He also told us that he's been using more concrete tanks recently for aging wines, and although he has not fermented anything in concrete yet, it's likely that he will do that in the future.
We heard some big news from Anthony – he's planting his own vineyard this year. Located in the York Mountain appellation near the western boundary of the Paso Robles AVA, it will be planted to 3½ acres of Grenache, 1 acre of Mourvèdre, and 1 acre of Syrah, with mostly head-trained vines except for some VSP-trellised Syrah. Anthony said that he may add some Vermentino and Clairette to the vineyard next year too.
Although we zipped through a lot of barrel samples in a short time, we got a good feel for where the 2012 vintage Denner wines are heading. Anthony's use of a good deal whole-cluster fruit in the fermentations in 2012 gave these wines a distinctive character while avoiding the overly stemmy nature that whole clusters can sometimes impart. I liked a lot of the barrel samples, and my favorites included the Vin De Paille style Marsanne, Alban clone Grenache, 814 clone Grenache from the tank that was drained overnight, Syrah co-fermented with Roussanne, 525 clone Syrah, Cinsault, and Mourvèdre. It was clear during our visit that Anthony is a serious and thoughtful vintner, and I like the direction that the Denner wines have taken since he took over as winemaker there. I'll have to be sure to return before too long to taste some of the bottled wines from both Denner and Kinero.
After we finished up our tasting with Anthony, we walked over to the Denner winery lab where we met Epoch winermaker Jordan Fiorentini and assistant winemaker Peter Turrone. The Epoch wines are currently made at the Denner facility. Jordan told us that 2012 was her fourth year as winemaker for Epoch. Before that, she was at such noted wineries as Chalk Hill in Sonoma, Antinori in Italy, and Araujo in Napa. Bill and Liz Armstrong, who met while studying geology in college – good judges of soil, no doubt! – purchased the historic Paderewski Vineyard property on the Westside of Paso Robles in 2004 and planted it the following year. They brought in Justin Smith as consulting winemaker as well. In 2006 they added a second vineyard – Catapult – in a cooler Templeton Gap location. Paderewski Vineyard's steep rocky site includes Viognier, Marsanne, Syrah, Grenache, Mourvèdre, Counoise, Petite Sirah, Tempranillo and Zinfandel planted on higher-pH shale and limestone soil. Catapult has less limestone and more shale, and is planted to Grenache Blanc, Roussanne, Syrah, Grenache, Mourvèdre, Cinsault, and Tempranillo.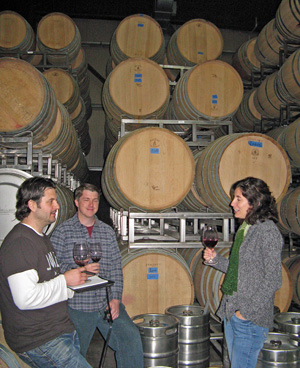 The Armstrongs added another historic property in 2010, when they bought the York Mountain Winery site. Dating from 1882, York Mountain was the first winery to be established in the area, and until it shut down in 2008, it was said to be the oldest continually-operating winery in California. The old winery building, damaged in the December 2003 earthquake, is being restored and plans are for Epoch to make it their tasting room / hospitality center, with a new state-of-the-art winery nearby (they currently have a small tasting room at the York Mountain site). The new winery should be completed by the summer of 2014, and the wines will continue to be made at Denner until then. The first Epoch releases were from the 2007 vintage. Recent releases have included a Rhône-style white and Rosé, and a number of red blends featuring mostly Rhône grape varieties – "Authenticity," "Ingenuity," "Veracity," "Sensibility," and the "Estate Blend." There's also a Zinfandel (blended with some Syrah and Tempranillo in 2010), a Tempranillo, and a 100% Syrah bottling called "Block B."
We started our tasting in the lab with a sample of the 2012 Rosé, made from Grenache, Syrah, Mourvèdre, and Cinsault. This small-production wine was made with a combination of whole-cluster pressed juice and saignée, and was fermented and aged entirely in stainless steel. The bright red fruits, spice, and savory character of this wine were distinctive and very tasty.
From the lab, we walked back down to the barrel room to taste some 2011 barrel samples. These have already been blended and some of the wines were to be bottled soon after our visit – Epoch reds are typically aged around 18 to 24 months in barrel. First up was the Zinfandel (a Primativo clone) that was co-fermented with a little Syrah and Tempranillo and aged in concrete tanks – big and ripe but with interesting spice and iron-like mineral undertones. The "Sensibility" is 95% Grenache (Alban clone) with 5% co-fermented Syrah, entirely destemmed. This was fermented in concrete and aged equally in once-used and neutral puncheons. Meant to show lighter side of Grenache, it featured bright strawberry and spice aromas and combined a creamy texture and juicy acidity.
The 2011 "Ingenuity" is about 60% Syrah along with Grenache, Mourvèdre, and Petite Sirah – very distinctive with meaty and briny character along with black fruits and earth. "Authenticity" was next up, with 72% own-rooted clone 174 Syrah plus 27% Mourvèdre and 1% Viognier. Very dark and rich, the sample we tasted had more vanilla/oak influence as well as a grippier tannic finish. We continued with the "Block B" Syrah, which Jordan told us includes a lot of whole-cluster fermented fruit. This was inky dark, with an unmistakable stem/spice component along with dark berry fruit, and a dense texture but refined tannins. Our final 2011 wine was the Tempranillo. Previous bottlings have been 100% varietal but this one is about 90% Tempranillo with a little co-fermented Grenache and Syrah – smoky and earthy, this displayed bold blue fruits and big tannins.
While we tasted with Jordan and Peter, they talked with us about their winemaking. Jordan told us that she likes to improvise rather than plan in advance too much – each vintage presents a different challenge so she has to be ready to change her thinking on the fly. She said that she used more whole clusters in the Epoch fermentations last year, noting that warmer years such as 2012 work better for whole-cluster ferments. Most lots undergo native yeast fermentation, and Jordan prefers to do pumpovers in the fermentation vessels until the must consistency allows punchdowns to become more feasible. With barrel-aging, she said that she's been going with lighter toast levels on the barrels. Favored coopers include Taransaud, Ermitage, and Boutes. Jordan also told us that with many of the Epoch blends, she's looking for a consistency in style, so the varietal makeup of the blends changes from year to year in order to achieve this.
After tasting the 2011 barrel samples that were almost ready to bottle, we moved on to a few 2012 barrels to try some wines that had not yet been blended. We started with two different Zinfandel samples that could not have been much more different from one another. First was a 100% whole-cluster fermented Zin, that was savory more than fruity, intense, dark, and grippy – not what I usually think of for Zin but very compelling nonetheless. A second Zinfandel sample that had been entirely destemmed, fermented in concrete, and aged in a new barrel presented a more familiar rendition of a big, friendly, fruit-forward Zin. We followed these wines with two Grenache samples, both from own-rooted 362 clone vines and fermented in concrete with 40% whole clusters. The first one was aged in a neutral puncheon – red-fruited and minerally, with a surprisingly creamy texture. The second sample is being aged in a concrete "egg." This featured brighter, more intense fruit but also strong minerally and savory qualities. Of course all of these wines will ultimately go into various blends, but it was interesting to taste them at this stage of their development.
The Epoch barrel samples that we tasted during our visit were all promising, and my favorites included the 2012 Rosé, 2011 "Ingenuity," 2011 "Block B," as well as the 2012 whole-cluster fermented Zinfandel and 2012 Grenache aged in the concrete egg. Jordan was a particularly fun, affable host, and Sasha and I really enjoyed our tasting. My previous experiences with Epoch wines were positive, and though I felt they were fairly similar to several other Paso Robles producers, I expected that we'd see them differentiate themselves more as their estate vines mature. The barrel samples we tasted on this visit make me feel like that may be happening already. Epoch certainly has fine fruit sources as well as top-notch talent in both the vineyard and the winery, and it will continue to be a label well worth following.
Saying goodbye to Jordan and Peter, Sasha and I headed out to grab a bite to eat before we continued to our next appointment. We'd thought about stopping at nearby Farmstand 46 but they were closed, so we drove a few miles east to Templeton and split a big helping of fish & chips at Pier 46 Seafood. From there, we zipped up Highway 101 and then drove west from the north edge of Paso Robles to Adelaida Road. In a few minutes we arrived at our destination, Nicora Wine. We walked into the winery building and located Nicora owner/winemaker Nick Elliott.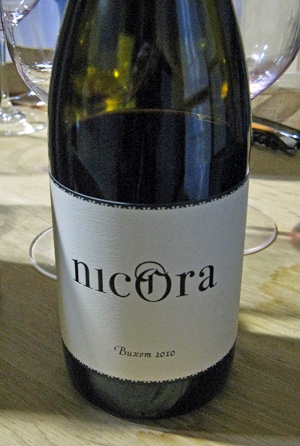 Nick is originally from the Central Valley town of Coalinga, where he comes from a family of general contractors. He's lived in Paso Robles for about 10 years – after working with several noted local vintners, he's been working for Scott Hawley at Torrin Vineyard for the past several years. Nick leases a small amount of winery space from Villicana Winery (Alta Colina is also at the same facility), and continues to work for Scott in addition to making his own Nicora wines. Nicora is a very new label, with 2009 being the first vintage released. The 2010 wines have just been released – wines are bottle-aged for one year prior to release. Nicora currently produces three wines – the Grenache-based "Euphoric," the Syrah-based "Buxom," and the "GSM" blend. All of the wines are made with fruit purchased from several Westside Paso Robles vineyards.
Nick told us a little about his current winemaking and some of his future plans. Most fermentations take place with native yeast following a cold soak of about ten days, with a total maceration time of 4-5 weeks. He uses anywhere from 15-75% whole clusters in the fermentations. Nick has been making much of his Grenache in concrete tanks, a practice I've been seeing more of in recent years. He's currently making a 2011 Grenache-Syrah blend from Law Family Vineyard as well as a 2012 Syrah from Shadow Canyon Vineyard. He told us that he plans to produce four or five bottlings per year, and that there will be a Viognier in the future.
Nick was waiting for another group to arrive to join Sasha and me in tasting the 2010 wines (they had not yet been released when we visited), so we tried some 2012 barrel samples while we waited. The first sample was a Grenache from Law Family Vineyard – tasting this was one of the main reasons for our visit. Nick told us that this sample, tasted from a new puncheon, was from the 814 Spanish clone of Grenache, and included a little Syrah. The vanilla from the oak was a strong component in the wine, but the characteristic Grenache red fruit still showed through. Next was an Alban clone Grenache from Russell Family Vineyard – this had brighter fruit along with more spice and a more textured mouthfeel. We tasted one more Grenache barrel sample from a concrete tank, this one from La Vista Vineyard, at 1,900-foot elevation next to Halter Ranch near Tablas Creek. This had a cloudier appearance along with very bright acidity, a darker fruit profile, and a chewy tannic finish.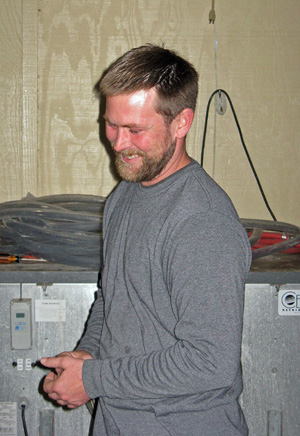 We'd just finished the barrel samples when Nick's other guests arrived – it turned out that they were another group from the Bay Area. Nick had set up bottles of his three 2010 wines on top of a barrel and we started in tasting them. We began with the "Euphoric" – 95% Grenache and 5% Syrah, both from La Vista Vineyard. Aged in once-used Hermitage puncheons, the two varieties were not co-fermented but were blended later. With bright ripe red fruits, earth, and baking spice, this finished with moderate tannins. We followed this with the "Buxom" – also from La Vista Vineyard, this was the flip-side of the first wine, with 95% Syrah and 5% Grenache, sourced from a cooler spot in the vineyard. Much darker color than the "Euphoric," this featured black fruits, lots of spice, iron, and smoked meat, quite nice. The blend for the "GSM" is 44% Grenache from La Vista along with 44% Syrah and 12% Mourvèdre, both from Alta Colina Vineyard. This hit a nice midpoint between the first two wines with bright plum and raspberry aromas along with earth, minerals, and herbs, and a chewy tannic finish.
This was my first experience with the Nicora wines, and I'd say that Nick is off to a good start with his label. My favorites of the wines we tasted were the 2012 Russell Family Vineyard Grenache barrel sample and the 2010 "Buxom" bottled wine. I thought the few 2012 barrel samples we tasted were a little tough to get a grip on, perhaps being a bit less clearly defined at this stage than some other barrel samples we tried during our day in Paso Robles. But the three new 2010 releases from Nicora were all very good. The reversed varietal make-up of the "Euphoric" and "Buxom" wines is an interesting approach, and these two wines show off their main grape variety very well. It should be worth watching Nick and his wines in the coming years.

Sasha and I had a little extra time before we needed to get back to Denner, so we stopped at the Brian Benson tasting room on Anderson Road, just north of Highway 46. Brian comes from a winemaking family – his father, Norm, started Dark Star Cellars in 1995, and two years later Brian made his first wine there. Brian became Dark Star's assistant winemaker in 2000, and he started producing wines for his own label the following year. Brian Benson currently produces a variety of wines, with recent releases including Zinfandel, Syrah, Mourvèdre, "S&M" Syrah-Mourvèdre blend, "Mr. Mister" Merlot, "The Wince" Zin-based blend, and their non-vintage "Kandy Red" – a blend of Zinfandel, Syrah, Grenache, and Mourvèdre. All of the wines are made with purchased fruit from the Paso Robles area, and all receive longer barrel-aging than at many wineries, with 2008 and 2009 vintages being the most recent releases.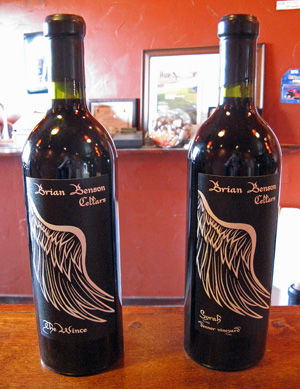 Sasha and I walked into the Brian Benson tasting room, located adjacent to the Dark Star facility. Erin was behind the tasting bar and welcomed us in. We tasted four wines there, starting with the "Kandy Red II" blend. Although it's non-vintage, Erin told us that all the fruit for this particular release came from 2009. It's 30% each Syrah, Grenache, and Mourvèdre, plus 10% Zinfandel, aged 34 months in 60% new oak. Ripe and spicy, it was medium-light bodied and a pleasant wine that's ready to drink now. Erin had us guess the variety of the 2008 "Mr. Mister," and neither Sasha nor I guessed that it was Merlot. 100% varietal, it was aged 46 months in 100% new French oak. Featuring ripe and bright black cherry and spice aromas, it was a bit savory with fairly big tannins that suggest further bottle age might be beneficial.

Next up was a 2009 Syrah from Denner Vineyard – 100% Syrah aged 34 months in 100% new oak, this was very spicy with dark berry fruit and a chewy tannic finish. Our last wine was the 2009 "The Wince," featuring 62% Zinfandel (from Lock, Denner, and Camatta Hills vineyards), 27% Syrah, and 11% Mourvèdre. Aged 34 months in 60% new oak, it featured lots of upfront fruit and spice, with a lively mouthfeel and big but refined tannins.
Although the Brian Benson wines we tasted were all solidly-made, they displayed a bit more ripeness in their fruit character as well as a bit more new oak influence than I prefer. My clear favorite among the four wines we tried was "The Wince" – I thought the Zinfandel-based blend handled the fruit ripeness and integrated the oak nicely. Brian Benson should be on the list of tasting room visits for fans of the riper side of Paso Robles wines.

Sasha and I headed out to Vineyard Drive and arrived back at Denner to find Anthony and Paul enjoying a Friday late-afternoon beer. But we had more wine to taste so we walked down to the barrel room once again and met Scott Hawley there. Scott has his own label – Torrin Vineyard – but Sasha and I were mainly there to taste wines from Law Estate Wines, a brand-new project that he also makes the wines for. Both the Torrin and Law wines are currently produced at the Denner facility. Don and Susie Law are from Colorado, and planted their vineyard site along Peachy Canyon Road on the Westside of Paso Robles in 2008. The label's first releases, around 160 cases from the 2010 vintage, will be released later this year. Four wines will make up this initial release: "Audacious," a blend of 44% Grenache, 26% Cabernet Sauvignon, 20% Syrah, 10% Petit Sirah; "Beguiling," with 94% Grenache and 6% Syrah; "Sagacious," featuring 44% Grenache, 42% Syrah, and 14% Mourvèdre; and the 100% Syrah "Intrepid."
Noted Central Coast viticulturist John Crossland of Vineyard Professional Services designed the vineyard layout, with input from both the Laws and from Scott. At an elevation of about 1,900 feet, most of the vineyard is planted to several clones of Grenache and Syrah along with Mourvèdre, Petite Sirah, Cabernet Sauvignon, Petit Verdot, Carignane, and Tempranillo. Scott told us that the vineyard soils are mostly the calcareous shale typical of the area. He noted that the environment of this area is similar to parts of Spain, so it's appropriate that the grape varieties planted at Law are based largely on those used in the Priorat region of northeastern Spain. A new gravity-flow winery – with design input from Scott – should to be completed soon, located just across Peachy Canyon Road to the south of the main vineyard site. A tasting room there should be open by October and Laws plan to release their first wines at that time.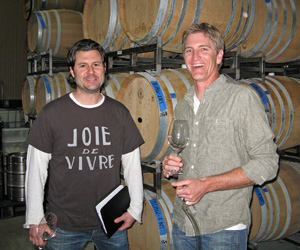 Scott told us that the vineyard currently has about 40 acres planted, and about 15 additional acres will be planted on the winery side of the road and about 6 acres more on the north side of the road. The Laws added more Mourvèdre since it did very well in 2010 and 2011, and they plan to interplant some Viognier and Roussanne with new Syrah vines, about 2½% of each white variety – Scott feels they will gain aromatics from the Viognier and texture from the Roussanne. Scott noted that at the high elevation, the vineyard is above the fog line, so the fruit came in riper in the cooler 2010 and 2011 vintages than at many lower-elevation vineyards that were more affected by fog. But he told us that even though the sugars can climb fairly high, the fruit retains lots of acidity. They are working on methods to modify the vine canopies to help keep sugar accumulation lower, and Scott feels that as the vines mature, they will regulate the sugar/acid balance better. He said ideally they would like to dry-farm the vineyard, but it's still too early to tell whether this will be feasible.
The centerpiece of the new winery will be 22 new concrete fermenters made by Sonoma Cast Stone. Scott said they are about 3½-ton capacity and are roughly conical in shape, and they have a large top opening that will allow punchdowns on fermenting fruit. Heating and cooling coils are embedded into the concrete tank walls. Scott feels that the thermal aspect of the concrete tanks is their main attraction. The Law Grenache is all aged in puncheons, and Scott noted that they have a lot of newer ones at this point since their program is just getting started but the idea is to have more neutral puncheons available in the future.
All of the Law wines are made with estate-grown fruit. Wines are blended around July or August of the year following harvest, and the lees is kept in the barrels. The blended wines are then returned to barrel where they are aged until bottling the following May or June. Scott told us that in addition to the four current wines, Law may produce a blend of Cabernet Sauvignon, Petit Verdot, and Syrah in the future. He also said that his main winemaking goal for the Law wines is to dial in the texture, looking for weight and feel in the wine from the front to back of the palate.
We tasted seven barrel samples of 2011 wines with Scott. He started us out with a 100% Grenache sample, from head-trained Alban and Spanish clones. Made with about 30% whole clusters, Scott said this went through a long, slow fermentation, spending 5½ weeks on skins. Bright and fruit-forward, this had aromas of ripe strawberry and spice, with a minerally mouthfeel and medium-big tannins.
All of the remaining wines we tasted with Scott had already been blended and will be bottled in the coming months. We tried a sample of the "Beguiling" blend, about 85-90% Grenache along with a little Syrah and Mourvèdre. With a noticeably darker color than the first wine, this also displayed a darker fruit profile and a grippier tannic finish. We followed that by the "Sagacious" – about 40% Syrah with 30% each Grenache and Mourvèdre. Very darkly colored, this had floral scents along with black fruits, pepper, and earth, with a great texture. The first three samples had all been tasted from puncheons, and Scott then pulled a sample of the "Sagacious" from a barrique – he told us the final wine will be about half each from puncheon and barrique. This had a more charry oak and coffee character, with less upfront fruit and chewier tannins.
Moving on to another sample from barrique, we tried the "Intrepid", which is 100% Syrah. Scott described this as being the big Paso-style wine of the bunch. Mostly 174 clone Syrah from near the top of the vineyard, this was very dark in color, big, ripe, and fruit-forward, with some notes of spice, tar, and coffee. We shifted gear briefly to taste Scott's 2011 Torrin "Akasha." Another 100% Syrah but from a site situated more in the cooler Templeton Gap area, this featured distinct cool-climate character, with olive and herb, pepper, smoked meat, dark fruit, and fine tannins. Our final wine of the day was the Law "Audacious" – about 40% Grenache, 30% Cabernet Sauvignon, plus some Syrah and Petite Sirah. Scott mentioned that future "Audacious" blends may add Carignane and drop the Petite Sirah. Almost inky color, this displayed a stony, minerally component along with blueberry and plum fruit, some coffee notes, and a grippy tannic finish.
I'm sure that Law Estate Wines will make a splash when they release their first wines later this year. The wines that Sasha and I tasted with Scott are very much in the mold of those from other highly-regarded Paso Robles producers. Favorite barrel samples included the Law Grenache, "Sagacious" from puncheon, "Audacious," as well as the Torrin "Akasha." As I've found with other new wineries sourcing fruit from very young estate vineyards, it will probably take a few years for the Law wines to really find their own style, but with Scott working on them from the start, I think he'll lead them in a distinct direction before very long.

Sasha and I said goodbye to Scott and headed back to the Bay Area – with a stop at In-N-Out Burger along the way. We had a fun day in Paso Robles, tasting a lot of barrel samples along with a few bottled wines. We gained a better understanding of the fruit from Law Family Vineyard, which was a key goal of our trip. The barrel samples we tasted were mainly from newer producers – Epoch, Nicora, and Law – and the barrel samples from Anthony Yount at Denner were so different from that label's earlier wines that they're almost like a new producer as well. Some of these samples – the 2011 wines from Epoch and Law – were nearly ready to be bottled, and there were some standout wines among them. The 2012 barrel samples showed a lot of promise as well, especially from Denner and Epoch. The top bottled wine of the day for me was the 2010 Nicora "Buxom" Syrah-based blend, which showed fine cool-climate Syrah character.
Paso Robles remains one of California's most interesting wine regions, particularly for varietal wines and blends based on Rhône grape varieties. Most of these are on the bigger end of the wine spectrum, but over the past five or six years we've seen vintners working to turn them into more varied and interesting wines with subtlety and nuance. The wines we tasted on this visit show that the wines from Paso Robles are continuing to evolve. As always, thanks to everyone that we visited for being so generous with their time and their wine!