Napa and Sonoma - December 2014
I've been making a December visit with friends to Napa and Sonoma nearly every year. Sometimes it becomes a long weekend getaway and sometimes it's just a day-trip, as it was this year.
My friends Jane and Alan joined me on the Sunday before New Year's – a beautifully clear day but colder than usual for the Bay Area. We only had one winery appointment for the day, plus a list of other possible stops depending on what we felt like doing.
Sunday - December 28, 2014
Tasting Notes: Current Releases

Lagier Meredith 2012 Syrah, Mount Veeder, Napa Valley. Medium purple color, this displayed blackberry, herbs, grilled meat, and pepper aromas, along with a floral note. Medium-bodied with a lively mouthfeel, showing a stony mineral element along with fine tannins on the finish, nice.



The first stop of the day was our lone appointment, at Lagier Meredith Vineyard. We stopped briefly along Dry Creek Road in the hills above Napa Valley to take in an annual holiday tradition there – the big Tyrannosaurus Rex along the side of the road holding Santa Claus in its jaws! From there it's a short drive to the turnoff that leads up and up and up on the steep, narrow drive to Lagier Meredith. We finally arrived at the house of Steve Lagier and Carole Meredith, which overlooks their vineyard.
The site boasts a spectacular view from the ridge of Mount Veeder. Carole walked us down to their old house, which faces across part of the vineyard and out to Napa Valley far below. She pointed out various vineyard sites and other landmarks in the mountains beyond. After walking back up to the new house, we decided to sit out on their deck. Even though it was a bit chilly, it was an unusually calm morning so it was pleasant outside – Steve even braved the weather in a t-shirt!
I've written about Lagier Meredith several times before, most recently from a visit in December of 2013. But, a short summary is always helpful. Steve and Carole purchased their property on Mount Veeder in 1986, but it wasn't until 1994 that they planted their grapevines there. The vineyard is only 4½ acres in size, so Steve and Carole are able to do nearly all the work there themselves. The soil is mostly fractured sandstone and shale, the seabed soils common on Mount Veeder but unusual in most of Napa Valley. They planted Syrah there ("Syrah loves a view," as famed vintner Jean-Louis Chave told them), and for years that was the only variety in the vineyard. The first plantings were Durell clone Syrah, and they added more clones later – 174, 383, 470, 525, and 877. In 2007 they planted a small block of Mondeuse just below their new house, and in 2010 they grafted over some Syrah vines to Malbec and Zinfandel.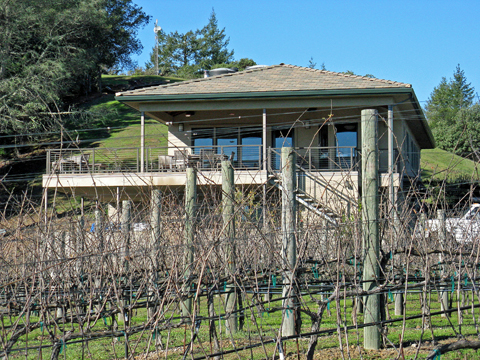 Lagier Meredith's first commercial release was a 1998 Syrah, and up until 2009, all they made was Syrah and Syrah Rosé. They've now added bottlings of Mondeuse, Malbec, Zinfandel (called "Tribidrag" – a very old Croatian name for the variety), and a Syrah dessert wine called "Precious Bane." Steve and Carole also team up with their friends and neighbors Aaron and Claire Pott for their Chester's Anvil label, which has featured Gewürztraminer, Sauvignon Blanc, Chardonnay, a white Rhône-style blend called "Gretna Green," Zinfandel, Malbec, and a red Bordeaux-style blend called "Hattori Hanzo."
I asked Carole and Steve how their crop was in 2014 and they told me that it was good-sized, similar to 2012 and 2013. Steve said that they will start pruning their vines in the next few weeks, and that they will also begin to rack their 2014 wines off the lees soon. He brought out a bottle of their new 2012 Syrah and opened it for us to taste as we sat around the table on their deck. I thought that it was showing especially well for being so young, bottled just prior to the 2014 harvest. Like all of their Syrahs, the fruit was entirely destemmed, fermented in one-ton t-bins, and aged for about 22 months in neutral oak.
Talking about the 2014 harvest and crush brought us to the subject of the 6.0-magnitude earthquake that struck the area on August 24th, just before harvest was starting for many vintners there. The quake occurred along the West Napa Fault, which runs through the canyon close by the vineyard. Fortunately, Steve and Carole's house is built on bedrock and of recent construction, so they had no real problem there. But the facility in Napa Valley where they store their barrels of wine was hit hard by the quake, and Steve and Carole were fortunate that they had just bottled their 2012 wines a couple of weeks earlier.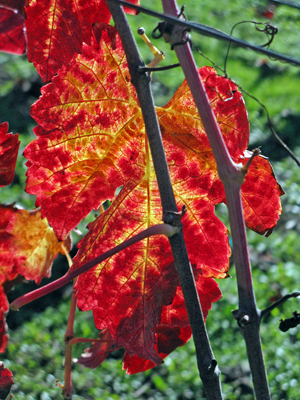 It was a delicate procedure to extricate toppled barrels there – Steve likened it to a giant game of Jenga. Carole shot some remarkable videos (which she posted to Facebook) showing how Steve and several others at the facility carefully lifted barrels and moved them to safety without upsetting the precarious balance of other barrels around them. It took four days before Steve and Carole were even able to access their full 2013 barrels of wine, and amazingly, they lost just a single barrel of Syrah, along with about six older empty barrels. Steve told us that he will begin clamping their barrels to the barrel racks soon, which should increase the stability of the stacks. Both he and Carole are still very concerned about the potential for injury in future earthquakes – had the 2014 quake struck during the day rather than at 3:20am, it could have been a major tragedy.
Before we left, Carole helped Jane find some manzanita branches for her ikebana arrangements (Jane teaches ikebana classes in both Alameda and San Francisco). Alan tagged along to help out while I shot a few photos of the colorful last leaves remaining on the Syrah vines. Carole, Jane, and Alan eventually returned with an assortment of branches, which I somehow managed to fit in my car. Good thing we didn't have a fourth person along with us – we would have had to strap them to the roof for the rest of the day!
It's always a treat to visit Steve and Carole at their vineyard – you can be sure they'll have a few humorous stories to share – and I learn something new from them each time. It's no secret that I've been a fan of Lagier Meredith wines for many years. Their Syrahs show great consistency in their general character from year to year while still reflecting vintage variation. The simplicity and steadiness of the winemaking, particularly the use of only older barrels for aging, helps the vineyard terroir to show through. There's no heavy extraction, so the wines are generally approachable when young – the new 2012 Syrah is a case in point – yet they age exceptionally well. The rest of their wine line-up follows suit. All of the Lagier Meredith and Chester's Anvil wines are worth a try, and the Syrah remains among the best produced in California.
It was getting near lunchtime when we drove back down the hill from Lagier Meredith, and since we planned to head back in the general direction of San Francisco in the afternoon, we decided to take our lunch break at Oxbow Public Market in Napa. A popular destination for its assortment of food shops and cafés, akin to a high-end food court, we'd stopped there for lunch in the past. After we'd had a look around at the options there, we settled on Five Dot Ranch and Cookhouse. Jane and Alan both ordered burgers while I went for a portobello mushroom sandwich. The food was delicious, though it took us a little while to hunt down space at one of the tables shared by the various food vendors – not having enough seating has always been an issue at Oxbow.
Tasting Notes: Current Releases & Pre-releases

MacLaren 2013 Sauvignon Blanc, "Lee's," Rogers Vineyard, Dry Creek Valley. Barrel-fermented and aged for 6 months in neutral oak, with no malolactic fermentation. Light straw color, with tropical fruit and stone fruit aromas along with floral and lightly herbal notes. Medium weight with good acidity and a long, fresh finish, nice.

MacLaren 2011 Syrah, Atoosa's Vineyard, Russian River Valley. Aged for 14 months in 15% new French oak. Medium-light purple, showing savory herbal aromas along with dark fruit, earth, black pepper, and spice. Medium-light bodied with bright acidity and refined tannins – a lighter weight Syrah that's intriguing now but deserves more time in the cellar to show its best.

MacLaren 2012 Syrah, "Bonnie Glen," Bennett Valley. Sourced from Vivio Vineyard, from 470, 174, and 877 clones. Medium purple, this had bigger blackberry aromas plus lots of spice, a touch of pepper, and a pretty floral component. Medium-bodied with a more structured mouthfeel than the previous wine, finishing with firm but not aggressive tannins – a very promising youngster.

MacLaren 2011 Syrah, "Drouthy Neebors," Sonoma County. Sourced from 50% Samantha's Vineyard and 33% Atoosa's Vineyard, both in Russian River Valley, and 17% Stagecoach Vineyard in Napa Valley. Medium purple color, with more forward dark berry fruit, loads of spice, and notes of black pepper, earth, flowers, and dried herbs. A bit richer on the palate but with fine acidity and moderate tannins, nice.

MacLaren 2011 Syrah, Samantha's Vineyard, Russian River Valley. Aged for 14 months in 20% new French oak. Slightly darker purple, this featured more upfront fruit, spice, and herbs on the nose. Medium weight on the palate with a lively texture and somewhat grippier tannins.

MacLaren 2011 Syrah, Stagecoach Vineyard, Napa Valley. Aged for 14 months in about 20% new French oak. Medium-dark color, with plum and darker berry fruit, earth, spice, and a touch of pepper. Medium-rich mouthfeel with a stony mineral element and bigger tannins on the long finish.

MacLaren 2012 Syrah, Atoosa's Vineyard, Russian River Valley. Sourced from five Syrah clones. Medium purple, displaying spice, black pepper, black olive, and herbs along with black fruits. Medium-bodied and structured for aging – still coming together but showing lots of potential, this should have a long life ahead of it.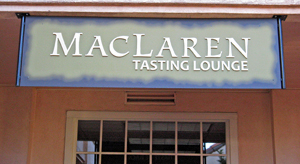 Continuing our way back toward San Francisco took us through Carneros and into Sonoma Valley, so I suggested a stop at MacLaren Wine Company in Sonoma. I'd just discovered these wines earlier in the year, and since Jane and Alan had never tried them, I thought it was a good opportunity to introduce them to the wines and to MacLaren owner/winemaker Steve Law. The MacLaren Tasting Lounge is located in the Sonoma Court Shops just south of the Sonoma Plaza – several other tasting rooms are located there as well. Navigating through the complex can be a bit like trying to find your way through a maze, but since I'd visited there once before, we found the MacLaren space quickly, and Steve welcomed us inside.
Since I wrote about MacLaren after my visit with Steve in May 2014, I'll just give the basics here. The winery name comes from the Scottish Clan MacLaren, of which the Law family is a part. MacLaren produces a little Sauvignon Blanc and Pinot Noir, but it's becoming known mainly for its fine Syrahs, sourced from cooler-climate vineyard sites in Sonoma and Napa. Steve is originally from Scotland, and worked in the electronics field before getting into wine. He worked in southern France for about ten years, and became enamored of Northern Rhône Valley Syrahs during that time. He later had to relocate to California for his work, and found an opportunity to learn more about wine by working during crush in 2005-2006 with Michael Talty at Talty Winery in Dry Creek Valley. By 2007, Steve was producing his own wine, and it became his full-time job in 2011. The wines are still made at the Talty facility, and the Sonoma tasting room opened in late 2013.
All of the Syrah vineyard sites are in fairly cool locations. Atoosa's Vineyard is on a foggy site in the heart of Russian River Valley, while Samantha's Vineyard is on a steep hillside near Limerick Lane south of Healdsburg. Stagecoach Vineyard is on volcanic soil at 1,600-foot elevation above Napa Valley. The "Drouthy Neebors" bottling (it means "thirsty neighbors" in the old Scots language) is the only 2011 MacLaren Syrah that's not a single vineyard designate. Steve is a fan of Bennett Valley for Syrah, and although he was not able to source fruit there in 2011, we tasted his 2012 "Bonnie Glen" Bennett Valley bottling, sourced from Vivio Vineyard. In 2013 and 2014, he's gotten Syrah fruit from Moaveni Vineyard, not far from Vivio.
Steve looks for vineyards where the cooler climate will help ripen Syrah before the sugar levels rise too high. He picks mainly based on acidity, so the lower brix and resulting lower alcohol are a result of that. He's not deliberately trying to make low-alcohol wines, but because of the other factors he's looking for, they end up that way – most are in the 13-14% alcohol range, with the ripest just tipping over 14% and a few below 13%. The cool 2011 vintage produced many lower-alcohol wines in coastal California, but even in warmer 2012, the MacLaren Atoosa's Vineyard Syrah is less than 13% alcohol.
Besides aiming to retain higher acidity in his wines, Steve also works to manage Syrah's sometimes-aggressive tannins. He ferments with native yeast in smaller bins, so lower fermentation temperatures keep tannin extraction in check, and he manually punches down just twice a day. He also presses slightly sweet and keeps close track of the wine during the press process to keep out any with harsher tannins. Only about 15-20% new French oak is used for aging the Syrahs, with the rest in older barrels. The results were evident in the wines – even with good structure on the palate, they finished with more refined tannins than I would have expected.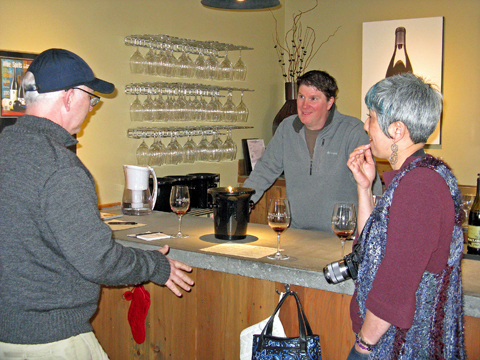 We tasted through all of the current MacLaren releases – a 2013 Sauvignon Blanc and four 2011 Syrahs. Steve also gave us a preview of a couple of his 2012 Syrahs, which will be released this spring. The Sauvignon Blanc was very pleasant – Steve has said that he's aiming for a Loire-style wine. It's a favorite of his mother (it's because of her that Steve is making Sauvignon Blanc), and since he makes so little of it, he joked that he'd have to check with her if we wanted to buy any! The 2011 MacLaren Syrahs seemed to be more open than when I'd last tasted them in May. I've felt that wines from that vintage – especially those from cooler-climate vineyard sources – are taking longer to come around (perhaps why many of them reviewed early did not fare particularly well with critics) but many are now starting to fulfill the promise I sensed that they had all along. The two 2012 Syrahs that we previewed both showed lots of potential but were still on the tight side – I thought the "Bonnie Glen" seemed like it was not far off while the Atoosa's will take more time.
I asked Steve whether there was any damage at his tasting room from the Napa earthquake earlier in the year, and he told us that he lost just four bottles that had been displayed on a shelf. He noted that the quake motion had differing effects depending on the direction that the shelves and racks were facing – there was no damage to wineglasses on racks facing 90 degrees from the wine shelf.
Jane, Alan, and I had a fun time visiting Steve at the MacLaren Tasting Lounge. He does a fine job of talking about his wines with interesting information and with humor – and of course with that distinctive Scottish accent too! The consistent winemaking approach that Steve takes with his Syrahs help reflect the distinct character of each vineyard. The influence of the Northern Rhône wines that first inspired Steve to make Syrah is evident, but they're still very much California wines, with plenty of fruit alongside the herb, pepper, and spice character. In fact, I found lots of spice to be the biggest common factor in the MacLaren Syrahs. The 2011 Atoosa's Vineyard and "Drouthy Neebors" Syrahs were my favorites, along with the 2013 "Lee's" Sauvignon Blanc. Steve is a relatively new to winemaking, but he's already producing some outstanding wine – if you like cool-climate California Syrah, MacLaren is a label that's well worth checking out.
Tasting Notes: Current Releases

Tin Barn 2012 Sauvignon Blanc, Hi Vista Vineyard, Carneros, Sonoma County. Fermented in 80% stainless steel and 20% older oak. Very light straw color, this displayed bright citrus fruit, herbs, and a slight floral note on the nose. Medium-light weight with a lively texture and a clean, pleasant finish.

Tin Barn 2013 "Joon" Rosé of Syrah, Coryelle Fields, Sonoma Coast. Made entirely in stainless steel. Light salmon-pink color, showing an upfront herbal character, with earthy red fruit and spice in support. Medium-light bodied with juicy acidity and a stony mineral note on the crisp finish, very nice.

Tin Barn 2011 Pinot Noir, Ricci Vineyard, Carneros, Sonoma County. From 66% 777 and 34% Pommard clones, aged in 30% new French oak. Medium-light ruby color, this had earth, black cherry, and spice aromas. Medium-bodied with a slightly tangy finish.

Tin Barn 2012 Zinfandel, Gilsson Vineyard, Russian River Valley. Aged in 20% new American oak. Medium purple, with lots of spice, vanilla/oak, and ripe berry fruit. Medium weight on the palate, with a somewhat woody note that distracted from the bright, lively finish.

Tin Barn 2011 Zinfandel, Los Chamizal Vineyard, Sonoma Valley. Aged in 20% new American oak. Slightly lighter color than the previous wine, featuring brighter brambly fruit aromas plus vanilla/oak, spice, and a touch of pepper. Medium-bodied with more structure than the previous wine and firmer tannins on the finish – I preferred this Zin bottling to the Gilsson one.

Tin Barn 2011 Merlot, Desnudos Vineyard, Sonoma Valley. 100% Merlot, aged in 25% new French oak. Medium purple, with herbal aromas upfront along with black cherry, earth, and a hint of sweet oak. Medium weight, finishing with moderately grippy tannins.

Tin Barn 2011 Cabernet Sauvignon, Sonoma Valley. 85% Cabernet Sauvignon, 9% Merlot, 4% Cabernet Franc, 2% Petit Verdot, aged in 25% new French oak. Medium-dark color, this showed herbal plum and currant fruit, lots of spice, and vanilla/oak in the background. Medium-full bodied with a lively texture and good structure, and grippier tannins on the lingering finish – this has the potential to develop nicely with time in the cellar.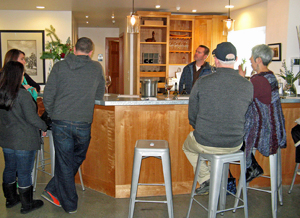 We made one more stop in the afternoon before driving back to San Francisco. We headed south from Sonoma along Eighth Street East until we reached the area near the airport where there are several industrial parks on both sides of the road. Entering one of these, we drove all the way to the rear of the complex, around a corner, and finally arrived at Tin Barn Vineyards. The location was a little tricky to find, but fortunately there are good directions on winery website and signage inside the warehouse complex. I'd heard about Tin Barn over the years but had little experience with their wines, so I thought this would be a good opportunity to learn more about them.
We walked into the tasting room inside the large metal building (sort of a "tin barn"!), where several groups of visitors packed the small tasting counter. Brett Hamner greeted us from behind the tasting bar and we managed to squeeze into a space there. The Tin Barn name actually comes from the location of the winery's very first vineyard source – Coryelle Fields Vineyard near Tin Barn Road along the far Sonoma Coast. The winery was established in 2000 by Michael Lancaster, along with a small group of partners, and he continues to make the wine there. He'd worked at Gloria Ferrer and Quail Ridge before co-founding Tin Barn. They've been in their current facility since 2004, and they participate in a joint Open House with other Eighth Street wineries each year – there's one coming up in late February.
Tin Barn originally made wines from fruit sources in both Napa and Sonoma, but since about 2007 the focus has been on Sonoma County single vineyard designate wines – currently the only non-vineyard designate is their Sonoma Valley Cabernet Sauvignon. Production for the winery is about 3,000 cases per year, but they do custom crush for other vintners at the facility, about 15,000 cases total. Most Tin Barn bottlings are quite small, only about 200-250 cases for their Zin and Cab releases, and smaller production for some other wines – the largest production wine is their Sauvignon Blanc at around 1,000 cases per year.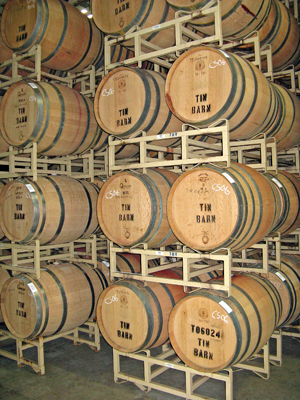 Vineyard sources range from Coryelle Fields (Syrah) on the northwestern Sonoma Coast to Hi Vista (Sauvignon Blanc) and Ricci (Pinot Noir) in the Sonoma portion of Carneros. Zinfandel – considered one of Tin Barn's signature varieties – comes from Gilsson Vineyard in Russian River Valley, with 50+ year-old Primitivo clone vines on St. George rootstock, and from Los Chamizal Vineyard in Sonoma Valley, farmed by noted vintner Peter Haywood. There's also Desnudos Vineyard in the Mayacamas Mountains above Sonoma, so named for the nudist colony that had been on the site a hundred years ago – now that's some terroir you don't find too often!

We tasted through seven current Tin Barn releases, starting with Sauvignon Blanc, fermented in about 80% stainless steel and 20% older oak, with no malolactic fermentation. Next was the "Joon" Rosé of Syrah from the winery's very first fruit source of Coryelle Fields. Made entirely in stainless steel, this was a terrific rendition of Syrah Rosé. I've found many mediocre examples of this type of wine, but when it's done right – as this one is – it can be marvelous. The Pinot Noir featured both 777 and Pommard clones, aged for 14 months in 30% new French oak. Both of Tin Barn's Zinfandels were big and ripe but not jammy in character – these are the only wines aged in American oak, with 20-30% new barrels. The Merlot is a small-production bottling, as most of that variety is used for blending into the Cabernet. The Cabernet Sauvignon also includes small amounts of Cabernet Franc and Petit Verdot – both the Cab and Merlot wines were aged for 18 months in 25% new French oak.
After we'd finished tasting, Brett invited us to take a look at their winery, just through a door from the tasting room. The tall barrel stacks brought to mind the Napa earthquake once more, and I asked him whether they'd suffered any damage there. He told us that they'd had only minor problems, but had to work carefully to recover a stack of cased goods that had tipped and leaned against a wall – remarkably, only one bottle was broken! Much like Steve Law's experience at MacLaren, Brett mentioned that the direction of the shaking affected some things more than others depending on how they were stacked.
We had an enjoyable visit to Tin Barn. Brett was an engaging and knowledgeable host, and he handled the busy tasting room very well. I thought the Sauvignon Blanc and Merlot were both good, but my clear favorites of the wine line-up were the "Joon" Rosé of Syrah and the Cabernet Sauvignon – the latter wine being a particularly good value as well. Tin Barn may not be the easiest winery to find, but it's worth a stop if you're visiting the town of Sonoma.
We debated for a short while on whether to make one more winery stop before heading back to San Francisco, but we ultimately decided to call it a day. This was a pleasant and relaxing outing, with a couple of repeat visits for me to two very fine Syrah specialists along with a stop at one of Sonoma's Eighth Street wineries – I'll have to check out more of them in the future. As always, thanks to everyone that we visited for being so generous with their time and their wine!