A Visit to Skinner and Gros Ventre - July 2014
Every summer, I take off for a long weekend in the Eastern Sierra with a few friends. It's a time I look forward to each year, spending time with good friends, enjoying day-hikes among some of the most spectacular mountains in the country (this year's hike was a challenging but fun one along the Sierra crest), and relaxing. We all headed back home on a late-July Monday – a couple of my friends took the quick route over Tioga Pass, but knowing that my friend Alan and I would not be in a particular hurry, I had arranged for a visit to Skinner Vineyards in the Fair Play area of El Dorado County on our way back.
I'd read about a wildfire that had broken out near that area a few days before (the "Sand Fire") and I was concerned that there could be road closures due to it. Fortunately the fire had been contained quickly, though not before destroying some homes and other structures and briefly threatening local vineyards. The good news for Alan and me was that the roads along our route were all open. We drove north past Mono Lake and along the scenic canyon of the West Walker River before turning west into the mountains and over Monitor Pass and Carson Pass. We turned off of the main highway onto Omo Ranch Road, and it took only about a half-hour of winding our way through the forested hills before we pulled into the driveway of Skinner Vineyards.
Skinner Vineyards & Winery
Tasting Notes: Current Releases & Tank Samples

Skinner 2013 Picpoul Blanc, El Dorado. 100% Picpoul, made entirely in stainless steel. Light straw color, with green apple and citrus aromas plus touches of fresh herbs and orangepeel. Medium-light weight on the palate with vibrant acidity and a clean finish, nice.

Skinner 2012 Roussanne, El Dorado. 89% Roussanne, 7% Marsanne, 4% Viognier, sourced from Elenridge Vineyard and the estate White Oak Vineyard. Light yellow-straw color, this showed fig, stone fruit, and spice with undertones of vanilla/oak. Medium-rich texture with a long finish – this is definitely a candidate for aging.

Skinner 2013 Rosé, El Dorado. From 50% each Grenache and Mourvèdre, grown and picked specifically for Rosé and made in neutral oak. Very light salmon/peach color and slightly cloudy, this had bright red fruit, watermelon, and spice aromas. Medium-light bodied with crisp acidity and a fresh finish.

Skinner 2012 Grenache, El Dorado. 100% Grenache, sourced from five vineyards with average elevation of about 2,800 feet. Medium-light garnet color, with ripe and bold plummy fruit, spice, notes of pepper and dried herbs, and vanilla/oak. Medium-bodied with the structure to age, finishing with moderate, chalky tannins.

Skinner 2011 "Eighteen Sixty-One," El Dorado. 42% Grenache, 29% Mourvédre, 29% Syrah, aged in about 25% new oak. Vibrant medium-dark purple, featuring a darker fruit profile along with earth, dried herbs, and spice on the nose. Richer mouthfeel than the Grenache, with fine tannins and a long finish.

Skinner 2011 Mourvèdre, Estate, El Dorado. 90% Mourvèdre, 10% Syrah, sourced from both estate vineyards, aged in 10% new oak. Medium garnet-purple color, this had herbal aromas upfront – not green or stemmy, but distinctly herbal – with red fruits, white pepper, and earth in support, plus a slightly briny mineral note. Medium-bodied with a lively texture, this finished with fine tannins, quite nice.

Skinner 2011 "Dry Diggings," El Dorado. 60% Syrah, 30% Grenache, 10% Mourvédre, aged in 10% new oak. Medium-dark purple, displaying similar herbal character to the Estate Mourvèdre, along with a darker fruit profile, pepper, spice, and a floral note. A bit more weight on the palate than the Mourvèdre, with firmer tannins on the finish, nice now and should age well too.

Skinner 2013 Viognier, El Dorado (tank sample). Light straw color, this had aromas of citrus fruit along with touches of flowers and honey. Bright acidity on the palate, with a fresh clean finish, nice.

Skinner 2013 "Seven Generations," El Dorado (tank sample). Mostly Grenache Blanc and Roussanne, plus Viognier and Marsanne. Slightly darker color than the Viognier and a bit cloudy, with apple and pear, spice, and orangepeel along with undertones of sweet oak. Richer texture than the Viognier, but still with a lively finish.

Skinner 2013 Roussanne, El Dorado (tank sample). Light yellow/straw color, showing a bit more vanilla/oak on the nose than the previous wine, along with stone fruit, honey, and spice. Medium-rich mouthfeel with a long, smooth finish.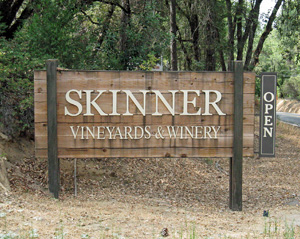 I'd stopped at Skinner on a couple of previous occasions, most recently in 2012. But this was the first time I'd had the opportunity to visit there with winemaker Chris Pittenger, and I was looking forward to that. Alan and I stepped into the winery building, and found Chris upstairs in his small office, finishing his lunch. There were a number of wine samples on his desk, and he explained that he was in the process of tasting through to determine final blends for some of the 2012 red wines.
Chris had arranged for us to taste some of the current Skinner wines with him at their tasting room, on top of a knoll that boasts an amazing panoramic view. So we all headed back out of the cool winery building into the 90+ degree heat and made the trek up the hill to the tasting room.
Like an increasing number of other top El Dorado wineries, Skinner specializes in wines made from Rhône grape varieties. As we walked alongside the vineyard, I asked Chris how the vines were coming along. He told us that the Syrah was about 50% through veraison, with a bit less for the Grenache and Mourvèdre. He said that their Viognier is nearly always the first variety picked there. Back into the coolness of the tasting room, we headed down a spiral stair to the private tasting area, designed to be reminiscent the stone cellar of the nineteenth-century J. Skinner winery that once stood in the area.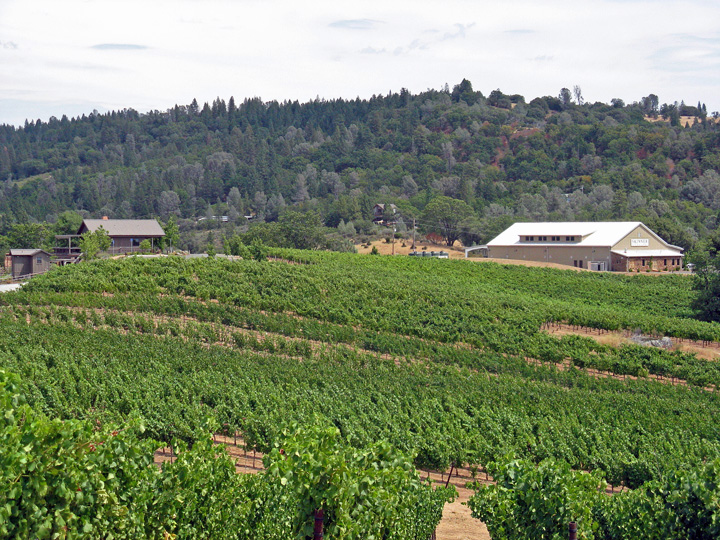 James Skinner – the great-great-great grandfather of current winery owner Mike Skinner – planted vines and started producing wine and brandy in El Dorado County in the 1860s. The original J. Skinner Winery did not survive Prohibition, but Mike and his wife Carey re-established the family winery in 2007. The first Skinner wines were from that vintage, and the winery building was completed in 2010, with the tasting room opening the following year. The winery is definitely a family business – Mike and Carey's son Ryan is the winery's general manager, while sons Kevin and Brendan are also involved in the winery's business operations.
I'd first met Chris when he poured Pinot Noirs from his Gros Ventre label at the West of West Grand Tasting of West Sonoma Coast wines in summer 2012. I was impressed by the wines and surprised to learn that he made them so far away from Sonoma, but it all made sense when he said that he was also the winemaker at Skinner. Chris joined Skinner in 2007, and his winemaking skill is becoming more widely recognized in recent years – he was named a "Winemaker to Watch" by the San Francisco Chronicle in 2013. After earning his degree at Cal Poly San Luis Obispo, Chris worked for several years as a sommelier, including a stint in Jackson Hole, Wyoming (more on that later). He transitioned into winemaking, working at a number of top-notch producers in California, Australia, and New Zealand, including Robert Biale, Torbreck, Kim Crawford, Williams-Selyem, and Marcassin. Chris was working at Marcassin when the Skinner family approached him about assisting them with their new venture, and he's been with them ever since.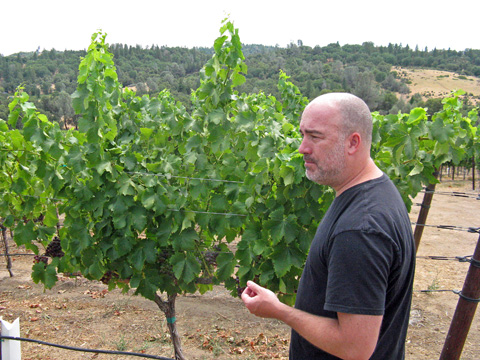 The original nineteenth-century Skinner vineyard was in the vicinity of the small town of Rescue, north of Placerville and near Coloma, where gold was first discovered in 1848. The current winery has two estate vineyards – one of them, 12-acre White Oak Vineyard, is very close to the original vineyard site. At a bit over 1,300-foot elevation, with volcanic loam and underlying decomposed granite soil, it includes Viognier, Marsanne, Roussanne, Grenache Blanc, Syrah, Grenache, Mourvèdre, Petite Sirah, and Carignan. Stoney Creek Vineyard is adjacent to the winery and tasting room near the town of Fair Play in southern El Dorado County. Around 20 acres are planted on the 70-acre property, reaching an elevation of over 2,700 feet. The vines are planted in decomposed granite soil on hillsides with varying slopes and aspects. There was some Syrah and Viognier already planted on the site when the Skinners purchased it, and they've added a range of other plantings: Viognier, Grenache Blanc, Picpoul Blanc, Trousseau Gris, Syrah, Grenache, Mourvèdre, Petite Sirah, Counoise, Zinfandel, Counoise, Carignan, Trousseau, Petite Bouschet, and Mission.
Skinner regularly sources fruit from several other El Dorado vineyards, most of them farmed by noted vineyard manager Ron Mansfield. Elenridge is located about midway between Coloma and Placerville – Skinner gets Roussanne and Mourvèdre from there. Von Heune is a small lower-elevation site farther to the west that also provides Mourvèdre fruit to Skinner. Swansboro and Fenaughty are both higher-elevation sites (2,600-2,900 feet) north of Placerville – the winery gets Grenache Blanc, Grenache, and Mourvèdre from Swansboro and Grenache and Syrah from Fenaughty. Sumu Kaw is another higher-elevation vineyard, located in the Pleasant Valley area between Placerville and Fair Play – this site provides Marsanne, Roussanne, and Grenache to Skinner.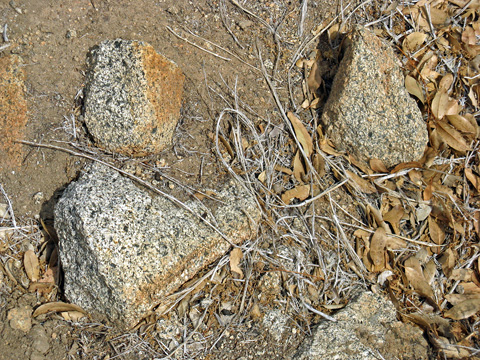 Alan and I sat down with Chris, and we started in with tasting some of the current Skinner releases. We began with the 2013 Picpoul, which was made in two stainless steel barrels. Next was the 2012 Roussanne, sourced from about ? Elenridge Vineyard and ? from the estate White Oak Vineyard, made in a combination of new French oak hogsheads, neutral barriques, and stainless steel. Chris told us that all new oak on Skinner's white wines is from hogshead barrels (about 300 liters vs. 228 for barriques). He's looking for the oak component to integrate over time for whites meant to age, such as the Roussanne. Chris also said that all the wines are bottled unfiltered, so all whites go entirely through malolactic fermentation. Before moving on to reds, we tried the 2013 Rosé, from about 50% each Grenache and Mourvèdre (the proportion changes from year to year). This fruit is grown specifically for the Rosé – it's picked about 21-22 brix, destemmed and pressed after about 24 hours on the skins, and made in neutral oak.
I asked Chris whether he's experimented with making any skin-contact white wines – he told us that he made two barrels of skin-contact Grenache Blanc that were bottled for Chef Michael Voltaggio (a winner of the "Top Chef" television cooking competition show) of Ink Restaurant in Los Angeles. He's not sure about this method for his whites, as he thought the skin-contact wine was more tannic that he might have preferred. Chris also noted that their Grenache Blanc tends to be a light orange color right out of the press with no skin contact at all – he showed us some photos on his phone that showed surprising color.
Our first red was the 2012 Grenache, with about ¼ of the fruit coming from the two estate vineyards plus some from Fenaughty, Sumu Kaw, and Swansboro. The 2012 vintage was aged in about 20-25% new hogsheads – Chris told us that the new oak for this wine is normally around 10-15% but with the large 2012 crop they needed more barrels than expected, so they ended up with a larger percentage of new ones. We continued with the 2011 "Eighteen Sixty-One," a southern Rhône-style Grenache-based blend – the name is a tribute to the year that the Skinner family first planted their Sierra Foothills vineyard. The "Eighteen Sixty-One" blend includes fruit sourced from the estate vineyards and others – Chris described the color of the Mourvèdre component from Von Heune Vineyard as "electric purple."
Next up was the 2011 Estate Mourvèdre. Most of the fruit came from the Stoney Creek site – Chris feels that this vineyard brings out Mourvèdre's herbal character while White Oak provides more red fruit. He noted that in the cooler 2011 vintage there were no 100-degree days at the vineyard and no significant heat spikes, unusual for that site. Some of the best examples of California Mourvèdre I've tasted over the years have come from the Sierra Foothills, and this one was right up there with the best. The 2011 "Dry Diggings" is a Syrah-based GSM blend with fruit sourced from both estate vineyards and from Fenaughty. Although the "Dry Diggings" contained only 10% Mourvèdre, I felt it had more in common with the Estate Mourvèdre (notably a strong herbal component) than with the "Eighteen Sixty-One" Grenache-based GSM blend.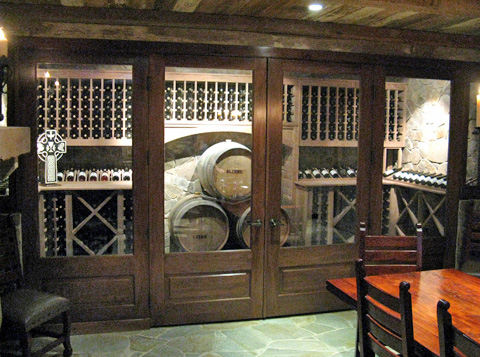 Chris told us about two new estate cuvées that will be coming soon, with the initial release from the 2012 vintage. There will be a white called "Thirteen Ten" and a red named "Twenty-Seven Forty" – both named for the elevations of the two estate vineyard sources. Chris also said that Skinner will release a varietal Counoise bottling from 2013, and that there will also be wine club Fenaughty and Sumu Kaw vineyard-designate bottlings. The winery has a second label called Six Horse for their non-Rhône grape varieties such as Zinfandel – there will be more new bottlings for that label coming up too (more on that below). The current Skinner annual production is just under 3,000 cases per year, and Chris said that this might increase to 4,000-5,000 cases over the next few years. The winery is built to handle 10,000 case production, and currently Gros Ventre, Baiocchi, and Miller Wine Works also make their wines there.
Chris talked a little about his winemaking for the Skinner wines. In the vineyard, he told us that he's looking for consistency, for uniformity of ripening. He favors early picks for the white varieties in order to retain their acidity. Chris chooses pick dates largely by the flavor of the grapes – he wants them to be "just ripe" and no more. He looks at the balance of brix and acidity, but he said he's not dogmatic on what numbers he's looking for when determining pick dates. Chris told us that he likes the "California sun" aspect to his wines – ripe fruit, but aiming for a more restrained style than some others from the area. He's happy to pick at 22-23 brix rather than 28-29. Most of the reds are destemmed although he uses some whole clusters as well. All wines go through primary fermentation with native yeast, while they are inoculated for malolactic fermentation. After the wines are pressed, Chris does not stir the lees and typically does not rack the wines off the lees. Use of new oak is fairly modest, and as noted above, larger hogshead barrels are chosen for much of the aging in new oak. Most reds stay in barrel for around 12 months, while some are aged longer – as mentioned earlier, Chris was working on blends for some of the 2012 reds the day we visited.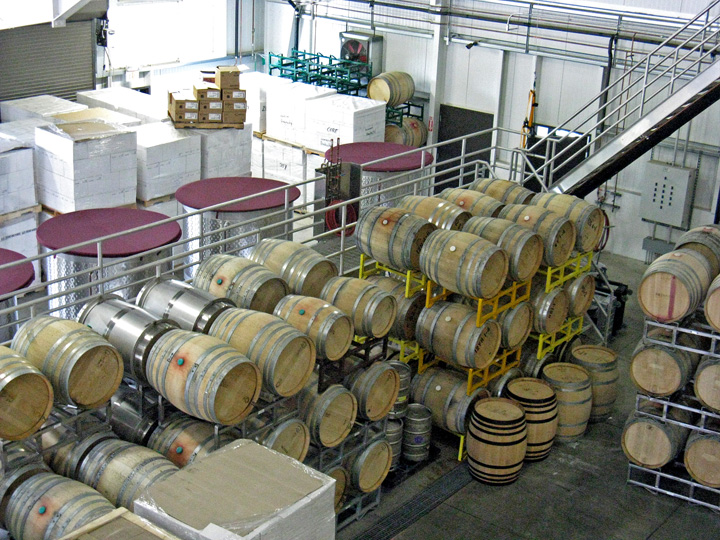 After we finished our tasting, we all walked back down to the winery building, where we jumped into an ATV for a quick tour through the estate Stoney Creek Vineyard. Chris told us that the soil there is similar to that of the northern Rhône, while the climate is closer to the southern Rhône. The soil is largely decomposed granite and sandy loam, with good drainage. Many parts of vineyard have only a couple of feet of topsoil with granitic hardpan below, and Chris told us that this helps rein in the natural vigor of the vines. He took us up to a large boulder at a high spot in the vineyard, and showed us the friable rocks that are easily broken down to small pebbles and granite powder.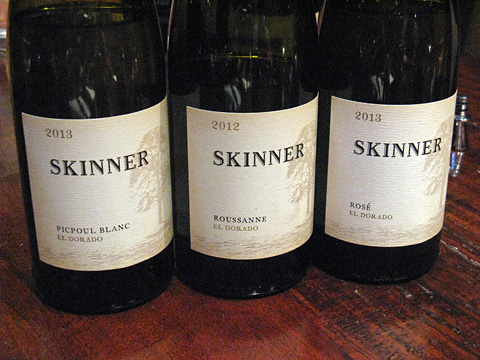 From that high point in the vineyard, we looked to the west where some smoke from the Sand Fire was still visible (and a few flames in the distance too) but it didn't appear too bad. I asked Chris whether he was concerned with possible smoke taint, but he said that with relatively little smoke and at that later point of the growing season he didn't feel that it would present any problem. All of the vines at Stoney Creek are trellised, none are head-trained. Chris mentioned that he'd like to be able to dry-farm the vines but he thinks it probably will not be possible there. I asked about issues with birds, ground squirrels, etc., and Chris showed us a couple of the owl boxes at the vineyard – he also told us that they have not needed to put up bird netting at Stoney Creek but they do need it at White Oak.
Most of the vineyard is planted to Grenache and Syrah, and Chris noted that some of the older Syrah vines have been grafted to other varieties. Grenache and Mourvèdre are planted to both Tablas and Entav clones. More non-Rhône varieties have been going in at Stoney Creek, as an effort to replicate more of the plantings that had been in the nineteenth-century J. Skinner vineyard. Chris showed us vine rows planted for some of these "California heritage" varieties that were more common in earlier times, including Carignan, Trousseau, Trousseau Gris (previously known as Grey Riesling in California), and little-known Petit Bouschet (the more familiar Alicante Bouschet grape is actually a cross of Petit Bouschet and Grenache). The intent is to create a field blend from these varieties, much as had probably been done with those grapes in the nineteenth century. Chris told us that Skinner is also adding some Mission grapes, with the goal of making an Angelica wine from them. The winery's Six Horse label for wines from non-Rhône varieties is named for the six-horsepower engine used at the original J. Skinner winery.
Once we had returned to the winery building, Chris asked if we had time to taste a few 2013 white wines from tank – these were to be bottled shortly after our visit. We tried three of them – Viognier, Roussanne, and a southern Rhône-style white blend called "Seven Generations," made mostly in neutral oak and stainless steel. Other Skinner and Six Horse wines that we didn't taste on this visit include Grenache Blanc (I'd tasted the 2012 vintage a few months previously – lots of stone fruit and tropical fruit plus a floral note), Zinfandel, Syrah, and Petite Sirah.
I've felt that the Skinner wines have improved with each vintage, as Chris and the Skinners get a better feel for their vineyard sites and fruit. I've sensed an increasing element of restraint in the wines in recent years, taming the natural exuberance that can come from El Dorado fruit. Of course the cooler 2011 vintage may have been a factor, but in any case I thought the 2011 reds were the finest I've tasted from Skinner, particularly the Estate Mourvèdre and the "Dry Diggings" blend. And the whites continue to display a bright acidity and focus that's not often found in whites from the Sierra Foothills. I think that Chris' background in making Pinot Noir comes into play here – the Skinner wines come across as Rhône-style wines made with a Pinot winemaker's sensibility, a different approach than some others take with these grape varieties. The winery and estate vineyards are fairly young, so although the wines are already very good, there's potential for more in the future. Skinner has quickly made an impact in El Dorado County, and I'm looking forward to following them in the coming years.
Gros Ventre Cellars
Tasting Notes: Current Releases
Gros Ventre 2012 Pinot Noir, Cerise Vineyard, Anderson Valley. Medium-light ruby color, with bright red fruits, tea leaf, and touches of flowers, earth, and vanilla/oak. Medium-bodied with lively acidity, good structure, and refined tannins on the long finish. While this should develop with time in the cellar, it's already approachable and very tasty.

Chris and his wife Sarah launched the Gros Ventre label in 2009, with a focus on Pinot Noir from the Sonoma Coast, Russian River Valley, and Anderson Valley. The label's name was inspired by two things. Chris and Sarah first met in 2003 near the Gros Ventre River in Jackson Hole, Wyoming, and later, as they were looking for a name for their label, Sarah was pregnant with their first child – Gros Ventre (French for "big belly") was Chris' playful nickname for her during that time.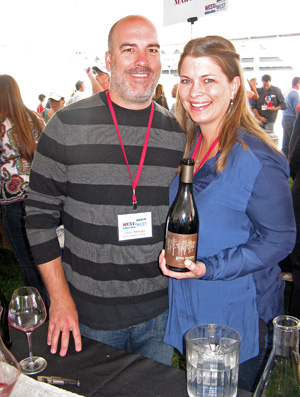 Gros Ventre sources fruit from several highly-regarded vineyards. Baranoff Vineyard in the Sebastopol area was planted in 2001 and is farmed by Paul Sloan of Small Vines Viticulture. Its high-density planting includes Calera, Swan, and five Dijon clones. Campbell Ranch is located near Annapolis in the far northwestern stretches of the Sonoma Coast. Also established in 2001, the vineyard is now farmed by Ulises Valdez and is planted to a number of Dijon Pinot clones. Cerise Vineyard, on a steep hillside high above Boonville in Anderson Valley, has been owned by Peter Knez since 2007 and the farming there is now biodynamic. The site was first planted in 1995 and includes a variety of Dijon clones as well as Martini, David Bruce, Pommard and Wädenswil. Gros Ventre also sources fruit from a site in the Fort-Ross Seaview AVA – in 2012, this fruit formed the basis for the winery's flagship "First Born" cuvée.
Chris' winemaking for the Gros Ventre Pinots is not very different from that for the Skinner wines. The fruit undergoes native fermentation with punchdowns. There is no extended maceration, no lees-stirring, and no fining or filtration. Most of the wines are aged for 11 months in around 17-25% new French oak – the "First Born" spends more time in barrel with a higher percentage of new oak. Total production for the 2012 vintage Gros Ventre Pinots was about 1,000 cases.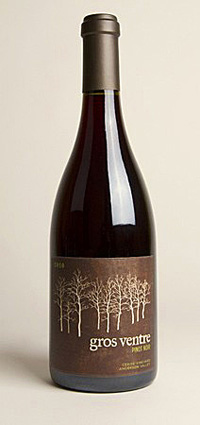 I was able to taste the 2012 Gros Ventre Cerise Vineyard Pinot following our tasting of the Skinner wines. Cerise Pinots from various producers in the past never did much for me but I'm finding I like more recent vintages much more – perhaps the farming changes have something to do with that. The Gros Ventre rendition of Cerise Pinot displayed the structure that this site has always shown, but with a more delicate side too, plus that indescribable something that says "Anderson Valley" to me. I had tasted three other 2012 Gros Ventre Pinots at the West of West Grand Tasting in early August (Sonoma Coast, Campbell Ranch, and "First Born"), and they were all good, with the savory Campbell Ranch bottling being my favorite of the three.
The first few vintages of Gros Ventre Pinot Noirs have produced some beautiful wines, with plenty of promise for the future. Chris' winemaking displays balance and restraint that allows the cooler-climate vineyard sources to show through with subtlety and nuance. The wines share fine structure and show savory notes that complement the fruit. There are many excellent Pinots coming from Sonoma and Mendocino, and the Gros Ventre wines are taking their place among them – this will be a label to watch.
Visiting Skinner was an easy side-trip coming back from the Eastern Sierra, and Alan and I enjoyed our time there. Chris was a great host, and we appreciated him taking time out from his busy day to taste wines with us and show us around the vineyard. The tasting room has a spectacular view, and combined with the fine wines poured there, it's a no-brainer to stop at Skinner if you're in the Fair Play area of El Dorado County. It's quite a feat to make warmer-climate Rhône-style and other wines from the Sierra Foothills for Skinner as well as cool-climate Pinot Noir for Gros Ventre, but Chris is doing a terrific job with the wines for both labels – well worth checking out.