Visit to The Barlow in Sebastopol - March 2015
Saturday - March 14, 2015
I joined my friends Dean and Alice in visiting Kosta Browne Winery for their spring wine pick-up and we decided to make a day of it, visiting other tasting rooms nearby. The weather couldn't have been more pleasant – with temperatures reaching the upper 70s, it was probably the warmest day of the year so far. Our destination was The Barlow, a fairly new commercial development near the center of Sebastopol. Covering four city blocks, it is home to several wineries and tasting rooms, breweries, restaurants and other food purveyors, as well as shops and galleries, an event space, and an upcoming hotel. Kosta Browne was one of the first tenants there, and probably still the largest one.
Kosta Browne Winery
Tasting Notes: Current Releases

Kosta Browne 2013 Chardonnay, "One Sixteen," Russian River Valley. Sourced from seven vineyards, 95% barrel-fermented, 5% concrete-fermented, aged 15 months in 39% new French oak. Light color, with apple and pear fruit, a touch of lemonpeel, along with undertones of vanilla and spice. Fairly creamy texture but with fine acidity in the mouth and on the finish, nice.

Kosta Browne 2013 Pinot Noir, Santa Lucia Highlands. Sourced from five vineyards, aged 16 months in 39% new French oak. Medium ruby color, this featured loads of spice, plus black cherry and plum fruit, and a dash of sweet oak. Moderately rich mouthfeel with lively acidity and mild tannins.

Kosta Browne 2013 Pinot Noir, Russian River Valley. Sourced from 15 vineyards, aged 16 months in 41% new French oak. Medium ruby color, with more of a red fruit profile along with earth, spice, and a background of vanilla/oak. A bit lighter-bodied than the nose suggested, finishing with fairly mild tannins – the mouthfeel should round out with more time in the bottle.

Kosta Browne 2013 Pinot Noir, Sonoma Coast. Sourced from eight vineyards, aged 16 months in 48% new French oak. Medium ruby color, the aromatics were a bit shy (poured from a newly-opened bottle) but expanded with some time in the glass, displaying black cherry and darker fruit, more earth notes, and less noticeable spice and oak components. More structured on the palate than the first two Pinots, this finished with firmer tannins – this will need more time to unwind but showed fine potential.
This was my first visit to Kosta Browne's new winery at The Barlow. They moved there around the end of 2012 and take up several of the large steel buildings in the complex. The facility is not flashy but looks like it has everything you could want for a high-end Pinot producer. I've known Michael Browne for close to 15 years, visiting him shortly before the winery released their first Pinot Noir, a 2000 from Cohn Vineyard in Russian River Valley. His grandparents and my parents had been close friends for decades and next-door neighbors in Santa Rosa for nearly 20 years.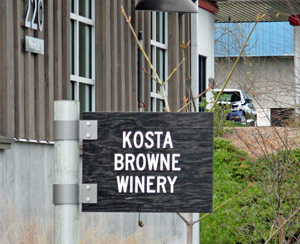 Michael and Dan Kosta both have backgrounds in the restaurant business, and met while working at John Ash & Co. Restaurant, just north of Santa Rosa. They launched their winery in 1997, with Chris Costello joining the partnership in 2001. In recent years, Kosta Browne has undergone a couple of ownership changes, with Vincraft Group (including Bill Price, Walt Klenz and Pete Scott) joining as investment partners in 2009 and J.W. Childs Associates purchasing Vincraft's share of the business in early 2015. J.W. Childs was a good fit for Kosta Browne, as that group is also a partner in Michael Browne's CIRQ Pinot Noir label, which is also produced at the winery's Barlow facility.
Kosta Browne's focus has been nearly exclusively on Pinot Noir over the years. Their current wine line-up includes three appellation Pinots, a number of single-vineyard designates, a reserve bottling called "Four Barrel," plus a Chardonnay that has been made since 2009. Vineyard sources for the Pinots are from the Sonoma Coast, Russian River Valley, and Santa Lucia Highlands, while the Chardonnay comes from vineyards in the Green Valley area near Highway 116 from Sebastopol to Forestville (hence the "One Sixteen" name of the bottling). Kosta Browne acquired their first estate vineyard property in recent years, purchasing a portion of the noted Keefer Ranch Vineyard in Russian River Valley.
Samples of the four wines released this spring were poured at stations located at several spots in the Kosta Browne facility, while food was served outside on a patio, with kale salad, beef or vegetarian cheesesteaks, and a chocolate/caramel dessert. There was a fine jazzy guitarist inside the production area and a band playing a nice selection of '60s pop-rock out on the patio. Dean, Alice, and I made the rounds of the wine samples and enjoyed the food. Dean went back for seconds (or was it thirds?) of the tasty dessert. Michael Browne came over to talk with us for a little while, but of course he was busy with so many customers visiting on pick-up day – it's one of only two weekends a year that Kosta Browne is open to the public.
Kosta Browne has undoubtedly been one of California's most popular Pinot Noir producers over the past decade, and judging from the crowd at their wine pick-up day, that remains true today. I've been impressed with the few Kosta Browne Chardonnays I've tasted – they do a nice job of balancing creamy texture with lively acidity. Of the three appellation Pinots, the Santa Lucia Highlands seemed the most ready to drink now, while the other two should benefit from more bottle age. The wines remain on the bigger side for California Pinot, but compared with their bottlings of 10-12 years ago, they've reined in the ripeness and alcohol – the trio of Pinots we tasted ranged from 14.2 to 14.5%. Overall, the Pinots seem to have fresher fruit and more structure than some past efforts, and this is a good sign for the future.
La Follette Wines
Tasting Notes: Current Releases

La Follette 2012 Chardonnay, Sangiacomo Vineyard, Sonoma Coast. Light yellow-straw color, this featured bright citrus aromas along with touches of earth and spice. Medium-light bodied with a lively mouthfeel and a stony mineral note on the finish, nice.

La Follette 2013 Chardonnay, "Cuvée Barlow," Russian River Valley. Light yellow color, with spice and hazelnut on the nose, plus pear and apple in support. Richer on the palate, with a smooth finish, quite distinctive.

La Follette 2011 Pinot Noir, Van der Kamp Vineyard, Sonoma Mountain. Light garnet color, displaying cranberry, rhubarb, tea leaf and smoke aromas. Lighter-bodied with lively acidity and fairly mild tannins.

La Follette 2012 Pinot Noir, Sangiacomo Vineyard, Sonoma Coast. Medium-light ruby color, this had more upfront red fruit along with bigger leather/earth and spice components. Medium weight on the palate with moderate tannins on the finish.

La Follette 2013 Pinot Noir, "Cuvée Barlow," Sonoma County. Medium-light ruby, with riper black cherry and plum fruit aromas, plus more mushroom/earth and savory notes. Richer mouthfeel than the previous two Pinots, finishing with firmer tannins – this shows promise and should benefit from some time in the cellar.
We'd spotted the tasting room for La Follette Wines as we left Kosta Browne, and decided to head there to taste a few of their wines. The winery is a partnership between noted vintner Greg La Follette and Pete & Terri Kight, who own other wineries including Quivira in Dry Creek Valley. A UC Davis graduate, Greg has a long and distinguished background in California wine, notably as winemaker at Flowers and at his own Tandem label, which he had founded in 2001.
The Kights first met Greg in 2008 and they established La Follette Wines in 2010. The winery focuses on Chardonnay and Pinot Noir, with vineyard sources in Russian River Valley, Sonoma Mountain, Sonoma Coast, and Mendocino Ridge. The wines are made at the Owl Ridge facility on the northern edge of Sebastopol.
We tasted five La Follette wines at the tasting room, which features a handsome tasting bar as well as a pleasant outdoor seating area. Both Chardonnays that we tried were made using native yeast fermentation and were aged on the lees for 10 months in French oak. The Sangiacomo Vineyard Chard, from a site in the Petaluma Gap, featured fruit from mostly Old Wente clone vines. The "Cuvée Barlow" Chardonnay was sourced from Lorenzo and DuNah vineyards. We moved on to Pinot Noirs, starting with the Van der Kamp Vineyard bottling, made from six Pinot clones and fermented with about 20% whole clusters. The Sangiacomo Vineyard Pinot was made using 114, 777, and Swan clones, and the "Cuvée Barlow" Pinot was sourced from Van der Kamp and DuNah vineyards. Like the Chardonnay, the Pinots are fermented with native yeast, and they're aged 10 months in French oak.
The two Chardonnays were quite a contrast, with the lighter but very pleasant Sangiacomo bottling and the richer and distinctively nutty "Cuvée Barlow" Chard. I thought the Van der Kamp Pinot displayed both the challenges and promise of the tough 2011 vintage – it will probably benefit from further cellar time. The Sangiacomo Pinot showed the touch of earthy funk that this vineyard is noted for, and the "Cuvée Barlow" Pinot seemed promising though it's still a real youngster. I thought these were all interesting wines although none of them really grabbed me in a big way. But I've found other La Follette bottlings in the past couple of years to be very good, so I'll certainly continue to taste their wines whenever I have the opportunity.
Wind Gap Wines
Tasting Notes: Current Releases

Wind Gap 2013 Arinto, Pierce Ranch, San Antonio Valley. Available on tap only (not bottled), made in stainless steel and concrete. Light yellow-straw color, this had lots of upfront fresh apple aromas along with a touch of fresh herbs and a slight floral hint. Medium-light bodied with a very slight sparkle on the palate and an interesting chalky note on the finish, quite pleasant.

Wind Gap 2013 Trousseau Gris, Fanucchi-Wood Road Vineyard, Russian River Valley. Fermented in concrete eggs, aged in stainless steel and neutral oak. Light straw color, with more earth and spice on the nose along with stone fruit and tropical fruit. Rounder mouthfeel than the Arinto, with a slightly nutty component on the long finish, nice.

Wind Gap 2013 Pinot Gris, Windsor Oaks Vineyard, Russian River Valley. Fermented on the skins for about 60 days, aged in neutral oak. Light garnet-orange color, with spice, earth, and dried herb upfront and subtle stone fruit notes that emerged with more time in the glass. Medium weight on the palate with noticeably chalky tannins.

Wind Gap 2012 Pinot Noir, Sonoma Coast. Sourced from Gap's Crown and Griffin's Lair vineyards. Medium-light ruby color, this featured earth/leather, black cherry, and dried herbs on the nose. Medium-light bodied with moderate tannins.

Wind Gap 2013 "Skinny Jeans," Russian River Valley. Co-ferment of 50% each Viognier and Syrah. Medium-light color, this had very floral/perfumey aromas along with stone fruit and plum. Medium-light bodied with a fairly smooth mouthfeel along with firm tannins on the finish.

Wind Gap 2006 Nebbiolo, Paso Robles. Sourced from Glenrose and Luna Matta vineyards. Lighter garnet color, displaying higher-toned ripe red fruits, smoke, earth, and spice on the nose. Medium-light weight in the mouth, finishing with grippy tannins.
We were game to try one more tasting room at The Barlow, and we decided on Wind Gap. Launched in 2006, Wind Gap is run by Pax and Pam Mahle, who also head up the Agharta and Pax Mahle labels. Pax started Pax Wine Cellars in 2000 after working as a wine buyer for upscale food and kitchenware shop Dean & DeLuca – after a split with his former business partner there, he now has regained use of his name for the Pax Mahle label. The Wind Gap name refers to the various "wind gaps" that bring cool marine air to many of the vineyards that Pax sources fruit from – the Petaluma Gap in Sonoma County being a prime example. In 2013 Charles Banks' investment group Terroir Selections became a partner in the Wind Gap label. Wind Gap has a production facility at The Barlow as well as their tasting room.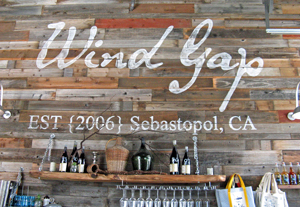 From the start, Pax has been more experimental in his winemaking for the Wind Gap wines, using techniques such as very long extended macerations on some reds and skin fermentations for whites. He was also one of the earlier proponents of concrete fermenters in California, and I'd seen several of his concrete "egg" fermentation tanks when I visited him back in 2009. The wines all go through native fermentation and little new oak is used for aging.
The tasting room was busy but we found a small table opposite the tasting bar and settled in there. The space features beautiful reclaimed wood on the walls, and has a casual, fun feel to it. There were several tasting flights on the menu as well as wines by the glass. We went for the "Explorer" tasting flight plus a glass of 2006 Nebbiolo, and our server generously offered us a taste of one of Wind Gap's Pinot Noirs as well. I'd tasted a number of barrel samples of Nebbiolo with Pax in 2009 so it was interesting to taste this finished bottling from the 2006 vintage.
The wines we tried would probably all show better when paired with food, particularly the Pinot Gris, "Skinny Jeans," and Nebbiolo. The Arinto was a very fresh and pleasant sipper, while the Trousseau Gris was less fruit-forward, with an intriguing nutty component. The skin-fermented Pinot Gris was certainly interesting though it really screamed out for food. The "Skinny Jeans" bottling was a unique blend that presented quite a contrast between the beautiful floral aromatics and the firmly tannic finish.
Tasting Wind Gap wines is always a bit of an adventure, and this occasion was no different – of course we did choose the "Explorer" tasting flight! They're intentionally not in the mainstream of California wine, and they often defy easy description, but I really enjoy their "outside the box" character. Wind Gap continues to do a fine job of making wines that invite you to approach them on an intellectual as well as a sensual level to get the full experience.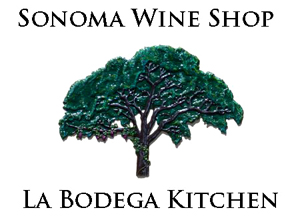 With the weather being so nice, there were lots of people enjoying the many outdoor spaces at The Barlow, and we relaxed for awhile there before hitting the road. We decided to stop for an early dinner on our way back home, and Alice suggested Sonoma Wine Shop / La Bodega, located just south of Sebastopol. A small, somewhat rustic place alongside Highway 116, it's a combination wine shop / wine bar / restaurant, with its own wine club. Proprietor Bryan Cooper greeted us from behind the bar as we walked in. Since it was only about 4:30pm, there were only a couple of other people there, so we sat at the bar so we could talk with Bryan, who was an engaging host. I spotted a couple of smaller wine labels I'm familiar with that I wouldn't have expected to see at a small place in Sonoma County (Core and Rosa d'Oro) and they had an interesting wine selection overall. Chef Rick Vargas came out to chat with us for a moment before he prepared some delicious dishes that we all shared – crispy artichoke hearts, crispy porcini mushroom & braising green raviolis, "Mary's Chicken" with three kinds of mushrooms and thyme in a wine & cream sauce, and ganache torte with almonds, pecans, chocolate, and caramel. The atmosphere was casual and friendly, and the food was outstanding – this will definitely go on my list of restaurants to visit again in the Sebastopol area.
Dean, Alice, and I all headed home after our early dinner. This was a fun day, and a nice break for all three of us. The Barlow is becoming a real destination in Sebastopol, with a fine group of vintners, brewers, shops, and restaurants all within a small area. With a couple more tasting rooms to check out there – MacPhail and Marimar Estate – and dining that includes Zazu, The Barlow has plenty of interest for either a quick stop or a whole day's visit. As always, thanks to everyone that we visited for being so generous with their time and their wine!