Winemaker Salon tasting of Belden Barns wines in San Francisco -
October 2015
Thursday - October 1, 2015
I went to a tasting of current Belden Barns wines at the beginning of October. This was one of an ongoing series of tastings organized by a new venture called Winemaker Salon. I've known Winemaker Salon's Cynthia Hogan (formerly the wine buyer for Canyon Market in San Francisco) for a few years, as we've both helped out with bottling wine for several producers in San Francisco and Berkeley. Winemaker Salon brings together winemakers and small groups of wine lovers at various private homes in San Francisco for special evenings that combine good wine, food, and company. These gatherings provide opportunities to not only sample a number of fine wines, but to learn about the vineyards and the people involved in the process in a relaxed and intimate setting. Focusing on small-production, high-quality producers – often newer and lesser-known ones – Winemaker Salon looks like a great idea, and a win-win for all involved.
The Belden Barns tasting was graciously hosted by Nick & Lisa Fleming at their home in the Cow Hollow neighborhood of San Francisco. Nate & Lauren Belden were on hand to pour their most recent releases, and Chef Anne Olson presented tasty bites she'd prepared to go with the wines.
I'd first run across Belden Barns' wines at this year's Pinot Days event in San Francisco. Nate & Lauren were pouring two of their Pinot Noirs, and I also tasted their Syrah there. I was impressed with the wines and I'd been curious to taste the rest of their line-up, especially since they're one of only a few California producers of wine from the Austrian grape variety Grüner Veltliner.
Nate Belden grew up on a horse ranch in Colorado, and his family's background is in ranching and farming. Though his career in finance took him to New York City and then to San Francisco, he missed feeling connected with the land as he had in his youth, so buying vineyard land was a natural. Lauren is from New York City, and she's worked in developing brand strategies – she still freelances in that field along with being a key part of Belden Barns.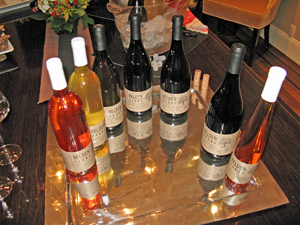 In 2005, Nate & Lauren purchased a 55-acre property on the northwest shoulder of Sonoma Mountain near Bennett Valley. At about 1,000-foot elevation, it's exposed to the Petaluma Gap just to the west, where cool marine air and fog is funneled through low spots in the coastal hills. The soil consists of decomposed volcanic soil, clay loam, sandy loam, and rock cobble. The site had first been planted with grapevines in 1973 by David Steiner. About 30 acres were originally planted, mostly to Cabernet Sauvignon, which did not thrive in the cooler climate there. Noted vintner Rod Berglund of Joseph Swan Winery recommended to David that he replace the Cabernet with Pinot Noir. From the early 1990s, the Pinot fruit produced much higher-quality wine, but unfortunately most of these vines were eventually lost to phylloxera. After Nate & Lauren bought the property, they began replanting, and currently about 20 acres are planted to Sauvignon Blanc, Chardonnay, Viognier, Grüner Veltliner, Pinot Noir, Grenache, and Syrah. A 1½-acre block of David Steiner's Pinot vines remains. Highly-regarded Sonoma County vineyard manager Chris Bowland has helped develop and farm the Beldens' vineyard.
For a number of years, all of the fruit from Nate & Lauren's vineyard was sold to various producers, but in 2012 they decided to launch their own label as well. The first Belden Barns wines were released in 2014, from the 2012 vintage. About 70% of the vineyard's fruit still goes to other producers, including Argot, Carlisle, Cold Heaven, Donelan Family, Eric Kent, Holdredge, Morgado, and Smith Story – vineyard-designated wines from these producers carry the Steiner Vineyard designation. Justin Harmon makes the Belden Barns wines at the Vinify facility in Santa Rosa. Justin has been a neighbor of the Beldens on Sonoma Mountain for the past ten years, and he has his own Argot wine label. Nate & Lauren talked about how much they've enjoyed working with Justin in making their wines. All of the Belden Barns wines are made entirely from estate-grown fruit. Production has gone from 500 cases for the inaugural release to about 1,000 for the most recent one, and the next release will total around 1,500 cases, still quite small production.
Tasting Notes: Recent Releases

Belden Barns 2014 Rosé of Pinot Noir, Estate, Sonoma Mountain. Light salmon-pink color, aromas of strawberry, herbs, and a touch of stone fruit. Medium-light bodied with a fairly smooth finish.
Belden Barns 2014 Sauvignon Blanc, Estate, Sonoma Mountain. Very light straw color, this featured intense citrus and herb aromas with hints of fig and tropical fruit and a very light grassy note. Medium-light weight on the palate with fine acidity and a lingering finish, nice.
Belden Barns 2013 Grüner Veltliner, Estate, Sonoma Mountain. Very light straw color, showing pear, spice, and fresh herbs. A bit more weight on the palate than the previous wine, combining slightly riper fruit with good acidity, this showed a distinct stony mineral element on the tasty finish.
Belden Barns 2013 Chardonnay, Estate, Sonoma Mountain. Light yellow-straw, with vanilla/oak along with apple, pear, and spice on the nose. Medium-bodied with a lively and moderately creamy mouthfeel and finish.
Belden Barns 2013 Pinot Noir, Estate, Sonoma Mountain. Medium-light ruby color, displaying ripe black cherry, spice, earth, a floral note, and undertones of sweet oak. Medium weight with a smooth texture and lively finish.
Belden Barns 2013 Pinot Noir, "Serendipity Block," Estate, Sonoma Mountain. Medium-light ruby, this showed more spice and herb aromas than the previous wine, with some mildly stemmy character, plus brighter red fruits and flowers on the nose. Medium-bodied and more structured than the regular Estate bottling, this finished with moderate tannins and a stony mineral note – intriguing now, this should really benefit from a few years in the cellar.
Belden Barns 2012 Syrah, Estate, Sonoma Mountain. Dark purple color, with plum and darker berry fruit, flowers, smoked meat, mocha, and vanilla/oak aromas. Medium-full bodied with a fairly rich mouthfeel, fine tannins, and a long finish – a bigger Syrah but lots of appealing character.
Belden Barns 2012 Late Harvest Viognier, Estate, Sonoma Mountain. Medium gold color, with intense apricot and floral aromas and touches of spice and honey. Rich mouthfeel with good acidity to balance the sweetness, and a long, clean finish.
The Winemaker Salon tasting started out with a non-Belden Barns wine, a refreshing Cava for everyone to enjoy while everyone in the group got to know one another. The tasting was scheduled to include six Belden Barns wines, but Nate & Lauren brought two additional wines for us to try as well. The first of their wines was a 2014 Rosé, made from a saignée of Pinot Noir, fermented in stainless steel and aged for four months in neutral oak. The Rosé was paired with roasted figs with sheep's milk ricotta, balsamic, and fresh thyme – a nice match. Next up was a 2014 Sauvignon Blanc. Nate & Lauren told us that they had gotten cuttings for this from well-known Dry Stack Vineyard, only a few miles away in Bennett Valley and the source for some terrific Sauvignon Blanc wines in the past. The vines are an obscure Italian clone of the variety, unusual in California. Aged for fourth months in half stainless steel and half neutral oak, this was one of the stars of the tasting. And the food pairing with this wine was another star – yellowtail crudo with coconut milk, apple, and crispy shallots – not what I would have imagined for this wine but it worked beautifully.
We moved on to a third white, 2013 Grüner Veltliner. Nate & Lauren explained that they wanted a less-common grape variety to be part of their line-up and that noted vintner Mike Officer – a friend of Chris Bowland – suggested Grüner Veltliner. It's the first planting of this variety in Sonoma County and the vines are situated on terraced rock benchland that had reminded Chris of similar sites in Austria. Barrel-fermented and aged for 16 months in stainless steel and neutral oak, the wine was a winner, with a bit more body than the Sauvignon Blanc and a stony component on the finish. This was paired with potato samosa with pear chutney. The final white wine of the evening was a 2013 Chardonnay, barrel-fermented in 33% new French oak and paired with puff pastry bites with roasted apple, verjus, aged goat's milk cheese and toasted pecan. The Chardonnay was showing the oak a bit much for my preference at this stage, though it may well integrate with more time in the bottle.
Moving to reds, we began with two Pinot Noirs, the second of which was one of Nate & Lauren's "bonus" wines for the evening's tasting. Quite different from one another, they described the two as something of "hers" and "his" wines. The regular 2013 estate Pinot was made from four clones and was entirely destemmed, then aged for 16 months in 42% new French oak. This was paired with smoked eggplant dip on mini pita crisps with pomegranate molasses. The second Pinot was the 2013 Serendipity Block bottling. This vineyard block is interplanted with nine Pinot clones, which were all picked at the same time. The fruit was fermented with 100% whole clusters and aged entirely in neutral oak – it's a full point lower in alcohol than the regular estate Pinot. The first wine was a very nice and moderately rich rendition of Pinot that's showing well right now, while the second was more edgy and will need more cellaring, but it has loads of potential. When I tasted the two at Pinot Days I preferred the regular estate bottling but this time I fell for the more complex Serendipity Block.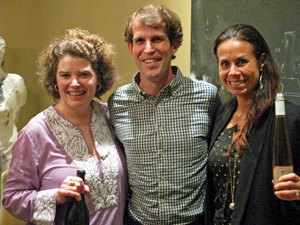 Cynthia, Nate, & Lauren
A final red wine was the 2012 Syrah, paired with red-wine braised short ribs with creamy polenta. This wine saw more time in barrel, 27 months in 50% new French oak. It was the biggest of the Belden Barns wines, but with plenty of flavor that went particularly well with the short ribs. The last wine of the evening was another "bonus" – a 2012 Late Harvest Viognier. Picked at 33 brix in mid-November and aged in 100% new French oak, its 13.6% residual sugar made the wine rich and moderately sweet, but the acidity kept it from being too soft or cloying.
Nate & Lauren told us that two other wines will be added to their line-up before long – a Grenache and a sparkling wine. Some of the wines we tasted were already sold out, though they offered to make one bottle of those available to new wine club members. Prices are reasonable, with the Rosé and lighter whites selling for $20-26 and the Chardonnay and reds $36-48. Nate & Lauren are also planning to add a creamery at their Sonoma Mountain property as well as to grow and sell other estate-grown fruits and vegetables. They're working on a tasting room there and hope to have it open to visitors sometime in 2016.
My favorites wines of the tasting were the Sauvignon Blanc and Serendipity Block Pinot Noir, with the Grüner Veltliner, Syrah, and Late Harvest Viognier not far behind. This was a very enjoyable evening. It didn't take long for us to feel like we'd just gathered at a friend's home to enjoy each other's company and to share some excellent wine and food. Thanks to Cynthia for developing her Winemaker Salon concept and turning it into reality – I'm sure I'll be back to attend future events. And thanks to Nick & Lisa for opening their beautiful home to all of us, as well as to Anne for all the delicious food, so thoughtfully paired with the wines. And of course, thanks to Nate & Lauren for pouring their wines for us!