Bokisch Vineyards tasting at California Wine Merchant in San Francisco - February 2015
Monday - February 23, 2015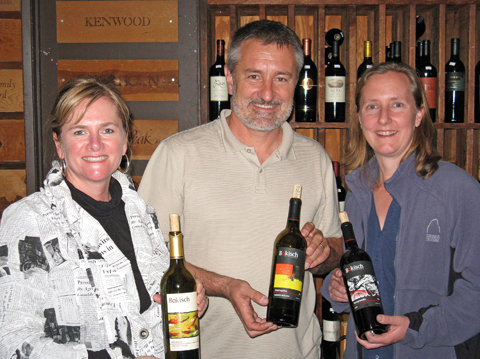 I went to a tasting of current Bokisch Vineyards wines on a Monday evening in late February at the California Wine Merchant wine shop / wine bar in San Francisco's Marina District. I learned about the tasting from Bokisch assistant winemaker Elyse Egan Perry, who I've known since she was a harvest intern for Ed Kurtzman in San Francisco about six or seven years ago. Trying to find a parking space in the Marina District can be a nightmare, but I lucked into a great spot less than two blocks from the wine shop, in the heart of the neighborhood's thriving shopping and dining area. The proprietors of the California Wine Merchant are Greg & Deborah O'Flynn, and as the name of their shop suggests, their specialty has been California wines ever since they opened in 1974. Their wine bar offers lots of wines by the glass, with a list that changes daily. They also offer cheese plates, several beers, and chocolate truffles. The shop is in a fairly small space that features a long wooden bar along one side. I spotted Elyse, her husband Jeff Perry, and Markus & Liz Bokisch at the back of the shop, so I made my way past the busy wine bar to a small tasting counter at the back of the store.
Tasting Notes: Current Releases

Bokisch 2013 Albariño, Terra Alta Vineyard, Clements Hills-Lodi. 98% Albariño, 2% Garnacha Blanca, made entirely in stainless steel. Very light straw color, this featured upfront stone fruit and tropical fruit aromas with light touches of spice and flowers. Medium-light bodied and lively on the palate with a slightly chalky texture on the crisp finish, nice.

Bokisch 2013 Garnacha Blanca, Vista Luna Vineyard, Borden Ranch-Lodi. 90% Garnacha Blanca, 10% Albariño, made entirely in stainless steel. Very light straw color, with bright aromatics of apple and pear fruit, spice, and a hint of lemonpeel. Rounder mouthfeel than the Albariño, with a smooth finish.

Bokisch 2012 Garnacha, Clements Hills-Lodi. 96% Garnacha, 4% Graciano, sourced from Terra Alta and Hunter's Oak vineyards, aged 18 months in French and American oak. Lighter garnet-purple color, displaying explosive fresh strawberry aromas, plus spice, earth, and undertones of sweet oak. Medium-bodied, this had a lively mouthfeel with mild tannins on the finish, nice.

Bokisch 2012 Tempranillo, Lodi. 90% Tempranillo, 10% Graciano, sourced from Liberty Oaks & Las Cerezas Vineyards, aged 18 months in French and American oak. Medium-dark purple color, this showed black cherry and darker fruit along with tobacco / dried herbs, earth, pepper, and a bigger vanilla/oak component on the nose. Medium weight on the palate, this had a minerally note on the moderately tannic finish.

Bokisch 2012 Monastrell, Belle Colline Vineyard, Clements Hills-Lodi. 98% Monastrell, 2% Tempranillo, aged 18 months in French and American oak. Medium-dark color, with aromas of black cherry and plum fruit, earth, tar, and herbs, with lightly floral undertones. Medium-bodied with a more structured mouthfeel, finishing with firm but refined tannins.

Bokisch 2012 Graciano, Lodi. 98% Graciano, 2% Tempranillo, sourced from Las Cerezas & Terra Alta vineyards, aged 18 months in French and American oak. Medium-dark purple, this was less fruit-forward, featuring earth, herbs, blueberry fruit, lots of spice and a hint of mocha. Richer on the palate with plenty of structure, this had a grippier tannic finish – needs time but distinctive and quite promising.

I've been a fan of Bokisch wines since I first tasted them about ten years ago, and I visited Markus & Liz at their home and adjacent vineyard in Lodi in 2008. Bokisch is one of California's leading producers of wines made from Spanish and Portuguese grape varieties. Markus spent summers staying with his grandmother and family in Catalonia when he was growing up, and he was introduced to Spanish wine there. He and Liz met while they were studying at UC Davis in the late 1980s, and Markus went on to work at Joseph Phelps before he and Liz moved to Spain for 1½ years while Markus worked in the wine business there. They returned to California and purchased land in both the Mokelumne River and Clements Hills regions of Lodi (both now have their own AVAs – there are seven within the larger Lodi appellation). They planted vineyards in both areas beginning in 1999 and produced the first wines under their Bokisch label in 2001. Elyse came on board in late 2013, and Jeff works at the winery as well. Elyse also has her own small label – Egan Cellars – that she launched in 2011.
The cuttings for plantings at the Bokischs' own vineyards came from Spain, so many of their clonal selections are different from most in California. Their own vineyards are all farmed organically, and include Albariño, Verdelho, Verdejo, Garnacha Blanca, Tempranillo, Garnacha, Graciano, and Monastrell (better known in California under its French name of Mourvèdre). Markus also farms over 2,000 acres of other vineyards in the area for the Bokisch Ranches business, founded in 1996. These are all farmed sustainably and Certified Green under the Lodi Rules program. Lodi Rules is a holistic system that includes provisions for utilizing alternative energy and fuel sources, specific air, water, and soil quality control measures, and for improved human resources / labor relations. Bokisch Ranches currently sells fruit to about 50 producers, a few of which are larger ones though most are smaller artisan wineries.
One vineyard that Markus has recently started farming is Kirschenmann, located in the Mokelumne River AVA and owned by Turley winemaker Tegan Passalacqua and his wife Olivia. The own-rooted Zin vines were planted in 1915 – Markus took over the farming in 2012 and is farming it organically. Tegan started making a Kirschenmann Zinfandel for Turley that year, and Markus & Liz got some fruit as well. They recently released it under their new Tizona label, named for the legendary sword of El Cid – this will be their label for non-Iberian grape varieties.
Markus & Liz have been making their wine at other facilities through the years, but they recently built their own winery and moved in just in time for the 2014 crush. They included enough extra space for custom crush clients, and in fact they worked with as much custom crush fruit last year as their own. Finishing touches on winery are still going on, and a permanent tasting room will be completed there later this year. A temporary one should be ready to open up at the winery this spring.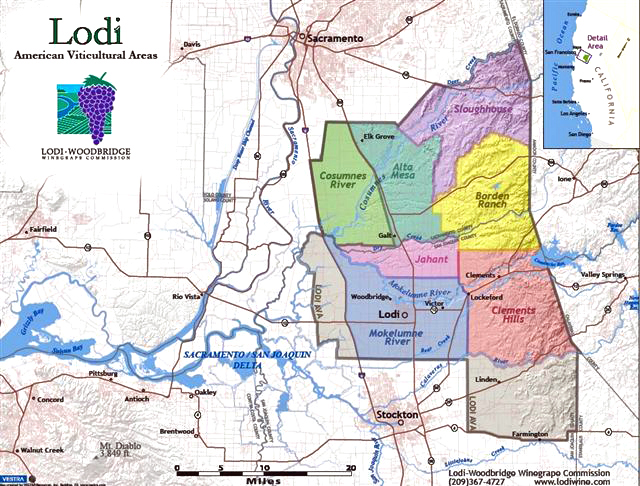 In addition to the current releases I tasted at the California Wine Merchant, Bokisch makes a Rosado (from Barbera and Graciano) plus two whites that are already sold out for the 2013 vintage – Verdelho and Verdejo. I had tasted both of these last spring and both were standouts. The Bokisch white wines have been made entirely in stainless steel, but Elyse told me that the 2014s will also include a portion aged in oak, with a small percentage in new French oak. The goal is not to pick up overt oak flavors but to give the wines greater texture. The Bokisch whites have always been lively and fresh, and alcohol for the 2013s I tasted ranged from around 13.2 to 13.4 (the 2013 Verdejo was under 13%) – it's not impossible to make whites like that in Lodi! Bokisch red wines are aged in a modest percentage of new oak, both French and American, and their use of American oak is very restrained – it does not stand out like it sometimes can do. The Bokisch 2014 white wines and 2013 reds will be bottled soon.
This was a fun tasting, and it reminded me once again of what a bargain the Bokisch wines are relative to the quality that runs throughout their line-up. Current prices range from under $20 for whites to the mid-$20s for reds, while their Tizona old-vine Zin is just over $30. The wines always display beautiful, fresh aromatics. This is something you don't always see from Lodi wines, but it shows that careful attention to farming and winemaking can make as big an impact there as anywhere in California. My favorites of the tasting included the Albariño, Garnacha, and Graciano, and the Monastrell was not far behind. Thanks to the California Wine Merchant for hosting this enjoyable tasting, and thanks to Markus, Liz, and Elyse for coming to the Bay Area to pour their wines!