Napa Valley - December 2015
Along with my November wine trip to the Sierra Foothills, a late-December trip with friends to Napa and Sonoma has become a tradition for me. I'd been in touch with a few friends about this year's plans, and although we considered a multi-day pre-New Year's getaway, we settled on a day-trip. I was joined by friends Chris and Jane plus Jeff and Pam, and since we all needed to get back home by late afternoon, we decided to limit ourselves to a couple of Napa wine visits. We all had a part in the day's plans – I made one winery appointment, Jeff and Pam made another one, and Chris and Jane made our lunch reservations.
The day before New Year's was very clear but also very cold, and even at 10am the outside temperature readings in my car dipped into the upper 30s several times as I made my way through southern Napa Valley and then along Dry Creek Road along the slopes of Mount Veeder. I was a few minutes early for our first appointment, so there was time to stop and take a photo of the local T-Rex along the side of the road – this year he was not chomping on Santa Claus as usual but was instead holding a holiday wreath in his claws.
Thursday - December 31, 2015
Tasting Notes: Current Releases

Lagier Meredith 2013 Syrah, Mount Veeder, Napa Valley. Medium-dark purple, this featured more fruit-forward character than many young LM Syrahs, with loads of pretty floral aromatics to go with its dark berry fruit, spice, and herbs. Medium weight on the palate with lively acidity and refined tannins on the long finish – very nice already and should age well.
Lagier Meredith 2013 Malbec, Mount Veeder, Napa Valley. Slightly darker color, with blueberry fruit, smoke, dried herb, and a touch of black pepper on the nose. Richer texture than the Syrah, with good structure and moderately grippy tannins on the finish – could use some time in the cellar but shows plenty of promise.
Lagier Meredith 2013 Tribidrag, Mount Veeder, Napa Valley. Medium purple color, showing riper red fruit and wild berry, spice, and pepper aromas along with that distinctive brambly Zin character. Medium-bodied, finishing with tannins that were fairly big but not harsh.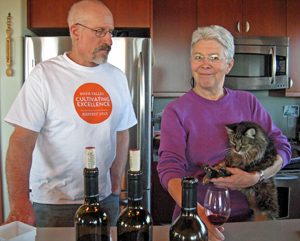 As we were all coming from different directions, we agreed to meet just off of Dry Creek Road and then take one car up the steep and narrow drive to Lagier Meredith Vineyard, located right along the ridgeline of Mount Veeder. The first time I visited the vineyard nearly 15 years ago was before this road was paved – that was an adventure, and I was glad I didn't have to repeat it carrying four passengers in my car. We were fortunate that the weather was good, too. The trip up the mountain is not advised in poor weather – exactly ten years earlier we'd had to cancel a visit on the last day of 2005, when a major storm caused flooding and other damage in Napa and Sonoma. This time we had an easy drive and arrived at the top of the hill quickly, parking next to the house of Steve Lagier and Carole Meredith.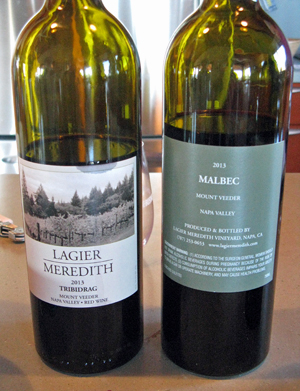 Steve and Carole purchased their property on Mount Veeder in 1986, but it wasn't until 1994 that they planted their first grapevines there. The vineyard is only 4½ acres in size, so Steve and Carole are able to do nearly all the work there themselves. The soil is mostly fractured sandstone and shale, the seabed soils common on Mount Veeder but unusual in most of Napa Valley. They planted Syrah there ("Syrah loves a view," as famed vintner Jean-Louis Chave told them), and for years that was the only variety in the vineyard. The first plantings were Durell clone Syrah, and they added more clones later – 174, 383, 470, 525, and 877. In 2007 they planted a small block of Mondeuse just below their new house, and in 2010 they grafted over some Syrah vines to Malbec and Zinfandel. Steve and Carole are planning to build a winery at their hilltop site, though they don't yet know when that will happen.
Lagier Meredith's first commercial release was a 1998 Syrah, and up until 2009, all they made was Syrah and Syrah Rosé. They've now added bottlings of Mondeuse, Malbec, Zinfandel (called "Tribidrag" – a very old Croatian name for the variety), and they've made a Syrah dessert wine called "Precious Bane." Steve and Carole also team up with their friends and neighbors Aaron and Claire Pott for their Chester's Anvil label, which has featured Gewürztraminer, Sauvignon Blanc, Chardonnay, a white Rhône-style blend called "Gretna Green," Zinfandel, Malbec, and a red Bordeaux-style blend called "Hattori Hanzo."
After we parked by the house, Carole came out to greet us. As usual, the first order of business was a short walk down the hill to the balcony of their old house, which overlooks part of the vineyard as well as Napa Valley far below and the mountains beyond. Walking by some of the old olive trees on the property, Carole told us some good news – after many years of trying to figure out just what kind of olives they are, they are getting DNA testing on them. Carole said that this is something that has only been developed very recently for olives, so she's looking forward to the results. Of course Carole is one of the pioneers of DNA analysis for winegrapes and is particularly famed for helping to discover the origins of Zinfandel.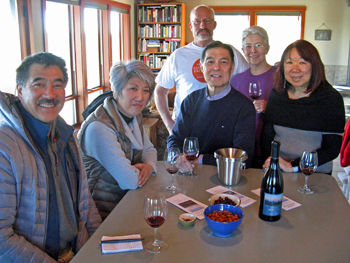 In talking with Carole about the effects of California's recent drought years, she said that there has not been much change in their well water supply on the mountain. She mentioned that some of their neighbors saw changes as a result of the 6.0-magnitude earthquake that struck Napa in August 2014, with the water level rising at some wells and falling at others. Carole said that this is due to water in the mountains following natural fractures in the hard rock, and when the fractures are disturbed during earthquakes, the water can follow a different course than before.
As we started walking back up the hill, Carole told us how solid their new house was during the August 2014 earthquake.. Steve and Carole later mentioned that they call their 2013 wines the "earthquake vintage" since they were all in barrel when the quake hit (they had bottled their 2012 wines not long before). Although the facility in Napa Valley where they store their barrels was hit hard by the earthquake, they were able to carefully extricate their barrels and amazingly their only loss was about 40 gallons of 2013 Syrah.
Steve met us back at the new house, and after climbing up to the main floor, Carole showed us the view from their deck out to San Pablo Bay and to Vollmer Peak in the Berkeley Hills far beyond. Although there wasn't much wind, it was too cold to sit out on the deck so we went inside and sat around the kitchen island. Steve and Carole opened three wines for us to try, all 2013s – their Syrah, Malbac, and Tribidrag.
All the fruit for the wines is destemmed and fermented in small bins. The Syrah and Malbec were barrel-aged for 22 months, while the Tribidrag was in barrel for 17 months – all the Lagier Meredith barrels are older, neutral oak. As we tasted, Carole told us that she feels Mount Veeder is a special spot for Malbec, and she mentioned that 5-6 other growers in the area are growing that variety. Tribidrag is the earliest known name for the grape we know in California as Zinfandel, originating near the Dalmatian Coast of Croatia. We asked about Steve and Carole's 2015 harvest, and like many growers in California, their crop was down significantly, only about 60% of normal. As a result, they're not producing a Rosé from the 2015 vintage.
I've been visiting Steve and Carole at their vineyard on Mount Veeder nearly every year. They're not only two of the nicest people I've met in the wine business but also two of the most knowledgeable. Their wines are among the most consistent I've found in California, and while their excellent Syrah is still the star of the show, the Malbec has really taken a step up, and the Tribidrag remains an understated yet delicious take on Zinfandel. Of course I'm most familiar with the Lagier Meredith Syrah, having followed it for many years, and it continues to be the rare example of that variety in California that is approachable upon release and also has a track record of aging beautifully. Steve and Carole's approach in both the vineyard and the winery allow both the fruit and the other components of their wines to display themselves clearly in each vintage. The Lagier Meredith and Chester's Anvil wines don't tend to get the attention I think they deserve – well worth checking out!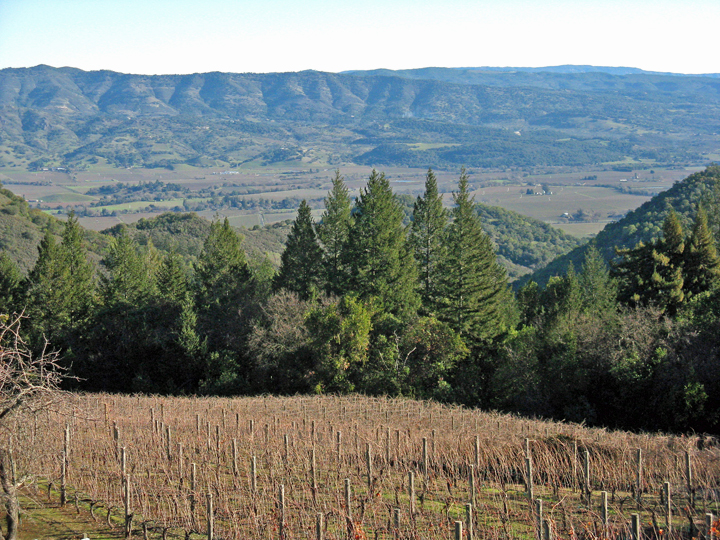 We headed back down the hill from Lagier Meredith, and after stopping at the base of the drive so everyone could get back in their respective cars, we continued to Oakville Grade and down to the floor of Napa Valley. The left turn from Oakville Grade onto Highway 29 can be tough to make, and it took awhile for Jeff and Pam to do it so they were a bit behind our other two cars as we drove north to St. Helena, where we had a lunch reservation at Archetype. Their brunch menu features both breakfast- and lunch-oriented choices, so we ended up with an interesting variety of dishes – duck confit with waffle, ham and broccoli omelet with potatoes and romesco sauce, yellowfin tuna salad, and sautéed sand dabs. None of us had been to Archetype before, but our meal was very enjoyable and I'd be happy to return there.

Tasting Notes: Current Releases & Library Wines

Silver Oak 2011 Cabernet Sauvignon, Alexander Valley. 90% Cabernet Sauvignon, 7% Merlot, 2% Cabernet Franc, 1% Petit Verdot. Medium-dark purple color, this displayed plum and currant fruit, herbs, touches of chocolate and smoke, and plenty of vanilla/oak on the nose. Moderately rich, with a lively and silky texture, finishing with fine tannins and lingering fruit and vanilla.

Silver Oak 2010 Cabernet Sauvignon, Napa Valley. 84% Cabernet Sauvignon, 13% Merlot, 2% Petit Verdot, 1% Cabernet Franc. Slightly darker color, with more ripe upfront blueberry and black cherry fruit than the Alexander Valley bottling, plus notes of licorice and spice with a bigger sweet oak component. Fairly rich mouthfeel with more structure than the previous wine and a bigger tannic finish.

Silver Oak 2008 Cabernet Sauvignon, Alexander Valley. 100% Cabernet Sauvignon. Medium-dark color, featuring brighter plum and black cherry aromas along with chocolate, cedar, and licorice, and less overt oak influence. Medium weight with a fairly smooth texture and resolved tannins.

Silver Oak 2006 Cabernet Sauvignon, Napa Valley. 81% Cabernet Sauvignon, 11% Merlot, 5% Cabernet Franc, 3% Petit Verdot. Medium-dark purple, this showed more spice and chocolate, darker fruit character, and touches of smoke and tobacco. Moderately rich texture on the palate, with a firm tannic finish – still quite youthful.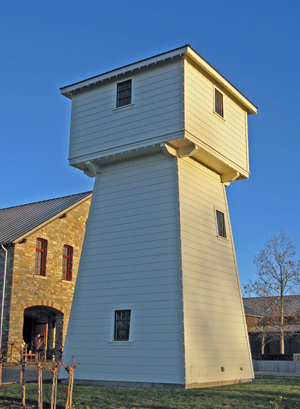 Jeff and Pam arranged the visit at our second and final wine stop of the day, Silver Oak Cellars. It turned out to be a bit more difficult to get there from St. Helena than expected – none of us knew that the bridge across the Napa River along Oakville Cross Road had been closed due to damage from a May 2015 earthquake. Luckily for me, I'd decided to take Silverado Trail from St. Helena and had no problem getting to Silver Oak from that side, but everyone else had to detour to get there from Highway 29. Once we all arrived at the parking lot, we walked past the winery's historic and iconic water tower and into the handsome winery building.
Silver Oak is one of Napa Valley's best-known Cabernet producers. It's still owned by the family of co-founder Ray Twomey Duncan, who established the winery in 1972 with partner and winemaker Justin Meyer. Duncan had been in the oil industry in Colorado, and he developed the well-known Purgatory ski resort outside of Durango in 1965. Meyer passed away in 2002, and Ray Duncan died in late 2015. Silver Oak has a second winery in Alexander Valley, and the Duncan family also founded Twomey Cellars in 1999 – that label focuses on Sauvignon Blanc, Pinot Noir, and Merlot. Silver Oak has always made exclusively Cabernet Sauvignon. The winery's Oakville property had formerly been a dairy ranch, and the label's first wine was made from their Alexander Valley fruit while they waited for their new Napa Valley vines to mature. Their winery in Oakville was completed in 1982. The facility was badly damaged by Napa River flooding on New Year's Day 2006 and by a fire the following month, and the current building was finished in 2008.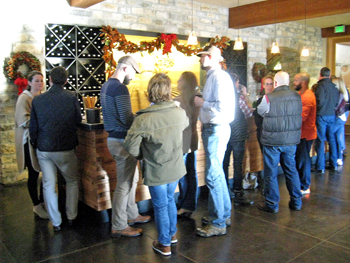 Winemaker Daniel Baron has been with Silver Oak since 1994, and took over from Justin Meyer as Director of Winemaking in 2001. He also leads the winemaking team at Twomey. He'd originally worked in Napa Valley but gained further experience working in Bordeaux, most notably for Chateau Petrus. He moved back to Napa to head up Dominus Estate, which had been established in the 1980s by Petrus' Christian Moueix.
Aside from occasional special bottlings, Silver Oak produces only two wines in each vintage, a Cabernet Sauvignon from Napa Valley and one from Alexander Valley. They used to produce a third wine – from Bonny's Vineyard in Napa – but have not done so for many years (the vineyard, named for Justin Meyer's wife, now provides fruit for a Bonny's Vineyard bottling from Meyer Family Cellars). The fruit for Silver Oak's wines comes from a number of vineyard sources. Most of the Napa Valley fruit comes from the winery's 113-acre Soda Canyon Vineyard east of Yountville, while the Alexander Valley fruit comes mostly from the estate 80-acre Miraval Vineyard in the southern part of that appellation. The Napa Valley bottling is typically composed of 80-90% Cabernet Sauvignon, with the rest being made up of Merlot, Cabernet Franc, and Petit Verdot. Up until 2011, the Alexander Valley bottling was always 100% Cabernet Sauvignon but beginning with that vintage it is also blended with a little of the other three varieties.
Silver Oak is unusual among top California Cabernet producers in using exclusively American oak to age its wine (interestingly, Twomey uses French oak for its wines). American oak generally imparts more of a sweet vanilla character to wine than French oak, and can sometimes also add notes of coconut or dill. Justin Meyer felt that wines aged in American oak have tannins that are less harsh than those aged in French oak, and the winery formed a partnership with a cooperage in Missouri to supply barrels to its specifications. Silver Oak's Cabernets are both barrel-aged for about 24 months – the Napa Valley bottling is aged in 100% new barrels and the Alexander Valley bottling uses roughly 50% each new and once-used barrels. The Napa Valley wine is aged another 20 months or so in bottle prior to release while the Alexander Valley one is released a few months sooner.
Jeff and Pam have been longtime fans of Silver Oak's wines, and they were able to arrange a tasting there with VIP Tour Program Manager Tom Walsh. The spacious tasting room was bustling, and although Tom was busy attending to customers at the tasting bar, he took good care of us. He was able to break away for a few moments to take us into a side room for some photos and he treated us to a couple of library wines in addition to the two current release Cabernets. Starting with the current 2011 Alexander Valley and 2010 Napa Valley bottlings (Silver Oak's wines are released later than most California Cabs), we moved on to a 2008 from Alexander Valley and 2006 from Napa.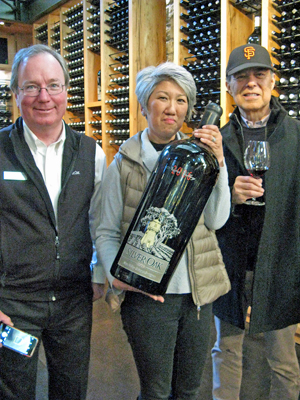 Silver Oak is one of California's most polarizing wineries – people generally love the wines or hate them. And it's not uncommon on the internet to see people denigrating those who enjoy Silver Oak Cabs as well as the wines themselves. So what is it that provokes such strong reactions? For one thing, Silver Oak has become such an easy target among many wine geeks that it's the one winery they feel can all bash without fear. And the thing that may well be most annoying to many of these people is that Silver Oak's wines, made in a style that they claim to strongly dislike, continue to be so wildly successful and popular.
Frankly, Silver Oak was not high on my list of wineries to visit in Napa, but when Jeff and Pam made the appointment for us there, I thought that this would be a good opportunity to revisit the wines, which I hadn't done in at least ten years. And although their style is not really my preference these days, I found that I enjoyed the wines more than I remembered from my previous visits. While the wines are still oakier than I'd like, in the past I'd encountered a distinct dill note that I didn't care for, but I couldn't find any trace of that in the wines we tasted on this visit. The character of the wines is seamless and smooth but they're hardly the big, ripe, high-alcohol "new" Napa Cabs that many often deride. There's enough acidity to keep the wines lively and not heavy, and alcohol levels are quite moderate, ranging over the past ten years from 13.0-13.9% for the Alexander Valley Cabs and a few tenths of a percent higher for the Napa Valley bottlings. Yet even without overly ripe fruit, there's certainly a perception of sweetness to the wines – there's little doubt that the considerable American oak character is a big factor in that.
Of the wines we tasted, I preferred the Alexander Valley bottlings to their Napa counterparts, perhaps due to the somewhat more restrained use of new oak. Silver Oak clearly crafts their wines to be approachable right off the bat, and given that goal, it's no great surprise that they're so popular for steakhouses and many other restaurants – rich and flavorful but not as tannic as many young California Cabs. It's a formula that has worked well over the years for Silver Oak, and from all appearances, it continues to work for them.
I parted ways with Chris and Jane and with Jeff and Pam following our visit to Silver Oak, and we headed our separate directions from there. Having only two wine appointments for the day helped make it a relaxing outing to end the year. Visiting Lagier Meredith is an annual tradition that's always enjoyable, and returning to Silver Oak after many years helped give me some new insights into their wines. As always, thanks to everyone that we visited for being so generous with their time and their wine!