Pinot Days – 2015
11th Annual San Francisco Grand Festival Tasting
Report on the 11th annual Pinot Days San Francisco Grand Festival Tasting, on Saturday June 20th, 2015, at City View at the Metreon in San Francisco. Billed as "the largest gathering of Pinot Noir producers in the world," the event focuses on current releases of Pinot Noir from producers in California and around the world.
The Pinot Days San Francisco event included a winemaker dinner at Luce Wine Restaurant in San Francisco, presented in conjunction with the American Institute of Wine and Food, and there were local wine shop tastings with selected Pinot Days producers. There was also a VIP Tasting held just before the Grand Festival Tasting, featuring two focused wine flights with introductions by the vintners. I was able to attend both the VIP Tasting and Grand Festival Tasting this year.
Pinot Days is a non-profit organization run by Steve and Lisa Rigisich, with help from Eric White, their staff, and a small army of volunteers. Growing out of the Bay Area Wine Project, Pinot Days' theme is "celebrating Pinot's diversity of style." In addition to the original San Francisco event, Pinot Days has expanded to include events held in Los Angeles, New York City, and Chicago.
VIP Tasting
I started the day at the VIP Tasting, held under a tent outside of the City View space, located on the fourth floor of the Metreon complex. It was a perfect day for an outdoor tasting – not too hot and not too windy – though we were occasionally distracted by a band playing in one of the nearby public spaces below us. The wines poured at this tasting were different from those poured at the Grand Festival Tasting so that was a nice bonus for all of us who attended.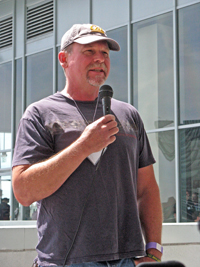 The first of the two tastings focused on Pinot Noir from Marin County. Although many of Marin's vineyard sites share much in common with the cool and windy Petaluma Gap region – and in fact some of the vineyards are within the proposed Petaluma Gap AVA boundaries – the area is often overlooked since its planted acreage is a tiny fraction of neighboring Sonoma's. Located between San Francisco Bay on the east and Tomales Bay and the Pacific Ocean on the west, Marin vineyards tend to be small, hilly, and often contain a variety of soil types.
I've followed Marin County Pinots for a number of years, so I was familiar with all of the participants in this tasting – Stewart Johnson of Kendric Vineyards, Garry Brooks of Brooks Note Winery, David Mease of Burning Bench Cellars, Brian Maloney of DeLoach Vineyards, and Scott McLeod of Skywalker Vineyards. We tasted one wine from each of these producers – Kendric 2012 Marin County "Reserve" Pinot, sourced from the estate Kendric Vineyard, Brooks Note 2013 Marin County Pinot, sourced from Azaya Ranch and Chileno Valley Vineyard, Burning Bench 2013 Moon Hill Vineyard Pinot, DeLoach 2013 Stubbs Vineyard Pinot, and Skywalker 2012 Estate Pinot.
Marin Pinots have been known for being on the lighter end of the stylistic spectrum, but these wines showed a good deal of diversity. The first two were on the lighter side, with bright red-fruited character and very good acidity, while the last three showed more black cherry and plum notes with a somewhat richer texture. My favorites of the group were the Brooks Note and DeLoach Pinots. Marin will always remain a small Pinot growing region but that doesn't mean it should remain an overlooked one – the wines from there are not the easiest to find but they're certainly worth checking out.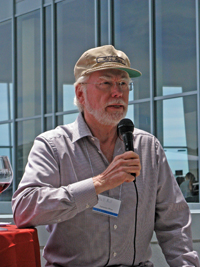 Our second tasting was an exploration of Pinots from sites developed by longtime vineyard developer and vintner Bill Hill. He's been in the vineyard and wine business for about 40 years, and has been behind the planting of many vineyards up and down the west coast, from Willamette Valley to Sta. Rita Hills. Bill told us that he feels climate is the "macro-screener" for deciding a vineyard location, while soil is a "micro-screener." He said that in his experience, climate is the main determining factor in flavor profile while soil will have a greater influence on intensity and concentration. He looks for oceanic influence, lower humidity, and little rainfall in the later part of the growing season, as well as soil that will allow vines to remain healthy but will limit vigor. Over the years, Bill has increased vine density in the vineyards he's helped develop, with most recent ones being in the range of 2,300 to 2,500 vines per acre.
A question was raised as to where the optimal regions for growing Pinot Noir are located, and Bill feels that they need to be on the west side of continents and be within a certain range of latitudes. He noted that the west coast of the US between Oregon and Santa Barbara County was one such area and that Chile was another. Bill mentioned four specific growing regions in the US as being his most preferred ones – northwestern Willamette Valley, Anderson Valley, Sonoma Coast / Petaluma Gap, and Sta. Rita Hills. Bill was pressed to name one as his overall favorite but he wouldn't bite on that one!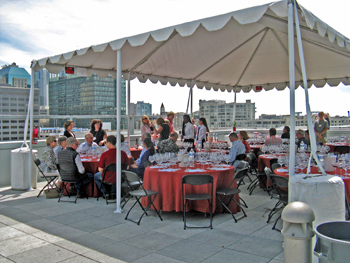 We proceeded to taste through six Pinots from sites that Bill has developed over the years, and we had representatives from all six on hand to talk about their wines – Jim Morris of MacPhail Family Wines, Bill himself represented Expression Wines, Steve MacRostie of MacRostie Winery, Chad Richard of Furthermore Pinot Noir, Craig Haserot of Sojourn Cellars, and Erica Stancliff of Trombetta Family Wines. The wines we tasted were MacPhail 2012 Roserock Vineyard Pinot, from Eola-Amity Hills in Willamette Valley, Expression 2012 "39º" Anderson Creek Vineyard Pinot, from Anderson Valley, MacRostie 2012 Goldrock Vineyard, from the Annapolis area of the Sonoma Coast, plus Furthermore 2012 Gap's Crown Pinot, Sojourn Cellars 2013 Gap's Crown Pinot, and Trombetta Family Wines 2012 Gap's Crown Pinot, all three from the Petaluma Gap area of the Sonoma Coast.
I thought the clear standout wine of this group was the MacPhail – floral, earthy, and with lively acidity, while the floral, spicy, and elegant Sojourn was my favorite of the three Gap's Crown bottlings, which all showed a bolder character than the first three Pinots. This was an interesting tasting, which like the Marin one, really showcased some different takes on Pinot winemaking as well as distinctions in the vineyard sites.
Those who signed up for the Pinot Days VIP Tasting were treated to a pleasant start to the event, with a smaller and relaxing setting, interesting talks by the participating producers, and some fine wines (as well as an early entry to the Grand Festival Tasting). And as a bonus, VIP attendees received a generous credit from Pinot Days toward a wine order from any producer at the event. This seems like a good option to consider for those attending future Pinot Days events.
Grand Festival Tasting
Over 90 individual producers were represented at this year's Pinot Days Grand Festival Tasting. Most wineries were from California – from nearly every Pinot region in the state – and there were also a few Oregon wineries and a small number from New Zealand. In addition to the wide variety of Pinot Noirs, Pinot-based Rosés, and a couple of Pinot Noir Blancs, there were a few non-Pinot wines on hand, which actually proved a nice change of pace.
Some Favorites

Aberrant 2012 "Virtus ex" Pinot Noir
Alma Rosa 2013 Barrel Select Pinot Noir
August West 2013 Peterson Vineyard Pinot Noir
Belden Barns 2013 Estate Pinot Noir
Brooks Note 2013 Weir Vineyard Pinot Noir
Byron Kosuge 2012 "The Habitat" Pinot Noir
Cellars 33 2013 Gloria Vineyard Pinot Noir
Comptche Ridge 2012 Mendocino County Pinot Noir
DeLoach 2013 Stubbs Vineyard Pinot Noir
Dutton-Goldfield 2013 Angel Camp Vineyard Pinot Noir
FEL 2012 Savoy Vineyard Pinot Noir
Freeman 2013 "Akiko's Cuvée" Pinot Noir
Kendric 2013 Marin County Pinot Noir
MacPhail 2013 Roserock Vineyard Pinot Noir
Spell 2011 Alder Springs Vineyard Pinot Noir
Valdez 2012 Russian River Valley Pinot Noir
Von Holt 2013 Sonoma Coast Pinot Noir
Waits-Mast 2012 Oppenlander Vineyard Pinot Noir
Others of Note
Aberrant 2014 Pinot Noir Blanc
Alma Rosa 2014 Pinot Noir Vin Gris
Bravium 2014 Signal Ridge Vineyard Rosé
Brooks Note 2012 Marin County Pinot Noir
Byron Kosuge 2013 Hirsch Vineyard Pinot Noir
Camlow 2013 "Magna Porcum" Estate Pinot Noir
Kessler-Haak 2011 Sta. Rita Hills Pinot Noir
Ryan Cochrane 2013 Fiddlestix Vineyard Pinot Noir
Sojourn 2013 Rodgers Creek Vineyard Pinot Noir
Spell 2013 "Nichole's Blend" Pinot Noir



This was the second year that the event was held at City View at the Metreon, although I missed last year's tasting so this was my first Pinot Days experience at the venue. Access via public transit was very easy and eliminated the need to find parking, always difficult and often expensive in San Francisco. I like this venue a lot – it's a comfortably-sized space but a more intimate setting for the tasting than the barn-like Fort Mason pavilion.
Since City View is a smaller venue, the number of participating wineries for the Grand Festival Tasting is more limited than it used to be, but the event remains a fine overview of Pinot Noir from a number of regions and made in a variety of styles. The number of Oregon wineries pouring at the event has declined in recent years, with only a handful on hand at this year's tasting. And as mentioned above, the only non-US Pinots were those at the New Zealand Winegrowers' table – unfortunately I ran out of time to taste there this year.
As usual, Pinot Days was very well-organized, and everything ran smoothly at the Grand Festival Tasting. The Pinot Days Grand Festival Tasting has always differentiated itself from most other large wine tasting events in its near-exclusive focus on the wine – there were few non-wine exhibitors there, and very few food purveyors, though El Porteno Empanadas has been a consistent presence at the event in recent years.
As is always the case when tasting at an event as large as this one, I purposely passed on some good producers whose wines I'd tasted earlier this year or that I'll probably try in the next month or so. But I also missed out on a few I'd really hoped to taste this time, including MacPhail, Papapietro Perry, Scherrer, and Siduri, among others. As the winery tables were arranged alphabetically (which is a great help) I realized too late that I'd spent too much time in some parts of the room while missing some others – including pretty much all the wineries with names starting around the middle of the alphabet! And is often true at events such as this, I probably spent too much time visiting and talking with producers I know particularly well.
Even so, I did manage to taste wines from a number of producers I hadn't tried before, always a goal at this sort of event. Those included Aberrant, Belden Barns, Camlow, Comptche Ridge, FEL, Ryan Cochrane, and Three Sticks. Aberrant and Belden Barns stood out to me among those labels. I also tasted wines from a few producers that I haven't tried in quite a while, such as Byron Kosuge, Spell, and Valdez Family, and I was glad that I checked them out again.
Of my favorite wines at this year's Pinot Days, I found that a large number of them came from vineyards in Mendocino County, mostly from Anderson Valley and nearby regions. I also liked several wines from the Sonoma Coast, Russian River Valley, Sta. Rita Hills, Marin County, and Willamette Valley as well as a couple of other areas. The wines I tasted were all recent releases or will be released in the near future. Most were from 2012 and 2013 – both solid Pinot vintages throughout California. Many of the 2013s were showing surprisingly well for such young wines, and even though they're tasty right out of the gate, I think there's a good chance that they will age nicely. Although it's really too early to say for sure, I'd bet that in general the Pinots from the 2013 vintage will age better than those from 2012.
I did taste some non-Pinot wines at the event (along with a few Pinot Noir Blancs and Rosés), and while I did not include any of the non-Pinot wines in my list of Favorites, a few of them were certainly noteworthy. Producers I tried that poured particularly strong wine line-ups included Aberrant, Alma Rosa, Belden Barns, Byron Kosuge, and Spell, while others such as August West, Bravium, Brooks Note, Cellars 33, Dutton-Goldfield, Freeman, and Waits-Mast were also very good. There were also producers whose standout wines I tasted at the VIP Tasting but I didn't get back to taste at their tables during the Grand Tasting – DeLoach and MacPhail in particular. Overall, the quality of wines I tried at Pinot Days this year was very good – not a great surprise with regard to the many producers I'm familiar with but a nice bonus with so many others with whom I had little or no recent experience.
A number of other wine events highlight Pinot Noir entirely or in large part, yet most of these focus on specific growing regions or styles. Pinot Days has always celebrated the diversity of Pinot Noir. Even though the event is not as large as it used to be, it's still a great showcase for Pinot from many regions and made in a variety of styles. As always, it presents a rare opportunity for the public to talk with so many acclaimed vintners in one setting. For fans of Pinot Noir, it remains one of the San Francisco Bay Area's "don't miss" annual wine events.

Selected Tasting Impressions

Aberrant Cellars

Aberrant Cellars is the project of winemaker Eric Eide, and the unusual name refers to his goal of "avoiding convention." The winery was established in 2009, after Eric left his position at Robert Kacher Selections importers and worked the 2008 crush for two Willamette Valley Pinot producers. This was my first experience with Aberrant, and I was impressed by the wines – 2014 "Philtrum" Pinot Noir Blanc, 2012 "Amplus" Gran Moraine Vineyard Pinot, 2012 "Virtus ex" Pinot, and 2012 "Carpe Noctem" Pinot. The Pinot Noir Blanc (inspired by sparkling Blanc de Noir wines) was whole-cluster pressed and made in both stainless steel and oak – it was lively and refreshing, with subtle pear aromas. The "Virtus ex" was my favorite of the three Pinot Noirs. Sourced from two vineyards with volcanic soil in the Eola-Amity Hills AVA, the 20% whole-cluster fermentation showed up as a savory herbal character, while bright fruit and a stony mineral note helped round out the package – appealing now and should age nicely as well. I'll have to keep an eye out for Aberrant in the future.

Alma Rosa Winery & Vineyards

Richard and Thekla Sanford founded Alma Rosa in 2005. Richard, one of the pioneers of Pinot Noir in Santa Barbara County – and especially in the Sta. Rita Hills – was on hand to pour his wines at Pinot Days. He first began growing winegrapes there in the mid-1970s, and he has been dedicated to organic viticulture, working with over 100 acres of certified organic vineyards. The winery has recently opened a new tasting room in Buellton. Richard poured four wines for me – 2014 Pinot Noir Vin Gris, 2013 Sta. Rita Hills Pinot, 2013 "Barrel Select" Pinot, and 2010 "40th Anniversary" Pinot, all from the Sta. Rita Hills. Richard has been making Pinot Vin Gris for many years, and the current vintage is one of the best I've tasted in awhile – pressed after about 10 hours on the skins, it featured earthy red fruit, vibrant acidity, and a chalky mineral finish. The "40th Anniversary" Pinot Noir was released to celebrate Richard's 40 years of winegrowing in the Sta. Rita Hills, though the 2013 "Barrel Select" was my favorite of the Pinots, with black cherry, flowers, earth, and tea leaf. I've found over the years that Alma Rosa's wines have been particularly good at capturing beautiful aromatics, and these latest releases were no exception.

August West Wine

August West was established in 2003, and partners John Peterson, Howard Graham, and Ed Kurtzman specialize in Chardonnay, Pinot Noir, and Syrah from the Santa Lucia Highlands and Russian River Valley. Prior to launching August West (and his own Sandler label), Ed worked at Bernardus and Chalone in Monterey County and became the winemaker at Testarossa in 1999. He makes the wines at an urban winery in San Francisco. (Disclosure – I've helped out at August West with bottling and on occasion during crush) I tasted three bottlings from Santa Lucia Highlands – 2013 Sierra Mar Vineyard Pinot, 2013 Peterson Vineyard Pinot, and 2013 Rosella's Vineyard Pinot, plus the 2013 Graham Family Vineyard Pinot from Russian River Valley. Pinots have usually been entirely destemmed although Ed has used some whole-cluster fermentations as well, including 67% whole clusters with the 2013 Sierra Mar Pinot. All four wines were quite good, with the spicy and savory Peterson Vineyard bottling being my favorite – August West produces some of the best Pinots made from Santa Lucia Highlands fruit.

Belden Barns

Belden Barns was another new discovery for me at Pinot Days. Proprietors Lauren and Nate Belden were behind the table to pour their wines, which are made by Justin Harmon (of Argot Wines). Their estate vineyard on Sonoma Mountain was originally planted in the 1970s, though the site has been expanded and replanted in more recent years. The vineyard includes Sauvignon Blanc, Chardonnay, Viognier, Grüner Veltliner, Pinot Noir, Grenache, and Syrah, and the first Belden Barns vintage was 2012. Lauren and Nate poured their 2013 Estate Pinot and 2013 Serendipity Block Pinot. The estate Serendipity Block bottling included nine interplanted clones, and was aged entirely in neutral oak. I thought the Estate Pinot was showing especially well right now, with light color, earthy and herbal notes to complement the red fruit, and lively acidity. The Serendipity Block was a bit bigger and more structured. Lauren and Nate also poured me a taste of their 2012 Estate Syrah, which showed pretty floral aromatics along with dark fruit and a stony mineral note. An impressive group of wines, and a label worth watching in the future.

Bravium Winery

Established in 2007, Bravium is the project of owner/winemaker Derek Rohlffs, who was behind the winery table at the tasting. He sources fruit from cooler sites in Mendocino, Napa, Sonoma, and the Santa Cruz Mountains. Derek has created several other brands in addition to the flagship Bravium label, including White Wedding and Lucky. The winery is located on Treasure Island in San Francisco Bay. I tasted three Bravium wines – 2014 Wiley Vineyard Pinot Noir Blanc, 2014 Signal Ridge Vineyard Rosé, and 2013 Signal Ridge Pinot Noir. The first of these came from the cool "Deep End" of Anderson Valley while the last two were sourced from a vineyard in the Mendocino Ridge appellation. All three were quite pleasant, and the Signal Ridge Pinot, with bright acidity and good structure, should benefit from more time in the cellar. My favorite was the Rosé, made from ? each whole-cluster press, fruit left a short time on skins before pressing, and saignée – should be a good choice for summertime and beyond.

Brooks Note Winery

Brooks Note is a new winery, located in Forestville. It was founded in 2011 by Garry Brooks and his wife Joanne (her maiden name was Note). Garry had previously worked for Ravenswood, Acacia, Kosta Browne, and Dutton-Goldfield. I had tasted the Brooks Note 2013 Marin County Pinot at the VIP Tasting and it was one of my favorites of that flight. At the winery table, I tried the 2013 Weir Vineyard Pinot from Yorkville Highlands in Mendocino County. Made with about 10% whole clusters and aged in 30% new French oak, this earthy, red-fruited wine with savory undertones and fine tannins was a standout. I'd first tasted the Brooks Note wines at last year's Marin County wine tasting event, and they impressed me both then and at this year's Pinot Days.

Byron Kosuge Wines

Byron founded his eponymous winery with the 2004 vintage, though he's made wine for numerous other labels over the years – and continues to do so. He spent 15 years at Saintsbury in Carneros, leaving there in 2001. Since then he's made wines for Miura, Small Vines, Alder Springs, Wrath, and others in California as well as Kingston Family Vineyards in Chile. Byron makes his own wines in Santa Rosa. He was on hand at Pinot Days and poured three wines – 2013 "The Shop" Pinot from Carneros, 2013 Hirsch Vineyard Pinot, and 2012 "The Habitat" Pinot, the last two from the Sonoma Coast. I liked both the Hirsch and "The Habitat" Pinots quite a bit. Both showed floral, earthy, and herbal components along with cherry and raspberry fruit, and I gave the "The Habitat" – sourced from Baranoff and Barlow Homestead vineyards, both farmed by Paul Sloan of Small Vines Viticulture – the slight edge of the two. I've come across wines from a number of producers that were made by Byron, but I hadn't had the opportunity to taste his own wines for quite awhile – this tasting reminded me that I need to try them more often.

Camlow Cellars

Camlow is a new venture, and proprietors Craig Strehlow and Alan Campbell were behind their winery table at Pinot Days to pour their initial releases. Craig makes the wines, and he was the longtime vineyard manager at Keefer Ranch in Green Valley of Russian River Valley. Alan owns the four-acre Magna Porcum Vineyard near Graton. Craig poured Camlow's 2012 Keefer Ranch Pinot and 2013 "Magna Porcum" Estate Pinot. Both were good, though the "Magna Porcum" was particularly distinctive, with black cherry, spice, and mushroom aromas, a lively texture, and fine tannins. This was one of several newer wineries that showed very well at Pinot Days.

Cellars 33

Yet another newer winery, John and Katie Fones launched their Cellars 33 label in 2011. John worked at Freeman Winery in Russian River Valley and with Ed Kurtzman in San Francisco before starting Cellars 33. The small production includes Grenache Blanc, Chardonnay, Rosé, Pinot Noir, Zinfandel, and Syrah, and John makes the wines in San Francisco. (Disclosure – I've helped out at Cellars 33 with bottling and on occasion during crush). John and Katie were on hand at Pinot Days, and poured me five wines – 2014 Grenache Blanc from Lodi, 2013 Katie's Cuvée Pinot from younger vines at Keefer Ranch, 2013 Keefer Ranch Pinot, 2013 Gloria Vineyard Pinot (the Freeman estate vineyard), and 2012 Brosseau Vineyard Pinot from the Chalone AVA. I enjoyed the Grenache Blanc – a nice change of pace from Pinot – while the bright strawberry, tea leaf, and baking spice of Gloria Vineyard Pinot made it my favorite for near-term drinking. Brosseau Vineyard Pinots are always distinctive and the Cellars 33 bottling was no exception – less upfront fruit, more herbal, more tannic, this has good potential but clearly needs more time in the cellar. A nice line-up of wines and yet another newer winery worth watching.

Comptche Ridge Vineyards

Comptche Ridge is the project of brothers John and Mark Weir, who own an eight-acre vineyard near the small town on Comptche, north of Anderson Valley in Mendocino County. The first plantings came in 2000, with more in 2005. Dry-farmed and organic, the vineyard includes Swan, 115, 667, and 828 Pinot clones. Only a single estate wine is produced each year – the inaugural vintage was from 2008, and the wine is made by the team at Anthill Farms. I tasted the 2012 Mendocino County Pinot at Pinot Days. Fermented with about 30% whole clusters and aged in 30% new French oak, this featured strawberry and cranberry aromas along with herbs and an earthy forest floor component, bright acidity, and refined tannins. A tasty wine that has the stuffing for at least mid-term aging, quite nice.

Dutton-Goldfield Winery

The winery is a partnership of noted Russian River Valley grower Steve Dutton and well-known winemaker Dan Goldfield (formerly at La Crema and Hartford Court). The first Dutton-Goldfield releases were a Chardonnay and Pinot from the 1998 vintage, and those varieties remain the core of their production. The winery sources Pinot fruit from cooler sites in a number of appellations. I tasted four wines at the Dutton-Goldfield table – 2013 Azaya Ranch Pinot from Marin County, 2013 Fox Den Vineyard Pinot from a site near Occidental, 2013 Emerald Ridge Pinot from Green Valley of Russian River Valley, and 2013 Angel Camp Vineyard Pinot from Anderson Valley. As I've come to expect from Dutton-Goldfield, these were all elegant and polished wines. I particularly enjoyed the Emerald Ridge and Angel Camp bottlings, with the less fruit-forward, earthy, slightly mushroomy Angel Camp being my favorite.

FEL Wines

FEL Wines in Anderson Valley is part of Lede Family Wines, along with Napa Valley's Cliff Lede label. The letters in the winery name are the initials of Florence Elsie Lede, Cliff's mother. Cliff acquired Anderson Valley's noted Savoy Vineyard in 2011. While the FEL label was officially launched in 2014, the winery can be seen as the successor to Breggo – located in the same facility and with longtime Breggo winemaker Ryan Hodgins in charge of producing the wines. I tried three FEL wines at Pinot Days – 2013 Anderson Valley Pinot, sourced from Savoy, Ferrington, Donnelly Creek, and Wiley vineyards, 2012 Hirsch Vineyard Pinot, and 2012 Savoy Vineyard Pinot. I thought the Savoy was a standout, with darker berry fruit, tea leaf, smoke, and spice aromas, and good structure for aging. Ryan has been very consistent with his winemaking over the years and I expect that we'll continue to see some fine wines coming from FEL in the future.




Freeman Vineyard & Winery

Established in 2001 by Ken and Akiko Freeman, the winery features a striking wine cave tunneled into the hills west of Sebastopol. Making exclusively Chardonnay and Pinot Noir, Akiko heads up the winemaking team, which includes consulting winemaker Ed Kurtzman. Freeman has two estate vineyards – Gloria Vineyard near the winery in the Green Valley area and the newer Sonoma Coast Yu-ki Vineyard located just five miles from the ocean. I tasted the 2013 Sonoma Coast Pinot, 2013 "Gloria" Estate Pinot, and 2013 "Akiko's Cuvée" Pinot at Pinot Days. The Sonoma Coast bottling was sourced from four sites including the Yu-ki estate vineyard, while the "Akiko's Cuvée" is a barrel selection that came from six vineyards in 2013. All the wines were aged in around 25-33% new French oak. The Sonoma Coast bottling was bright and floral, and would appealing for near-term drinking, while the "Akiko's Cuvée" in particular should reward time in the cellar, with its slightly darker fruit profile, vibrant acidity, and fine structure.

Kendric Vineyards

Stewart Johnson's estate Kendric Vineyard, on the northern edge of Marin and within the proposed Petaluma Gap AVA, is planted mostly to seven clones of Pinot Noir and to a small block of Viognier. The winery name is a tribute to Stewart's father, and 2004 was the first release. His family also has a vineyard in Amador County, where they grow Sangiovese and Syrah. The wines are made on Treasure Island in San Francisco Bay. (Disclosure – I've helped with bottling at Kendric). Stewart poured me pre-release samples of two of his wines – 2014 Marin County Viognier and 2013 Marin County Pinot, both entirely from estate fruit. The Viognier was a bit rounder than the previous vintage, while the Pinot was a standout, with bright cherry fruit, flowers, dried herbs, a light touch of vanilla/oak, and great acidity. Kendric has made some of the best Marin Pinots over the years, and this wine will be one to watch for once it's released.

Kessler-Haak Wines

The winery is the project of grower/winemaker Dan Kessler and his wife Ellen Haak Kessler. The estate vineyard in Sta. Rita Hills includes 27 acres of Pinot Noir and 3 acres of Chardonnay, farmed organically. The first Kessler-Haak wines from estate fruit were from the 2009 vintage. The winery also produces Riesling and Syrah from nearby vineyard sites. Dan Kessler was behind the table to pour his wines, the 2010 Estate Pinot and 2011 Estate Pinot. From 2A clone as well as several Dijon clones, the fruit was entirely destemmed, and the wine was aged in about 35% new oak. Both wines showed the darker fruit profile and fine acidity that are both characteristic of Sta. Rita Hills Pinots. The 2011 was my favorite of the two, with its more savory aromas and sharper focus. Tasty now, it has the potential to age nicely as well. I've enjoyed Kessler-Haak's wines each time I've had the opportunity to taste them.

Ryan Cochran Wines

Ryan Cochrane launched his winery with the 2010 vintage, when he produced all of 24½ cases of Pinot Noir. After working at a San Francisco advertising agency, he made a career change to winemaking, working with Roger Nicolas at RN Estate in Paso Robles in 2009. Ryan sources his fruit from Solomon Hills Vineyard in Santa Maria Valley and Fiddlestix Vineyard in Sta. Rita Hills, and his production remains small. I tasted two Ryan Cochran wines – 2013 Solomon Hills Vineyard Chardonnay and 2013 Fiddlestix Vineyard Pinot. The Pinot came from 115 and Pommard clones and was fermented with about 20% whole clusters and aged in 20% new oak. I must admit that Fiddlestix is usually not one of my favorite vineyards for Pinot Noir, but I liked this bottling, with its herbal black cherry aromas, bright texture, and chalky finish.

Sojourn Cellars

Sojourn was formed in 2001 by Craig Haserot and Erich Bradley. The label specializes in Chardonnay, Pinot Noir, and Cabernet Sauvignon, sourcing fruit from both Sonoma and Napa. As usual, Craig poured his wines at Pinot Days. He started me out with a change of pace from the many Pinots I'd been tasting – 2013 Sonoma Coast Chardonnay, from Sangiacomo, Durell, and Campbell Ranch vineyards, 2013 Sangiacomo Vineyard Chardonnay, and 2013 Durell Vineyard Chardonnay, and moved on to 2013 Sangiacomo Vineyard Pinot, 2013 Silver Eagle Vineyard Pinot, and 2013 Rodgers Creek Vineyard Pinot. Sangiacomo and Rodgers Creek are in the Petaluma Gap region while Silver Eagle is near Occidental. The Sangiacomo Vineyard bottling was my favorite of the three Chardonnays, while the Rodgers Creek Pinot – made with about 80% Pommard clone and with black cherry, spice, and earth aromas – was my favorite of the Pinots. Sojourn's wines have tended toward a bigger, richer – but not over-the-top – style, nicely-balanced and polished, and these followed in a similar character.

Spell Estate

Bill and Tiki Spell established their label in 2006 and produced their first wines the following year. The label specializes in Pinot Noir sourced from Sonoma and Mendocino County vineyards, and they also make a Chardonnay and a Pinot Rosé. Winemaker Andrew Berge has been on board at Spell since 2010, and he was behind the Spell table at the tasting. Andrew poured me five wines – 2013 "Nichole's Blend" Pinot, from four Sonoma County vineyards, 2013 Weir Vineyard Pinot from Yorkville Highlands in Mendocino County, 2012 Alder Springs Vineyard Pinot and 2011 Alder Springs Vineyard Pinot, from far north Mendocino, and 2012 Marimar Estate Vineyard Pinot from the Sonoma Coast. This was one of the strongest wine line-ups I tasted at Pinot Days. The "Nichole's Blend" bottling was vibrant, floral, and delicious for near-term drinking, the Weir showed that vineyard's characteristic earthy aromas, and the Marimar Estate was the ripest and richest of the wines. The two Alder Springs Vineyard bottlings were standouts and deserving of more bottle age, with the 2011 being my favorite of the two – bright and savory, with great acidity and tannic structure. I hadn't tasted Spell wines for quite a few years, and this was a great re-introduction.

Three Sticks Wines

Three Sticks is owned by well-known winery and vineyard investor Bill Price, who founded the label in 2002. The winery name refers to Bill Price's given name of William Price III, which led to his nickname of "Billy Three Sticks" when he was growing up. He currently owns Durell and Gap's Crown vineyards among others, and Kistler and Lutum are among the wineries in which he has ownership interest; he's also the chairman of Gary Farrell Winery. Former Williams Selyem winemaker Bob Cabral joined the Three Sticks team as director of winemaking in 2015 – the wines poured at Pinot Days were made by Three Sticks' longtime winemaker Don Van Staaveren. I tasted three wines – 2013 "The James" Pinot from Sta. Rita Hills (named for Bill's son), sourced from La Rinconada, Burning Creek, and Sanford & Benedict vineyards, 2013 Russian River Valley Pinot, and 2013 Bien Nacido Vineyard Pinot from Santa Maria Valley. All of them were solid wines on the riper end of the Pinot spectrum, and I suspect they will show better given another year or two of bottle age.

Valdez Family Winery

Valdez Family Winery is the label formed by famed grower Ulises Valdez. Ulises came to California from Michoacán, Mexico in 1985, got his first job here in Dry Creek Valley, and launched a vineyard management business in 1987. He now manages about 1,000 acres, and he owns or leases around 250 acres of that total. Most of the vineyards are in Russian River Valley, with some in Dry Creek and Rockpile, and as far north as Annapolis. The first vintage from the Valdez Family label came in 2004, and a winery was completed in 2010. Ulises' daughters Angelica and Elizabeth Valdez were on hand to pour at Pinot Days, and they told me that their brother Ulises Jr. is now part of the family business as well. I tasted two Valdez Family wines, the 2012 Russian River Valley Pinot sourced from Lancel Creek, Lucky Well, and Laguna vineyards, and 2010 Lancel Creek Vineyard Pinot. The 2012 Russian River Valley was my favorite, showing lots of upfront cherry fruit, savory herbal notes, flowers, and spice, plus lively acidity and fine tannins – a fine expression of Russian River Pinot.

Von Holt Wines

Proprietors Chris Von Holt and his wife Pam launched their label with the 2008 vintage. They focus on Chardonnay, Viognier, Pinot Noir, and Syrah, mostly from cooler-climate vineyards in Russian River Valley and the Sonoma Coast. The wines are made in San Francisco, and John Fones (of Cellars 33) is the winemaker. (Disclosure – I've helped out with bottling for Von Holt) I tasted four wines at the Von Holt table, all from Sonoma Coast vineyard sources – 2013 Heintz Vineyard Chardonnay, 2013 Sonoma Coast Pinot, 2013 Hummingbird Hill Pinot, and 2013 Suacci Vineyard Pinot. The Chardonnay was outstanding – not surprising given the famed source of the fruit. I liked the Sonoma Coast bottling the best of the three Pinots. It featured bright, earthy red fruit aromas and should be appealing to drink now, where the other two Pinot bottlings showed a bit more oak at this stage and could use some time in the cellar to settle down and integrate. I've had the opportunity to see how the Von Holt Pinots age and have no doubts that the Hummingbird Hill and Suacci bottlings will develop nicely in the next few years.

Waits-Mast Family Cellars

Jennifer Waits & Brian Mast established their winery in 2005, and they focus solely on Pinot Noir, mostly sourced from Anderson Valley and nearby Comptche. The wines are made in San Francisco, and use destemmed fruit fermented with native yeast and typically aged in 25-30% new French oak. (Disclosure – I've helped out with bottling for Waits-Mast) Jennifer, Brian, and winemaker Shalini Sekhar were on hand to pour the wines at Pinot Days, where I tasted three of their wines – 2011 Wentzel Vineyard Pinot from Anderson Valley, 2012 Wentzel Vineyard Pinot, and 2012 Oppenlander Vineyard Pinot, from a site near the small town of Comptche, north of Anderson Valley in Mendocino County. All three wines showed very well. The 2012 Wentzel showed more upfront fruit and some floral notes but I preferred the more earthy and savory 2011. The Oppenlander was my favorite of the three wines, with black cherry, tea leaf, and spice aromas, vibrant acidity, and great structure for aging. Very nice wines and one of the stronger line-ups I tasted at the event.

Winery SF

Winery SF is a recent label from winemaker Bryan Kane, who also makes VIE and Sol Rouge wines. The first vintage was from 2008, and the label produces a wide variety of wines, with most of the fruit coming from the North Bay. The wines are made on Treasure Island in San Francisco Bay. (Disclosure – I've done some bottling and crush work for Winery SF) I tasted two Winery SF wines at Pinot Days, the 2013 North Coast Pinot, sourced from Anderson Valley fruit, and 2013 Sonoma Coast Pinot. The North Coast bottling had bright, upfront fruit, while the Sonoma Coast one had earthy, leathery aromas along with red fruit and spice. Both seemed best-suited to near-term drinking.

Z'IVO Wines

Z'IVO is the project of winemaker John Zelko and his wife Kathy, and their first commercial release was from the 2000 vintage. Their estate vineyard is planted to Pommard, 114, 115, 667, and 777 Pinot clones. A small amount of whole-cluster fermentation is typically used and the wines are aged in about 33% new oak. I tried two wines at the Z'IVO table – 2011 Pinot Blanc and 2009 Pinot Noir, both from Eola-Amity Hills. The Pinot Blanc was made in neutral oak and stainless steel and featured earthy pear aromas. The Pinot showed fairly ripe black cherry and plum fruit along with tea leaf and spice notes, and seemed ready to drink now.