A Visit to Scherrer Winery - August 2015
As I'd done a few years ago, I stopped in at the Scherrer Winery open house on my way to the West of West Wine Festival Grand Tasting in Sebastopol in early August. The winery is located near the town of Graton, along a small road that's easy to miss if you don't know where it is. Housed in a simple metal shed structure that was originally used for packing apples, the winery building is as low-key as Fred Scherrer and his wines. There were plenty of customers at the open house when I arrived, but I still had a chance to talk for awhile with both Fred and his father Ed – as usual, they were both pouring wine at the event.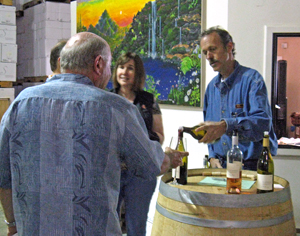 Fred founded Scherrer Winery in 1991, while he was still working at Dehlinger Winery. Ed owns Scherrer Vineyard in Alexander Valley, with Zinfandel first planted there by Ed's father in 1912. Fred studied enology at UC Davis, and worked at Fieldstone and Greenwood Ridge wineries before settling in for over a decade at Dehlinger, where he worked his way up to becoming the winemaker there. He left Dehlinger in 1998 to focus on his own label. Fred's wife Judi handles of the business side of the winery. Fred produces several different bottlings of most of the wines he makes – Chardonnay, Dry Rosé, Pinot Noir, Zinfandel, Syrah, and Cabernet Sauvignon.
If you've ever visited the winery, it would be no surprise that the open house arrangement was anything but fancy – just a few bottles set on top of upright barrels in the utilitarian winery space, with five-gallon plastic buckets on the floor for spit/dump buckets. Two barrels of Zinfandel were also set out for sampling during the event. And as usual at the Scherrer open house, there was an assortment of some delicious appetizers in addition to all the wines.
Tasting Notes: Current Releases & Barrel Samples

Scherrer 2013 Chardonnay, Scherrer Vineyard, Alexander Valley. This featured bright and forward apple aromas along with some citrus, spice, and vanilla notes. Medium-bodied, it balanced a creamy texture with good acidity and lively finish. As usual with Scherrer Chardonnays, this one should benefit from some time in the cellar.

Scherrer 2014 Dry Rosé, Sonoma County. 70% Syrah, 30% Grenache. Light salmon/pink color, with red berries and earth on the nose. Medium-light bodied with a viscous mouthfeel, crisp acidity, and a clean finish.

Scherrer 2012 Pinot Noir, Sonoma County. Medium-light ruby color, with strawberry, rhubarb, earth, and spice aromas plus a floral note. Medium weight with fine acidity and a stony mineral character that came through on the finish – pleasant now but should improve for at least a few years.

Scherrer 2011 Pinot Noir, "Big Brother," Sonoma Coast. Medium-light color, with black cherry fruit, spice, forest floor, and a savory herbal quality. Bigger in texture than the previous wine but lively on the palate, finishing with moderate, refined tannins. Still seeming tight, this has all the components to develop beautifully with more bottle age, quite nice.

Scherrer 2014 Zinfandel, "Shale Terrace," Scherrer Vineyard, Alexander Valley (barrel sample). Medium purple color, this displayed intense, bright and slightly tart raspberry and boysenberry aromas along with brambly, earthy notes and a touch of wet stone. Medium weight with a lively mouthfeel and fine tannins on the long finish, a very appealing young Zin.

Scherrer 2014 Zinfandel, "Old & Mature Vines," Scherrer Vineyard, Alexander Valley (barrel sample). This had a slightly darker color than the "Shale Terrace" sample, with less forward dark berry fruit plus lots of savory herbs, black pepper, and a bigger earth component. Showing a bolder texture and bigger structure than the previous wine, this finished with grippy tannins – may take a bit longer to develop than the "Shale Terrace" but has plenty of potential.

Scherrer NV "Zinfandoodle v.2.3". Medium-dark color, this had lots of upfront raspberry and darker fruit along with earth, pepper, and vanilla notes. Moderately rich but not heavy, this Zin delivers a lot for the modest price.

Scherrer 2010 Cabernet Sauvignon, Scherrer Vineyard, Alexander Valley. Dark purple, this had classic Cab aromas of currant and herbs along with earth, spice, a dusty component, and well-integrated oak in the background. Medium-full bodied and lively on the palate, with fine tannins on the long finish – delicious and drinkable even now but it would be a shame not to stash a few of these in the cellar.
Fred was at the first tasting station, and he started out with a tasty 2013 Chardonnay from Scherrer Vineyard. He followed this with the 2014 Dry Rosé – Fred noted that this had been released earlier in the year but there was still a small amount left so he decided to pour it at the open house. The Rosé is made mostly in older oak plus some stainless steel. Over the years it's been made from several different varieties, including Pinot Noir and Zinfandel, but more recently it's been from Syrah and Grenache. Fred finished up the wines on top of his barrel with two Pinots. The 2012 Sonoma County bottling (sourced from Russian River Valley fruit) is first of the Scherrer 2012 Pinots to be released, while the 2011 "Big Brother" showed me once again that cooler-climate Pinots from this vintage really needed some time to start showing what they have to offer.
Moving on to the next tasting station, I tried barrel samples of two 2014 Zinfandels that the winery offers as futures to their mailing list customers. The two Zins will be released in April 2016 – the "Shale Terrace" bottling is already sold out, but futures of the "Old & Mature Vines" ("OMV") were still available to buy at the open house. Despite each of them coming from Scherrer Vineyard, they were remarkably distinct from one another. The "Shale Terrace" was bright and fruit-forward, while the "OMV" was more brooding and structured and will need more time in the cellar. Both are terrific renditions of Alexander Valley Zinfandel.
Ed manned the last tasting station, and he had two wines on top of his barrel. The non-vintage "Zinfandoodle" is made from some of the "OMV" lots that did not go into the final blends for those wines. The "v.2.3" edition of this non-vintage blend came from 2012 and 2013 fruit. It's a fun wine with more complexity than you'd expect for the price. The final wine was 2010 Scherrer Vineyard Cabernet Sauvignon, 100% varietal and barrel-aged for 30 months. This is always an elegant Cab, an antithesis of the overly-ripe and oaky wines that are seen too often these days.
Fred Scherrer makes wines that are something of a throwback – they're flavorful and balanced without being flashy, and built for the long haul rather than for high scores and immediate gratification. Other than the open house events (April, August, and November), the winery is generally open to visitors by appointment only – though not during the busy fall crush season. If you've never been there, I highly recommend a visit with Fred. Few other wineries make varieties as diverse as Chardonnay, Pinot Noir, Zinfandel, and Cabernet Sauvignon (not to mention Rosé and Syrah) as well as Scherrer does across the board – they're really one of the hidden gems among Sonoma County wineries.