Arnot-Roberts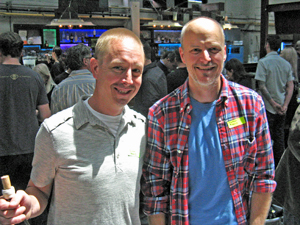 The winery was founded by Duncan Arnot Meyers and Nathan Roberts in 2002. While they continue to make varieties such as Chardonnay, Pinot Noir, Cabernet Sauvignon, and Syrah, they've also become known in recent years for wines from lesser-known California grapes. Both Duncan and Nathan were behind the table for the event, and they poured three Arnot-Roberts wines for me – 2014 Touriga Rosé, 2013 Ribolla Gialla, and 2013 North Coast Trousseau. The Ribolla, from Napa's Vare Vineyard, was kept in an amphora for 60 days, and featured higher-toned citrus and strawberry aromas. The Trousseau was sourced from three vineyards and made with 100% whole clusters – a light brickish color, it showed red fruit and herbs, with a chalky texture. The Rosé came from Luchsinger Vineyard in Lake County, from fruit farmed specifically for Rosé – the fruit was first crushed and then whole-cluster pressed. With very nice acidity along with savory and saline notes and a touch of tannin on the finish, this was my favorite of the three wines.
Bedrock Wine Co.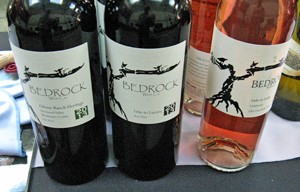 Bedrock owner/winemaker Morgan Twain-Peterson is the son of Ravenswood winery founder Joel Peterson. Morgan has been among the forefront in bringing attention to the preservation of old vines in California. Bedrock Vineyard in Sonoma Valley was originally planted in the 1850s and the current plantings date as far back as 1888. I tried three Bedrock wines at the tasting – 2014 "Ode to Lulu" Rosé, 2013 "Ode to Lucien" (Mourvèdre, Grenache, Syrah), and 2013 "Gibson Ranch Heritage" (Peloursin, Trousseau, Petite Sirah, Grenache, Syrah field blend). The two "Ode" wines refer to Lucie "Lulu" Tempier and her husband Lucien Peyraud – beginning in the 1940s, they made Bandol's Domaine Tempier into worldwide leaders for Mourvèdre-based wines. The "Ode to Lulu" Rosé – from Mourvèdre and Carignane – is usually a favorite, and although tasty, I felt this one didn't quite live up to the very fine 2013 rendition. The "Gibson Ranch Heritage" field blend from Mendocino's McDowell Valley displayed peppery darker fruit, though it was showing a fair amount of vanilla/oak on the nose – this may well integrate with more bottle age. The highlight of the Bedrock line-up for me was the "Ode to Lucien," a Mourvèdre-based wine (of course!) sourced from old vines and aged in older oak. Bright and savory aromas of herbs, pepper, ripe black cherry, and earth led to a lively mouthfeel and long finish – delicious now and should age well too.
Dirty and Rowdy Family Winery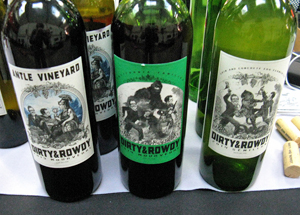 Established in 2012, Dirty and Rowdy is the project of Hardy Wallace and Matt Richardson with their wives Kate and Amy. The winery is one of the few in California specializing in Mourvèdre (they make a number of single-vineyard bottlings from various parts of the state), and Sémillon is another major focus. Hardy was behind the table at the tasting, and poured four wines for me – 2014 "Skin & Concrete Egg Fermented" Sémillon, 2014 "Familiar Blanc" (Chenin Blanc, Chardonnay, Melon, Sémillon, Pinot Blanc), 2014 "Familiar" Mourvèdre, and 2013 Antle Vineyard Mourvèdre. The Sémillon was made with 25% whole cluster pressed to a concrete egg and 75% destemmed and fermented on the skins for 16 days and aged in neutral oak. The wine had somewhat shy aromatics with but fine texture and finish, probably in need of a bit more time. The "Familiar Blanc" is about 50% old-vine Mendocino Chenin Blanc and more fruit-forward than the Sémillon. The Antle Vineyard Mourvèdre comes from the Chalone appellation, and was fermented entirely with whole clusters. With darker fruit, earth, herbs, and a stony mineral component, this is a serious wine that deserves more bottle age. In contrast, the "Familiar" Mourvèdre is perfect for drinking now. From 50% Santa Barbara Highlands Vineyard fruit plus four other vineyard sites, and 100% whole-cluster fermented, this was light, red-fruited, floral and herbal, with a bright and juicy mouthfeel – you don't usually think of Mourvèdre making "fun" wines, but this sure is one!
Donkey and Goat Winery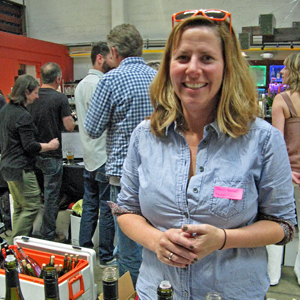 The idea for Donkey and Goat began when husband and wife team Jared and Tracey Brandt left their jobs in 2001 and traveled to France to learn winemaking from noted vintner Éric Texier. They now make their wines in Berkeley. Tracey was on hand for the afternoon tasting and Jared joined her in the evening. I tried six Donkey and Goat wines – 2013 "Sluice Box" (Marsanne, Vermentino, Grenache Blanc, Picpoul), 2014 "Isabel's Cuvée" Rosé (Grenache Gris), 2013 "The Prospector" Mourvèdre, 2014 "Claim Jumper" Mourvèdre Rosé, 2014 Pinot Gris, and 2013 "Stone Crusher" Roussanne. All the wines shared a bright acidity and many had a chalky, minerally character. Much of the fruit for these wines was sourced from El Dorado County, with some from Mendocino – old-vine Grenache Gris from McDowell Valley and Pinot Gris from Anderson Valley. The slightly cloudy appearance of a couple of the wines is a testament to the winery's style of minimal intervention in the cellar. I particularly liked the bright and juicy "Isabel's Cuvée," and "Stone Crusher" was intriguing – fermented on the skins for 15 days, this had citrus and orangepeel notes and a chalky finish. The other wines were solid, and my favorite was "The Prospector" – around 30% whole-cluster fermentation, this displayed great Mourvèdre character of gamey meat, iron, herbs, and black cherry with a bright texture and refined tannins, one of the standouts of the event.
Edmunds St. John
Started in 1985 by Steve Edmunds and his wife Cornelia St. John, the winery has moved a few times over the years. The production is split between the Perry Creek facility in El Dorado County (where Steve sources most of his fruit) and a small facility shared with a few other producers in West Berkeley – fittingly, it's the same spot where he started 30 years ago! Steve focuses mainly on Rhône varieties and blends, along with Gamay Noir. Steve poured four wines at the tasting – 2014 "Heart of Gold" (Vermentino, Grenache Blanc), 2014 "Bone-Jolly" Rosé (Gamay Noir), 2014 "Bone-Jolly" Gamay Noir, and 2013 "Rocks & Gravel" (Grenache, Mourvèdre, Syrah). The fruit for "Heart of Gold" comes from Fenaughty Vineyard in the Apple Hill area near Placerville. Though both from Gamay, the fruit for the Rosé and red versions of "Bone-Jolly" come from different vineyards – Barsotti for the Rosé and Witters for the red – that are also in the Placerville area. The lone wine made in Berkeley is the "Rocks & Gravel" blend, sourced from Unti Vineyard in Dry Creek Valley, made entirely with whole clusters and aged in concrete and steel tanks.
Ferdinand Wines
Evan Frazier is the proprietor of Ferdinand. He launched his label in 2010 and also works with John Kongsgaard in Napa. Evan started his winemaking with Abe Schoener at The Scholium Project. The Ferdinand label has focused on Albariño and Tempranillo to date. There were two wines to try at the tasting – 2013 Albariño and 2012 Tempranillo. The Albariño fruit came from Vista Luna Vineyard in the Borden Ranch region of Lodi and was farmed by noted grower Markus Bokisch – the wine had bright citrus aromas and a slightly chalky texture. The Tempranillo fruit came from another well-known grower, Ann Kraemer of Shake Ridge Vineyard in Amador County. My favorite of the two wines, this one showed Tempranillo's smoky and dried herb/tobacco character along with plum and blueberry fruit and a firm tannic finish.
Giornata Wines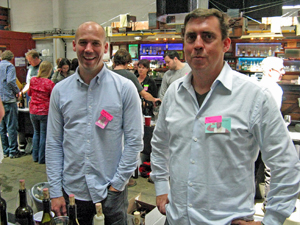 One of California's most notable specialists of wines made from Italian grape varieties, Giornata was established in 2005, and the wines are made in Paso Robles. Brian and Stephanie Terrizzi run Giornata – Brian makes the wine while Stephanie is a vineyard manager, including at Luna Matta Vineyard. Brian poured the wines at the event, and I tasted six of them – 2014 Vermentino, 2013 "Ramato" Pinot Grigio, 2014 Barbera, 2012 Nebbiolo, 2012 French Camp Vineyard Aglianico, and 2012 Luna Matta Vineyard Aglianico. The Giornata Vermentino has often been very good, and the new 2014 vintage was showing well – made in stainless steel, this had pleasant pear, fresh herb, and floral aromas and lively acidity. The "Ramato" Pinot Grigio spent three months on the skins and six months in an amphora – the light copper color of this earthy, savory wine with orangepeel accents and chalky finish testify to the skin contact. Giornata's Nebbiolo from Luna Matta Vineyard is always a highlight of their wine line-up, and the new 2012 release is very young but shows lots of potential, with aromas of flowers, cherry, herbs, and earth, and a grippy tannic finish. The contrast of the two 2012 Aglianico bottlings was interesting – I've gone back and forth in different vintages on which I prefer but the darker, earthier, and more peppery Luna Matta was a favorite this time.

Idlewild Wines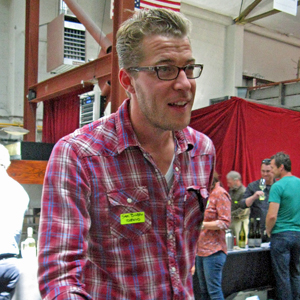 Sam Bilbro and his wife Jessica are the proprietors of Idlewild. The first vintage was from 2012 and the wines are made in Healdsburg. Sam grew up surrounded by grapevines and wine – his father Chris founded Marietta Cellars in 1979 – and he was one of the key people in launching the Seven % Solution tasting. I tasted seven wines with Sam at the event – 2014 Arneis, 2014 "The Bee" (Moscato, Friulano, Cortese), 2014 "The Flower" Rosé (from Dolcetto, Nebbiolo, Barbera), 2014 "The Bird" (Dolcetto, Nebbiolo, Barbera), 2013 Dolcetto, 2013 Barbera, and 2012 Nebbiolo. Most of the fruit for these wines came from Fox Hill Vineyard near Ukiah in Mendocino County. The three "Flora & Fauna" blends were pleasant – the Rosé was my favorite of them – but I preferred the varietal bottlings. The Arneis, picked early and allowed to go through malolactic fermentation to tame the acidity, displayed pear and floral notes along with a lively mouthfeel. The Barbera was fermented mostly with whole clusters, and featured a very savory herbal character, plus black cherry, earth, and the expected bright acidity. I had tasted the Nebbiolo about a month earlier and thought it had beautiful aromatics but was a bit on the simple side, but it was showing much more interest this time – retaining the pretty floral character but adding smoke and earth along with bright cherry fruit, and finishing with big but refined tannins. This was a solid line-up of wines, with the Arneis, Barbera, and Nebbiolo being my favorites of the bunch.

La Clarine Farm
La Clarine's Hank Beckmeyer and his wife Caroline Hoel established their winery in 2007. They purchase most of their fruit, but also have a small vineyard planted to Tempranillo, Syrah, Grenache, Tannat, Cabernet Sauvignon, and a tiny amount of Negroamaro next to their home and winery in the Fair Play region of El Dorado County. Hank was on hand to pour at the tasting, and I tried the 2014 Albariño, 2014 "Jambalaia Rouge" (Grenache, Mourvèdre, Marsanne with a little Fiano and Arneis), 2013 "Piedi Grandi" (Nebbiolo, Mourvèdre), 2013 "Josephine + Mariposa" (Grenache, Mourvèdre), and 2012 "Home Vineyard" (field blend of mostly Tempranillo, Grenache, Tannat, Syrah). All of the fruit for the La Clarine wines comes from the Sierra Foothills, and the new Albariño – a first for the winery – came from Matthew Rorick's vineyard in Calaveras County. This was a standout – light and lively with citrus and herb aromas plus a saline note that's characteristic of the variety and a chalky texture on the long finish. The "Piedi Grandi" is an unusual blend – about 55% Nebbiolo / 45% Mourvèdre – and I thought the varieties melded and elements of both appeared, with floral, smoky, and spicy aromas and a firm texture. "Josephine + Mariposa" (the name refers to a soil type) was bigger and a bit riper, with lots of structure, while the "Home Vineyard" displayed tart plum, savory and herbal components, and moderate tannins – worthy of more bottle age. The "Jambalaia Rouge" was a favorite, featuring floral and herbal aromas, bright raspberry and black cherry fruit, and a stony mineral note. With vibrant acidity and refined tannins, this is a beautiful wine for drinking now.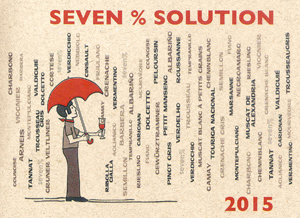 Leo Steen Wines
Owner/winemaker Leo Hansen is originally from Denmark, and launched the Leo Steen label in 2004. He specializes in Chenin Blanc – that variety seems a natural since Steen, his middle name, is also a South African term for the grape! The Chenin Blanc vines at both Saini Farms (Dry Creek Valley) and Jurassic Vineyard (Santa Ynez Valley) were planted in the early 1980s. I tasted four of the Leo Steen wines – 2013 Saini Farms Chenin Blanc, 2012 Jurassic Vineyard Chenin Blanc, 2011 Jurassic Vineyard Chenin Blanc, and 2013 Grenache. The three Chenin Blancs were all quite different from one another, and the 2012 Jurassic bottling was a pre-release preview. The Saini bottling was made in stainless steel and neutral oak, while the Jurassic ones were made in a concrete egg. My favorite was the 2012 Jurassic Chenin, with stony mineral character along with pear and stone fruit. The 2013 Grenache, from Dry Creek Valley, has also not yet been released, and featured bright strawberry fruit, herb and earth notes, and a chalky finish – very young but has potential.
Lioco Wine
Established in 2005 by wine importer Matt Licklider and sommelier Kevin O'Connor, Lioco combines their last names. Their focus is Chardonnay, Pinot Noir, and Carignan from Sonoma, Mendocino, and Santa Cruz counties. John Raytek of Ceritas took over as the Lioco winemaker in 2011. I tasted three wines at the Lioco table – 2014 "Indica" Rosé (from Carignan), 2013 Valdiguié, and 2013 "Sativa" Carignan. All three of these wines were sourced from old-vine Mendocino County fruit. Both the "Indica" and "Sativa" versions of Carignan displayed that variety's earthy side, along with red fruits and herbs. My favorite of the Lioco wines was the Valdiguié, from a vineyard in Redwood Valley. Bright, floral, and with a stony mineral character, it had a lively texture and fine tannins – not a profound wine but one that should be a terrific one for enjoying with a variety of foods over the next few years.
Matthiasson Wine
Steve Matthiasson is a highly-regarded viticulturist in addition to making wine, and he has an impressive list of clients, mainly in Napa. He and his wife Jill run the winery and produced their first commercial vintage in 2003. Not surprisingly, Steve is very hands-on when it comes to the farming of his vineyard sites. Jill was behind the table at the tasting and she poured me two wines – 2012 Ribolla Gialla and NV Schioppettino (from 2013-2014 vintages). The fruit for both of these came from the Matthiassons' own vineyard in the Oak Knoll region of Napa Valley. The Ribolla Gialla was fermented on the skins for 18 days, giving it a savory character combined with pear and stone fruit and a very light salmon color. The winery's first Schioppettino, a variety rarely-seen in California, blended six barrels from two vintages. Bright aromatics featured black cherry, raspberry, and floral elements with touches of earth and pepper and a fresh finish, very distinctive.
Nico Wines
Nico was established in 2008 by winemaker Kevin Rogers. The name comes from his mother's name, Nicolina, and the fact that her family was from Nicosia in Sicily. The first few Nico vintages were entirely Dolcetto, and beginning in 2012 Kevin has added Fiano, Greco, Moscato, Barbera, and a Lagrein/Grignolino Rosé. I tasted two wines at the Nico table, 2013 Fiano and 2013 "Il Greco". The Fiano fruit was sourced from Russian River Valley and the wine, made entirely in stainless steel, displayed pear and lemonpeel notes. Also from Russian River Valley, "Il Greco" is a blend of 80% Greco and 20% Fiano and was fermented in neutral oak. With more body combined with zippy acidity and green apple, citrus, and herb aromas, this was my favorite of the two wines.
Palmina Wines
The project of Steve & Chrystal Clifton, Palmina was launched in 1995. The winery showcases Italian grape varieties from Santa Barbara County, and the wines are made in Lompoc. I tasted five wines at the Palmina table – 2012 Arneis, 2012 Malvasia Bianca, 2013 Dolcetto, 2012 Barbera, and 2008 Santa Barbara County Nebbiolo. Palmina has been one of the most notable producers of Arneis in California, and this one, sourced from Honea Vineyard in Santa Ynez Valley and made in stainless steel and neutral oak, was bright and floral, medium-bodied with lively acidity. The Dolcetto was spicy and smoky with black cherry fruit. Palmina produces several single-vineyard Nebbiolos, and this appellation bottling was sourced from Honea, Stolpman, and Sisquoc vineyards in Santa Ynez and Santa Maria valleys. With higher-toned cherry, tar, and flowers on the nose and grippy tannins on the finish, it showed unmistakable varietal character and should continue to develop in the cellar.
Rein Winery
A fairly new venture, Rein's focus is on aromatic white varieties from Mendocino County. Owner/winemaker James Wasson IV was on hand to pour his wines at the event. I didn't get a chance to taste the two Rieslings he was pouring, but I did taste the 2013 Pinot Blanc and 2014 Pinot Blanc. The 2013 displayed pear and citrus aromas along with spice and lees and a bright texture. I thought the pre-release 2014 bottling was a step up, with more intense pear, spice, and nutty/earthy notes, a hint of flowers, plus a rounder mouthfeel that didn't sacrifice the lively acidity of the previous vintage.
RPM Wines
RPM is a partnership of Nathan Roberts, Rajat Parr, and Duncan Meyers, whose initials created the winery name. The first RPM vintage was from 2011. The winery focuses exclusively on Gamay Noir, from the same two Placerville-area sites where Steve Edmunds has sourced his Gamay over the years – Witters and Barsotti vineyards. The 2013 Gamay Noir was poured at the Arnot-Roberts table. A bright ruby color, the wine featured black cherry and herb aromas and chalky tannins on the finish.
Ryme Cellars
Ryme Cellars was founded in 2007 by Ryan and Megan Glaab – the first two letters of their first names form the winery name. They work mostly with less-common California grape varieties for Ryme, while they also make Chardonnay and Pinot under the Verse label. Both Ryan and Megan were on hand to pour at the event, and I tasted four of their wines – 2014 "Hers" Vermentino, 2013 "His" Vermentino, 2013 Fiano, and 2011 Aglianico. The "Hers" and "His" versions of Vermentino, both sourced from Francis Mahoney's Las Brisas Vineyard in Carneros, always make for a fascinating contrast. "Hers" is whole-cluster pressed, settled and racked into stainless steel and neutral oak, and bottled early. "His" is destemmed and fermented on the skins, then aged in older oak for about 10 months. As usual, I preferred the fresh and lively "Hers" bottling, with pear, stone fruit, and stony mineral notes and a crisp finish, though the more spicy, savory "His" version, with a touch of chalky tannin on the finish, was intriguing as well. I tasted several Fiano bottlings at this event, but the Ryme was easily my favorite, displaying the variety's signature honey aromatics along with citrus and tropical fruit, with good texture on the palate and a clean finish. The Aglianico, from Paso Robles' Luna Matta Vineyard, was aged for three years in barrel and one more in bottle – it's still got a powerful tannic structure that will need more aging, but it also has plenty of dark fruit, spice, flowers, and earth to match those tannins.
Stark Wine
Winemaker Christian Stark and his wife Jen run the Stark label, established in 2003. The wines are made in Healdsburg, and are mostly from Rhône varieties and Zinfandel. I didn't have too much time to spend at the Stark table but had a chance to taste two of the wines there – 2013 "Three Vineyards" (Grenache Blanc, Viognier, Marsanne, Roussanne), and 2013 Counoise. The fruit for the "Three Vineyards" blend came from a broad area, ranging from the northern Sierra Foothills to Mendocino to Santa Ynez Valley. Predominantly Grenache Blanc, the wine showed some of that variety's characteristic petrol aromatics plus apple, stone fruit and herbs, with a lively mouthfeel and finish. The Counoise, sourced from Eaglepoint Ranch near Ukiah, is not often seen as a varietal bottling in California. Combining slightly floral aromas with black cherry, pepper, and spice, this was an intriguing wine that shows the potential for Counoise here.
The Scholium Project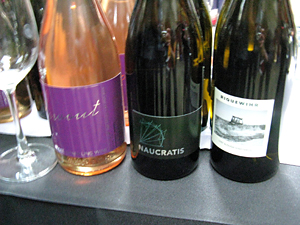 Philosophy professor-turned-winemaker Abe Schoener is the man behind The Scholium Project. He first made wine with Napa's John Kongsgaard in 1998 and launched his own label in 2000. The wines are known for being some the most daring and experimental bottlings in California – few producers are farther "out there". The wines are made at the Tenbrink facility in Fairfield. I tasted the 2014 "Blowout" (sparkling wine from Verdelho, Grüner Veltliner, and a little Cinsault), 2014 "Naucratis" Verdelho, and 2014 "Riquewihr" Gewürztraminer. The fruit for all three wines came from the Lodi region. The "Blowout" was a classic Scholium experiment – unlike typical sparkling wines, this one is force-carbonated (described on the website as Pétillant Industriel rather than Pétillant Naturel). It's a fun, fruit-forward sparkler that's light and fresh. The "Naucratis" was earthy, savory, and bright, while the "Riquewihr" – named for a town in Alsace – was decidedly not the strongly-aromatic and often slightly-sweet version of this variety that you usually find in California. In a tasting of wines that were all a little outside the norm, The Scholium Project still stood out as being even further outside – and that's not a bad thing.
Two Shepherds Vineyards
Two Shepherds owner/winemaker William Allen was behind his table at the event. William has also been known for his Simple Hedonisms wine blog. The wines are made in Santa Rosa, and the first commercial vintage was in 2010. William poured five wines for me – 2013 Grenache Blanc, 2013 Grenache Gris, 2013 Trousseau Gris, 2014 Grenache Rosé, and 2012 Mourvèdre. I've enjoyed the Two Shepherds Grenache Blanc in the past and liked the current vintage quite a bit. Sourced from Starless Vineyard in Santa Ynez Valley and made in concrete, steel, and older oak, it had stone fruit aromas and the slight touch of petrol that I find intriguing in this variety, plus better acidity than many Grenache Blancs. The Grenache Gris, from old vines at Gibson Ranch in Mendocino, showed fresh strawberry character plus savory and spicy notes. The Mourvèdre was another favorite in this group of wines. From Russian River Valley's Windsor Oaks Vineyard and about 33% whole-cluster fermented, it displayed floral aromatics along with red berries, iron, and spice, with a vibrant mouthfeel – one of the day's standouts.
Unti Vineyards
Mick Unti was behind the table at the tasting. The vineyard was first planted in 1990 and the Unti label was launched in 1997. The winery has long been known for Rhône and Italian grape varieties, as well as Zinfandel. Fruit for all of the Unti wines I tasted came from their estate vineyard in the heart of Dry Creek Valley. I tasted the 2014 Verdicchio, 2014 "Cuvée Blanc" (Vermentino, Grenache Blanc, Picpoul), 2014 Fiano, 2013 Barbera, 2012 "Cuvée Founder" (Grenache, Mourvèdre, Syrah), 2012 Montepulciano, and NV Lacrima (from 2012-2014 vintages). The Verdicchio and Lacrima bottlings were the first of those varieties that I've seen from California. This was a very solid line-up of wines. The "Cuvée Blanc" was my favorite of the three whites – made in stainless steel and concrete, it balanced a moderately creamy texture with bright acidity. The high acidity of the Barbera was true to its variety and the wine displayed lots of spice and fresh herb notes to go with the black cherry aromas. The Montepulciano was a favorite, with a darker, earthier character along with a light touch of sweet oak, a bolder texture, and a chalky finish. The Lacrima is still at an "experimental" phase but this wine was highly distinctive, with very floral aromatics and a bright, lively mouthfeel and milder tannins.
Wind Gap Wines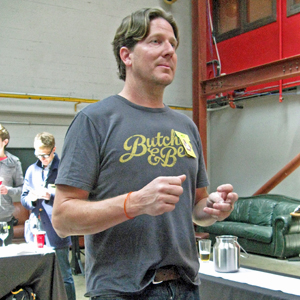 Wind Gap, founded in 2006, is the label of Pax and Pam Mahle. A few years ago the winery moved into The Barrow, a complex of new and renovated buildings on the eastern edge of downtown Sebastopol. Pax poured four wines for me – 2014 Trousseau Gris, 2013 Ribolla Gialla, 2014 "Soif" (Negroamaro, Valdiguié, Dolcetto, Syrah, Mourvèdre), and 2009 Nebbiolo. Sourced from Russian River Valley's Fanuc-Wood Road Vineyard, Wind Gap's Trousseau Gris – fermented mostly in concrete eggs and aged in stainless steel and neutral oak – has been a consistent favorite of mine, and the new vintage continued that trend, with bright citrus aromas, vibrant acidity, and a lip-smacking finish. The Ribolla, from Windsor Oaks Vineyard in Chalk Hill, spent three months on the skins. The Nebbiolo came from Paso Robles' Luna Matta Vineyard – fermented with 50% whole clusters, it was on the skins for seven months. With higher-toned cherry and floral aromas and big, chewy tannins, it could use more time. I really enjoyed the North Coast "Soif" blend – a fun wine made by carbonic maceration in a concrete tank. Bright and fruity but with earthy and savory tones as well, it should be a terrific summer wine that could be served slightly chilled.