Sierra Foothills - November 2015
Another November, another wine trip to the Sierra Foothills. And so it was this year, with a day-trip to El Dorado County. Most of my wine friends were busy this time, on the Saturday before Thanksgiving, so I ended up going with just one friend.
A one-day trip from the Bay Area to the Sierra Foothills for wine-tasting involves a good deal of time on the road to begin with, and I felt like minimizing the driving once we got to the region, so this year I decided to focus on two nearby parts of El Dorado County, Pleasant Valley and Fair Play. Both are south of Placerville, and are home to some of the highest-elevation vineyards in California – snow was expected to fall throughout much of the area a few days after our visit. Fair Play has its own AVA, established in 2001.
Both the Pleasant Valley and Fair Play regions were home to vineyards and wineries by the late 1800s, but Prohibition wiped out the industry there. The rebirth of the area's wine business started in the late 1960s, with trial plantings by UC Davis in both Pleasant Valley and Fair Play. The area's first commercial wineries since Prohibition appeared in the mid-1970s in Pleasant Valley and early 1980s in Fair Play.
I made arrangements to visit at three Pleasant Valley and Fair Play wineries this year – I'd been to all three in the past but for two of them, I'd never done more than drop in to their tasting rooms before. I figured that depending how on our timing went during the day, we might be able to make quick stops to check out one or two other places that I'd never been to before.
It was a sunny but cool morning as we drove across the Central Valley through Sacramento and toward the Foothills. The air was hazy and smoky, and the smoke lingered as we continued toward Placerville. We learned later that it was a "burn day" and we saw a number of small fires along the way on agricultural and ranch land. The weather conditions were indeed appropriate for that, as there was virtually no wind, but unfortunately it did affect the air quality as well as ensure that we'd have no beautiful views out across the Central Valley that day.
We had a smooth drive to the Pleasant Valley area, and arrived for our first winery visit a few minutes early.
Saturday - November 21, 2015
Current Releases & Selected Tasting Impressions

Holly's Hill 2014 "Patriarche Blanc," El Dorado
Holly's Hill 2014 Roussanne, Estate, El Dorado
Holly's Hill 2014 Grenache Blanc, Estate, El Dorado
Holly's Hill 2014 Viognier, Estate, El Dorado
Holly's Hill 2013 "Patriarche," El Dorado
Holly's Hill 2013 "Petite Patriarche," El Dorado
Holly's Hill 2012 Mourvèdre "Classique," El Dorado
Holly's Hill 2013 Mourvèdre, Estate, El Dorado
Holly's Hill 2011 Syrah, "Wylie-Fenaughty," El Dorado
We walked over to the tasting room, where Josh poured us tastes of nine current Holly's Hill releases. Many of the wines are made entirely from estate vineyard fruit, while some include fruit from other nearby sites. First up was the 2014 "Patriarche Blanc," a blend of 40% Roussanne, 40% Picpoul, and 20% Grenache Blanc. The Picpoul component has replaced Viognier in the blend since the last time I visited the winery, and I think this has been an improvement, adding a zippy acidity to the lightly creamy texture, along with pleasant pear, green apple, and herb aromas – very nice. The 2014 Estate Roussanne was richer in body, with pear and fig notes and a long finish. Next was 2014 Estate Grenache Blanc, with fresh apple and pear aromas and a lively texture – a pleasant sipper with some zing on the finish. Our final white was the 2014 Estate Viognier, which I thought was a standout. It displayed both aromatic tropical fruit and floral character as well as bright acidity and a clean, crisp finish – that sort of balance in a California Viognier is not easy to find, especially one from this region.
Moving along to reds, we started off by contrasting two blends, the 2013 "Patriarche" (85% Mourvèdre, 13% Syrah, 1% Grenache, 1% Counoise) and 2013 "Petite Patriarche" (51% Grenache, 38% Counoise, 11% Mourvèdre). Inspired by Châteauneuf-du-Pape, the "Patriarche" is often Mourvèdre-based, and spends one year in barrel plus one in bottle prior to release. This one featured ripe plum, earth, smoke, and a stony mineral note on the nose, with medium body and a long, lively finish. The "Petite Patriarche" is typically Grenache-based and inspired by Côtes du Rhône wines. This was lighter and brighter than the previous wine, with red fruit and touches of flowers and smoke, but finishing with bigger tannins.
Another pair of contrasting wines followed – the 2012 Mourvèdre "Classique" and 2013 Estate Mourvèdre. Both were made entirely from estate fruit, with the "Classique" bottling sourced from a different part of the vineyard and made for earlier drinking than Estate bottling. The "Classique" was pleasant and lighter, with plum, raspberry, and spice aromas, but I preferred the darker, more earthy and stony Estate bottling. The Estate Mourvèdre displayed bigger, chewier tannins that will take a few years to smooth out but the wait should be worthwhile. We concluded our tasting with the 2011 "Wylie-Fenaughty" Syrah, sourced from two vineyards in the Placerville area. Holly's Hill is no longer getting Wylie Vineyard fruit due to changes at the vineyard, but they're still continuing to get fruit from Fenaughty. This wine was a fine way to finish up, with dark fruit, herbs and pepper, and wet stone character, medium weight on the palate, and a firm tannic finish – this should age nicely.

Other wines that were available at the tasting room but that we didn't try on this visit included Grenache Noir and a Mourvèdre/Syrah dessert wine, and the winery also produces several limited-release wine club bottlings including Counoise, Cinsaut, and Carignane. Nearly everything is priced in the $20 to $25 range, with the "Patriarche" at $32 – great value for these wines.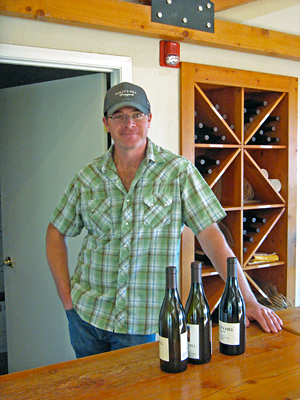 We drove a few miles along a side road from "downtown" Pleasant Valley to Holly's Hill Vineyards. I'd tasted there a number of times over the years but I'd never arranged an in-depth visit. That had been bothering me for awhile, since I felt that Holly's Hill was one of the best and most consistent producers in the Sierra Foothills, so I was glad to be able to make an appointment there this time. We parked and had just started making our way toward the tasting room when Josh Bendick came out to welcome us.
Josh runs the tasting room and works on sales and marketing for Holly's Hill, as well as sharing in the winemaking duties with his wife Carrie – quite a workload! Carrie's parents, winery owners Tom and Holly Cooper, launched the winery in 2001. Holly's Hill has become known as one of the Sierra Foothills' leading specialists in wines made from Rhône grape varieties, a focus that sprang from Tom and Holly falling for a bottle of Châteauneuf-du-Pape they had on their honeymoon. Carrie earned a degree in Romance Linguistics at the University of Washington, but eventually she turned to working with her parents to make wine at their new venture. She's worked with and learned from other local winemakers as well as taken courses at UC Davis. Josh also came to the wine business after first studying in a different field at UC Davis. He took an introductory winemaking class there, which led to him changing course in his career preparation. Josh and Carrie met in 1999 while each working for different El Dorado wineries, and they married shortly afterwards and now have three daughters.
Josh asked if we'd like to take a short tour of the vineyard – that's something I never pass up! We hopped into Josh's car and rode down a dirt road from the hilltop winery and tasting room and then back up the adjacent hill. I'd seen this steep hill and the house atop it (the Coopers' home) from the tasting room but had never been over to that part of the vineyard. Josh told us that this oldest portion of the vineyard was first planted in 1998, with 15 acres of Syrah vines on quadrilateral trellising and originally contracted to Mondavi / Woodbridge before the Coopers established their own winery. The first crop was harvested in 2000, and over the years, much of that original Syrah planting has been grafted to other varieties.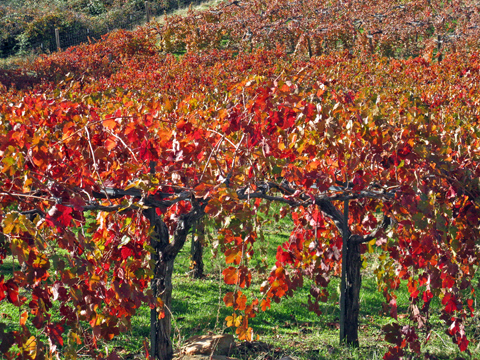 Looking back to the tasting room on the adjacent hillside, Josh told us that Tom and Holly added that parcel to their property in 2000. Fortunately for us, even with some smoke in the air from the burn day, we had a beautiful view over the hills to the snow-covered Crystal Range of the Sierra Nevada in the distance. The newer part of the vineyard near the tasting room was planted using VSP trellising for white varieties while the reds are head-trained. At an elevation topping out at about 2,700 feet, there's a 200-foot drop down the steep slopes. The hillsides allow different exposures for the vines, though most of the slopes are south-facing. The vineyard is certified under the Fish Friendly Farming program for sustainable farming practices. Highly-regarded vineyard manager Ron Mansfield heads up the farming at the site.
There are now a total of 25 acres planted at Holly's Hills' estate vineyard with Grenache Blanc, Picpoul, Roussanne, Viognier, Carignane, Cinsaut, Counoise, Grenache, Mourvèdre, Syrah, and Petite Sirah. Josh said that Mourvèdre takes up the largest proportion of the estate vineyard, while Cinsaut and Carignane are most recent plantings there. He told us that different rootstocks were used for the vines on each hill, and that most of the vines are Tablas clones. As we looked at a rock outcropping near the hilltop, Josh said that the soil is fairly consistent throughout the vineyard, of sedimentary / metamorphic origin in the Josephine soil series. Josh mentioned that the site is in a slightly warmer spot for the area, but that the vines have not required much irrigation over the years – they typically get just two small drinks of water during the summer months.
Josh drove us back to the winery, and we took him up on his offer to give us a look inside. It's true that most winery facilities look pretty similar, but there always seems to be something interesting or different to see at each one. Josh told us that they had greatly increased the size of the original winery building about six years ago to accommodate their production and also allow for on-site case storage. One of the first things I noticed was the absence of any new barrels, and Josh confirmed that Holly's Hill only uses older, neutral oak in their winemaking. Whites are all barrel-fermented for increased texture, and malolactic fermentation is blocked on most whites to retain acidity. Roussanne is an exception to this, as it is allowed to go partially go through malolactic fermentation. All reds are destemmed, and they're mostly fermented in half-ton bins along with some larger tanks before barrel-aging in the older cooperage. The idea is to keep the winemaking simple and straightforward to allow the fruit and the character of the vineyard site to show through in the wines. I asked Josh how they decide when the fruit is ready to pick, and he said that the whites are picked mainly based on acidity, with reds picked more based on the flavors, though other factors influence the decisions.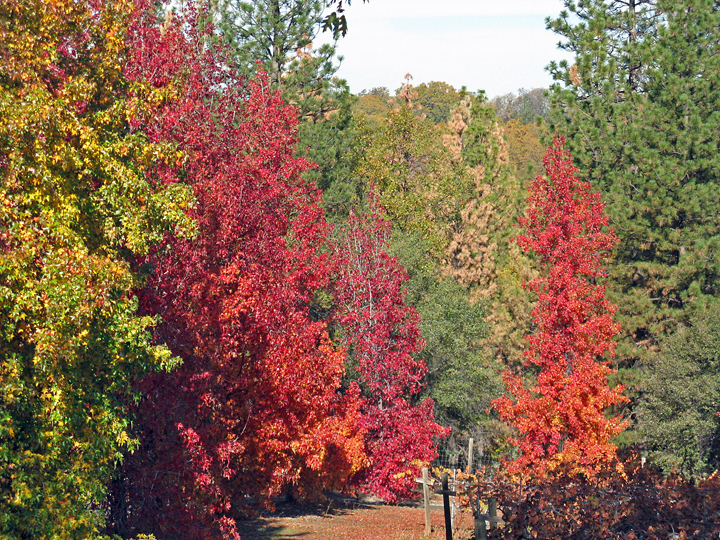 It was a pleasure to visit with Josh for a closer look at the vineyards and winery at Holly's Hill. Over the years, I've usually preferred their white wines to the reds but this time I found plenty to like about both. The "Patriarche Blanc," Viognier, Estate Mourvèdre, and "Wylie-Fenaughty" Syrah were my favorites of the tasting but everything was good – a fine showing across the board. The bright acidity combined with ripe fruit aromas and flavors seems to be a hallmark of the Holly's Hill wines. They're food-friendly and ready to drink upon release, with some that should develop well with more time in the cellar too. If you're touring wineries in El Dorado, Holly's Hill is one not to be missed.
Current Releases & Selected Tasting Impressions

Miraflores 2014 Pinot Grigio, Sierra Foothills
Miraflores 2014 Chardonnay, Sierra Foothills
Miraflores 2014 Rosé, Estate, El Dorado
Miraflores 2014 "Misión 1853," Sierra Foothills
Miraflores 2013 Barbera, Estate, El Dorado
Miraflores 2013 "Clone 877.4.369.362," El Dorado
Miraflores 2012 Mourvèdre, Estate, El Dorado
Miraflores 2012 Zinfandel, Estate, El Dorado
Miraflores 2011 Tempranillo, Estate, El Dorado
Miraflores 2011 Syrah, "Méthode Ancienne," El Dorado
Miraflores NV Angelica, Sierra Foothills
Miraflores NV Black Muscat, Sierra Foothills
The spacious tasting room was busy but not crowded when we walked in, so we stepped right up to the tasting bar. We were greeted there by Savannah, who started us on tasting through a dozen of the winery's current releases – we chose those out of over 20 wines that were available on the tasting list. We began with the 2014 Pinot Grigio, sourced from a site near Murphys in Calaveras County. Whole-cluster pressed, this was fermented in stainless steel and aged on the lees for about six months. I'm not usually a big fan of Pinot Grigio, but this was very good, with green apple, citrus, and spice aromas, a bright mouthfeel and crisp finish. The 2014 Chardonnay, with pear and stone fruit aromas and a richer texture, was nice though not a standout, while the 2014 Estate Rosé, made from direct-pressed Barbera grapes and barrel-fermented, displayed attractive floral and red fruit notes with a clean, smooth mouthfeel.
The next wine that Savannah poured for us was one of the key reasons I wanted to visit Miraflores – the 2014 "Misión 1853," sourced from Mission vines at Deaver Vineyard in Amador's Shenandoah Valley that are reputed to have been planted in 1853 by Ken Deaver's great-grandfather John J. Davis. I've seen other references to these vines being planted in 1854 or 1855, but regardless of the exact date, they're undeniably old! They may well be the oldest continuously-producing winegrape vines in California. Although Mission grapes don't have a reputation for producing particularly good wines, the "Misión 1853" was very nice – very light ruby color, with bright raspberry and spice aromas, medium acidity and a lively finish. Not a profound wine by any means, but certainly pleasant and unquestionably a piece of California history.
We moved on to the 2013 Estate Barbera, featuring plum and black cherry fruit, spice, medium-light weight, and nice acidity. Following that was the 2013 "Clone 877.4.369.362" – no, it's not a phone number, but the clone numbers for the four grape varieties in this red blend: Syrah, Petite Sirah, Mourvèdre, and Grenache. Earthy and spicy with a darker fruit profile, this had more body and moderate tannins. We decided to choose between two Mourvèdre vintages available at the tasting room and went with the 2012 Estate Mourvèdre. We were happy with our choice – spicy, earthy, and slightly smoky raspberry and plum aromas, medium-bodied and lively, with fine tannins on the finish. The 2012 Estate Zinfandel was next – not my favorite of the wines we tried but with lots of spicy plum and wild berry fruit framed by vanilla/oak. The 2011 Tempranillo showed a touch of sweet oak as well, along with plum, smoke, and spice, with a moderately grippy finish. Our final dry red was the 2011 "Méthode Ancienne" Syrah, made with foot-stomped whole-cluster grapes and fermented with wild yeast. Miraflores considers this their flagship wine, and it was indeed a standout – herbal and floral, with notes of black cherry and plum, smoked meat, and spice. Medium-full bodied with a lively texture and firm tannins – tasty now but this should age nicely too.
We finished up our tasting with two sweet wines. I often skip sweet wines at tastings since I find too many of them to not be particularly interesting, but Marco has made them one of his specialties – going back to his days at Swanson – and there are few if any winemakers in California who make better ones. We chose two of the four sweet wines on the tasting menu – these two were made in a similar fashion, and the first one in particular was another of the wines I especially wanted to taste at Miraflores.
Our first sweet wine was the NV Angelica. Marco is the acknowledged master of making Angelica, a rare and somewhat obscure wine that's a true California original. Traditionally made from Mission grapes, Angelica is fortified to about 18% alcohol with high-proof grape brandy, added before the grapes have even started to ferment or very shortly afterwards. I'd become interested in the historical nature of this wine in California – it was produced here at least as early as the 1830s and quite likely for some time before that – and decided to make some myself this year. I contacted Marco and he was extremely helpful in pointing me toward the source of some Mission grapes and in guiding me in the details of making my Angelica, which is now in a barrel where it will remain for awhile.
The Miraflores Angelica we tasted was from fruit harvested in 2005 (I doubt I'll age mine that long!), and Marco told me that the next bottling will be a blend from the 2005 through 2007 vintages. He's planning to use something along the lines of a Solera system for blending vintages for future releases, with the amount that's bottled being replaced in the blend by the next oldest vintage. The fruit for the current Angelica came from an Amador vineyard planted in the 1940s while more recent vintages have come from the 1850s Deaver planting. And how was the Angelica? Delicious! Rather like a tawny Port in character, with a bronze color and aromas of brown sugar and caramel. Moderately rich and certainly sweet but not at all in a cloying way, this would be a great match with pecan pie.
As mentioned above, the NV Black Muscat was fortified in a similar way to the Angelica, but other than that, the two wines were nothing alike. The Black Muscat displayed the intense floral aroma of that grape variety, with a fresher character than the Angelica and a richer and sweeter finish. I'm not sure how this might pair with food but it's really a dessert on its own. I should note that both of these wines come in distinctive and beautiful bottles, which customers can bring back to the winery to be refilled.
Other wines that Miraflores produces include Viognier, Muscat Canelli, Black Muscat Rosé, more Zinfandel and Syrah bottlings, Malbec, Petite Sirah, Cabernet Sauvignon, Meritage, an Amarone-style wine called "Tintoretto," and a couple of additional sweet wines ("Botricelli" and "Princessa") – quite a list! All but a few of these wines were available for tasting the day of our visit. Prices are very reasonable for the quality, with whites priced at $23, reds mostly $27-$30, with a "Reserve" Zinfandel bottling and some of the sweet wines higher.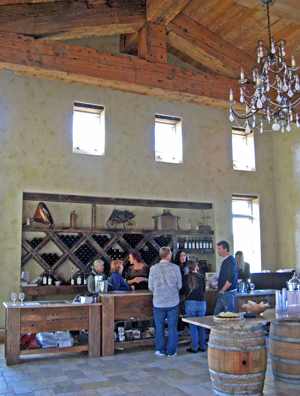 Our next stop was Miraflores Winery, just a couple of miles east of the town of Pleasant Valley. We didn't have a formal appointment there, but I'd corresponded with winemaker Marco Cappelli about visiting. Although he told me that he'd be out of town that day, he was very helpful in guiding me to some of the winery's most interesting wines and also filled in some information I asked him about after my visit. I'd been to Miraflores on a couple of previous occasions but it had been four years since my most recent stop, so I thought this would be a good opportunity to revisit the wines there. And there was another, more specific, reason for my interest in tasting at Miraflores this year, which I'll get to shortly.
Miraflores proprietor Victor Alvarez is a native of Colombia, where his family had a cattle ranch. Now a practicing pathologist in Yuma, Arizona, he purchased the 254-acre site a few miles east of Pleasant Valley in 1995. Just 40 acres are planted, and although there is room for further expansion in the future, the plan is to maintain most of the property in its natural state. Most of the vineyard was planted in 2000-01. Zinfandel and Petite Sirah are the largest plantings, and among the other varieties planted there are Chardonnay, Viognier, Muscat Canelli, Black Muscat, Barbera, Syrah, Mourvèdre, Tempranillo, Cabernet Sauvignon, Cabernet Franc, Malbec, and Petit Verdot. The estate vineyard ranges from about 2,500 feet to nearly 3,000 feet in elevation, and various elevations and exposures were selected for the different grape varieties. Noted El Dorado vineyard manager Rick Wickham, who grew up only a few miles from the winery, oversees the farming at the estate vineyard.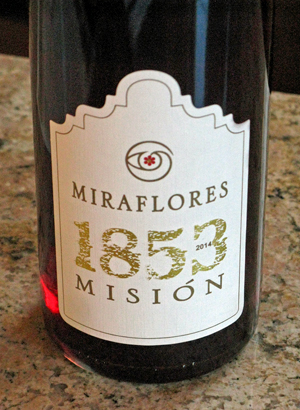 Winemaker Marco Cappelli has been part of the Miraflores team since their inaugural vintage in 2003. After earning a degree in enology from UC Davis, he worked in Italy, France and Australia, and then spent 17 years at Swanson Vineyards in Napa Valley before moving to the Sierra Foothills. In addition to his work at Miraflores, Marco consults for several other wineries.
The Miraflores tasting room opened in late 2010. The handsome Mediterranean-style building features iron doors crafted in the 1800s, a stone floor, and huge recycled Douglas Fir roof beams, which were originally part of the old Oakland Ferry Building, demolished in the 1930s. The winery building, just down the hill from the tasting room, was completed in 2007, and was built large enough to accommodate custom crush clients as well Miraflores' own production.
I think that the latest Miraflores wines are a step up from what I recalled from my previous visits. I'd always felt that the wines were good but had the promise for more, and now that potential is being realized. The Pinot Grigio, "Misión 1853," Estate Mourvèdre, and "Méthode Ancienne" Syrah were favorites among the dry wines, and both the Angelica and Black Muscat were outstanding sweet wines. In addition to Miraflores' well-chosen and interesting selection of grape varieties, there's a nice mix of wines between those that are ready to drink now and those that will benefit from more bottle age. Thanks go to Savannah at the tasting room and to Marco for his guidance both before and after my visit. While the Mission-based wines were the main things that drew me back to Miraflores, the overall quality of their latest wines now makes them another "don't miss" visit in the area.
It was nearly 1pm by the time we left Miraflores, and we decided to head to Gold Vine Grill in the small town of Somerset, a few miles south along Mt. Aukum Road. I'd had lunch there a few years before and enjoyed it. This time we each ordered the chicken breast sandwich with goat cheese and sundried tomatoes on grilled ciabatta. The sandwich was a hit, and I'd certainly recommend Gold Vine Grill for a delicious meal in a convenient location near wineries in both the Pleasant Valley and Fair Play areas.
Current Releases & Selected Tasting Impressions

Busby 2013 Chardonnay, El Dorado
Busby 2013 Barbera, Fair Play
Busby NV "Meyers Ranch Red," El Dorado
Busby 2012 Zinfandel, Herbert Vineyard, El Dorado
Busby 2011 Syrah, Fair Play
Busby NV "Apparition," El Dorado
Busby 2013 Cabernet Franc, Fair Play
Elliot poured seven wines for us, starting with a 2013 Chardonnay fermented in stainless steel and aged in neutral oak – fairly simple but pleasant medium-weight Chardonnay, with apple and spice aromas. The reds were a mixed bag. A couple of them had the funky, leathery aromatics that are often a sign of brett, while another showed slightly volatile notes. Among the reds I enjoyed was one of Busby's Zinfandel bottlings – they make several. This one was a fairly ripe but lighter-bodied 2012 Herbert Vineyard Zinfandel – the vineyard has been a longtime source for Sierra Vista and is now owned by Miraflores winemaker Marco Cappelli. Another favorite was the 2011 Syrah – dark and peppery, with a lively mouthfeel and moderate tannins.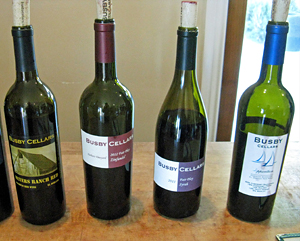 With no set plans for the early afternoon, I thought a visit to Busby Cellars might be a good choice, as I'd never been there and it's located only about a mile up Grizzly Flat Road from our lunch stop in Somerset. Approaching the winery and tasting room, it was hard to miss the large and distinctive old barn at the edge of the vineyard and just off the road. Dating from the early 1900s and originally built as a place to change horses on the route to Placerville, it's now a designated landmark. We walked into the small and unassuming tasting room, where owner/winemaker Elliot Graham greeted us.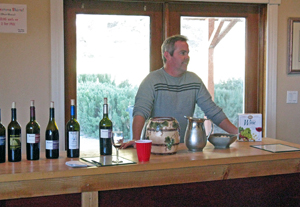 The northernmost winery in the Fair Play AVA, Busby was founded in 1999 by Elliot and his wife Sherrie. The Busby name comes from Sherrie's family name. Elliot and Sherrie both had backgrounds in wine before they purchased their 34-acre property that had been part of the old Meyer's Ranch. Sherrie had worked as a retail wine manager and buyer, while Elliot learned home winemaking from his father and eventually started taking viticulture and winemaking courses at UC Davis. Elliot now makes the Busby wines as well as managing the estate vineyard.
There are currently about 15 acres planted on the property, with varieties including Zinfandel, Syrah, Petite Sirah, Grenache, Mourvèdre, Tempranillo, Cabernet Sauvignon, Cabernet Franc, and Petit Verdot. The elevation of the vineyard is about 2,500 feet, and it features mostly decomposed granite soil, common in the area. The first commercial crop from the vineyard was in 1998, and Elliot began dry-farming it in 2005. This keeps the crop yield lower, and Elliot feels it improves the fruit quality. Fermentation is done in small lots, usually one ton or smaller, and Elliot is a proponent of gentle handling and gravity flow wherever possible. The winery and tasting room were completed in 2004, and current annual production is around 2,000 cases.
Busby has a number of other current releases, including Viognier, Grenache, Estate bottlings of Zinfandel, Tempranillo, Malbec, and Petite Sirah, and a Port-style wine called "PrOpRieTy." I had a nice time talking with Elliot and tasting through some of the Busby wines. Elliot was a very friendly and engaging host, which makes it tougher to report that I wish I liked his wines better than I did. The Chardonnay and Syrah were my two favorites – both pleasant though not exceptional. But with prices mostly in the mid-teens and topping out at $22, it won't cost an arm and a leg to give some of these wines a shot.
Current Releases & Selected Tasting Impressions

Mastroserio NV "Ciao Bella," Sierra Foothills
Mastroserio 2014 Fiano, Sutter County
Mastroserio 2014 Dry White Wine (Greco di Tufo), Sutter County
Mastroserio NV "Bianco della Casa," Sierra Foothills
Mastroserio 2011 Tempranillo, Yolo County
Mastroserio 2012 Tempranillo, Fair Play
Mastroserio NV "Tinaldo," Sierra Foothills
Mastroserio 2012 Petite Sirah, Estate, Fair Play
Mastroserio NV "Lidia," El Dorado
Mastroserio 2011 Teroldego, Yolo County
Mastroserio 2011 Barbera, "Special Reserve," Amador
Mastroserio 2010 "Quartetto," Sierra Foothills
Mastroserio 2011 Cabernet Franc, Fair Play
I was curious to taste the more unusual white wines – such as the Fiano-based "Ciao Bella" blend – but none of them really did much for me. The honey and mineral-tinged 2014 Fiano was my favorite among the four we tried. I found a slightly volatile character on a number of the reds – something that can happen with prolonged barrel-aging. But I did enjoy the black cherry and smoke notes of the NV "Tinaldo" blend (42% Sangiovese, 25% Teroldego, 17% Barbera, 8% Syrah, 4% Petit Verdot, 4% Cabernet Franc), named for Ruggero's parents Tina and Aldo, as well as the lively 2011 "Special Reserve" Barbera, sourced from Amador County's Cooper Vineyard. And we ended our tasting on a high note with the 2011 Cabernet Franc, my favorite of the reds. Hand-destemmed and barrel-fermented, it displayed bright cherry, herb, smoke, and earth aromas with medium body and moderate tannin – quite nice. In addition to the wines we tasted, Mastroserio also makes Chardonnay, Dolcetto, Charbono, Zinfandel, Cabernet Sauvignon, and a sweet Muscat Canelli among other wines.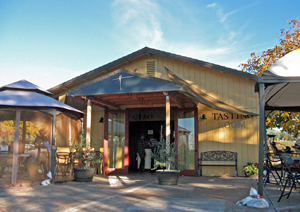 We had time to pop in at one more winery before visiting Cedarville Vineyard later in the afternoon, so we decided to give Mastroserio a try. As with Busby, I had no experience with Mastroserio before our stop there, but trying out a winery that's completely new to me is one of the things I enjoy most about wine touring. Mastroserio looked like it might be an interesting choice since it featured some Italian grape varieties that are not often seen in California, such as Fiano, Greco di Tufo, and Teroldego.
We continued south along Mt. Aukum Road from Somerset and after just a few miles we turned onto Fair Play Road, where many of that appellation's wineries are located. Heading up the drive to Mastroserio, I recognized it as the route to the old Granite Springs Winery, now closed since an ownership change but once one of the largest and most popular producers in the area. The location may not be a coincidence, since owner/winemaker Ruggero (as a sign in the tasting room says, it's "Roo-jer-o") Mastroserio had been the winemaker at Granite Springs and sister label Latcham for about ten years.
Ruggero is originally from Milan, and he learned winemaking in Lombardy from noted vintners Mario Maffi and Mattia Vezzola as well as from courses at the University of Milan and UC Davis. He's also a musician – he's earned degrees in music, geology, and engineering – and I've read several accounts of him spontaneously breaking out his saxophone in the tasting room and playing for visitors. Ruggero launched his own winery in 2010, making wines from the adjacent estate vineyard and from a number of other sources, including some from Yolo and Sutter counties. About six acres are planted at the estate vineyard – Muscat Canelli, Cabernet Franc, and Petite Sirah are among the current grape varieties, and the plan is for more Italian varieties to go in there.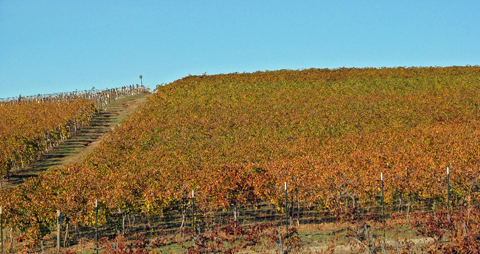 Ruggero was out of town when we visited, so we missed out on a musical performance, but Sandra was behind the tasting bar to take care of us in the small but busy room. There's also a patio area with tables and chairs outside the tasting room where visitors can enjoy views of the vineyard and nearby mountains. We tasted over a dozen wines, and there were still more that we could have sampled if we'd had more time.
All of the whites we tasted, other than the Chardonnay component of the "Bianco della Casa," were made in stainless steel (the Chardonnay was barrel-fermented). Sandra noted that since Greco di Tufo is not yet a recognized grape variety by the TTB, the wine is officially labeled as "Dry White Wine" though it's 100% Greco di Tufo. Winemaking for reds features some unusual methods that Ruggero has incorporated into his regimen. Several of the red grapes are destemmed by hand, a very laborious process that requires a number of workers to remove only select grapes from the clusters. While that technique is used on only a few wines, many of the reds are barrel-fermented – not as unusual as hand-destemming but still not common. With these labor-intensive processes, plus the extended barrel-aging that many of the reds undergo – up to four years – it's no surprise that the Mastroserio wines tend to be on the more expensive side for the Sierra Foothills. The "Quartetto" – the winery's high-end Bordeaux-style blend of Cabernet Sauvignon, Merlot, Petit Verdot, and Cabernet Franc – is ambitiously priced but has its fans based on what we saw at the tasting room.
We didn't have a lot of time to spend at Mastroserio but we still were able to taste quite a few wines there. As with Busby, I wanted to like the wines more than I actually did, though there were a few that stood out above the rest – in particular the "Tinaldo" and the Cabernet Franc. But judging from the number of visitors to the tasting room during the brief time we were there, it seems to be a popular place, so they're connecting with their customers. Even though I wasn't crazy about most of the wines we tried, I'm intrigued by the interesting Italian varieties and it should be worth revisiting Mastroserio in a few years when they'll have more of these wines made from their new estate plantings.
Current Releases & Selected Tasting Impressions

Cedarville 2014 Viognier, Estate, El Dorado
Cedarville 2013 Grenache, Estate, El Dorado
Cedarville 2013 Zinfandel, Estate, El Dorado
Cedarville 2013 Syrah, Estate, El Dorado
Cedarville 2013 Petite Sirah, El Dorado
Cedarville 2012 Cabernet Sauvignon, Estate, El Dorado
Cedarville 2012 "Turnabout's Fair Play," Estate, El Dorado
As we were talking with Jonathan and Susan, we also tasted through their current wine releases. We started off with the 2014 Viognier, which featured citrus and stone fruit aromas and a creamy texture. In recent years, the Viognier has been picked a bit earlier to retain more acidity, and it's been aged in less new oak than in the past. And unlike many California Viogniers, Cedarville's have shown that they can stand up to some time in the cellar. Next up was the 2013 Grenache – as usual, co-fermented and blended with Syrah, 14% in this vintage – which was a fine rendition of the Cedarville Grenache style, with strawberry and cherry fruit, lots of spice, some cedary notes, and a lively mouthfeel and finish. The 2013 Zinfandel may have been even better. For the first time since the 1999 vintage, Cedarville's Zin is 100% varietal rather than being blended with a bit of Petite Sirah. With plum and blueberry fruit and touches of black pepper and sweet oak, this was an elegant medium-weight Zin that drinks well now but should also age nicely.
Moving on, we tasted the 2013 Syrah, which displayed lots of spice, floral notes, dark berry fruit, and a savory touch. Co-fermented with 4% Viognier, this showed good depth and complexity and should age well. Although the variety is not generally a favorite of mine, the 2013 Petite Sirah was one of the highlights of the tasting – dark, peppery, with touches of mocha and spice, medium-full weight on the palate, and big but surprisingly tame tannins. Cedarville's Cab has been one of the most reliable from the area, though the 2012 Cabernet Sauvignon will need more time to show its best. It showed good potential, with plum and currant fruit, herbs, vanilla/oak, and chocolate notes on the nose, with a lively texture and fairly grippy tannins. We finished up with the winery's Priorat-inspired blend, the 2012 "Turnabout's Fair Play" – 45% Grenache, 30% Syrah, and 25% Cabernet Sauvignon. This featured savory red fruit and herbs, plus hints of stony minerals and sweet oak. Medium-bodied with fine acidity, it had refined tannins and a long, tasty finish – a fine way to end our tasting.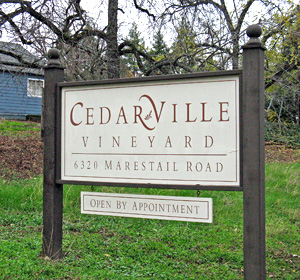 My Sierra Foothills wine tours have often ended at Cedarville Vineyard, and we finished up there again this year. Probably only a quarter-mile up Fair Play Road from Mastroserio, Cedarville has been one of the Fair Play AVA's standard-bearers for a number of years. We walked into the winery, where husband-and-wife proprietors Jonathan Lachs and Susan Marks were finishing up a tasting with a few other visitors.
Jonathan and Susan met while they were each earning enology degrees at UC Davis, but they both worked for a number of years in Silicon Valley before entering the wine business full-time. They purchased their vineyard site in 1995. There were already vines there – some Syrah and Zinfandel had been planted the previous year – and Jonathan and Susan added more right away. They've farmed their 15-acre vineyard organically since 2010 – it's planted to Viognier, Grenache, Mourvèdre, Syrah, Zinfandel, and Cabernet Sauvignon. Situated on a hillside at about 2,500-foot elevation, the vineyard features the decomposed granite soil that is characteristic of the area but uncommon in most other California wine regions. The first Cedarville releases were from the 1998 vintage, and by 2000 Jonathan and Susan had completed their winery, including two concrete-vaulted barrel rooms extending into the hillside, providing natural cooling.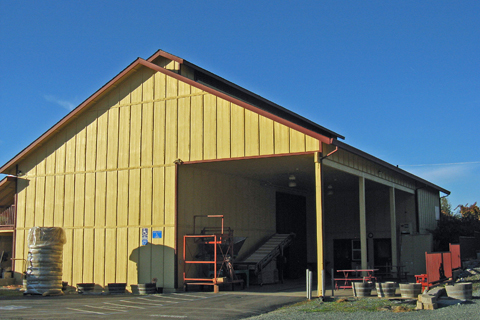 We talked with Jonathan and Susan about some of the issues they've had to deal with in relation to the ongoing drought in California. They noted that they've been able to reduce irrigation in the vineyard by about 70% over the past few years. Jonathan mentioned that in the past they've typically watered the vines 2-5 times during the growing season with a longer duration than they currently use – though some blocks have not needed watering at all. Blocks that require irrigation now get watered a bit more frequently but using little water each time, which keeps the vines healthy and saves water overall. This year's spring rains helped the vines a lot, but they had to irrigate a little following veraison. The vines and soil have remained very healthy – credit in part surely goes to the organic farming regimen.
The final pick this year from the Cedarville estate vineyard was on September 24th, the earliest that Jonathan and Susan have brought in their last fruit out of the 18 years they've harvested there. They told us that ripening for the same varieties can occur at different times in the vineyard depending on exposure, rootstocks (there are also some own-rooted vines), and other factors. The vines are pruned each year with an eye toward helping to keep yields down, and this also helps keep ripening early enough that late-season cold weather and potential frost is less of a concern.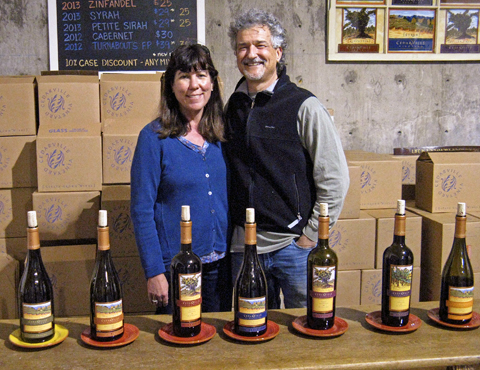 As with many other Sierra Foothills wineries, Cedarville is a small, hands-on operation, and Jonathan and Susan do the lion's share of the work themselves during crush. Since nearly all of their fruit comes from their estate vineyard – the only exception is Petite Sirah from nearby Naylor Vineyard – they're able to bring it into the winery early in the day. Reds are destemmed but are largely whole-berry, and fermentations take place in small bins or in temperature-controlled stainless steel tanks.
In addition to using fruit from their vineyard for the Cedarville wines, Jonathan and Susan sell some to several other highly-regarded producers. La Clarine Farm has made Mourvèdre from Cedarville fruit since 2007 – it was the first wine they released. Skinner has been using exclusively Cedarville Zinfandel fruit since 2011 for their Six Horse Zin bottling (Six Horse is the label for their non-Rhône varieties). And starting in 2014, Turley has been buying Zinfandel fruit from Cedarville as well – it goes into their "Juvenile" bottling of Zin sourced from younger vines. Cedarville's Zin vines are now 20 years old but that's still considered young by Turley standards!
As with most many of the best wines from El Dorado, Cedarville's are a bargain for the quality – $22 to $30 for everything but the top-of-the-line "Turnabout's Fair Play" at $39.
Cedarville always presents a strong and consistent line-up of wines, and the current releases are no exception. My favorites were the Viognier, Zinfandel, Petite Sirah, and "Turnabout's Fair Play," but the others were not far behind. I think that short- to mid-term cellaring will benefit all of the latest Cedarville wines – even the Viognier – for them to fully integrate, and several of them should age well even longer. Visiting with Jonathan and Susan is something I never miss on my tours of Sierra Foothills wineries. Their warmth and hospitality – not to mention their fine wines – make them one of the highlights of the Fair Play wine region, and I consider a visit to Cedarville another "must" when wine-tasting in the area.
Susan had suggested trying Selland's Market-Café in El Dorado Hills for dinner on our way back to the Bay Area as a good way to break up the long drive. Under the same ownership as Sacramento's acclaimed The Kitchen Restaurant, the El Dorado Hills Selland's location is an informal cafeteria-style eatery. I had chicken with mushrooms and cream sauce and a side of Brussels sprouts. Nothing fancy, but a quick and tasty meal and then back on the road – a good option when returning home from El Dorado wineries.
This trip to the Sierra Foothills served to reinforce some longtime observations I've had about the area. Although the overall quality of wines from the region continues to be on the upswing, there is still a wide gap between the upper echelon of producers and the rest. It's a common issue in many of California's relative "backwater" wine regions such as El Dorado. I've seen the same thing in other places, from Mendocino to Lodi to the Santa Cruz Mountains. People like to support their local wineries, and as long as they continue to buy, some producers may not feel there's much incentive to make improvements. Of course, I'm coming into the area as an "outsider," so it's natural that I look at things in a different light.
Yet there are top-notch producers from nearly all California wine regions, and that certainly holds true for this one. Holly's Hill, Miraflores, and Cedarville are among those producing consistently good- to excellent wines in southern El Dorado County, along with others such as Skinner, La Clarine Farm, Baiocchi, Sierra Vista, and a few more. Of course there are stylistic differences between them, but if you enjoy the overall style, these are very dependable producers. With others, the wines can be more hit-and-miss so it pays to stop in and taste to find something you like.
Being careful about picking wines you like before you purchase is certainly nothing unique to the Sierra Foothills. But a couple of things about the area that I've noted before which you don't find in many California wine regions – you're likely to meet the winery owner or winemaker behind their tasting bar, and most wine prices are well below what you'd pay for similar-quality wines from better-known areas.
I enjoy this time of year in El Dorado wine country – the fall colors in both the trees and the vineyards can be spectacular. And it was nice to avoid the busy Thanksgiving weekend this year as well. I had some fun winery visits and tasted some very good wines that are true bargains for California. As always, thanks to everyone that we visited for being so generous with their time and their wine!