AmByth Estate
AmByth is the project of Phillip Hart & Mary Morwood Hart. Their biodynamic Paso Robles-area vineyard features dry-farmed and head-trained vines. I was part of a group that enjoyed a visit to their winery and vineyard in late 2010. AmByth presented three wines at the tasting, a floral and leesy 2012 Grenache, a 2013 Zinfandel (non-estate but farmed biodynamically by Phillip), and my favorite – the 2014 "Priscus." A blend of 49% Grenache Blanc, 41% Marsanne, 8% Viognier, and 2% Roussanne, the fruit for the "Priscus" blend was foot-stomped and the Roussanne left on the skins for 32 hours before pressing. The wine was aged in amphorae for 12 months. With a pretty medium-light straw color, it featured honey, pear, and earth aromas, with medium body and lively acidity. AmByth makes a number of other bottlings as well, and hoping to taste some of these in the near future.
Bichi Wines

Noel Téllez
photo: Russell Obana
The Bichi label is from the Téllez family, headed by noted chef Jair Téllez. The winery is located in the Tecate region of Baja California, just across the US border and not far from some of San Diego County's vineyards. "Bichi" is slang for "naked" – makes sense for a wine made without additions! Winemaker Noel Téllez poured four wines (only the Nebbiolo had been released at the time of the tasting), and I liked three of them quite a bit. Fermented on its skins, the 2015 Moscato had a fairly subdued floral, perfumey aroma – not overdone as it often can be – with earthy overtones and a touch of tannin on the finish. The 2015 Misión, from century-old Mission vines, featured bright red fruit with lots of earth and spice notes and a fairly light, pleasant texture – very distinctive. The 2014 Nebbiolo – a joint project with Chile's Louis-Antoine Luyt – was made by carbonic maceration. Not at all like any Nebbiolo I've ever tried, this was earthy, a touch funky, and savory, and just moderately tannic. Quite an interesting group of wines, and the best I've tried from Mexico.
Cantina Giardino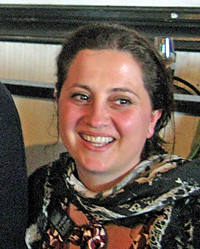 Daniela di Gruttola
Headed by Antonio and Daniela di Gruttola, the winery is in the Campania region of southern Italy and are known in particular for their Fiano and Aglianico. There were lots of wines to taste at their table, and I ended up trying eight of them – four whites, a rosé, and three reds. Their 2014 Vino Bianco is a blend of Fiano, Greco, and Code di Volpe. I also tasted the 2014 Fiano "Sophia" (aged one year in amphorae) and 2013 "T'ara rà" (100% Greco), but my favorite of the whites was the 2014 "Paski," from 70-year old Code di Volpe vines, made with some skin contact and aged in larger barrels. Earthy, savory, and spicy, with bright acidity and a long finish. Of the reds, the 2014 Vino Rosso (90% Aglianico, 10% Barbera, all old vines) stood out for its early drinkability – blueberry, earth, herbs, with firm but not aggressive tannins. The other standout was the 2007 Aglianico "Nude." This spent three months on the skins, then years of aging in botte and then in bottle, this had intense dark fruit and earth, a dense mouthfeel, and huge tannins – definitely needs food!
Clos des Vigne du Maynes

The winery is in the Mâconnais region of Burgundy, and many of the wines are made from old vines at the estate vineyard, which is said to date back over 1100 years – though of course the vines themselves are not that old! The vineyard is farmed biodynamically and the planting is by selection massale rather than separately by clone. I saw vintner Julien Guillot at the tasting although he was not at the table when I stopped by to taste. I started with the 2014 "Aragonite," the lone white on the table, with earthy pear aromas and a moderately rich mouthfeel. Reds are typically fermented partially with whole clusters and older oak is used for aging. A cleverly named 2014 Beaujolais "Big Trouble in Little Chénas" had interesting earthy and plummy aromatics but I thought it lacked a bit on the palate. My favorite of the bunch was the 2014 "Cuvée Auguste" – from old-vine Pinot Fin (a particular group of Pinot Noir clones), this featured more upfront black cherry fruit, tea leaf, and earth, with a lively texture.
Clos Saron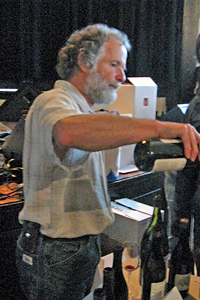 Gideon Beinstock
Gideon Beinstock launched his winery, named for his wife Saron, in 1995. It's located at the northern edge of California's Sierra Foothills AVA, between Grass Valley and Oroville in Yuba County. Gideon was on hand to pour his wines at the event. He'd already poured out of some of his wines when I got to his table late in the afternoon, but I tasted four of them. The 2014 "The Pleasant Peasant" Carignan is Clos Saron's first, and sourced from old vines in Lodi – it displayed the dark fruit, earth, and spice characteristic of the variety. The 2012 Home Vineyard Pinot Noir seems like it needs more time in the bottle, showing its warmer-climate vineyard source at this point. Clos Saron's 2012 "Stone Soup" Syrah ( a consistent favorite of mine over the years). The 2012 vintage was no exception – plummy and earthy with a distinct stony mineral component and firm tannins, it should continue to develop nicely. Gideon finished up with a library wine, the 1998 "Once Upon A Time" Pinot Noir. This wine showed the fine aging potential that Clos Saron's bottlings can have – earthy black cherry with lots of spice on the nose and still exhibiting good structure. My final wine of the Brumaire tasting and a good way to finish!
Coturri Winery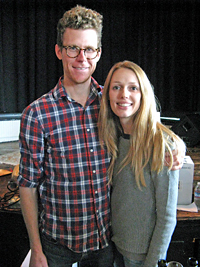 Caleb & Caroline Leisure
The Coturri family planted their first vines on the Sonoma Valley side of Sonoma Mountain in the late 1960s and founded their winery in 1979. Now run by Tony Coturri, the small estate vineyard is planted mainly to Zinfandel, with other fruit purchased from various sources in Sonoma and Mendocino counties. Red wines are fermented with entirely destemmed fruit, and the wines are aged in neutral oak. Assistant winemaker Caleb Leisure and his wife Caroline were behind the table at the tasting. I tasted seven wines plus a hard cider and had several favorites. The 2015 "Young Carignan" from Mendocino fruit had bright aromatics, with black cherry, earth, and a savory note. The 2014 Estate Zinfandel, from dry-farmed 40-year old vines, showed earth, spice, raspberry fruit, and a touch of funk, with a lively texture and moderate tannins. And a 2015 Syrah barrel sample of 80% Carignan, 15% Zin, and 5% from Mendocino had dark fruit, lots of spice, and an earthy, slightly brushy finish – obviously needs more time but showing good potential. A nice showing for the Coturri wines, and a notable improvement over the last time I'd tasted them some years ago.
Donkey & Goat Winery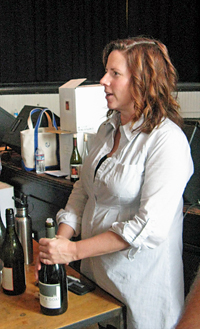 Tracey Brandt
The idea for Donkey & Goat began when husband and wife team Jared and Tracey Brandt left their jobs in 2001 and traveled to France to learn winemaking from noted vintner Éric Texier. Much of their fruit comes from Mendocino and El Dorado counties and they make their wines in Berkeley. Both Jared and Tracey were on hand for the tasting. I tried four Donkey & Goat wines at Brumaire, beginning with 2013 Merlot from Blakeman Vineyard Anderson Valley. This was fruit-forward, with bright red fruits, earth, and herbal undertones. The Ramato-style 2014 Pinot Gris from Anderson Valley's Filigreen Farm was a standout – on the skins for five days prior to pressing, it was quite savory, with herbs and a touch of smoke along with pear and wet stone notes. After a 2013 Chardonnay from Blakeman Vineyard, I finished with another favorite, 2015 "Lily's Pet Nat" Sparkling Chardonnay from Anderson Valley. I've tasted a couple of Donkey & Goat's pét-nat sparklers in the past and I thought this was easily their best yet – pear and stone fruit, flowers, earth, and a touch of sweetness on the finish. Donkey & Goat continues to produce some very distinctive wines.
Escoda Sanahuja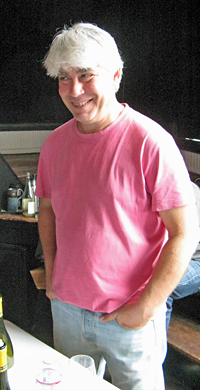 Joan Ramón Escoda
Escoda Sanahuja was formed in 1997 by Joan Ramón Escoda and Carmen Sanahuja, in the Conca de Barberà region of Catalonia in Spain. First off was the 2014 "Els Bassotets," a Macabeu/Chenin Blanc blend made with a little skin contact and aged in amphorae. Earthy and savory with pear and stone fruit in support, this was a standout. The 2013 "Els Bassots" was next, an amphora-aged Chenin Blanc that showed some reduction, less fruit, and more phenolic character. The 2014 "Nas del Gegant" was another favorite. A blend of Garnacha, Samso (Carignan), Merlot, Cab Franc, and Tempranillo, made in concrete, this displayed earthy black cherry, spice, and a stony mineral note, with a lively texture and moderate tannins. The 2011 "Les Paradetes" was the last wine, mostly Garnacha and Samso with 15% Sumoll (a Catalan variety) and barrel-aged, with higher-toned aromas and firmer tannins. Escoda Sanahuja was definitely one of the finds of the event for me, with a couple of my favorite wines of the tasting.
J. Brix Wines

Jody & Emily Towe established their winery in 2010 – Brix is actually Jody's middle name! They're from San Diego and make the wines in nearby Escondido. Most of their fruit is sourced from Santa Barbara County though they get Carignan from McCormick Ranch in San Diego County. I tasted three of the J. Brix wines, starting with 2015 "Cobolorum" Pét Nat Riesling, from Kick-On Ranch near Los Alamos. One of my favorite sparkling wines of the tasting, this was a bit cloudy, with bright apple and tropical fruit aromas and a slightly sweet finish. I also liked their 2013 "The Augur" Riesling from the same vineyard, made in neutral barrels. Earthy with notes of flowers and petrol, plus stone fruit and herb undertones and bright acidity. Their lone red at the tasting was the 2014 "Rougarou" Carignan from McCormick Ranch – destemmed and whole-berry fermented, aged in neutral oak, with the dark fruit and earth you'd expect from this variety. J. Brix is one of the producers that were new to me at this event that I'd like to check out further.
La Clarine Farm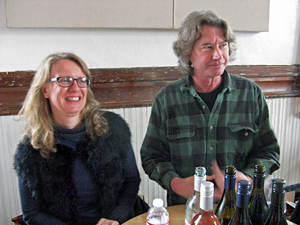 Caroline Hoël, Hank Beckmeyer
La Clarine's Hank Beckmeyer and his wife Caroline Hoël established their winery in 2007. They purchase most of their fruit, but also have a small vineyard planted to Tempranillo, Syrah, Grenache, Tannat, Cabernet Sauvignon, and a tiny amount of Negroamaro next to their home and winery in the Fair Play region of El Dorado County. Both Hank and Caroline were behind the table for the event. They poured three of their wines, and first up was their 2014 "Rosé Alors!" Made from Counoise, Mourvèdre, and Syrah, this barrel-fermented rosé spent six months on the lees. Higher-toned aromas of apple skin, red fruit, and a leesy note, with a slightly chalky texture. The 2014 "Piedi Grandi" is a 50/50 blend of Nebbiolo and Mourvèdre, and featured red fruit and plum, spice, and earth – I thought it showed a bit less Nebbiolo character than their 2013 vintage but it's still a tasty blend. My favorite of the three wines was the 2014 Syrah from Sumu Kaw Vineyard. Very aromatic, with black olive, earth, dark fruits, and smoked meat notes, a lively texture, and moderate tannins. Delicious now, and La Clarine's Sumu Kaw Syrahs have developed nicely with bottle age too. I visited Hank and Caroline at their vineyard and winery in 2012 and I continue to be a fan of their wines.
La Garagista Farm + Winery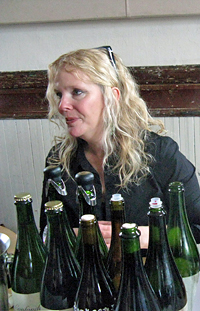 Deidre Heekin
La Garagista is the project of Deirdre Heekin, who was on hand at the Brumaire tasting. Located in central Vermont, Deirdre and her husband Caleb Barber first planted a vegetable garden and orchard for their nearby restaurant in 1999, and Deirdre expanded to making wine and cider by 2010. She produces a variety of wines, many from hybrid grape varieties not typically seen in California, and makes many sparklers, most but not all by the pét-nat method. I tasted four sparkling wines from La Garagista. The 2015 "Ci Confonde" White Pétillant Naturel was made from Brianna grapes – somewhat cloudy in appearance, with floral, Muscat-like aromatics and plenty of acidity. The 2015 "Ci Confonde" Rosé Pétillant Naturel, from Frontenac Gris, was my favorite of the wines here, with earth, lots of spice, cranberry, and a bit of lemonpeel. Two yet-to-be-released wines followed, starting with a tank sample of 2015 "Vinu Jancu", made from the La Crescent variety – a relative of Muscat, which showed in the perfumey aromatics. I finished with a barrel sample of 2015 "Loups Garoux," from Frontenac grapes – more lightly sparkling than the first three wines, with tart red fruit. An interesting producer working with some different grape varieties.
La Lunotte
La Lunotte is located in the Touraine region of the Loire Valley, where vintner Christophe Foucher launched his winery in the early 2000s. He prefers not to use that AOC on his labels, opting for the broader Vin de France (VDF) designation. A couple of other European producers at Brumaire do the same thing, due to the vintners' issues with appellation-based designations that restrict what they can do and require what they must do in their winemaking. La Lunotte's biodynamically-farmed vineyard includes Sauvignon Blanc, Côt (better-known as Malbec), Cabernet Franc, Menu Pineau (or Arbois), and Gamay. Christophe poured two wines at the tasting, and I started with the 2014 "Les Rossignoux," Sauvignon Blanc made from 40+ year-old vines. A bit floral with earth, herb, and pear notes, this had fine acidity. Even better was the 2014 "Le Haut Plessis" from Menu Pineau grapes – citrus fruit, fresh herbs, lees, and flowers on the nose, with more body on the palate and a pleasant, lively finish.
La Onda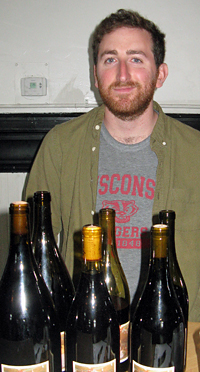 Dani Rozman
La Onda is a new label (first vintage 2013) started by Dani Rozman, who's worked at Clos Saron and Scholium Project among others. He makes his wines at the Scholium Project facility in Fairfield. Dani had his first two vintages of La Onda wine to pour at Brumaire along with a small experimental lot, which started things off. This was a 2014 Cinsault from the noted old-vine Bechthold Vineyard in Lodi, fermented with 100% whole clusters (as were all the La Onda wines) and then sealed in a keg. This had very upfront black cherry fruit with a touch of spice – fairly simple but tasty. The 2014 "La Onda" blend, 90% Cinsault and 10% Syrah, was aged in neutral oak and featured an earthy, savory quality along with bright red fruit and a lively texture – quite appealing. The 2013 "La Onda" – 63% Syrah from the Sierra Foothills and 37% Bechthold Vineyard Cinsault – was more dark-fruited, richer on the palate, and more structured than the 2014, though it also showed a pretty floral aspect that the 2014 didn't display.
Les Vins de Sainte-Anne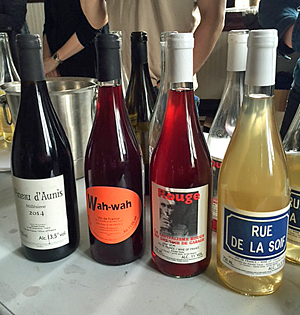 photo: Russell Obana
I'd read a little about the vintners at Brumaire with whom I was not familiar, and Les Vins de Sainte-Anne's Brendan Tracey seemed particularly interesting to me. I found that we shared several things in our backgrounds (growing up in San Francisco and a fan – and in his case a participant as well – of their local punk-rock scene in the late 1970s), though Brendan lived with family in France during his high school years and later returned to stay. He worked at a radio station in Blois for many years before launching his own winery in the Loire Valley in 2010. Brendan poured me four of his wines at Brumaire, beginning with the 2013 "Rue de la Soif," a Sauvignon Blanc with bright, savory and earthy citrus aromas and a chalky texture and finish. The reds are made with at least some carbonic maceration. The 2013 "Capitalism Rouge" is a blend of 65% Gamay and 35% Côt (Malbec), and this showed rather funky, leathery notes. I thought the 2014 "Wah-Wah" – 75% Grolleau (a Loire grape variety) and 25% Côt – was much more appealing, with fresh and savory red fruit, earth and herb notes, a vibrant texture and tangy finish. Brendan's final wine of the day was his 2014 Pineau d'Aunis – another variety found mostly in the Loire Valley. This had slightly floral aromas along with cranberry and earth, and a lively mouthfeel and finish. Overall a fine showing for these wines, from a vintner I'll be sure to follow in the future.
Living Wines Collective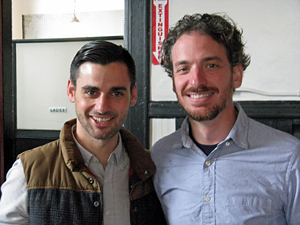 Sam Baron, Diego Roig
Living Wines Collective is made up of four friends who produce wines under three different labels. All four of them – Sam Baron, Shaunt Oungoulian, Diego Roig, and Martha Stoumen – combine for their Populis label. Martha and Diego also have a label called Elizia, while Sam and Shaunt make Les Lunes. They work with organically-farmed, old-vine fruit and make their wines in Orinda, just over the hills from Oakland and Berkeley. I've known both Martha and Sam for a few years from their work with Chris Brockway at Broc Cellars – Martha is currently the assistant winemaker at Broc. I tasted three wines at their table, and first up was a 2015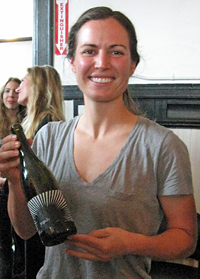 Martha Stoumen
Populis Sauvignon Blanc, from vines planted about 1950 in Mendocino County. Made in stainless steel and neutral oak, with some hard-press wine included for more texture and phenolics, this displayed citrus, earth, and herb aromas. A tank sample of 2014 Les Lunes Chardonnay was next, sourced from Dobson Vineyard in Manton Valley not far from volcanic Lassen Peak in northern California – this had pear and stone fruit with a slightly nutty quality and a moderately chalky texture and finish. Finally, I tasted a sample of the 2014 Elizia Sparkling Zinfandel Rosé, made by méthode Champenoise with a few bottles recently disgorged just for the tasting – this wine is still about six months from being finished. Bright red fruit, earthy, a bit spicy and leesy, this was tasty and very distinctive, one of my favorite sparkling wines of the day. I should note that I've tasted several other wines made under Living Wines Collective umbrella, and this is a most promising group of vintners.
Mendall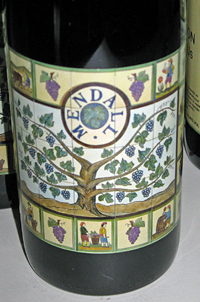 This is the winery of Laureano Serres, located in the Terra Alta region of Catalonia. Laureano worked in the IT industry for a number of years before returning to the farming roots of his family in the late 1990s. His vineyards are farmed biodynamically and he's been using no sulfur in his winemaking since 2003. He began my tasting with his 2014 "Aidon Nous" – a blend of 90% Garnacha and 10% Macabeu, this was earthy, with black cherry and raspberry fruit plus saline and savory notes, lively and distinctive. Next was the 2014 "Espartal" Cabernet Sauvignon (100%). This had more upfront plummy fruit, earth, herbs, and a chalky texture. The final Mendall wine was the 2013 "Desig Brutal," a Cabernet-based blend that featured savory aromas upfront along with dark fruit, dried herbs, and earth. Bigger and more structured than the first two wines, with a firm tannic grip – among the best of the bigger reds at the tasting. Quite an intriguing group of wines – both the "Aidon Nous" and "Desig Brutal" were standouts.
Méthode Sauvage
Chad Hinds
Chad Hinds established his Méthode Sauvage label after working for vintners such as Pax Mahle of Wind Gap and Kevin Kelley of Salinia, and he continues to work for Selection Massale importers. He currently makes his wines in Napa. Chad poured me three of his Chenin Blancs – a 2014 from Vista Verde Vineyard in San Benito County, a 2015 barrel sample from the same vineyard, and a 2015 barrel sample from Clarksburg, a region that's particularly known for its Chenin Blanc fruit. My favorite was the 2015 Vista Verde barrel sample, with bright pear and stone fruit aromas plus floral and stony mineral notes, a moderately rich mouthfeel and lively finish. After the Chenins came the 2013 "Ley-Line," a blend of 70% Valdiguié from Mendocino and 30% Syrah from the Sierra Foothills – leesy, plummy, with vanilla undertones. Chad finished up my tasting with two 2015 Cabernet Franc barrel samples. First was one from Alegría Vineyards in Russian River Valley, a source for a couple of other Cab Francs I've tasted in the past. From entirely destemmed fruit, this featured dried herb/tobacco, bright plum and black cherry fruit, a distinctive note of jalapeño (I've gotten that from this vineyard before), and a lively texture – tasty and distinctive. The second barrel sample was from Bates Ranch in the Santa Cruz Mountains, made entirely with whole-cluster fermentation. This showed more upfront fruit along with floral and savory components, with a more structured feel in the mouth. Both of these young Cab Francs showed great promise.
Pain & Glory Cellars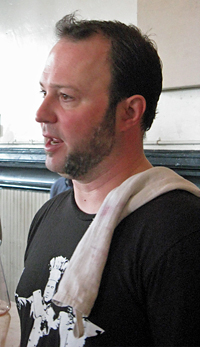 Chris Scanlan
I've crossed paths with Pain & Glory's Chris Scanlan at a couple of Bay Area wineries over the years – Sol Rouge and Broc Cellars – and he's worked at Terroir Natural Wine Merchant in San Francisco since 2010. He started his label with the 2012 vintage. The wines have not yet been released, and Chris said the labels on his bottles at Brumaire were temporary and may change. Chris started me out with his 2013 "The Wyrd" – a blend of Grenache and Mourvèdre plus 3% Roussanne, sourced from Santa Ynez Valley's biodynamic Demetria Vineyard, this was co-fermented entirely from foot-stomped whole clusters, aged in neutral barriques and never racked. Earth, plum, lees, and herbs on the nose, with a vibrant mouthfeel and pleasant finish. The 2013 "Hüginn & Müninn" is 90% Syrah and 10% Viognier, also from Demetria. This had a touch of funk and leather along with darker fruit and a slight floral note. Chris also poured me a sample of the 2012 "Hüginn & Müninn" was brighter with more upfront fruit. I finished with another barrel sample, 2013 Carignan from Evangelho Vineyard in Contra Costa County – earthy black cherry fruit with herbal notes, this had nice acidity and moderate tannins. Looking forward to Chris releasing these wines!
Purity Wines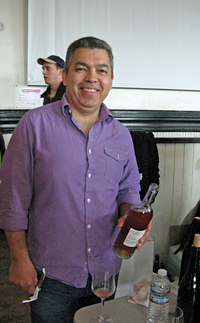 Noel Diaz
The Purity table was my first stop at the Brumaire tasting, and owner/winemaker Noel Diaz was there to pour his wines. Noel's background is in the restaurant business, and he's been working in recent years on the Master Sommelier program with an eye toward taking his exam soon. He makes his wine at a facility on Treasure Island in San Francisco Bay. Noel started me off with his 2015 Pétillant Naturel of Marsanne, with fruit sourced from Coufos Vineyard in the far northern Sierra Foothills near the small town of Rough and Ready. Very light color and slightly cloudy, with pear, earth, and lees notes. 2014 Grenache Rosé was next, from biodynamically-farmed Demetria Vineyard in Santa Ynez Valley. Savory and minerally with touches of red fruits and flowers on the nose, one of the standout rosés of the day. The 2014 Grenache from Demetria was light-colored, but showed more upfront red fruit aromas along with earthy and herbal notes. I went on to a barrel sample of 2015 Mourvèdre from Lodi, which was still bright and primary, with raspberry and earth notes, and finished with a sample of 2015 Roussanne that was pressed after three months on the skins – earthy, leesy, and somewhat tannic, this was an interesting wine that would work better with food than on its own. Overall, these were very nice wines, and it should be worth keeping an eye on the Purity label.
Stirm Wine Company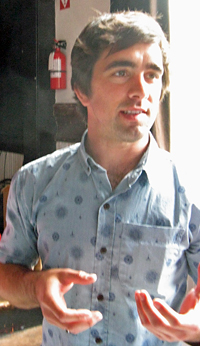 Ryan Stirm
Ryan Stirm launched his wine label with the 2013 vintage. He was the assistant winemaker for Justin Willett of Tyler Winery in Santa Barbara County before that and has worked elsewhere too. Ryan's focus is Riesling, and he makes his wines at Central Coast Wine Services in Santa Maria. Ryan poured two wines at the event, and the first one was the 2014 "Eolian" Riesling from Kick-On Ranch in Los Alamos Valley. Made with about 20% direct-press botrytis-affected fruit with the rest of the fruit spending 12 hours on the skins, this went through partial malolactic fermentation. As you might expect with this type of wine, it displayed a honey-like aroma along with herb and citrus notes, with vibrant acidity and a slightly sweet finish – quite distinctive. The regular bottling of 2014 Riesling, also from Kick-On Ranch, showed more petrol on the nose, with medium body, great acidity, and a touch of sweetness. Both wines were aged in neutral oak. Stirm is one of several newer producers of Riesling that serve notice that this is a variety that has more promise here than most of the California Rieslings currently on the market would lead you to believe.
Thee & Thou Wines
This is the project of John Donoghue, who makes his wines on Treasure Island in San Francisco Bay (at the same facility as Purity). John worked with Gideon Bienstock at Clos Saron before launching his own label with the 2013 vintage. Two of the Thee & Thou wines were available to taste at Brumaire, and I started with a 2011 "Thee & Thou" blend of 75% Merlot and 25% Cabernet Sauvignon – this was earthy, plummy, and herbal, with fairly grippy tannins. The 2013 "Thee & Thou" was 43% Syrah, 43% Merlot, and 14% Cinsault, sourced from Bechthold and Terra Alta vineyards, both farmed organically in the Lodi area. This was my favorite of the two wines, with more savory, herbal notes upfront, along with darker fruit, spice, a lively texture, and moderate tannins. I didn't sense a lot in common with these two wines, so it should be interesting to see the direction Thee & Thou takes with its wines in the future.