Sierra Foothills Visits - December 2016
As I've done every November for the past 8-9 years, I took a wine trip to the Sierra Foothills…except this year it was in December! I'd postponed the date to accommodate a friend who was on vacation in November, but in the end they couldn't make it anyway, so it ended up being just Eric Lundblad and me this time.
I contacted a few vintners before the trip, and was able to make appointments with three of them. I figured we might have time for one or two additional visits, though there would be a bit more driving involved than on some past trips. Aside from the lengthy drive from Oakland to the Foothills and back, we would be traveling from Sutter Creek north to the Placerville area during the day – about another hour's drive.
There had been a good rainstorm the day before our trip, leaving the air crystal-clear. We were barely over the coastal mountains at Altamont Pass and heading down into the Central Valley when the snow-capped peaks of the distant Sierra Nevada came into view. Valley haze often obscures this view so it was a treat to be able to enjoy it on this day.
It was a smooth drive across the Valley and into the hills of Amador County, and we arrived at our first destination right on time.
Sunday - December 11, 2016
Tasting Notes: Current and Upcoming Releases

Baiocchi 2012 Grenache, Sharon's Vineyard, Fair Play. Medium ruby/purple color, this had wonderful aromatics of ripe fresh strawberries, lots of spice, and an herbal note. Medium-bodied with a lively texture and moderate tannins on the finish, nice.

Baiocchi 2013 Grenache, Sharon's Vineyard, Fair Play. Slightly deeper color than the previous wine, with a riper and darker fruit profile, plus spice, and touches of forest floor and stony minerals. Bigger and more structured than the 2012, with more grip on the finish – could use a bit more time.

Baiocchi 2013 Mourvèdre, Fair Play. Medium purple color, showing plum, smoke, earth, spice, and a tough of funk on the nose. Medium weight with good structure and fine tannins – this could develop nicely with a bit more bottle age.

gb 2013 "G minor," Fair Play. 62% Grenache, 20% Syrah, 18% Tempranillo. Medium color, with ripe plum, earth, and spice aromas. Lively acidity with a minerally quality on the palate and moderately grippy finish – pleasant now but could stand up to some cellaring.

Baiocchi 2012 "Orellana," Fair Play. 80% Tempranillo, 20% Grenache. Medium purple, this featured loads of spice along with earth, darker berry fruit, and dried herb undertones. Moderately rich on the palate, with plenty of structure and finishing with big but not aggressive tannins – nice.

Baiocchi 2011 Tempranillo, Grump's Vineyard, Fair Play. Medium-dark color, with earthy ripe dark berry fruit, herbs, and sweet oak on the nose. Big and structured, with a fairly grippy finish.

Baiocchi 2012 "Sprezzatura," Fair Play. 90% Syrah, 10% Grenache. Medium color, displaying aromas of black cherry and plum, black olive, spice, and coffee, with a touch of vanilla/oak in the background. Rich but lively mouthfeel, with chewy tannins on the finish – tasty now but good potential with more cellaring.

Baiocchi 2012 Syrah, Nicholas' Vineyard, Fair Play. Darker purple color, with lots of blackberry fruit, herbs and smoky oak. Fairly rich on the palate with a chewy tannic finish.

Baiocchi 2013 Syrah, Nicholas' Vineyard, Fair Play (pre-release). Darker color, this featured bolder aromatics than the previous wine, with riper dark fruit, coffee, spice, and a stony mineral note, with a more noticeable oak component. Full-bodied and structured, with big, chewy tannins.

gb 2013 Zinfandel, Fair Play. Medium purple, with upfront ripe cherry and berry fruit, spice, and sweet oak on the nose. Medium-full bodied with a touch of heat on the finish.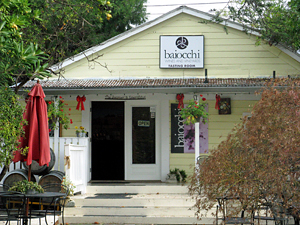 Our first stop of the day was at the tasting room of Baiocchi Wines in the quaint Amador County gold rush town of Sutter Creek. I'd first run across Baiocchi in 2012 but hadn't tried any of their wines in awhile so I thought this would be a good opportunity to revisit them. Although the Baiocchi wines are from neighboring El Dorado County, Sutter Creek in recent years has become a magnet for wine tasting rooms. Though it's not as crowded with them as Los Olivos in Santa Barbara County or Murphys in Calaveras County, Sutter Creek is now a wine-tasting destination, so it made sense for Baiocchi to open a space there. Eric and I pulled up to a parking spot right next to the tasting room and right behind winery owners Greg and Sharon Baiocchi.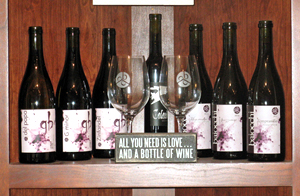 Greg and Sharon welcomed us in to their tasting room, located in an old house that's set back from the main street with a charming garden in front. There are a number of tables and chairs outside for enjoying food and wine when the weather is nice. On this cool December day, though, we were glad to be inside the tasting room, with its L-shaped wood bar. Greg and Sharon launched their winery with the 2009 vintage. Like many from Italian families, Greg recalls his grandfather making wine in his basement at home. Early on, his interests were music – he played electric bass professionally – and then skydiving. One of his skydiving connections was an entrepreneur who entertained celebrities and sommeliers from fine restaurants, and he introduced Greg to top Bordeaux, Napa Cabernets, and other fine wines.
From there, Greg delved further into his newfound wine passion while working at a couple of other jobs. Ultimately Sharon told him that he needed to make wine to be happy and he realized she was right. He proceeded to study viticulture and winemaking at UC Davis while he and Sharon looked around for about 40 acres to purchase and start a vineyard. Land prices and other considerations led them to El Dorado County. Greg gained valuable experience working with Marco Cappelli at Miraflores Winery in El Dorado and with Bradley Brown at Big Basin Vineyards in the Santa Cruz Mountains. Greg mentioned Ehren Jordan, Tegan Passalacqua, Justin Smith, and John Alban as other mentors in his winemaking education.
The first Baiocchi wines, from the 2009 vintage, were made at Big Basin. From that initial 150-case production, the label has now grown to around 1,800-2,000 cases per year, and Greg currently makes the wines at the Skinner Vineyards facility. Greg farms a 12-acre vineyard on the property that he and Sharon own, at about 2,300-foot elevation in the Fair Play region of El Dorado County. Planted in 2005, there are two clones of Syrah, three clones of Grenache, plus Mourvèdre and Tempranillo vines. Greg told us that he's planning to add more Mourvèdre plus some white varieties on a north-facing slope – probably Fiano, Torrontés, Greco di Tufo, and maybe Vermentino. The site has granitic sandy and sandy loam soil common to the area, and Greg has been able to dry-farm some parts of the vineyard. Most of the fruit goes into the Baiocchi wines, though some Grenache grown for Rosé is sold to other vintners as well.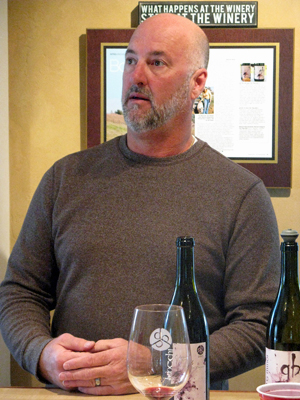 Once at the winery, grapes are fermented by native yeast in 1½ ton fermenters, and Greg said the he likes to co-ferment varieties when possible. No SO2 is added until after malolactic fermentation is complete, and the wines are not racked until they're ready for bottling. Favored coopers include Taransaud, François Frères, and Ermitage. There are actually two different labels under the Baiocchi Wines umbrella – Baiocchi and gb. Both are made mostly from estate fruit, with all of the fruit coming from El Dorado County. The gb wines are more blends rather than varietal bottlings, with generally no new oak used in aging, and at a lower price point. The Baiocchi label is mostly for estate- and vineyard-designated wines, with more varietal bottlings, and usually between 20-50% new French oak for barrel-aging (though recent Grenache vintages have no new oak).
As we got started on our tasting with Greg, he mentioned that he was interested in having us compare a couple of 2012 and 2013 wines. He noted that the 2012s were generally picked a bit earlier than the 2013s, and described the 2012s as more refined while the 2013s were riper and bolder. We went right into one of those comparisons, with the 2012 and 2013 Sharon's Vineyard Grenache. The 2012 showed a brighter red fruit character and fine acidity, while the current 2013 vintage showed darker fruit and a bigger structure. Greg noted that his Grenache is 100% varietal, from a block of Alban clone fruit on sandy soil that produces very small clusters and berries.
We continued with 2013 Mourvèdre. This was sourced from three vineyards and all fermented together – about equal parts from the estate vineyard plus one in Apple Hill and one in Camino, both just northeast of Placerville. I asked Greg what differences he's found in the Mourvèdre from Fair Play and from Camino. He said that Camino, on mostly volcanic soil, shows darker fruit, more earth and forest floor character, while Fair Play, on mostly granitic soil, shows more intense and brighter red fruit. Greg also noted that he's been seeing more Mourvèdre and Tempranillo planted in the Foothills.
Next was the 2013 gb "G minor" bottling, from co-fermented Grenache and Tempranillo with Syrah blended in later. The 2012 Baiocchi "Orellana" is a Tempranillo/Grenache blend inspired by the wines of Priorat in Spain. We tasted a varietal 2011 Tempranillo from an estate block called Grump's Vineyard – named for Sharon's grandfather's nickname. The Tempranillo is barrel-aged for at least two years, and the 2012 vintage will be released soon. We followed up with the 2012 "Sprezzatura" blend – mostly Tablas clone Syrah with a little Alban clone Grenache. The name of the wine is a term meaning something that takes great skill but appears effortless. Greg told us that he blends in the Grenache to give the wine an aromatic lift.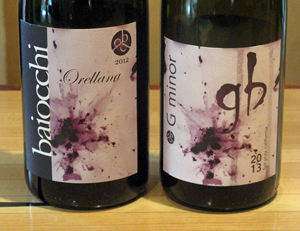 We made another comparison of 2012 and 2013 wines with the estate Nicholas' Vineyard Syrah, named for the Baiocchi's son, who is becoming part of the winery operation. This is from Alban clone Syrah, which Greg noted has very small clusters, yielding only about 1.5 tons per acre – quite low for Syrah. Aged in 33% new French oak, this is made in a bold style that will be familiar to fans of Alban and Big Basin wines. As with the Grenache, the 2013 Syrah (which won't be released for another year) was the bigger and riper of the pair – though I thought both the 2013 Grenache and Syrah displayed a stony mineral element that I didn't find in the 2012s.
We finished our tasting with a 2013 gb Zinfandel that showed loads of upfront "Zinny" fruit. There are a couple of wines we didn't taste during this visit – the gb "del papa" white Rhône-style blend and Baiocchi "Calando," a dessert wine made entirely from Tempranillo. Greg told us that there will be a brand-new bottling to be released in January – the 2013 "Fearless" will be 30% estate Syrah and 70% Cabernet Sauvignon, sourced from nearby Cedarville Vineyard.
I had a good time at the Baiocchi tasting room – nice wines and it was fun to talk with Greg. Overall, the wines are much as I'd remembered them from a few years earlier – on the bigger side but still well-balanced. There were a couple of things I thought were notable. First, the wines generally had a light touch with oak – for the most part, it was well-integrated and didn't stand out. Also, for wines that are bigger than some others from the region, the tannins were managed quite well and not overly aggressive. The 2012 Grenache and the "Orellana" were favorites, with the Mourvèdre, "G minor", and "Spezzatura" not far behind. Greg and Sharon are continuing to do a fine job with the Baiocchi and gb wines. The wines are well-crafted and distinctive, and their bold but not over-the-top style helps set them apart in the region. It's well worth a visit to their Sutter Creek tasting room to check them out.
Eric and I said good-bye to Greg, and we figured that lunch should be the next order of business. After two failed attempts (a place that Eric suggested, but was not open, and I zipped right past one that I'd thought of), we decided to head to the reliable standby of Gold Vine Grill in the small town of Somerset. Eric ordered a burger and I had a panini, and neither of us had any complaint – a rare occurrence for Eric and me! Once again, I found that Gold Vine Grill served up a tasty lunch, and it's in a very convenient location near wineries in both the Fair Play and Pleasant Valley areas.
Tasting Notes: Current and Upcoming Releases

Sentivo 2014 Syrah Rosé, Estate, El Dorado. Light salmon/pink color, with slightly subdued red fruit along with spice and earth on the nose. Lively acidity and a clean finish.

Sentivo 2015 Syrah Rosé, Estate, El Dorado. Slightly lighter color than the previous wine, with brighter red fruit aromas along with herbs and a floral note. Crisp and fresh on the palate and finish, nice.

Sentivo 2012 Chardonnay, North Coast. Medium-light straw color, with stone fruit plus vanilla/oak, medium-light body, and a fairly smooth finish.

Sentivo 2013 Chardonnay, El Dorado. Similar to the previous wine, this showed more oak on the nose along with a bolder, creamier texture.

Sentivo 2013 Grenache, El Dorado. Medium-light ruby color, featuring raspberry, spice, flowers, and a touch of oak. Medium-bodied with good acidity and structure, finishing with fine tannins, nice.

Sentivo 2012 Primitivo, El Dorado. Medium purple, with bold, ripe plum and berry fruit, spice, and chocolate aromas. Medium weight with moderate tannins, finishing with a touch of heat.

Sentivo 2012 "Mista," El Dorado. Roughly equal parts Zinfandel, Syrah, and Petite Sirah. Medium color, this displayed brambly red fruit, earth, spice, and sweet oak on the nose. Medium-full bodied with good structure and grippier tannins – shows potential for developing further in the cellar.

Sentivo 2011 Syrah, Estate, El Dorado. Medium-dark color, blackberry, earth, spice, coffee, and a touch of oak. Moderately rich on the palate, with a stony mineral note on the finish.

Sentivo 2012 Syrah, Estate, El Dorado (pre-release). Darker color, with brighter fruit along with similar coffee and spice notes as the 2011. Bigger structure and tannic finish – this needs time but shows promise.

Sentivo 2011 Petite Sirah, Estate, El Dorado. Dark purple, this had plum and blueberry aromas along with spice and a touch of sweet oak. Full-bodied with a lively texture, finishing with big but refined tannins.

Sentivo 2012 Petite Sirah, Estate, El Dorado (pre-release). Slightly lighter color, showing brighter, Zin-like fruit on the nose, along with spice and chocolate notes. Big, with plenty of structure, and moderately grippy finish, a distinctive Petite Sirah.

Sentivo 2011 Late Harvest Petite Sirah, "deepROOTS," Estate, El Dorado. Fortified Port-style wine. Dark color, with dark berry fruit, brown sugar, mocha, and spice aromas. Rich mouthfeel with fairly good acidity and a long smooth finish.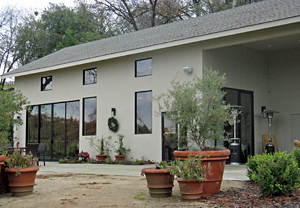 After lunch, it was a short drive to our next destination, Sentivo Vineyards & Winery along Fairplay Road. Jonathan Lachs of Cedarville Vineyard had suggested visiting there, as it was a new place with good wines. Eric and I drove up to the tasting room, a new-looking building on a hillside – it is indeed brand-new, having opened in June 2016. After admiring the vineyards on the adjacent slopes – the vines were still clinging to their brilliantly-colored leaves – we headed into the tasting room and took seats at the long tasting counter. A couple of large niches behind the tasting bar area held displays of Sentivo Rosé bottles, lit to highlight the wine's light pink color against the white wall behind.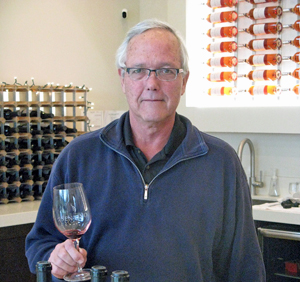 After we had a seat, Eric and I were welcomed to the tasting room by Paul Devitt, one of Sentivo's owners. Paul and his wife Daniela (who was in and out of the tasting room while attending to other tasks) share ownership of the winery along with four other family members. Their story is one that's not unusual – after years of traveling through wine country, enjoying the wine and the vineyards, they got the idea of purchasing their own vineyard and starting their own wine label. They bought their property in the Fair Play area in 2010 – a key attraction for this particular site was that it had an established vineyard already there. The vines were planted in 1999, and there are about 2½ acres each of Syrah and Petite Sirah on a southwest-facing slope, at about 2,400-foot elevation. Paul told us that their vines are farmed to keep yields to around 2 tons per acre.
The first harvest for Sentivo came in 2011, a difficult vintage throughout most of California. Not the easiest way to start out for a new winery, but as we found, they were able to make some nice wines from their Syrah and Petite Sirah that year. Overall production is growing but is still on the small side.
Paul started our tasting with a couple of their Estate Syrah Rosés, from the 2014 and 2015 vintages. He said that the fruit for their Rosé is picked about a month before the fruit for their regular Syrah wine. Both were quite pleasant, displaying nice acidity. We continued with a number of non-estate wines that Sentivo has added to supplement their estate Syrah and Petite Sirah offerings. There were two Chardonnays, the 2012 coming from Sonoma County and the 2013 from a more local El Dorado fruit source. These were aged in about 40% new French oak.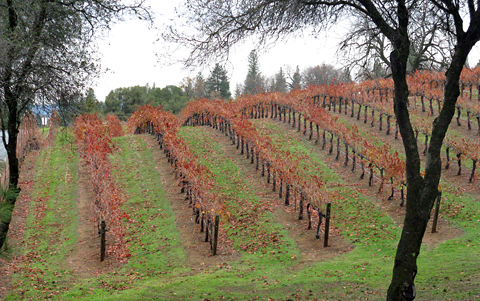 Moving on to reds, Paul poured us a new vintage of their Grenache, from 2013. The fruit for this wine came from adjacent Gwinllen Vineyard, and it was one of the highlights of our tasting. After a 2012 Primitivo and 2012 "Mista" (Zin/Syrah/Petite blend), we continued our tasting with more wines from the Sentivo Estate Vineyard. Paul offered us a comparison of their current 2011 Syrah and Petite Sirah with upcoming 2012 releases. It was an interesting contrast of the two vintages, and although I preferred the brighter fruit and better structure of the 2012s, both of the 2011s showed an intriguing stony mineral component. We finished up with a 2011 Late Harvest Petite Sirah called "deepROOTS," a Port-style wine that was barrel-aged for five years.
During our tasting, Paul told us about an upcoming 2013 wine that will be called "Tribute" – it's a Syrah/Grenache blend that should be released before too long. A bonus to visiting Sentivo is that they offer a cheese & charcuterie board, panini sandwiches, and salads, with tables both inside and outside the tasting room.
Sentivo was a very pleasant discovery for me on this trip. Although the wines were a little uneven, that's to be expected from a newer venture that's most likely still finding its footing. But the best wines here were on a par with some of the better ones I've tried from the region in recent years. I thought the 2015 Syrah Rosé and the Grenache were standouts, while the "Mista," 2012 Syrah, and 2012 Petite Sirah (the last two yet to be released) were also very good. The winery name of Sentivo is from the Italian for "I felt" or "to have felt", and I have to say that I felt glad to have visited with Paul and tasted his wines – certainly a winery to check out in the Fair Play area.
Tasting Notes: Current Releases

Cedarville 2015 Viognier, Estate, El Dorado. Medium-light straw color, this featured tropical fruit, lemon zest, and a light touch of sweet oak on the nose. Medium-bodied with a fairly creamy but lively texture and a long, clean finish, nice.

Cedarville 2014 Syrah, Estate, El Dorado. Co-fermented with 4% Viognier. Medium-dark purple, with intense blackberry, smoked meat, and herb aromas plus floral undertones. Medium weight on the palate with bright acidity and good structure – very tasty now but should age well.

Cedarville 2013 "Turnabout's Fair Play," Estate, El Dorado. 45% Grenache, 30% Syrah, and 25% Cabernet Sauvignon. Medium-dark color, showing earthier aromas along with dark berry fruit, spice, and an herbal note. Fairly big and structured, with moderately chalky tannins on the finish – this has good potential to develop nicely with some bottle age.

Cedarville 2013 Petite Sirah, El Dorado. Dark purple, displaying exuberant ripe dark berry fruit, mocha, and vanilla/oak. Richer texture on the palate, this finished with grippy, youthful tannins that will take some time to soften.




Cedarville is an annual visit for me in the Sierra Foothills. For years, the winery has helped raise the bar for quality wine in El Dorado County, and it's always been a pleasure to visit there with husband-and-wife proprietors Jonathan Lachs and Susan Marks. It was not even a quarter-mile drive from Sentivo to Cedarville, and Eric and I parked close to the yellow, barn-like winery structure. We were barely out of the car when Jonathan came out to welcome us, and we soon headed into the building – even at the cool winery temperature, it was warmer than outside. Jonathan told us that Susan was out on a winery errand, and although she'd hoped to be back in time to see us, we missed her on this visit.
Jonathan and Susan met while they were each earning enology degrees at UC Davis, but they both worked for a number of years in Silicon Valley before entering the wine business full-time. Their years in the Bay Area are reflected in the many sports team banners on display inside the winery, and they're particularly big fans of the San Jose Sharks hockey team.
Jonathan and Susan purchased their vineyard site in 1995. There were already vines there – some Syrah and Zinfandel had been planted the previous year – and more were added right away. Jonathan and Susan have farmed their 15-acre vineyard organically since 2010 – it's planted to Viognier, Grenache, Mourvèdre, Syrah, Zinfandel, and Cabernet Sauvignon. In addition to using fruit from their vineyard for the Cedarville wines, Jonathan and Susan sell some to several other highly-regarded producers, including Turley, Skinner, La Clarine Farm, and recently to Baiocchi. Situated on a hillside at about 2,500-foot elevation, the vineyard features the decomposed granite soil that is characteristic of the area but uncommon in most other California wine regions.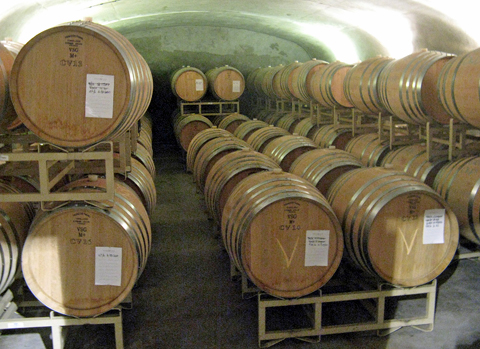 The first Cedarville releases were from the 1998 vintage, and by 2000 Jonathan and Susan had completed their winery, including two concrete-vaulted barrel rooms extending into the hillside and providing natural cooling. Their house is on a knoll overlooking the vineyard, and on a clear day you can see all the way across California's Central Valley to Mount St. Helena in the Mayacamas Mountains north of Calistoga. As with many other Sierra Foothills wineries, Cedarville is a small, hands-on operation, and since they have no employees, Jonathan and Susan do the lion's share of the work themselves. Since nearly all of their fruit comes from their estate vineyard – the only exception is Petite Sirah from nearby Naylor Vineyard – they're able to bring it into the winery early in the day during harvest season to ensure that the grapes are cool. Reds are destemmed but are largely whole-berry, and fermentations take place in small bins or in temperature-controlled stainless steel tanks.
Cedarville produces eight wines – six varietals and two blends: Viognier, Grenache, Syrah, Zinfandel, Petite Sirah, Cabernet Sauvignon, "Turnabout's Fair Play" (Grenache/Syrah/Cabernet) and "The Rules of Fair Play" (Zin/Petite Sirah). Total annual production is currently about 1,200-1,300 cases. The Cedarville name comes from a nearby town of that name founded by Sierra Foothills pioneers in 1852. The town is long-gone but Jonathan and Susan have made sure that its spirit lives on.
I try to visit Cedarville every fall, but I was able to make a rare but brief summer stop at the winery this year as well. I tasted a number of their recent releases at that time, with favorites being their 2014 Grenache and 2013 "Rules of Fair Play, " though their 2014 Zinfandel and 2013 Cabernet Sauvignon were quite nice as well. Their Cabernet generally needs a few years of cellaring to show its best, but it's proven itself to be a consistent winner – one of the best Cabs from the Sierra Foothills and a bargain at the price.
On this visit, Eric and I tasted four current releases with Jonathan, beginning with the 2015 Viognier. The 2015 harvest was a light one throughout most of California, and Cedarville's Viognier was no different. Jonathan told us that with the very small amount of wine – only six barrels made – they used no new oak on the Viognier in 2015. The 2014 Syrah, as always, was fermented with a little Viognier, about 4%. This wine was aged in about 30% new French oak. Next was the distinctive 2013 "Turnabout's Fair Play" blend, inspired by the wines of Priorat. Our final wine was the 2014 Petite Sirah, from Naylor Vineyard. Jonathan told us that he and Susan have used a little American oak in the past but they've been phasing it out – the last American oak barrel they purchased was one of the barrels used to age the 2014 Petite Sirah. Jonathan noted that this vintage of the wine is a bigger, riper version than usual, but I thought it still maintained good balance.
I met Jonathan and Susan back in 2000 and made my first visit to their winery not long after that. I felt at that time that they were making an impact on El Dorado wines, helping to set the bar higher, and I still feel that way. While there are more producers in the region who are making excellent wine than there were when Cedarville was established in the mid-1990s, they remain in the top tier. My favorites of this tasting were the Viognier and Syrah, but you really can't go wrong with any of them. As usual, I think that all the Cedarville wines will benefit from some time in the cellar. Although Eric and I missed seeing Susan on this visit, it's always a pleasure to see Jonathan – both of them are exceptionally warm and gracious hosts. Even with more fine wineries to choose from in El Dorado these days, I still consider Cedarville to be a top pick when visiting the area.
Tasting Notes: Tank and barrel samples, library wines, and current releases

Madroña 2016 Grenache Rosé, El Dorado (tank sample). Very light color, with subtle red fruit and a slightly floral note, lively mouthfeel.

Madroña 2016 Grenache Rosé, El Dorado (tank sample). With 10% Barbera Rosé blended in. This bumped up the fruit noticeably and added more brightness to the finish, very pleasant.

Rucksack 2016 Barbera Rosé, Sierra Foothills (tank sample). Slightly more pink color but still very light, with more upfront red fruit along with a savory component and a clean, crisp finish, nice.

Madroña 2015 Malbec, El Dorado (barrel sample). From clone 9. Dark color, with dried herb/tobacco, blueberry, earth, and spice, a lively texture and moderate tannins, nice.

Madroña 2015 Malbec, El Dorado (barrel sample). From clone 3. Dark color, this displayed more spice than the previous wine, along with dark berry fruit, tobacco, and earth, with a chalky tannic finish.

Madroña 2015 Petit Verdot, El Dorado (barrel sample). Very dark color, plenty of spice along with dark fruit and a slightly floral note, fairly rich mouthfeel with a stony mineral note on the finish.

Madroña 2015 Cabernet Sauvignon, El Dorado (barrel sample). Dark color, with plum and currant fruit, herbs, and lots of spicy oak, moderately rich but lively with grippy tannins.

Madroña 2015 Merlot, El Dorado (barrel sample). Medium-dark purple, black cherry and herbs on the nose, less structured than the previous wines with rounder tannins.

Madroña 2015 Syrah, El Dorado (barrel sample). Medium-dark color, displaying smoky, gamey, and plummy aromas with spice and earth notes, medium weight with fine tannins, already quite nice.

Madroña 2015 Cabernet Franc, El Dorado (barrel sample). Medium-dark color, black cherry, tea leaf/dried herb, and a slight mineral note, with great structure and a chalky texture, finishing with chewy tannins, promising.

Madroña 2016 Grenache, El Dorado (barrel sample). Medium-light color, showing bright strawberry aromas with herb and earth notes, slightly chalky texture and moderate tannins.

Madroña 2000 "Quintet," El Dorado (library wine). From five Bordeaux varieties. Medium-dark color with slight bricking, featuring currant, plum, smoke, herbs, and a touch of spice on the nose. Medium weight with a lively texture and fine tannins on the long finish, aging beautifully.

Madroña 2002 Cabernet Sauvignon, El Dorado (library wine). Medium reddish-purple color, this had green olive and herb aromas upfront with plummy fruit, earth, and spice in support. More structured mouthfeel than the previous wine, with bigger tannins on the finish.

Madroña 2000 Syrah, "Reserve," El Dorado (library wine). Dark purple, with aromas of plum, smoke, game, and herbs. Medium-full bodied and lively, with moderate tannins – still remarkably youthful.

Madroña 2014 Cabernet Sauvignon, El Dorado. Medium-dark color, this featured herbs, plum and currant fruit, earth, and vanilla/oak on the nose. Moderately rich with good structure and fine tannins.

Madroña NV Port – Lot 21, El Dorado. From seven traditional Port varieties. Medium-dark, intense plum, caramel, chocolate, and nutty aromas. Rich and not overly sweet, with a long, smooth finish.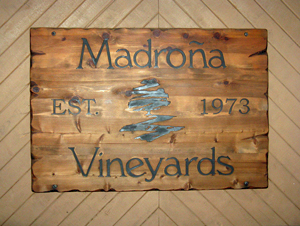 Eric and I headed north to our final winery visit for the day, crossing two branches of the Cosumnes River along the way. After following the road beneath Highway 50, we turned west and passed through the small town of Camino. It was not much further until we turned off the road and made our way through High Hill Ranch to Madroña Vineyards. Madroña is located at the eastern edge of the Placerville area's Apple Hill – not surprisingly, this is home to many apple orchards, a number of which (including High Hill Ranch) have farm stores open to the public. Madroña also is on the edge of the higher-elevation Camino area, and in fact their estate vineyard near the winery is at an elevation of 3,000 feet.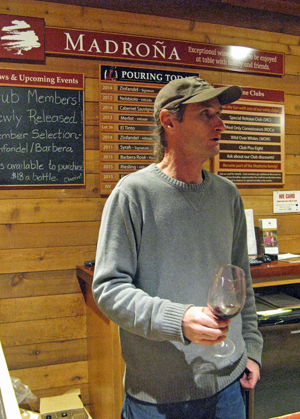 Eric and I walked into the woodsy tasting room, where a number of guests looked like they were enjoying themselves, and we were directed downstairs into the winery, where we were greeted by co-owner and winemaker Paul Bush. I'd met Paul a couple of times during NEB (Nebbiolo Enthusiasts & Believers) events, which focus on US-made Nebbiolo – Madroña is one of the relatively small number of Nebbiolo producers here. I'd been to the winery in the past but for one reason or another, I hadn't been back for quite a few years until this visit.
Madroña is one of El Dorado County's pioneering post-Prohibition wineries. Not only are the vineyards among the first commercial plantings in the area following that period but the winery itself is also one of the earliest. Madroña was founded by Paul's parents Dick and Leslie Bush, who began planting grapevines in the volcanic soil at their Apple Hill property in 1973. At the time it was planted, this was the highest-elevation vineyard in California. The first Madroña wines released were from the 1978 vintage. The winery building – now solar-powered – was completed in 1980, and houses the tasting room as well as the production facility.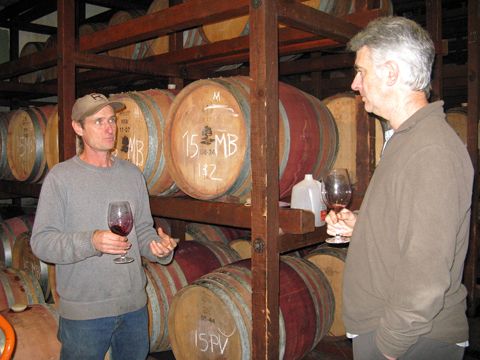 Dick and Leslie have passed the reins of Madroña to Paul and his wife Maggie – Paul manages the vineyard as well as making the wines, while Maggie is the winery's general manager. In addition to the 32-acre Madroña Vineyard, the winery works with two additional higher-elevation estate vineyards – Enyé and Sumu Kaw – planted in the mid-1990s and adjacent to one another in the Pleasant Valley area a few miles to the south. Paul's brother and sister-in-law, David and Sheila Bush, own the Sumu Kaw property and Sheila manages the farming there. The three estate vineyards total nearly 70 acres, with 29 different grape varieties planted among them.
All of the Madroña wines are made entirely from estate-grown fruit, and they're divided into five categories: Hillside, Signature, Single-Vineyard, Specialty, and New-World Port. The Hillside wines form the largest percentage of the production, and feature many different varietals and blends. The Signature collection focuses on a smaller number of high-quality wines, while the Single-Vineyard line highlights Madroña's limited top-of-the-line bottlings. The Specialty wines include a Blanc de Blancs sparkler and a Moscato Giallo dessert wine, while the New-World Ports are crafted from seven traditional Portuguese Port grape varieties grown at Sumu Kaw Vineyard. While Paul heads up Madroña's winemaking, noted vintner Hugh Chappelle is the consulting winemaker, working with Paul mainly on blending decisions. Hugh is very familiar with Madroña's fruit, as he was their winemaker from 1993-2000. Total production is around 14,000 cases per year.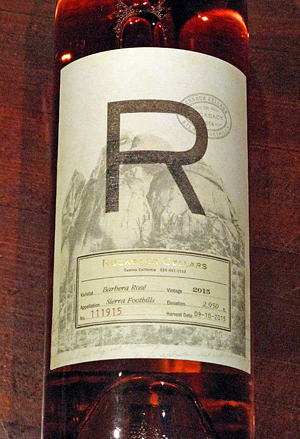 In addition to Madroña, Paul and Maggie have recently launched their own new winery, Rucksack Cellars. Paul told us that the inspiration came from traveling in Europe and elsewhere, carrying his belongings in a rucksack – a term for backpack that's more familiar outside the US. The name is meant to celebrate the notions of traveling, exploring, and especially enjoying the outdoors. The Rucksack label art has a passport-like design, and each bottling features a different Sierra wilderness scene in the background. Paul and Maggie have planted Cabernet Franc and Chenin Blanc for their new label, with the first small crop coming in 2016. The Rucksack wines will be distinct from Madroña in that they're not all made from estate-grown fruit, and they're labeled with the broader Sierra Foothills appellation rather than El Dorado. The Rucksack tasting room, just across the road from Madroña, opened in the summer of 2016. All of the Rucksack wines are priced at $24, and Paul explained that customers receive a Govino wine glass with their tasting fee on their first visit, and afterwards they can return to taste with no fee if they bring back the wine glass to use for the tasting.
Paul asked us whether we had anything in particular we wanted to taste, though with so many grapes varieties I'm not sure I would have known where to start! So we told him to taste us on whatever he felt like. Most of our tastings were from tank and barrel samples, some of which would be bottled before too long. Our first sample was a 2016 Grenache Rosé. Very light-colored, Paul said the fruit for this was picked at about 18-18.5 brix. He told us that he intends to blend in a little Barbera Rosé to bump up the acidity a bit, and he made a sample blend for us to try – just a 10% addition did pop out the bright fruit component more than the straight Grenache Rosé. The Barbera Rosé, which will be bottled for Rucksack, was quite nice on its own as well.
We moved on to barrel samples. As usual, it can be tough to get a good take on a barrel sample, and many of those that we tasted would be blended before being bottled, but all the ones that Paul pulled for us were distinctive. We started with a couple of 2015 Malbec samples from Enyé Vineyard, both 100% Malbec, and scheduled to be bottled in February. We tasted samples from clone 9 and clone 3, and they were noticeably different – it's still to be decided on what may be bottled as a varietal wine and what may be blended. Next were samples of 2015 Petit Verdot and Cabernet Sauvignon. The Cab sample was from a new Remond barrel – Paul told us that he particularly likes Remond. He does not often make a 100% varietal Cabernet Sauvignon, and prefers to blend it with a little Cabernet Franc and Merlot.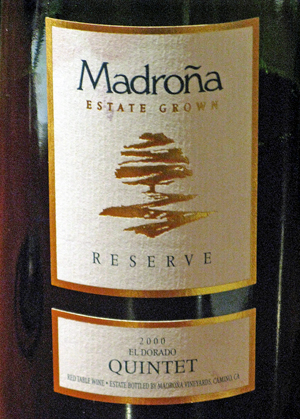 I asked Paul about differences in the fruit he gets for Madroña from the Apple Hill / Camino and the Pleasant Valley regions of El Dorado County. He said that it's tough to compare them, since differing ripeness often skews the comparison. Paul went on to note that many El Dorado wineries are small production and mainly serve local communities, with high percentages of their wine sold through their tasting rooms and wine clubs. One thing that may be a hindrance to El Dorado wines in the wider wine marketplace is that because many varieties do well there, the region lacks a signature grape variety as many other regions have – a viewpoint I've heard from several vintners in the area in recent years.
We continued with 2015 Merlot (Paul noted that the Merlot is very good for blending), a smoky and gamey Syrah, Cabernet Franc (probably to be blended with a little Merlot), and finished with a 2016 Grenache, which will most likely be blended with a little Syrah. I mentioned to Paul that I found a chalky texture / tannin common to many of the barrel samples – a quality that I liked – and Paul feels that's mainly from the youthful tannins. He told us that he prefers picking fruit at lower brix to retain complexity and an "edginess" in the wines.
We walked back upstairs to the tasting room and Paul poured us three library wines from magnum that had been opened earlier. First was a 2000 "Quintet", a blend of the five major Bordeaux varieties. The "Quintet" bottling is not produced every year – there won't be any from the 2014 vintage – and it's meant to be more elegant expression than the varietal wines. Paul mentioned that 2000 was not his favorite vintage early on but it has aged well, and based on this wine, I certainly agree with him. We followed this with a 2002 Cabernet Sauvignon and a surprisingly youthful 2000 Reserve Syrah. Paul finished our tasting with a couple of current releases, a 2014 Cabernet Sauvignon (this one is 100% varietal), and a non-vintage Port – mainly 2006, 2012, and 2013 vintages, blending the slightly oxidized older wine with fresher younger wine.
Paul was a terrific host, and Eric and I had a great time visiting with him at Madroña. From the few tastes I'd had of Madroña's wines in recent years – including their very nice Nebbiolo – I realized that this was a winery I needed to revisit, and I'm so glad that I did. Although we didn't have time to sample more than a couple of their current releases, it was apparent from the tank and barrel samples as well as from the library wines that Madroña's quality is high across the board. Paul and the entire Bush family do a first-rate job and it shows in the wines. I thought the highlights among the tank and barrel samples included the Grenache Rosé (with a little Barbera Rosé blended in), Barbera Rosé, Malbec, Syrah, and Cabernet Franc, while the 2000 "Quintet" and 2000 Syrah were both showing exceptionally well. It doesn't hurt that most of the Madroña wines are true bargains as well, when compared with those of similar quality from other California wine regions. I'll be sure to visit Madroña again, and to make time for Rucksack as well, before too long.
The Sierra Foothills is one of my favorite California wine regions to visit. There's plenty of wine history in the area – some of the state's oldest continuously-producing vineyards are there – and I often discover one or two promising producers during my trips there as well. I hadn't been to Madroña in many years but found that they're making some very fine wines, and Sentivo seems like it could be a new winery to watch in El Dorado's Fair Play appellation. Though I was a bit more familiar with Baiocchi's wines, I hadn't tasted them in a few years and it was good to see that they're still solid choices. And Cedarville, a longtime favorite in Fair Play, continues to produce some of the best wines in the Foothills.
One thing that struck me when visiting these wineries was that they demonstrated different and distinctive styles but that the winemaking was light-handed enough that it still highlighted vintage variations. As always in the Sierra Foothills, the better producers offer exceptional value for the quality of their wines, especially Madroña and Cedarville among the four that Eric and I visited. And as I've noted before, it's very likely that you'll meet the winery owner or winemaker at tasting rooms throughout the region, something that's not true in much of California wine country.
While visiting the Sierra Foothills wine region does require a bit more travel time – because of that, planning ahead is a wise move – the payoff is worth it. As always, thanks to everyone that we visited for being so generous with their time and their wine!