Bichi Wines
Baja California's Bichi label was one of the finds for me at last year's Brumaire tasting, and though I didn't find as many of their wines to my liking this time, I did think their floral, spicy, and earthy 2015 Tempranillo was noteworthy.
Bow & Arrow
This was my first experience with Scott Frank's Bow & Arrow wines, and they turned out to be one of my favorite producers at the tasting. An urban winery based in Portland, the wines are inspired by those of the Loire Valley. Both of their white wines were highlights – the 2015 Melon, with bright pear and apple notes, and the 2015 Sauvignon Blanc, with floral and herbal citrus aromas and a crisp finish. Also very good was the herbal and earthy 2015 "Air Guitar" (60% Cabernet Sauvignon, 40% Cabernet Franc).
Broc Cellars

Berkeley's Broc Cellars poured a couple of standout wines. The 2016 Sparkling Chenin Blanc featured bright, earthy pear fruit and a slightly sweet finish, while the 2012 Mourvèdre, from Luna Matta Vineyard, was meaty, smoky, and finished with a stony mineral note.
Celler Escoda-Sanahuja

Celler Escoda-Sanahuja made its second appearance at Brumaire, and their 2013 "La Llopetera" was the highlight of their line-up this year. This wine is a Pinot Noir – from the winery's base in Catalonia – and had raspberry notes along with spice and earth overtones.
Clos Saron
From California's northern Sierra Foothills, Clos Saron poured a strong wine line-up. Standouts were the 2015 "Carte Blanche" blend of Albariño and Verdelho, with floral and pear aromas and fine acidity, and the 2013 "Stone Soup" Syrah (co-fermented with about 10% Viognier), with dark fruit, herbs, and floral notes plus youthful tannins. Two wines from 1998 that vintner Gideon Bienstock had on hand were a nice bonus – the earthy 1998 "Once Upon A Time" Pinot Noir and still youthful 1998 "Black Pearl" Syrah-based blend.
Domaine Bobinet

Domaine Bobinet comes from Saumur in the Loire Valley, with a focus on Chenin Blanc and Cabernet Franc. My favorite of their wines at the tasting was the 2015 "Les Gruches", a Chenin Blanc that had earthy pear and stone fruit aromas with undertones of spice.
Domaine Dubost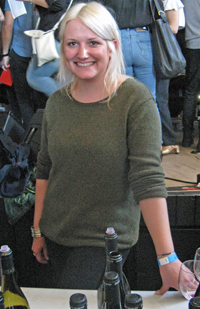 Clementine Baste
Being from Beaujolais, it's no surprise that Domaine Dubost works with Gamay fruit. This was my first time trying their wines, and all three that I tasted were standouts. The 2015 Brouilly Cuvée de Vielles Vignes comes from 80 year-old vines, and featured beautiful floral aromas, red fruit, and vibrant acidity. The 2014 Fleury had an earthier profile, along with black cherry and spice, with a lively texture. The 2015 Moulin-à-Vent displayed great purity of cherry fruit, with undertones of flowers, herbs, and earth, and a juicy acidity on the palate. Strong wines across the board.
Finca Parera

From the Penedès region of Catalonia, this was Finca Parera's debut appearance at Brumaire. I thought the highlight of their wines was the 2014 "Sassó", made from 100% Xarel·lo, a Catalan grape mostly grown for use in Cava. Aged in acacia barrels, the "Sassó" displayed fresh pear and stone fruit aromas, earth, and a touch of spice.
J. Brix

J. Brix is one of a handful of producers helping to make a name for wine from San Diego County fruit. I thought the standout of their line-up was the 2015 "Rougarou" Carignan from 38 year-old vines at McCormick Ranch in San Diego County – dark fruit, earth, spice, and good structure. Their 2016 "Coloborum" Pét-Nat Riesling from Santa Barbara County's Kick-On Ranch was nice as well.
La Clarine Farm

From El Dorado County in the Sierra Foothills, La Clarine Farm produces a number of distinctive varietals and blends from fruit grown in their area. My favorite was their 2015 Syrah from Sumu Kaw Vineyard, with pure dark berry fruit along with notes of flowers, herbs, earth, and black olives. Also nice was the earthy, spicy 2015 "Piedi Grandi" blend of Nebbiolo and Mourvèdre, also from Sumu Kaw.
La Lunotte

La Lunotte is located in the Touraine region of the Loire Valley. They poured two wines at Brumaire, and the standout was their 2014 "La Bulotte", a Pét-Nat Cabernet Franc. Lightly sparkling, this featured pure red fruits with hints of flowers and stony minerals, with fine acidity – very tasty.
La Onda

Dani Rozman of La Onda sources much of his fruit from the northern Sierra Foothills, but I thought the highlight of his wines was one made with fruit from the Maule Valley of Chile. The 2015 Cinsault/Pais comes from old vines, with about 70% Cinsault and 30% Pais (known in California as Mission). With earthy red fruit, spice and a savory component, this was a very distinctive wine.
Lo-Fi Wines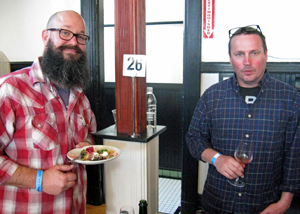 Mike Roth, Craig Winchester
Lo-Fi hails from Santa Barbara County, and much of their fruit comes from that area. Their 2016 Pét-Nat Rosé (from Mourvèdre) had 12 hours of skin contact for the fruit prior to pressing – quite pleasant, lightly sparkling with fresh berry and earth aromas. Another highlight was the 2014 Cinsault from Demetria Vineyard, with bright, savory red fruit and fine acidity. The 2015 Gamay/Pinot Noir (90% Gamay) and 2015 Cabernet Franc – both made using partial carbonic fermentation – were also winners, the Gamay/Pinot with earth, cherry, and herb notes, and the Cab Franc with a more fruit-forward herbal profile and a grippier finish. Nice wines across the board for Lo-Fi, one of the best showings of the day.
Manoir de la Tête Rouge

From Saumur in the Loire Valley, Manoir de la Tête Rouge focuses on wines from Chenin Blanc, Pineau d'Aunis, and Cabernet Franc. Their 2015 "K Sa Tête", from Pineau d'Aunis, was a standout, with earth, black cherry and plum, and herbs, with juicy acidity. The 2014 "Tête de Lard", from Cab Franc, was also good – more upfront fruit plus herbs and black pepper.

Mendall

From the Terra Alta region of Catalonia, Mendall poured their wines for the second time at Brumaire. My favorite this year was the 2015 "BB" – the wine name comes from Bernatxa Blanc, Catalan for Garnacha Blanca. Earthy and spicy with pear and citrus aromas with medium body and a lively finish.
Methode Sauvage

Chad Hinds' Methode Sauvage label specializes in Chenin Blanc and Cabernet Franc, sourced from various northern and central California sites. A couple of the wines were highlights at the tasting. The 2016 Chenin Blanc, from Vista Verde Vineyard in San Benito County, displayed earth, pear and stone fruit, with a hint of wet stones and vibrant acidity on the palate. The 2015 Cabernet Franc, from Bates Ranch in the Santa Cruz Mountains, had upfront herbs with red and black fruit, a touch of black pepper, great structure, and fine tannins.
Oriol Artigas
Catalonia's Oriol Artigas was one of the finds of the day for me. The 2015 Mas Pellisser Vi Blanc, made from Godello and Xarel·lo grapes, had bright citrus aromas with earth and stony mineral notes, while the 2015 La Rumbera is mostly from the Pansa Blanca grape variety, and featured more body and spice, but retained the minerally quality. From older vines with three days on the skins before pressing, the 2015 Peça d'en Blanch Blanco (75% Pansa Blanca and 25% Pansa Rosada) had a deeper color with pear, earth, and savory herb notes. The 2015 Peça d'en Blanch Negra is mostly from Garnacha, with bright red fruit, herbs, and earth, in a lighter style. Terrific wines all around from Oriol Artigas.
Pain & Glory Cellars

Many people have been eagerly awaiting the first releases from Chris Scanlan's Pain & Glory label. It sounds like the initial release will come this spring, and judging from the development of several of these wines since last year's tasting, it will have been worth the wait. Both sourced from Demetria Vineyard, the 2013 "Hüginn & Müninn" (90% Syrah and 10% Viognier) and 2013 "The Wyrd" (Grenache and Mourvèdre plus 3% Roussanne) were good last year and have taken a step up this year, particularly the floral, savory, and minerally "Hüginn & Müninn". A barrel sample of 2015 Chenin Blanc, fermented on the skins, showed good potential as well.
Purity Wines

Noel Diaz makes his Purity Wines on Treasure Island in San Francisco Bay, but much of his fruit comes from the northern Sierra Foothills. His pre-release 2016 Mourvèdre Rosé was a standout, with pretty floral aromas plus red fruit and earth notes and a clean finish. The 2015 Syrah (with a little Carignane) was also promising.
Ruth Lewandowski

Evan Lewandowski sources his fruit from Mendocino County, though his base of operations is in Salt Lake City. He poured several noteworthy wines at Brumaire. The 2015 "Naomi" is Grenache Gris from Gibson Ranch – nearly clear in appearance, with fresh pear and stone fruit character, while the Carignane-based 2015 "Boaz" blend, from Testa Vineyard, showed berry and earth notes with bright acidity. The 2015 "Chillon" – Cortese from Fox Hill Vineyard – spent six months on the skins and featured an intriguing spicy and slightly cheesy phenolic character.
Selvadolce
Selvadolce, from Liguria, was the sole Italian representative at this year's Brumaire tasting, and they poured a strong line-up, featuring wines from Vermentino and Pigato (which may be a distinct clone of Vermentino). The pear, saline, and stony aromas of the 2015 "Crescendo" Pigato were quite distinctive, while the 2012 "Rucantu" Pigato, from older vines, showed a mildly petrol character along with the stony mineral quality. A barrel sample of 2015 "VB1" Vermentino, pressed after three weeks on the skins, was promising, with fresh pear and spice notes. This was my first experience with the Selvadolce wines, and I was impressed.
Sot de l'Ange

Sot de l'Ange is based in Azay-le-Rideau in the Loire Valley. This was the first time I tasted their wines, which were strong across the board. Two whites from Chenin Blanc were highlights – the 2015 "Sec Symbole" featured fresh and juicy apple and citrus flavors, while the 2015 "Le Goujonnière" had floral and earthy notes with bright citrus fruit. The 2013 "Rouge G", a blend of Grolleau and Gamay, combined cranberry fruit with a stony mineral character and vibrant acidity.
Stirm

Stirm's Rieslings were very good at last year's tasting and the same was true this year. My favorite was the 2015 "Eloian" Riesling sourced from Kick-On Ranch – with about 24 hours on the skins and made entirely in stainless steel, this displayed bright citrus aromas with a floral touch, plus stony mineral and petrol notes. Also of interest was the 2016 "Los Chuchaquis" Rosé from Enz Vineyard – from Mission, Mataro, Carignane, Zinfandel, and other varieties, this was earthy with bright red fruit and juicy acidity.
Swick

Swick, based in the Willamette Valley, was a new producer to me. The floral 2016 Verdelho and more phenolic 2016 Grenache Blanc (spent one month on the skins) were both nice, but the 2015 "Hibernation" Pinot Noir from Cancilla Vineyard was my favorite of the Swick wines – made entirely in concrete, this had earthy, smoky black cherry aromas with herbal undertones.
Thee & Thou

John Donaghue's Thee & Thou wines are made on Treasure Island in San Francisco Bay. His pre-release 2016 Albariño showed promise, while the 2014 "Thee & Thou" Syrah/Grenache blend from Demetria Vineyard was the standout of the reds, with dark fruit, herbs, earth, and a stony mineral note.