Visit to Castelli Vineyards - August 2017
I had spent an early-August weekend visiting some Mendocino County vineyards, wineries, and tasting rooms, and I was set to return home to the East Bay on Monday. But along the way, I thought I would stop in to visit Castelli Vineyards in Sonoma County so I made an appointment there for Monday morning. I had stayed in Ukiah on Sunday night, and drove south for about an hour along Highway 101 until I reached the Russian River Valley region, then headed west until I reached my destination along Green Valley Road.
Tasting Notes: Barrel Samples

Castelli 2014 Nebbiolo, "Fosco," Estate, Green Valley of Russian River Valley (barrel sample). This had somewhat darker color than many Nebbiolos, and featured plenty of upfront red fruit along with notes of flowers and earth. Medium weight with fine acidity and moderate tannins.

Castelli 2014 Nebbiolo, Green Valley Farm, Green Valley of Russian River Valley (barrel sample). A bit lighter garnet color, and showing more spice and earth aromas than the previous wine, plus flowers, herbs, and cherry fruit. More structured mouthfeel with a bigger tannic finish.

Castelli 2013 Nebbiolo, Luna Matta Vineyard, Adelaida District, Paso Robles (barrel sample). Bright cherry aromas along with flowers and tar on the nose. Medium weight with a lively texture and firm tannins on the finish – this needs more age but has lots of potential.

Castelli 2013 Nebbiolo, Estate, Green Valley of Russian River Valley (barrel sample). This displayed the most floral aromatics of the barrel samples, along with spice, red fruits, earth, and a smoky note. Plenty of structure on the palate, with big but surprisingly refined tannins – another promising wine that deserves time in the cellar to develop further.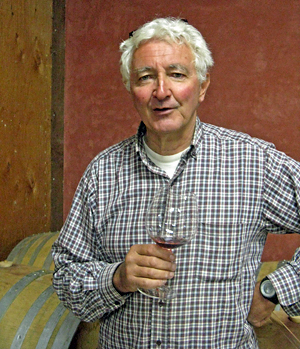 I'd first met vintner Emilio Castelli of Castelli Vineyards in 2011 during an informal gathering of California Nebbiolo producers called NEB (Nebbiolo Enthusiasts and Believers) that was organized by noted wine writer Tom Hill. Emilio's wines there were among the best of the day, and I was particularly intrigued that he was able to grow Nebbiolo – a notoriously tough grape variety to work with – in as cool and foggy a spot as his vineyard in Green Valley of Russian River Valley. Hard to say why it had taken me six years to visit him at his vineyard, but I finally made it happen this year!
True to the typical Green Valley climate, it was foggy when I arrived at Castelli Vineyards around mid-morning. This is the coolest part of Russian River Valley, and in fact it overlaps with the Sonoma Coast AVA. I'd parked and was getting a few things out of my car when Emilio's wife Laura emerged from the nearby house and said that he would be right out. He soon came out and welcomed me to the vineyard. Emilio is originally from the village of Bellano, on the shores of Lake Como in the Lombardy region of Italy. He has noted that his grandfather had a wine cellar with many fine bottles from Piemonte, Valtellina, and Burgundy. Emilio first came to the US for school, and he earned a degree in engineering from Tufts University in the late 1970s – he later got an MBA degree from UC Berkeley. He moved to Sonoma County in 1995. Besides growing grapes and making wine, Emilio has a passion for racing boats on San Francisco Bay, and he's a member of the Santa Rosa Sailing Club.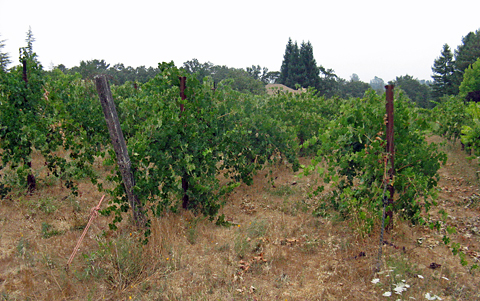 Estate Nebbiolo vines
Emilio's estate vineyard is adjacent to his home, on a two-acre property along Green Valley Road, roughly halfway between Sebastopol and Forestville, near the small town of Graton. I asked Emilio how he initially became interested in being a grapegrower and winemaker. His reply was not unlike some other vintners I've visited over the years – he was planning to just grow a few vines and make a little wine for his family and friends, but one thing led to another and his hobby got out of hand! Emilio began the original plantings at his vineyard in 1997 with Nebbiolo and Sangiovese, followed by Zinfandel. Those early plantings have vine rows running east-west, while more recent plantings – in 2005 and 2007 – have north-south rows and closer vine spacing. The soil is Goldridge sandy loam, the well-known soil type that's found throughout much of the Green Valley region. There are various rootstocks in different parts of the vineyard, and several clones of the grape varieties. The Zin vines were grafted to Nebbiolo in 2005, and most of the fruit from the younger vines goes into the Castelli "Fosco" Nebbiolo bottling. There are also about 20 Cabernet Sauvignon vines, and Emilio makes a few cases each year (all of three cases from the 2012 vintage!) for family and friends. There are currently a total of about 1½ acres planted at the estate vineyard, plus one acre of Nebbiolo that Emilio planted at a neighbor's property in 2007 and continues to farm.
Two things separate Emilio's farming from that at most vineyards in the area. He is a strong proponent of dry-farming – that is, farming with no irrigation. While it does take some added water to establish young vines, he's typically been able to dry-farm them by the third year – the Goldridge soil allows the vine roots to penetrate deep into the ground. Emilio feels that avoiding irrigation allows the vineyard to express itself more fully in the wines. While an increasing number of California vineyards have converted to dry-farming in recent years, it is still relatively uncommon here. His farming practices also follow the writings of the late Masanobu Fukuoka, a Japanese rice farmer and author of the books "The One Straw Revolution" and "The Natural Way of Farming." Emilio related to me that when he started to gain a serious interest in viticulture and winemaking, he joined internet groups in the US, France, and Italy to learn about practices in those countries, and he read just about everything he could about the subjects in those languages. He said that once he came upon Fukuoka's writings, he was hooked. These farming practices are very unusual for vineyards in California – I've only run across one other vineyard here (La Clarine Farm in El Dorado County) that is farmed in this way.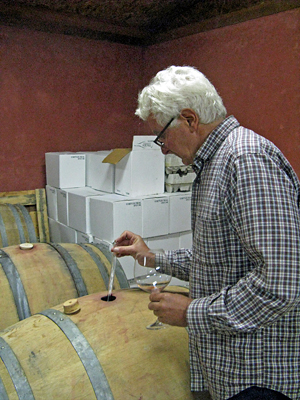 The underlying idea of farming according to Fukuoka's philosophy is to do nothing that is not necessary to grow the grapes. For example, many grape-growers regularly spray sulfur on their vines to protect from powdery mildew every year – Emilio told me that he has not needed to spray anything in the vineyard since 2011. Farming is by definition a human intervention, but doing as little as possible is the goal. Fukuoka's ideas have sometimes been translated as "do-nothing" farming, but that's not exactly the truth – as with any farming, it's not easy work. Still, Emilio does not till his vineyard and adds no outside fertilizers, and his vines remain healthy. The native cover crop is mowed occasionally to return nutrients to the soil. As you might expect given these farming practices, Emilio's vineyard looks somewhat wild and unkempt compared with most California vineyards, even those that are farmed using organic or biodynamic methods. The appearance suggests that man and nature are each more-or-less equal partners in the vineyard.
In addition to his estate vineyard adjacent to his home, Emilio farms a couple of nearby vineyards, and he suggested that we go take a quick look at them – a field trip, fun! We hopped into Emilio's car and headed a few miles farther west along Green Valley Road until we reached Green Valley Farm + Mill. This site was originally known as Giovannini Ranch, dating from the 1890s. After a couple of ownership changes, most of it became a communal farming community in 2006. Working with the owners at that time, Emilio's friend Brent Walker planted Nebbiolo and Pinot Noir in one portion of the property in 2011. Emilio was able to get fruit from there from 2013 to 2015, but after another change of ownership, the vines were not tended well in 2016. Emilio was able to step in and started farming it in 2017 – he's hoping to get some fruit again this year. There are about four acres planted, two acres each of Nebbiolo and Pinot Noir plus a tiny bit of Arneis. Like Emilio's own vineyard, the vines at Green Valley Farm are dry-farmed.
After taking a look at that site, we headed back toward Emilio's house but turned down a small side road to check out another vineyard. This one is a tiny half-acre site, more of a "backyard" vineyard that Emilio planted for friends in 2013 and continues to farm. He calls it Tom and Mary's Vineyard and it's also planted to Nebbiolo. The vines are now sufficiently established that they are in their first year without any irrigation, and Emilio was expecting to harvest the first fruit from the site this year. I should mention here that there several clones of Nebbiolo planted or grafted among the various sites that Emilio is farming, although he feels that vineyard location, farming practices, and possibly rootstock are more significant factors than clone when it comes to Nebbiolo fruit.
We returned to Emilio's place and he led me into his small winery building, adjacent to his house. Completed in 2008 – just in time for the first commercial vintage of Castelli wines – the winery is strawbale construction, with 24-inch thick stacked bales of rice straw providing the wall structure, and a plaster finish. The thick walls insulate the winery well enough that there is no need for mechanical heating or cooling, and solar panels on the roof provide power for both the winery and house. During my visit, the temperature inside the winery was 63 degrees, and Emilio said that's about as warm as it ever gets.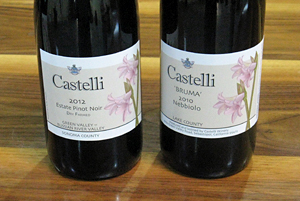 Emilio's winemaking follows a minimal-intervention philosophy similar to that of his farming. He has mentioned the work of the late French vintner and chemist Jules Chauvet – often regarded as the father of the modern natural wine movement – as an influence. All of the Castelli wines are fermented with native yeasts – with the cool cellar conditions, fermentation can sometimes take quite some time to complete, but Emilio does not try to push it along. He does some whole-cluster fermentation on the Pinot Noir and he told me that he plans to try this with the Nebbiolo as well. No additions are used during the winemaking process, other than a small amount of SO2 added after malolactic fermentation is finished and again shortly before bottling. The wines are aged entirely in neutral oak, and they are not fined or filtered. Everything at the winery is very small-scale and low-tech, and moving the wine is done by gravity flow rather than pumping.
Emilio asked me if I wanted to try a few barrel samples – something I rarely refuse! He told me that he doesn't taste through his barrels very often, so this would be interesting for him as well. We focused on Nebbiolo, starting with a fruit-forward 2014 Nebbiolo from the younger estate vines that will go into the "Fosco" bottling. We followed this with the 2014 Nebbiolo from Green Valley Farm, which had a bit lighter color but more floral and earth notes as well as a grippier structure. Both of these 2014 Nebbiolos will spend about another year in barrel before bottling. Emilio said that he would like to get a puncheon to age the Green Valley Farm Nebbiolo in future vintages.
We finished up with two 2013 Nebbiolos, which Emilio told me would both be bottled not too long after my visit and released in Spring 2018. The first of these wines was from Luna Matta Vineyard, located in the Adelaida District on the Westside of Paso Robles. This featured the floral red fruit and tar aromas characteristic of the variety. The final barrel sample was the 2013 Estate Nebbiolo – this is already a standout and should only get better with more time to develop.
Current Castelli releases include Green Valley Estate Nebbiolo and "Fosco" Estate Nebbiolo, Luna Matta Vineyard Nebbiolo, Estate Sangiovese, "Bruma" Lake County Nebbiolo, Estate Pinot Noir, and Two Dog Vineyard Russian River Valley Pinot Noir. In the past, Emilio had produced Nebbiolo bottlings from Sisquoc Vineyard and Stolpman Vineyard in Santa Barbara County, a few other Russian River Valley Pinots, a Nebbiolo Rosé and a Pinot-based blend. Starting with the 2014 vintage, all of the Castelli wines will come from estate-grown fruit. Current total annual production is about 300-400 cases, and prices are very reasonable, ranging from $16 to $34.
I was glad that I finally was able to get together with Emilio to see his vineyard – it was a very enjoyable visit. It was an unexpected bonus to have him show me the other two vineyards nearby that he's farming as well. Emilio's farming methods set him apart from most grapegrowers, and it was quite interesting to see his vineyard sites. The vineyards look different than most but the results – in the fruit that the vines produce and the wines that Emilio makes from them – speak for themselves. I tasted the current 2012 Castelli Estate Nebbiolo a couple of months before my visit, at the NEB event of California Nebbiolos, and it was one of my favorite wines there. The current 2012 Luna Matta Vineyard Nebbiolo bottling was also very good – there's no question that Emilio is making some of the best Nebbiolo in California these days. The 2013 barrel samples from these two vineyards show that these should also be standouts. Castelli is a tiny producer that's well below the radar, but it's certainly worth checking out.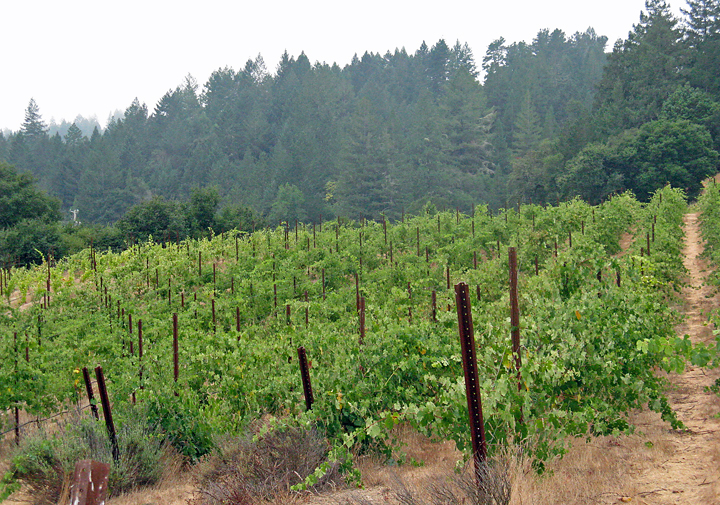 Green Valley Farm vines