Dirty and Rowdy Family Wines - April 2017
Tasting Notes: Current Releases & Barrel Samples

Dirty and Rowdy 2016 Mourvèdre, "Especial," Alder Springs Vineyard Mendocino. Light color, almost rosé-like, this had bright and savory aromas – black cherry, fresh herbs, earth, and touches of stone fruit and stony minerals. Light and fresh mouthfeel with light tannins and a clean finish – very nice rendition of a lighter Mourvèdre.

Dirty and Rowdy 2016 Mourvèdre, "Familiar," California. 85% Mourvèdre plus 5% each Petite Sirah, Carignane, and Zinfandel. Beautiful floral aromas along with earth, fresh plums, and wet stones. Nice texture with moderately chalky tannins – another nice light Mourvèdre with a bit more structure than the "Especial" bottling.

Dirty and Rowdy 2015 Mourvèdre, Skinner Stoney Creek Vineyard, El Dorado. Upfront floral aromatics with a riper black cherry fruit component, spice, and herbal undertones. Medium weight with a richer mouthfeel than the first two wines, finishing with chalky tannins – quite pleasant now but should be good for medium-term cellaring too.

Dirty and Rowdy 2014 Mourvèdre, Antle Vineyard, Chalone. A bit darker in color, this showed more of the slightly stemmy whole-cluster character on the nose than the earlier wines, along with raspberry fruit, and notable earth, spice, and savory elements. Bigger structure with a firm tannic grip, this will need more time to show its best.

Dirty and Rowdy 2016 Viognier, Alder Springs Vineyard, Mendocino. Stone fruit and citrus aromas with slightly floral undertones. Zippy acidity with a stony mineral quality on the finish, a refreshing rendition of Viognier.

Dirty and Rowdy 2016 Mourvèdre, Shake Ridge Ranch, Amador (barrel sample). This showed ripe, upfront red fruit, with savory herbal notes in support. Nice texture with moderate tannins.

Dirty and Rowdy 2016 Mourvèdre, Antle Vineyard, Chalone (barrel sample). Plenty of spice aromas on this wine, along with savory notes and a darker fruit character than the Shake Ridge. Bigger and more structured, but the tannins were not aggressive.

Dirty and Rowdy 2016 Mourvèdre, Enz Vineyard, Lime Kiln (barrel sample). A bit darker color, with aromas of blackberry and earth, plus a meaty quality. This had plenty of structure and a fairly grippy tannic finish – good potential.

Dirty and Rowdy 2016 Petite Sirah, "Spring Street Vineyard," Napa Valley (barrel sample). Very dark color, with mocha, blackberry, earth, and lots of black pepper on the nose – quite Syrah-like in character. Bright and lively on the palate, with big but not aggressive tannins on the finish – very promising young Petite.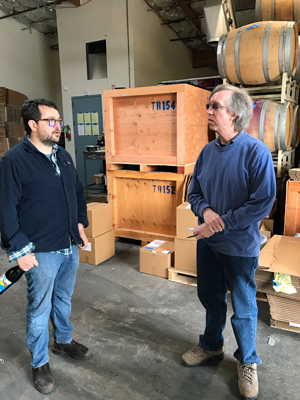 I'd first run across the Dirty and Rowdy wines in spring 2013 at the Seven % Solution wine tasting in Healdsburg, and they intrigued me right away. Hardy was first introduced to fine wine when he was working in technology sales in Atlanta. With the company he worked for footing the bill, he was able to order highly-regarded wines at sales dinners. When the economic downturn hit in 2008, he found his wine budget cut back but he took that as an opportunity to learn more about interesting but less pricey wines than the Bordeaux and Napa Cab he'd impressed clients with before. Ultimately, Hardy was laid off from his job, and with increasing interest in wine, he thought about making a change to work in the wine industry. The timing turned out to be perfect, as Murphy-Goode Winery in Healdsburg was promoting a contest to become the winery's "lifestyle correspondent" – they called it "A Really Goode Job." Hardy entered the contest with a video made by his friend Matt Richardson, and he won the job over 2,000 other applicants.
After his successful gig with Murphy-Goode was completed, Hardy decided he wanted to stay in Northern California wine country. He worked for a time with Kevin Kelley at Salinia Wine Company, then spent a summer working in the vineyard with noted grower Ann Kraemer at Shake Ridge Ranch in Amador County. He went on to work with Ehren Jordan of Failla Winery during crush in 2011 and then for about 1½ years with Cathy Corison of Corison Winery. By this time, Hardy had already established Dirty and Rowdy Family Wines, along with Matt Richardson and their wives Kate and Amy, and Hardy has made the winery his full-time job since 2013. Matt and Amy still live in Atlanta, though the long-term goal is for them to move to California to become a more hands-on part of the business. It's sometimes asked "who's Dirty and who's Rowdy?" The names come from blogs that Hardy and Matt had each started in Atlanta – Hardy's was Dirty South Wine, and Matt's was Rowdy Food. During our visit with Hardy, he often referred to Matt as "Rowdy." Wonder if Matt calls Hardy "Dirty" – that's a question for another time!
Dirty and Rowdy has become known for Mourvèdre, one of the very few California wineries to focus on this variety. But that's not at all what Hardy and Matt had originally envisioned. The plan was to make some wine in 2010 (while Hardy was working for Kevin Kelley), but they'd hoped to make a skin-fermented dry Muscat. An unusually cool summer that year led to many growers doing aggressive leaf-pulling in their vineyards, then a couple of late summer heat spikes resulted in a lot of that exposed fruit getting burned by the hot sun, including the Muscat. The same fate befell the fruit for Hardy's second choice, a dry white Zinfandel. A third option – Petite Sirah – rotted on the vine due to harvest season rains before the fruit was ripe. With harvest season starting to wind down and options for fruit dwindling, Hardy heard about a small amount of Mourvèdre available from Santa Barbara Highlands Vineyard, a high-elevation site in eastern Santa Barbara County. He and Matt decided to take a shot with this, and since Hardy was a fan of Cru Beaujolais and Loire Valley reds, he thought he'd try to make the wine in a similar, lighter style. The two barrels of this initial Mourvèdre created an immediate buzz, and ever since, demand has exceeded supply for Dirty and Rowdy.
The winery has grown from that initial one-ton lot of Mourvèdre in 2010 to the equivalent of around 3,700 cases in barrel for the 2016 vintage. In 2011, Hardy connected with Ann Kraemer at Shake Ridge for Mourvèdre fruit from her vineyard, and he's added more vineyards for Mourvèdre since then – now up to nine of them. Hardy told us that he would like to grow the label to about 5,000 cases per year in the short term, mainly by increasing the production of the white and red "Familiar" blends that use fruit from multiple vineyard sources. The longer-term goal is to reach the 10,000-case level so Matt and Amy can move to California to become more involved in the project. Hardy used to make his wines at Punchdown Cellars in Santa Rosa (the old Copain Custom Crush) but moved his production of white wines to the Cruse facility in 2013 and moved all his production there in 2016.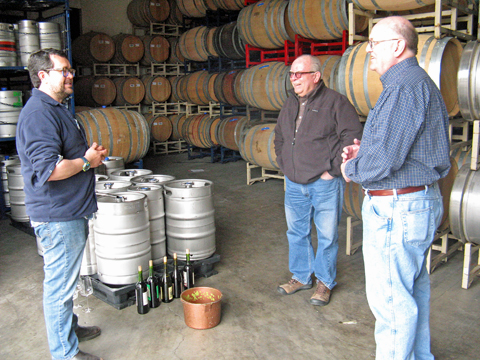 Hardy led Eric, Michael, and me back through part of the winery, showing us some features along the way. There are a few concrete fermenters along with a number of stainless steel tanks. Hardy told us that he likes concrete for the cooler and consistent fermentation temperatures it provides. He uses concrete to ferment most reds, but other than a few wines that are aged in smaller concrete eggs, everything is aged in stainless steel tanks or neutral barrels. Hardy is known for minimal intervention in his winemaking, but he said that he's not dogmatic about his methods. He uses whole-cluster and whole-berry fermentation for the reds, and often a portion of the white grapes undergo skin-contact fermentation. Fermentations are not inoculated, and Hardy stays away from additions of water, acid, nutrients, etc. in the wines. Reds are generally pressed right away when they go dry, and the barrels for aging (almost all are barriques) range from 4 to 12 years old. Single-vineyard Mourvèdres spend about 10-12 months in barrel, with some spending more time in bottle prior to release than others. Typically anywhere from 25-60% of the barrels for each Mourvèdre go into the vineyard-designated bottlings, while the rest go into the larger "Familiar" blend.
Hardy aims for a consistent winemaking style – nearly all the Mourvèdres are made in a very similar way – so that the vineyard distinctions of each wine show through clearly. His goal is to source from interesting and distinctive sites, so the wines are easily distinguished from one another – after tasting a number of the single-vineyard Mourvèdre bottlings, that's something he's done very well. Hardy feels that Mourvèdre is capable of showing more terroir than most people give it credit for, and it can be made in all sorts of styles from rosé to lighter reds to bigger but still-balanced reds. While there is a range from lighter to bolder in the Dirty and Rowdy wines, they maintain remarkably modest alcohol, mostly in the 12-13% range.
Besides Mourvèdre, Dirty and Rowdy has been known for its Sémillon, which has been partly fermented on the skins. They haven't made any since 2014 (they lost access to the vineyard) but they should have a new source starting in 2018. The other wine they're known for is Petite Sirah – they make three different bottlings from this variety, from Mendocino County plus a new one from Napa Valley. In addition to their "Familiar" Mourvèdre bottling, Dirty and Rowdy also makes a "Familiar Blanc" – a blend that has included Chenin Blanc, Pinot Blanc, Chardonnay, Melon de Bourgogne, Roussanne, and Viognier, some of which is skin-fermented. They also make smaller amounts of Viognier, Chardonnay, Cabernet Sauvignon, and a sparkling Pinot Blanc. In addition, Dirty and Rowdy teams up with Cruse Wine Co. on a Furmint from Alder Springs Vineyard. The two "Familiar" bottlings are the largest-production wines, and they have wider distribution than the others, which are generally only available through the winery's mailing list and website.
Hardy started us off on tasting some of his current bottlings, beginning with the 2016 "Especial" Mourvèdre, made for early release and early drinking. It was fermented with whole clusters – and mostly whole-berry – in an open-top concrete fermenter, then pressed early to finish in concrete eggs, with no sulfur added until just before bottling. The vineyard composition of the "Especial" varies from year to year, and it was 100% Alder Springs fruit in 2016. This site, in far north Mendocino County, has numerous vineyard blocks, with this one being on a south-facing slope at 2,400-foot elevation with sandstone soil. An unusual but very pleasant lighter take on Mourvèdre – Eric described it as "Gamay-like."
The 2016 "Familiar" Mourvèdre bottling is just being released. Made more for freshness and drinkability when young than the single-vineyard bottlings, the 2016 vintage was sourced from about 50% Antle Vineyard in the Chalone appellation, plus some from Shake Ridge and a little from the old vines of Evangelho Vineyard in Contra Costa County. It's an early-drinking rendition of Mourvèdre with more heft than the "Especial." We continued with two single-vineyard Mourvèdre bottlings, a 2015 from Skinner Stoney Creek Vineyard and 2014 from Antle Vineyard. Located in El Dorado's Fair Play region, the Stoney Creek site has granitic soil. Hardy also makes a Mourvèdre from Skinner White Oak Flats, farther north and at a lower elevation. I thought the Stoney Creek bottling was almost Pinot-like in its floral aromatics and seamless texture. Antle Vineyard was planted by longtime Chalone vintner Dick Graff in the limestone and granite soil that the Chalone region is noted for. This bottling spends more time in bottle before release due to its more tannic structure – something that most red wines from the region are noted for.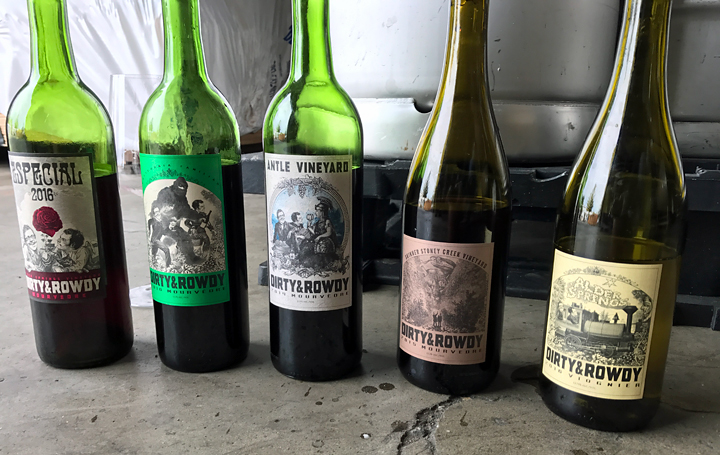 The final bottled wine that Hardy poured for us was the winery's first Viognier. He told us that Viognier has generally not been a favorite of his as a varietal, but he found that this wine was something different. He's used some Viognier from Alder Springs in the "Familiar Blanc" blend, typically making an earlier and later pick there. In 2016, Hardy liked the first pick well enough to release on its own. It was fermented in older oak and then transferred to a concrete egg. Unlike too many soft and over-ripe California Viogniers, this one has great energy to it.
I should note the distinctive and humorous labels of the Dirty and Rowdy wine – instantly recognizable and featuring light-hearted caricatures of Hardy and Matt in different situations. We noticed the closures used for the wines – Nomacorc closures with material derived from sugar cane, they have controlled oxygen transfer, plus they're recyclable and have a low carbon footprint. A few bottlings that are meant for longer-term aging will still get high-quality natural cork closures, including a special 2016 Petite Sirah we had a chance to sample.
Discussing recent vintages with Hardy, he feels that the 2014 and 2015 wines will have long aging potential. He also told us that he's "almost afraid" of how well the 2016 wines are coming along and how good that vintage will turn out.
Since we all had a little extra time, Hardy pulled a few 2016 barrel samples for us, starting with Mourvèdre from Shake Ridge Ranch. The site is on volcanic soil at about 2,000-foot elevation – like many Amador vineyards, it's fairly warm there though this particular site gets quite cool at night. Hardy noted that this wine is being aged partly in 600-liter demi-muid barrels as he feels they may work well with the Shake Ridge wine. Next up was a sample of Mourvèdre from Antle Vineyard, and we then tasted one more Mourvèdre, from Enz Vineyard in the Lime Kiln AVA of San Benito County. The vines there are nearly 100 years old, dry-farmed and own-rooted in mostly decomposed granite soil. Unlike most of the Dirty and Rowdy Mourvèdres, this one had an extended maceration of about 1½ -2 weeks before pressing. Hardy noted that the thick skins of the berries at Enz contribute to the tannic finish.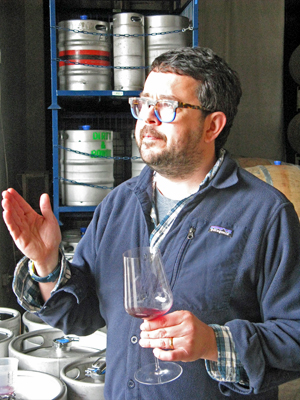 We finished up our tasting with a 2016 Petite Sirah barrel sample. This is from a new vineyard for the winery – a site next to Spottswoode near St. Helena with vines that are about 45 years old. Hardy said that the vineyard currently has no official name, and they're calling it "Spring Street" for now but it may well be called something else by the time the wine is released. This is a special wine for Hardy, as he intends it to be a birth-year wine for his daughter, born in 2016. He feels that it will have a longer aging potential than most of his wines so it should be a good choice for Hardy and Kate's daughter to have when she's old enough. The wine – though still very young – showed great potential, and Hardy feels it may be the best he's made yet. Eric called it "the best Petite I've ever had." Certainly a fine way to conclude our tasting!
This was a terrific start to our brief wine tour and it turned out to be one of the most memorable stops of the three days. I really enjoyed all of the current Dirty and Rowdy releases that Hardy poured for us, the four Mourvèdre bottlings in particular. It's hard to choose a favorite among them – they're all highly distinctive and each one fills a singular slot in the Dirty and Rowdy wine line-up, from light to bigger and from "drink now" to "put this in the cellar for awhile." I suppose if I had to choose, the 2016 "Familiar" bottling offers a great combination of drinkability and complexity. Among the 2016 barrel samples, I thought the Enz Vineyard Mourvèdre and Spring Street Vineyard Petite Sirah were standouts. I found a minerally quality to many of the wines that was quite intriguing and appealing.
I saw a different side of Hardy on this occasion. His public persona can be super-animated and sometimes a little bit crazy, but during our visit he showed his serious side. As with all good vintners, he's passionate and knowledgeable about what he's doing, and he has a clear idea of his goals and how he wants to work toward them. He's not afraid to take chances along the way, and so far the risks have paid off for Dirty and Rowdy. Hardy is continuing to make some fascinating and distinctive wines.