Napa and Sonoma Visits - December 2017
One of my annual wine traditions is a visit to Lagier Meredith Vineyard on Mount Veeder in Napa in late December. As usual, I was able to combine that visit with more wine-tasting this year, but unlike most years I was not able to find anyone to join me, so for the first time in ages I headed up there on my own. I knew that a major topic of discussion would be the devastating October wildfires that struck parts of Napa, Sonoma, and Mendocino counties. Lagier Meredith did not escape the fires unscathed but I would learn that they were more fortunate than some others in the Mount Veeder area, and this turned out to be one of the more fascinating visits I've had there.
I made the trip on the last Friday of the year, and traffic was light as I drove from Oakland to Napa. I continued along curving Dry Creek Road on the slopes of Mount Veeder to the base of the private road that leads up to the vineyard and to the house of Carole Meredith and Steve Lagier.
Friday - December 29, 2017
This write-up on Lagier Meredith is much different from my usual ones, as the wine-related part of it is really only a small portion this time. I've written about Carole and Steve a number of times, so if you need a refresher on their backgrounds and on their vineyard and winemaking, you can find that in my earlier stories about them – this one will focus mostly on the October wildfire and its aftermath.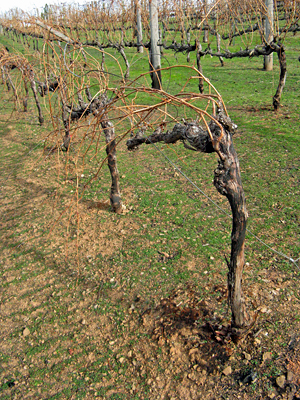 The drive up to the vineyard from Dry Creek Road was undeniably different this year. About a third of the way up the hill, I started seeing signs of the wildfire – the lower parts of some trees had scorched bark and the ground was blackened. The farther up the hillside I traveled, the more scorched trees I passed, and the more debris from the fire appeared alongside the road as well as on it. When I'd finally made my way up the steep hillside to the automatic gate leading into the vineyard, the gate was wide open and there was a repair van parked next to it. But once inside the perimeter of the vineyard fence, things looked deceptively normal and I parked next to Carole and Steve's home, which fortunately was untouched by the fire.
I was a few minutes early for my appointment, and Carole was inside the house going through newspapers from the days after the fire broke out, deciding which ones to save. Steve came up to join us shortly afterwards – he didn't seem to be in the best mood and I quickly found out why. Despite the relatively minor damage to their property in comparison to some other local sites, there was a still lot of cleanup and repair work to be done, and Steve was mired in the midst of that. Aside from the work that Steve and Carole need to take care of themselves (which is most of it), they told me that the electrical connection to their main entry gate got fried during the fire, and that workers have already had to come back to fix it several times, as each incremental repair reveals other problems that require new parts that need to be ordered. They expected that this would not be the last time the gate repair people visit them. While I was there, another worker arrived to take down three trees damaged during the fire. Steve went with him to check which trees he would be removing, as there are still a number of trees on the property that have been marked for removal by various agencies, with different levels of priority.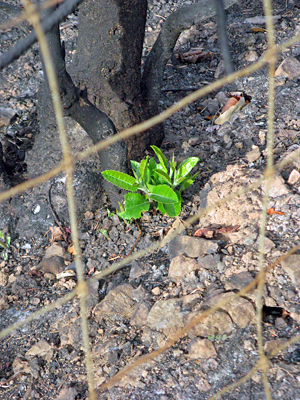 In addition to the problems with the main entry gate, the fire damaged their fence in over a dozen places and burned their other gates, so they now have deer coming into the vineyard – it's not a problem for now but the fences and gates will need to be repaired before the 2018 growing season starts, and that's not too far off. The fire melted one large plastic water tank on the property, but two others plus a concrete tank survived intact. There are also some burned vine row end posts that need to be replaced as well as some melted or burned drip irrigation lines, plus there's more brush and debris to clear from around their main access road. Steve had already replaced a number of plastic drainage culverts that melted or burned with new steel ones, racing to have the new culverts in place before the rainy season started (though there was not a lot of rain in November and it was a very dry December).
Carole and Steve were extremely fire-conscious when planning their house, built about 12 years ago. It was built with wildfire protection in mind – non-combustible exterior materials and defensible space around it. When the fire was starting to threaten their property, they cleared wood furniture off of their concrete deck and moved it away from the house, also moving away any other potential sources of ignition. The house came through the fire just fine (as did their old wooden house and the old olive trees nearby) but the wood chairs they'd moved away from the house burned and needed to be replaced. Fortunately for Carole and Steve's 2017 grape harvest, all of their fruit had been harvested and safely processed on the valley floor before the fire struck in October.
I'll get back to tasting the new release of Lagier Meredith 2015 Syrah with Carole and Steve, and jump ahead to after Steve had to take off to accompany the worker who would be removing a few trees from the property. Carole asked whether I'd like to take a look at some of the areas that were damaged by the fire as well as others that survived it with little or no apparent damage. We went downstairs and hopped into Carole and Steve's SUV, and after passing one of the burned vineyard gates, we stopped at the far southern tip of the vineyard, just above the mountain ridge that runs approximately northwest to southeast. Several of the wooden vine row end posts had burned, and some of the vines near the edge of the vineyard were noticeably scorched. Carole said that she and Steve will need to check to see how many vines are actually dead and will need to be removed, and that it may not be as many as they'd originally thought. She mentioned that this was not the most productive part of the vineyard as it's partially shaded by nearby trees, and that the fruit from this block generally goes into their Syrah Rosé. Fortunately the fire did not continue into the vineyard and stopped along that edge. Carole noted that vineyards can serve well as firebreaks since there is generally less to burn there and the vines hold more moisture than most other nearby vegetation. It's also worth mentioning something else that Carole has pointed out elsewhere – there will not be any issue with smoke taint with the vines next year since this affects them only during the growing season.
Carole and I looked down the steep slope to the southwest of that vineyard block, where the trees had been completely burned – the fire here was evidently much worse than the area I'd seen as I drove up to the vineyard from the opposite slope. The fire damage coming up the road was more patchy and it was clear that it had burned mainly along the ground – Carole told me that this was due to less wind to drive the flames there. But the fire burned more intensely as it was driven by wind up the steeper southwest side of the ridge to the edge of the vineyard. Even in the relatively short time since the fire, we could see some regrowth in this badly burned area, with various types of plants starting to sprout, the bright green of the new growth providing quite a contrast from the dark gray and black all around.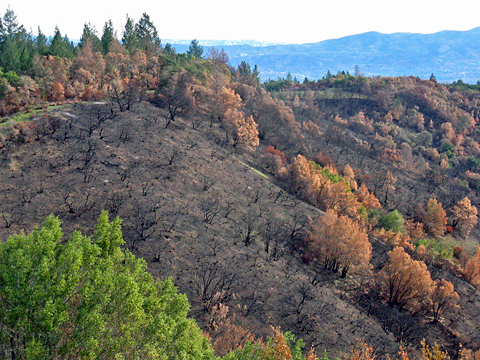 Carole and I continued along the dirt road and up to a high spot above their house, where an internet relay tower is located on their property. This turned out to be a plus for them, as this is a key tower in the area and the internet company placed a high priority on keeping it in operation during the fire. When Carole and Steve evacuated their home a few days after the fire initially broke out, they hooked up a generator to help power the internet tower, and a worker came out frequently to refuel it. Carole and Steve also credit the worker with helping to put out small ground fires in the area while he was there, using hoses that Steve had wisely laid out before evacuating. The fire did threaten their property from several directions but fortunately firefighters were gaining the upper hand by the time it reached there. In fact the fire didn't continue too much farther, but sadly, Carole and Steve's two closest neighbors lost their homes. We continued from the internet relay tower to take a look at one of the homes that burned.
The road that leads along the ridge is mostly dirt, fairly well-graded in most areas but somewhat rough and steep in others. It currently forms a key access route for firefighting vehicles in the area, and it turned out that Carole and Steve's property was used as a staging area during the battle against the October fire. Carole told me that the road dates from the 1880s or earlier, and it was important in the early days since roads lower down the mountain and closer to the creeks in the area were prone to washing out during the rainy season. Carole pointed out a couple of power poles that had been replaced after the earlier ones had been damaged during the fire – some of the new poles had to be placed by helicopter due to the difficult terrain. We also saw several trees marked for removal due to the potential for damage to roads, structures, and utility lines.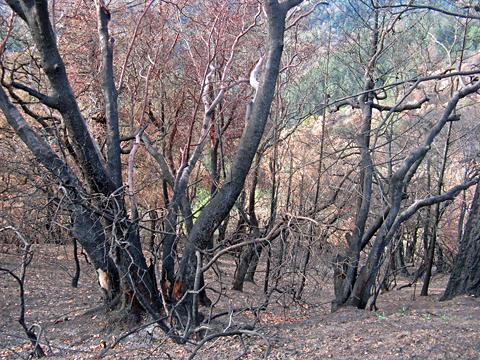 We came to the burned remains of a neighbor's house along the ridge about ½ mile northwest of Carole and Steve's place. It looked like it was on a well-protected site but the fire probably came directly toward the house up a steep draw from the southwest, and it was clear how intense the flames must have been. But even there the fire's damage was patchy – we could see some hillsides that were almost completely burned and adjacent ones that were seemingly untouched. One of the most badly-burned areas visible from there was the upper slope of Mount Veeder Peak. Carole said the fire came over the top there on Tuesday October 10th (it had started on Sunday) – that was the same day that she and Steve evacuated, and the fire went through their property two days later. We could see part of their vineyard from their neighbor's site, and Carole mentioned it had not been visible from there before the trees along the slope burned. We continued along the ridge road to the next neighbor's house about ½ mile farther along – that home had no apparent damage at all. A little farther along the road we saw the vineyard of Carole and Steve's friends Aaron and Claire Pott – their vines looked to be fine, and their house survived the fire too. Carole said that several other vineyards in the Mount Veeder area had been damaged – Mayacamas, Sky, Wing Canyon – and that buildings including some vineyard owners' homes and one of the wineries had burned there. Once we passed the Potts' place, Carole turned around and we headed back.
Now I'll get back to a bit earlier, when I was sitting with Carole and Steve in their kitchen. There were jars of olives being brined on the countertop – another sign that their old olive trees had come through the fire unscathed. They had a good crop in November though it will still be awhile before these olives are ready. Pearl the cat came by the kitchen to say hello – she turned 16 recently and seems just as much the queen of the castle as always. Carole and Steve opened a bottle of their new Lagier Meredith 2015 Syrah, which showed once again how consistent their Syrahs have been over the years – medium-dark purple, with floral notes along dark berry fruit, herbs, and touches of earth and black pepper. Medium weight with a lively texture and lingering finish with fine tannins – it's already quite approachable but should benefit from some time in the cellar.
In addition to their Syrah, Carole and Steve also grow Mondeuse, Malbec, and Zinfandel (which they label under that variety's very old Croatian name of Tribidrag) at their 4½-acre vineyard, and they've recently released new vintages of all these wines. They also make a Syrah Rosé in most years, and they occasionally make a Syrah dessert wine called "Precious Bane."
As mentioned earlier, this visit with Carole and Steve at Lagier Meredith was completely different from any I've made there over the past 15 years. Steve noted that the August 2014 earthquake in Napa Valley hit them hard but that the recovery time from that event was relatively quick – he said that it's likely to be years before things really get back to normal after the October 2017 fire. For a remarkably detailed day-by-day account of the wildfire on Mount Veeder, complete with lots of photos, take a look at Carole's Facebook Timeline posts from October. I also highly recommend the December 2017 Wine & Spirits Magazine article by David Darlington entitled "California's Ecology of Fire: A Perspective of the Conflagration in Wine Country."
Seeing Carole and Steve at their Mount Veeder vineyard and home is one of my favorite wine visits each year. They've always been exceptionally generous with their time, and I've learned so much from them over the years. I particularly appreciate their time this year, considering that they are still very much in the recovery mode following the wildfire. Even though it took only a small portion of my time during this year's visit, tasting the Lagier Meredith 2015 Syrah was certainly a highlight – another vintage of one of California's finest and most consistent Syrahs. And although many effects of the fire were unpleasant to see, it was encouraging along the way to spot the new plant growth already sprouting from the ashes. Much like those plants, the parts of Napa, Sonoma, and Mendocino counties affected by the fires are slowly but surely returning to normal.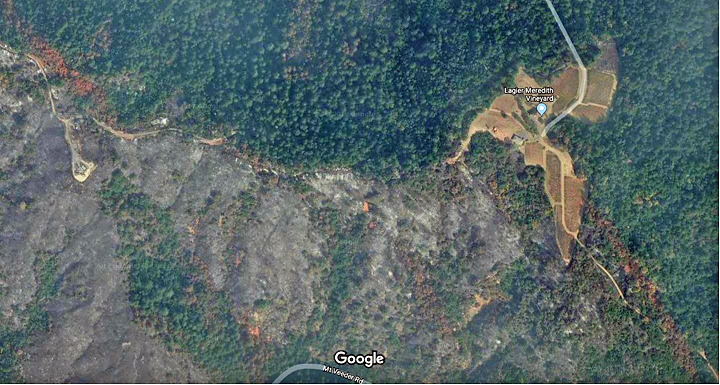 I headed back down the hill from Lagier Meredith and drove south from Napa and then west via the Carneros Highway toward Sonoma. Along the way I saw more fire damage. A number of buildings at the old Stornetta Dairy adjacent to the road had burned down – though nearby Nicholson Ranch Winery was intact – and the hillsides in that area on the northeast side of Napa Road were charred.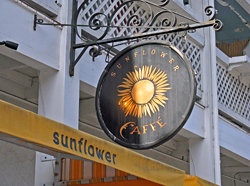 I figured I'd stop in the town of Sonoma for lunch before visiting any tasting rooms that afternoon. I'd thought about going to the girl & the fig – always terrific food there – but then decided to try a spot I hadn't been to before, Sunflower Caffé, right on west side of the Plaza. It's located in a historic building, the Salvador Vallejo Adobe, built around 1840. Sunflower Caffé is an informal spot where you order at the counter and the staff brings your food to your table. There was a wait of about 5 minutes in line to order, which was just enough time to check out the menu. I got the smoked duck sandwich with melted gruyere cheese, balsamic onion jam, garlic aioli, and dijon mustard on a baguette, served with a salad of organic greens with a shallot vinaigrette dressing – really delicious! I also had a glass of Grenache from Chanamé Wines (several wines from Chanamé are featured on the menu ) which was very good. I found a seat on the small front patio overlooking the Plaza, and my order came out surprisingly quickly. The quality of the food and fast service were both great, and I'll certainly be back to Sunflower Caffé again.
As I'd hoped to get back to Oakland by late afternoon, I decided to stop at only one tasting room in the afternoon. There are loads of options for wine-tasting right around the Plaza in Sonoma, and I thought I'd check out the latest releases at MacLaren Wine, but found that their tasting room was closed for the holidays. I spotted the Passaggio Wines tasting room nearby – I had a little familiarity with them and I was curious about their wines so I stepped inside.
The Passaggio Wines tasting room is located in one of many small interconnected courtyards in the Sonoma Court Shops complex just off the Sonoma Plaza. There was a group of 7-8 people tasting in a comfortable seating area in one part of the space, while a couple were at the tasting bar. There was still plenty of room at the tasting bar so I took a spot there. Katie Puccio was behind the bar and told me a little about Passaggio as she started pouring me tastes of some of their wines.
Passaggio owner/winemaker Cindy Cosco worked in law enforcement in Virginia for 15 years before moving to California in 2004. After working for a time in wine retail, she took a temporary harvest job at Chateau St. Jean in Kenwood and was hired to work as a wine chemist in their lab afterwards. She also studied enology at Napa Valley College from 2004 to 2007. Cindy launched the Passaggio label in 2007 at the old Crushpad facility in San Francisco, where she also took on the position of lab manager. Her continuing work at Crushpad led her to become the winemaker for their white wine program in 2010. Cindy left Crushpad in 2012 to devote herself full-time to Passaggio. She opened the tasting room in Sonoma in 2014, and now makes her wine in another Sonoma facility not too far away. Annual production of the Passaggio wines is about 1,700 cases per year.
The list of wines at the tasting room had a lot of options available to try, and I selected four whites and four reds from their most recent releases. I started off with the 2016 "Unoaked" Chardonnay, from Namesake Vineyard in Carneros. As the name implies, there was no oak at all used in fermenting and aging this wine, made entirely in stainless steel. In fact, all of the Passaggio whites are made in stainless steel other than the Roussanne, which is made in neutral oak. The Chardonnay showed earthy and leesy notes along with tropical fruit and a slightly chalky texture and finish. The 2016 "Passion Blend" features 25% Roussanne, 25% Grenache Blanc, 25% Sauvignon Blanc, 17% Chardonnay, and 8% Viognier. Not quite a white Rhône-style blend but close to it, and the aromas and flavors certainly reminded me of that type of wine, with floral notes along with pear and apple fruit, spice, and a long and tasty finish. Judging by how many tasting room visitors bought bottles of this wine while I was there, it's a popular choice and it was easy to see why.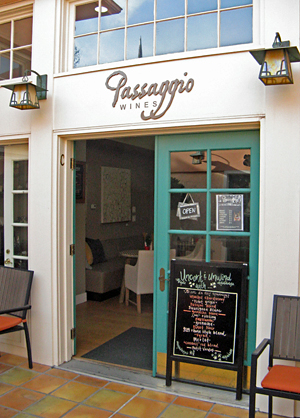 The fruit for the 2016 Grenache Blanc was sourced from Mattes Vineyard in Sonoma Valley. Katie told me that it's actually a field blend that includes about 25% Marsanne. This displayed apple and citrus aromas with a richer texture than the "Passion Blend." My final white wine was the 2016 Roussanne, with fruit from Hux Vineyard in Lodi. I'd read that Passaggio gets fruit from there, which was another reason I was interested in stopping in at their tasting room – I've visited that vineyard a couple of times and worked with fruit from there as well. Aged for eight months in neutral oak, this was a fine young Roussanne, with earth, stone fruit, honey, and herb aromas and a moderately rich mouthfeel and finish – nice now but it should be worth seeing how it ages.
The first red I tasted was the 2015 Grenache, from Heringer Estate in Clarksburg. As with all of the Passaggio reds, it's aged entirely in neutral oak. A nice Grenache, with lighter color, bright red fruit, touches of spice and smoke, and fairly bright texture. 2016 Pinot Noir was next, sourced from well-known Black Knight Vineyard in the Petaluma Gap region of the Sonoma Coast (Petaluma Gap was just approved for AVA status in December 2017). This featured ripe red fruit, spice, and tea leaf aromas and a lively mouthfeel. I followed this with the 2015 "GSM" – a blend of 44% Grenache, 44% Syrah, and 12% Mourvèdre – which had aromas of both red and black fruits, lots of spice, some earth and herb notes, and moderate tannins.
My last wine of the day was the 2015 Petit Verdot from Hux Vineyard in Lodi. This variety is often too hard and tannic as a varietal wine but I've had other Petit Verdot bottlings from this vineyard and the softer texture I find from many Lodi wines works well here. Darker color with predominantly black fruit aromas along with spice and a noticeable dried herb / tobacco component, this had a richer mouthfeel and good structure but with very approachable tannins on the finish.
In addition to the wines I tasted, Passaggio also produces a sparkling wine, a rosé, Dry Riesling, Sauvignon Blanc (both from Zoller Vineyard in Lake County), Pinot Grigio from Windsor Oaks Vineyard, Syrah from Fieldsa Vineyard in Sonoma Valley, Merlot, and "Connect" Bordeaux-style red blend (the last two wines both from Coplan Vineyards in Sonoma County).
I enjoyed my visit to the Passaggio tasting room. It's got a friendly and informal atmosphere, and Katie was quite knowledgeable about the wines. My favorites were the 2016 "Passion Blend," 2016 Roussanne, 2016 Grenache, and 2015 Petit Verdot. While Passaggio is not as high-profile as some other producers with tasting rooms in the Sonoma Plaza area, it's worth a stop to try their well-made and diverse selection of wines.
This was a brief day out for me in Napa and Sonoma, with just two wine stops along the way, but it began with what was perhaps the most memorable of many visits I've made to Lagier Meredith. It made me realize that even those who were relatively fortunate in escaping the worst of the wildfire's damage still have a long road ahead to return to the way things were before the fire. But traveling through some of the areas that were hit hard by the fire also made me see how resilient the people who live and work there are – these areas are truly open for business again and the more visitors they get, the better. I'm sure the next time I'm in the area I'll see many more signs of recovery. As always, thanks to everyone that we visited for being so generous with their time and their wine!