Winemaker Salon tasting of Thackrey & Company wines in
San Francisco - December 7, 2017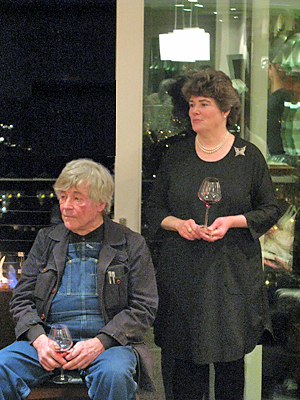 Sean Thackery, Cynthia Hogan
I attended a tasting in the ongoing Winemaker Salon series in early December – this was one I was particularly looking forward to, featuring legendary vintner Sean Thackrey and his wines. Winemaker Salon was founded in 2015 by Cynthia Hogan, formerly the wine buyer for Canyon Market in San Francisco. The tastings bring together winemakers and small groups of wine lovers at various private homes in the San Francisco Bay Area for special evenings that combine good wine, food, and company. These gatherings provide opportunities not only to sample a number of fine wines, but to learn about the vineyards and the people involved in the process in a relaxed and intimate setting. Focusing on small-production, high-quality producers – often newer and lesser-known ones – Winemaker Salon is a great idea, and it seems like it's been a big success so far.
The hosts for this Winemaker Salon were Jim and Sandy Chen, who graciously opened their beautiful home in San Francisco's Noe Valley neighborhood to us. Thackrey & Company operations and office manager Shari Faye Dell accompanied Sean Thackrey to the tasting and was very helpful throughout the evening. Chef Joshua Clever and sous-chef Sterling Taylor presented the delicious food pairings that they had specially prepared for each of the five wines we tasted, while Meserve Platt, Christina Umhofer, and Justin Massa assisted with pouring wine, passing around food, and other tasks that made everything run smoothly. A bonus on this occasion was pianist Kristina Foltz, who provided us with some lovely music on the Chens' piano that added to everyone's enjoyment of the evening. And of course Cynthia Hogan was there to head up the entire team effort.
I mentioned that I was especially looking forward to this tasting. I've had a few Thackrey & Company wines over the years but not that many of them. I'd met Sean two or three times when he was on hand to pour his "Andromeda" Pinot Noir at Marin County wine tasting events (the fruit comes from a Marin vineyard) but I'd only had the opportunity to talk with him briefly on those occasions.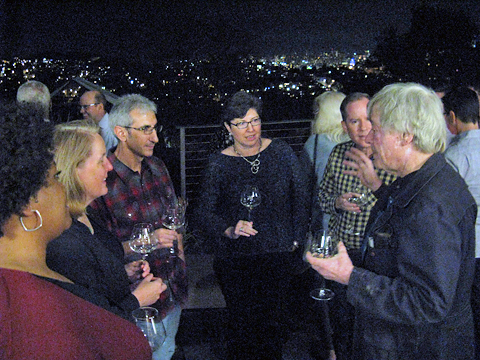 I've known Cynthia for a number of years, and she flagged me down when she saw that I'd arrived a little early and parked across the street from the Chens' home. Sean and Shari had also just arrived and parked a short way down the street, so I was enlisted to carry the case box of their wines from their car up the hill to the house and up the stairs to the main floor. After helping to pull the wines out of the box, I headed back downstairs and out to the backyard patio looking out over the city and the Bay, where Sean and a few others were starting to gather. As always with the Winemaker Salons, we all began the evening with a refreshing Cava to enjoy while we talked in the back yard and got to know each other. This was a wonderful way to discuss all sorts of topics with Sean too – there were tales about life in Bolinas, wines from ancient times, and plenty of other subjects.
Before long it was time to reconvene upstairs in the living room and begin the tasting. As she has done at past Winemaker Salons, Cynthia provided everyone with a program that listed all of the wines – with detailed descriptions – and the food being served to accompany each of them. She also had small clipboards with pens for everyone, which made it easy to take notes during the tasting. Sean and Shari supplemented this with a handsome pamphlet containing an edited transcript of an entertaining and illuminating interview with Sean along with a few additional observations on wine. This interview is also featured on the winery's website, under the title "Freedom of the press belongs only to those who own one" – and Sean points out that he does!
The website also contains a section with texts on wine and related subjects dating back to one by ancient Greece's Xenophon and continuing up to one by Dr. Jules Guyot in 1861. Sean told us that he owns the largest collection of historical wine-related texts in private hands, an invaluable reference.
Once everyone had gathered in the living room, Cynthia formally introduced Sean to the group and he started telling us a little about his background. He studied art history in college, and his only academic study in enology came through a few courses at UC Davis – other than that, he is entirely self-taught in winemaking. Although Sean acknowledges the need for science in the winemaking process, he's a firm believer that winemaking as a whole is an art rather than a science. He has noted that winemaking, like art, gives you results that cannot be reproduced – in fact no two bottles of wine will be exactly alike.
Tasting Notes: Current Releases

Thackrey NV "La Pleïade II," California. This had a medium-light yellow color, and displayed aromas of stone fruit, figs, flowers, and spice, with slightly nutty undertones. Rich mouthfeel, with a particularly long finish. Intriguing complexity, and not a fruit-forward wine – the phenolic character should make it one that will work better with food than on its own, as the food pairing at this tasting suggested.

Thackrey NV "Pleiades XXV, Old Vines," California. Fairly light in color, with lots of spice along with bright red berry fruit and touches of flowers and dried herbs. Very lively acidity with a medium-light texture on the palate and a fresh, vibrant finish. A lot more going on with this wine than with many other red blends at this price.

Thackrey 2015 Pinot Noir, "Andromeda," Devil's Gulch Ranch, Marin County. Medium-light color, showing beautiful aromas of ripe black cherry, flowers, and a savory component, with herbal notes in support. Bright and lively in the mouth, with good acidity and fine tannins – this is the most attractive young "Andromeda" vintage that I've tasted.

Thackrey 2014 "Orion," Rossi Vineyard, St. Helena, Napa Valley. Medium-dark purple color, this featured blueberry and blackberry fruit, flowers, with touches of spice and earth on the nose. Both bright and deep on the palate, it finished with moderate tannins. The aromas reminded me somewhat of Petite Sirah but the flavors showed more depth than most Petites. Very compelling already, though this has the structure to age too.

Thackrey 2013 Cabernet Sauvignon, Napa Valley. Darker purple color, with mildly herbal scents along with plum and currant, spice, and a bit of vanilla/oak in the background. Big yet lively and refined, with plenty of structure and firm tannins – good potential, and this deserves time in the cellar to develop further.
Sean worked for a time as a book editor for the Sierra Club before opening an art gallery in San Francisco in 1970 – it operated for 25 years and was noted particularly for poster art prints and photography. After living in several places in the Bay Area, Sean settled in Bolinas, in West Marin County, in 1977. It was around this time that he started making wine. His first one was a 1979 Cabernet Sauvignon from renowned Fay Vineyard in the Stag's Leap region of Napa Valley. He found the fruit through Peter Brehm's Berkeley shop Wine and the People – there's a Berkeley name for you! His first commercial release, a Merlot-Cabernet blend, came just two years later. One of the group asked Sean who his first customer was, and of course he had a great story to tell us about that. Sean told us that he knew Stephen Singer (now the proprietor of Baker Lane Vineyards near Sebastopol), who was married to Alice Waters at that time, and through that connection Sean's first wine customer was Chez Panisse in Berkeley – not a bad way to start off! It didn't hurt that Robert Parker, still in the early years of his Wine Advocate newsletter, became a fan of Sean's wines.
Although Sean has worked with a number of grape varieties, he has perhaps been best-known for his wines from Rhône varieties. He was one of the earlier modern-day California vintners to work with them, starting in the mid-1980s, though he's never been considered part of the "Rhône Ranger" movement. As Patrick Comiskey has noted in his excellent American Rhône book, Sean has always been too much of an individualist to consider being part of any movement.
Fruit sources for the Thackrey wines are mainly from Napa, Mendocino, and Marin. Over the years, Sean has worked with many smaller and little-known vineyards, though he's had to change sources a number of times for various reasons. Conditions change from year to year, and his red and white blends are likely to have different components every vintage. Sean told us that he's "very good at improvisation but not very good at business" – like many winemakers, he found that it's easier to make good wine than to sell it, though he's developed a devoted following and many of his bottlings are now in high demand. Someone asked Sean "when did you first sell out?" – obviously you could take that question two ways! But it's clear that he's never been a sellout, never compromised his winemaking principles – he told us that he won't release a wine he doesn't like, and that there have been several of those over the years.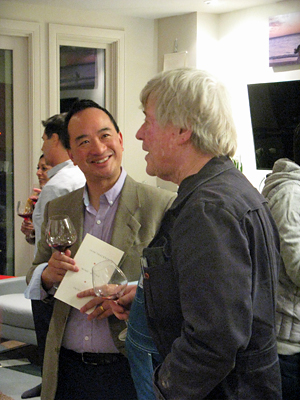 Jim Chen with Sean Thackery
For many years, Sean made all of his wines outside his home in Bolinas, but he moved most of the production to a facility in Forestville about five years ago, to better accommodate the larger-production bottlings such as the "Pleiades" red blend. Total annual production of all the wines is around 5,000 cases.
Our first of five Thackrey & Company wines was the non-vintage "La Pleïade II" – this is a blend of Roussanne, Marsanne, Viognier, and a small amount (1-2%) of Muscat. This was rich and savory, with a phenolic character I often find in skin-fermented whites, though Sean told us that none of this fruit was fermented on the skins. Joshua paired this wine with a parmesan frico, with prosciutto, carmelized onion, pear, and thyme compote. This went well with the wine – as with many wines, it was quite intriguing on its own but I thought it showed better accompanied by the food.
The Thackrey wine that consumers will see most often in wine shops was next – the non-vintage "Pleiades XXV, Old Vines" red blend. As mentioned above, the blend changes from year to year (Sean mentioned his very first "Pleiades" included Nebbiolo and Grenache), and this release includes Sangiovese, Viognier, Pinot Noir, Zinfandel, and Mourvèdre. Sean feels that "Pleiades" is especially versatile in terms of food pairing, and goes with anything that red wine goes with. Joshua told us that this Winemaker Salon was one of the most fun ones he's worked on for pairing with food, and that "Pleiades" is a particular favorite of his. He said that the veal tortellini with roasted butternut squash and fried sage he made to pair with this wine was meant to help bring out its savory character.
Aside from the first two wines we tasted, all of the Thackrey wines are made with fruit from single vineyard sources. The 2015 "Andromeda" Devil's Gulch Ranch Pinot Noir was our first single-vineyard wine of the evening – Sean made first this wine about 15 years ago, from a cool-climate vineyard site near Nicasio in West Marin. The earthy component of Pinot is known for pairing well with mushrooms, and Joshua's miso roasted wild mushrooms with ginger aioli was terrific match with the wine. The "Andromeda" bottling is probably the Thackrey wine I'm most familiar with, as I've tasted a number of vintages. The 2015 struck me as the best young "Andromeda" yet, and it seems like it should age well too.
The 2014 "Orion" was our fourth wine of the evening – this is considered to be Thackrey & Company's flagship wine. It's an old-vine field blend from Rossi Vineyard near St. Helena in Napa Valley. It's described on the front label as a "California Native Red Wine" – a good description of a wine from dry-farmed, head-trained vines planted in 1905. As was common practice at that time, the vineyard was planted with a number of grape varieties. There are about ten different varieties, and most of the vines may be Syrah, or possibly Petite Sirah…it's still not entirely clear. But in the end, does it really matter that much what the varieties are? The key is that this is what comes from Rossi Vineyard, and you won't get the same thing from anywhere else. Sean mentioned that the fruit for the "Orion" bottling is very consistent from vintage to vintage, probably due to the age of the vines. This is a stunning wine already, and it should age beautifully. Joshua paired it with duck rillette with chipotle orange cranberry sauce on crostini – he told us he wanted something big yet delicate, "with sass," and I thought he particularly nailed it with this pairing.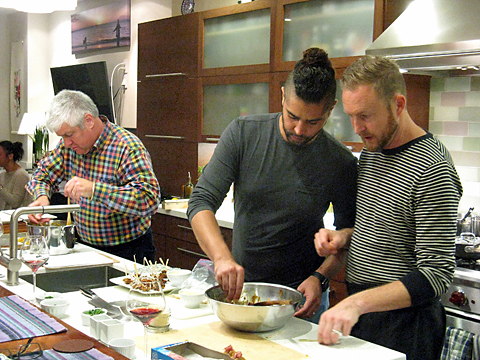 (l to r) Meserve Platt, sous-chef Sterling Taylor, and Chef Joshua Clever
Our final wine was a 2013 Cabernet Sauvignon from Napa Valley. The fruit came from Hossfeld Vineyard, a steep site in Soda Canyon just east of the Stag's Leap District of Napa Valley (sadly, the family lost their home and a small portion of the vineyard in the recent Atlas Fire). This is the winery's first varietal Cabernet Sauvignon, and in a sense it seems like Sean is coming full circle back to his very first wine from 1979, made from a vineyard not far away. The wine is far from the typical big, oaky Napa Cab style – it's still very young and should benefit from time in the cellar. Joshua's pairing was slow-roasted short ribs with fennel lemon gremolata and cauliflower purée – he noted that he wanted to support the wine's elegant, refined character.
In addition to the Thackrey & Company wines we tasted at this Winemaker Salon, the winery makes several other bottlings. These include "Lyra" (Viognier from Noble Vineyard in Knights Valley), "Fifi" (Rosé of Sangiovese), "Sirius" (Petite Sirah from Eaglepoint Ranch in Mendocino County), and Cabernet Franc from Hossfeld Vineyard. Past wines have included "Aquila" (Sangiovese from Eaglepoint Ranch) and "Taurus" (Mourvèdre from Cline Vineyard). Sean mentioned that he is very happy with the 2017 vintage, so we should be able to look forward to some excellent wines from this year's fruit.
Of the wines we tasted at this event, my favorites were the 2015 "Andromeda" and 2014 "Orion", with the "Pleiades XXV" not far behind – that one being a good bet for those looking to find one of the Thackrey bottlings at their local wine shop.
I feel that I've only scratched the surface with this report. It was clear from our Winemaker Salon evening – as well as from his writings – that Sean has no shortage of opinions on many subjects, and I am hoping to visit him before too long for a more in-depth write-up. He was a delightful presence at this event – a wonderful contrast between his appearance, dressed in simple farmer's overalls, and the rather scholarly impression one gets from his words, gained from a lifetime of learning.
A seemingly minor detail that Sean mentioned in discussing his "La Pleïade" white blend made perfect sense once I did a little research. Though the name of the wine is an appropriate one for what is essentially the white version of "Pleiades" red blend, Sean revealed that it was also a reference to a group of sixteenth-century French poets called La Pléiade. Although I was not familiar with them, I soon discovered that this group sought to reinvent French poetry by looking to the ancients for inspiration but also taking the revolutionary step (at that time) of writing in French. This sounds so much like what Sean has done in looking to ancient and medieval winemaking as inspiration for his own work, which also breaks with the norm of current winemaking in California.
I've now been to three Winemaker Salon tastings, and they've all been memorable. Each time it's felt like an informal gathering at a friend's home to enjoy a relaxing evening – creating that sort of atmosphere is not an easy task to pull off, so congrats to Cynthia and her team. Thanks to Jim and Sandy for opening their home to us, to Joshua for the delicious and carefully thought-out food pairings, and to everyone that contributed to a fun evening. Thanks of course to Sean – it was a rare treat to be able to talk with him in a small setting such as this and to taste his latest wines. Cynthia continues to schedule some terrific vintners to present their wines at her events, and if you live in the Bay Area, it's worth checking out a future Winemaker Salon.