Andi Knauss
This was the lone producer from Germany at Brumaire, from the Württemberg region in the southern part of the country. Several reds were standouts, in particular the 2016 Trollinger – the grape variety known as Schiava in northern Italy – this was a bright and juicy lighter-bodied red with a savory touch and mild tannins. Both the 2016 Lemberger and 2016 Zweigelt were noteworthy as well – more intense, spicy, and with grippier tannic finishes yet still bright and fresh.
Bichi Wines
The wines from Baja California's Bichi label have been a little hit-and-miss for me the past couple of years, but I did enjoy their refreshing 2016 "Pét Mex" pét-nat – vintner Noel Téllez explained that the fruit comes from old dry-farmed vines of unknown grape variety. The red version from the same vines, 2016 "No Sapiens," was also nice, displaying darker red fruit, earth, and herbs.
Broc Cellars
Berkeley's Broc Cellars always pours a solid line-up at Brumaire and this year was no exception. Chris Brockway was on hand, and wine highlights included the 2017 Grenache Gris, from old vines in Mendocino County, which featured fresh strawberry aromas and a clean mouthfeel and finish. The 2017 Trousseau from Green Valley in Solano County was quite good, with earthy red fruit, spice, and pepper notes. Also noteworthy was the 2017 Cabernet Franc, from Santa Barbara County – bright, herbal, and a bit floral.
Clos Lentiscus

Clos Lentiscus is from the Penedès region of Catalonia, and this was my first experience with their wines. I preferred their sparkling wines to the still wines I tasted, with the standout being their earthy yet fresh 2013 Rosé No. 41 Brut Nature, made from Carignan.

Clos Saron
From California's northern Sierra Foothills, Clos Saron's Gideon Beinstock has been a longtime proponent of natural winemaking. A white and a red were my two favorites of his line-up. The 2016 "Carte Blanche" blend of Albariño and Verdelho had intriguing spice and earth notes along with pear and stone fruit aromas and medium weight on the palate, while the 2014 "Stone Soup" Syrah (co-fermented with about 7% Viognier) featured dark fruit, herbs, and earth with a touch of flowers on the nose and a grippy tannic finish. The 1995 "Once Upon A Time" Cabernet Sauvignon, from magnum, showed beautiful development and can still go for years.
Domaine du Haut-Planty
This producer hails from the Loire Valley, and specializes in Muscadet (Melon de Bourgogne). All of the wines they poured were very good, with the 2015 "Gwin Evan" being one of the highlights – made with no skin contact, this was light and breezy, with plenty of upfront stone fruit and a fresh finish. They poured two vintages of their "Yonnieres" – the 2015 and 2016 – and I preferred the more recent vintage. This had a stony mineral character with a bit more fruit than the 2015 and a medium-bodied, slightly chalky texture. Domaine du Haut-Planty was one of the finds of the tasting for me.
Donkey & Goat
Donkey & Goat make their wines in Berkeley, but their fruit these days comes from El Dorado County in the Sierra Foothills and from Mendocino County. My favorites at their table were both from El Dorado. The Clairette-based 2016 "Eliza" blend had medium-light weight, with floral and stone fruit aromas and a clean texture. The 2015 "The Bear" is mostly Counoise, and showed raspberry, earth, and a floral touch, with moderate tannins. Also good was the 2016 Hard Press Ramato Pinot Gris from Anderson Valley – 5 days on the skins, with floral aromas and nice texture and tannin.
Escoda-Sanahuja

From Catalonia, Escoda-Sanahuja has been a regular at Brumaire. Although I didn't find this year's line-up as compelling as earlier ones, there were still a couple of highlights. The 2016 "Els Bassotets" is a Chenin Blanc blend that spent four days on the skins – earthy and a bit funky on the nose, with intriguing depth and texture. The 2009 "Coll del Sabater" is made from Cabernet Franc – showing some attractive bottle-aged qualities but still vibrant, earthy, and herbal.

Fausse Piste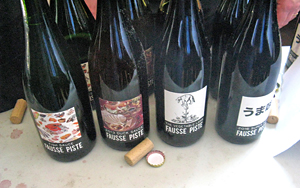 A specialist in wines from Rhône grape varieties, this was the first appearance of Oregon's Fausse Piste at Brumaire. I found several of their bottlings to be standouts. The 2017 "Fish Sauce" Muscat pét-nat had distinctive but fairly toned-down floral Muscat aromas and a fresh, clean texture and finish. The 2015 "Vegetable Lamb" Pinot Noir featured lots of spice aromas along with bright red fruit and earth, and a lively mouthfeel. The bolder 2016 "Super MSG!" (actually an MCSG, with 24% Counoise), made with whole clusters and partial carbonic fermentation, showed earthy aromas plus dark fruit and a savory herbal component, with a grippy tannic finish.
Frank Cornelissen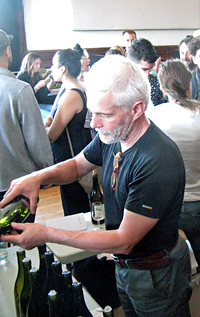 Not surprisingly, this table was one of the most continually crowded ones of the afternoon, as Frank Cornelissen's wines are among the world's most sought-after natural wines, and he was on hand to pour at the event. Originally from Belgium, his vineyards and winery are on Mount Etna in Sicily. The 2016 "Contadino" is the entry-level Cornelissen red, made mostly from Nerello Mascalese, and this was bright, earthy, a bit floral, and surprisingly grippy. Next came five different 2015 "MunJebel Rosso" bottlings – all from 100% Nerello Mascalese – three of which I found to be particularly noteworthy. The basic 2015 "MunJebel Rosso" had beautiful floral aromatics along with earth and spice, the 2015 "MunJebel Rosso VA" displayed a brighter texture along with more earth and spice notes, and the 2015 "MunJebel Rosso FM" featured tart and darker tones with firm tannins. Finishing up was the 2015 "Magma", showing even more depth and structure, with dark fruit, earth, leather, and spice.
Frenchtown Farms
This is a new producer, with wines from the northern Sierra Foothills made by Aaron & Cara Mockrish – they've worked with Clos Saron's Gideon Beinstock and make their wine at his facility. Their wines were one of the day's discoveries for me, with several highlights. The 2016 "The Pearl Thief" is a Viognier/Sauvignon Blanc blend – an unconventional combination but the floral and herbal elements of each variety worked well together. The 2016 "Cotillion" is a Carignan/Zinfandel blend – the earthy darker-fruited character of the Carignan seemed dominant and this was a pleasant mid-weight red. The 2015 "19 Harts" is whole-cluster Syrah with 15% co-fermented Roussanne, and it was bright, herbal, and spicy, with dark berry fruit and a floral note, with a firm tannic finish.
Humus

From Portugal, this was the first time for Humus at Brumaire. The NV "Solera" Rosé, made from Touriga Nacional and Castelão, was bigger and earthier than most rosé wines, but intriguing nonetheless. My favorite of the Humus wines was their "V2" white blend (unfortunately I didn't note the grape varieties!), with stone fruit, citrus, and earth aromas and a lively texture.
Iago Bitarishvili
One of several first-time Georgian producers at Brumaire this year, Iago Bitarishvili poured three standout wines at the tasting. Both of these wines were made in the traditional Georgian qvevri – sort of like an oversized amphora buried in the ground. Iago has become particularly noted for his work with Chinuri, one of the region's noted white grape varieties. The 2016 Chinuri "No-Skin" had clean melon and stone fruit aromas, while the 2017 Chinuri that Iago poured spent six months on the skins – this had more spice, a hint of fresh herbs, and great texture and structure. The 2015 Mtsvane is under the Mandili label, and is a project of Iago's wife Marina Kurtanidze. This was also on the skins for six months, and featured very floral, Muscat-like aromatics along with spice and fine structure.
J. Brix
J. Brix is one of a handful of producers helping to make a name for wine in San Diego County, though not all of their fruit comes from there. I enjoyed the 2017 "Nomine Amoris," a ramato-style Pinot Gris, with fruit from Santa Maria Valley. Skin-fermented for 14 days, this was earthy, with floral and citrus notes and a medium-light texture. The 2016 "La Belle Rêveuse" is a Syrah from the cool coastal part of San Luis Obispo County, and fermented entirely with whole clusters. This was a standout, with black olive and herb aromas along with dark fruit, earth, and floral notes, with plenty of structure and a grippy finish.
La Clarine Farm
From El Dorado County in the Sierra Foothills, La Clarine Farm produces a number of distinctive varietals and blends from fruit grown in their area. Several wines at their table were noteworthy. The 2016 "Alors!" Rosé, from Syrah, Mourvèdre, and Counoise, is bottle-aged for about a year prior to release. Bright citrus and watermelon aromas with a slight saline note and fresh finish – my favorite of La Clarine's recent vintages of rosé. The NV El Dorado Syrah is a new bottling, a blend from different vineyards from the 2015 and 2016 vintages. Earthy dark berry aromas along with dried herbs and a savory, meaty note. Finally, there was a magnum of 2012 "Cedarville" Mourvèdre, which showed beautiful stony mineral character along with iron, earth, and still-bright fruit – developing very nicely.

Martha Stoumen
I've tasted Martha's wines a couple of times in the past year and they've impressed me, and her new releases didn't disappoint. A favorite was the 2017 "Post Flirtation White" – a blend of Viognier, Roussanne, and Marsanne from Contra Costa County, made with some skin contact, and only 10% alcohol. Light and fresh stone fruit aromas with intriguing herbal and floral notes, very "glou-glou". The 2017 "Post-Flirtation Red" – a Zin/Carignan blend – has potential but needs a little time to come together. The 2017 Nero d'Avola Rosato was also noteworthy, with earthy red fruit and a bright, clean texture, finishing with fairly grippy tannins.

Matassa
Domaine Matassa is located in the Roussillon region of southern France, and Tom Lubbe – a native of New Zealand who spent many years in South Africa – is the proprietor. The 2016 "Cuvée Margherite," a blend of Macabeu and two Muscat varieties, displayed appropriately floral aromatics with medium-light body. The "Matassa Blanc," mostly Grenache Blanc plus Macabeu, showed an earthier side, with a bit of grip on the finish. The 2016 "Romanissa" – Grenache plus a little Carignan – had plenty of red and black fruit aromas along with spice and earth, and a fairly tannic finish. The 2016 "Romanissa Casot" was a fascinating field blend dominated by Grenache Gris – this displayed red fruit along with touches of flowers, earth, and stony minerals.


Mendall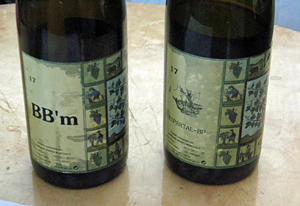 From the Terra Alta region of Catalonia, Mendall has been a regular at Brumaire. Proprietor Laureano Serres was away from the table when I stopped by, so I don't have much information about the wines, but both of the ones I tasted there were good. The 2017 "BB'm" (most likely the BB is for Bernatxa Blanc – Catalan for Garnacha Blanca – but this wine may be a blend) was earthy, spicy, and minerally, while the 2017 Espartal BP (I believe this is Garnaxta) had great floral aromatics along with darker fruit and a bright, lively mouthfeel.

Methode Sauvage

Chad Hinds' Methode Sauvage label shares space in Richmond, California with Martha Stoumen and Purity Wines. My two favorites of his new wines both were sourced from Matthew Rorick's vineyard in Calaveras County. The 2017 Rorick Heritage Chardonnay showed stony mineral notes along with citrus and pear fruit and a lively texture, while the 2017 Rorick Heritage Trousseau – with super-light color – featured floral and spice aromas with red fruit and pepper notes, and moderate tannins. The 2017 "Bloom Phase" blend (Pinot Gris, Pinot Noir, Trousseau, Syrah) was also nice, a light red with earthy and spicy red fruit aromas and mild tannins.

Oriol Artigas
Catalonia's Oriol Artigas was one of the finds of the tasting for me last year, and his wines this year also had several highlights, especially the whites. The 2016 "La Rumbera" is from 100% Pansa Blanca (also known as Xarel·lo), made with a little skin contact – medium-light weight with citrus, floral, and saline notes, and a refreshing finish. A contrast was the 2016 "La Bella", also Pansa Blanca but made with 11 days of skin contact – similar but toned-down aromatics with more depth and texture. The 2016 "La Prats" is a field blend of around 30 varieties, with many vines over 100 years old – this was bright and juicy, with citrus, herb, and stony mineral elements and a medium-light, lively texture.

Pheasant's Tears
One of several Georgian producers on hand at this year's Brumaire, Pheasant's Tears is the project of American John Wurdeman and Georgian Gela Patalishvili. All of their wines are fermented and aged in qvevri. I tasted two wines at their table, and both were standouts. The 2016 Rkatsiteli, fermented on the skins, featured bright melon and fig fruit along with spice and earth notes, and noticeable tannins on the finish. The 2016 Saperavi was a tasty, earthy, and dark-fruited red, reminiscent of Carignan and with grippy tannins.

Purity Wines

Noel Diaz makes his Purity wines in Richmond, California, and gets much of his fruit from the Sierra Foothills. The 2017 Viognier, from Calaveras County, was made by direct press, and combined bright citrus fruit and floral aromatics, with a juicy mouthfeel and finish. Noel poured three Syrahs with contrasting character – the rustic, earthy raspberry fruit and lots of spiceof the 2016 Calaveras County Syrah and the darker, more herbal and olive notes of the 2015 Sonoma Mountain Syrah were my favorites of the trio.

Ruth Lewandowski

Evan Lewandowski sources his fruit from Mendocino County, though his base of operations is in Salt Lake City. He once again poured several noteworthy wines at Brumaire. The 2016 "Naomi" is old-vine Grenache Gris from Gibson Ranch, which displayed very bright stone fruit aromas with herbal undertones. The Rosé "Cuvée Zero" is made from Touriga Nacional and Souzão, and showed stony mineral character along with red fruit and earth, finishing with mildly grippy tannins. Even more intriguing was the "Feints Cuvée Zero" – from Arneis, Barbera, Nebbiolo, and Dolcetto, made by partial carbonic fermentation – minerally raspberry and black cherry fruit, earth, spice, and a lively, medium-weight mouthfeel.

Stirm
Ryan Stirm's Rieslings have been standouts at each year's tasting. From a vineyard in Santa Barbara County's Los Alamos Valley, the 2016 Kick-On Ranch Riesling spent a day on the skins and was made entirely in stainless steel – bright citrus aromas with a bit of petrol and medium-light weight. The 2016 Wirz Vineyard Riesling, from older vines on limestone soil in San Benito County's Cienega Valley, showed more richness and structure, with some petrol notes along with stone fruit and citrus. Another favorite was the 2016 "Los Chuchaquis" Mataro (Mourvèdre) from San Benito County – a field blend that also includes a little Carignan and Alicante Bouschet. Dark and earthy, with stony mineral, herb, and spice aromas and a fairly big, grippy finish.

Swick

Although I didn't get to the Swick table at Brumaire, I did have the opportunity to taste their 2017 "Only Zuul" a few days afterwards at minimo wine shop in Oakland. A blend of skin-fermented Pinot Gris from Oregon and Gewürztraminer from Washington, this was very distinctive, with the Gewürztraminer citrus and spice aromatics dominating, leading to a medium-weight mouthfeel and long finish.

Tiago Teles
This was my first experience with the wines of Tiago Teles, from the Bairrada region of Portugal, and I found two noteworthy wines at his table. The 2016 "RAIZ Blanco" is made from Loureiro, with about two days of skin contact prior to fermentation, then aged in concrete tanks – this was very aromatic, with bright and fresh stone fruit, touches of flowers and herbs, and a medium-light texture. The 2016 "Maria da Graça," from the Alfrocheiro grape variety, was another aromatic wine, with fresh black cherry fruit, spice, and earth, and a lively mouthfeel.