April 21, 2018
The First Historic Vineyard Society Tasting
Report on the first Historic Vineyard Society Tasting, held on Saturday, April 21st, 2018, at The Press Club in San Francisco, California. The event featured a tasting of wines sourced from a selection of old California vineyards.
The Historic Vineyard Society (HVS) is a non-profit organization established in 2011 and "dedicated to the preservation of California's historic vineyards." They work toward this goal through tastings, tours, and other means to educate the public about "the very special nature of these historical treasures." Although the HVS operates with no salaried staff, they have done a great job in just a few years to help spread the word about preserving California's old vines.
A number of highly regarded vintners help to lead the HVS team, including Bob Biale, David Gates, Mike Officer, Tegan Passalacqua, Joel Peterson, and Morgan Twain-Peterson, as well as wine enthusiast Mike Dildine, whose online inquiries about old California Zinfandel vineyards helped set the idea for the HVS in motion.

The Historic Vineyard Society and Old Vines

The central feature of the HVS is their Registry of Heritage Vineyards, which can be found on the HVS website (www.historicvineyardsociety.org). The Registry, which continues to grow as more old vineyards are added, is meant to "compile a comprehensive, fact-based directory of California's Historic Vineyards." Key criteria for a vineyard to be included on the Registry are:

• It must be a currently producing California wine vineyard
• The original planting date must be at least 50 years ago
• At least 1/3 of existing producing vines can be traced back to the original planting date
Vineyards nominated for inclusion on the Registry undergo a review process. The Registry includes "Registered" and "Unregistered" vineyards – the Unregistered list includes many well-known sites that have not yet been reviewed sufficiently to be added to the Registered list. The criteria are tough, and there are certainly many old vines situated in larger vineyards where they don't constitute 1/3 of the overall plantings so they would not qualify for the Registered list. Perhaps HVS can produce a separate and more official list of these sites, as they also include historic old vines.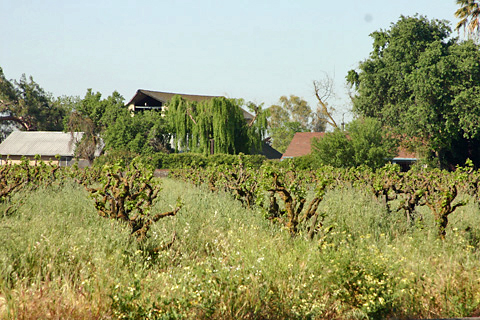 There must be many more old vineyards that could qualify for the Registry, and a quick look through the list reveals that it's heavy on sites from Sonoma, perhaps because those are where a number of well-known vintners source their old-vine fruit. Mendocino, Lodi, Amador, and other parts of California are also known for their old vines and it's a sure bet that more vineyards than are currently on the Registry could be added – if you know of any, share that information with HVS to add more vineyards to their list!

A number of old California vineyards are small "no-name" sites that often have been farmed by the same family for generations but don't sell fruit to better-known producers so they never garner any notice for their old vines. As is true of any vineyard, old vines need to be cared for properly and the fruit needs to be handled well once it gets to the winery. That's not always the case with some old-vine sites, and the inconsistent or just plain poor wine to come from them is another reason they can easily go unnoticed. Even some vineyards that were well-regarded in the not-so-distant past can fall victim to neglect if the property changes hands or if the next generation of family ownership is not particularly interested in farming the grapevines.
Development continues to eat away at some old-vine sites. I talked with a couple of vintners at the tasting about real estate listings I've seen for property that includes old vineyards located in eastern Contra Costa County. The asking price for the land guarantees that new owners will have in mind something more lucrative than farming old grapevines. How do you convince a vineyard owner to keep farming a vineyard that gets marginal returns vs. selling to a developer for lots of cash? They might consider selling it for less money to someone else who would continue to farm it, but that approach won't always work. Saving these old vines is not an easy task, and every old vineyard at risk will present its own special circumstances.
Besides development pressure, it's not unusual for vineyard owners to rip out old vines, which don't typically produce a lot of fruit, and replant with new, higher-yielding vines. Replanting with a grape variety that will bring in more money – such as Cabernet Sauvignon – or one that is currently trendy is another reason that growers rip out old vines, which may be varieties that were popular a century or more ago but not so much these days. A positive sign is that a growing number of these nearly-forgotten California varieties are starting to gain favor again, which has most likely led to saving some of these old vines. But there are even more reasons why old vines are endangered, and it's not realistic to think that they can all be preserved.
There's no question that historic vineyards feed into the public's romantic view of wine – who doesn't love the sight of gnarly old head-trained vines? But age alone doesn't mean that all old vines can make consistently noteworthy wines, no matter how well they are tended and how well the wines are made. Perhaps there's a case to be made that not every old vineyard truly needs to be preserved, yet even the most neglected old vines may hold potential and it's always a shame to hear of an old vineyard that's been ripped out for one reason or another. An issue that's often raised is whether wines made from old vines are better than those from younger vines, or even if they are noticeably different. There is disagreement about that and I don't claim to know the answer, but based on the wines I tried at the HVS Tasting – particularly Zinfandels – I do think there is something distinctive and special about the wines as well as the old vines themselves.
Overall impressions
Some Favorites

Bedrock 2016 Evangelho Vineyard "Heritage"
Birichino 2016 "Saint Georges" Zinfandel
Calder 2015 Mendocino County Carignane
Carlisle 2015 Carlisle Vineyard Zinfandel
Carol Shelton 2015 Oat Valley Vineyard Carignane
Fields Family 2016 Bechthold Vineyard Cinsault (Lodi Winegrape Commission)
I. Brand & Family 2016 Enz Vineyard Mourvèdre
Mike & Molly Hendry 2015 R.W. Moore Vineyard Zinfandel
Once & Future 2016 Teldeschi Vineyard "Frank's Block" Zinfandel
Precedent 2015 Evangelho Vineyard Zinfandel
Reichwage 2016 Mancini Ranch Carignane
Ridge 2013 Monte Bello "Historic Vines"
Sandlands 2016 San Benito County Mataro
St. Amant Lodi Native 2016 Marian's Vineyard Zinfandel
Stirm 2016 Wirz Vineyard Riesling
Williams Selyem 2016 Saitone Vineyard Zinfandel
OTHERS OF NOTE

Arnot-Roberts 2014 Montecillo Vineyard Cabernet Sauvignon
Carlisle 2016 "Two Acres"
Carol Shelton 2016 "Monga" Zinfandel
Day 2015 El Diablo Vineyard Zinfandel
Joseph Swan 2013 Ziegler Vineyard Zinfandel
La Marea 2015 Besson Vineyard Grenache (I. Brand & Family)
Nalle 2015 Estate "Old Vine" Zinfandel
Neyers 2016 Evangelho Vineyard Carignan
Once & Future 2016 Palisades Vineyard Petite Sirah
Precedent 2015 Wirz Vineyard Riesling
Ridge 2015 "Geyserville 50th Vintage"
Sandlands 2016 Contra Costa County Mataro
Stirm 2016 Cabernet Pfeffer
Turley 2015 Sadie Upton Vineyard Zinfandel
Williams Selyem 2016 Fanucchi-Wood Road Zinfandel



The HVS has held events before – generally vineyard tours and associated wine dinners – but this was the first broadly-based old-vine wine tasting that they have organized. The venue was conveniently located in San Francisco, an easy walk from public transit. It proved to be a very nice spot for the tasting – The Press Club is an upscale wine bar and lounge that had plenty of space for producers to set up and for tasters to move about without it becoming too packed. Though it took a few minutes after the event started for spit cups and more dump buckets to be set out, once that was taken care of everything ran very smoothly, and the Press Club staff was very efficient. Check-in was a breeze, and cheese, crackers, and water was available for tasters. The space, which is down a flight of stairs from street level, did get a bit warm but it was not too bad. For those wanting to take a break, there were plenty of comfortable chairs in a seating area off to the side of the main tasting. Overall, I thought The Press Club offered a very pleasant atmosphere for the tasting – upscale but still relaxed and casual.
The list of participating wineries at the HVS Tasting was quite impressive. One thing that made this tasting really stand out is that most of the producers were represented by the proprietors / winemakers themselves, many of whom you don't often see at public tastings such as this – it was something of a star-studded event!
Producers set up behind several long tasting bars inside the Press Club space, and there were 30 wineries represented plus a selection of three wines from the Lodi Winegrape Commission. Producers poured from one to four wines each – this made it easy to check out more of them in comparison to some tastings where a single winery may pour seven or eight wines. The tasting was sold out, and although some of the producers generated a sizable crowd waiting for a pour, it proved to be fairly easy to come back to their spots later on when the crowd had thinned out. I have to mention that unlike some other tasting events that feature highly-regarded wineries, all of the vintners stayed to the very end of the tasting as far as I could tell – great to see that!
The vineyards and wineries represented at the tasting were largely well-known ones. With this event being a fund-raiser for the HVS, it made sense to focus mainly on better-known producers who would attract a bigger crowd, but perhaps future tastings could feature a greater number of lesser-known vintners to introduce more consumers to their wines. As with the HVS Registry, the vineyards represented were mostly in Sonoma County, and it would be nice to see that representation expand more to other growing regions in the future. I got the sense that this is something that HVS realizes they need to work on.
There are tasting notes below on selected wines, though I have not gone into any detail in describing the vineyards themselves – for that I strongly recommend visiting the Registry of Heritage Vineyards on the HVS website, where most of the vineyards represented at this tasting are listed.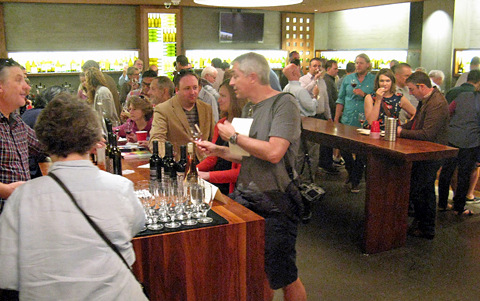 As is always the case, even in a medium-sized tasting event such as this, there was just not enough time to get to all the producers I would have liked to, and I missed a handful that I'd really hoped to check out. I did still manage to taste wines from 22 producers plus the Lodi Winegrape Commission. Since there were so many Sonoma vineyards represented at the tasting, I made an effort to try as many from other regions as I could, knowing that I'd still be tasting plenty of wines from old-vine Sonoma fruit. Not surprisingly, in terms of grape varieties, there were lots of Zinfandels, but there were a fair number of wines from Carignane, along with a few from Mataro / Mourvèdre, Grenache, Cinsault, Petite Sirah, Cabernet Sauvignon, and even some white varieties. And many of these old vineyards feature intermixed grape varieties, as was not unusual a century or more ago – the resulting wines from these are typically called field blends, as the different varieties are essentially blended in the vineyard rather than in the cellar. Quite a few of the varietally-labeled wines poured at the tasting were actually field blends.
In this Zin-heavy tasting, found it interesting that I noted so many Zinfandels as having a noticeably "brambly" component to them – sort of an herbal and somewhat rustic character that I sometimes find in this variety. But I encountered it considerably more than I'd expected – perhaps that brambly element is a characteristic of old-vine Zin? I also found many of the Zinfandels to be lighter and less "in your face" than what I'm used to with this variety, not quite as fruit-forward and more savory and lively than many big Zins. Even the bolder Zinfandels at the tasting showed interesting complexity and good balance. Regardless of the variety, I got the sense that the vintners at this tasting generally respected what the old vines gave them and that the wines were neither overly polished nor showy.
Overall, this was one of the best wine tasting events I've attended in awhile, with a strong showing from nearly all the producers whose wines I tried. It was very tough to pick just a few favorite producers since so many of them poured outstanding wines, but Carlisle, Carol Shelton, I. Brand & Family, Mike & Molly Hendry, Once & Future, Precedent, Ridge, Sandlands, Stirm, and Williams Selyem were among my favorites. That's nearly half of the producers whose wines I tasted – I told you it was tough to pick just a few! Several others were close behind – lots of excellent wines on display. No surprise that so many wines made my lists of Favorites and Others of Note.
I have to admit that despite the promise of so many highly-regarded producers at this event, going in I was unsure of how I would enjoy it, but I was blown away by the quality of wines across the board. The Historic Vineyard Society is doing a great job of increasing public awareness of old and historic vineyards and of generating more interest in their preservation. They depend on fundraising events such as this tasting and donations to help them continue their work, and I think it's a cause that anyone who really cares about California wine can support. I certainly hope that the HVS Tasting becomes an annual event.
Selected Tasting Impressions

Arnot-Roberts

The winery was founded by Duncan Arnot Meyers and Nathan Roberts in 2002. While they continue to make varieties such as Chardonnay, Pinot Noir, Cabernet Sauvignon, and Syrah, Arnot-Roberts has also become known in recent years for wines from lesser-known California grapes from older vineyards. Duncan poured two wines at the event and both were noteworthy. The 2016 Heinstein Vineyard "Old Vine White Wine" is a field blend of white grape varieties from the Sonoma Valley vineyard that used to be known as Compagni-Portis. Duncan told me that this wine is mostly Riesling, along with Sylvaner, Gewürztraminer and other varieties. The wine displayed pear and citrus, plenty of spice, a hint of flowers, and a stony mineral note, with medium body and a chalky texture and finish. Next was the 2014 Montecillo Vineyard Cabernet Sauvignon from Sonoma Valley – this had green olive, herbs, plum and currant fruit, and touches of pepper and spice on the nose, with a lively medium-full bodied mouthfeel and a grippy tannic finish.

Bedrock

Bedrock's Morgan Twain-Peterson is the son of Ravenswood winery founder and current Once & Future proprietor Joel Peterson, and he founded the label in 2007. Chris Cottrell joined Morgan as a partner in Bedrock in 2012. Morgan and Bedrock have brought much attention to the preservation of old and historic vineyards, and much of the fruit for their wines comes from old vines. They recently purchased noted Evangelho Vineyard near Antioch in Contra Costa County. Morgan poured the Bedrock wines at the tasting. I thought the red wines were the standouts – the first of these was the 2016 Evangelho Vineyard "Heritage." A Zin-based field blend that also includes Mourvèdre and Carignan, this was a bright and peppery, with black cherry fruit, lighter weight on the palate, finishing with moderate tannins. From Amador County, the 2016 Esola Vineyard Zinfandel showed floral and herbal notes along with cherry fruit, good structure, and fine tannins. The 2016 "The Bedrock Heritage" from Sonoma Valley is a field blend that includes over 25 grape varieties, with about 50% Zinfandel. Less fruit-forward, this displayed lots of spice plus earth and savory herbal notes, with a bigger, more structured mouthfeel and finish.

Birichino

Proprietors Alex Krause and John Locke established Birichino in Santa Cruz in 2008. Although Pinot Noir is one of the varieties they work with, they're better-known for their wines from varieties that were once more common in California than they are now – Chenin Blanc, old-vine Grenache and Mourvèdre, Cinsault, and Zinfandel among them. Their 2016 Bechthold Vineyard Cinsault from Lodi showed bright red fruit aromas with savory and earthy undertones, and fairly mild tannins. The 2016 Besson Vineyard Grenache, from old vines in Santa Clara Valley, featured higher-toned red fruit with spice and earth notes and a tangy finish. My favorite of the Birichino wines was the 2016 "Saint Georges" Zinfandel, also sourced from Besson Vineyard. Spice and earth aromas were upfront, with bright and brambly wild berry fruit in support, medium-light weight on the palate with fine tannins.

Calder

Rory Williams (Calder is his middle name) launched his label in 2011. He grew up around wine – his family owns Frog's Leap Winery in Napa Valley, and Rory sources some of his fruit from their vineyards. Calder has focused on traditional but somewhat overlooked California grape varieties. Rory was on hand for the tasting, and he poured two Carignanes. The first was a brand new 2016 Evangelho Vineyard Carignane from Contra Costa County – red fruit, spice, earth, and flowers on the nose, with a lively texture and moderate tannins. My favorite of the two was the 2015 Mendocino Carignane, from Rovera Vineyard in Redwood Valley and Cemetery Block in Ukiah Valley. This featured a more earthy and more floral character, with red fruit in support plus savory and gamey notes, a bigger structure with more grippy tannins – great aromatics for now and fine structure for aging.

Day / Failla

Failla was founded in 1998 by winemaker Ehren Jordan and his wife Anne-Marie Failla. Cool-climate Chardonnay and Pinot Noir are their specialties. Ehren established Day in 2011 – it's a Zinfandel project that sources fruit from older vineyards in Sonoma County. Ehren has a long background with Zin, having been the winemaker at Turley for many years. I missed the one Failla wine (a Chardonnay from Haynes Vineyard in Coombsville) but did taste the Day 2015 El Diablo Vineyard Zinfandel from the warmer northern part of Russian River Valley. Bright, bold, and peppery, this displayed brambly red berry fruits and spice, with medium-full body and moderate tannins on the finish.

Carlisle Winery & Vineyards

Proprietors Mike and Kendall Officer were on hand to pour their wines at the tasting. They established their label in 1998 after Mike had been a longtime home winemaker. He's been working with old-vine Zinfandel, Rhônes, and old field blends for many years. The list on the Carlisle website of old vineyards that Mike sources fruit from is nearly as extensive as the HVS Registry! The 2015 "The Derivative" is a blend of white grape varieties (Muscadelle, Sémillon, Colombard, and Palomino) from three old vineyards in Russian River Valley and Sonoma Valley – the wine showed pear and citrus fruit, herbs, and earth, with lively acidity and a medium-light texture. A pre-release taste of the 2016 "Two Acres" Mourvèdre-based field blend was a standout, with earthy, smoky plum and darker berry fruit with touches of vanilla and spice, and a grippy finish – a promising youngster that will benefit from time in the cellar. The 2015 Carlisle Vineyard Zinfandel (another field blend with 87% Zin) was even better, featuring ripe wild berry, spice, and pepper aromas, good structure with firm but refined tannins – very tasty now but should age nicely too.

Carol Shelton

Carol launched her eponymous winery in 2000, after earning an enology degree from UC Davis and spending nearly 20 years as winemaker for Windsor Vineyards. She's become particularly known for her Zinfandels, which she sources from up and down California. She poured her wines at the tasting and several were noteworthy. My favorite was actually a non-Zin, the 2015 Oat Valley Vineyard Carignane, from a site in Alexander Valley – this displayed bright red fruit, earth, and notes of smoke and spice, with fine acidity and moderate tannins. The 2015 "Wild Thing" Zinfandel from Mendocino was next, and this had lots of exotic spice aromas along with ripe and bright raspberry fruit, a touch of vanilla, and a fairly round mouthfeel. Another standout was the 2016 "Monga" Zinfandel, from Lopez Vineyard in Southern California's Cucamonga Valley – plenty of brambly and spicy character plus a darker fruit profile and earthy and floral notes, richer texture and more grip on the finish.

I. Brand & Family / La Marea

Ian and Heather Brand were behind the tasting bar for the event. There are three labels under the I. Brand & Family umbrella: La Marea (focusing on Iberian varieties), Le P'tit Paysan (value-priced varietals and blends), and I. Brand and Family (higher-end single-vineyard wines). All the fruit is sourced from vineyards in the Monterey, San Benito, Santa Clara and Santa Cruz regions. Ian poured three wines, starting with the La Marea 2015 Besson Vineyard "Old Vine" Grenache, which featured bright red fruit, spice, and undertones of dried herbs and flowers, with moderate tannins. A sample of La Marea 2012 Besson Vineyard Grenache from magnum was quite different, with a darker, earthier character. The last wine was one of the day's highlights, the I. Brand & Family 2016 Enz Vineyard Mourvèdre. From the Lime Kiln Valley area of San Benito County, this was earthy, smoky, with pepper and iron notes and darker berry fruit, plus good structure and notable but fine tannins.

Joseph Swan Vineyards

Joseph Swan is one of Russian River Valley's most storied wineries. Joe Swan established the label in the late 1960s, and winemaker Rod Berglund has been at the helm there since Joe passed away in 1989. Though the winery's Trenton Estate Vineyard includes some of the oldest Pinot Noir vines in the area, they've also worked with old-vine Russian River Valley Zinfandel for many years. Rod was on hand with his wife Lynn, and he poured two wines at the tasting. The 2012 Mancini Ranch Zinfandel had earthy and brambly berry fruit, with a stony mineral note on the finish. From a site that Rod said was just across the road came the 2013 Ziegler Vineyard Zinfandel. Displaying a brighter yet restrained fruit component along with savory and earthy elements along with pepper and spice, this had good structure for aging.

Limerick Lane Wines

Limerick Lane is located near the warmer northern end of the Russian River Valley AVA, not far south of Healdsburg. Mike Collins owned the old vineyard for over 30 years before Jake Bilbro bought the property in 2011. The site has long been known for its Zinfandel (which actually includes Peloursin, Negrette, Alicante Bouchet, Syrah, and Petite Sirah among its interplanted vines), and it includes more recent plantings of Grenache and Syrah as well. My favorite of the Limerick Lane wines I tasted was the 2015 "1910 Block" Zinfandel – big and spicy, with ripe and brambly darker fruit and touches of vanilla and pepper, fairly rich mouthfeel with plenty of structure and moderate tannins.

Lodi Winegrape Commission

Wine writer and sommelier Randy Caparoso represented the Lodi Winegrape Commission at the event – among other things, he authors the blog on the lodiwine.com website. Randy poured three wines made from Lodi fruit at the event. The 2016 Ironstone Rous Vineyard "Reserve" Zinfandel and 2014 Klinker Brick Carignane (from Rauser Vineyard) were both nice but I thought the clear standout among the three wines was the 2016 Fields Family Bechthold Vineyard Cinsault. This historic own-rooted 1886 vineyard may have the oldest Cinsault vines in the world. Plenty of bright red fruit along with floral and herbal notes on the nose, this was lighter-bodied with juicy acidity and a long, clean finish.

Mike & Molly Hendry

Both Mike and Molly Hendry have long roots in Napa Valley. Mike's grandparents purchased property near the base of Mount Veeder, and this is now the Hendry Ranch Vineyard and Winery. Molly's aunt and uncle, Denise and Bill (R.W.) Moore, had their own vineyard in the Coombsville region of Napa. Mike and Molly made their first Zinfandel from this century-old vineyard in 2009. Mike was on hand to pour the 2015 R.W. Moore Vineyard Zinfandel, which I thought was one of the tasting's highlights. This featured aromas of brambly and peppery boysenberry and darker fruit plus spice and a stony mineral note, with an elegant texture, finishing with moderate tannins.





Nalle Winery

The Nalle family has owned their vineyard property in Dry Creek Valley since 1927. The winery is run by Doug and Lee Nalle and their son Andrew, who now makes the wines. Doug and Lee started the label in 1984, and they are known as Zinfandel specialists, though there is also Carignane, Cabernet, and Merlot at their estate site and they purchase some fruit for other wines as well. Lee was behind the tasting bar at the event, and she poured me the 2015 Estate Old Vine Zinfandel. Bright berry aromas along with touches of herbs, pepper, and spice, this had an elegant mouthfeel with vibrant acidity and fine tannins.

Neyers Vineyards

Neyers was established in 1992 by Bruce and Barbara Neyers. Bruce spent over 15 years with Joseph Phelps Vineyards before establishing the Neyers label. Well-known for wines from their Conn Valley estate vineyard, Neyers also purchases fruit from a number of other top growers. Frank Evangelho provides them with Carignan from his vineyard in the Antioch area of Contra Costa County, and I tasted the 2016 Evangelho Vineyard Carignan at the event. Displaying earthy red fruit, pepper, and floral notes, this was medium-bodied with a lively mouthfeel and moderate tannins.

Once & Future Wine

Once & Future is the new label of one of California's legendary vintners, Joel Peterson. Joel founded the Ravenswood label in 1976 and ran it until he sold it in 2001 (and he stayed on to oversee winemaking there afterwards). Once & Future, launched just a couple of years ago, seems in many ways to be Joel returning to his wine roots, making limited bottlings from small, old-vine fruit sources. Joel poured three of his new wines along with an older Ravenswood Zin at the event. The 2016 Oakley Road Vineyard Mataro featured black cherry and plum fruit, smoke and spice, plus pepper and earth undertones, with medium weight on the palate and good structure. The 2016 Teldeschi Vineyard "Frank's Block" Zinfandel from Dry Creek Valley – a field blend that also includes Petite Sirah, Carignane, and Alicante Bouschet – was a favorite. With ripe, brambly fruit, pepper, and plenty of spice on the nose, this was a bolder wine with the structure for aging. Next was the 2016 Palisades Vineyard Petite Sirah from the Calistoga area, which showed big, dark-fruited, earthy, and peppery aromas with floral undertones, full body, and grippy youthful tannins. Finishing off was a Ravenswood 1994 Wood Road Belloni Vineyard Zinfandel – aging nicely into a lovely old red, with subdued plummy fruit, earth, and herbal notes, and still displaying a firm tannic finish.

Precedent Wines

Precedent is the project of Thomas Fogarty winemaker Nathan Kandler, who poured his wines at the tasting. He began the label in 2006, and over the years he has sought out special vineyards for his fruit sources. He's been making a Zinfandel from Contra Costa County's noted Evangelho Vineyard since 2010. Nathan started out the tasting with the 2015 Wirz Vineyard Old Vine White Wine from Cienega Valley in San Benito County. The wine is actually 100% Riesling, made in neutral oak, and it displayed stone fruit, flowers, and petrol aromas with a lively mouthfeel and finish. One of the event's standout wines was the 2015 Evangelho Zinfandel, which is about 90% Zin along with other varieties planted among the old vines. Raspberry and darker berry fruit, pepper, flowers, and spice aromas with juicy acidity and firm tannins – this is very tasty now but should develop nicely with more age.

Reichwage

Reichwage is one of the newest producers at the tasting, established in 2014 by winemaker Max Reichwage. He focuses on Pinot Noir and Zinfandel from the winery's two historic estate vineyards, Twin Hills and Mancini Ranch. Max poured two wines at the event, both from Mancini Ranch in Russian River Valley. My favorite of the two was the 2016 Mancini Ranch Carignane – this featured earthy and slightly gamey red fruit aromas along with spice and floral notes, and a lively texture with great structure and firm tannins. The 2015 Mancini Ranch Zinfandel was nearly as good, with more upfront ripe raspberry fruit and lots of pepper, plus brambly and spicy components, fine structure and a bigger tannic finish.

Ridge Vineyards

Ridge is one of California's most renowned wineries, founded in 1959. Paul Draper joined Ridge in 1969 and headed their winemaking team until his retirement in 2016. Both John Olney, winemaker at the Ridge Lytton Springs facility in Dry Creek Valley, and Eric Baugher, winemaker at the Monte Bello estate in the Santa Cruz Mountains, have been at Ridge for over 20 years. Eric was on hand at the event and he poured two wines for me. The 2015 "Geyserville 50th Vintage" is the winery's well-known field blend from Alexander Valley that's about 70% Zinfandel plus Carignane, Petite Sirah, and Alicante Bouschet. This showed earthy, gamey aromas plus dark berry fruit, spice, and a brambly component, with fine structure and firm tannins. Eric followed this with the 2013 Monte Bello "Historic Vines" – a small-production bottling of 100% Cabernet Sauvignon from the oldest Cabernet vines at the legendary estate vineyard, planted in the 1940s. One of the wines of the day, this had herbs, pepper, currant and darker fruit, hints of flowers, and lots of spice – big but lively on the palate, with a firm tannic finish. This promising young Cab should have a very long life ahead of it.

Sandlands Vineyards

Sandlands is the label of Turley winemaker Tegan Passalacqua and his wife Olivia. The focus is on older grape varieties of California – such as Chenin Blanc, Carignane, Trousseau, and Mataro – and mostly sourced from old vines. Tegan searches out nearly-forgotten vineyards, particularly those with sandy decomposed granite soil. The first vintage for the Sandlands wines was in 2010. Tegan poured three wines at the tasting, all of them noteworthy. The 2016 Contra Costa County Carignane displayed subtle red fruit aromas along with earth and spice, leading to a bright mouthfeel and finish. The 2016 Contra Costa County Mataro had ripe black cherry fruit, earth, herbs, and an iron component, with medium-light body, and moderate tannins. The 2016 San Benito County Mataro was one of the day's highlights – sourced from Enz Vineyard, this was less fruit-forward, with complex aromas of iron and game, plum and earth, plus stony mineral undertones, and it had a more structured mouthfeel with firmer tannins than the previous wine. Fascinating contrast between two very good Mataro bottlings.

St. Amant

St. Amant was established in 1981 by the Spencer family, and winemaker Stuart Spencer and his mother Barbara are the proprietors. They work with a number Iberian-variety grape varieties from the family's vineyard in Amador County, and another specialty is old-vine Zinfandel from Lodi. They poured three of these Zins at the tasting. The 2015 Mohr-Fry Ranch Zinfandel showed wild berry fruit along with lots of spice and some smoky oak notes. I preferred the 2016 Marian's Vineyard Zinfandel, with more brambly and spicy boysenberry aromas, plus earth and pepper undertones and a more structured mouthfeel with moderate tannins. The last St. Amant Zin was produced for the Lodi Native project. A number of vintners participate in this, making their old-vine Zinfandels according to a set of guidelines meant to showcase the distinctive vineyard qualities. The Lodi Native 2016 Marian's Vineyard St. Amant Zinfandel – from fruit harvested about 10 days earlier than for the winery's regular bottling – featured more pepper along with floral aromas and a more subtle fruit component, savory and earthy notes, and a brighter texture with notable but refined tannins on the finish. Quite an interesting comparison between the two Marian's Vineyard Zins.

Stirm Wine Co.

Ryan Stirm launched his wine label with the 2013 vintage. He gained experience working with old Zinfandel vines at Saucelito Canyon Winery in Arroyo Grande. After that, he was the assistant winemaker for Justin Willett of Tyler Winery in Santa Barbara County. Ryan has been especially known for his Riesling, and he's been working with several grape varieties from old vineyards in San Benito County. Ryan was behind the tasting bar at the event, and I particularly liked a couple of his wines. Made entirely in stainless steel, the 2016 Wirz Vineyard Riesling had bright stone fruit and citrus aromas plus floral and restrained petrol notes, medium weight on the palate with a chalky mineral character on the finish. The 2016 Cabernet Pfeffer, from an obscure old California grape variety, was floral and herbal, with black cherry fruit and peppery undertones, a lively texture and moderate tannins.


Turley Wine Cellars

Larry Turley established his eponymous label in 1993. The winery has specialized in single-vineyard old-vine Zinfandel, though they produce other varieties as well. Fruit is sourced from over 30 vineyard sites, stretching from Paso Robles to Amador County as well as Napa and Sonoma. Longtime assistant Tegan Passalacqua became Turley's head winemaker and vineyard manager in 2013. I particularly enjoyed two of the Turley wines poured at the event. The 2016 Bechthold Vineyard Cinsault from Lodi had plenty of bright red fruit plus earth and herb notes, with a lively texture and a stony mineral note on the finish. The 2015 Sadie Upton Vineyard Zinfandel from Amador County featured lots of spice along with wild berry fruit, pepper, and earth on the nose, with a more structured mouthfeel and firm tannins.


Williams Selyem Winery

Williams Selyem was founded by Burt Williams and Ed Selyem, with their first commercial vintage coming in 1981. John Dyson purchased the winery in 1998, and a new winery facility was completed along Westside Road in Russian River Valley in 2010. Bob Cabral made the wines for a number of years following Burt and Ed's departure, and Jeff Mangahas took over as head winemaker in 2015. Jeff was on hand at the tasting and poured several old-vine 2016 Russian River Valley Zinfandels. The 2016 Papera Vineyard Zinfandel had lots of spice and earth aromas with brambly black cherry fruit and moderate tannins. The 2016 Saitone Ranch Zinfandel was one of the highlights of the tasting. Wild berry, spice, pepper, and earth aromas led to a lively and medium-bodied texture and refined tannins – perhaps the most elegant Zin at the event. The 2016 Fanucchi-Wood Road Vineyard Zinfandel was nearly as good, displaying floral notes plus a brambly, herbal character and slightly darker fruit profile, with a more structured mouthfeel and firm tannins.