Brooks Note Winery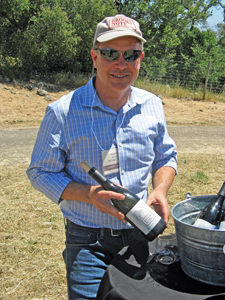 Brooks Note was founded in 2011 by Garry Brooks and his wife Joanne. Garry has worked for Ravenswood, Acacia, Kosta Browne, and Dutton-Goldfield, which is where he was introduced to Marin County vineyard sources. The focus so far has been on Chardonnay, Pinot Noir, and Pinot Rosé. Garry was on hand to pour several Pinot Noirs at the tasting, and all of them were from the northern Marin County part of Petaluma Gap. The 2015 Marin County Pinot Noir was sourced largely from Kendric Vineyard, and featured tea leaf and spice aromas along with black cherry and floral notes, with fine structure and chalky mineral tannins. Sourced from Azaya Ranch and Chileno Valley vineyards, the 2016 Marin County Pinot Noir had a more stony mineral character, with cherry, earth, and mildly floral aromas, good structure, and fine tannins. The 2016 Azaya Ranch Pinot Noir, sourced entirely from that vineyard, had similar aromatics to the previous wine, but boosted the mineral quality even more, with a bit more structure and grip on the finish.
Calstar Cellars

Vintner Rick Davis has made wine for a number of well-known producers including Flowers, Londer, and Halleck – Calstar is his own label, launched in 2001. In addition to Pinot Noir, Calstar makes Chardonnay, Sauvignon Blanc, and Zinfandel. Rick was on hand to pour two vintages of one of his wines. Of the two, I preferred the 2012 Sangiacomo Roberts Road Vineyard Pinot Noir over the 2013. From 115 and Swan clones, this featured earthy aromas along with spice, black cherry, and slightly floral notes, medium-bodied with moderate tannins on the finish – very typical of this vineyard.
Cline Family Cellars

Fred Cline founded Cline Cellars in 1982, and moved the winery from Oakley to the Carneros region in 1991. Charlie Tsegeletos is the winemaker, and he also makes the wines for Cline's sister winery Jacuzzi Family Vineyards. Assistant Winemaker Tom Gendall poured the wines at the event, and two of them were particularly noteworthy, both made in amphorae. Part of the fruit for the 2016 "Amphora Chiaro Bianco" Estate Viognier spent about two weeks on the skins prior to pressing, and the wine had an earthy, spicy character combined with the more typical Viognier stone fruit and floral notes – a slightly chalky texture and finish added interest as well. The 2015 "Amphora Furvus Rosso" Estate Syrah showed bright blackberry fruit with touches of pepper and herbs, medium body and moderate, chalky tannins.
DeLoach Vineyards
DeLoach, owned by the Boisset family since 2003, has long been known for its Sonoma County wines, particularly those from Russian River Valley. Starting with the 2009 vintage, the winery branched out into fruit sourced from northern Marin County fruit. Winemaker Brian Maloney poured the DeLoach wines at the tasting, all of them sourced from the Marin County portion of the Petaluma Gap. The 2017 Marin County Riesling, sourced from Corda (Chileno Valley) Vineyard, was a standout. Made in concrete eggs, this dry Riesling displayed citrus and stone fruit aromas, flowers, and touches of herbs and earth, with vibrant acidity. The 2014 Stubbs Vineyard Chardonnay was a medium weight wine with pear, lemonpeel, and earth on the nose, and a stony mineral note on the finish. The 2014 Marin County Pinot Noir, sourced from both Corda and Stubbs vineyards, had aromas of black cherry, tea leaf, earth, and notes of flowers and spice, with fine acidity and fine tannins.
Enriquez Estate Wines

Proprietor Cecilia Enriquez' family acquired their estate vineyard near Old Adobe Road east of Petaluma in 2011, while the winery's first releases came from the 2009 vintage. Mike Brunson is the winemaker. The 2013 "Brisa" is an unusual field blend of Sauvignon Blanc, Muscat, and Chardonnay, all harvested together and co-fermented, then kept in stainless steel until bottling. With upfront herbal and mildly floral "Muscat-y" aromas, medium body, and fairly smooth texture, this was an intriguing and pleasant wine. Another notable wine was the 2012 Tempranillo – not a grape variety you'd associate with the Petaluma Gap. Aged for 14 months in 25% new American oak, this was herbal, plummy, and spicy, with hints of flowers and earth, plenty of structure and moderately grippy tannins on the finish.
Fogline Vineyards
Fogline Vineyards was established in 2009 by friends Evan Pontoriero and Brent Bessire. Their estate vineyard, planted mainly to Pinot Noir along with some Chardonnay and a little Sauvignon Blanc, is near the northern edge of Petaluma Gap on Sonoma Mountain. All three of the wines that Evan poured were noteworthy. The 2017 Estate Zephyr's Block Chardonnay, from Old Wente and 76 clones, featured bright stone fruit, earth, and floral aromas plus a touch of spice, with medium body and a lively texture and finish. The 2017 Cloud Twelve Vineyard Rosé of Syrah was co-fermented with 2% Ehrenfelser, and showed cherry, spice, and floral notes on the nose, quite distinctive. Finally, the 2014 Estate Hillside Block Pinot Noir, from Mount Eden, Swan, Pommard, and 115 clones, had aromas of black cherry, orangepeel, herbs, and a touch of vanilla/oak, with good structure and moderate but refined tannins.
Guarachi Family Wines
Originally from Chile, Alex Guarachi has been a longtime wine importer, and launched his own label in 2007. He teams up with winemaker Julian Gonzalez, who had previously worked with Paul Hobbs. Sun Chase Vineyard, high on Sonoma Mountain near Gap's Crown, is one of Guarachi's estate vineyards. I thought that both of the Sun Chase Vineyard wines were standouts. The 2016 Sun Chase Vineyard Chardonnay displayed bright floral, pear, and stone fruit aromas with hints of vanilla and spice in the background, medium weight on the palate, and a lively finish. The 2016 Sun Chase Vineyard Pinot Noir had beautiful floral aromatics along with black cherry, earth, and spice, fine acidity and structure, and a long, clean finish.


Kastania Vineyards
Hoot and Linda Smith planted their vineyard in 1994, on a property that has been owned by the Smith family since the 1860s. They grow both Burgundian and Bordeaux grape varieties at the site, just south of Petaluma. After selling fruit to a number of producers, they launched the Kastania label for their own wines in 2005. The 2013 "Proprietor's Blend" – 65% Cabernet Franc, 35% Cabernet Sauvignon, aged in 30% new oak – showed that you can successfully grow Bordeaux varieties in the cool Petaluma Gap. The wine displayed herbs, mint, plum and currant fruit, earth, and spice on the nose, with medium weight and chalky but surprisingly refined tannins.
Keller Estate
Arturo Keller and Deborah Keller established their estate La Cruz Vineyard in 1989, and they launched their wine label in 2000. Winemaker Alex Holman works with Arturo's daughter Ana to make the wines. Their beautiful gravity-flow winery was designed by famed Mexican architects Ricardo and Victor Legorreta. I particularly liked two of the Keller wines I tasted. The 2015 La Cruz Vineyard Chardonnay, fermented and aged in 30% new French oak, featured pear, stone fruit, and spice aromas with notes of flowers and vanilla, medium-bodied with a moderately creamy texture and slightly chalky mineral finish. The 2015 "El Coro" Pinot Noir had beautiful floral aromatics, along with plum, earth, and herb notes, a lively texture and fine tannins.
Kendric Vineyards
Stewart Johnson's estate vineyard, on the northern edge of Marin County, is planted mostly to seven clones of Pinot Noir along with a small block of Viognier. The first Kendric vintage came in 2004, and Stewart makes his wines on Treasure Island in San Francisco Bay. (Disclosure – I've helped bottle some of the Kendric wines) Stewart poured a couple of standout wines. The 2017 Estate Viognier, pressed after about six hours on the skins, is his best wine from this variety yet. Plenty of floral and citrus aromas, with herb and stone fruit undertones, medium weight with lively acidity, and a chalky mineral note on the finish. The 2016 Estate Pinot Noir, fermented with whole clusters, had black cherry, earth, tea leaf, and floral aromas, good structure, and a slightly chalky quality on the moderately-tannic finish.
McEvoy Ranch Winery

Long-known for their fine olive oil, McEvoy Ranch planted about 8½ acres of their northern Marin County property with grapevines in 2006, starting with Pinot Noir, Syrah, Montepulciano, Grenache, Viognier, Alicante Bouschet, and Refosco. Since 2012, McEvoy Ranch has also taken over farming 19 acres of vines at Azaya Ranch. Noted vintner Byron Kosuge became the McEvoy winemaker in 2017. I particularly enjoyed their 2014 Estate "Red Piano" Syrah – the "Red Piano" is a field blend that came out at over 75% Syrah in 2014, but also includes some of the other varieties in the vineyard except Pinot Noir. Herbal and savory dark berry fruit, earth, spice, and pepper on the nose, medium-rich mouthfeel with a lively texture, and somewhat grippy tannins.
Michael Mondavi Family Estate

Michael Mondavi began his wine career when his father Robert launched his Napa Valley winery in 1966, where Michael was the winemaker there through 1974. Michael and his wife Isabel co-founded Michael Mondavi Family Estate in 1999 along with their children Dina Mondavi and Rob Mondavi Jr. Dina and Rob Jr. head up the Emblem label, launched in 2009. I tasted their Emblem 2016 Sonoma Coast Chardonnay, which had ripe stone fruit aromas along with spice and vanilla notes, a fairly rich mouthfeel, plus a chalky mineral quality on the finish.
Rodney Strong Vineyards

Rodney Strong established Sonoma County's 13th bonded winery in 1959, and over the years they've become one of Sonoma's best-known producers. The distinctive winery facility near Healdsburg was built in 1970. Tom Klein is the current proprietor, and Rick Sayre heads up the winemaking team along with Justin Seidenfeld and Greg Morthole, with David Ramey as consulting winemaker. I tasted their 2014 Sonoma Coast Estate Pinot Noir, which was aged in 33% new French oak. This showed ripe black cherry and plum fruit, herbs, earth, and a touch of vanilla on the nose, medium-bodied with milder tannins on the finish.
Sojourn Cellars

Sojourn was founded in 2001 by Craig and Ellen Haserot and winemaker Erich Bradley. Located in Sonoma, the label specializes in Chardonnay and Pinot Noir from the Sonoma Coast and Russian River Valley, and Cabernet Sauvignon from Napa Valley. I thought their standout wine at this tasting was the 2016 Rodgers Creek Vineyard Pinot Noir. From Pommard and 777 clones, this was fermented with 15% whole clusters and aged in 50% new French oak. Ripe red fruit, tea leaf, spice, plus earth and forest floor aromas, a moderately rich texture and slightly chalky tannins.
Three Sticks Wines

Three Sticks is owned by winery and vineyard investor Bill Price, who founded the label in 2002. He currently owns Durell and Gap's Crown vineyards among others, and he's involved in other wine labels as well. Former Williams Selyem winemaker Bob Cabral joined the Three Sticks team as director of winemaking in 2015. I tasted their 2015 Gap's Crown Vineyard Pinot Noir, from Rochioli, Swan, 115, and 828 clones and fermented with 20% whole clusters. Bright red cherry fruit, earth, flowers, and tea leaf aromas along with undertones of spice and vanilla, medium weight with a lively texture, finishing with refined tannins.
Trombetta Family Wines

Proprietor Rickey Trombetta Stancliff and her husband Roger established the Trombetta label, with the first wine coming from the 2010 vintage. Their daughter Erica is the winemaker, and much of the fruit for their wines to date has come from Gap's Crown Vineyard. I tasted their 2014 Gap's Crown Vineyard Pinot Noir, made from 777 and 828 clones, and aged in 50% new French oak. Ripe black cherry fruit, earth, herbs, and undertones of flowers and vanilla, with good structure and moderate tannins.