Sierra Foothills Visits - November 2018
The Sierra Foothills in late autumn – it's become an annual wine trip with friends, and this year was no exception. It was a one-day trip once again this year – a long day coming from the Bay Area but still manageable. A two-day wine tour of the Foothills does make things a good deal easier, and I may need to do that next time!
Our trip this year was on the Saturday following Thanksgiving. The group of friends that came along with me was nearly the same as last year. My friends Jane and Chris from Sacramento joined me, as did Jane's cousin Mike and his wife Carol, who recently moved to Sacramento. This year my friend Alan was able to come along as well. Last year's Foothills wine trip was Mike and Carol's first time visiting wineries in El Dorado County, and this year would include their first visits to Amador County wineries.
On last year's trip, we stuck entirely with old favorites, but this time three of the four producers we visited were new to me. I contacted all of the wineries in advance and made appointments, though only our last visit of the day requires an appointment for a visit. But I figured that on busy Thanksgiving weekend, it wouldn't hurt to make arrangements ahead of time.
Alan and I carpooled from Oakland, while Jane, Chris, Carol, and Mike all took one car from Sacramento. We planned to meet up at our first wine-tasting stop, in the old Gold Rush town of Amador City. It was an overcast day, with some light rain off and on along the drive from the East Bay and across the Central Valley, but only occasional drizzle once we got to Amador County. The Sacramento crew stopped in at Andrae's Bakery in Amador City – a must-stop if you're looking for fine pastries, breads, and other lunch supplies – while Alan and I headed straight to the tasting room for our first appointment of the day.
Saturday - November 24, 2018
Our first wine visit was to a new producer, The End of Nowhere. The winery tasting room in Amador City opened just a few weeks before our visit there with owner / winemaker Chris Walsh. I'd only learned of The End of Nowhere quite recently, when I saw a Facebook post on the new tasting room by Hank Beckmeyer of La Clarine Farm. I checked out the winery website and was able to get in touch with Chris to arrange for our group to stop by his tasting room before the regular opening time. Alan and I arrived first, stepping inside from the broad covered porch of the historic Amador Hotel, and Chris greeted us.
The tasting room is small but bright and welcoming. Its centerpiece is the cleverly-designed tasting counter, which incorporates the front of a 1949 Ford truck. Chris told us that he saw it on eBay, bought it, and had it shipped to him in New York City, where he was living at the time. The countertop is a thick piece of walnut wood from his family's property in Amador County. While we were waiting for the rest of our group to arrive, we had a few minutes to talk with Chris about his path to opening The End of Nowhere – a story about him returning to his roots.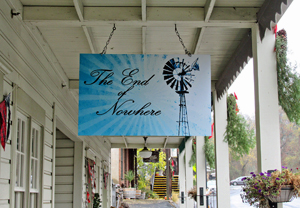 Chris told us that the winery name is descriptive of the location of his new vineyard and small winemaking facility, in a remote spot at the end of a dirt road near the town of Pioneer, about 15 miles to the east of Amador City. Chris grew up there, in a house that belonged to his grandparents. He didn't originally have any particular interest in wine, and he moved to New York City to become an architectural lighting designer. When the economy crashed in 2008, he found himself out of work and took a job at a local wine bar. This started his interest in wine, and he eventually worked his way up to become a certified sommelier. But he realized that what he really wanted to do was to make his own wine and he moved back to his family's property in 2014 and began planting a vineyard there the following year. He also looked to gain practical experience in both the vineyard and winery, and he's worked at Domaine de la Terre Rouge in Amador County and at Donkey and Goat in Berkeley, and helped at Shake Ridge Ranch and at Rorick Heritage Vineyard – both highly-regarded Sierra Foothills vineyard sites.
Chris' Little John Lane Vineyard – named after the road where the property in Pioneer is located – is at about 3,300-foot elevation, probably one of the highest vineyards in Amador County. Chris told us that the soil there is volcanic and quite rocky. There are currently about four acres of grapevines planted on the 20-acre property, where there are also walnut, apple, and pear trees. Chris had thought about planting some Italian grape varieties there but felt that the climate was too cold both early and late in the growing season for many of them to do well there (snow is not uncommon). He's planted mainly Rhône varieties, as these have thrived in many Foothills locations and produced some excellent wines. There are 16 grape varieties currently planted at the vineyard: Syrah, Grenache, Mourvèdre, Counoise, Cinsault, Viognier, Grenache Blanc, Roussanne, Picpoul, Picardan, Clairette Blanche, Vermentino, Grenache Gris, Petite Manseng, Gros Manseng, and Cabernet Franc. Some of the vines are own-rooted while others are planted on rootstock, and they're head-trained. As the vines are still very young, Chris is irrigating them, but he's hoping that he'll be able to dry-farm them once they're established. He farms using organic methods – he does not till the vineyard soil and has not needed to spray the vines, and he's let native grasses and flowers grow among the vine rows. Chris got a little fruit from his first vines this year but he expects the first real commercial crop will be in 2020.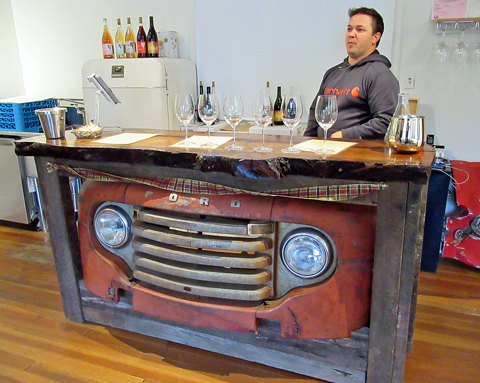 The initial wines from The End of Nowhere are all from purchased fruit, mainly from Amador County vineyards. As his own vines mature, Chris expects to center his production on wines made from his Little John Lane Vineyard. He would like to continue buying fruit from other growers as well, so he can work with grape varieties he doesn't have in his own vineyard. Chris made his first vintage (2016) at the Forlorn Hope facility near Murphys in Calaveras County but he's been making the wines at his place in Pioneer the past two years. With so many grape varieties at his new vineyard, it was not surprising to hear that he's planning to make mostly blends rather than single-varietal wines. Chris' winemaking follows a minimal-intervention / natural wine path, with native yeast fermentation, no additions other than SO2, and no fining or filtering. This year's production is about 1,200 cases.
Although Chris sees blends for his wines in the future, his first wines are all varietal, and mostly Zinfandel (and its close relative Primitivo). But he's approaching Zin in way that's different from most producers in the Sierra Foothills, or anywhere in California for that matter. There are both sparkling and still rosé bottlings, another made by carbonic maceration, plus a straightforward but lower-alcohol rendition. As the rest of our group had now joined us in the tasting room, Chris started us in with tasting the first of five wines from The End of Nowhere.
The fruit for the 2017 "Uncorked!" Sparkling Zinfandel Rosé came from Pritchard Vineyard near Plymouth. Many young sparklers are made by the Pétillant Naturel (Pét-Nat) method these days, but this one was not, and it's somewhat unusual in that it was not disgorged. Light salmon-pink color, this was lightly bubbly and featured subtle red fruit and pear flavors, a yeasty note, and a vibrant finish, quite nice. The 2016 "#1 Crush" Zinfandel Rosé was sourced from Slo 2 20 Vineyard near Plymouth. This wine was made from about 50% direct whole-cluster pressed fruit and 50% from fruit that was foot-trod and left on the skins for 24 hours prior to pressing, then fermented in a large (1,136 gallon) French oak tank. The wine showed aromas of red fruit, citrus, and lemonpeel, with crisp acidity and a clean finish. Our third wine was the lone one from fruit outside of Amador County – the 2017 "Inconvenienced Millionaire" Pinot Gris came from Heringer Vineyard in Clarksburg. Very light color, with higher-toned stone fruit, savory undertones, and good acidity.
We moved on to two reds, each showing a different side of Zinfandel. The 2017 "Phantom Limb" Carbonic Maceration Zinfandel was sourced from dry-farmed, head-trained, own-rooted vines at Trapier Vineyard near Plymouth. Chris uses a different method from others I've seen making wines using carbonic maceration (fermenting in a sealed tank with CO2, keeping out oxygen during the fermentation process). Most vintners use dry ice or pump CO2 gas into their tanks, but Chris placed some fermenting "#1 Crush" at the bottom of the tank to create the CO2 to fill it. With upfront red berry fruit along with spice and floral undertones, this is a wine you might not pick out as a Zinfandel in a blind tasting, but it was distinctive and pleasant.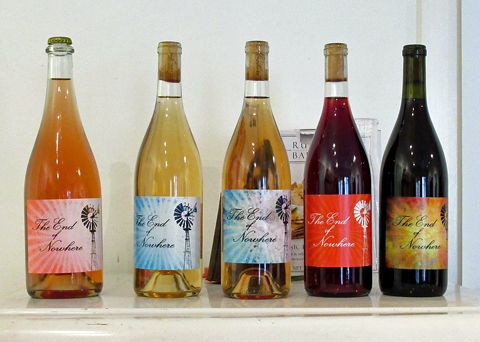 Our final wine was the 2016 "Stroke of Luck" Primitivo from Shake Ridge Ranch. While I won't go into the stories behind all of the wine names, this one was due to a true stroke of luck with Chris unexpectedly being able to buy some of the highly sought-after fruit from Ann Kraemer's vineyard near Sutter Creek. Primitivo is generally considered to be a clone of Zinfandel, though most growers and vintners who work with both do find distinct differences – Chris noted that Primitivo tends to ripen earlier and produces more pepper notes in the wines. "Stroke of Luck" was fermented entirely with whole clusters and was aged in neutral French oak. This was more "Zin-like" than the previous wine, but it's not what most people will think of as a typical Amador Zinfandel either – this one was lighter and brighter than most from the region. Displaying savory raspberry fruit, spice, and earth, it was medium-bodied with lively acidity on the palate and the finish – a good wine to wrap up our tasting.
It's always fun to visit a vintner who is just starting out their label, so this was a great time to talk with Chris at his tasting room and to check out his The End of Nowhere wines. He had some interesting stories to share with us about his time living and working in New York City as well as about his vineyard and his winemaking practices. Chris is one of the very few vintners in this part of the Sierra Foothills who is currently producing natural wines, and his initial efforts are very promising. His wines show distinctive takes on Zinfandel that are different from those of most Amador County producers, and it's of note that all but one of the wines that we tasted with Chris are under 12% alcohol. Prices of all the wines are very reasonable, ranging from $20-$30. My favorite was the 2016 "Stroke of Luck", followed closely by the 2017 "Uncorked!" and 2017 "Phantom Limb".
It sounds like Chris is planning to continue with a similar direction in his upcoming wines, aiming to show some non-mainstream sides of various grape varieties. It will be interesting to visit him again in a few years, once wines from his own vineyard are available. But even now his wines stand out as something different than others from the region, so don't miss stopping at Chris' tasting room in Amador City to try his distinctive The End of Nowhere wines.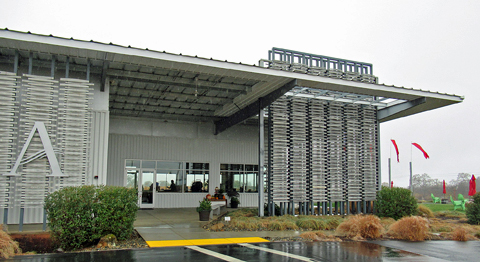 The next stop of our Sierra Foothills wine tour was not too far away, a few miles north in the heart of Amador County's Shenandoah Valley wine region. I'd passed the striking modern building of Andis Wines a few times in the past, and between my curiosity about the building and some good things I'd heard about the wines, this seemed like the perfect opportunity to stop in. I had contacted Andis beforehand, and Jenae Plasse, their chief operating officer, got me in touch with their national sales manager / brand ambassador Lorenzo Muslia, who was available to give our group a tasting and brief tour. It was still raining lightly when we parked outside the Andis facility and headed into the tasting room, a large airy space with lots of windows. We were the first visitors of the day, and Lorenzo was there to welcome us in.
The Andis name comes from a combination of the first names of husband-and-wife owners Andrew Friedlander and Janis Akuna. Andrew founded a commercial real estate development firm in Hawaii, and Janis, who grew up in Hawaii, is a financial planner, and has also attended wine courses at UC Davis. Andrew had lived for a time in Napa and had thought about starting a winery for many years. When he sold his real estate firm in 2007 (though he remains involved in the business), he and Janis talked about making that winery vision a reality. They traveled back to Napa Valley and found it to be a very different place than what he remembered about it from the 1980s, and they decided to look at other regions for starting a winery. Their first visit to the Amador wine region convinced them that it was the place they wanted to be. The idea for Andis began to take shape in 2008, and Andrew and Janis purchased the property along Shenandoah Road in 2009. The couple now split their time between living in Amador County and in Hawaii.
Lorenzo grew up in Tuscany and studied civil engineering in Milan, but it was food and wine that became his passion. He worked at some of the top restaurants in Florence before opening his own there in 2011. He and his wife and young daughter moved to California in 2014, and Lorenzo studied wine business management at Sonoma State University. He joined the Andis team in 2015 and he's been able to expand the Andis brand since then – their wines are now distributed in over 30 states.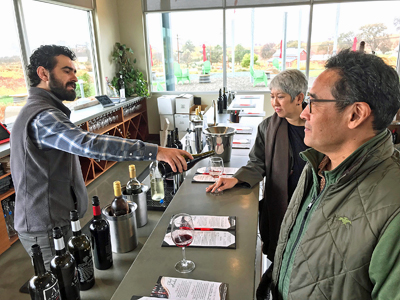 In 2016 Andrew and Janis brought in Atelier Melka to head up the Andis winemaking team. Philippe Melka founded Atelier Melka in 1995, and he's best-known for his work with a number of top-notch Napa Valley producers. His specialty of working with smaller-lot production of high-quality wines fits well with the Andis goals. Since Philippe and his team can't always be at the winery, enologist Eric Hildreth manages the day-to-day winemaking operations, while both Janis and Lorenzo are among those involved in blending decisions. The initial Andis wines came from the 2007 vintage, and early efforts were produced at nearby Bray Vineyards. It wasn't until the 2010 vintage that the Andis production really began to take off – not coincidentally, that was the year that their winery and tasting room building was constructed.
The Andis estate vineyard surrounds the winery and tasting room, at an elevation of about 1,600 feet. Lorenzo told us that the soil there is mainly decomposed granite, and we noticed that the soil color is a deep rusty red near the winery – not unusual in the region. There were already about 26 acres of Zinfandel vines on the property when Andrew and Janis purchased it in 2009. Planted in 1978, the older Zin vines are own-rooted and head-trained. Over the past decade, some of the Zin vines have been replaced with other grape varieties, including Sauvignon Blanc, Grenache, Syrah, Petite Sirah, Barbera, Malbec, and Schioppettino. Lorenzo said that they are planting some Counoise, grafting more Schioppettino over Malbec, and may add Cabernet Franc. Once younger vines at the site mature, the goal is to dry-farm them – the original Zinfandel vines have been dry-farmed for years. Farming uses sustainable practices, and winery waste such as stems and pomace goes into compost for the vineyard. We saw several owl boxes among the vines, something seen at more and more places to help control vineyard pests. There are about 20 acres currently planted at the estate vineyard, and the Zin vines still make up the largest percentage of any of the varieties grown there. Terri Harvey and Pat Rohan manage the estate vineyard, while Andis also works closely with growers at a number of other vineyards that provide fruit for the winery, mostly in Amador and El Dorado counties.
The winery building is about 22,000 square feet in size, and Andrew and Janis worked with Sage Architecture in Sacramento to develop the design. Among the design goals were to create a state-of-the-art winemaking facility, to make it a "green" building (it exceeds State of California energy standards by over 15%), and to make it a visually striking building that would stand out among others in Amador County. Built with insulated steel panels, the exterior can appear somewhat stark from a distance – I've heard that the appearance was not initially welcomed by all of the neighbors – but a closer look reveals more detail, including large vertical screens made of old barrel staves that help to keep the hot summer sun off of the building walls. The orientation of the building also helps with energy efficiency, and water from the winery is recycled and re-used. The winery was designed for a capacity of 20,000 cases per year.
Lorenzo started out our tasting with the 2016 Bill Dillian Vineyard Sémillon – made entirely in stainless steel, this has become one of the best-known Andis wines, both for its quality and because relatively few producers make a varietal Sémillon. The dry-farmed Sémillon vines at Bill Dillian Vineyard were planted in the 1970s for a producer who wanted to make a white Bordeaux-style blend, but when they stopped buying the fruit, the vines were going to be pulled out or grafted over to something else. Andis was able to step in and continue buying the Sémillon. The wine featured floral pear and apple fruit aromas along with touches of earth and orangepeel, and had a moderately rich yet lively mouthfeel and finish, quite pleasant.
We moved on to reds, beginning with the 2016 "Akuna Block" Estate Grenache. This block is considered the best Grenache block on the estate. The vines are farmed to keep the yield low (Grenache typically has a large crop), and the fruit is fermented in a temperature-controlled tank. The goal for this wine is to make a lighter red – many California wineries make a Pinot Noir to fill that slot, but since Pinot does not do well in this part of the Foothills, a lighter-style Grenache works well. This displayed bright fresh strawberry aromas plus tea leaf and earth notes, good acidity and moderate tannins, a nice Grenache in this style. Next was the 2016 "Barbera d'Amador" – Lorenzo noted that the "Barbera d'Amador" name is a play on Barbera d'Alba and Barbera d'Asti, both from the Piemonte region of Italy. The fruit is harvested in multiple picks, looking to dial in acidity first and then more intense flavor in the later pick – these are blended in the final wine. With tart cherry fruit along with earth and spice notes, this had vibrant acidity and a clean finish.
Lorenzo brought out a second wine glass for everyone so that we could taste the next two wines side-by-side. These were the 2014 Estate Zinfandel and 2014 Original Grandpère Vineyard Zinfandel. The Original Grandpère (OGP) Vineyard is located not far from Andis, and it's the oldest documented Zinfandel vineyard in California, with plantings dating to 1869 – as far as is known, most of the vines there date to that original planting. The two wines were quite different. Like most old-vine Zin, the yield for the OGP vines was much less than for the estate vines, there was more new oak used for aging the Estate Zinfandel, and the alcohol for the Estate was noticeably higher than for the OGP Zin. The Estate bottling featured ripe boysenberry fruit, lots of spice with a touch of vanilla, medium-full body with moderate tannins on the finish. The OGP bottling had a lighter color, red and black fruits plus exotic spices and a hint of black pepper on the nose, along with medium weight with a lively finish. They were both good in their respective styles and I preferred the OGP bottling. We finished up tasting the current releases with the 2015 "Painted Fields," a blend of Syrah, Petite Sirah, Cabernet Sauvignon, Zinfandel, and Mourvèdre. Tobacco, plum and darker fruit, and spice aromas, with a bigger structure than the Zins, and firm tannins on the finish.
After our tasting of the current Andis wines, Lorenzo took us on a short tour of the winery, proceeding from the tasting room to the adjacent barrel room. This space uses evaporative cooling (swamp coolers) rather than air conditioning, which saves energy and also keeps the barrel room more humid than the other building spaces – an advantage for barrel-aging. The winery buys around 20-25% new oak barrels each year, and also buys used barrels from trusted sources. Andis uses standard barriques for aging wines as well as some larger puncheons plus a few elongated "cigar" barrels. Next, we stepped outside to the covered crushpad, and from there to the fermentation room, directly across the crushpad from the barrel room. The fermentation room can be heated or cooled if needed, and individual stainless steel tanks can also be heated or cooled. There are a couple of concrete tanks in the fermentation room as well as the steel tanks.
We tasted some tank samples with Lorenzo in the fermentation room, our first one being the 2018 Sauvignon Blanc – from the aromatic Musqué clone, this was cold-fermented and aged entirely in stainless steel. Floral tropical fruit aromas plus herbal and citrus notes with nice acidity. Next was the 2018 Bill Dillian Vineyard Sémillon – with pear, earth, and pepper on the nose, it had a brighter texture at this stage than the current 2016 bottling. In addition to the varietal Sémillon bottling, Andis is planning to make a white Bordeaux-style Sauvignon Blanc-Sémillon blend from the 2018 wines.
We also tried a tank sample of the 2018 Estate Rosé, made from 50% each Barbera and Zinfandel (the Zin component is 50% old-vine Zinfandel and 50% Primitivo). This displayed bright cherry and spice aromas with a light and lively mouthfeel. The fruit for the Estate Rosé was harvested specifically for this wine and was all whole-cluster pressed – both the Rosé and Sauvignon Blanc will probably be bottled in mid-December, while the Sémillon will be bottled in April. We tasted one more tank sample, 2018 Estate Barbera – this was from a tank that was heated to aid in finishing the wine's fermentation, which was not yet complete. Still a bit sweet and primary, it will take more time to see how this wine will develop.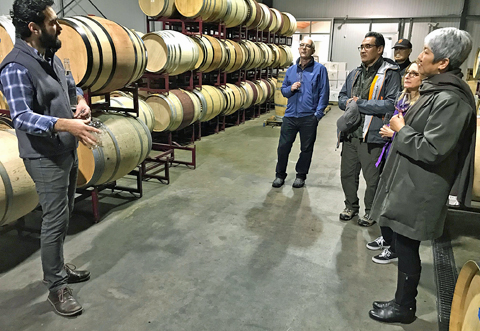 We headed back into the barrel room to taste a few barrel samples, starting with the 2017 Original Grandpère Vineyard Zinfandel, tasted from a three-year old barrel. This was a bolder and more structured wine than the current 2014 release, but with similar raspberry and exotic spice aromas. Lorenzo said that this will be bottled early 2019. We followed this with a sample of 2017 Estate Schioppettino, which will be bottled in December. Lorenzo told us that noted Sacramento grocer and wine expert Darrell Corti suggested adding Schioppettino to their vineyard, as using some of this variety can be a good way to add acid and color to blends, though it turned out to also do well as a varietal wine. The barrel sample showed darker fruit, earth, and loads of spice on the nose, with fine acidity and bigger tannins. Andis is looking to start a special Italian grape variety wine program, starting with their Barbera, Schioppettino, and Primitivo, with plans to add more Italian varieties in the future. We finished up with the 2018 Original Grandpère Vineyard Zinfandel, tasted from a puncheon. Even for such a young barrel sample, this was a standout, with bright fresh raspberry and blueberry, earth, and pepper, with a lively texture – great potential.
My friends and I really enjoyed our visit with Lorenzo at Andis, and he was a charming and very knowledgeable host for our group. Near the end of our visit, we traded a few stories related to family dinners, since Thanksgiving had been only two days earlier. Lorenzo had the best story, and some great advice – to avoid big arguments during family dinners, the first person who brings up politics has to wash the dishes!
The Andis wines have a recognizable Amador character, yet they show more acidity than those of many other producers in the area, which should help to make them more food-friendly. Though Philippe Melka and his winemaking team have only been with Andis for a couple of years, I got the impression from another vintner I spoke with that he's helping to raise the quality level of the wines there. I certainly thought the most recent releases, as well as the tank and barrel samples, were very good. I should note that having a famous winemaker on board doesn't automatically translate to high prices – the Andis wines are mostly in the $20-$30 range, and there's currently nothing over $40. I should also mention that small bites to go with the wines are prepared in-house and are available on weekends at the tasting room.
My favorites among the Andis wines were the 2014 Original Grandpère Vineyard Zinfandel, 2016 Bill Dillian Vineyard Sémillon, and 2016 "Akuna Block" Estate Grenache. Among the tank and barrel samples, I thought that the 2018 Sauvignon Blanc, 2018 Sémillon, 2018 Rosé, and 2018 Original Grandpère Vineyard Zinfandel showed particular promise. Andis boasts a distinctive winery and tasting room, and the wines are distinctive as well – they should be on your list of Amador County wineries to visit.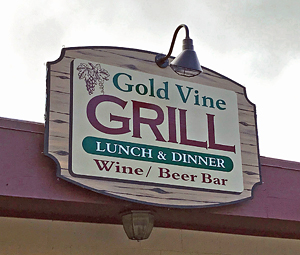 We'd checked the weather forecast before setting out on our wine trip, and since it didn't look like it would be good picnic weather, we planned to stop at a café for lunch. There are a handful of lunch spots in Amador and southern El Dorado counties, and we decided on an old standby – Gold Vine Grill in the small town of Somerset in the Fair Play region of El Dorado. It was about a 20-minute drive north from Andis, and we arrived at the café around 1pm. The place was pretty packed when we arrived, but the staff was able to find a space for our group and they set up a table right away. It was a little longer wait than usual to take our order and get our food but really not too bad given the relatively small size of the cafe and the big Saturday lunch crowd. I ordered a chicken, ham, and swiss sandwich with a salad, and everything was delicious. Others in my group had the Grizzly Burger, with bacon, onions, provolone, and roasted jalapeños, and they reported that it was excellent. Prices are very reasonable, and everyone in my group was very happy with their meal.
An interesting side note to our lunch at Gold Vine Grill – not too long after we'd been seated, some of our group spotted a couple bringing in a case of wine for the café and then sitting down at the counter for lunch. Jane saw the label on the case of wine – Element 79 – and recognized it as the place we were scheduled to visit right after lunch. She looked up the winery on her phone, and sure enough, the couple having lunch at the counter were the winery owners, Les and Sharon Heinsen! I went over and introduced myself, and since we were running a few minutes late, it was a good opportunity to let them know. Gold Vine Grill does seem to be a popular spot among the local residents, so I suppose it should not have been too big a surprise to see some of the region's vintners dining there.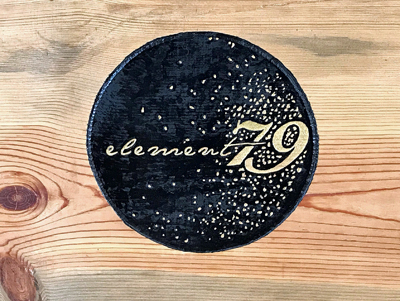 We backtracked a few miles from Gold Vine Grill to Fair Play Road, and we arrived a short time later at Element 79 Vineyards. We walked into the tasting room, a modern yet warm space featuring a fireplace and comfortable chairs along with the tasting bar. Large windows and patio doors look out onto a covered deck with more seating. Owners Les and Sharon Heinsen, whom we'd run into by chance at lunch, were both busy talking with other tasting room guests, so we introduced ourselves to tasting room manager Nicole Picker, who was behind the tasting bar. Nicole has worked for a number of years in the El Dorado County wine industry, and she filled us in about Element 79 as she started our tasting with a couple of white wines and a rosé.
Element 79 is one of the region's newest wineries, and the tasting room was opened in February 2018. Les and Sharon are both originally from North Dakota and both have family farming backgrounds. Les worked for 38 years in the insurance business, and as his retirement from that career approached, he and Sharon talked about owning a vineyard and starting a winery as part of the next chapter of their lives. They had been to the Fair Play area of El Dorado County in past years to find a Christmas tree – El Dorado is well-known for its many Christmas tree farms – and they were drawn to the region when it came time to look for vineyard land. Nicole told us that Les and Sharon purchased their 70-acre property off of Fair Play Road in 2015, and that there were already grapevines there at that time. We learned more about their vineyard during a short tour of the property with Les a short time later.
What about the Element 79 name? The main inspiration came from the 79th element on the periodic table – gold. This is part of California's Gold Rush country, so it's certainly appropriate. The number 79 is also a reference to the year 1979, the year that Les and Sharon were married. The Element 79 wines are made at the nearby Perry Creek wine facility. Winemaker Scott Johnson grew up in the Sierra Foothills and earned a degree in viticulture and enology from UC Davis, then worked for various producers in Napa, Sonoma, and New Zealand before returning to the Foothills to make wine. The first Element 79 wines were from the 2013 vintage, while their 2016 wines are the first since Les and Sharon have had control over farming their estate vineyard. Current production is about 2,000 cases per year, and plans are to expand this to around 3,500 cases over the next five years.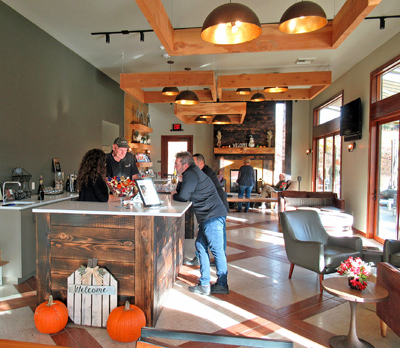 Nicole started off our tasting with the lone non-estate wine from Element 79, the 2016 Chardonnay made with fruit purchased from Stonehaven Ranch, just a few miles from the estate property. Both white wines as well as the rosé that we tasted were whole-cluster pressed, and the Chardonnay was fermented in stainless steel, then aged in 20% new French oak. Showing toasty but bright pear and stone fruit aromas with a touch of spice, this had a medium-light body and clean finish. The 2016 Estate Viognier was fermented and aged on the lees in 15% new French oak – this had subtle notes of flowers and stone fruit, a bit richer texture than the Chardonnay, and moderate acidity. We tried one more wine with Nicole at the tasting bar, the 2017 Estate "Abby's Rosé," made from 52% Syrah, 40% Zinfandel, and 8% Viognier. Pleasant fresh strawberry and spice aromas along with a floral undertones, medium-light body, and a lively finish, nice.
For tasting the red wines, we moved to a table in a corner of the tasting room, with lovely views out in both directions. There we were served a selection of four of the Element 79 reds, presented on a tray with short descriptions of each wine, so we could take our time tasting and comparing them. Both Nicole and Les came by to chat with us and to give us more information about the wines as we tasted them. The 2015 Estate "Rare Earth" is a unique blend of 50% each Petite Sirah and Viognier, aged in barrel for 10 months. This featured plenty of spice on the nose plus darker berry fruit, touches of flowers and earth, medium weight, and moderate tannins on the finish. The 2015 Estate "Alloy" – 52% Zinfandel, 25% Cabernet Sauvignon, and 23% Syrah – is the winery's signature blend, given longer barrel-aging than the "Rare Earth" and aged in about 28% new French and American oak. The Zin component leads on the aromas, with brambly raspberry fruit, plus herbs, smoked meat, and spice notes, with plenty of structure and a firm tannic finish – tasty now and with good potential for some time in the cellar.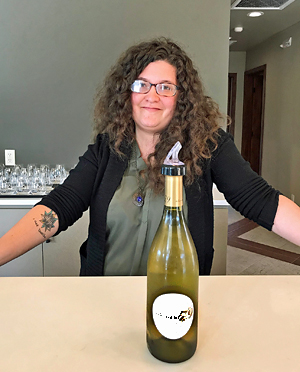 The 2013 Estate Zinfandel was blended with 10% Petite Sirah and 6% Syrah and aged for 20 months in 32% new French and American oak. Displaying upfront and spicy Zin fruit, this was bold but not too jammy, with vanilla/oak undertones and good structure. The final wine on our tray was the 2013 Estate Cabernet Sauvignon, blended with 6% Petite Sirah and aged for 24 months in 34% new French oak. Herbs, darker berry fruit, and spicy oak on the nose, with full body and a firm tannic finish. A couple of additional reds that we didn't taste on this visit were a 2015 Estate Syrah and 2015 Estate Petite Sirah.
Since we'd talked with Les about the "Rare Earth" blend in particular, he brought out some of their new 2016 Estate "Rare Earth" for us to taste. He told us that they were looking for a lighter touch with the 2016, aiming for a wine with a weight similar to a Pinot or Grenache. Even though the 2016 blend has more Petite Sirah than the 2015 – 66% vs. 50% – it was indeed lighter than the earlier vintage and 0.6% lower in alcohol. Compared with the 2015 vintage, this wine showed a more stony mineral character, with black cherry and plum fruit, hints of flowers, herbs, and pepper, and vanilla undertones, with nice acidity and a lively finish. Les also said that the components of the 2015 and 2016 vintages of "Rare Earth" were fermented separately and blended prior to barrel aging, while they have been co-fermented starting with the 2017 vintage. They're also making a switch from Petite Sirah to Syrah in the latest wines.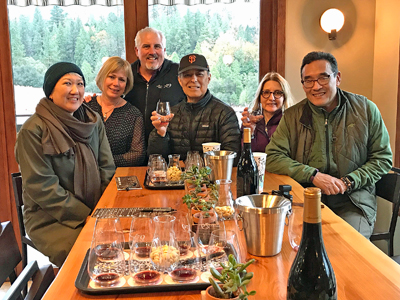 Les had offered to show our group around the estate vineyard if the weather cooperated, and although the afternoon was rather overcast, there was no rain so we decided to take him up on his offer. Since he could only fit three of us into his utility vehicle, we went in two shifts – I was part of the first one along with Carol and Mike. Les told us that the vineyard was originally planted from 2001 to 2003 by Perry Creek, and that there are around 32½ acres currently planted. The Element 79 vineyard is located on hillsides at about 2,400-foot elevation, with sandy loam decomposed granite soil. It's worth noting that the Fair Play AVA boasts the highest average elevation of any winegrape growing region in California – the Fair Play Winery Association's slogan is "Wines with an Altitude."
There are two sections to the vineyard, and we started with the lower portion not far from the tasting room. At 20 acres, the lower vineyard is planted to mostly Zinfandel and Syrah along with smaller blocks of Cabernet Franc and Petit Verdot. The last two varieties are recent grafts, as Les and Sharon are looking to work with more Bordeaux grape varieties. Les said that they will most likely graft some Malbec and Merlot in the future, with a goal of making a Bordeaux-style blend with all five major varieties. We continued to the upper vineyard site, which includes Petite Sirah, Cabernet Sauvignon, and Viognier. We stopped at a beautiful spot at the upper vineyard that boasted a great view in several directions of surrounding vineyards and forestland. Les told us that he and Sharon would like to create hiking trails for guests to venture out to spots such as this one to enjoy the scenery and for picnics.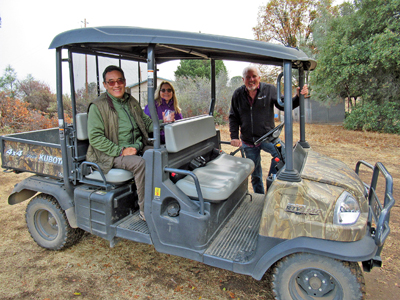 The current Element 79 releases feature wines that should appeal to a range of tastes. The earlier vintage wines are somewhat on the bigger, bolder side, while the more recent ones seem to indicate that the Element 79 wines may be headed in a more restrained and elegant direction. Since this is a new venture, I got the sense that the farming and winemaking are still in the process of being dialed in though there's no doubt that the current wines are solid. I thought that the 2016 'Rare Earth" blend was a highlight, and I liked the 2017 Rosé and 2015 "Alloy" quite a bit as well. Prices for the current releases are reasonable, ranging from $26-$42. It's also worth noting that wine pairings with chocolate or cheese are available at the tasting room, as well as either large or small charcuterie plates to go with the wines.
Les, Sharon, and Nicole were terrific hosts, and the tasting room is one of the most welcoming and comfortable ones in the area. The tour of the estate vineyards that my friends and I took with Les was an added bonus on this visit. He noted that there are not too many wineries in the area that work primarily with estate-grown fruit, so this element of having control over the entire process – "from bud break to bottle" as Les put it – will help to differentiate them from many others. Element 79 is one of several good producers that have opened along Fair Play Road in recent years – together with more established wineries, you could easily spend a full day or more visiting tasting rooms in the area. Element 79 is a fine addition to the Fair Play wine region.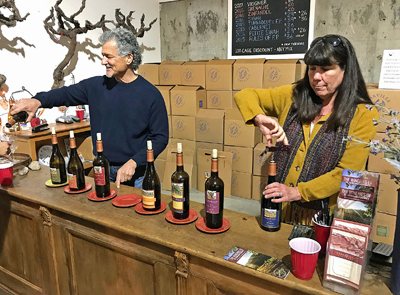 A visit to Cedarville Vineyard is always on the agenda for my fall wine trips to the Sierra Foothills. Since our previous winery stop on this day was just a stone's throw away, we were at the foot of the gravel drive leading up to Cedarville's winery and estate vineyard in no time. The timing of our arrival couldn't have been better, as another group of visitors was just leaving as we pulled into the parking area. Husband-and-wife proprietors Jonathan Lachs and Susan Marks were outside saying goodbye to their earlier guests, and they welcomed us and led us into the winery building. I first met Jonathan and Susan in 2000 at the Hospice du Rhône wine event in Paso Robles – I thought their wines were standouts at that tasting, and I've stayed in touch ever since.
Jonathan and Susan met while they were each earning enology degrees at UC Davis, but they both worked for a number of years in Silicon Valley before entering the wine business full-time. They purchased their vineyard site in 1995. There were already vines there – some Syrah and Zinfandel had been planted the previous year – and Jonathan and Susan added more right away. Their 15-acre vineyard is planted to Viognier, Grenache, Mourvèdre, Syrah, Zinfandel, and Cabernet Sauvignon, and 2019 will mark the tenth year that they've been farming it organically. Situated on a hillside at about 2,500-foot elevation, the vineyard features the decomposed granite soil that is characteristic of the Fair Play area and seen in some other parts of El Dorado County but uncommon in most other California wine regions. The first Cedarville releases were from the 1998 vintage, and by 2000 Jonathan and Susan had completed their winery, including two concrete-vaulted barrel rooms extending into the hillside, providing natural cooling.
In addition to using the fruit from their vineyard for the Cedarville wines, Jonathan and Susan sell some to several other noted producers, including Turley, Skinner, and La Clarine Farm. Jonathan mentioned to us that Turley has released a 2016 vineyard-designate Cedarville Vineyard Zinfandel – it's the second straight year they've done that, and coming from such a highly-regarded producer as Turley, it's a good indication of the quality of fruit that Jonathan and Susan grow at their vineyard. All of the wines that Cedarville makes are sourced from their estate vineyard with one exception – they buy Petite Sirah fruit grown from 40+ year old vines farmed by their neighbors Bill and Trish Naylor.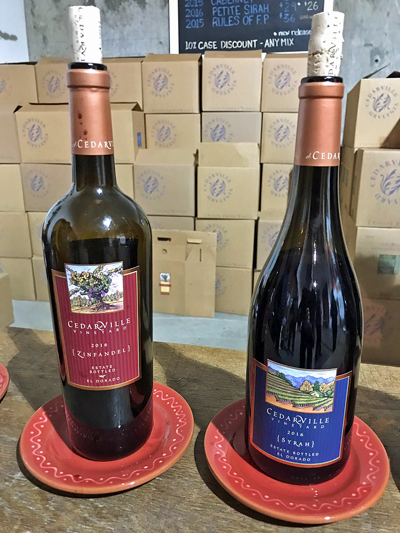 Cedarville is a small, hands-on operation, and Jonathan and Susan do nearly all of the work themselves in both the vineyard and winery. Since all of the fruit for their wines comes from their estate vineyard or close by, they're able to bring it into the winery early in the day during crush, ensuring that it's cold. Reds are destemmed but are largely whole-berry, and fermentations take place in small bins or in temperature-controlled stainless steel tanks. Total annual production is currently about 1,000 cases. Jonathan and Susan mentioned that an April frost this year impacted the vine yield, so production of the 2018 wines may be down a bit.
The modest Cedarville tasting bar is set up in a corner of the winery space, and it was there that we started in on tasting most of their current releases, beginning with the 2017 Estate Viognier. This is the winery's only white wine, and a frost last spring reduced the amount of Viognier fruit so there was less produced than usual. Jonathan and Susan stir the lees in the barrel for this wine, and because of the smaller amount made, they used no new oak on the 2017 Viognier. Featuring stone fruit and citrus aromas with undertones of flowers and spice, this balanced a moderately rich texture with good acidity and a clean finish. We followed this with the 2016 Estate Grenache, which was blended with 12% Syrah. This showed red berries and spice on the nose, with touches of dried herbs and oak, medium weight on the palate with a chalky mineral note on the finish.
Just as the Cedarville Grenache typically has some Syrah blended in, the Zinfandel is generally blended with a little Petite Sirah, though that wasn't the case in the 2015 vintage. The 2016 Estate Zinfandel returns to the blended approach, featuring 3% Petite Sirah. This was a standout, with bright raspberry and darker fruit aromas along with spice, black pepper, and earth, and a lively mouthfeel and finish. We noticed that these latest releases feature an updated label design. While the new labels still have a familiar Cedarville look to them, the new design looks both cleaner and bolder, with the different colors designating each bottling really standing out.
The 2016 Estate Syrah – co-fermented with 4% Viognier – was our next wine. The fruit came from the Syrah vines planted back in 1994, and the wine was aged in 1/3 each new, one-year old, and two-year old barrels. This displayed dark berry fruit, spice, plus touches of mocha and pepper, medium-rich body with good structure for aging. Next was Cedarville's flagship wine, the 2015 Estate "Turnabout's Fair Play," a blend of 45% Grenache, 30% Syrah, and 25% Cabernet Sauvignon. First produced in the 2009 vintage, this is Jonathan and Susan's homage to the Grenache-based wines of Priorat in Catalonia. Showing a more herbal profile along with black cherry and darker berry fruit, mocha and spice, it had a bigger structure and firm tannins – fine potential and some time in the cellar should benefit this wine.
We continued with the 2015 Estate Cabernet Sauvignon, which is 100% varietal. Cedarville is known mostly for its Rhône-variety bottlings and Zinfandel, but its Cabernet is a hidden gem of their wine line-up. This one featured plum and currant fruit, dried herbs, and smoky oak undertones, with fine structure but surprisingly tame tannins – this is the most accessible young Cedarville Cabernet that I can recall and it should age nicely as well. Our final wine of the day was the 2016 Petite Sirah from Naylor Vineyard, a wine that Cedarville has been making since 2001. Petite Sirah is not generally one of my favorite grape varieties, but this one was a standout, with dark fruit, pepper, spice, and mocha aromas, a lively and structured texture, and moderate tannins on the finish – a more elegant take on Petite Sirah than most. There was one recent Cedarville release that we didn't taste on this visit. This was the 2015 "The Rules of Fair Play" – a blend of 62% Zinfandel and 38% Petite Sirah – which is already sold out.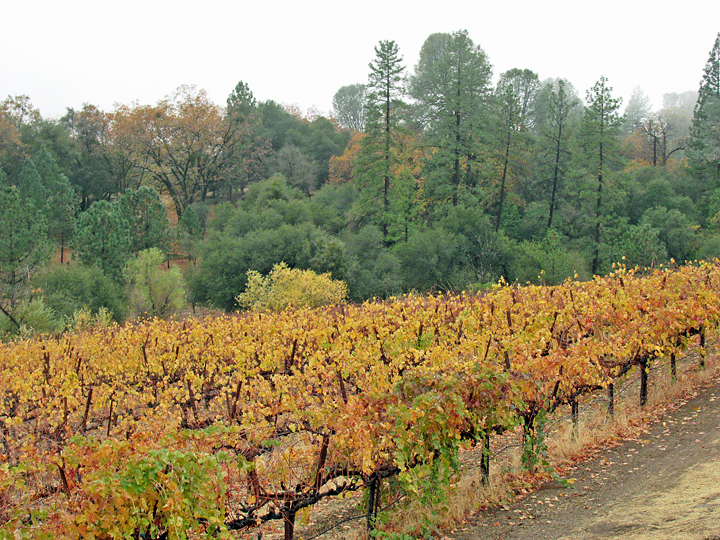 Jonathan and Susan mentioned one more change to their wine packaging in addition to their new label design – they'll be moving to DIAM closures for all their bottlings in 2019. These "technical" corks are made from natural cork particles that have been cleaned and then formed into a cork shape using a food-grade binder. They're being used as closures for more and more high-quality wines, since they help improve on the sometimes-uneven aging performance of natural cork and – more importantly – they virtually eliminate the possibility of TCA taint in wines (TCA is the chemical that can be present in natural cork that causes "corked" wines).
A visit with Jonathan and Susan at Cedarville is always a highlight of my annual Sierra Foothills wine trips. They're among the friendliest winery hosts you'll find, and the wines continue to be among the best in the region. As with many wines from the Sierra Foothills, Cedarville's are a bargain for the quality – $25 to $29 for most bottles, with three of them in the $36-$39 range. My favorites among the wines we tasted included the 2017 Viognier, 2016 Zinfandel, 2015 "Turnabout's Fair Play," 2015 Cabernet Sauvignon, and 2016 Petite Sirah, though you really can't go wrong with any of their current releases.
Unlike the other wineries my friends and I visited on this trip, Cedarville is open for tasting by appointment only, but arranging a stop there is highly recommended if you're in the area. Jonathan and Susan are happy to welcome guests to their winery, whether you're a longtime customer or a first-time visitor. There are few wineries anywhere in the Sierra Foothills with wines as consistent and as good as those from Cedarville.
It was already dark by the time we said goodbye to Jonathan and Susan at Cedarville and hit the road. Jane and Chris had invited the rest of our group to their house in Sacramento for dinner – they had plenty of delicious Thanksgiving leftovers for us to enjoy there. After dinner, Carol and Mike made the short trip back to their house, while Alan and I headed back to Oakland.
The part of the Sierra Foothills that we visited on this brief wine trip – particularly Amador County – is one of California's oldest wine regions, yet it gets relatively little attention. Although I've found that wine quality has been uneven in the 20+ years that I've been visiting wineries in the area, there's little question that overall quality and consistency have been improving. There's also little question that fruit from the region's vineyards offers something distinctive, something that has been drawing an increasing number of noted winemakers – such as Philippe Melka at Andis – to work with that fruit.
Producers such as Cedarville have certainly helped raise the bar of wine quality in the Amador and El Dorado wine regions. More recently, Andis and other producers have continued that trend, and new additions to the region's wineries such as Element 79 and The End of Nowhere confirm that there are more and more producers in the area that are deserving of recognition. These four wineries make wines that are very good quality and are quite distinct from one another, and all of them are worth checking out.
In some ways it's an advantage to wine consumers that the Sierra Foothills remains a relatively under-the-radar area for wineries, since many producers there offer great value for the quality of their wines in comparison to those from California's better-known wine regions. In addition, it's a particularly fun place to go wine-tasting, since you're likely to meet winery owners or winemakers at the tasting rooms of so many of the wineries there. So this continues to be a great time to visit wineries in Amador and El Dorado counties – check them out before they're "discovered!" As always, thanks to everyone that we visited for being so generous with their time and their wine!