Adron Wines
Adron proprietor Brent Kennedy was behind his winery table a
t the tasting. The label was launched in 2016, and has focused exclusively on Chardonnay and Pinot Noir. The fruit so far has been sourced from the Sonoma Coast and Mendocino Ridge AVAs. Brent poured two wines, both of which were quite good. The 2017 Black Knight Vineyard Chardonnay featured pear and earth aromas, with spice and floral undertones, and a pleasantly chalky texture. Even better was the 2016 Manchester Ridge Vineyard Pinot Noir, with mushroom and forest floor notes plus red fruit and earth, with lively acidity and fine tannins. This was my first experience with Adron, and this could be a new producer to watch.
Alma Fria Wines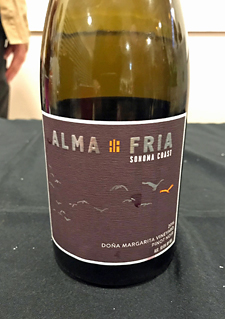 Alma Fria is a partnership between the Jan Holtermann family and winemaker Carroll Kemp, and specializes in Chardonnay and Pinot Noir from the West Sonoma Coast. In 2012 Jan purchased a small vineyard near Annapolis – now known as Holtermann Vineyard – and the winery also sources fruit from other noted sites. Carroll has been well-known for his Red Car label – he left there in 2017 to focus on Alma Fria. All of the Alma Fria wines I tasted were at the seminar. One of the best white wines I tried at the event was the 2015 Campbell Ranch Chardonnay, from the Annapolis region – bright and lemony with earth and spice in support, with vibrant acidity on the palate and a long, clean finish. The 2016 Holtermann Vineyard Pinot Noir, also from near Annapolis, displayed exotic spice, forest floor, and orangepeel aromas along with black cherry fruit, fine acidity, and moderate tannins. My favorite of the Alma Fria Pinots was the 2016 Doña Margarita Vineyard Pinot Noir, from the Freestone-Occidental area, which showed a slightly darker fruit profile, spice, and a saline minerality, with a moderately rich texture and broader tannins on the finish.
Benevolent Neglect Wines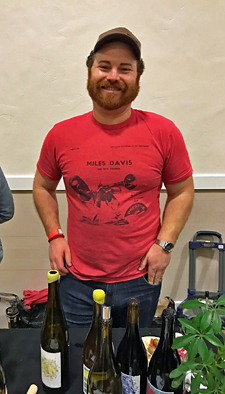 Ben Brenner and Matt Nagy of Benevolent Neglect started their label in 2013, and they source fruit from Monterey to Mendocino to the Sierra Foothills. The winery name points to the minimal intervention winemaking that they practice. Ben poured five wines at the event and I enjoyed all of them. The rose and the reds – all from Rhône varieties – were nice (the earthy and spicy 2017 Fore Family Vineyard Mourvèdre in particular deserves a mention), but it was the two whites that really grabbed my attention. The 2017 Nelson Family Vineyard Riesling, from a site in the Ukiah area, was fresh and floral, with stone fruit and petrol notes, medium-light body, and just off-dry to balance its bright acidity. The 2017 Bengier Vineyard Ribolla Gialla, sourced from Napa Valley, spent five days fermenting on the skins beneath a submerged cap. This showed characteristic skin-fermented phenolic aromas along with pear, spice, and a touch of earthy funk, leading to a chalky texture and finish – very distinctive. I'd heard about Benevolent Neglect but this was my first time tasting the wines, and they're worth checking out.
Betwixt Wine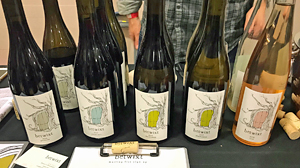 Betwixt is the project of Tim Telli, who makes his wines in San Francisco. He focuses on Chardonnay, Pinot Noir, and Rhône grape varieties, and his fruit comes from many growing regions – Anderson Valley, Sonoma Mountain, Chalone, Santa Cruz Mountains, and Mokelumne River-Lodi. The first Betwixt wines were from the 2012 vintage. (Disclosure – I've helped bottle some of the Betwixt wines) Tim poured five wines and they were all good, with a few standouts. The 2018 Abba Vineyard Rosé was sourced from the Mokelumne River-Lodi appellation, and is 100% Grenache. Bright and floral, with red fruit and a stony mineral character, this had fine acidity and a crisp finish. The 2017 R Bar R Ranch Chardonnay, from a vineyard in the Santa Cruz Mountains, displayed earth, pear, and stone fruit aromas with spice undertones, a lively texture, and long finish. The 2017 Lester Family Vineyard Pinot Noir comes from the Corralitos region of the Santa Cruz Mountains. Featuring black cherry, savory herbs, and earth on the nose, with good structure and moderate tannins – this could use a bit of time in the cellar, but it showed plenty of promise.
Boonville Road Wines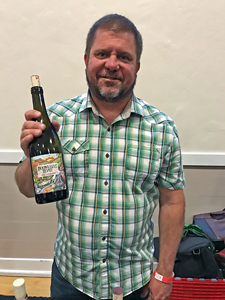 Boonville Road's owner/winemaker Ed Donovan established his winery in 2016, after working with other wineries for a number of years. He works with fruit from all over Mendocino County, including Anderson Valley, Redwood Valley, Cole Ranch, and the far north of the county at Alder Springs Vineyard. His wines have been mainly from Rhône varieties so far, and he added Riesling in 2018. Ed poured three wines at the tasting, and I thought all of them were very good. The 2018 Rosé is mostly from Syrah, with some Grenache. Bright citrus and strawberry aromas with floral and savory notes, this had a pleasant and slightly chalky texture and lively finish. The 2016 Casa Verde Vineyard Carignan comes from a site in Redwood Valley, and displayed plum and earth on the nose, with floral and peppery undertones, medium weight on the palate, and broad tannins. Sourced from a noted Anderson Valley site, the 2016 Broken Leg Vineyard Syrah had lots of meaty/savory aromas along with dark berry fruit, herbs, and a touch of pepper, with great structure and youthful tannins. This was my first time tasting the Boonville Road wines, and they poured one of the best wine line-ups I tasted at the event.
Calstar Cellars

Vintner Rick Davis has made wine for a number of well-known producers including Flowers, Londer, and Halleck – Calstar is his own label, launched in 2001. In addition to Pinot Noir, Calstar makes Chardonnay, Sauvignon Blanc, and Zinfandel. Rick was on hand to pour his wines, and I thought several of them were noteworthy. The 2017 Russian River Valley Sauvignon Blanc had bright grapefruit aromas with floral and herbal notes, a medium-light mouthfeel and clean finish. The 2014 Sonoma Coast Pinot Noir was sourced from four vineyards, and featured savory, herbal red fruit and earth on the nose, medium-light body, and fine tannins. From a Mendocino County site north of Anderson Valley, the 2015 Oppenlander Vineyard Pinot Noir had aromas of exotic spices, brushy herbs, earth, and black cherry fruit, with great structure for cellaring.
Camlow Cellars

Camlow's Craig Strehlow and Alan Campbell were behind their winery table to pour their recent releases. Craig makes the wines, and he was the longtime vineyard manager and winemaker for Keefer Ranch. Alan owns the four-acre Magna Porcum Vineyard near Graton, in Green Valley of Russian River Valley. The vines there were planted in 2006, and 2012 was the first vintage for Camlow. Craig and Alan started me off with their 2018 "Sus Volans" Whole Cluster Pinot Noir Rosé. Light salmon in color, this showed citrus and strawberry fruit aromas plus touches of flowers and herbs, with vibrant acidity and a fresh finish. We moved on to a three-vintage vertical of the "Magna Porcum" Pinot, and my favorite was the 2014 "Magna Porcum" Estate Pinot Noir – lots of spice on the nose, black cherry, earth, and undertones of vanilla, with a bigger structure but fairly refined tannins on the finish.
Cutruzzola Vineyards

Frank Cutruzzola and Lisa Miller are the proprietors of Cutruzzola Vineyards. Their estate Riven Rock Vineyard is one of the cooler-climate vineyard sites in California, just a few miles from the coast near Cambria in San Luis Obispo County. The site was planted in 2001 and 2006 to Riesling and Pinot Noir, and noted Central Coast vintner Stephen Dooley of Stephen Ross Cellars makes the Cutruzzola wines. Frank poured two vintages of their Riesling, and my favorite was the 2015 Riven Rock Estate Riesling. Displaying bright citrus, petrol, and hints of flowers and fresh herbs, this had juicy acidity and a stony mineral note, with a long, dry finish. The 2014 Riven Rock Estate Pinot Noir featured tea leaf and earth aromas plus black cherry fruit and hints of spice, with good structure and fine tannins. The 2016 Riven Rock Estate "Giacomino Reserve" Pinot Noir showed a darker fruit profile with more spice and a touch of vanilla/oak on the nose, bigger structure and a firmer tannic finish – this showed good potential but could use some time in the cellar.
DeWitt Vineyard

This winery was launched in 2015, and is the project of husband-and-wife team Mark DeWitt and Andrea Solis. Fruit is sourced from the estate 3DW Ranch near Shenandoah Valley in Amador County. The 10-acre vineyard, planted over 15 years ago, includes Rhône, Italian, and Portuguese grape varieties. I thought the standout of the DeWitt wines was the 2015 Estate Syrah. With dark berry fruit, herbs, pepper, touches of vanilla and stony minerals, and lots of spice, this was medium-bodied with broad tannins and a long finish.
Fallon Place Wine
Owner/winemaker Cory Michal established Fallon Place in 2014, and he makes his wines in San Francisco. Focused on single vineyard designate wines, he sources fruit from several Sonoma County growing regions. Cory was on hand to pour his wines, and a standout was the 2016 Herbitage Vineyard Pinot Noir from Carneros. A lighter Pinot, this had earth and spice upfront with red fruits and savory herbal notes in support, medium-light weight with fine tannins. The 2015 Landa Vineyard Zinfandel comes from the Chalk Hill appellation, and it featured raspberry and darker fruit, spice, and stony mineral aromas with vanilla/oak in the background, medium body with moderate tannins, a fairly refined Zin. We finished with the 2015 Nacimento Vineyard Cabernet Sauvignon, from Sonoma Valley. This displayed plenty of herbal notes with plum, smoke, and touches of spice and vanilla, with plenty of structure and a firm tannic finish – good potential for cellaring.

Fields Family Wines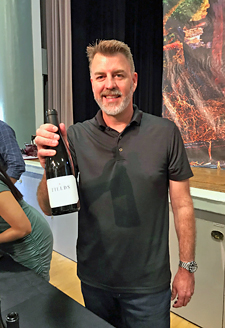 Owner Russ Fields purchased property for a vineyard in the Mokelumne River AVA of Lodi in 2005, and the wine label was started in 2008. The estate vineyard now includes Syrah, Mourvèdre, Tempranillo, Grenache Blanc, and Vermentino. Fields Family also sources fruit from sites in various AVAs within the larger Lodi appellation. Winemaker Ryan Sherman poured the wines at the tasting. While the rosé and Grenache Blanc were both good, I thought the reds were the real standouts here. The 2016 "100% Whole Cluster" Syrah, made by partial carbonic fermentation, was savory and spicy, with bright plummy fruit, great structure, and refined tannins on the lively finish. Another highlight was the 2017 Bechthold Vineyard Cinsault, from 125+ year-old vines that may be the oldest Cinsault vines in the world, and also fermented entirely with whole clusters. Earthy red fruit with floral and savory herbal notes, plus undertones of exotic spices, lively mouthfeel, and a long, tasty finish. The 2015 Bokides Vineyard Mourvèdre showed meaty, earthy, and plummy aromas with medium body and good structure, finishing with moderate tannins.
Gros Ventre Cellars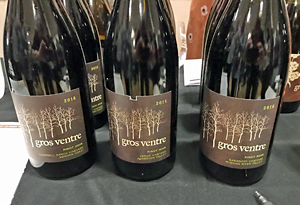 Gros Ventre was launched in 2009 by Chris and Sarah Pittenger – Chris was on hand to pour his wines at the event. Gros Ventre specializes in Pinot Noir from the Sonoma Coast, Russian River Valley, and Anderson Valley. Chris is also the winemaker for Limerick Lane Vineyards in Russian River Valley. Of the wines noted here, I tasted the Sonoma Coast and Campbell Ranch Pinots at the seminar and the others at the Grand Tasting. I enjoyed the 2018 Rosé – mostly from Valdigué plus Pinot Noir and Gamay Noir – light and floral with red fruit notes and a lively mouthfeel and finish. The 2017 Gamay Noir was intriguing, with bright plummy fruit and exotic spice undertones. The Pinots were definitely the stars here, and the 2016 Sonoma Coast Pinot Noir, sourced from vineyards throughout the West Sonoma Coast region, featured black cherry, orangepeel, earth, and savory herb aromas, with great acidity and a long finish. The 2016 Campbell Ranch Pinot Noir was another standout, with more upfront spice and forest floor notes, plus a bigger structure but refined tannins. I finished up with the 2016 Cerise Vineyard Pinot Noir from Anderson Valley, which displayed a more stony mineral element as well as earth and red fruit, with a bigger structure and tannic finish – good potential though this could use time in the cellar.
Kendric Vineyards

Stewart Johnson is the proprietor of Kendric, and his estate vineyard, in northern Marin County and within the new Petaluma Gap AVA, is planted mostly to Pinot Noir, plus small amounts of Chardonnay, Viognier, and Syrah. His family also has a vineyard in Amador County's Shenandoah Valley, where they grow mostly Sangiovese. The first Kendric vintage came in 2004. (Disclosure – I've helped bottle some of the Kendric wines) The white wines and the Syrah were all tank samples, to be bottled soon. The 2017 Estate Chardonnay is a new bottling for Kendric, and featured very pure pear and stone fruit aromas, spice, and earth, medium-light bodied with bright acidity and a fresh finish. The 2018 Estate Viognier showed restrained floral notes along with stone fruit and citrus, with a lively mouthfeel and finish. Fermented entirely with whole clusters, the 2016 Estate Pinot Noir was bright and spicy, with savory red fruit and a light touch of oak, good structure, and fine tannins. Kendric has made Syrah before, but the 2017 Estate Syrah is the first from the estate vineyard in Marin. Also fermented with whole clusters, this displayed floral and herbal aromas plus dark berry fruit, pepper, and a stony mineral element, with plenty of structure and moderate tannins.
March Wines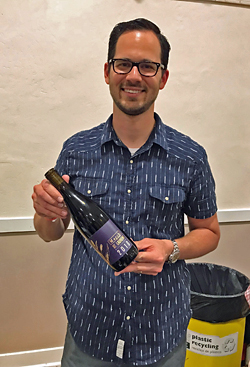 Launched in 2016, March is the label of Charley Johnson and Maura Christoffers, both assistant winemakers for high-end Napa Valley producers. They share a love of Riesling and St. Laurent and specialize in these wines – they source fruit for the latter variety from the only vineyard in California that currently grows it. The 2017 Redwing Vineyard "Old Vine" Riesling, from a Santa Clara Valley site near Hecker Pass planted in 1971, showed citrus and floral notes, with a hint of petrol, finishing with just enough sweetness to balance its vibrant acidity. The fruit for the 2018 Ricci Vineyard Rosé of St. Laurent comes from a site in Carneros. Made by direct press, this was bright and earthy, with strawberry and spice notes, fine acidity, and a clean finish – this was the first rosé wine I've ever tried from this grape variety. The 2018 Ricci Vineyard St. Laurent featured darker fruit, with floral, earthy, and stony mineral elements, good structure, and moderate tannins on the finish. This was my first time tasting the wines from March, and they look to be another new producer to watch.
St. Romedius Wines

Robert and Milli Pintacsi are the proprietors of St. Romedius, and they established the label in 2015. Robert makes the wine in Napa, where he works at Far Niente and Dolce. The winery particularly interested me in that the fruit for their red wines is sourced from the recently-approved Lamorinda AVA just over the hills to the east of Oakland and Berkeley. Robert poured two pre-release white wines, and my favorite of these was the 2018 Muscat Canelli, sourced the Knightsen region of Contra Costa County. This spent some time on the skins prior to pressing, which helped tone down the characteristic floral Muscat aromatics, giving it some intriguing earth and spice undertones as well as a pleasant, slightly chalky texture. The 2016 Red Wine – a field blend of Petite Sirah, Syrah, and Zinfandel – displayed dark berry fruit, spice, and savory herbal notes on the nose, with a lively mouthfeel and moderate tannins on the finish.
Urban Legend Cellars

Proprietors Steve and Marilee Shaffer make their wines in Alameda, and have a tasting room in nearby Oakland. The winery was founded in 2009, and they produce a wide variety of varietal wines and blends, with fruit sourced from all over northern California. My favorite of the Urban Legend wines that I tasted was their 2017 Bokisch Vineyards Grenache Blanc – a bit shy on the nose at first, it opened up with stone fruit aromas plus touches of flowers and fresh herbs, with medium weight on the palate.
Witching Stick Wines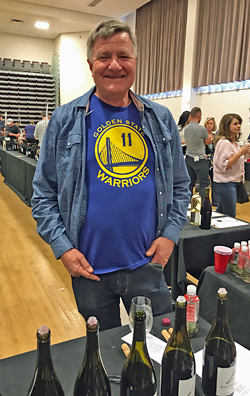 Witching Stick is the project of longtime Edmeades winemaker Van Williamson and his wife Anne Fashauer. Witching Stick's estate Fashauer Vineyard is located in the mountains to the west of Philo – it's in an area that is overlapped by both the Anderson Valley and Mendocino Ridge AVAs – and it was planted in 2000 with Zinfandel budwood sourced from century-old Dupratt Vineyard a short distance away. The first Witching Stick wines were from the 2010 vintage. Van was behind the winery table, and he started me with the 2017 Perli Vineyard Chardonnay, which showed bright and pure apple and pear fruit, touches of spice and flowers, with medium body and a long, clean finish. The 2016 Perli Vineyard Pinot Noir featured intense red cherry fruit, plus spice, earth, and a stony mineral note, medium weight with a lively mouthfeel and finish. Another winner from the same vineyard source deep in the Mendocino Ridge appellation, the 2015 Perli Vineyard Syrah had aromas of dark berry fruit, flowers, pepper, and savory herb undertones, with good structure and firm tannins – tasty now though time in the cellar should benefit this wine. I should also note the 2016 Fashauer Vineyard Zinfandel – big, ripe fruit but nicely balanced with herbal and stony mineral notes and moderate tannins.