Sierra Foothills Visits - May 2019
I've had an interest for awhile in visiting Deaver Vineyards in Amador County's Shenandoah Valley since I'd read that their Mission grapevines may be the oldest still producing fruit in California. I happened to meet someone at an informal wine gathering a few months ago who told me that he knows Ken Deaver and could put me in touch with him. I was able to arrange a visit with Ken, and Bryan Harrington, Wes Barton, and Russell Obana joined me on a day-trip to the Sierra Foothills. We all were interested in seeing the old Mission vines, since we've been working with fruit from an old Mission vineyard in the Lodi area at Harrington Wines for almost five years. The timing of our trip worked out perfectly since Bryan also wanted to look at the vines at Sumu Kaw Vineyard in El Dorado County (Bryan gets fruit from there), and it's not a long drive there from Deaver.
It was appropriate that we were headed to Gold Country, since Amador County is really the Mother Lode of old vines in California, with many old winegrape plantings that are among the oldest in the state. Though the old vines in Amador are not as well-known as those in more famous California growing regions like Sonoma, they are arguably California's most historic old vines.
Bryan and I each drove separately from the Bay Area, with Wes traveling with Bryan and Russell with me. Our Friday morning drive was mostly in a counter-commute direction, and traffic was light. It was a cool morning, overcast when we left the Bay Area, sunny through the Sacramento area, then a mix of sun and clouds as we headed into the Sierra Foothills. We passed through the Amador County town of Plymouth and into Shenandoah Valley, the best-known winegrape-growing area in the county. After a few miles, we turned off of Shenandoah Valley and onto Steiner Road, where we soon came upon the tasting room of Deaver Vineyards.

Mission Grapes
Mission is the name used and recognized in the United States for a grape variety that originally came from Spain and may well be the first Vitis vinifera variety brought by the Spanish to the Americas. It's almost certainly the first Vitis vinifera variety that was planted in California, in the late eighteenth century. Known as Listán Prieto in Spain – where it is now rare if not extinct other than in the Canary Islands – the variety may be best known as País, as it is called in Chile.
Mission was commonly planted in California in the first half of the nineteenth century but fell out of favor and was supplanted by other varieties imported from Europe. Little acreage remains in California, but some Mission has continued to be a source of fruit for a few producers who make Angelica, a traditional California style that's essentially the same as Mistela in Spain or Mistelle in France. Angelica is considered by many to be the first recognized California style of wine, being made by the early nineteenth century and possibly earlier. After pressing, the juice is fortified with brandy at the very beginning of fermentation if not before, so it shares some similarity with Port but is generally sweeter. When barrel-aged – and allowed to oxidize in the traditional fashion – it can take on considerable complexity. In recent years, there has also been a minor revival of Mission as a table wine in California. Recent Mission wines in California as well as País wines in Chile have shown that the variety can make fresh and light reds - certainly nothing profound, but fun, tasty, and distinctive wines nonetheless. So there continues to be a demand for Mission grapes, and that demand may be growing though it remains tiny in comparison with most other varieties.

Amador County and Deaver Old Vines

Amador County was one of California's earliest success stories for wine, with numerous vineyards established and enlarged between the 1860s and 1880s. The earliest vines there were most likely Mission, the predominant grape variety planted in California in the early to mid-nineteenth century. By the 1880s, a decade during which Amador winegrape planting was booming, Mission had been largely supplanted by Zinfandel and other grape varieties there. As the economy slowed in the 1890s and other wine regions in the state surpassed Amador in recognition, the county's wine industry began to struggle before the years of Prohibition dealt it a serious blow in the early twentieth century. Fortunately, it never entirely disappeared, and a number of the old nineteenth-century vineyards remained. By the 1960s though, D'Agostini Winery (originally Uhlinger, one of the pioneering growers and producers in Shenandoah Valley, and now Sobon Winery) was the sole commercial winery in Amador County.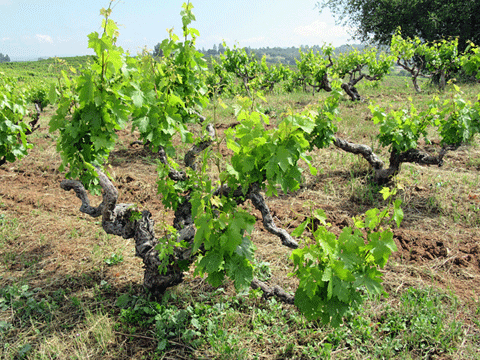 Eric Costa, in his excellent book "Old Vines: A History of Winegrowing in Amador County", notes that in 1965, there were 90 acres of Mission vines and around 400 acres of Zinfandel being grown in Amador – then as now, Zin was the most widely-planted grape variety in the county. While the acreage of Mission vines there has dwindled to nearly nothing, Zin acreage has grown to over 2,000, and the number of Amador County wineries has grown from one to over 40. Costa mentions that between the end of Prohibition in the early 1930s and a resurgence of interest in Amador wines in the late 1960s and early 1970s, most of the county's winegrapes went either to large Central Valley producers (where they were most likely blended into inexpensive jug wines) or sold in very small lots to home winemakers.
Costa writes that one home winemaker, Charles Myers of Sacramento, was directed to Deaver Vineyards as a source of fruit, and made some Zinfandel from the old vines there – Myers later founded Harbor Winery in West Sacramento in 1972. Famed Sacramento grocer and wine merchant Darrell Corti tasted Myers' wine and was impressed enough that he recommended the Deaver fruit to his friend Bob Trinchero of Sutter Home Winery in Napa Valley – then a fairly small and little-known winery. The 1968 Sutter Home Deaver Vineyard Zinfandel quickly became a sensation (it's now considered nearly legendary), and it attracted the attention of a number of other California vintners when it was released in 1971, helping to put both Sutter Home and Amador County wine country on the map.
Charles Myers (who passed away in 2015) had another connection with Deaver Vineyard fruit in addition to their Zinfandel. Harbor Winery's "Mission del Sol" sweet wine, made from Deaver Vineyard's Mission grapes, was first produced commercially in 1972. Made differently than a traditional Port-style wine or an Angelica, it was not produced in every vintage, and the 1986 vintage was the last one for Harbor – that wine was bottled and released in 2014, after over 25 years of barrel-aging! Darrell Corti bought the entire lot of the 1986 vintage for the Corti Brothers store in Sacramento.
After our drive from the Bay Area, Russell and I arrived at the Deaver tasting room parking lot a little before 10am, and Bryan and Wes pulled up next to us just a minute or two later. The facility is set in a beautiful spot, with plenty of trees, a lawn, picnic area, and a large scenic pond. We walked into the tasting room, where a few staff members were helping to get things ready for their 10:30 opening time, and we waited for a few minutes until Ken Deaver arrived outside in his truck and welcomed us. None of us had met Ken before, so we all made our introductions. With a denim shirt and jeans, a big wide-brimmed hat, and a big smile, he's immediately memorable.
Ken's roots in Amador County's Shenandoah Valley run deep. Jacob Clark Deaver and family came to California from Missouri in the 1850s and settled in Shenandoah Valley by 1859. However, it was someone on other side of Ken's family who was one of the valley's pioneering winegrape-growers. John James Davis arrived in Placerville by 1852 after learning to be a cooper on his journey west from Indiana. He soon moved to Shenandoah Valley and planted Mission grapes there. Although there is little to no written documentation of those early years, it is known that by 1870 Davis had a cooperage business and was growing more vines and selling wine, as well as growing and selling a variety of orchard fruit. John's son Joseph continued farming the family's land and added to the early vineyard plantings. The two pioneering Shenandoah Valley families merged in 1927, when Joseph Davis married Elizabeth Deaver, the widowed daughter-in-law of Jacob Clark Deaver.
Ken Deaver's father – also named Ken – was the son of Elizabeth and her first husband Grover Deaver, and he continued farming the ranches of the now-combined Deaver and Davis families, raising cattle, sheep, pigs, peaches, apricots, plums, almonds, walnuts, and grapes. Ken established the Deaver wine label in 1986, and the tasting room opened in 1990. His wife Barbara ("Bobbie") wanted to open a bed-and-breakfast – the Amador Harvest Inn – and it opened not long afterwards. The elder Ken Deaver passed away in 1989, and Bobbie passed away in 2009. The younger Ken still farms the family's ranches – about 500 acres total, with grapes, pumpkins, plus pasture for cattle, sheep, and goats – and he oversees the wine business as well. Ken and his wife Jeanne manage the tasting room and the adjacent Amador Harvest Inn, which overlooks the property's beautiful pond. Jeanne also runs the Amador Flower Farm not far away, growing nearly 1,200 varieties of daylilies there – visitors are welcome to tour and picnic there as well as to buy plants. Ken told us that it looks like one of his children will be taking over when he's ready to retire (if he ever does!), and the grandchildren may well be continuing the family tradition as well.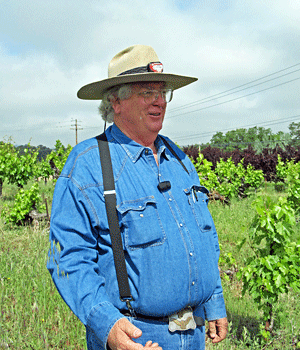 Since I'd told Ken that we were particularly interested in seeing his old Mission vines, once we'd met outside the tasting room we got back in our cars and followed him, as those vines are a little ways away. Ken led us to the vineyard, perhaps 1/4 mile down Shenandoah Road from the junction of Steiner Road and then a short distance up a private drive from there. We parked alongside the drive and stepped into the vineyard – one of California's most historic.
Ken confirmed what I had heard and read elsewhere – that these Mission vines were probably planted in 1853 or 1854, making them the oldest-known continuously-producing winegrape vines in California. While it's not possible to accurately date the age of grapevines as it is with trees, and there is usually little if any documentation of vineyard plantings this old, Ken told us that oral records passed down through his family from his great-grandfather John James Davis indicate the 1850s planting date for these Mission vines. The Mission plantings at this vineyard were once more widespread – as at most California vineyards, many Mission vines were pulled out over the years and replaced with other grape varieties. About five acres of the Mission at Deaver remain, split into two blocks a short distance from one another.
As we walked among the vines, Ken mentioned that it was easy to tell which direction was north, pointing out the moss growing on the north side of many of the big, gnarly vine trunks. There were a good number of flower clusters developing (none appeared to be flowering yet when we visited), and Ken told us that the vines generally have big grape clusters but fairly small berries, and yield around two tons per acre. Since all of the vines are own-rooted, some have been lost to phylloxera over the years, and Ken said that this has been the biggest continuing issue facing the old vines. Some planting was done to replace dead vines in the Mission blocks, mostly 10-12 years ago.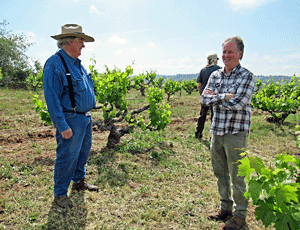 Ken asked if we were interested in seeing his old Zinfandel vines nearby – that was an easy question for us to answer! We drove about 1/4 mile further up the road, following a dirt track up a hill to the Zinfandel block. Ken believes that Zinfandel vines at the property were first planted in the late 1860s, though the plantings there were likely expanded by the mid-1880s. If there are still Zin vines at this location that date from the late 1860s, they would rival the age of those at nearby Original Grandpère Vineyard – the vines at that site are regarded as the oldest documented Zinfandel vines in California.
Cuttings from the early Deaver Zinfandel plantings were used to start many other Zin vineyards in Amador County, including a number of what are now highly-regarded old-vine Zinfandel vineyards there. One estimate I've read is that as much as 80% of all the Zin currently grown in Amador County came from cuttings that originated with the old Deaver vines – due to this, there is now a recognized Deaver clone of Zinfandel.
Overall, Ken farms about 250 acres of vineyards, planted largely to Zinfandel, as well as Mission, Primitivo, Petite Sirah, Sangiovese, and Alicante Bouschet. The varieties planted other than Zin and Mission are ones that Ken felt would complement the Zinfandel. He's still looking to plant or graft new varieties in the vineyard – he added the Alicante Bouschet about 8 years ago, and he's thinking about adding Souzão. Ken mentioned that as with many old vineyards, there are also a few non-winegrape vines scattered throughout the older plantings, including Thompson Seedless and Flame Tokay. The Deaver vines are sustainably farmed, though not organic. We asked Ken about the vineyard soil, and he told us that the soil type actually has been given a name based on its locality – Shenandoah sandy loam. There is volcanic topsoil and clay subsoil over a granitic base. The red color of the soil was a giveaway that it contains lots of iron. Ken said that the soil holds enough water that irrigation is rarely needed (and never used on the Mission vines). He has portable irrigation equipment to water the vines when necessary.
Ken and his father sold much of their old-vine Zinfandel fruit to home winemakers over the years, and Ken estimated that he sells over 95% of the total fruit from his vineyards to other vintners. He still sells old-vine Zin to the Trinchero family, which helped make Deaver Zinfandel famous with their Sutter Home bottlings of the late 1960s and early 1970s. Terra d'Oro Winery in Shenandoah Valley – owned by the Trinchero Family – uses this old-vine fruit for their Deaver Vineyard Zinfandel.
Current production of Deaver's own label is about 3,000 cases. Ken is first and foremost a farmer and rancher rather than a winemaker, and the Deaver wines are made offsite – many of them, including the Port-style wines and Angelica, are made by noted vintner Marco Cappelli. Sparkling wines are made at a facility in Lockeford. Ken told us that he made some wine in the late 1980s but that it didn't turn out well so he never bottled it – he said it's still in a tank! There's nothing fancy in the winemaking, and new oak is rarely used.
Nearly all of the Deaver wines are sourced from the Sierra Foothills, many from the Deavers' own vineyards. There are several sparklers, including Sparkling Rosé and Sparkling Orange Muscat, and a few whites such as Viognier, Malvasia Bianca, Verdelho, and Chardonnay. But most of the production is of red wines, among them Pinot Noir, Cabernet Sauvignon, Primitivo, Sangiovese, Petite Sirah, Alicante Bouschet, and red blends. And of course there's Zinfandel, the variety that Deaver is best-known for. There are a number of different Zin bottlings, including "Old Vines Circa 1860s", "Big Hat", "Henry's House", "Ten Zins", "Signature", and Late Harvest. Deaver is also noted for their Port-style wines – Orange Muscat, Alicante Bouschet, "Barby" Barbera, Zinfandel, Petite Sirah, Tawny, "Golden Nectar", plus Angelica. Most wines are under $30, with some of the sweet wines up to $40.
After our tour of the Mission and old-vine Zinfandel vineyard blocks, we followed Ken back to the tasting room. It's a comfortable, welcoming space, with a long wooden tasting bar and lots of wines along with gift and food items on display. Deaver operations manager Brad Dehn joined us in the tasting room along with Ken and a couple of the tasting room staff members, and they poured a selection of wines for us to try.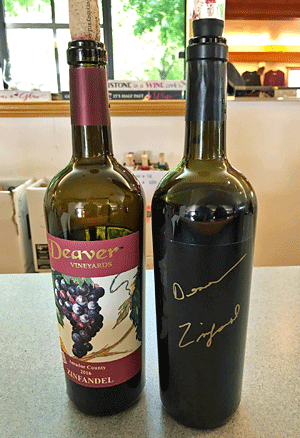 Some in our group tasted different wines than I did – I focused mostly on Zinfandels. Ken and Brad had a couple of limited-production and pre-release wines opened for us to taste in addition to current Deaver releases. The 2015 "Deaver Signature" Zinfandel was a good start to the tasting, featuring ripe and upfront fruit that was nicely complemented by spice and a brushy, brambly component, with a fairly rich mouthfeel and long finish – a classic Amador Zin. The 2016 "Old Vines Circa 1860s" Zinfandel comes entirely from the old-vine estate vineyard fruit – this was more intense and focused, with big, "Zinny" fruit plus notes of earth and pepper, a more structured mouthfeel, and firmly tannic finish. While tasty now, this should develop nicely with more time in the bottle. The 2015 "Henry's House" Zinfandel was next, and this displayed less upfront fruit than the two previous wines, with a more savory profile along with earth, spice, and raspberry fruit, good structure, and fine tannins.
Probably my favorite of the Deaver Zinfandels was the result of UC Davis research that was called the "Heritage Zinfandel Project," designed to compare vineyard selections of fruit with terroir. Cuttings were taken in 1998 from ten old-vine Zinfandel (and one Primitivo) vineyards, mostly from Amador County plus one each from adjacent El Dorado and Calaveras counties, then grafted onto St. George rootstock at a designated block of Deaver Vineyard and all farmed identically. The first fruit was harvested in 2002 and the wine from each vineyard selection was kept separate and made in the same way. There turned out to be noticeable differences in the individual wines, even when the fruit from each was farmed and vinified the same. Today, Deaver produces a blend from this Heritage Block of their vineyard, and we tasted a pre-release bottle of their 2015 "Ten Zin" Zinfandel. Very distinct brambly, herbal character along with bright berry fruit, a touch of black pepper, medium-full body, and evident but refined tannins.
I tasted the 2016 Primitivo – less complex than the Zinfandels but still a pleasant, fruit-forward wine. More interesting was the 2014 Alicante Bouschet, with plenty of dark berry fruit and spice plus notes of earth, big and structured mouthfeel with a firm, tannic finish. The 2015 Petite Sirah was even better – this featured loads of peppery aromas along with ripe black fruit, spice, and a touch of flowers, a mouthfilling texture and big but not aggressive tannins. I also tasted a NV Alicante Port that had dark, plummy fruit, a rich mouthfeel, and moderately sweet finish – I'm not sure I'd ever tried a Port-style wine made from Alicante Bouschet, and this was quite nice.
We finished up our visit at Deaver with a special tasting in the dining room of the Amador Harvest Inn next door to the tasting room. When I had first gotten in touch with Ken, I mentioned that in addition to seeing his old vines, I had a particular interest in tasting the Deaver Angelica. What we got was really an unexpected treat – the dining table had been set up with several glasses for each of us, and there were plates of meats, cheese, olives, fruit, and bread for us to enjoy along with the wines. Ken and Brad guided us through three very different but quite delicious sweet Mission wines.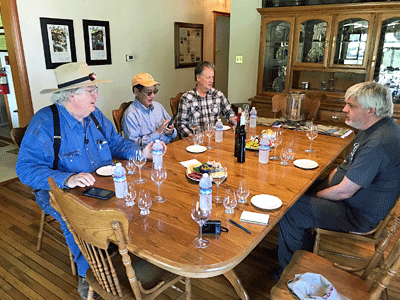 l to r: Ken, Russell, Bryan, Wes
We started with the NV "Golden Nectar" Port – this is from fruit pressed and then fortified right away, yielding a wine with an appropriately pale golden color, intense apricot aromas with spice undertones, and a rich texture and sweet finish, quite distinctive. The NV Angelica is made in a traditional way for this style of wine, allowing it to slowly oxidize over several years of barrel-aging. With a darker amber color, the aromas were similar to that of a Tawny Port – pecan and brown sugar – and the decadent mouthfeel led to a long, sweet finish. Should be a great match with pecan pie! Even better was a 2008 Angelica barrel sample. Similar in many ways to the previous Angelica, the longer barrel-aging opened up additional layers of complexity that the first Angelica hinted at – this is already a stunner and should be an amazing wine when it's finally bottled.
This was a memorable visit to Deaver Vineyards. It was so much fun talking with Ken about the old vines there, planted by his great-grandfather over 150 years ago. Ken was friendly and easy-going, and of course he filled us in with loads of fascinating information on his vineyard and wines. Thanks also to his wife Jeanne for her help in setting up our visit and to Brad and the tasting room staff for helping to make our tasting there so enjoyable. The Deaver wines are very representative of the best of Amador wines – big but well-balanced and not overdone. All of the Zinfandel bottlings I tasted were very good, and quite distinct from one another. My favorite Zins were the 2015 "Henry's House" and 2015 "Ten Zin", with the 2016 "Old Vines Circa 1860s" bottling close behind, and I also enjoyed the 2015 Petite Sirah quite a bit. Among the sweet wines, the NV "Golden Nectar" Port was different and delicious, and while the 2008 Angelica will be something to watch for in the future, the current NV Angelica is well worth checking out now. If you're planning a trip to Amador wine country, Deaver should definitely be on your list of wineries to visit.
When Bryan and I were discussing plans for our day in the Sierra Foothills, he suggested having lunch at a French café he knew of near Placerville – I immediately knew the place he meant and wholeheartedly agreed with his suggestion! Allez! (yes, there's a "!" in the name) is in Diamond Springs not far from Placerville and just a few miles down the road from our afternoon stop at Sumu Kaw Vineyard. I'd been there for dinner a few times in the past, and it's become my favorite place to dine in the area. We were able to meet Jonathan Lachs there for lunch – he and his wife Susan Marks are the owner/winemakers at Cedarville Vineyard in the Fair Play wine region a little farther south. We started out with a shared charcuterie plate, which was exceptional. Jonathan, Bryan, and I each ordered the Niçoise salad (which was terrific), Wes had the tri-tip plate, and Russell had the cassoulet – I've had that before and it's delicious. Allez! has a nice wine list of mostly French and local El Dorado County wines, plus a small but well-chosen selection of bottled beer. Several of us had brought wine to share at lunch, and the staff was very accommodating for us with good stemware and a dump bucket. The desserts looked delicious but we didn't try any on this occasion. As I've found in the past, prices are more than reasonable for the quality here. Allez! has earned a reputation among both locals and visitors as being among the top places to eat in the area - very highly recommended!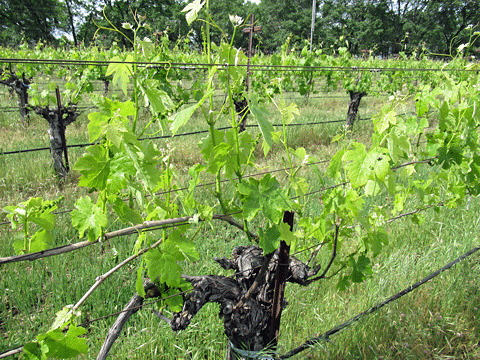 We had an afternoon appointment at Sumu Kaw Vineyard, in the Pleasant Valley area of El Dorado County between Placerville and the Fair Play wine region further south. Bryan has been buying fruit from the vineyard for about five years and I'd been to the vineyard on a couple of occasions, but this was the first visit there for Russell and Wes. It was not a long drive from Diamond Springs, and we soon turned off onto the dirt road that leads to Sumu Kaw. We stopped to open a few gates along the way before arriving at the vineyard, which is owned by David and Sheila Bush. Sheila farms the vineyard, and the Bush family – owners of Madroña Vineyards in the Apple Hill area – also owns another vineyard (Enyé Vineyard) that we'd passed through along the dirt road to Sumu Kaw. We parked by David and Sheila's house near the middle of the vineyard, and Sheila came out to welcome us.
Sumu Kaw is at 3,000-foot elevation, along a ridgeline and in the midst of a pine forest – Sumu Kaw means sugar pine in the local native Miwok language. The soil is mainly volcanic Aiken series loam. The 24-acre vineyard was planted in 1994 and 1997 with about 15 grape varieties. Most of the acreage is planted to Rhône grape varieties, and there are also a number of Portuguese varieties plus Zinfandel and Nebbiolo. Sheila uses no herbicides and has used only organic sprays in the vineyard for the past 7-8 years. In addition to Harrington, Sumu Kaw sells fruit to a number of producers, among them Madroña, La Clarine Farm, and Skinner.
We stopped here on this day to take a look at some of the vines that Bryan sources fruit from for his Harrington wines. Bryan has gotten several grape varieties from Sumu Kaw, including Mourvèdre, Syrah, Grenache, and Alvarelhão. Sheila showed us the Mourvèdre and Syrah vines, which looked to be doing very well at this point in the growing season. The flower clusters have appeared on the vines (from which the berries will later form) but flowering has not yet begun – a good thing considering the heavier-than-usual May rain (and even a little hail) this year.
The other vines we wanted to see at Sumu Kaw have an unusual story behind them. Bryan has been bringing back vine cuttings from Europe – mostly from Italy – over the past few years, from grape varieties that have not been brought to California before. The cuttings are propagated and go through a quarantine process at Foundation Plant Services (FPS) in Davis, to ensure that they are free of viruses and other issues that could spread to existing vines in California. Bryan was particularly interested in bringing back Carricante and Nerello Mascalese from Sicily, and he obtained cuttings in 2015. They were grafted to existing rootstock at Sumu Kaw in 2017 – the higher elevation and volcanic soil there seemed like a perfect home for vines from Sicily's Etna region.
Once the grafted vines began to produce fruit, though, it quickly became evident that they were not the varieties that Bryan was told they were, since the berries from the white grape variety of Carricante began to turn red at veraison! DNA testing at FPS revealed that the "Carricante" was actually Grenache, and amazingly, the "Nerello Mascalese" did not match any of the 28,000+ grape varieties in the viticultural DNA database. Despite everyone's disappointment that the grape varieties were not what they were supposed to be, it turned out that the wine from them, first made in the 2018 vintage, was very good. Bryan named the wine "Misteri" – Italian for "mysteries", very appropriate! Sheila showed us some newly-grafted vines with the same two varieties, which she had protected from the unexpected May rains with plastic cups and sandwich bags. David Bush joined us while we were in the vineyard, and after we finished checking the vines, we all headed back to their house.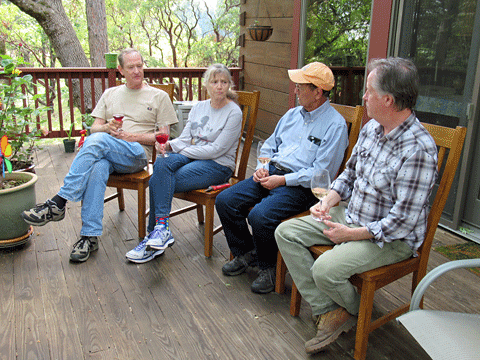 l to r: David, Shiela, Russell, Bryan
We sat out on David and Sheila's porch, and they opened a bottle of Madroña 2018 Grenache Rosé for us to try – this was made from Sumu Kaw fruit. A light salmon color, the aromas displayed fresh strawberries and citrus plus floral undertones, with a bright texture and finish, quite pleasant. Bryan brought out a bottle of Harrington 2018 Sumu Kaw Vineyard "Misteri" – this was David and Sheila's first time trying this wine. Floral aromatics upfront, plus red fruit and spice in support, with good acidity with moderate tannins.
We had a good time visiting Sumu Kaw Vineyard, and it was nice that we all had the chance to check on the vines with Sheila. She does a fine job in the vineyard, and the care with which she protected the newly-grafted vines was impressive – it's no wonder that she's a highly-respected grower in the region. The vines were looking good, and we're hopeful that the weather cooperates the rest of the growing season and leads to a good harvest. David and Sheila are affable and low-key – that seems to be characteristic of growers in the Sierra Foothills – and we enjoyed our visit with them.
It was finally time for us to leave Sumu Kaw Vineyard, and Russell and I started on our way back a little ahead of Wes and Bryan. Russell and I needed to make a stop at a friend's house in Sacramento along the way, and afterwards we decided to grab dinner in Davis. After finding that a past favorite restaurant there had closed, we picked a place in the downtown area, but the food there was not particularly memorable. In any case, the stops along the way broke up the lengthy drive back to the Bay Area.
We enjoyed our visit with David and Sheila at Sumu Kaw Vineyard, but the highlight of the trip for me was visiting Ken Deaver and seeing the old vines at Deaver Vineyard, which continue to thrive. I've seen many old vines over the years – in Sonoma, Mendocino, Lodi, Cucamonga Valley, and elsewhere in California – but few if any are as historic as the vines at Deaver. Deaver Vineyard has had a significant impact on Amador County wine three times – first as one of the earliest vineyards in the region, second as the source of Zinfandel budwood for many other older vineyards, and third as the vineyard that helped put Amador County grapes and wine back on the map in the 1970s.
Amador and El Dorado wine country present different landscapes, and both are highly scenic. It was nice to see this part of the Sierra Foothills in the springtime, since it had been awhile since I'd been there at this time of year. This day-trip definitely lived up to my expectations, and we had a great time visiting some fine growers and seeing their vineyards, as well as tasting some very good wines along the way. As always, thanks to everyone that we visited for being so generous with their time and their wine!