Alder Springs Vineyards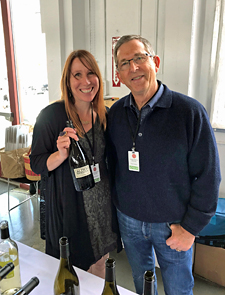 Owned by Stuart Bewley, Alder Springs Vineyard is located in far northern Mendocino County, and has been a source of top-notch fruit for a number of wineries for many years. The first plantings at the vineyard date from 1993, and noted vintner Byron Kosuge has been the Alder Springs winemaker since 2012. Stuart was behind the winery table along with Natalie Holstine, who heads up both Grape Sales & Customer Relations. The 2014 "Apex 39" is a white Rhône-style blend composed of about 30% each Roussanne and Marsanne, along with roughly 20% each Picpoul and Viognier. This displayed bright stone fruit and earth aromas plus lots of spice, with a fairly lively mouthfeel and finish. Also noteworthy was the 2014 Chardonnay, with citrus and pear, earth, and floral notes, medium weight on the palate, and a chalky mineral texture on the finish. A Grenache-based blend that also includes Counoise and Mourvèdre, the 2013 "Kinesis" was quite savory, with flower and herb aromas along with red fruit, earth, and spice, finishing with fine tannins. The 2013 "13 Tasks" is a blend of 50% each Cabernet Sauvignon and Malbec – herbal and plummy with dried herb undertones, this was medium-full bodied with good structure and surprisingly refined tannins on the finish. Particularly impressive was the 2013 Syrah, showing herbs, flowers, dark fruit and hints of pepper and smoked meat, with plenty of structure for further aging, finishing with firm tannins.
Artezin Wines
Not surprisingly given the winery name, Artezin specializes in Zinfandel, though they also produce other old-time California varieties such as Petite Sirah, Carignan, and Charbono. Part of the Hess Family Wine Estates, Artezin sources fruit from a number of noted family growers in Mendocino County. Longtime vintner Randle Johnson makes the wines. I tasted just one wine at the Artezin table, and it was a good one. The 2017 "Old Vine" Mendocino Zinfandel, from 50 year-old vines in Ukiah Valley, was spicy, bright, and "Zinny", big and bold but not jammy, with a fairly rich texture and a long, tasty finish.
Barra of Mendocino Wines / Girasole Vineyards

Charlie Barra is a legendary grower in Redwood Valley, where he started farming his estate vineyard in 1955. The Barra wine label was established in 1997. All of the fruit for the Barra wines and for sister label Girasole comes from the certified organic estate vineyard. I thought the highlight of the wines at this table was the 2016 Barra Petite Sirah – intense, savory, and earthy, with dark berry fruit and spice notes, a mouth-filling texture, and grippy, youthful tannins, a big wine that should develop well with more bottle age.
Bee Hunter Wine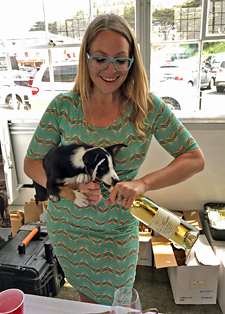 Bee Hunter is a fairly new label, run by Alisa Nemo (her official title is Queen Bee!) and winemaker Andre DuVigneaud. They're based in Philo and they work with fruit mainly from the Anderson Valley, Mendocino Ridge, and Yorkville Highlands regions of Mendocino County. Both Alisa and Andre were behind the table to pour their wines at the tasting along with delightful puppy J.J. I started out with the 2015 Sémillon from Yorkville Highlands – this showed citrus and fig fruit plus earth and herb notes, and a chalky mineral finish. Another noteworthy white was the 2014 Greenwood Ridge Vineyard Dry Riesling, with stone fruit petrol, and floral aromas, medium body with a lively mouthfeel, and a clean, crisp finish. I tasted two Pinots from the Comptche area a few miles north of Anderson Valley, and my favorite was the 2013 Oppenlander Vineyard Pinot Noir - this is a late release as the 2014 vintage is sold out. Black cherry, earth, forest floor, and exotic spice aromas, with good structure and a long, lively finish.
Briceland Vineyards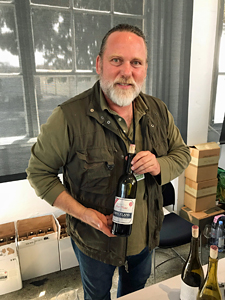 Located in southern Humboldt County, vintner Joe Collins and Maggie Carey established Briceland in 1985. Joe's stepson Andrew Morris now heads up the winery, and he produces wines from a number of different grape varieties, from fruit grown in both Humboldt and Mendocino counties. Andrew poured a number of wines, mostly sourced from Mendocino fruit and with a few Humboldt wines as well. The 2017 Spirit Canyon Vineyard Arneis, from a site near Hopland, displayed citrus, pear, and spice aromas with stony mineral undertones, great acidity and a long, bright finish. I tasted Zins sourced from both counties, and preferred the 2015 Humboldt Zinfandel, with intense yet elegant black cherry and wild berry fruit, earth, and floral undertones, medium body, and moderate tannins. Also notable was the 2016 Alderpoint Vineyard Pinot Noir from Humboldt County, with earthy and spicy darker fruit, medium weight, and good structure. Back to Mendocino with the 2016 Dark Horse Vineyard Syrah, from a site near Ukiah farmed biodynamically by legendary Mendocino vintner Paul Dolan – this wine showed peppery dark berry fruit with touches of herbs and earth, a lively texture, and fairly tame tannins.
Campovida

Owners Gary Breen and Anna Beuselinck established this new venture (first vintage in 2012) in Hopland, at the site that had been the Fetzer Wine Hospitality Center. They run a family-owned farm and vineyard, and their winemaker is Kyle Jeffrey. They also have a tasting room in Oakland. My favorite of the Campovida wines this year was the 2016 Spirit Canyon Vineyard Arneis, from a vineyard site a few miles north of Hopland near the Russian River. The wine had earthy pear and citrus fruit, touches of flowers and herbs in the background, with medium-light body and a clean finish.
Fathers + Daughters Cellars

Fathers + Daughters is a fairly new venture, with the first vintage coming in 2012. It's a three-generation collaboration between Kurt Schoeneman (owner of Anderson Valley's well-known Ferrington Vineyard), his daughter Sarah and her husband Guy Pacurar, their young daughter Ella, and Guy's older daughter Taylor. All of the fruit for the label's wines come from Ferrington Vineyard, and noted Anderson Valley vintner Phil Baxter heads up the winemaking. Fathers + Daughters poured three wines at the event, and I thought that two were particularly noteworthy. The 2016 Ferrington Vineyard Sauvignon Blanc comes from 40+ year-old vines, and featured classic grapefruit and herb aromas with earth and spice, medium-light weight on the palate and a lively texture and finish. The 2016 "Ella's Reserve" Ferrington Vineyard Pinot Noir was one of my top Pinots of the day, displaying herbal cherry and rhubarb on the nose, plus earth and forest floor notes with floral undertones, medium body with good structure and fine tannins on the long finish.
Frey Vineyards
Paul and Beba Frey first planted their Redwood Valley ranch with winegrapes in the late 1960s. They and their family have been among the pioneers of organic (and later biodynamic) viticulture in California, and Frey was the country's first producer of certified organic wines. They produce a variety of different wines, all of which are labeled as organic or biodynamic and contain no added sulfites. Two of the Frey wines stood out to me – the 2016 Organic Syrah showed savory herbs and pepper upfront with subtle dark berry fruit and a touch of black olive in the background, medium body and moderate tannins. The 2017 Biodynamic Field Blend comes from the Frey Ranch in Redwood Valley – it's mostly Syrah and Petite Sirah along with Zinfandel. Interestingly, I thought the bright and brambly berry fruit of the Zin component came through strongest in the aromatics, with notes of spice, earth, and pepper, good structure with a firm tannic finish.
Greenwood Ridge Vineyards

One of the oldest Pinot producers in the area, Greenwood Ridge was founded in 1980 by vintner Allan Green. The estate vineyard, in the Mendocino Ridge appellation, is at about 1,400-foot elevation off of Philo-Greenwood Road, just six miles from the ocean. Their distinctive octagonal tasting room near Philo in Anderson Valley is something of a landmark. The winery was purchased in 2016 by Ken and Diane Wilson of Wilson Artisan Wineries, and Victoria Wilson is the winemaker. My favorite of the two Greenwood Ridge wines was the 2018 Mendocino Rosé, made from Syrah and Grenache – this featured bright, earthy, and savory red fruit, vibrant acidity, and a long clean finish.
Handley Cellars

Founded in 1982 by Milla Handley, the estate vineyard near the small town of Navarro in the Deep End of Anderson Valley has been certified organic since 2005. A second estate vineyard is 7-acre RSM Vineyard, planted from 1999-2001. Milla announced her retirement in June 2017 – her daughter Lulu McClellan now heads up the winery, and Randy Schock is the winemaker. I started with the 2016 Estate Chardonnay, which spent six months in neutral oak – this had pear and stone fruit aromas plus spice and floral undertones, medium body with a slightly creamy texture and lively finish. The 2017 Pinot Gris was another standout, with citrus and stone fruit, flowers, and herbs on the nose, a vibrant mouthfeel and clean, fresh finish. The 2015 RSM Vineyard Pinot Noir, from 115, 667, and Pommard clones, displayed black cherry and darker fruit, earth, tea leaf, and mushroom aromas, good structure with firm tannins on the finish – one of my top Pinots of the event, this is tasty now but this could really develop nicely with more time in the cellar.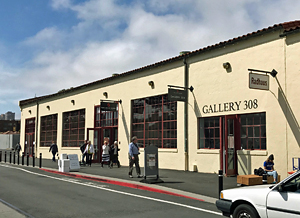 Husch Vineyards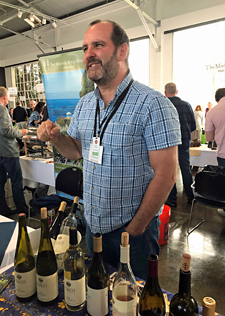 Located between Philo and Navarro, Husch is the oldest winery in Anderson Valley – it was established by Tony and Gretchen Husch in 1971. The winery has been owned by the Oswald family since 1979. The current proprietors, Zac Robinson and Amanda Robinson Holstine, are the third generation of the Oswald family at Husch, and Brad Holstine heads up the winemaking team. Zac Robinson was on hand to pour the Husch wines. The 2018 Anderson Valley Vin Gris, made from Pinot Noir, displayed bright red fruit plus herbal and floral notes, with a light and refreshing mouthfeel and finish. The 2017 Anderson Valley Dry Gewürztraminer was an example of why this is one of California's top regions for the variety, with floral lychee and citrus aromas and great acidity. The 2018 Mendocino Chenin Blanc showed pear and stone fruit, earth, and spice, with medium-light body, lively acidity, and a crisp finish. One of my favorite Pinots of the tasting, the 2015 "Knoll" Pinot Noir includes fruit from Anderson Valley's first planting of Pinot Noir in 1971, and displayed black cherry fruit, floral and mushroom notes, spice, and a stony mineral component, with medium body and good structure and moderate tannins – this has fine potential for mid-term cellaring.
Lichen Estate

This Anderson Valley winery was established by Doug and Ana Lucia Stewart, who had founded Breggo Cellars but sold that label (which is now FEL). The Lichen estate vineyard was planted in 2008 with densely-planted Pinot Noir and Pinot Gris, and is farmed organically. The first wines came from the 2012 vintage, and Lichen produces both sparkling and still wines from their estate fruit. I tasted one Lichen wine at the event, at the Visit Mendocino County table. The 2016 Anderson Valley Pinot Gris displayed citrus and green apple, herbs, and floral undertones, with great acidity and a clean finish.
McNab Ridge Winery

Winemaker Rich Parducci heads up the McNab Ridge label. His grandfather, John Parducci, was one of Mendocino's wine pioneers and worked alongside Rich for a number of years. John's father Adoph Parducci founded his eponymous winery in 1932, although the family no longer has a connection with that label. They purchased McNab Ridge in 1999. My favorite of the wines I tasted at the table was the 2017 Napoli Vineyard Pinotage, with loads of upfront spice along with earthy black cherry fruit, medium body and moderate but refined tannins on the finish.
Murder Ridge Winery
Murder Ridge is run by proprietors Leslie Sisneros and Steve Alden. Leslie has been the winemaker for several noted Sonoma County producers over the years, while Steve owns Perli Vineyard in the remote Mendocino Ridge AVA between Anderson Valley and the Pacific coast. The area is particularly known for Zinfandel and Pinot Noir, and those varieties are the main focus at Murder Ridge. I started off with a 2017 Perli Vineyard Chardonnay – I believe this may be the label's first Chardonnay. The wine featured bright pear and stone fruit plus lots of spice on the nose, with a lively texture and finish. The 2015 Perli Vineyard Zinfandel had plenty of bright and spicy raspberry and darker berry fruit, a touch of black pepper, and floral undertones, with medium body, good structure, and moderate tannins.
Navarro Vineyards
One of the earlier modern Anderson Valley wineries, Navarro was established by Ted Bennett and Deborah Cahn. In 1974, they began planting their estate vineyard near Philo with Gewürztraminer, Pinot Noir, Riesling, Muscat, and Chardonnay. They've become one of Anderson Valley's best-known wineries, and winemaker Jim Klein has been at Navarro since 1992. The 2017 Estate Dry Gewürztraminer, aged in older oak ovals, had intense lychee aromas along with undertones of citrus and flowers, a lively texture, and slightly chalky mineral finish. The 2015 "Méthode à l'Ancienne" Pinot Noir showed cherry and rhubarb notes with tea leaf, earth, and spice, medium body, and fine tannins. One of the day's best Zins, the 2015 Mendocino Zinfandel was sourced from two vineyards in Potter Valley, and displayed bright "Zinny" fruit with lots of spice and pepper plus brushy herbal notes, good structure and moderate tannins.
Pennyroyal Farm
Located in the Boonville area, Pennyroyal Farm was established in 2012 and specializes in both wine from their estate vineyard and cheese from their goats and sheep. The vineyard is planted to 7 acres of Sauvignon Blanc and 15 acres of Pinot Noir. A sister winery of Navarro Vineyards, Sarah Cahn Bennett is the Pennyroyal Farm co-owner and winemaker. The 2017 Sauvignon Blanc had citrus and stone fruit aromas with herbal and floral notes, medium-light body with good acidity, and a crisp finish. The 2018 Pinot Noir Rosé, which spent about an hour on the skins prior to pressing, was one of the event's top rosé wines, featuring savory herbal red fruit with floral undertones, a lively mouthfeel, and a chalky mineral finish. The 2015 Anderson Valley Pinot Noir had aromas of black cherry, mushrooms and forest floor, hints of spice and flowers, good structure and moderate tannins.
Philo Ridge Vineyards

Philo Ridge proprietors Fred Buonanno and Heather McKelvey purchased the vineyard and winery site of the old Christine Woods Winery in 1999, and Norman Kobler directed new plantings there in 2000. Heather is the winemaker, and the first Philo Ridge wines were released in 2004. My favorite of the Philo Ridge wines I tasted was the 2014 Vittorio's Vineyard Primitivo – this featured spice, plum and berry fruit, and earthy undertones, with medium weight on the palate and moderate tannins.
Powicana Farm
With their first vintage coming in 2013, Powicana Farm was one of the newer wineries at the tasting. Husband-and-wife proprietors Remi and Zoubeida Zajac, originally from France, work exclusively with Petite Sirah from their biodynamically-farmed vineyard in Redwood Valley. They produce everything from a rosé to a Port-style wine from their fruit. Remi and Zoubeida poured three wines and I particularly enjoyed two of them. The 2016 Estate Petite Sirah had floral dark berry fruit, earth, and spice on the nose, with a mouth-filling texture and surprisingly tame tannins. The 2017 Pétillant Naturel Petite Sirah displayed fresh blackberry and earth aromas, lightly sparkling with fine acidity and a refreshing finish.
Scharffenberger Cellars

John Scharffenberger established his eponymous label in 1981, and it's been owned since 2004 by Maisons Marques & Domaines, which also owns Roederer Estate. The "Excellence" line of sparklers made by the traditional Méthode Champenoise form most of Scharffenberger's production. Jeff Jindra took over from longtime winemaker Tex Sawyer in early 2018. I got to the Scharffenberger table at the very end of the event, and the only wine I tasted there was the NV Brut Rosé "Excellence" – the blend varies but is generally about 50% each Chardonnay and Pinot Noir. Light salmon color, this displayed red fruit, spice, earth, and yeasty aromas, light bubbles, and a clean, bright finish.
Theopolis Vineyards
Theodora Lee is an attorney who also owns and farms her own vineyard in the Yorkville Highlands region of Mendocino County – her nickname is Theo-patra, Queen of the Vineyards! She planted her five-acre vineyard – all Petite Sirah – in 2003 and has sold fruit to other producers over the years including Carlisle, Halcón, and Highlawn. She began producing wine under her own label with the 2012 vintage. As usual, Theodora was behind her table at the event, and I thought two of her wines were especially noteworthy. The 2016 Estate Rosé of Petite Sirah showed aromas of black cherry, spice, and hints of flowers, medium-light bodied with a touch of tannin on the finish. The 2015 Estate Petite Sirah was floral, herbal, and dark-fruited, with spice and black pepper undertones, big and structured with firm but not harsh tannins.
Waits-Mast Family Cellars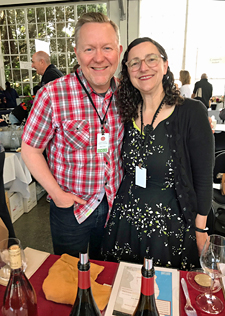 Jennifer Waits & Brian Mast established their winery in 2005, and they focus mainly on Pinot Noir sourced from Anderson Valley, Mendocino Ridge, and Comptche. The wines are made in San Francisco, and use destemmed fruit fermented with native yeast and typically aged in 25-30% new French oak. Shalini Sekhar is the consulting winemaker. (Disclosure – I've helped out with bottling for Waits-Mast) Both Jennifer and Brian were there to pour their wines at the tasting, and I thought several of their wines were standouts. The 2018 Rosé of Pinot Noir had bright fresh strawberry fruit aromas plus citrus and floral notes, lively acidity, and a clean finish. From Anderson Valley, the 2016 Nash Mill Vineyard Pinot Noir displayed a savory herbal profile, with red fruits, earth, and a background of spice, medium weight with fine tannins. The 2015 Mariah Vineyard Pinot Noir comes from the Mendocino Ridge region, and featured darker plum and black cherry character along with spice and forest floor notes, a bigger structure than the Nash Mill bottling, finishing with moderate tannins.