Amplify Wines
Marlen Porter and her husband Cameron are both from Santa Barbara County and both share a love of both wine and music. They launched their Amplify label in 2013, and make their wines using local Santa Barbara County vineyard sources. Marlen was behind the table at the event. The 2018 "Duke & Ella," from 59% Riesling and 41% Viognier showed a nice combination of Viognier's stone fruit and weight along with Riesling's citrus and acidity, plus floral undertones from both. The 2019 "Mixtape White," from 42% Chenin Blanc, 29% Riesling (skin-fermented for 12 days), and 29% Gewürztraminer, was floral and spicy, with bright citrus fruit and good texture. The companion 2019 "Mixtape Red," was a blend of both red and white varieties, with 37% Tempranillo, 31% Grenache Blanc, 21% Refosco, and 11% Merlot. This also showed floral notes along with fresh red fruit and juicy acidity.
Bodega y Viñedos Catena
This century-old Argentine family winery from the Mendoza region launched a new "La Marchigiana" program of natural wines in 2019 with three bottlings – Chardonnay, Criolla Chica, and Bonarda. These wines are fermented in tinajas – traditional clay vessels similar to amphorae or qvevri. They poured one wine at the event, the 2017 "La Marchigiana" Criolla Chica, from Mendoza, with no added sulfur. Criolla Chica is the same grape variety as País in Chile and Mission in California, and the similar character was evident – light color with upfront red fruit, undertones of earth and herbs, and fairly light body with a lively texture and finish.
Champagne Lelarge Pugeot
Clémence Lelarge represents the eighth generation of winegrowers in her family, a story that started in 1799. Their vineyard, in Champagne's Premier Cru village of Vrigny, is planted mainly to Pinot Meunier, and many of the vines there are 40-50 years old. The 2012 "Les Meuniers de Clémence," from 100% Pinot Meunier, featured apple / pear aromas plus yeasty and stony mineral notes, with fresh acidity and a dry finish. The 2013 "Rosé de Saignée," from 60% Pinot Meunier and 40% Pinot Noir, was made with 32 hours of skin contact – this had subtle red fruit and earth aromas, a very lively mouthfeel and a crisp, dry finish. The NV "Bises" is 100% Chardonnay, made with a dosage from local honey. More intense pear and stone fruit aromas with distinct honey undertones, a bit richer texture than the other wines but retaining a fresh, clean finish.
Craft Wine Company

Craft is the project of Willamette Valley winemakers Laura Cusick and Meredith Bell. They produce wines under several labels – Minimus, Omero, and Origin. Two Minimus wines that Meredith poured at the event stood out to me. The Minimus 2018 Johan Vineyard Kerner showed earthy, savory aromas along with floral and stone fruit notes, and a lively texture. The Minimus 2018 Johan Vineyard Blaufränkisch also had an earthy character with dark berry fruit, spice, and herbs on the nose, balancing medium-full body with good acidity.
Domaine de la Chevalerie
This domaine was founded in 1640 – Stéphanie Caslot, who poured the wines at the tasting, is the fourteenth generation of the family to run it. They farm their 33-hectare vineyard of Cabernet Franc, and produce a number of bottlings from different portions of their vineyard which have different soil conditions – all of the wines are 100% Cabernet Franc. Stéphanie started with the 2017 Bourgueil "Diptyque," from 25-year old vines – this showed a currant and raspberry fruit profile with earth and herb undertones, vibrant acidity, and firm tannins. The 2014 Bourgueil "Chevalerie," from 65-year old vines, had floral and stony mineral notes along with currant, savory herbs, touches of earth and pepper, and fine structure.
Donkey & Goat Wines
The idea for Donkey & Goat began when Tracey Brandt and her husband Jared left their jobs in 2001 and traveled to France to learn winemaking from noted vintner Éric Texier. They now make their wines in Berkeley, where they focus mainly on wines from Rhône varieties. The wines were poured at the Amy Atwood Selections table. Their 2019 "Isabel's Cuvée" Gibson Ranch Grenache Rosé, made from Mendocino County old-vine Grenache Gris, has been a consistent winner – light color, with subtle strawberry and stone fruit scents, showing good acidity and texture. My favorite of the Donkey & Goat wines that I tasted was the 2019 "Twinkle" Mourvèdre from El Dorado County. A lighter red that displayed herbs, fresh red fruits and plum, earth, and flowers on the nose, with juicy acidity and a clean finish.
Floraison Selections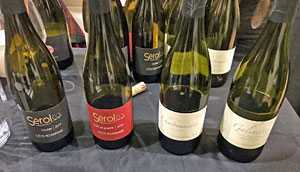 Based in California, Floraison Selections was founded in 2017 by Nadia Dmytriw. Importers and distributors, they represent nearly entirely French producers. This table was my last stop of the tasting, and it was a good one, with several standouts. The Domaine de Sulauze 2017 "Galinette" Coteaux d'Aix en Provence is a blend of 70% Grenache Blanc plus 10% each Clairette, Ugni Blanc, and Vermentino. Bright stone fruit with touches of citrus, flowers, and stony minerals, this had lively acidity combined with good texture and a fresh finish. The Domaine de Sérol 2017 "Oudan" Côte Roannaise is Gamay from 25-year old vines on granite soil, fermented with 60% whole clusters. Bright, tangy, and minerally, this was more intense than many Gamays, with medium weight and plenty of structure. My final wine was the Domaine de Sérol "2018 Turbullent" Côte Roannaise – a sparkling Gamay rosé made by méthode ancestrale. Raspberry and tangerine aromas with a slightly chalky mineral note, this had zippy acidity to balance some noticeable residual sugar – a fun wine to finish the day!
Indie Wineries

Indie Wineries are importers of natural wines from over half a dozen countries, and they represent a number of American producers as well. Elaine Heide is the Oregon territory manager. I tasted a couple of wines from Loop de Loop Wines at the Indie Wineries table – this label was launched in 2012 by winemaker Julia Bailey Gulstine. The Loop de Loop 2018 Four Winds Pinot Noir was a lighter Pinot, with earthy red fruit, a touch of spice, and a lively mouthfeel and finish.
J. Brix Wines
Based in Escondido, in northern San Diego County, this is the label of husband-and-wife team Jody Brix Towe and Emily Towe – yes, Jody's middle name is really Brix! They source fruit from the Central Coast and increasingly from vineyards in San Diego County. The J. Brix wines were poured at the Amy Atwood Selections table at the tasting. Using fruit specifically farmed for rosé, the 2019 "Uncontainable" Hagata Vineyard Rosé of Cinsaut from San Diego County spent a few hours on the skins prior to pressing – light salmon color with fresh red fruit, earth, herbs, and fine acidity. The 2019 "Nomine Amoris" Skin-contact Pinot Gris from Santa Maria Valley was fermented on the skins for about two weeks. This had a deeper bronze color with savory and spicy aromas plus notes of stone fruit and flowers, finishing with noticeable but fine tannins.
Jenny & François Selections
Natural wine importers based in New York City, Jenny & François Selections was co-founded in 2000 by Jenny Lefcourt, who continues to run the business. I only tasted two wines at this table, and my favorite was the Calcarius 2018 "Roz," a rosé wine from Puglia made by vintner Valentina Passalacqua. Made from Nero di Troia and Aleatico, this featured both savory and floral aromas plus red fruit and raspberry notes and earthy undertones, with a lively mouthfeel and a chalky quality on the finish.
Julie et Toby Bainbridge
American Julie and her English husband Toby live near Angers, and farm a small vineyard there. They're known mainly for their wines from the local Grolleau grape variety. I tasted two of those at the event, but my favorite of their wines there was one from Cabernet Franc. The 2018 "Cuvée Highway 8" is 100% Cabernet Franc made by carbonic maceration, and it was bright and juicy, with red fruit, touches of flowers and herbs, and a fresh, lively mouthfeel.

Lula
Lula is a brand-new label, and the wines are made in Richmond, California. Owner/winemaker Megan Sekermestrovich was on hand to pour her debut release. With fruit sourced from an organically-farmed Mendocino County vineyard, the 2019 "State Flower" Valdiguié was made with carbonic maceration and bottled with no added sulfur – floral aromas with fresh plummy fruit, herbs, juicy acidity, and light tannins. A nice debut and a fun wine!
Margins Wine
Owner/winemaker Megan Bell launched her label in 2016, after working in wineries and vineyards in California, Oregon, New Zealand and the Loire Valley. She makes her wines at a shared facility in southern Santa Cruz County, and her focus is on "underrepresented regions, vineyards, and varietals." Megan started off with the 2019 Massa Vineyard Chenin Blanc from Carmel Valley, made in stainless steel – this had bright citrus and green apple fruit and zippy acidity. In contrast, the 2018 Skin-fermented Chenin Blanc from Clarksburg – the fruit spent a full month on the skins – was savory, with pear and spice notes, with a more textured mouthfeel. The 2019 Rosé, from 53% Merlot and 47% Barbera from two Santa Cruz Mountains vineyards, featured red fruit aromas with fine acidity and a fresh finish.
Martha Stoumen Wines
Martha Stoumen released the first wines from her eponymous label in 2017, after working for notable producers in California, Italy, France, Germany, and New Zealand. Much of her fruit comes from Mendocino County, and she manages the farming at several of the vineyards she sources fruit from – all of her wines poured at the tasting were from Mendocino. The 2018 "Honeymoon" is 85% Colombard and 15% Chardonnay, and is aptly named due to the Colombard being botrytized, giving the wine a characteristic honey aroma along with flowers, fresh herbs, and citrus. The 2017 Venturi Vineyard Carignan featured earthy berry fruit, with savory undertones and moderate tannins. For those in search of tannins, the 2017 Nero d'Avola provided plenty, along with aromas of dark fruit and earth, plus lively acidity on the palate.
Old Westminster Winery & Vineyard
Old Westminster is run by three siblings, winemaker Lisa Hinton, grapegrower Drew Baker, and general manager Ashli Johnson. They planted Cabernet Franc, Syrah, Chardonnay, and Albariño at their vineyard in Maryland, which supplies about 50% of the winery's fruit. Their first wines were bottled in 2013. The 2018 "Terracotta" Libertas Vineyard Pinot Gris, from Maryland fruit, was my favorite of the wines they poured – fermented on the skins for two months in an amphora, it was aged in the amphora after pressing as well. Savory stone fruit aromas with floral undertones and medium weight on the palate.
Solminer Wine Company
Anna Delaski and her husband David bought a small vineyard just outside of Los Olivos in Santa Ynez Valley about ten years ago, and launched their Solminer wine label not long afterwards. Anna is originally from Austria and the label focuses largely on wines from Austrian grape varieties. Anna was on hand to pour their wines. The 2019 Coquelicot Vineyard Méthode Ancestrale Sparkling Riesling displayed apple, spice, and floral aromas, with fine bubbles and a fresh finish. The 2018 Estate deLanda Vineyard Skin-fermented Grüner Vertliner spent two weeks on the skins, giving it a savory character along with citrus and herb notes. The 2019 Coquelicot Vineyard Carbonic Syrah had surprisingly light color, plenty of bright upfront red fruit, and vibrant acidity – a fun, light red to serve chilled.
Statera Cellars
Statera is the project of friends and co-winemakers Meredith Bell and Luke Wylde, and they focus exclusively on Chardonnay from Willamette Valley and nearby Oregon growing regions. They established their label in 2014, and Meredith poured three Statera wines at the event – all were very good and two were particular favorites. The 2019 Chardonnay Pétillant Naturel had bright stone fruit aromas with floral undertones and a refreshing mouthfeel and finish. The 2016 Belle Pente Vineyard Chardonnay featured pear and stone fruit, herbs, and a stony mineral character on the nose with a moderately rich texture balanced by fine acidity and a clean finish.
Stella Crinita
From the Mendoza region, Stella Crinita is considered one the pioneers of natural wine in Argentina. Their vineyard, at over 3,000-foot elevation, has been Demeter-certified since 2012. The 2019 "Omaggio" Pét-Nat Viognier, which was made with some skin contact, displayed floral notes along with tropical fruit, fine bubbles, and a clean finish. The 2019 "Omaggio" Pét-Nat Cabernet Franc was another bright and lively wine, with red fruit and raspberry aromas plus herbal and floral undertones. A still wine, the 2019 "Amici Miei" is co-fermented Malbec and Syrah, made mostly in concrete. This had plummy fruit with savory and spicy elements, and good structure.
Sylvester/Rovine Selections

Erin Sylvester runs this West Coast branch of New York's Zev Rovine Selections, importers and distributors focused on natural wines. I only tasted a couple of wines at this table, and my favorite was the Judith Beck 2017 "Bambule!" Welschriesling, from Burganland in Austria – the grape is actually not related to the Riesling variety familiar from Germany and Alsace. The fruit spent ten days on the skins prior to pressing, and the wine was made with no added sulfur. Bright apple and stone fruit aromas plus floral and herbal undertones, with vibrant acidity and a fresh finish.
Tessier Winery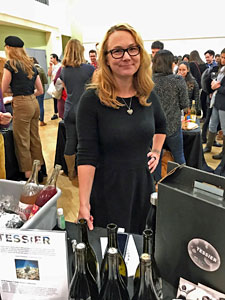 Owner/winemaker Kristie Tacey has a background as a research scientist, and she established the Tessier label with the 2009 vintage. She makes a range of wines, mainly Riesling, Pinot Noir, Grenache, Cabernet Franc, Gamay Noir, and Mourvèdre. Kristie poured me her new 2019 "Soul Love," from 65% Riesling, 30% Trousseau, and 5% Mourvèdre – one of an increasing number of white/red blends I've seen in recent years. Floral aromas plus fresh red fruit and herbs, very pleasant. I tasted two very good Tessier Pinots (including a 2017 from Anderson Valley's Filigreen Farm) and the 2016 Saveria Vineyard Pinot Noir from the Santa Cruz Mountains was my favorite of the two. Made with 20% whole clusters, this displayed savory herbal notes with red fruit and spice in support, and fine structure. The 2018 Alegría Vineyard Cabernet Franc from Russian River Valley had characteristic herbal aromas, showing touches of pepper, tea leaf, and flowers along with black cherry fruit, with great texture and a chalky but refined tannic finish.
Two Shepherds
Two Shepherds co-proprietor Karen Daenen and her husband William Allen make their wines in the town of Windsor in Sonoma County. They started out with a focus on Rhône varieties but have branched out to a number of others as well. Karen and assistant winemaker Julia Chrisco were both on hand to pour their wines at the tasting. The 2019 Vermentino, sourced from Windmill Vineyard in Yolo County had bright stone fruit and pear aromas plus pretty floral notes, while the 2019 Skin-fermented Pinot Gris "Ramato" from Sonoma Valley was floral and savory, with great texture. Another standout was the 2018 Carignan, from old vines at Trimble Vineyard in Mendocino County, which featured earthy red fruits, spice, and chalky tannins.
Unturned Stone Productions
Unturned Stone was launched in 2010 by Erin Mitchell and Randy Czech. They make their wine in Windsor, and they focus on vineyard sources in Sonoma and Mendocino counties. Their 2018 "Firebird" Vecino Vineyard Sauvignon Blanc from Potter Valley in Mendocino was left in barrel to develop a protective flor yeast and bottled with no added sulfur – this had savory and earthy pear and citrus aromas, very distinctive. The 2015 "Spider Chase" Waterhorse Ridge Cabernet Sauvignon, from the Fort Ross-Seaview appellation on the West Sonoma Coast, showed a brighter, livelier side of this variety, with black cherry and currant fruit, fine acidity, and fine tannins.
Yamakiri Wines
Yamakiri (Japanese for "Mountain Fog") is the project of Lisa Bauer and Alex Crangle. Based in the town of Yorkville in Mendocino County, they source much of her fruit from Anderson Valley. In addition to their wines, Lisa and Alex produce Sin Eater ciders. Lisa started me off with the Sin Eater NV Pét-Nat, made from Riesling, Albariño, Pinot Noir Blanc, and apples, all from Anderson Valley. Bright, fresh pear and apple aromas with floral notes, quite pleasant. After tasting an interesting cider that was pressed over Pinot Noir pomace, I finished up with 2017 Filigreen Farms Pinot Noir, from a biodynamically-farmed Anderson Valley vineyard and fermented with 30% whole clusters. This was savory and herbal, with black cherry and tea leaf notes, floral undertones, and a moderately tannic finish.
Zafa Wines
Although she grew up in California with a family connection to farming, Zafa owner/winemaker Krista Scruggs makes her wine and cider in Vermont, where she's also farming a vineyard. The grape varieties she uses are hybrids rarely if ever seen in California. The wines she poured at the event were all sparkling, using the traditional method, and some made from a combination of grapes and apples. The 2018 "Word Is Born" was made from 50% Frontenac Blanc grapes and 50% from five varieties of apples – definitely an apple-like aroma to this, very fresh and clean. Krista brought a preview of her 2019 "Mea Culpa," made from Frontenac Blanc and Frontenac Gris grapes, apples, and maple syrup – like a few other wines during the afternoon tasting, I neglected to write anything about this one in my notebook but marked there that I liked it! The 2018 "Before Sunrise," from 88% Frontenac Noir and 12% La Crescent grape varieties, was floral, grapey, and quite pleasant.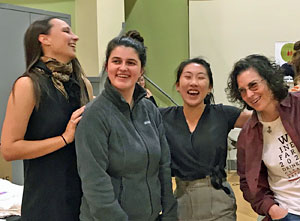 WINeFare steering committee member: (l to r) Ailis Peplau, Haley Bash, Sherry Zhong, Pamela Busch