Sierra Foothills Visits - July 2021
Back on the road for Grape-Nutz! I took my first wine tour in 18 months in late July 2021 – it was just a one-day outing to the Sierra Foothills but it felt great to hit the road and visit wineries again. I'd lined up a few friends to join me, though in the end only one, Larry Stein, was able to make it. I've known Larry for awhile, and this was his first time on a Grape-Nutz wine trip.
We both wanted to make this as relaxing of a day as possible, so we limited things to three winery stops. We made appointments at two of them, and both of those were ones that I've written about several times for Grape-Nutz, most recently in December 2019. I'll try not to repeat too much that I've written before and keep things brief here.
I met up with Larry in Berkeley and took over the driving for the day from there. No GPS or maps needed on this day, as I knew the route well. Much of California was experiencing the mid-summer monsoonal moisture that we often get coming up from the Gulf of California, and it was overcast and somewhat humid on the drive through Sacramento and then up to Amador County's Shenandoah Valley. We made a quick stop at the Pokerville Market in Plymouth to get sandwiches for lunch before continuing a short distance farther to our first winery visit of the day.
Larry has known Bill Easton of Terre Rouge & Easton Wines for many years but hadn't seen him for some time, and he'd asked me whether we could arrange a visit to the winery during our Sierra Foothills trip. Their tasting room was closed on Tuesdays but Bill graciously agreed to meet us there that morning. Bill has been around the Amador wine scene for many years, establishing his winery there in 1985. Prior to that, he owned and ran the well-known Solano Cellars wine shop in Berkeley that he opened in 1978 – Larry and Bill were both part of the same wine tasting group back then. Bill's wife Jane is a noted cook (and cookbook author), and created a menu for the Solano Cellars wine bar – the first wine bar in the East Bay.
When Bill decided to make the change from selling wine to making it, he felt that a move to the Sierra Foothills fit the bill for him with its Mediterranean climate and its volcanic and granitic soils. He feels that these aspects of the region lend more acidity, minerality, and structure to wines than is the case in many other California growing areas. In addition to the winery and surrounding vineyards that Bill farms in Shenandoah Valley, he and Jane also own a 24-acre site in the nearby Fiddletown area.
One piece of news that Bill told us is that his son Ridge recently purchased a vineyard in Shenandoah Valley, and that he'll be getting fruit from there. The site currently has about ten acres planted, including five acres of 40-year old Zinfandel vines, plus Sauvignon Blanc, Vermentino, Barbera, Souzão, Touriga Nacional, Durif, Mourvèdre, and Grenache. There are 15 more acres available to plant at the site in the future.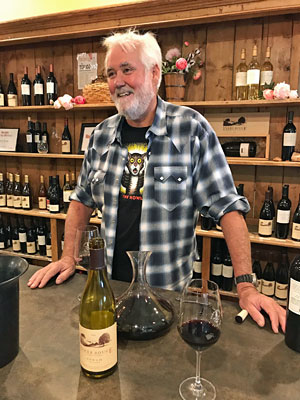 Bill and Jane's winery produces wine for two labels. One label is Terre Rouge – meaning "red earth" in French, this is a reference to the reddish soil common to the Shenandoah Valley area. Terre Rouge focuses entirely on wines made from Rhône grape varieties. Wines released under the Easton label are made from other varieties, mostly Sauvignon Blanc, Zinfandel, Barbera, and Cabernet Sauvignon. Both wineries source from a number of well-regarded Sierra Foothills vineyards in addition to the estate vineyards. Bill typically makes as many as 25 different wines each year, most of which are small-production bottlings.
Larry and I arrived at the tasting room a few minutes early, and took a few vineyard photos while we waited for Bill. He drove up a short time later and led us inside, where he pulled the corks on a few wines he wanted us to try. First up was the Easton 2020 Saureel Vineyard Vermentino. This is the first Vermentino for the winery, and they're off to a great start! Stone fruit and stony mineral aromas plus hints of spice and earth in the background, this had a lively mouthfeel and clean, fresh finish.
The Easton 2013 Estate Zinfandel was a fine example of how nearly all of Bill's wines are ageworthy. Most people don't age Zin more than a couple of years before drinking them, but this one was going strong after nearly eight years, with plenty of upside ahead of it. Bright berry fruit plus a brushy herbal component and notes of spice in support, this had more acidity and structure than you find in most Amador Zinfandel, still displaying firm tannins on the finish. The flipside to that wine was the Easton 2020 "Zinster" Zinfandel, Lot 1852, made from estate fruit. The idea for this wine is to make it in a similar way as it might have been made in the 1850s when Zin was introduced to California, and its whole-cluster fermentation is unusual for the variety. This showed plenty of bright and upfront fresh berry fruit with a noticeable floral component, lively mouthfeel and with milder tannins. Made for earlier drinking, it may well remind you more of a Cru Beaujolais than of a typical Zinfandel.
Bill poured us a couple of Terre Rouge Syrahs during our visit. The Terre Rouge 2013 Sentinel Oak Vineyard Pyramid Block Syrah has been one of my favorites of the winery's bottlings over the years. The fruit for this comes from own-rooted Hermitage selection vines planted in 1982, some of the oldest Syrah vines in the Sierra Foothills. Dark fruit, herbs, stony minerals, smoked meat, flowers – the aromas had it all. Still with plenty of structure and tannic grip on the finish, this should continue to develop well for years to come. The final wine that Bill poured us was the winery's top-of-the-line bottling, the Terre Rouge 2011 "Ascent" Syrah. The aromas were very savory, and featured dark berry fruit, earth, herbs, flowers, and licorice, with fine acidity and a very long finish – another standout Syrah that has many years ahead of it.
In addition to the wines we tasted on this visit, Terre Rouge & Easton produce a wide variety of other bottlings. These include Sauvignon Blanc, Viognier, Roussanne, Grenache Blanc, Vin Gris, Pinot Noir, Barbera, more Zinfandel bottlings, Cabernet Franc, Cabernet Sauvignon, additional Syrah bottlings, white and red blends, plus a couple of sweet wines. Each of the five wines that Bill poured for us on this visit was a real winner, and it's tough to pick a favorite from such a strong group, though the 2011 "Ascent" was particularly stunning. This visit again showed how well-balanced Bill's wines are and how well they can age – many of them really demand time in the cellar to show their best. Larry and I had a fun visit with Bill, and a stop at Terre Rouge & Easton should be high on everyone's list of wineries to visit in Shenandoah Valley.
Larry and I had discussed having an early dinner before heading back to the Bay Area later in the day, we decided to break out our sandwiches from Pokerville Market and have an early lunch at the Terre Rouge & Easton picnic area. The sun was beginning to break through the overcast skies and the temperature was climbing, so we picked a spot in the shade. The sandwiches were fine though nothing really special – my favorite place for grabbing picnic supplies in the Shenandoah Valley area (Amador Vintage Market) was closed on the day of our visit.
As I learned in checking out options for a winery to visit in the early afternoon, most places in Shenandoah Valley as well as in the Fair Play region of southern El Dorado County – where we would be heading a bit later – are closed on Tuesdays. But I did find one winery that had a tasting room open that day and which looked like it could be interesting, and that was our next destination.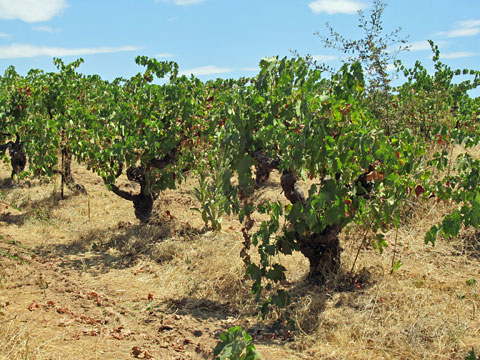 I've visited Amador wine country many times over the years but I'd never been to Story Winery before this visit. I'm not sure why that was the case, though the winery is located a little bit off the beaten track in Shenandoah Valley, a couple of miles up Bell Road. Story was one of the first wineries to be established in the area in what might be called the "modern" era of Amador winemaking – it was founded by Eugene and Ann Story in 1973. They bought property overlooking the Middle Fork of the Cosumnes River, and there were already Mission and Zinfandel vines there that had been planted in the 1890s – some of these old vines still remain. The Storys named their winery Cosumnes River Vineyards, and it wasn't until Bruce and Jan Tichenor purchased it in 1992 that it was renamed Story Winery to honor its founders. The Tichenors brought their daughter and son-in-law Tina and Rob Campbell into the business, and Rob continues to make the Story wines from their California vineyard sources today.
California wines are not the only ones made under the Story label these days, and that was one of the reasons I wanted to stop in there. In summer 2019 the winery was purchased by David and Natalie Dediachvili. Originally from the country of Georgia – located on the eastern edge of the Black Sea, at the crossroads of Europe and Asia – David decided to change directions in his life after running a successful business in the San Francisco Bay Area for a number of years. He's proud of the tradition of winemaking in Georgia, which goes back thousands of years, and wanted to reflect that at Story. He brought on winemaker George Bakuradze, who has his own winery in the Kakheti region of Georgia, to import some of his wines under the Story label, so now there are wines from both Georgia and California available to taste and buy at the winery.
| | |
| --- | --- |
| | |
In addition to importing wine from Georgia, David is also bringing winemaking methods from that country to Story – he'd like to introduce more California wine lovers to wines made using traditional Georgian techniques. He's purchased a number of Georgian qvevri, clay vessels similar to large amphora that are buried in the ground for fermenting and aging wines. Six of them are now in place under a new shaded shelter near the tasting room, while others are nearby waiting to be put underground in the future. A few wines from the 2020 vintage were fermented in the qvevri, including Chardonnay, Zinfandel, and Syrah. The two reds were transferred to oak barrels to age following fermentation, but the Chardonnay has been aged in the qvevri. None of the qvevri-fermented wines have been released yet, and it should be interesting to find out how they differ from the same varieties made by more typical California winemaking methods.
Larry and I walked out to the Story tasting room, a converted nineteenth-century gold miners' bunkhouse. Right now the tastings are held at tables out on a deck adjacent to the tasting room, with some tables having a spectacular view out toward the steep valley of the Cosumnes River. Those tables had other groups of visitors at them when we arrived, but we found another good spot – thankfully, all of the tables are shaded, as the temperature was now climbing to 90 degrees and above in the early afternoon. Georgian pop music on the winery sound system accompanied our tasting. As it turned out, George was at the winery and he poured the wines for us, and Larry and I started out by going through the Georgian wines available for tasting that day.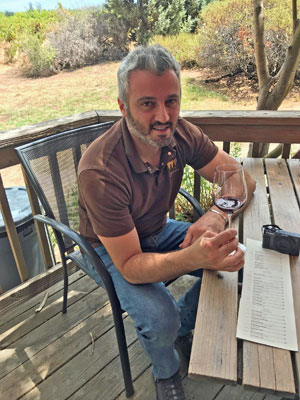 We started with the 2018 Chinuri – a light amber color, this showed some oxidation as well as an herbal character. Larry likened it to a Fino Sherry, which I thought was a good description. Next were three true "amber wines" – similar to though not necessarily synonymous with orange wines, these are made from white grapes fermented on their skins in qvevri. I thought the 2018 Rkatsiteli was quite nice, with a deeper amber color, spice, orangepeel, and some noticeable tannins on the finish. The 2018 Kisi displayed less fruit, and a more oxidative character, with grippier tannins. The final amber wine was the 2019 Khikhvi, with a slightly deeper color, stone fruit and savory herb notes, spice, and a longer finish with less of a tannic grip than the previous wine – the most intriguing of these four wines from Georgian white grape varieties.
George continued with two of the Georgian reds, beginning with the 2018 Saperavi. One of the best wines of this variety that I've tried, this featured bright dark berry fruit, spice, and a stony mineral component, with firm but not harsh tannins on the finish. The 2017 Mukuzani "Reserve" was quite different, more of what I'd consider "California" in character with riper and bolder berry fruit and spice. I was able to talk a bit with both David and George during our visit to Story, and I asked whether they planned to add any Georgian grape varieties to their vineyard. George wasn't sure that they would do well there, due to the climate, soil, and other factors, but he and David may still plant or graft some varieties in the vineyard at some point.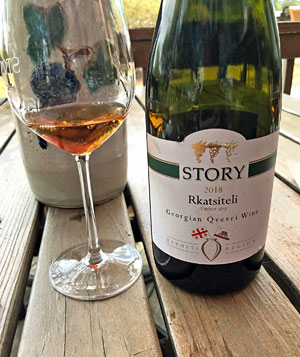 We went on to taste a few of the Story wines from Amador fruit. Most of Story's California wines come from estate vineyard fruit, plus some from other Amador vineyard sources and Chardonnay from Sonoma County's Sangiacomo Vineyard. I like to check out bottlings of Mission and had never tried the Story rendition, so 2018 Estate Mission was first up. From vines planted in 1894 that are adjacent to the tasting room deck, this was ripe and fruit-forward, with mild tannins. I'd hoped for more from this wine, but I thought the very ripe fruit and perhaps the barrel selection masked the characteristic Mission aromatics that I enjoy in bottlings from other producers. I liked the 2019 Estate Primitivo better – it showed some minerally notes to go with intense ripe red fruit and spice. The 2019 Barbera, sourced from 30-year old vines at a nearby Amador vineyard, was my favorite of the four Amador reds we tasted, with brighter red berry fruit, more noticeable acidity, and a lively finish. We finished up with the 2017 Quartz Vineyard Estate Zinfandel – this was a bigger, riper Zin in a style that's typical of a number of Amador producers, with some likely residual sugar and showing a bit of alcoholic heat on the finish.
Story produces a variety of California wines in addition to the ones we tasted on this visit, including Chardonnay, Sangiovese, Syrah, Petite Sirah, Petit Verdot, a few red blends, and a number of other Zinfandel bottlings. Both Larry and I preferred the Georgian wines at Story to the wines we tasted from Amador vineyard sources, and the 2018 Rkatsiteli, 2019 Khikhvi, and 2018 Saperavi were favorites. Among the Amador wines, the 2019 Barbera was my pick – all four of the ones we tried were what I think of as "old-school" Amador wines, very ripe with a good helping of new (probably American) oak. I'm sure these wines are popular with their customers, but I can't say that this is a style that I favor. Larry and I enjoyed meeting David and George – they're both clearly very proud of the Georgian wine traditions that they're bringing to Amador County. I hope that the Story program for their Georgian wines and for their qvevri-made California wines continues to grow – should be worth keeping an eye on them.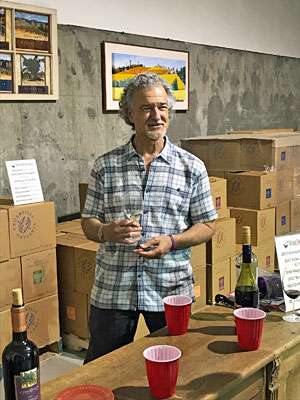 Our last winery visit of the day was about a 20-minute drive north of Shenandoah Valley, in El Dorado County's Fair Play AVA. Cedarville Vineyard has been a regular stop for me whenever I've visited Sierra Foothills wineries over the past 20 years. With a focus on wines from Rhône valley grape varieties as well as Zinfandel, Petite Sirah, and Cabernet Sauvignon, Cedarville was established in the mid-1990s by husband-and-wife owners and winemakers Jonathan Lachs and Susan Marks, two of my favorite people in the wine business. Though I always enjoy visiting Cedarville, today was something of a sad occasion, as Susan passed away in early June 2020 and this was the first time Larry or I had seen Jonathan since then.
The 15-acre Cedarville estate vineyard is planted to Viognier, Grenache, Mourvèdre, Syrah, Zinfandel, and Cabernet Sauvignon, and it's been farmed organically since 2010. Situated on a hillside at about 2,500-foot elevation, the vineyard features the decomposed granite soil that is characteristic of the Fair Play region. The first commercial Cedarville vintage was from 1998, and the winery building – partly built into a hillside for natural cooling – was completed a couple of years later. In recent years, Jonathan and Susan had been selling more of their estate fruit to a number of well-regarded vintners and making less wine themselves, and with Susan's passing, Jonathan is continuing that trend.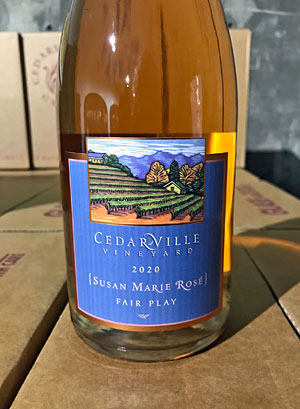 The temperature had climbed to the mid- to upper-90s by the time that Larry and I arrived at Cedarville. Jonathan greeted us as we were parking the car, and he invited us to park in the shaded crushpad area in front of the winery – great to keep the car out of the hot sun that afternoon! Visiting Jonathan was the driving force behind this summertime wine touring day in the Sierra Foothills, and I was also picking up some of his new 2020 "Susan Marie" Rosé, which Jonathan made in memory of Susan and released on the first anniversary of her passing. Jonathan donated proceeds from the sale of this wine to the Pancreatic Cancer Action Network "Early Detection and Treatment Initiative." A whole-cluster pressed 70% Syrah / 30% Grenache blend from estate vineyard fruit, this wine is remarkably Cedarville's first-ever commercial rosé! A limited quantity was produced and it sold out almost immediately to mailing list customers, so Larry and I didn't have a chance to taste it at the winery, but Jonathan told us that he plans to continue making it each vintage. I did open a bottle about a week after our visit to the winery and really enjoyed it – light salmon color, floral red fruit with a savory touch, lively and fresh, with more complexity than you find in most rosé wines.
Jonathan asked Larry and me what we'd like to taste, and he opened a few wines for us. Our choices were not necessarily in the usual suggested order for tasting, but that was our doing for being a bit random with deciding what we wanted to try. We started out with the 2019 Estate Viognier, Cedarville's only white wine. Stone fruit aromas with touches of citrus and tropical fruit, hints of spice, and a bit richer mouthfeel than I recall from the 2018 vintage but still lively on the palate and finish.
We shifted to one of the winery's bigger reds next, the 2017 Estate Cabernet Sauvignon. Dark berry fruit, herbs, and notes of mocha and spice, this was bold yet balanced, finishing with fine tannins – drinkable now but should age nicely. I'd say this is one of Cedarville's best Cabernets yet. I was interested in trying the 2018 Estate Zinfandel, so that was our next wine. The Zin is blended with a small amount of Petite Sirah in some years, but this one is 100% varietal. Ripe berry and spice aromas plus a slight floral note, with medium weight and a long finish. I see that the notes I took while tasting this are nearly identical with what I wrote about the previous vintage – the Cedarville Zinfandel is consistently tasty!
Our final wine at the tasting room with Jonathan was the 2017 Estate "Turnabout's Fair Play," a blend of 45% Grenache, 30% Syrah, and 25% Cabernet Sauvignon, and inspired by the wines of Priorat in Catalonia. This featured dark fruit, dried herbs, smoky oak, and mocha, with great texture and plenty of structure but surprisingly fine tannins on the finish. An impressive wine, and one that deserves some time in the cellar to develop further.
One more Cedarville wine we tasted was the 2019 Estate Grenache, which Jonathan brought to dinner after our visit to the winery. This was a sneak peek at a wine that won't be released until this fall. As is usually the case with this wine, the 2019 vintage includes 15% Syrah, most of which was co-fermented with the Grenache. Although I wasn't taking notes during dinner, the wine struck me as being very much in keeping with past vintages, though still a bit young and primary, needing more time to show its best.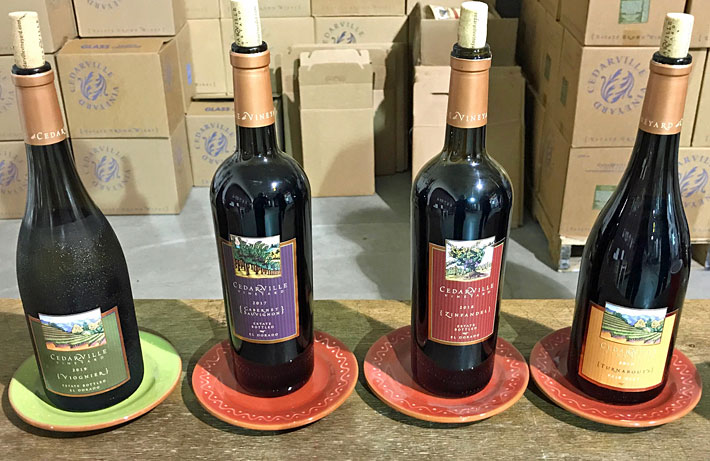 I'm always impressed by the Cedarville wines, and the ones we tasted during our visit to the winery and afterwards were no exception. The 2019 Viognier, 2020 "Susan Marie" Rosé, 2017 Cabernet Sauvignon, and 2017 "Turnabout's Fair Play" were all favorites – the Cabernet and "Turnabout's Fair Play" were particular standouts – while the 2018 Zinfandel was not far behind and the 2019 Grenache just needs a bit more time. Few other wineries in the Sierra Foothills have been consistently producing wines of this quality over the years. Susan is greatly missed by all, but it's still a pleasure to visit with Jonathan at Cedarville.
Larry and I had discussed having dinner with Jonathan before we headed back to the Bay Area, and a favorite dining destination is Allez! in the town of Diamond Springs, just south of Placerville. Jonathan had suggested getting there in the late afternoon since it's a very small place and they don't take reservations, and we were fortunate enough to be seated as soon as we arrived. I've been there a number of times, and on this occasion all three of us ordered the cassoulet – they do an excellent job with this dish as with everything else I've gotten there over the years. We'd all brought wines to share at dinner, and it was a very enjoyable meal. Allez! gets my highest recommendation for dining in El Dorado wine country. After dinner, Larry and I had a smooth and easy drive back to the Bay Area.
Terre Rouge & Easton and Cedarville continue to be among the top wineries in Amador and El Dorado counties, and their wines tend to be great values in comparison to those of similar quality from better-known California wine regions. While the wines from each label are excellent, they do display different styles – the Cedarville wines tend to be a bit bolder but always balanced, while the Terre Rouge & Easton wines are usually more reserved than most from the Sierra Foothills. Wines from both typically benefit from time in the cellar. And while the Story wines made from Amador fruit weren't really in my wheelhouse, the winery's recent Georgian connection is quite intriguing and entirely unique to this area. As always, thanks to everyone that we visited for being so generous with their time and their wine!