Sierra Foothills Visits - December 2021
My second Grape-Nutz wine tour since early 2020 turned out to be much like my earlier one this summer – a one-day visit to the Sierra Foothills. And like that July trip, I'd lined up a few friends to come along for this one in early December but in the end only one managed to join me. In this case it was my friend Carol – I picked her up at her home in Sacramento, where I had a chance to say hi to her husband Michael, who had to cancel on coming along that day. There was fairly thick fog in the Sacramento area, which is not unusual, and it got thicker as we drove east toward Amador County. But as we started to climb into the Foothills and gained elevation, we quickly came out of the fog to bright sunshine.
Before heading to the wineries, we stopped along the quaint main street of Plymouth, a town that dates from the Gold Rush era, where we picked up sandwiches that we'd ordered from Amador Vintage Market. I've gotten sandwiches and other picnic supplies there in the past and it's definitely one of the best options for those items in the area. From Plymouth, it was a short drive into Amador County's Shenandoah Valley wine country where we soon arrived at our first winery destination of the day.
Friday - December 3, 2021
Our first winery appointment was at Iron Hub Winery, just off of Steiner Road in Shenandoah Valley. I'd visited this location in late 2013, when it was known as Amador Foothill Winery, but this was my first time back there since it became Iron Hub. Founded in 1980 by the husband-and-wife team of Ben Zeitman and Katie Quinn, Amador Foothill was one of the earlier modern-day wineries in Amador County. Ben and Katie sold their 33-acre property in 2014 to Tom and Beth Jones, who embarked on a major program of remaking the old facilities there as well as constructing new ones, including a new tasting room. As part of their work in building their own wine program and differentiating it from the old one, they established the Iron Hub label in 2016.
Tom Jones is the winemaker of Iron Hub, and he has a long history in Sierra Foothills winemaking. He earned a master's degree in Enology & Viticulture from UC Davis and was the founding winemaker and part-owner of his family's well-known El Dorado County winery, Lava Cap, in the mid-1980s. After about thirty years there, Tom, Beth, and their children made the move south to Amador County to establish Iron Hub. Tom's son Spencer is following in his father's footsteps and has also earned a master's degree in Enology & Viticulture at Davis. While there are some other California wineries with father-son winemaking teams, one in which both have UC Davis master's degrees is unique in Amador County. While working alongside Tom as assistant winemaker, Spencer also manages the property's 16-acre estate vineyard and the two of them do the bulk of the farming work there. The name Iron Hub comes from Tom's discovery in the Sierra of an old hand-forged iron wagon wheel hub, perhaps from Gold Rush days – the name reflects the family's goal of fine craftsmanship in their wines as well as of making the winery a hub for guests to gather and enjoy wine and life.
Iron Hub's 16-acre estate vineyard was established in 1979-1980, and further plantings have been made in the years since then. Ranging from about 1,600-1,800 feet in elevation with mostly deep decomposed granite soil, the hilly 16-acre vineyard site has slopes facing in various directions, and the plantings of their grape varieties take advantage of the different slopes and aspects. The vineyard includes Sauvignon Blanc, Sémillon, Syrah, Grenache, Sangiovese, Barbera, Aglianico, and Mourvèdre. It's unusual for an Amador vineyard to not include Zinfandel, but Amador Foothill was able to source top-notch old-vine Zin nearby, particularly from 50-year old Clockspring Vineyard and 110-year old Esola Vineyard. Iron Hub continues to use fruit from these two sources, as well as from other local ones, for their Zinfandel.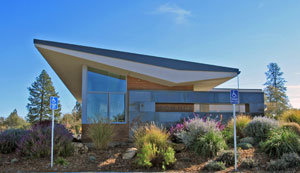 After heading up the drive from Steiner Road, Carol and I parked by the new Iron Hub tasting room. This building is quite a change from the previous winery, whose tasting room was rather plain and utilitarian – the Iron Hub building is a striking modern building, designed by the same architect who designed the Andis facility not far away. The tasting room takes full advantage of the spectacular view, with windows looking out over the rolling hills of Amador wine country and far beyond. Carol and I were welcomed to the tasting room by Melinda, who led us out to the sizable patio for our tasting. There, the panoramic view was even more stunning, and we could easily spot the Sierra Nevada's Crystal Range near Lake Tahoe, about 40 miles distant. In addition to their wines, Iron Hub also has cheese and charcuterie selections and other items available for visitors to enjoy during or after their tastings.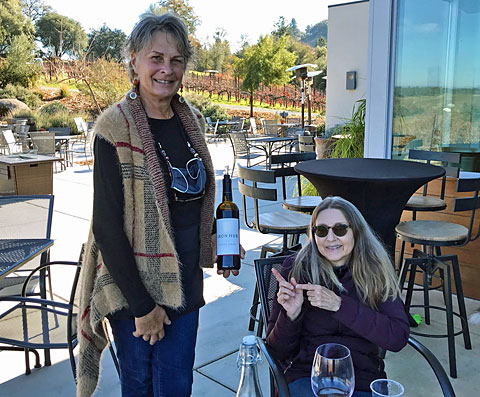 Melinda and Carol
As Carol and I were enjoying our tasting of the Iron Hub wines, Tom and Spencer each came out to the patio to talk with us. They were both busy with the day's tasks so they didn't have a lot of time to spend with us, but we enjoyed talking with them. Spencer mentioned to us that the vines at the estate vineyard are well-established and generally require only minimal irrigation as their roots reach deep into the soil. They're working to dry-farm more of the vines – currently about half of the vineyard is dry-farmed. He also said that they are adding Zinfandel and Petite Sirah to the estate vineyard as well as more Mourvèdre, and 2022 will probably be the first harvest of the Petite Sirah there. While Carol and I were out on the winery's patio, we also saw Smokey and Marley, the winery's two friendly dogs, as well as Simba, one of their feline team of gopher hunters – Melinda told us that they do a great job with that!
All of the fruit for the Iron Hub wines comes from their estate vineyard or is sourced from other vineyards within a few miles of there. While the Iron Hub wine line-up doesn't look that different from that of the old Amador Foothill Winery – not surprising given the varieties planted at the estate vineyard and the continued sources for other fruit such as their old-vine Zin – the wines themselves now display the Jones family's distinct work. None of the red wines are 100% varietal, for example, so the art of blending is of key importance, and Spencer noted how he's been learning this from his father. Unlike many smaller wineries, Iron Hub has its own in-house bottling line. Current annual production is around 3,500-4,000 cases, nearly all of which is sold direct-to-consumer from the winery.
Melinda started off our tasting of the Iron Hub wines with the 2019 Estate Sauvignon Blanc, which was aged on the lees in neutral oak. Featuring fig and stone fruit aromas with a floral note and moderate acidity, the lees aging gave it a richer texture than many Sauvignon Blancs, quite nice. The 2019 Estate Rosé was next – made entirely from Barbera, the grapes were pressed after spending about 1.5 hours on the skins. With a light salmon color, this was a bit shy on the nose but had good acidity and a pleasant finish.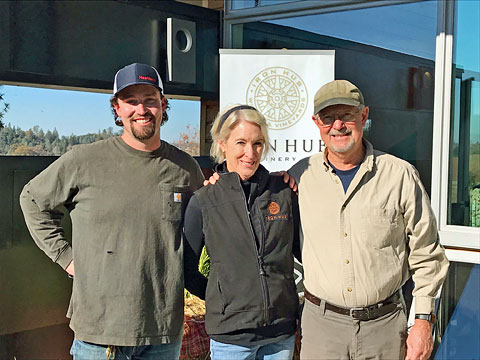 l to r: Spencer, Beth, and Tom
We moved on to reds, and of course no Amador wine tasting would be complete without Zinfandel! Melinda poured us the 2017 "Cross Creek" Zinfandel, so named because the two vineyards that the wine is sourced from are across a creek from the estate property. One of these sites is actually in southern El Dorado County, as the county line is not far away. Lighter color for a Zin, this featured raspberry, spice, and a vanilla note, medium-bodied with moderate tannins. We followed this with the 2018 Esola Vineyard Zinfandel, which both Carol and I thought was a real standout. The fruit had more of a boysenberry profile and the wine had a distinct brambly character along with touches of earth and spice, with more acidity, texture, and tannin than the first Zin – really a classic Amador Zinfandel. The "Cross Creek" bottling seems ready for immediate drinking, while the Esola Zin should reward time in the cellar though it's certainly delicious now. Melinda told us that there is a small amount of Sangiovese blended with both of the Zinfandels that we tasted.
We finished our tasting with the 2018 Petite Sirah. This had ripe and bold dark berry fruit aromas along with vanilla, spice, and a slight floral note, medium-full body and grippier tannic finish. The Petite Sirah was blended with 12% each Grenache and Barbera, so it's not as dense a wine as this variety sometimes can be. Iron Hub produces quite a few different wines, and other current releases that we didn't taste on this visit include Sémillon, Chardonnay, Grenache, Sangiovese, Barbera, Clockspring Vineyard Zinfandel, Old-vine Zinfandel, Syrah, a red blend called "Resolute", and a Port-style wine called "Sojourn".
I greatly enjoyed our visit to Iron Hub. Melinda was friendly and knowledgeable, and she didn't rush us at all on our tasting so we were really able to enjoy the wines and the relaxed atmosphere. It was a pleasure to meet Tom, Beth, and Spencer, and to talk for a bit with Tom and Spencer. Overall, I felt that the Iron Hub wines are true to the Amador style of bolder fruit but they display more refinement and balance than many from the region. My favorites of the wines we tasted were the 2019 Estate Sauvignon Blanc, 2018 Esola Vineyard Zinfandel, and 2018 Petite Sirah, with the Esola Zin being a particular standout. It was interesting to see how Iron Hub has continued the legacy of Amador Foothill Winery in some respects but has definitely put their own stamp on it, from the beautiful new tasting room to changes in the farming and winemaking that reflect the Jones family's own vision. This is certainly a worthwhile stop when you're visiting the Shenandoah Valley wine region of Amador County.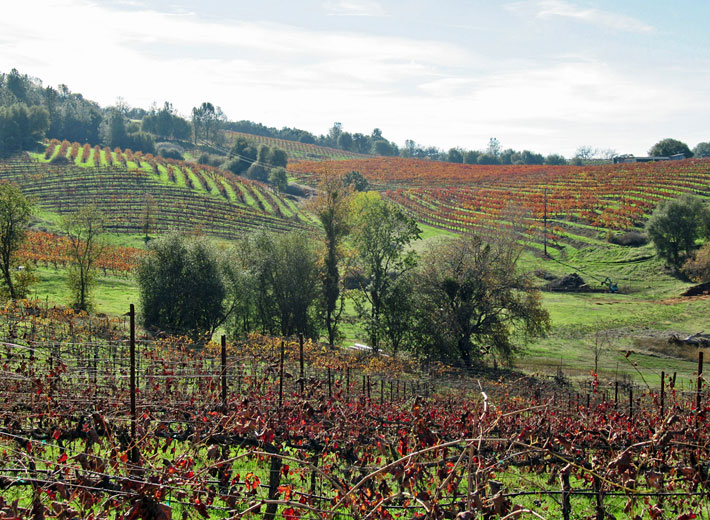 After we finished our tasting at Iron Hub, I retrieved our sandwiches from the car and we enjoyed the spectacular view from the winery's patio along with our lunch. The sandwiches we'd picked up from Amador Vintage Market were delicious – I had the Amador Turkey Cobb and Carol had the Zesty Veggie Panini. We had a relaxing time there but eventually had to walk back to the car for the drive to our next winery appointment, not too far away in southern El Dorado County. As we headed along the road, Carol said that she thought it was remarkable that I could navigate from place to place without using a map or GPS in the car. I told her that I'd been to the area many times before so I knew most of the roads pretty well (and I'd checked out the routes on a map prior to the trip) so I didn't have any difficulty getting to where we were going. Besides, I'd had a few "interesting" experiences as a passenger where the driver trusted their GPS, so I figured I was better off without it!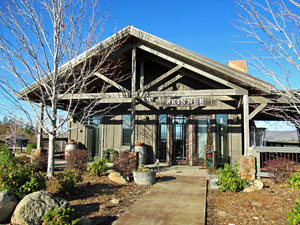 Our first winery visit of the afternoon was at Skinner Vineyards and Winery, located in El Dorado County's Fair Play AVA. I'd visited Skinner a few times in the past but this was my first time there since July 2014 and the first since their original winemaker Chris Pittenger left the winery to move to Sonoma County in 2018. As with Iron Hub, Skinner is very much a family-run winery, and their history in the Sierra Foothills goes way back. It's owned by Mike Skinner and his wife Carey, who founded the current winery in 2007. But the impetus for launching their winery came from learning that Mike's great-great-great grandfather James Skinner, a Scottish immigrant, planted grapevines and started producing wine and brandy in El Dorado County in the early 1860s. While the original J. Skinner Winery did not survive Prohibition, the re-established Skinner Vineyards and Winery has continued to the seventh generation of the family in California – Mike and Carey's sons Kevin and Brendan are involved in aspects of the winery's business functions, and son Ryan has worked there as well.
Like a number of other top El Dorado wineries, Skinner specializes in wines made from Rhône grape varieties, though they have also planted other grape varieties at their estate vineyards that were once grown at the original vineyard, including a few that are not seen much anymore in California.
Skinner has three estate vineyards, in two distinct and different locations. Stoney Creek Vineyard is adjacent to the winery, with around 20 acres planted and reaching an elevation of over 2,700 feet. The vines are planted in decomposed granite soil on hillsides with varying slopes and aspects. There was some Syrah and Viognier already planted on the site when the Skinners purchased it, and they've added a range of other plantings, mostly Rhône varieties: Viognier, Grenache Blanc, Picpoul Blanc, Syrah, Grenache, Mourvèdre, Counoise, and Petite Sirah. In addition, there are the "California heritage" varieties in recognition of the early Skinner plantings: Trousseau Gris, Trousseau Noir, Petit Bouschet, Zinfandel, Carignan, and Mission.
The nineteenth-century Skinner vineyard was in the vicinity of the small town of Rescue, which was once called Skinners. This is located north of Placerville and not far from Coloma, where gold was discovered in 1848. The 12-acre Green Valley Ranch (formerly called White Oak Vineyard) is around 1,400-foot elevation, with volcanic loam and underlying decomposed granite soil, and it includes Viognier, Marsanne, Roussanne, Picpoul Blanc, Bourboulenc, Rolle (aka Vermentino), Syrah, Grenache, Mourvèdre, and a small block of Mission. There is also a second Skinner tasting room at Green Valley Ranch. The third estate vineyard, Wing Ranch, is adjacent to Green Valley Ranch. This is a new site for Skinner, with five acres planted on the 37-acre property. Grenache, Mourvèdre, and Counoise are currently planted there, and the first harvest from these vines will probably be in 2022. In addition to their estate vineyards, Skinner also sources from several other noted El Dorado County vineyards, including Elenridge, Von Heune, Swansborough, Fenaughty, and Sumu Kaw.
When Carol and I arrived at Skinner, we parked by the winery and walked over to the crushpad area, as I'd thought that's where they were holding their tastings these days. There was no one there, but we heard voices from inside and walked in, where we met Production Winemaker Seth Hunt. As it turned out, Skinner is once again holding their tastings at the tasting room, but Seth had been alerted that we were going to be there and he took some time to show us around and to let us try tank and barrel samples of some of their brand new 2021 white wines.
As we tasted, Seth noted that Mike and Carey Skinner's original winemaker Chris Pittenger helped in the design of the 12,000-square-foot solar-powered winery building as well as consulting on the vineyard layout. The winery is a good-sized space that can accommodate custom crush clients or expanded production. As we talked, Seth told us that he looks to pick fruit based on acidity to maintain brightness in the wines – the pH for the whites usually ranges from 3.0 to 3.4 and brix levels are mostly 22 brix or less. Wines are fermented without inoculation in small vessels, with many whites being barrel-fermented.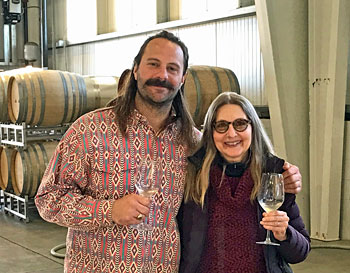 Seth and Carol
Carol and I tasted a number of 2021 whites with Seth, starting with the 2021 Grenache Blanc, bright and on the leaner side with green apple aromas, followed by 2021 Viognier, with citrus and apple notes and great acidity. The 2021 Picpoul Blanc featured vibrant acidity with lime aromas and a nice mouthfeel. The 2021 Trousseau Gris was next, and Seth mentioned that he likes to use this variety as a blending component since it tends to be weightier and adds body. We went on to taste a 2021 base wine for sparkling, which was a blend of Rolle and Bourboulenc – this had loads of acidity as you'd expect, with bright citrus aromas. Next was the 2021 Roussanne, with earthy stone fruit aromas and good texture, we finished with part of the 2021 "Seven Generations" blend – this one including Bourboulenc, Viognier, and a little Grenache Blanc – which displayed citrus and earth notes. It's tough to tell how all of these will develop since we tasted them so soon after harvest and crush, but they all have plenty of potential, and they showed the brightness and freshness that Seth is aiming for.
Seth was generous in spending time with us, but he needed to get back to work so we said goodbye to him and drove up the hill to the tasting room. Perched on a knoll, the tasting room and its deck and patio boast a fabulous and far-reaching view across southern El Dorado County. We checked in with Adrienne at the tasting room, and she led us outside to their deck and showed us their wine options. Skinner offers two tasting flights, El Dorado and Reserve – five of the six wines in the Reserve flight were made entirely from estate vineyard fruit. Adrienne let Carol and me pick what we'd like between the two flights, and we ended up selecting mostly wines from the El Dorado one. Both flights begin with a taste of the Skinner Rosé, and that's what Adrienne poured us to start out.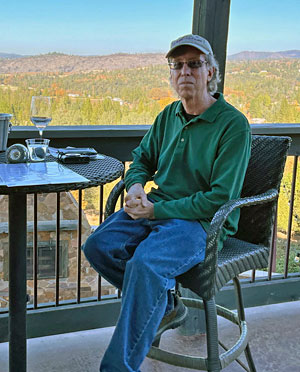 The Author, in his element
The 2020 Rosé is made up of 54% Counoise, 26% Mourvèdre, 12% Grenache, and 8% Cinsault, and the fruit was pressed after a few hours on the skins into concrete and stainless steel tanks as well as neutral oak barrels. The wine displayed both red and tropical fruit aromas with lively acidity and a fresh finish. We next tasted the 2019 Estate Viognier, which was a standout, featuring peach and floral notes, a nice balance of richer texture and acidity, and a long finish. Another fine white wine was the 2019 "Seven Generations" – a blend of 45% Marsanne, 14% Roussanne, 14% Grenache Blanc, 12% Trousseau Gris, 12% Rolle, and 3% Bourboulenc, this had stone fruit aromas along with touches of citrus, flowers, and spice, with medium weight on the palate.
Adrienne next poured us a selection of red wines, beginning with the 2019 "Native Red," which includes Mission, Carignane, Zinfandel, Petit Bouschet, and Trousseau Noir – an approximation of what the original J. Skinner winery had in their nineteenth-century vineyard. Aged in neutral oak, the wine showed upfront red fruit, earth, orangepeel, and a touch of pepper, with medium body and milder tannins. This wine was quite different from most El Dorado reds and I thought it was quite appealing. The 2019 El Dorado Mourvèdre was another winner, with lots of black cherry and plum fruit, spice, iron, and earth, with bigger body and tannin. The 2018 "Eighteen Sixty-one" – named for the year when James Skinner first planted his vineyard – is a blend of 76% Grenache, 19% Syrah, and 5% Mourvèdre. Bright and somewhat higher-toned red fruit with touches of flowers and earth, and good acidity. We finished with the 2018 El Dorado Zinfandel, which displayed ripe yet restrained berry fruit along with spice and vanilla notes and a lively finish.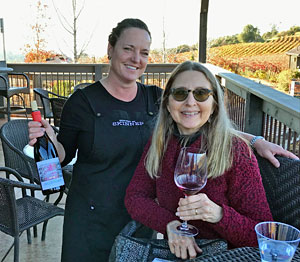 Adrienne and Carol
In addition to the wines we tasted with Adrienne, other Estate wines include Roussanne, Grenache, Mourvèdre, Syrah, and Petite Sirah, while other El Dorado wines include Grenache Blanc, Viognier, Grenache, Syrah, as well as a Blanc de Blancs sparkler made from Marsanne and Roussanne. Skinner is also working on a barrel-aged Angelica (a blend of the 2008, 2011, and 2012 vintages) that will be bottled in early 2022 – Angelica is a fortified sweet wine using Mission grapes made in a style that dates back 200 years to Spanish California. Current overall annual production is about 5,500 cases. I should also note that Skinner has updated their wine label design since I was there in 2014, and the new label looks great.
Carol and I had a great time at Skinner. It's always a treat to do some barrel tasting of new wines, and it was fun to do that with Seth on this visit – we learned a lot about the different white grape varieties he's working with and how he uses them in both varietal wines and blends. At this early stage of their development, my favorites among the 2021 barrel samples we tasted were the Viognier and the component of the "Seven Generations" blend. Our tasting of current wines with Adrienne was relaxed, fun, and informative, and the exceptional views from the Skinner tasting room were a bonus. I thought the standout wines we tried there included the 2019 Estate Viognier, 2019 "Seven Generations", 2019 "Native Red", and 2019 El Dorado Mourvèdre. The Skinner wines are among the best I've tasted from El Dorado County, and they've impressed me on every visit there. A stop at Skinner should be in your plans if you're visiting the Fair Play wine region.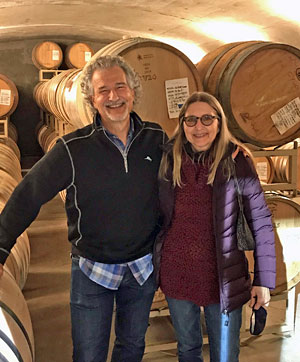 Jonathan and Carol
Our last winery visit of the day was a short drive from Skinner along Fair Play Road. Cedarville Vineyard has been a regular stop for me whenever I've visited Sierra Foothills wineries over the past 20 years or so, and it's often a good way to end a day of wine-tasting. Cedarville was established in the mid-1990s by husband-and-wife owners and winemakers Jonathan Lachs and Susan Marks. Sadly, Susan passed away in mid-2020, but Jonathan has carried on with tending to the winery and the adjacent estate vineyard.
Cedarville was one of the earlier wineries in the Sierra Foothills to focus on wines from Rhône valley grape varieties, and a number of others have followed a similar path since then. They also make Zinfandel, Cabernet Sauvignon, and Petite Sirah, and all of the fruit for their wines – with the exception of Petite Sirah – comes from their 15-acre estate vineyard. Varieties planted there include Viognier, Grenache, Mourvèdre, Syrah, Zinfandel, and Cabernet Sauvignon, and the vineyard has been farmed organically since 2010. Situated on a hillside at about 2,500-foot elevation, the site features the decomposed granite soil that is characteristic of the Fair Play region.
The winery's first commercial vintage was from 1998, and the winery building – partly built into a hillside for natural cooling – was completed a couple of years later. With the vineyard just yards away, Jonathan is able to bring fruit into the winery early in the day while it's still cold. Fruit is sorted, destemmed, and fermented in small lots, with a large percentage of whole berries. Some fermentations are done in temperature-controlled stainless steel tanks while others are done in half-ton macrobins, and the wines are aged in both new and older French oak barrels. In recent years, Cedarville has been making less wine than previously, and selling most of the estate fruit to a number of well-regarded vintners making wine in a wide range of styles. The annual Cedarville production has been around 700-1,000 cases in recent vintages.
Jonathan had texted us earlier in the afternoon to let us know that he had another group that would be tasting with him so we could get there a bit later than we'd originally arranged. When Carol and I arrived, he was out on the covered winery crushpad with that group as they were finishing up what looked like a very nice picnic lunch along with some Cedarville wine. Jonathan welcomed us and led us into the winery building. Many wineries have fancier tasting setups, but I'm glad to say that Cedarville has not changed theirs in all the years I've stopped by there – it's as unpretentious as it gets, with a simple counter in the corner of the winery space.
We started out with the 2019 Estate Viognier, the 20th vintage of Cedarville's only white wine. The Viognier vines are planted on the cooler north-facing slopes of the vineyard. With intense stone fruit and citrus aromas with background notes of vanilla and spice, this had a richer texture with a long and lively finish. Jonathan next poured us the 2019 Estate Grenache, which as usual has some co-fermented Syrah as well as some blended in later, in this vintage a total of 12%. Upfront bright red fruit and spice on the nose, with great texture and length. The 2019 Estate Zinfandel is 100% varietal, and featured more restrained dark berry fruit with touches of spice and dark chocolate, a more elegant style than many Zins from the Sierra Foothills.
Jonathan continued our tasting with the 2017 Estate Syrah. As usual, there's 4% co-fermented Viognier in this wine. Dark berry fruit aromas with hints of flowers and herbs, spice, and well-balanced oak, with medium weight with fine tannins. Next was the 2017 Estate Cabernet Sauvignon, which was a standout. Plum and darker berry fruit with a nice herbal component along with spice and a touch of mocha, with great texture and moderate tannins – very drinkable now but should reward time in the cellar. We finished up our tasting with the 2018 "Rules of Fair Play," a blend of 62% estate Zinfandel and 38% Petite Sirah from nearby Naylor Vineyard. Big and bold, the brighter Zinfandel aromas edged out the darker Petite Sirah component, with pepper and spice notes, medium-full body, and youthful tannins.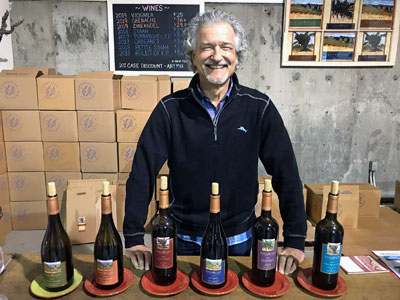 Other Cedarville wines that we didn't taste on this occasion include Naylor Vineyard Petite Sirah and Estate "Turnabout's Fair Play", the winery's tribute to the Grenache-based wines of Priorat in Catalonia. There's also the "Susan Marie" wine, which Jonathan makes in memory of Susan – the sales of this wine help to raise funds for the Pancreatic Cancer Action Network (PanCAN). Between direct donations to PanCAN and the first "Susan Marie" wine released earlier this year, Jonathan has helped raise over $74,000 in Susan's memory. The inaugural 2020 vintage of "Susan Marie" was a Grenache/Syrah Rosé, but Jonathan told us that the 2021 will be something different and that it may change from year to year. One upcoming "Susan Marie" wine will be a Merlot from Frostwatch Vineyard in Bennett Valley – Jonathan told us that Frostwatch owners Brett Raven and Diane Kleinecke became good friends of he and Susan back in their UC Davis days.
One thing that strikes me about the Cedarville wines every time I try their latest vintage is how well they're built to age, though they're always delicious right off the bat. For a great example of this, I recently learned that their 2001 Estate Cabernet Sauvignon was one of the wines in a blind tasting in September of nine 2001 Cabernets from California and Australia at a longtime San Francisco-area tasting group. The Cedarville finished first in that group, beating out a number of very well-known and highly-regarded producers. Cabernet from the Sierra Foothills is often overlooked among all the Cabs of California, but Cedarville's has always impressed me and it may well be the best from the region.
It doesn't seem like a visit to the Fair Play wine region of El Dorado County is complete without a stop at Cedarville. The wines have been of consistently high quality over the years, and Jonathan has always been a wonderful host. The current wine line-up is strong across the board, and I felt that the 2019 Viognier, 2019 Grenache, 2017 Syrah, and 2017 Cabernet Sauvignon were particular standouts. Jonathan's production of the new "Susan Marie" bottlings in her memory and as a way to help in the fight against pancreatic cancer is worthy of another mention here too. Very few wineries in the Sierra Foothills have as fine a track record over the years as those from Cedarville, and a visit there is highly recommended.
After we said goodbye to Jonathan and left Cedarville Vineyard, Carol and I headed back to Sacramento. I managed to make the drive along curving Bucks Bar Road before it got dark, and once we got onto the freeway it was an easy drive. Although I often like to have dinner in the Sierra Foothills after a day of wine tasting there, I thought it might be good to go to Sacramento for dinner this time to make my drive home to the Bay Area a shorter one. Once we arrived at Carol and Michael's place, they suggested getting take-out food from Thai Basil in Sacramento's Midtown area and having dinner at their home. Thai Basil has an extensive menu that includes many vegan options, and we ordered a variety of dishes that were all delicious. It was nice to have a shorter drive home after dinner, and it was a breeze getting back to Oakland.
I keep returning to the Sierra Foothills wine country year after year. I find the combination of friendly people and fine value for quality wines to be tough to beat. To be sure, wineries in the region can be somewhat hit-and-miss, so it pays to check into what you're looking for before you go, but there are wines there in a number of styles to suit most tastes. The three wineries I visited on this brief trip all produce some very fine wines. While Iron Hub was both familiar and new to me due to the many changes since my last visit to that location, Skinner and Cedarville are old favorites that I've found to be among the most reliable producers in the area. All three of these wineries are worth a stop if you're visiting Amador and El Dorado wine country. As always, thanks to everyone that we visited for being so generous with their time and their wine!