Sierra Foothills Visits - December 2022
I haven't been doing much Grape-Nutz wine touring lately, so this annual visit to the Sierra Foothills was only my second wine trip of the year. I'd checked with a handful of friends about coming along but after none of the ones I asked could join me I decided to just make it a solo trip this time. I made only three wine-tasting appointments for the day – since it's a lengthy drive to and from the Foothills from my home in Oakland, I didn't want to pack too much into the day's schedule and hoped I might have a little time for other diversions, which I did!
I'd often traveled to the Sierra Foothills for a day of wine-tasting on Thanksgiving weekend but I found that both tasting rooms and roads can be very crowded then. Going on the weekend following that, as I did this time, tends to be a much quieter and more relaxing experience. I headed out from Oakland on the first Saturday of December, and it was a smooth but wet drive to Sacramento and then east to Amador County. There was rain throughout the day with only a few breaks, but it wasn't as cold as I thought it might be. Coming into the small town of Plymouth, I made a stop at Pokerville Market to get a sandwich for lunch before continuing a short distance farther to the quaint main street of town. Plymouth dates back to the Gold Rush era, but my destination along Main Street was a winery tasting room that's been open for only a little over a year.
Saturday - December 3, 2022
The main street of Plymouth looked pretty quiet on the rainy morning when I arrived in front of the tasting room of Fate Wines. Owner / winemaker Thomas Allan was there to greet me at the front door and welcomed me inside. I'd heard good things about the Fate wines but had never tried any prior to my visit with Thomas. The tasting room opened in late summer 2021 – it's a small, unpretentious space with a wooden bar, and it also has a nice outdoor seating area in front of the building. Thomas had poured his Fate wines at other places prior to opening his own tasting room, including at the Amador 360 Winery Collective in Plymouth that features wines from a number of small local producers. He started right in with pouring his first wine but since I was there before the regular tasting hours we had plenty of time to talk as I went through the Fate wine lineup, and he told me a bit about his background.
Thomas grew up in Santa Barbara County, and he started working as a waiter in local restaurants when he was 15. He told me that by the time he was 17 he was working at higher-end fine-dining restaurants in Santa Barbara, where he was introduced to wines from around the world. This started him on a path into the food and wine business that has taken many turns – he's a certified sommelier, and has worked as a restaurant managing partner and in wine retail among other positions. He worked at Los Olivos Wine Merchant and at the renowned Wine Cask in Santa Barbara. Thomas told me that by his late 20s he wanted to work at wineries to learn that side of the business, and this included stints at Santa Barbara Winery, Alma Rosa, and Margerum in Santa Barbara County.
Eventually Thomas learned enough from his work at wineries to try his own hand at winemaking. Since he had a shoestring budget to do that, he decided that he needed a less-expensive location than in the increasingly upscale Santa Barbara County wine region. As some of his family live in Amador County, he decided to move there in 2010. While Thomas was learning about making wine and becoming familiar with the Amador wine scene, he also served as sommelier and wine director at Plymouth's well-known Taste Restaurant, one of the finest dining establishments in the Sierra Foothills. He's worked for Bray Vineyards and Story Winery in Shenandoah Valley, and he started making small lots of his own wine at those facilities, launching his Fate label shortly after he arrived in Amador County. Thomas left Story to focus on his Fate Wines label in 2021.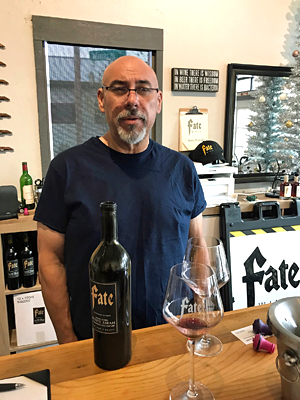 As I talked with Thomas, told me about his winemaking goals and methods. He noted that all of his wines are 14% alcohol or lower – this is unusual in Amador County, which has been known for riper, higher-alcohol wines over the years. Thomas' background in the restaurant business led him to make his wines with the lower alcohol and higher acidity found in many European wines (though also in a growing number of California wines), as this generally helps wines go better with food. He told me an interesting anecdote that another sommelier at the Wine Cask had mentioned to him – he felt that European and American palates could be generalized by the notion that the European palate prefers mustard while the American palate favors ketchup – a sweeter and less subtle flavor. Thomas said that the finish of a wine is of particular importance to him, so managing tannins is a critical part of his winemaking regimen.
The Fate wines typically undergo concurrent primary and malolactic fermentation and are pressed as soon as they go dry, with no extended maceration. This allows them to be protected from brettanomyces and other issues as quickly as possible. Thomas ages all of his wines in neutral oak except for the "Proprietor's Blend," which has a small percentage of new oak during barrel-aging. Wines are racked and blended in March and bottled in June of the year after harvest, then aged for about two years in bottle prior to release. All of the Fate wines are blends of at least two grape varieties other than the Sangiovese, which is a blend of two distinct clones of the variety.
The current-release Fate wines (other than the "Elixir" dessert wine) were made at Story, and Thomas had made them at Bray before that – he's now making his wine at the Helwig Winery facility in Shenandoah Valley. Annual production is around 800-1,000 cases, with the focus on fruit from Amador County vineyards. All of the current Fate wines are reds, except for the "Elixir." Thomas usually makes about six different wines each vintage, so each one is a small lot, mostly 100-200 cases each though some are even smaller. He told me that his goal is to make about 1,500 cases per year.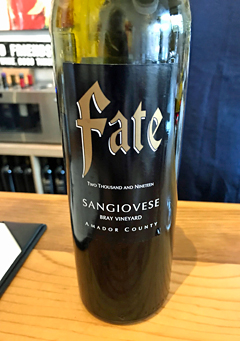 Thomas started out my tasting of his Fate wines with the 2019 Bray Vineyard Sangiovese. He told me that Sangiovese is the third most-planted variety in Amador County, behind only Zinfandel and Barbera – something I didn't realize and which surprised me. This wine is a blend of about 85% Sangiovetto Clone and 15% Brunello Clone Sangiovese. Displaying bright cherry fruit, earth, and spice, a medium-light texture with vibrant acidity and a zingy finish, this was a very fine start to the tasting. Next was the 2019 "Fusion," which is a roughly equal blend of Sangiovese, Barbera and Primitivo. Thomas described it as being his "house red" style wine, and it featured more upfront fruit combining both black cherry and boysenberry notes – the acidity was a little toned down from that of the Sangiovese but still gave the wine a freshness on the palate with a long tasty finish.
The 2019 Bray Vineyard Tempranillo is blended with 13% Grenache, and Thomas explained that the goal of the Grenache component is to brighten up the wine and give it more upfront fruit. The variety's characteristic earthy, leathery, and spicy plum and darker berry notes were indeed given an aromatic lift by the juicier red fruit of the Grenache, with medium-full body in the mouth and moderate tannins. I generally feel that California Tempranillo benefits from some blending and this was a nice one. Thomas next poured his 2020 "Double Barrel" Shenandoah Oaks Vineyard Petite Sirah, so named for the number of barrels of this wine produced in that vintage. With 10% Zinfandel blended in, it had a dark berry fruit profile with hints of earth, flowers, and spice, a bolder mouthfeel and grippy but not harsh tannins on the finish.
We finished up the red wines with the 2020 "Proprietary Red." This is a blend of about 50% Petite Sirah along with 25% each Alicante Bouschet and Cabernet Sauvignon. Aged in about 15% new oak, Thomas considers this to be the flagship wine of the Fate label, and it features a more upscale label design. He noted that it aims to emulate a Bordeaux blend stylistically while using mostly non-Bordeaux grape varieties that are better-suited to the Amador growing region. With plum and darker fruit aromas plus earth, a touch of oak, and a pleasant smoky note, this had a lively, elegant texture and fine tannins.
The final wine that Thomas poured for me was the NV "Elixer" – this is a fortified blend of Viognier, Verdelho, and Black Muscat, with about 18% alcohol and 9% residual sugar. This featured aromas that included figs and stone fruit, pecans, and honey, with a medium-rich mouthfeel and a long, moderately sweet finish. This was quite unique, not like anything else I could recall tasting, with a more subtle and complex character than most California sweet wines. In addition to the wines I tasted with Thomas, Fate also has a Barbera that's blended with a small percentage of Grenache.
I enjoyed my visit with Thomas and liked the Fate wines – they show a lighter, brighter, fresher side of Amador County wines. Even at the moderate alcohol levels of these wines, there's plenty of fruit, plus more lively acidity that helps set them apart from many others in the region – more food-friendly than many of the bigger and riper Amador wines. All of the wines I tasted were very good, with favorites being the 2019 Sangiovese, 2019 Tempranillo, and NV "Elixer." Thomas mentioned that it's been a long journey to get where he is today and that it must have been "fate" that brought him here. The Fate Wines tasting room is a very nice addition to the town of Plymouth, and well worth a stop if you're planning to visit the area.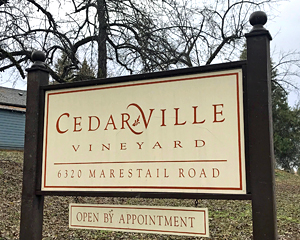 My second winery visit of the day was about a half-hour drive north from Plymouth, to Cedarville Vineyard in the Fair Play wine region of southern El Dorado County. I've known owner / winemaker Jonathan Lachs for over 20 years and the winery has become a regular stop for me in the Sierra Foothills. Cedarville was established in the mid-1990s by Jonathan and his wife Susan Marks, who sadly passed away in 2020. The winery's first commercial vintage was from 1998, and the winery building – partly built into a hillside for natural cooling – was completed a couple of years later.
One of the earlier wineries in the Sierra Foothills to focus on wines from Rhône Valley grape varieties, Cedarville also makes Zinfandel, Cabernet Sauvignon, and Petite Sirah, plus a couple of blends. With the exception of Petite Sirah, all of the fruit for their wines comes from their 15-acre estate vineyard, which was planted over 25 years ago. Situated on a hillside at about 2,500-foot elevation, the vineyard soil is the sandy decomposed granite that is characteristic of the Fair Play region. The vines have been farmed organically since 2010, and include Viognier, Grenache, Mourvèdre, Syrah, Zinfandel, and Cabernet Sauvignon.
The winemaking at Cedarville is straightforward, and fruit from the adjacent estate vineyard is sorted, destemmed, and fermented in small lots, with a large percentage of whole berries. Some fermentations are done in temperature-controlled stainless steel tanks while others are done in half-ton macrobins, and the wines are aged in both new and older French oak barrels. François Frères is one of the coopers that Jonathan uses quite a bit for the wines. In recent years, Cedarville has been making less wine than previously, and selling most of the estate fruit to a number of well-regarded vintners making wine in a wide range of styles. With lower production for his own wines, Jonathan has been able to host a custom crush client at the winery recently.
The annual Cedarville production has generally been around 700-1,000 cases in recent vintages. Jonathan estimated that he sells around 80-85% of his wine direct-to-consumer, with the rest going toward retail and restaurant sales. Both of the past two growing seasons were particularly difficult ones in El Dorado County, and Jonathan wasn't able to make much wine in 2021 and didn't have much fruit available to sell in 2022. But still, between the Cedarville wine and that for the custom crush client, Jonathan found that he needed help at the winery, as he and Susan used to do all of the winemaking work themselves. This summer, he brought on Cedarville's first-ever assistant winemaker, Jill Winter. She had worked for a number of years at Boeger Winery near Placerville and also worked a harvest at Law Estate in Paso Robles. Additional harvest help came from Jonathan's friend Susan – he calls her "Susan Elizabeth" to distinguish her from his late wife "Susan Marie."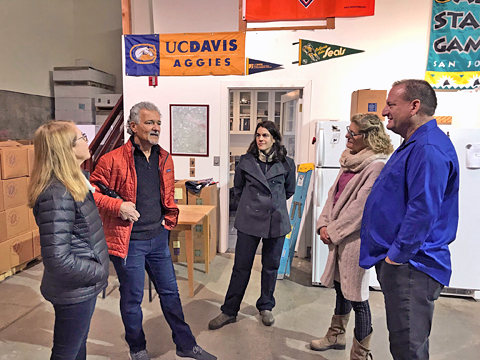 The rain had let up by the time I drove up the gravel driveway that leads from Fair Play Road to the winery, so it was nice that I didn't need to make a mad dash from my car to the winery building. Both Jill and Susan were inside along with Jonathan when I arrived, and two more of his friends, Juliann and her partner Larry, were also there helping out. After introductions and a brief chat, Jonathan led us over to the small tasting counter in the corner of the winery and started pouring for us.
We began with the 2021 Estate Viognier, Cedarville's lone white wine. The wine gets regular lees-stirring in barrel to bring out a richer texture, and it's typically bottled in April following the vintage year. This had aromas of spice, stone fruit, citrus, and a stony mineral note, with medium-rich body and perhaps a bit more brightness on the palate and the finish than the previous vintage. Jonathan noted that he used one new barrel for the 2021 Viognier, and that there is no new oak used for the 2022 that's now in barrel. Our first red wine was the 2019 Estate Grenache. As usual with the Cedarville Grenache, this includes some co-fermented Syrah as well as some blended in later, with a total of 12% Syrah in this vintage. Displaying bright red cherry and earth on the nose along with spice and vanilla in support, this was medium weight with a lively texture.
Jonathan told us that the 2019 vintage of Grenache is just 14.1% alcohol, lower than usual. We talked for a few minutes about how many of the older vines at the estate vineyard – such as the Grenache – have generally been ripening at lower brix in recent vintages, so the fruit is being picked earlier than in past years. Jonathan noted that the older vines need less irrigation, but typically have a lower yield. He told us that the older vines seem to regulate themselves and that in a number of cases, the grape clusters no longer develop "shoulders" or "wings" that might have to be removed. Although the 2022 vintage yielded a much smaller crop at the vineyard than usual, he feels the quality of the wines has great potential.
Next up was the 2020 Estate Zinfandel, which is 100% varietal in this vintage. Jonathan said that the fruit was foot-trod during the cold soak to help break up the berries, and that he's particularly happy with this wine. Featuring brambly, herbal red berry and boysenberry fruit with notes of pepper and oak, this had a bright, lively mouthfeel with fairly mild tannins on the finish. Jonathan opened a 2017 Estate Syrah for us – 2019 is the current vintage – as he thought it would be good to see how this one is coming along in the bottle. As is typical for the Cedarville Syrahs, this one includes 4% co-fermented Viognier. This had aromas of dark berry fruit with big herb and spice components plus vanilla, stony minerals, and a black olive note in the background with medium body and fine tannins on the finish – this is drinking really well now and should continue to develop nicely for years. We followed this with the 2017 Estate Cabernet Sauvignon – this wine is 100% varietal and was aged for nearly two years in both new and older French oak. This displayed darker berry fruit and herb aromas upfront with spice and oak in support, medium-full bodied with lively acidity on the palate, and youthful tannins on the finish – another wine worthy of further cellaring.
We finished with two of Cedarville's boldest and darkest wines. As always with their Petite Sirah, the 2019 Naylor Vineyard Petite Sirah came from the nearby vineyard of Jonathan's friends Bill and Trish Naylor, and is 100% varietal. Intense ripe dark berry fruit along with mocha, pepper, and spice notes, this was full-bodied with a tannic finish that was grippy but not harsh. Our last wine was the 2019 "Rules of Fair Play," a blend of 62% Estate Zinfandel and 38% Naylor Vineyard Petite Sirah. This was similar to the Petite Sirah bottling but with a brighter, lifted red fruit component from the Zin, touches of pepper, earth, and spice, and big but surprisingly fine tannins. Jonathan briefly told us the story of how the nearby small old Gold Rush town got its name of Fair Play. Supposedly two miners had a dispute and others in the mining camp urged them to settle it by "fair play" rather than violence. Another Cedarville wine that we didn't taste on this occasion includes the Estate "Turnabout's Fair Play", a blend that's a tribute to the Grenache-based wines of Priorat in Catalonia.
Jonathan has also been producing a special "Susan Marie" wine each vintage, which Jonathan makes in memory of his late wife – the sales of this wine help to raise funds for the Pancreatic Cancer Action Network (PanCAN). The inaugural 2020 vintage of "Susan Marie" was a Grenache/Syrah Rosé, but Jonathan told us that this may change from year to year. An upcoming one to look for will be a 2021 Merlot from Frostwatch Vineyard in Bennett Valley – Frostwatch owners Brett Raven and Diane Kleinecke became good friends of Jonathan and Susan back in their UC Davis days. The 2022 vintage of the wine will again be a rosé.
Jonathan is one of the nicest people I've met in the wine business, and it's always a pleasure to visit him at taste the wines at Cedarville. It was great to meet some of his crew on this visit too. The 2021 Viognier, 2020 Zinfandel, 2017 Syrah, and 2017 Cabernet Sauvignon were my favorites among the all-around excellent group of wines that I tasted on this occasion. I've consistently found the Cedarville wines to have a more refined and elegant character than most from the Foothills – always beautifully balanced, and most of them are quite ageworthy as well. Arranging a visit to Cedarville is highly recommended if you're in the area.
I'd asked Jonathan at Cedarville whether it would be ok for me to have my lunch at his winery and he said that was no problem, so I brought in my sandwich from Pokerville Market. As has been my experience with sandwiches from there in the past, it was fine though nothing special. My favorite place for grabbing a sandwich or picnic supplies in the Shenandoah Valley area – Amador Vintage Market in Plymouth – was closed on the day of my visit. A plus to the sandwich from Pokerville Market was that it was quite large, so I ended up taking half of it home with me to finish the following day.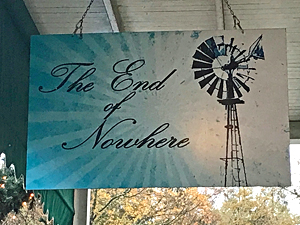 I headed back to Amador County for my final wine visit of the day, the tasting room of The End of Nowhere. Passing again through Plymouth along the way, my destination was a few miles south, in Amador City. If you want to visit a living Gold Rush-era town that has retained its old character without becoming overly touristy, tiny Amador City is as good a bet as any. The End of Nowhere tasting room is located in the historic Amador Hotel, which dates back to the mid-1850s. I'd visited owner / winemaker Chris Walsh in late 2018, shortly after he'd opened his tasting room, and thought this would be a good opportunity to check out his wines again.
I found a spot to park across the town's main street from the Amador Hotel and dodged a few raindrops to the covered front porch of the building. The End of Nowhere tasting room is in a different location on the hotel's ground floor than where I'd visited four years earlier – it's larger than the other space and includes an outdoor patio at the rear of the building. It's a fun and festive-looking tasting room that incorporates the front ends of two vehicles in its design – a 1949 Ford truck is part of the tasting bar while an old Austin Healey is part of a lighting feature directly above.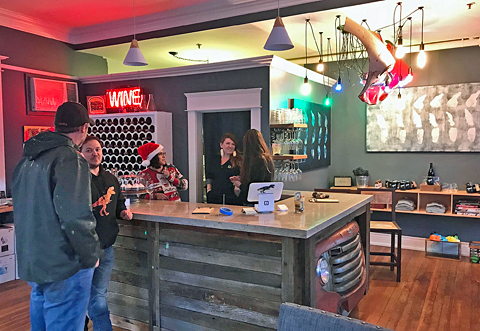 The winery name comes from the location of Chris' own vineyard and small winemaking facility. It's where Chris grew up, in a remote spot at the end of an unpaved road near the town of Pioneer, about 15 miles to the east of Amador City – pretty much the end of nowhere! Chris later lived in New York City for a time, where he was an architectural lighting designer – given his background, the cleverly-designed lighting in the new tasting room should come as no surprise. When the economy crashed in 2008, he found himself out of work and took a job at a local wine bar. This started his interest in wine, and he eventually worked his way up to become a certified sommelier. But he realized that what he really wanted to do was to make his own wine and he moved back to Pioneer in 2014 and began planting a vineyard there the following year. Chris also looked to gain practical experience in both the vineyard and winery, and he's worked at Domaine de la Terre Rouge in Amador County and at Donkey and Goat in Berkeley, as well as at highly-regarded Sierra Foothills vineyard sites Shake Ridge Ranch and at Rorick Heritage Vineyard.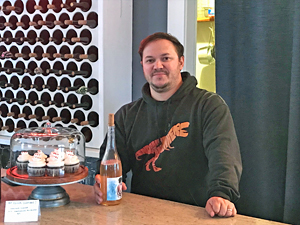 I asked Chris about his Little John Lane Vineyard, named after the road where his property in Pioneer is located. At about 3,300-foot elevation, it's probably one of the highest vineyards in Amador County and has rocky volcanic soil. There are about five acres of grapevines now planted on the 20-acre property, right across the road where Chris grew up, and there are also walnut, apple, and pear trees there. He's planted mainly Rhône varieties at this site: Syrah, Grenache, Mourvèdre, Counoise, Cinsault, Viognier, Grenache Blanc, Roussanne, Picpoul, Picardan, Clairette Blanche, Vermentino, Grenache Gris, Petite Manseng, Gros Manseng, and Cabernet Franc. Some of the vines are own-rooted while others are planted on rootstock, and they're head-trained. He farms using organic methods – he does not till the vineyard soil and has not needed to spray the vines, and he's let native grasses and flowers grow among the vine rows. Chris got a little fruit from the vines there in 2018 and 2019 but frost and smoke issues led to having no usable crop for his wines the next two years. He's hoping to make fruit from Little John Lane Vineyard a significant part of his wine production in the coming years while continuing to purchase sustainably-farmed fruit from other growers in the region as well.
The first vintage for The End of Nowhere was 2016. Chris' wines that year were made at Matthew Rorick's winery a little ways south in Calaveras County but since then he's made them in a small facility on the Little John Lane property in Pioneer. His winemaking follows a minimal-intervention / natural wine path, with native yeast fermentation, no additions other than a small amount of sulfur, aging in neutral oak barrels, and no fining or filtering. Chris may pick fruit at lower brix than any other Amador winemaker, with the resulting alcohol in most of his wines finishing at around 12-13.5%, and some even lower. The wines have been made in fairly small lots, with only about 100 cases each for most of them, and the current total production is around 1,000-1,200 cases. At the tasting room, I couldn't help noticing the eye-catching new label artwork for The End of Nowhere wines, designed by graphic artist Kendell Cotta.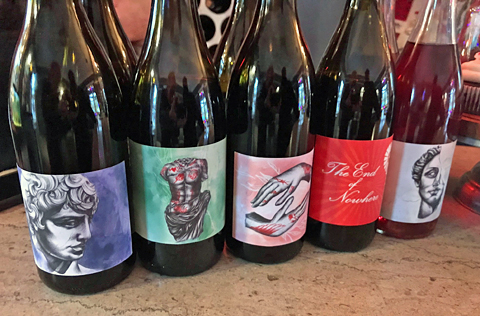 Chris started out my tasting with the 2021 "Porcelina" Pinot Gris. The fruit for this wine came from Heringer Vineyard in Clarksburg, and it went direct to press. This had bright and slightly higher-toned stone fruit aromas with spice notes and herbal undertones, and a light and lively texture and finish. The next wine came from the same vineyard source but was made in a different way. The 2021 "Spaceboy" Pinot Gris was destemmed and then fermented on the skins for 18 days before pressing. This displayed more subtle stone fruit notes along with the phenolic character common to many skin-fermented whites, plus spice and earth notes, and plenty of acidity, with a bigger mouthfeel than the previous wine and a mild tannic grip on the finish – a very nice skin-fermented white.
I tasted one more white wine, the 2021 "A Space Oddity" Verdejo – this Spanish-variety grape that's not widely grown in California was also sourced from Heringer Vineyard. Once at the winery, 40% of the fruit went direct to press while 60% was skin-fermented, and the wine was then aged for 11 months in neutral oak. Showing earth and citrus aromas combined with the phenolic skin-fermented component plus a slightly nutty element, it had medium body and a bright finish.
The first red wine Chris poured me was the 2019 "Phantom Limb" Zinfandel. Sourced from Baldinelli Vineyard near Plymouth, the fruit was fermented for 24 days using the carbonic maceration method. Most carbonic wines are consumed within a year or so of their vintage, so having one with a few years of bottle age was a rarity for me. This had bright red berry fruit, spice, plus hints of flowers and herbs, with a vibrant texture and mild grip on the finish – very distinctive. This was followed by the 2021 "Perfect Disguise" Zinfandel, with fruit from Trapier Vineyard, also near Plymouth. The fruit was fermented with 30% whole clusters before aging in neutral oak. This featured a more upfront earthy and herbal components along with higher-toned plum and red berry fruit, medium body, and moderate tannins on the finish.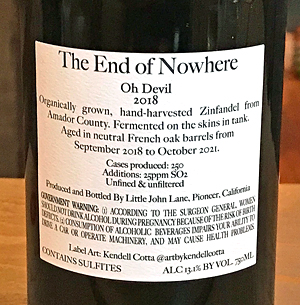 Next up was the 2018 "Oh Devil" Zinfandel, sourced from both Baldinelli and Trapier vineyards. Each component was made separately and aged in neutral French oak for two years, then blended and aged for an additional year before bottling. Featuring brushy berry fruit along with earth notes and plenty of spice, this had a somewhat bigger mouthfeel than the previous two Zin bottlings, with good acidity. With a tasty finish that still had youthful, grippy tannins, this could benefit from a bit more cellaring.
One final red wine was the 2021 "Stroke of Luck" Primitivo – the variety is usually considered a distinct clone of Zinfandel. The fruit came from Ann Kraemer's Shake Ridge Ranch vineyard east of Sutter Creek – Chris considered it a stroke of luck that he was able to buy this highly sought-after fruit in 2016, and he's been able to continue buying it in the years since then. With plum and wild berry aromas, earth, and a hint of pepper, this had medium weight on the palate and a lively texture with a moderately grippy finish. Chris told me that he may set this wine aside for additional bottle age to let the tannins soften a bit. In its fruit profile, the wine struck me as more clearly related to the style of the region's Zinfandels than the three previous wines, but it was lighter, brighter, and more subtle than most other Amador Zins you'll find.
Other recent wines include "Uncorked!" Sparkling Zinfandel Rosé (made using Méthode Champenoise), "#1 Crush" Zinfandel Rosé from D' Agostini Vineyard in Shenandoah Valley, "The Ghost in the Machine" Sangiovese, and "Noise Making" Cabernet Franc, the last two sourced from Slate Creek Vineyard near Fiddletown. I asked Chris if he has any new varieties that he'll be working with, and he told me that he got some Orange Muscat and Counoise this year and may work with Albariño in the future.
This was a fun visit with Chris at The End of Nowhere. His winery is a rare one in the Sierra Foothills with its focus on natural wines. The many different takes on Zinfandel (and its close relative Primitivo) help set it apart too – from sparkling to rosé to carbonic to whole-cluster, Chris makes them all. My favorites among the wines I tasted were the 2021 "Spaceboy" Pinot Gris, 2019 "Phantom Limb" Zinfandel, and 2021 "Stroke of Luck" Primitivo. The End of Nowhere wines will appeal to fans of natural wines and they'll appeal to many other wine lovers too – they're light and fun, and they can be a refreshing break from the bigger, higher-alcohol wines that many vintners in Amador County produce. If you're looking for something a little different while visiting wineries in the region, a stop at The End of Nowhere tasting room in Amador City should be on your agenda.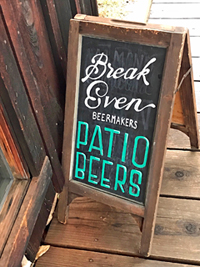 While I was tasting with Chris at The End of Nowhere, I asked him about local breweries and he recommended one right up the street in Amador City, Break Even Beermakers. I walked along the town's quaint old boardwalks to their taproom, in a wooden building that probably dates to the 1880s or 1890s. Break Even is fairly new, and they have a small indoor space along with a covered outdoor patio. They have a limited number of brews on tap, and I had a small glass of their "Kitfox" – a hoppy but light wheat beer that's only 3.8% alcohol, very flavorful and refreshing. Break Even Beermakers is working on opening a larger space with a restaurant across the street by summer 2023.
Since I'd finished up with wine-tasting on the early side, I decided to make one more beer stop while I was in the area, and I drove the few miles back to Plymouth to check out Amador Brewing Company. I'd seen their brewery and taproom before, located just off Highway 49 along the road leading to Shenandoah Valley, but had never stopped in. It's a nice facility with both indoor and covered outdoor spaces, and with food available too. They had a nice variety of beers on tap, and I picked a sampler of four beers – Kölsch, "Dirty" Blonde Ale, "Citrachicoe" Hazy IPA, and Altbier. Their Kölsch and "Citrachicoe" were my favorites of the four I tasted. I started on my way back home from Plymouth as the daylight was beginning to fade, and had an easy drive back to Oakland.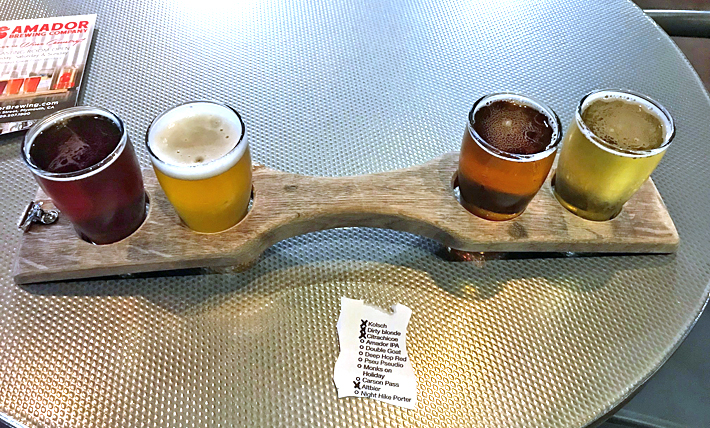 I always look forward to a day of wine tasting in the Sierra Foothills. On this day I stopped at only one winery I hadn't been to before – Fate Wines – but it was a perfect tie-in with my visit to The End of Nowhere. Both are among the few wineries in Amador County focusing on lower-alcohol wines, something this wine region is not particularly known for. They show that lower-alcohol wines from the area can be successful – the bigger, bolder Amador wines can be fine, but sometimes it's good to take a break from them. And Cedarville in El Dorado County continues to produce some of the most elegant wines in the Sierra Foothills. All three of these wineries should be on your radar if you're planning to go wine tasting in the region. As always, thanks to everyone that I visited for being so generous with their time and their wine!