Sierra Foothills Visits - May 2023
I don't need much of an excuse to make a trip to Sierra Foothills wine country – among my favorite California wine regions to visit – and I found two good reasons to head there for the day in late May. One reason was to pick up a case of wine I'd ordered that would be split among several friends and myself, and the other was to check out a brand-new winery that I'd heard about, launched by a winemaker I've known for awhile.
I checked with a couple of friends about joining me for a one-day trip during the week, and Larry Stein was able to come along. We met up in the East Bay and I drove from there, past Sacramento and on to the old mining town of Placerville along Highway 50. The weather was very pleasant – the summer heat can get an early start in this part of California, and Larry and I were happy that the temperature that day didn't get above the mid-70s. After finding a parking spot just off of Placerville's quaint Main Street – lined with small shops and a few cafes, plus a great old-time hardware store – we walked a short distance to our first wine destination of the day.
I'd read an article in April by wine writer Mike Dunne about a new wine tasting room that had just opened right along Main Street in Placerville – Cappelli Wine. I've known owner/winemaker Marco Cappelli for awhile and had visited him in 2017 at Miraflores Winery in El Dorado County, where he was the winemaker. Knowing that Marco is an excellent winemaker and that he was starting his own label after decades of working for other producers was reason enough to visit his new tasting room, but Mike Dunne's description of Marco's operation there was equally intriguing.
I'd arranged to meet with Marco prior to his regular tasting room hours, and Larry and I arrived outside the door just a couple of minutes before Marco did. I saw Marco walking up the sidewalk and didn't recognize him at first – the photos in Mike Dunne's recent article showed him with long hair (as a number of people had done, he'd grown it longer during the pandemic years) but it was much shorter now. He said it was finally time for him to get it cut! He opened the door and led Larry and me inside. The building is a handsome one, located toward the upper end of the central part of town, and it had been home to a number of widely-different businesses since it was built around 1895. There were a number of good-sized tables in the tall, airy space, and I couldn't help noticing the antique bottles on shelves along one side. Many of these were originally bottles for Angelica wine – this is a distinctive fortified sweet wine that originated in California and is made from Mission grapes, and Marco is widely-regarded as the finest maker of Angelica in the state.
Marco became seriously interested in winemaking while in college, and he earned a degree in enology from UC Davis in 1984. Following this, he gained practical experience working for a year in Italy and six months in France before returning to California, where he took a position at Saintsbury Winery in Carneros. While there, he met legendary vintner André Tchelistcheff, who soon recommended Marco to Clarke Swanson, who was launching Swanson Vineyards in Napa Valley. Marco became the winemaker at Swanson – working with André Tchelistcheff's guidance for the first few years – and he stayed there for 17 years before moving to the Sierra Foothills in 2004. I asked Marco why he chose to move to El Dorado County after he'd decided to leave Swanson. He said that the affordable price of property as well as the quality of wines from the region – and potential for even better wines from there – based on the area's soil and climate were significant factors.
Marco had purchased the noted Herbert Vineyard in the Fair Play region of southern El Dorado County shortly before moving there, with the plan to farm it and perhaps build his own winery on the property. Knowing that this alone wouldn't pay the bills, at least in the short term, Marco became the winemaker at Miraflores Winery and also took on consulting winemaker positions for a number of other wineries – he's been involved with production of around 120 wines each vintage for consulting clients. Marco continues to consult for Miraflores as well as a few producers who make wine at their facility, though his main focus now is making wine for his own label. He acknowledged that it proved to be more difficult to make the vineyard pay for itself than he'd anticipated, and the fall 2021 Caldor Fire – which forced the Cappelli family from their home for some time – ended up being the deciding factor for Marco and his wife Belinda to sell the vineyard. They moved to a house in Placerville, just a short walk from the tasting room.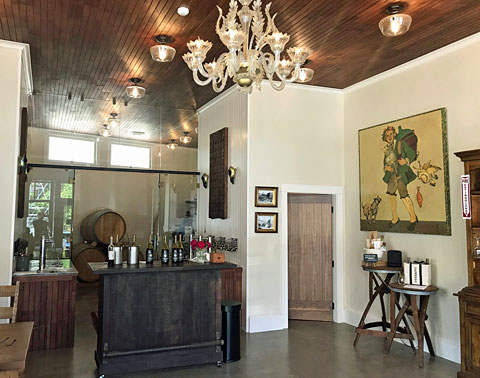 Marco and Belinda actually bought the tasting room building before they moved to Placerville, as Marco was planning his own winery business by early 2021. He told Larry and me that permits for work on the building and for it to also be a bonded winery took longer than expected, so it wasn't until early spring this year that it finally opened. Marco noted that there are currently only three wine tasting rooms in town plus a small wine bar – Larry and I both mentioned that we thought there is the potential for more tasting rooms along Main Street there.
This is no ordinary winery tasting room, though, and the concept behind how it's run may well be unique in California. A few years ago Marco took a year off from winery work to spend a year with Belinda and their kids in Italy – he said that he'd mainly spent time in the Marche region on the eastern side of Italy, where his family came from. While he was in Italy, he found many wines were readily available in towns directly from the small-scale winemakers there – the wines were good, inexpensive, and local. Marco said this tied in with lessons he'd learned many years ago from André Tchelistcheff, who often preferred modest wines to the expensive wines made more to impress people than simply for enjoyment. Marco wants to make these modest everyday wines that anyone can afford, rather than trying to "make a statement" with the wines – he's aiming to highlight the variety and growing region and to keep the winemaking in the background. He feels that he can produce quality wines that display a sense of place at a lower cost, so they can become as integral a part of everyday meals as the food itself, and not just for special occasions. Marco said that the wine shouldn't be the most expensive thing on the dining table.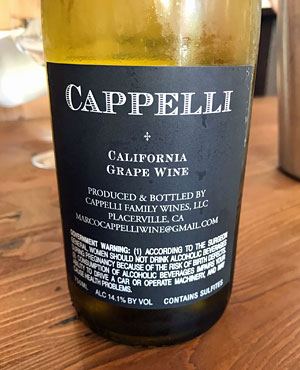 The other part of the Cappelli Wine concept is the most novel one for California. Marco noted that in Italy, Spain, and some other parts of Europe, wine customers could bring in their empty bottles to the local shop to have them refilled there straight from the barrel. Since having barrels of wine onsite to use for this purpose at the tasting room is somewhat impractical, Marco brings in 15-gallon kegs of wine to achieve the same goal. There are six kegs on hand to fill new bottles or refill those that his customers clean and bring back. The system is set up so the bottles are first sparged (given a blast of nitrogen gas to help flush out oxygen), then filled from a dispensing spout hooked up to the keg below, and capped with a cork "bar top" closure that then receives a protective plastic sleeve. Every bottle that Marco uses is identical – Burgundy-shaped with light green glass to make filling easier – and even all of the labels are identical, simply showing the contents as "California Grape Wine". The bar tops, each with a plastic part on top of the cork, are given small circular stickers on top to identify each individual bottle (Marco may change this to a sticker added to the bottle itself at some point). While a handful of California wineries will fill customers' bottles or jugs from large tanks as part of their wine program, I've never run across a winery that exclusively uses kegged wine to fill every bottle that goes out the door – all filled or refilled on demand. Encouraging customers to reuse the bottles and caps is one way Marco is trying to keep costs down so the wine is more affordable – and it's good for the environment as well.
Marco is aiming to keep the wines he makes local, using vineyard sources within a 90-minute drive. They're currently mostly sourced from smaller family growers the Sierra Foothills. Wines are produced in small lots, mostly though not all from single vineyards, and made at the Miraflores facility. Some of the wines are made from purchased fruit that Marco vinifies, while some start as bulk juice or bulk wine purchased from custom crush clients at the Miraflores facility in order to keep costs lower. Marco is starting out with a range of varieties and styles, and he plans to tailor the wine lineup to focus mostly on ones that prove to be more popular – he told us that so far the Chenin Blanc, Zinfandel, and Barbera are doing the best. The small lots ensure that the wine lineup at the tasting room will change fairly frequently. While Larry and I were tasting the current wines there, Marco noted that he's almost out of the Chardonnay and will switch shortly to a Vermentino.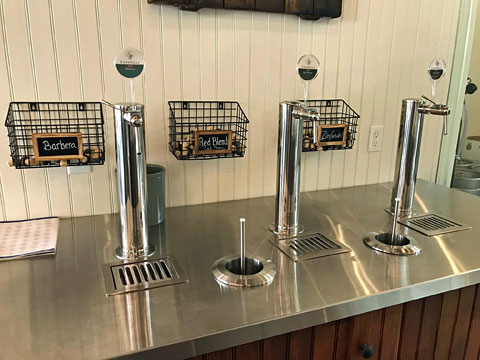 I'd mentioned that a key goal of Cappelli Wine is to keep the wines affordable, and because of the way that Marco produces and packages them, he's offering the most inexpensive lineup of quality wines I've seen in California. White wines are all $12/bottle, while reds are $14/bottle. The only exception to this is the Cappelli Angelica – Marco's special sweet wine – which sells for $40 for a 500ml bottle. A tasting flight of the six kegged wines is only $5, and any of those wines is available for $5/glass as well (the Angelica is available for a bit more). Customers are encouraged to clean and return their bottles and bar top caps, for a $2 discount per bottle to refill. Marco told us that about 1/3 of his customers have been refilling bottles so far, and one of his wine club members came in while Larry and I were there to refill a number of them. He told us that he may switch from the bar top closures to glass closures in the future as they should work better for re-use. In addition to the six kegs, there are currently three 500-liter puncheons behind the tasting room – these contain the Angelica as well as a sweet Muscat Port-style wine that still needs more time (more on that one later). Marco does keep a couple of cases each of bottled wines on hand to make things quicker and easier for first-time customers. He recommends drinking his wines within a few months so they will retain their freshness.
Marco sat down with Larry and me and we tasted through the current lineup of kegged wine as well as the Angelica. We started with 2022 Clarksburg Chenin Blanc – this was fermented in stainless steel and aged for three months in neutral oak. Bright aromas of pear and stone fruit with citrus in support, this had medium-light body with lively mouthfeel and a long, tasty finish. Next was the 2021 Sierra Foothills Chardonnay, sourced from a vineyard in Calaveras County. This underwent native primary and malolactic fermentation (typical for Marco's whites), and was made in some newer French oak barrels and aged for about 15 months. Displaying pear and apple notes and a touch of oak spice in the background, this had a richer mouthfeel than the Chenin Blanc.
Moving on to reds, we tasted the 2021 Pinot Noir, from fruit sourced from the same Calaveras County vineyard as the Chardonnay, and aged in neutral oak for 18 months. With cherry and plum fruit along with spice and oak undertones, this had a medium-light texture and mild tannins. We followed that with 2020 Sierra Foothills Zinfandel – the Zin came from two vineyards, one in Calaveras County and one in the Fair Play region of El Dorado County, and there's a little Petite Sirah from the Cappellis' old vineyard blended in. Showing raspberry and darker fruit aromas along with a brushy herbal note and a hint of stony minerals, this was medium-light bodied with enough structure to make it a fine food wine. A very pleasant Zin that strikes a good balance – neither too ripe nor too lean.
The 2020 Fair Play Barbera was next. The fruit was sourced from a one-acre block of Barbera grown in decomposed granite soil at about 2,400-foot elevation, and the wine was aged in neutral oak for 30 months. This displayed bright ripe cherry aromatics along with touches of spice and stony minerals in the background. Medium weight on the palate, the characteristic Barbera acidity was in evidence but it didn't stand out as it sometimes can with this variety – a nicely balanced wine. Our last kegged wine was the 2020 Cabernet-Based Red Blend – a blend of 50% Cabernet Franc and 25% Cabernet Sauvignon from Calaveras County, and 25% Malbec from Fair Play. Not surprisingly, this was a bigger wine showing a darker fruit profile plus some herbal notes, with a richer mouthfeel and somewhat grippier finish.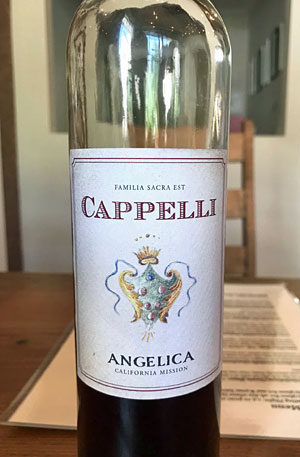 Of course we had to finish up with sweet wine. The NV California Mission Angelica is a fortified wine made from Mission fruit from old vines at Rinaldi (formerly Eschen) Vineyard in the Fiddletown region of Amador County – the Mission vines there may date back as far as the 1860s. Marco noted that the Mission from Rinaldi tends to be more tannic than that from some other vineyards, and this slows down the intentional oxidation process that gives the wine a character not unlike a Tawny Port. For this reason, it takes many years of aging – with minimal topping or racking – to become what Marco is aiming for it to be. He's created a "mother blend" of about 25 barrels of Angelica that he uses as a solera system of barrels with blends of different vintages, and he uses these to top up barrels periodically. Beautiful nutty stone fruit aromas with caramel and smoke notes, a rich mouthfeel, and a finish that went on and on. It's certainly quite sweet, as this style of wine should be, but there's enough structure to keep it from being cloying – really an exceptional Angelica.
One final wine was a barrel sample of 2022 Muscat Port-style wine – made with 50% each Muscat Canelli and Orange Muscat, the fruit was fermented on the skins and then fortified. This wine is still at a very early stage of its development, and Marco intends to let it oxidize in barrel similar to what he does with his Angelica. Strong orangepeel aromas along with peach and floral elements, this was not as sweet as the Angelica but had a fair amount of grip on the finish at this stage – it will be interesting to taste this again in a few years to find out how it develops with more barrel age.
Keep in mind that the Cappelli wines will change fairly often due to the small lots produced of each one, so unless you visit soon, there's a good chance that you may have an entirely different lineup to taste (except for the Angelica). Most of the wine is sold direct to consumer, while some also goes to keg wine programs for a couple of local restaurants. The system of filling bottles one by one from kegs is geared toward a relatively small-scale local customer base – wines are available only at the tasting room – and Marco noted that he wants to keep things small. He thinks that his annual production probably will never be more than about 2,000 cases but he'll have to see how things work out – this is such a new concept for California so he's not yet sure how successful it will be.
What a fun visit with Marco Cappelli at his new tasting room! Marco is a friendly and engaging host, and he's eager to help visitors understand what he's working to achieve with his wines. Few if any other wine regions in California could work for such a novel concept as what Cappelli Wine is doing. Other than the Angelica, these are not wines that will knock your socks off, but that's not the goal here, and they offer considerably more interest than you'd expect for the price. The wines are made for drinking now and enjoying every evening with dinner, and the different wines offered should match well with a variety of dishes. All the wines were enjoyable, and my favorites were the 2022 Clarksburg Chenin Blanc, 2020 Sierra Foothills Zinfandel, 2020 Fair Play Barbera, and NV Angelica. Cappelli Wine is so new that they don't even have a website yet, though it should be online sometime this summer. These may be the best quality for the price wines I've tried from California for quite some time, and I highly recommend a stop at the tasting room in Placerville if you're in the area.
When Marco and I had corresponded by email to arrange the visit with him, I'd suggested going to lunch with him afterwards. But since our visit had taken a bit longer than anticipated, he didn't think he would have time to go out for lunch and get back before the 1pm tasting room opening time – he recommended a sandwich place just down the street where we could pick up lunch and bring it back to the tasting room to eat. Larry and I set out to find the place, located in a small covered mall-like space just off Main Street. It's little more than a hole-in-the-wall, but Timmy's Brown Bag may have the most unique sandwich menu I've ever run across! All of the sandwiches are the same price, and it's all take-out, though there are some small tables in the covered mall space. I had a decidedly unconventional take on a banh mi, with lap cheong sausage, pickled daikon, jalapeño sweet chili sauce slaw, and a few other things on a brioche bun. Larry had an equally imaginative enchiladas suizas sandwich, with pork, salsa verde, Swiss cheese, grilled tortilla pieces, and a couple of other items on a ciabatta, and we picked up a chicken satay sandwich for Marco – that one featured chicken satay, harissa cucumber slaw, sweet Thai chili sauce, and a few other ingredients on a ciabatta. Mine was very tasty and it looked like the other sandwiches were too, though they were a bit messy to eat. Next time I'm in Placerville around lunchtime I'll definitely go back to try some of the other sandwiches on Timmy's menu!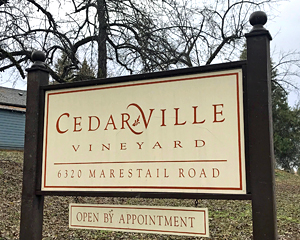 Our second and final winery visit of the day was about a half-hour drive from Placerville, at Cedarville Vineyard in the Fair Play wine region of southern El Dorado County. Cedarville was established in the mid-1990s by co-winemakers Jonathan Lachs and his wife Susan Marks, who sadly passed away in 2020. The winery's first commercial vintage was from 1998, and the winery building – partly built into a hillside for natural cooling – was completed a couple of years later.
Cedarville's focus is on wines from Rhône Valley grape varieties, and they also make Zinfandel, Cabernet Sauvignon, and Petite Sirah, plus a couple of blends. With the exception of Petite Sirah, all of the fruit for their wines comes from their 15-acre organically-farmed estate vineyard, planted over 25 years ago. Annual wine production for Cedarville has generally been around 700-1,000 cases in recent vintages, and Jonathan also sells much of the estate fruit to a number of well-regarded vintners making wine in a wide range of styles.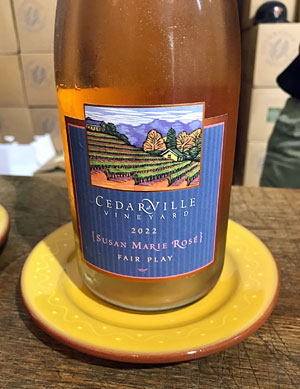 Larry and I stepped into the winery, where assistant winemaker Jill Winter was waiting for us behind the modest tasting counter. Jill joined the Cedarville team in summer 2022, after a number of years at Boeger Winery near Placerville. We missed Jonathan on this visit, as he was traveling in France with the new love of his life, Susan – "Susan Elizabeth" to distinguish her from his late wife "Susan Marie"! Jonathan has been producing a special "Susan Marie" wine each vintage in her memory – the sales of this wine help to raise funds for the Pancreatic Cancer Action Network (PanCAN). The wines will not always be the same from vintage to vintage, though the first two that have been released have both been a rosé. The just-released 2022 "Susan Marie Rosé" is the first Cedarville wine to have a screwcap closure.
Jill told us that the vine development at the estate vineyard is several weeks behind that of recent vintages, as seems to be the case throughout much of California, so barring any major summer heat wave, it looks like it will be a late harvest this year. Fortunately this year there were no major spring frost issues as there were in 2022. I asked Jill about the 2021 Merlot that Jonathan made from Frostwatch Vineyard in Bennett Valley, and she told Larry and me that this one-off wine was just bottled recently and will be available this fall as a "Susan Marie" release.
Jill opened five current releases for Larry and me to taste. Though I'd visited in early December of last year, there was only one repeat wine, the 2021 Estate Viognier. This is Cedarville's only white wine, and their only wine from the difficult 2021 vintage – the 2022 vintage of their Viognier will be released this fall. Bright and lemony, with a touch of spice and a stony mineral note, this had good acidity along with a medium-rich, slightly creamy texture (from stirring the lees in barrel) and a lively finish. We followed up with the 2022 "Susan Marie Rosé" – whole-cluster pressed rosé of 100% Syrah from the estate vineyard (the 2020 "Susan Marie Rosé" had been 70% Syrah / 30% Grenache), fermented in stainless steel and aged in neutral oak. Light salmon in color, this was fresh and bright, with subtle red fruit and stone fruit aromas along with a hint of flowers, medium-light bodied with a fresh finish.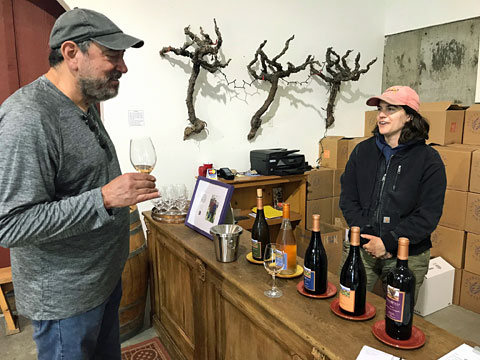 We moved on to reds with the 2020 Estate Syrah – from the highest part of the east-facing Syrah block of the vineyard, this includes 4% co-fermented Viognier. Intense dark fruit, spice, with undertones of black olive, vanilla, and stony minerals, this was medium weight on the palate with moderate tannins that suggest some time in the cellar will be of benefit. Next was the 2020 Estate "Turnabout's Fair Play", made from 45% Grenache, 30% Syrah, 25% Cabernet Sauvignon and inspired by the wines of Priorat in Catalonia. Jill told us that the 2020 vintage marked the first time that the three varieties that went into the wine were all picked on the same day and co-fermented. Even though the Cabernet Sauvignon only makes up a quarter of this wine, I thought its herbal character was notable in the aromas, along with the brighter fruit profile of the Grenache plus spice and oak notes in support. A bit bigger in texture than the Syrah, with substantial but fine tannins.
We finished up with the 2020 Naylor Vineyard Petite Sirah, with fruit sourced from the nearby vineyard of Jonathan's friends Bill and Trish Naylor – the 2020 vintage marked Cedarville's 20th working with this fruit. Ripe and dark-fruited, with spice and floral notes and touches of pepper and chocolate, big and rich on the palate, and finishing with noticeable tannins but approachable even now.

A hallmark of the Cedarville wines is that they always show impeccable balance – just the right touches of fruit, oak, body, and acidity so that nothing stands out and everything works together. And as I've noted in the past, the wines have a history of aging beautifully for years – even the Viognier can take a few years of cellaring, and I didn't get the sense that you'd need to drink the rosé right away either. A visit to Cedarville is always enjoyable, and Jill was more than just a fill-in for Jonathan on this occasion – she really was a delight to talk with. All five wines I tasted were very good – if I had to choose favorites I'd say the 2021 Viognier, 2020 Syrah, and 2020 "Turnabout's Fair Play" would be my picks, though you can't go wrong with any of them. Cedarville is open by appointment only, and I highly recommend a stop there if you're looking to taste wine in this part of the Sierra Foothills.
Larry and I decided that two winery visits were enough for this day, and we got an early start back to the Bay Area. The sandwiches that we'd had for lunch were so filling that we decided not to stop for dinner on our way back, but we did make a late-afternoon stop at Corti Brothers Market in Sacramento since it's not far off of the freeway. Corti Brothers has achieved near-legendary status over the years, both for its excellent selection of hard-to-find imported items and for its great wine section. I wanted to look for a couple of particular things there, and picked up a jar of Italian herbed salt that I like as well as some wines that are tough to find in the Bay Area, even with all of the fine wine merchants there. This was Larry's first time at Corti Brothers, and he picked up a few things as well.
This was another enjoyable day of wine tasting in the Sierra Foothills. The visit to Cappelli Wine was a real eye-opener – with a concept that may be unique in California, Marco Cappelli is finding a way to bring quality everyday wines to local customers at unheard-of prices for the state. Meanwhile, Cedarville continues to produce some of the most elegant wines in the Sierra Foothills, and they also represent fine value for the quality of the wines, among the best in the region. As always, thanks to everyone that I visited for being so generous with their time and their wine!