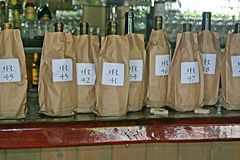 Considered the benchmark in U.S. wine festivals, the Paso Robles-based Hospice du Rhône takes place over a three-day period, involving events like seminars, tastings, an auction, and gourmet meals. From its modest beginnings in 1993 as The Viognier Guild, HdR is the brainchild of local vintner, Mat Garretson. Originally envisioned as a conference of sorts for winemakers and vintners who were passionate about wine varietals originating from the Rhône Valley in France, HdR was destined to become a watershed event, as international winemakers came to celebrate Rhône wines with other enthusiasts.The photos on these five pages are from the 2006 event, and offer a look at just some of the sights from the festival.
The Syrah Shootout, (this page) is a closed event that pits winemaker against winemaker in a blind tasting of each other's wines. The prize: an increasingly gauche coat, dubbed the Coat du Rhône, as well as bragging rights - at least until the next year's event.

Top : serious note-taking. Above : '...oh, please, please, please....' Jeff Cohen appears to be pleading to retain his crown...'er, coat. Below Left : a disconsolate Jeff Cohn gets the 'bad news.' Below Right : 'and the winner is....' Susan Neel accepts the trophies for McCrea Cellars.