2004 Kathryn Kennedy Sauvignon Blanc - California (50% Monterey, 50% Sonoma).
Light-medium yellow color. Nose of lemon and lime notes, with just a touch of Mandarin orange. Nearly perfect in balance, terrific off-sweet citrusy flavors, and a very nice cripness to the long finish.


2002 Kathryn Kennedy Syrah - Santa Cruz Mtns.
Dark ruby garnet color. Very nice blackberry/blueberry aromas, with just a touch of smokiness, light herbs, and some tarry notes in the nose. Lots of dark fruit throughout, chewy mouthfeel with juicy acids, very nice balance, and a long smooth finish.
Behind the Label
Founded in 1973 in Saratoga, California, the Kathryn Kennedy estate vineyard consists of eight acres of vines planted on their own roots by Kathryn in 1973. The soil and climate on the inland side of the Santa Cruz Mountains seems to have just the right amount of marine influence to yield outstanding grapes.
To some extent, this is ground zero for a lot of pioneering winemaking in California. Within eyesight, or at least very close by, legendary names like Paul Masson and Martin Ray began to exert their respective influence on the California wine industry. The Kathryn Kennedy property was included in the Santa Cruz Mtn appellation in 1981.


2001 Kathryn Kennedy Estate Tempranillo - Santa Cruz Mtns.
Medium dark garnet color. Lots of smoky dried cherry fruit, with just a hint of olive and herb in the nose. Still quite young in mouthfeel, with ripe dark cherry/blackberry flavors, juicy acids and nice concentration through the latter palate. Sweetens up just a bit on the smooth and silky finish.
2002 Kathryn Kennedy Estate Cabernet Sauvignon - Santa Cruz Mtns.
Medium-dark garnet color. Lovely cassis and baking spice notes in the nose. Moderately full on the palate, excellent balance, smooth fine-grained finish. Very "claret-like" in style 100% Cabernet Sauvignon.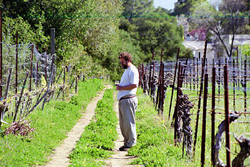 Marty Mathis