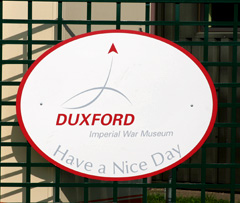 The Imperial War Museum's Duxford facility is considered one of the world's finest collections of heritage aircraft. Located northeast of London near Cambridge, this former WWII RAF base encompasses several hangars where restorations of historic aircraft are always in progress. in addition, the American Air Museum in Britain calls Duxford home, and has 20 aircraft on floor display or suspended from the ceiling. There is also a Land Warfare Hall with a wide selection of tanks, vehicles and artillery, as well as a marvelous Normandy D-Day display.
In addition to being a 'living and working museum,' Duxford is the site of several air shows during the year, including the Victory in Europe Anniversary Air Show, the Flying Legends Air Show, and the Battle of Britain Anniversary Air Show. For those enthusiasts who actually want to take to the air, during air shows the Duxford facility also offers the opportunity to book a sight-seeing flight on either of two 1930s biplanes, a de Haviland Dragon Rapide or a Tiger Moth.
The photos on these pages were taken at the 65th Anniversary Battle of Britain Air show, 10 September 2005. For more information on the Battle of Britain, please see Battle-of-Britain.com, as well as an additional site detailing the Air War over England.
Above, Top Left : Republic P-47 Thunderbolt--- Above, Bottom Left : Curtiss P-40- -Above Right : (foreground) Curtiss P-36, with French markings
Above Left : Supermarine Spitfire---- Above, Top Right : McDonald-Douglas F-15 Eagle----Above, Bottom Right : Concorde
Below, Left : some restoration---- Below, Bottom Left : jet engine "plumbing" ----Below Right : salvage parts, in ironic container
Above, Top Left : McDonald-Douglas F-4 Phantom-- Above, Bottom Left : Boeing B-17 belly gun --Above Right : Spad (foreground), Stearman P-13